If you're a small business owner or solopreneur, at some point you may want to raise your profile and use a professional email address for customer communication. There are several ways you can accomplish this, one of which is to create an email with personalized domain name using cPanel.
Fortunately, setting up a custom email address via your hosting control panel is not that difficult. Plus, many cPanel hosting companies offer free domain registration and email hosting when you purchase a web hosting plan. With our step-by-step instructions, you'll be using your new business email address in no time.
This article will show you how to create a personalized email on a custom domain using cPanel with Bluehost. Let's dive right in!
How to create a personalized domain email in cPanel with Bluehost (in 4 steps)
For this tutorial, we're going to use Bluehost, as it's highly affordable and straightforward to use. However, this method can also work with other cPanel hosts, such as A2 Hosting and GreenGeeks.
The exact steps might differ slightly, so it's best to refer to your provider's user documentation. Without further ado, let's get started.
1. Set up a Bluehost account and register your domain name
First, head to Bluehost and click on the green Get Started button: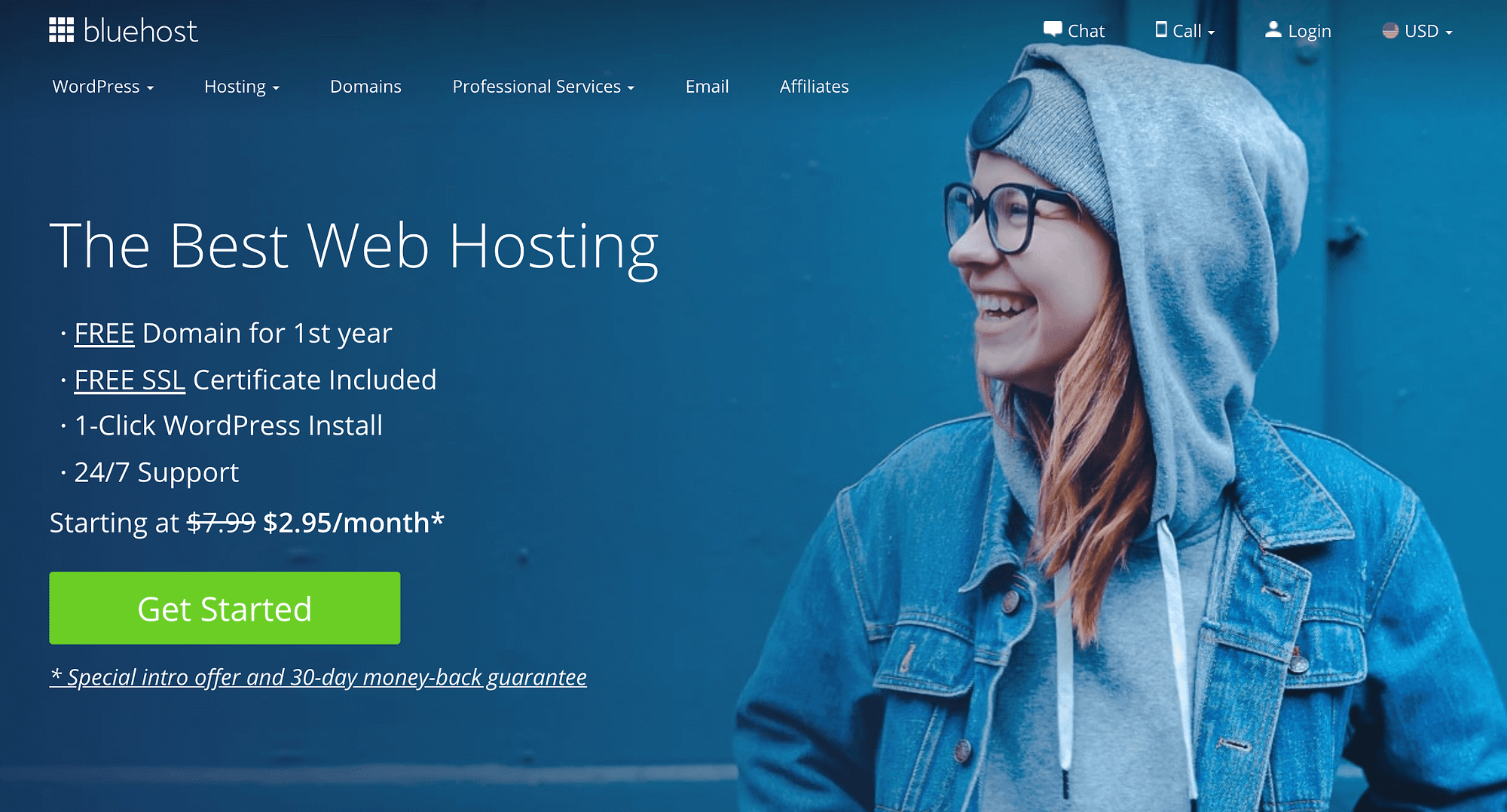 Bluehost offers a variety of affordable hosting plans, several of which include cPanel email hosting. You can choose from any of them, but if you only need an email address, it's best to start with the Basic shared plan. It costs just $2.75 per month, but you can easily upgrade later if you wish.
It's also important to note that Bluehost offers Office365 email services as well. These plans are different from the cPanel email address we'll be setting up in this post, and you do not have to purchase an Office365 email plan to follow the steps below.
Once you've purchased a Bluehost plan, you'll need to register your domain name, such as example.com. Bluehost will give you a free domain name for your first year, so you don't need to pay anything extra: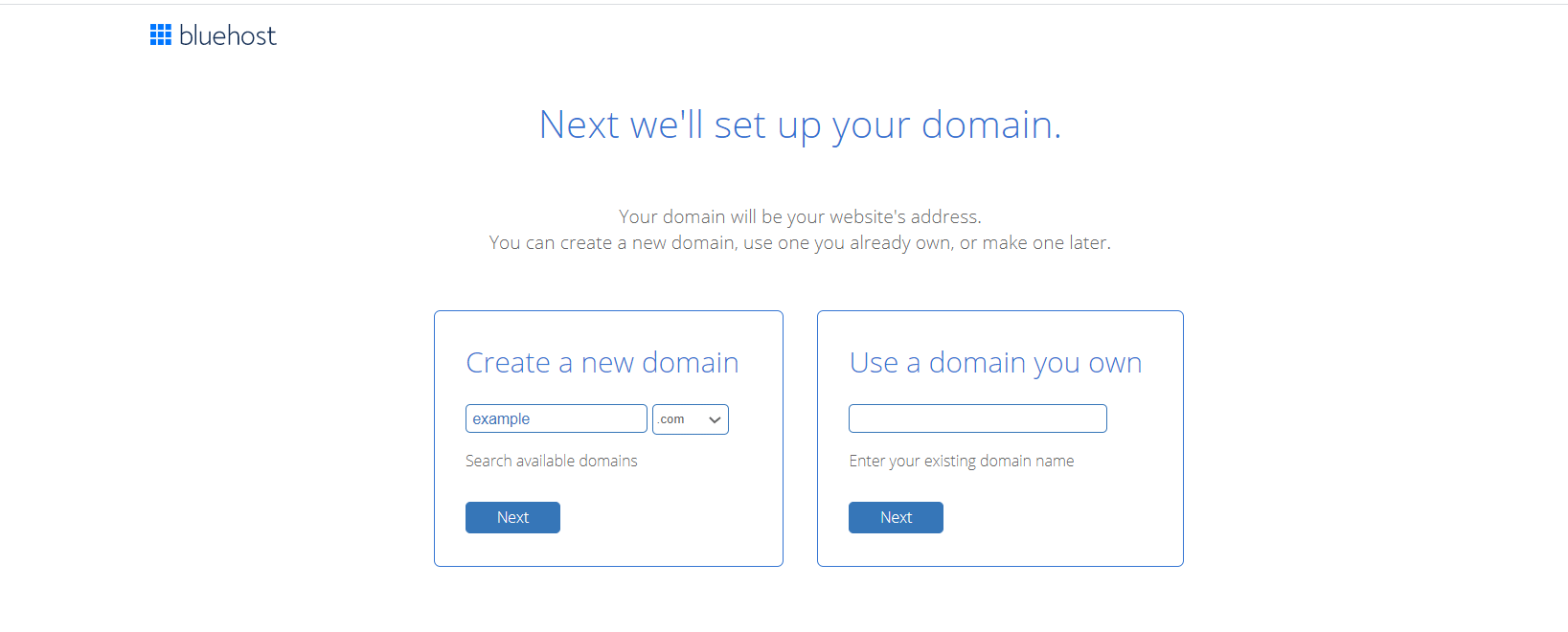 Generally speaking, your domain should match your brand name. However, if you need inspiration, you can use a domain name generator.
If the domain you choose is available, you'll land on the next screen where you can fill in your personal and payment details to complete your registration. When you're done, you'll receive an email with your login credentials, which you'll need to access cPanel.
2. Create your new email account
Once your purchase is complete, you should be redirected to your user dashboard (if not, log in from the homepage). Here you'll see a menu on the left-hand side of the screen. Navigate to Email & Office, then click on Manage next to your domain name:

Next, click on the blue Create button:

Enter the name you want to appear in front of your domain, such as user@example.com, and choose your password. Then, scroll down and click on Create.
3. Choose how you want to receive your email
Once you've completed the previous step, you should see your brand new email listed in the Email Accounts section. Click on Check Email to access your mailbox: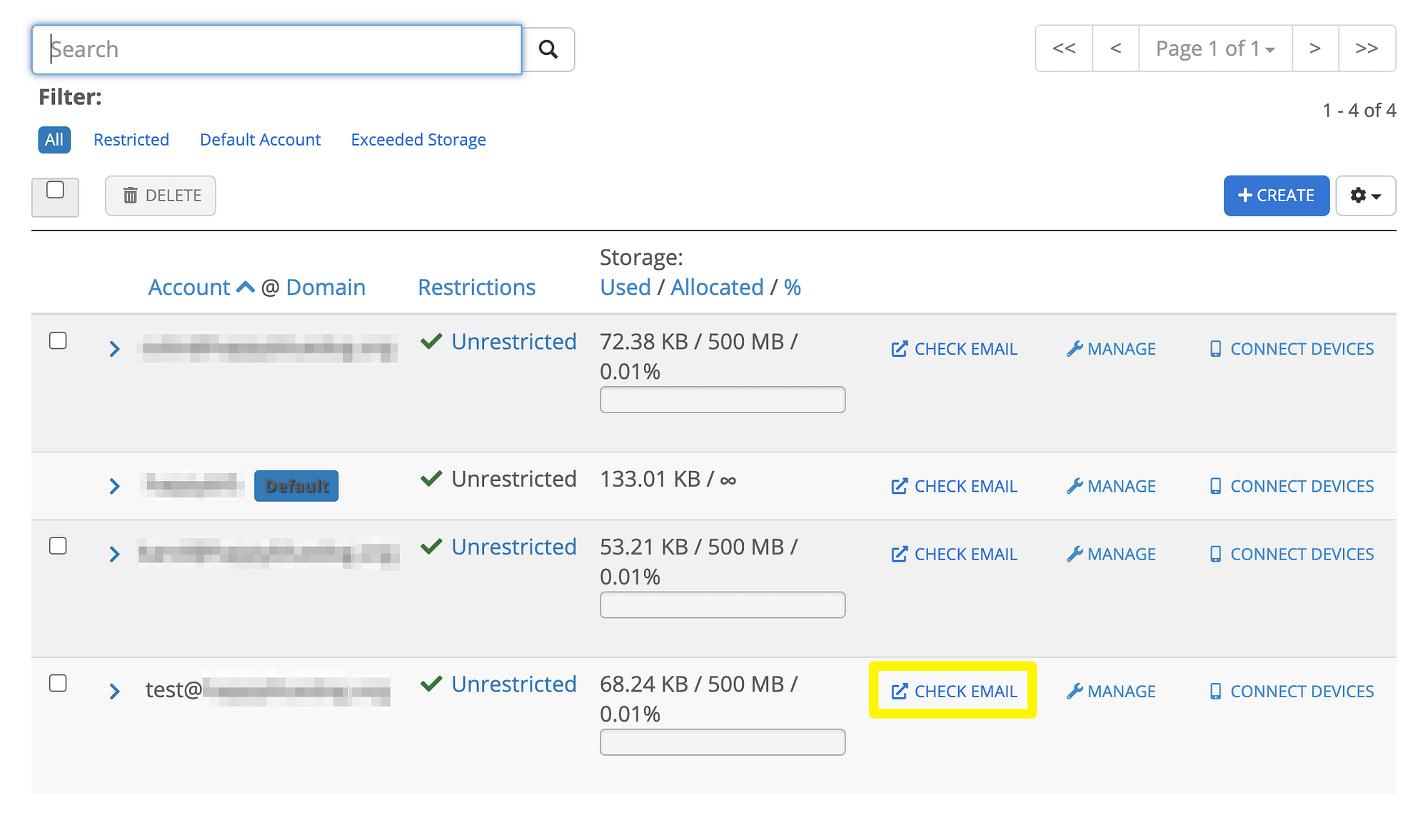 As you're checking your email for the first time, you'll be prompted to choose how you want to receive your messages. Your main options are Roundcube, Horde, or Squirrel Mail. You can also set it up with your iPhone or Android phone if you wish:

In the future, you can access your email straight from Bluehost's Webmail Login page, which you can select as you log in to your hosting account:
At this point, you have a fully-functional personalized email on a custom domain, created via cPanel. You can start supplying this address to customers and managing your business communications with it.
4. Connect your email to a third-party provider (optional)
Although setting up your mailbox in cPanel is fairly straightforward, logging into Bluehost every time you need to check it might not be the most convenient solution. Fortunately, you can connect your custom email to popular apps such as Thunderbird or Apple Mail.
Alternatively, you can use your new email with your existing Gmail account, which is a handy and free method. To do this, log in to Gmail, then navigate to Settings (the gear icon in the top left-hand corner) and click on See All Settings.
Navigate to Accounts and Import, then scroll down to Check mail from other accounts. Click on Add a mail account:

Next, enter the email address you created in cPanel and click on Next. You'll then need to provide your email username and password, as well as your POP3 details. You can find these in cPanel via Email & Office > Email Accounts > Connect Devices:

Back in the Gmail setup window, fill in your POP server address and select the correct port. We recommend that you also check the boxes for the following settings:
Leave a copy of retrieved message on the server
Always use a secure connection (SSL) when retrieving mail
Label incoming messages
Then click on Add Account: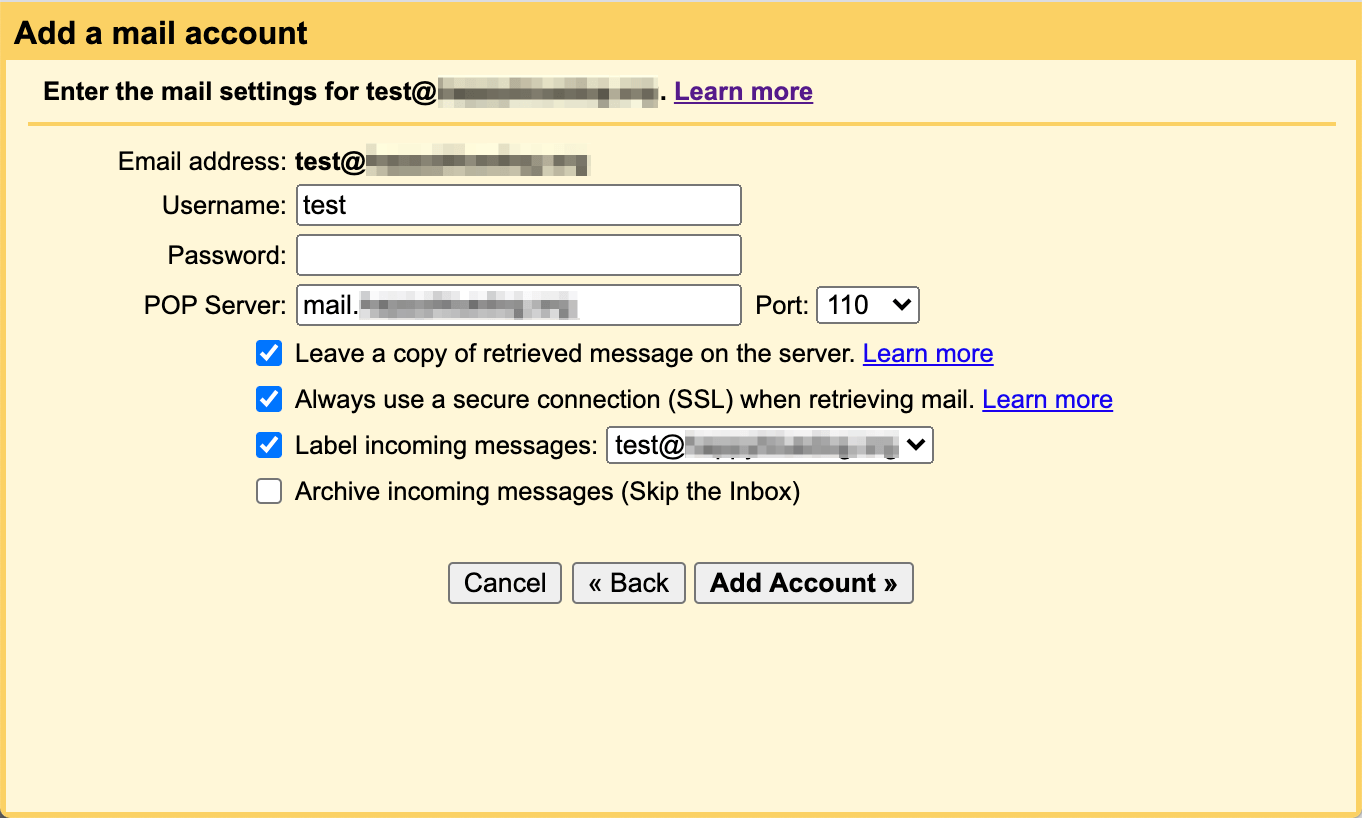 On the following screen, choose Yes, I want to be able to send mail as (your email), then click on Next:

You'll be prompted to add the name that should be included when you send your emails and specify whether you want to use it as an alias. Click on Next Step to proceed.
Now, you'll need to enter your SMTP details, which you can find in cPanel under Connect Devices (the same place where you verified your POP3 details):
As soon as you click on Add Account, Gmail will send you a confirmation link, which you'll need to open to finish the process. You should then be able to send and receive emails from your custom domain via your Gmail account.
👉 For a more detailed look at how to set up your cPanel email account with Gmail for free, check out our full tutorial
Create your email with personalized domain today
Using a generic email address to communicate with your customers may not leave a positive impression of your business. If you're serious about your brand, you'll need to level up and use an email at your custom domain instead.
In this article, we've shown you how to create a personalized email on a custom domain in cPanel in four steps:
Set up an account with Bluehost (or another cPanel hosting provider) and register your domain.
Create your email account in cPanel.
Choose how you want to receive your email.
Connect your email to a third-party service such as Gmail (optional).
For some other ways to create a custom email address, you can also consider the following guides:
We also have some tips on how to get a free email domain. Bluehost already gives you a free domain name, so this won't apply if you follow our tutorial directly. But if you're using a different cPanel host, this might be helpful.
Do you have any questions about creating a personalized email on a custom domain in cPanel? Let us know in the comments section below!
Free guide
5 Essential Tips to Speed Up
Your WordPress Site
Reduce your loading time by even 50-80%
just by following simple tips.
* This post contains affiliate links, which means that if you click on one of the product links and then purchase the product, we'll receive a commission. No worries though, you'll still pay the standard amount so there's no cost on your part.