Looking for the easiest solution for how to create an email newsletter?
Whether you're running an eCommerce store, a blog, or anything in between, you probably already understand the importance of reaching your audience through quality content. Newsletters can be an excellent way to achieve this, but it's important to optimize them to drive conversions.
If you're new to email marketing, don't despair. Creating newsletters is straightforward, even if you've never done it before. By keeping a few best practices in mind, you can produce engaging emails that turn your readers into paying customers.
In this article, we'll show you how to create an email newsletter in four simple steps. We'll also talk about the importance of defining clear goals for your messages. Let's get started!
Before you send out newsletters to your audience, it's smart to take some time to consider your goals for each campaign. Ideally, they should align with your broader content strategy, especially if you're counting on long-term, tangible results.
Before you craft your next email newsletter, try asking yourself the following questions:
What is the desired outcome of your newsletter? Is it to drive more traffic to your site, encourage sales, promote an affiliate product, or something else?
Who is your target audience? What would your subscribers like to read?
Is there some unique value can you provide to your newsletter's readers? Why should they stay subscribed?
Last but not least, how frequently will you send your newsletter?
It's essential to define a purpose for every single message that you intend to send out. Otherwise, you might appear spammy or irrelevant to your subscribers, which could damage your reputation.
Knowing your goals ahead of time can also help you make key decisions, such as what type of content you're going to send in your newsletters (promotional deals, blog updates, other exclusive content). It may also help with strategies such as segmentation.
You can measure these elements with email marketing metrics, too. This will enable you to adjust your strategy if your newsletters aren't converting the way you'd hoped.
Now that we've discussed the importance of setting goals, let's look at how to create an email newsletter in practice. For this tutorial, we'll be using Sendinblue, which is the actual email marketing service that we use here at Themeisle.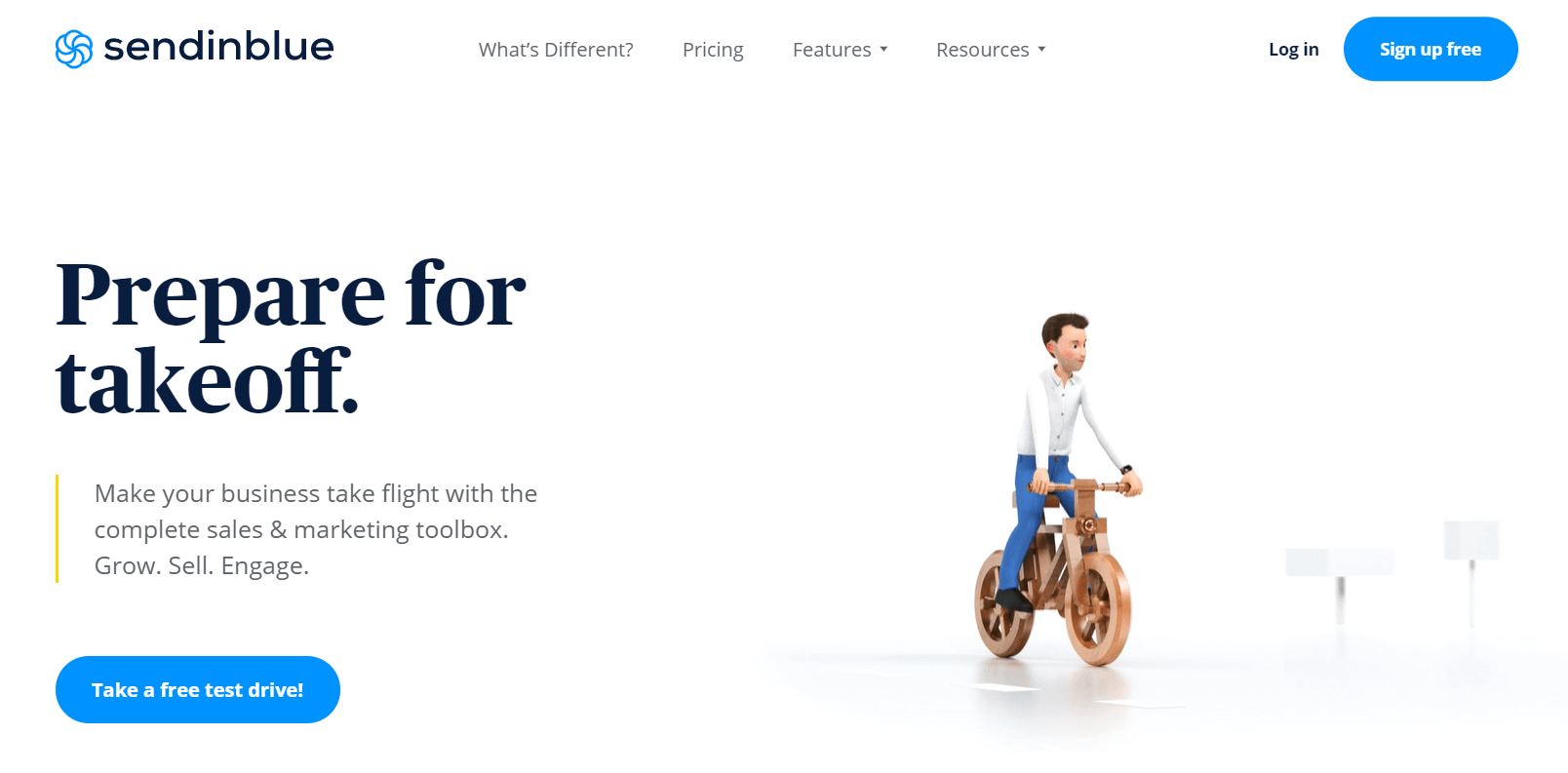 It enables you to craft high-quality emails with a drag-and-drop tool or use one of its customizable templates. It also has a forever free plan, which means you can get started without paying anything.
However, you can follow these same steps using another email marketing platform if you prefer.
Read our Sendinblue review if you want to learn more about why we use and recommend this tool for sending newsletters.
💡 Not sure how to get newsletter subscribers in the first place? You can follow our guides on how to create email opt-in forms and how to get more email subscribers to start building your list of newsletter subscribers.
The first thing you'll need to do is to gather ideas for your newsletter's copy. You can approach this process similar to how you might plan out your blog's editorial calendar.
For instance, say you intend to send newsletters to subscribers you accumulated via a free trial sign-up. If your desired outcome is to convert them into paying customers, you could send them a series of useful tutorials and tips before hitting them with upgrade offers.
Some more general ideas include:
Providing solutions to a particular problem or pain point of your subscribers
Sharing news about your products or services
Announcing upcoming deals, events, or other limited-time offers
You can also look to your blog for content ideas – sharing your latest posts can drive traffic to your site. Social media posts, training documentation, or your company's internal newsletters are also potential sources of inspiration.
The most important thing to remember is that your newsletters should always provide value to your subscribers. Checking out forums or asking your subscribers what they want to see in their inboxes can help you keep your emails relevant.
In any case, be sure to know your audience, be personal, and come up with an enticing subject line. Write in a conversational tone and follow best practices for creating compelling email copy.
Next up, it's time to decide on the visual aspects of your newsletter. Aim for legible, clean designs that are smartphone-friendly. According to recent data, most people check their email on mobile devices, so you don't want to ruin your efforts with unresponsive design.
Many email marketing platforms – including Sendinblue – offer basic layouts that you can use:
You can also check out some newsletter lookbooks for visual inspiration or opt for a wide choice of eye-catching designer templates.
Just keep in mind that any template you apply to your newsletter should match your branding. Customize it to incorporate your logo and color scheme, as well as any other vital elements such as a tagline.
Additionally, it's smart to use the same design for every newsletter. Always switching up your emails' looks can be confusing to subscribers. Consistency tends to be much more effective.
Depending on your core offerings, you may not need a particularly flashy design that's loaded with graphics. A well-formulated, text-based newsletter can be just as compelling (and feels a bit more personal), but make sure your recipients can easily read and click through all the elements of your email.
Step 3: Add CTAs in the right places
Probably the most crucial step to creating a high-converting email newsletter is to include a clear call to action (CTA) in your email copy. This is simply a directive that guides readers to what you want them to do next.
In other words, your CTA should reflect the goal of your newsletter. If you want to drive sales, include Buy Now links to some of your products. To encourage subscribers to visit your blog, add Read More buttons under excerpts from your latest posts.
You can use standard hyperlinks as CTAs. However, buttons are more closely associated with web action, and therefore tend to be more effective. They also give you a chance to play with colors that elicit different reactions, such as red for urgency.
A carefully designed CTA button will also ensure that it stands out against your email newsletter's background and ties in with your branding. It should incorporate action words, such as Try It Free! or Learn More as well.
You can even tap into human emotions. Consider experimenting with psychological marketing triggers such as the fear of missing out (FOMO) to maximize your click-throughs and conversions.
Finally, the placement of your CTAs matters, too. The best solution is to include them where it's the obvious next step for your readers to take: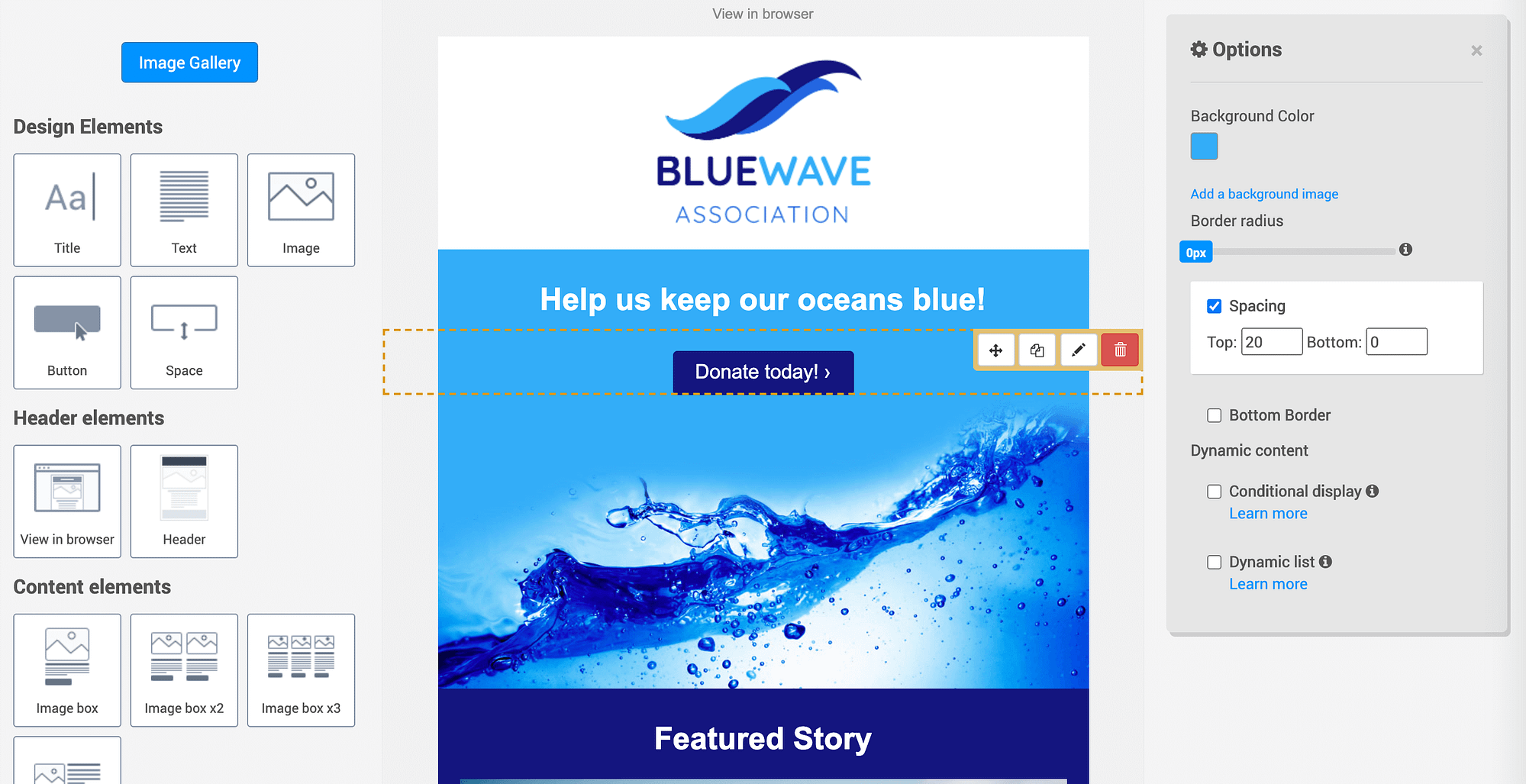 This means both strategically integrating your CTA buttons with your copy, as well as carefully ordering your newsletter so the most important content is at the top.
👉 More tips to create better CTAs
Step 4: Send your email
To finish things out, all you need to do is send your email or schedule it for the future. You can make two choices here:
Audience – you can send the email to your entire newsletter or just a specific segment.
Timing – you can send your email right away or you could set up automation rules. For example, you could create an automatic sequence that new subscribers receive after signing up (also called an autoresponder).
Sendinblue also offers analytics tools that you can use to measure your audience's engagement once you start sending emails. If you see that lots of people are reading and clicking on a certain email, that's a great sign that you should keep sending that type of content.
Conclusion
Email is one of the most powerful tools for reaching your audience. Fortunately, producing an email newsletter that converts readers doesn't have to be difficult, and you don't need any advanced technical skills to do so.
To recap, here's how to create a quality email newsletter after you've determined your goals:
Write your newsletter's copy and make it highly relevant to your target audience.
Design your newsletter in a way that highlights its goal and matches your branding.
Add CTAs in the right places and design buttons with strategic colors and text.
Click send!
For some more ideas on what content you can send to your subscribers, check out all the types of email marketing campaigns you can send
Do you have any questions about email newsletters? Let us know in the comments section below!
Free guide
5 Essential Tips to Speed Up
Your WordPress Site
Reduce your loading time by even 50-80%
just by following simple tips.
* This post contains affiliate links, which means that if you click on one of the product links and then purchase the product, we'll receive a commission. No worries though, you'll still pay the standard amount so there's no cost on your part.