Online job boards are pretty popular these days, as more and more people turn to the web to find their next remote gig or full-time employment. If you're willing to do a little work of your own, you might be able to build on this popularity by creating your own WordPress job board.
Setting up a place where both applicants and employers can help each other has the potential to benefit you as well. And if you already have a large audience on a specific niche topic, adding a job board allows you to capitalize on that traffic and create another reason for people to visit your site over the competition.
In this article, we'll tell you all you need to know about job boards, what they can do for you, and how to set up a job board with WordPress in three simple steps. Let's get started!
What online job boards are (and why you might need one)
An online job board is a place where employers can post job offers, and applicants can respond to them. It's the web equivalent of the job classifieds section of a newspaper, only with a far broader potential range.
If you've only ever been on the job-seeking end of an online board, you may not have considered the possibility of setting up your own. WordPress makes the process simple, however, so the decision of whether or not to create your own board comes down to considering the possible benefits. Those include:
Building a secondary income. Many job boards charge employers for each application they post.
Attracting more users to your website. A job board is an excellent way to draw new visitors (especially professionals!) to your site. Some may even come back regularly to see if there are any new employment offers.
If you run a WordPress site that caters to a particular field with plentiful work opportunities, a job board might work out for you. Take Smashing Magazine, for example (featured in the next screenshot). It's a site devoted to web development and design, and it capitalizes on its audience by offering a jobs section. Now that's a smart move!
What functionality do you need to create a stellar WordPress job board?
While there are always niche features you can add for your specific site, there are some overriding functions that pretty much all job boards need to operate smoothly. At a minimum, you'll need:
Front-end forms that allow employers to submit jobs (and, optionally, pay for the privilege of doing so).
Flexibility for categorizing jobs. Some distinctions you'll need to make are location (physical/remote), type (fulltime, freelance, etc.), and category.
A shortcode to allow you to easily display your job listings.
Good search and filtering so that job seekers can actually find jobs that are relevant to them.
An easy way for job seekers to apply to jobs (optional – but helpful for creating a closed ecosystem).
Below, we'll discuss some plugins and themes that can help you get this functionality, and more, on WordPress.
Of course, like any other site, you'll also need rock solid WordPress hosting powering your job board. For a solid blend of affordability and performance, we recommend SiteGround – they offer high performance hosting service for $2.99 / month.
How to create a WordPress job board (in three simple steps)
Before we embark on our journey to set up a job board, it's a good idea to back up your site (unless you're starting from scratch, of course). After all, we're going to install and activate some new themes and plugins that will make some significant changes. Once you're done, you can move on to the first step.
There are plenty of WordPress themes that can help you set up a job board. Here's what you need to look out for if you want to find the best one for your site:
Job board functionality. This is a nice touch, though not crucial since we can add it with a plugin.
Good reviews. Every WordPress theme worth its salt should have some strong reviews to brag about.
Constant updates. Steer away from themes that haven't been updated for a while, as they may cause compatibility errors with other parts of your site.
If you're looking for a theme that includes all the features you'll need right out of the box, take a look at WorkScout, since it's already integrated with the plugin we'll discuss in the next step: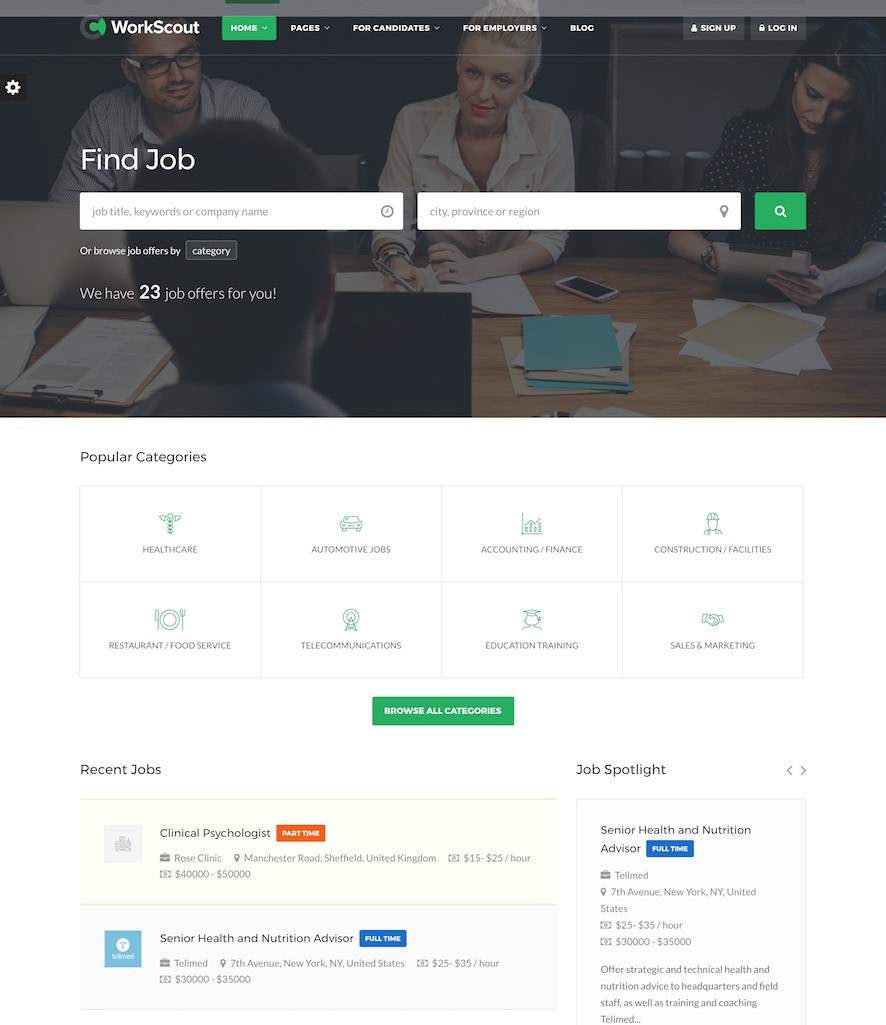 On the other hand, if you want a more customizable option that you can play around with, our own Neve is a smart choice. It's a multi-purpose theme, so it packs a broad range of features you can use to build just about any type of website: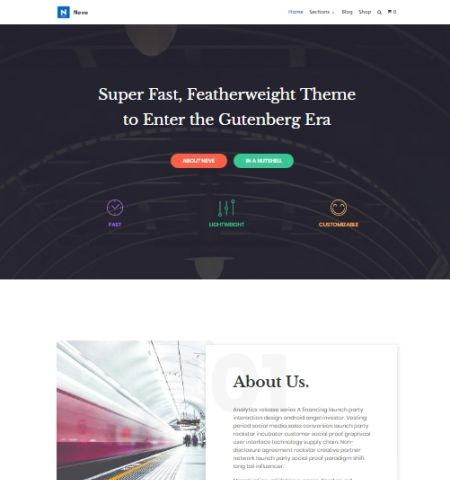 If you want a flexible interface, Job Board might meet your expectations. It comes with drag-and-drop options and a bunch of layouts that will give you full control over your job boards: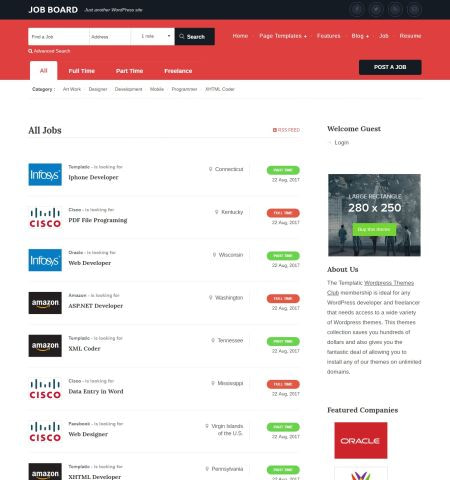 Once you have a theme picked out, go ahead and install it. Then you'll be ready to move on to the second step.
Step #2: Set up your job board using the WP Job Manager plugin
WordPress plugins are wonderful tools that enable you to add nearly any functionality to your site – including a job board. Again, there are various options for adding this feature, but we recommend WP Job Manager. This plugin enables you to easily access all the features a WordPress job board needs:
WP Job Manager supports job listings, includes a search function and front-end submission forms, and can be extended using add-ons (which we'll discuss in a moment). All you need to do is install and activate the plugin, then follow this guide to get your job board up and running.
Step #3: Use extensions to add more features to your job board
At this stage, you should have a working theme and a functional job board. All that's left is to add some complementary features to your board to make it more appealing.
Fortunately for you, the WP Job Manager plugin supports extensions, and has a few in particular that you'll likely find helpful. Keep in mind that while the base plugin is free, its extensions are premium, so you can consider this an optional step.
One of our favorite extensions for WP Job Manager is Applications, which enables candidates to apply to jobs using forms instead of having to contact employers directly. With this extension, job posters also get the chance to review applications from their own dashboard:

Resume Manager is another useful extension that enables users to upload resumes to your website. They can apply to jobs using those resumes, or list them for potential employers to browse:

Finally, we also want to mention Job Alerts, which provides further improvements to your users' experience. With this extension, candidates can save their job searches and receive email alerts when there are new postings that match their criteria:

Since this is your first WordPress job board, we recommend that you kick things off by setting up the plugin on its own. Then, come back to this list of extensions when you have enough users to warrant investing in them, or when you've decided your job board is lacking needed functionality.
Conclusion
A WordPress job board might just be the thing you need to encourage your users to take your site more seriously. Not only can a job board help you attract professionals in your field, it can also provide you with a new source of income if you can convince employers that it's worth paying for their listings.
Here are the three steps you need to follow to get your own job board up and running:
Set up your board using the WP Job Manager plugin.
Optionally, install extensions to add more features to your board.
Do you have any questions about how to set up a WordPress job board? Feel free to ask us in the comments section below!
Free guide
5 Essential Tips to Speed Up
Your WordPress Site
Reduce your loading time by even 50-80%
just by following simple tips.
* This post contains affiliate links, which means that if you click on one of the product links and then purchase the product, we'll receive a small fee. No worries though, you'll still pay the standard amount so there's no cost on your part.