Are you interested in adding a WordPress helpdesk to your site? Unlike using those SaaS tools where you have to pay a fee every single month, a WordPress helpdesk plugin lets you add an equally functional helpdesk for free (or for a one-time fee, if you want extra functionality).
That means you can still offer great support, but at a fraction of the cost.
In this post, we'll show you how to create your very own WordPress helpdesk using a popular free plugin (with optional premium add-ons). Let's dive in!
Why use a WordPress helpdesk?
Helpdesks take your customer support to the next level:
Good for customers. Customers can easily submit tickets right from the front-end of your site using a form that you control.
Easier organization. You can keep all information, including attachments and chat history, centralized in one spot. You can even integrate with certain plugins – like WooCommerce – to instantly see a user's purchase history.
Prioritization. Helpdesks let you track priorities and due dates so that you can offer better support.
Flexible. Even if you don't have customers, helpdesks can help you manage internal support for your organization.
You can probably think of plenty of other benefits, as well. So rather than us continuing to try and convince you, let's just jump into the how-to!
How to add a WordPress helpdesk to your site
Whether you're running a WooCommerce store in need of some solid support extensions, you're trying to make an internal helpdesk for your workers to use, or you're managing any other type of business, the steps below will guide you in the process of launching your WordPress helpdesk.
Step 1: Install the Awesome Support plugin
To get started, download and install the Awesome Support plugin. This WordPress helpdesk plugin offers many free features without having to upgrade. However, I recommend checking out the premium version if you're trying to integrate with WooCommerce or if you want cool features like the ability to put internal notes on tickets.
Step 2: Launch the setup wizard
Once you activate the plugin, it will prompt you to Click here to start the setup process.
The first part of the quickstart guide asks whether or not you'd like to turn on support for multiple products. If you're only selling one product, or if you'd like all of your tickets to go to one person, you should select No.
However, companies with multiple products are better off if they give customers the chance to specify. If anything, it helps you narrow down what the problem is.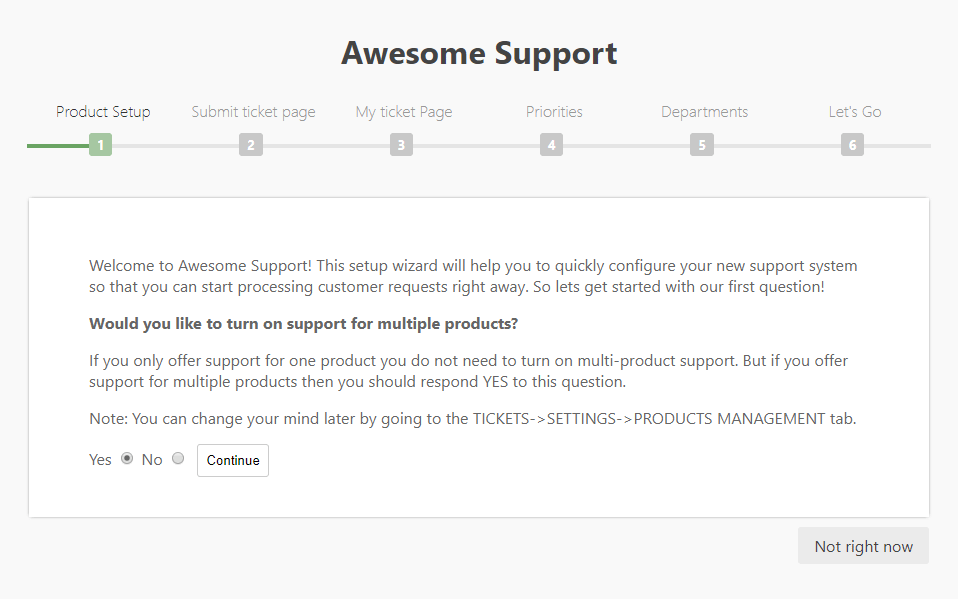 You'll also have to create a menu to show the Submit My Ticket tab. If you don't already have a menu, the tutorial provides a link to create a menu.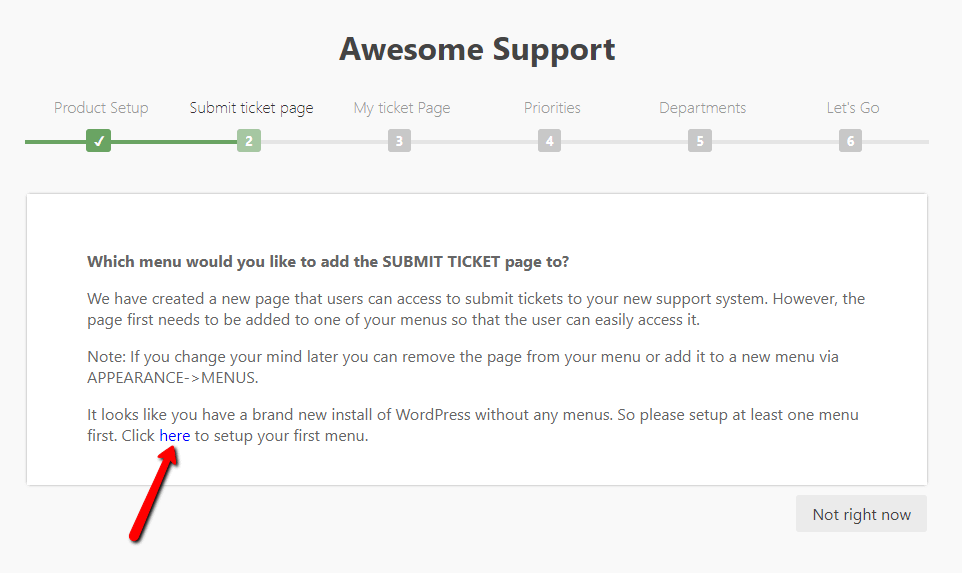 Once you have a menu, you can specify which menu you want to add the submit ticket page to.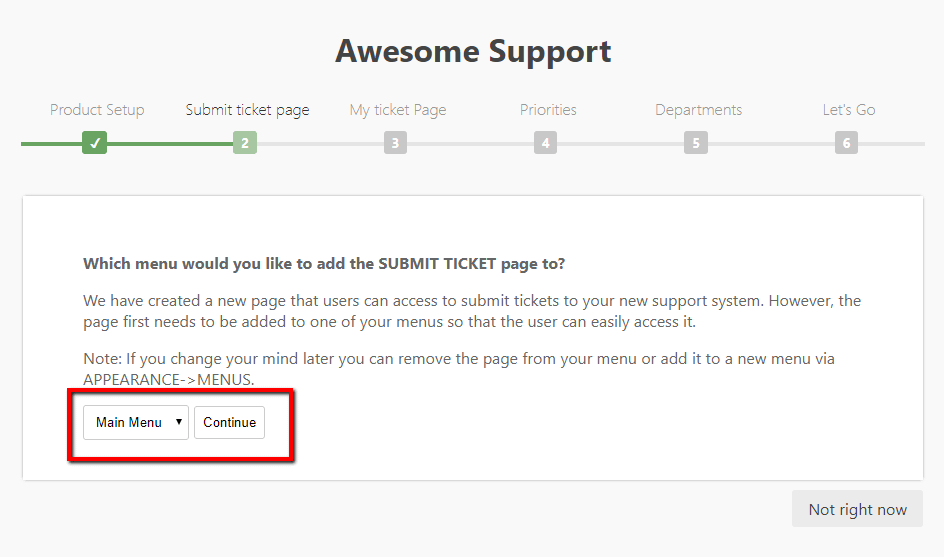 The same goes for the My Tickets page, which is where your customers see open tickets. If you don't want to place this option on your main menu, other good places include:
In your footer or sidebar
As a drop-down under a parent Support option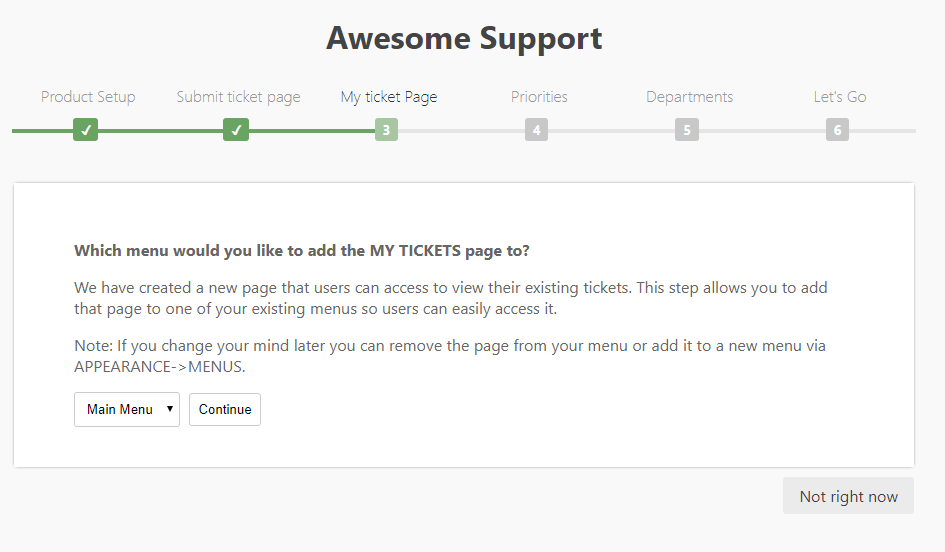 The next step asks if you'd like to specify priorities on your tickets. Priorities help you see which tickets need to be dealt with first.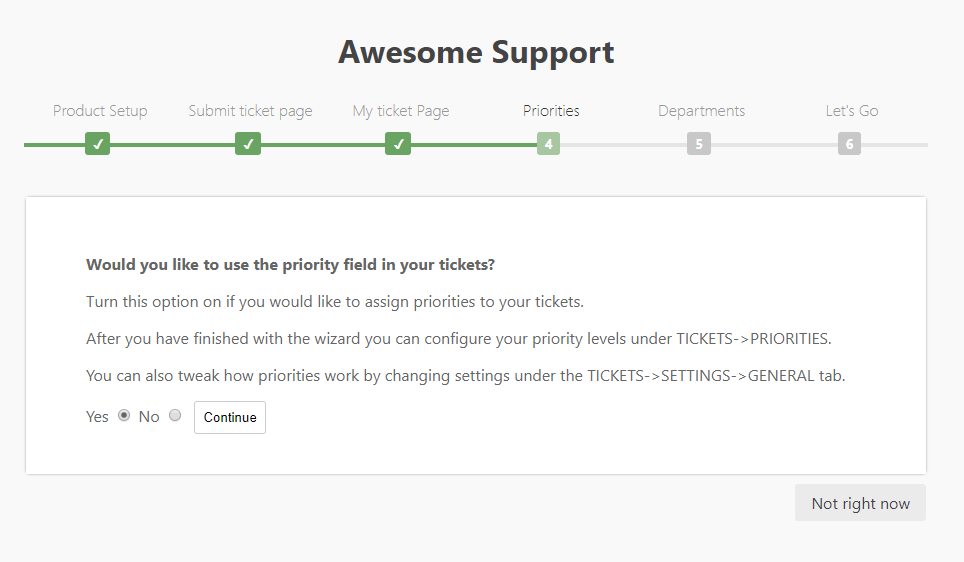 Finally, if you have multiple support departments, make sure you create all of those departments in the dashboard. I'll show you how to do that, but for now, you can mark the Yes button and click Continue. Proceed through the next few windows to land back on the WordPress dashboard.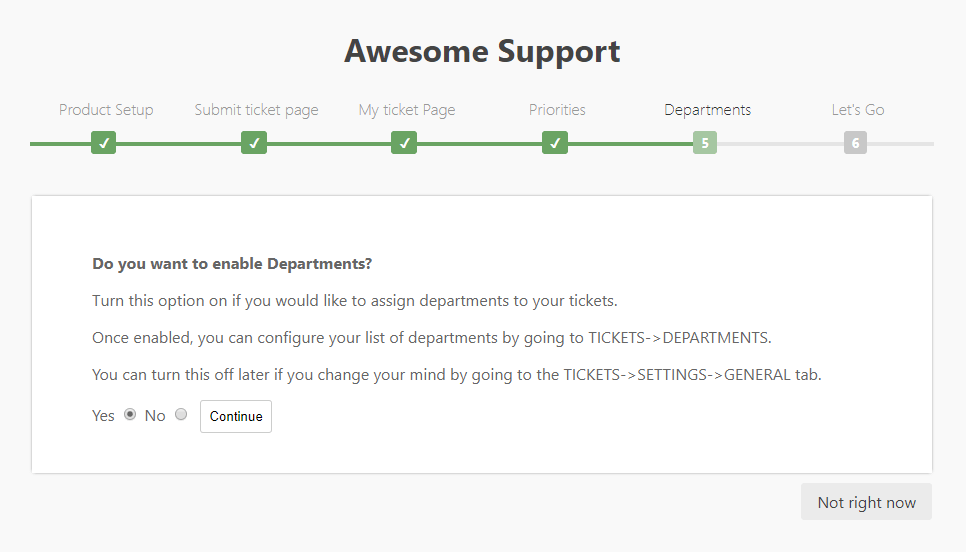 Step 3: Test your WordPress helpdesk on the frontend
Just like that, your website has a helpdesk! To test it out, open a new incognito tab (or logout/switch your user account) and go to the frontend. Select the Submit Ticket option on your menu.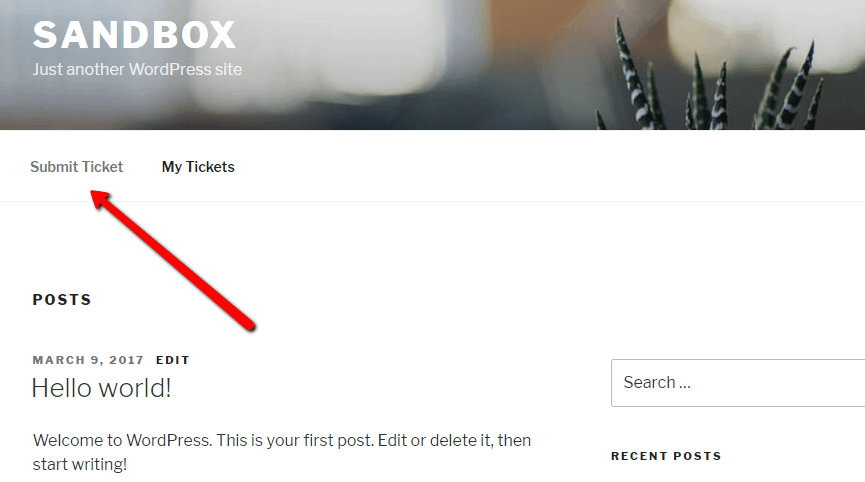 Register as a test user and create an account.
You can then view what your customers will see every time they submit their own ticket. For instance, they have a Subject field, Description, Department, Product, and Attachments.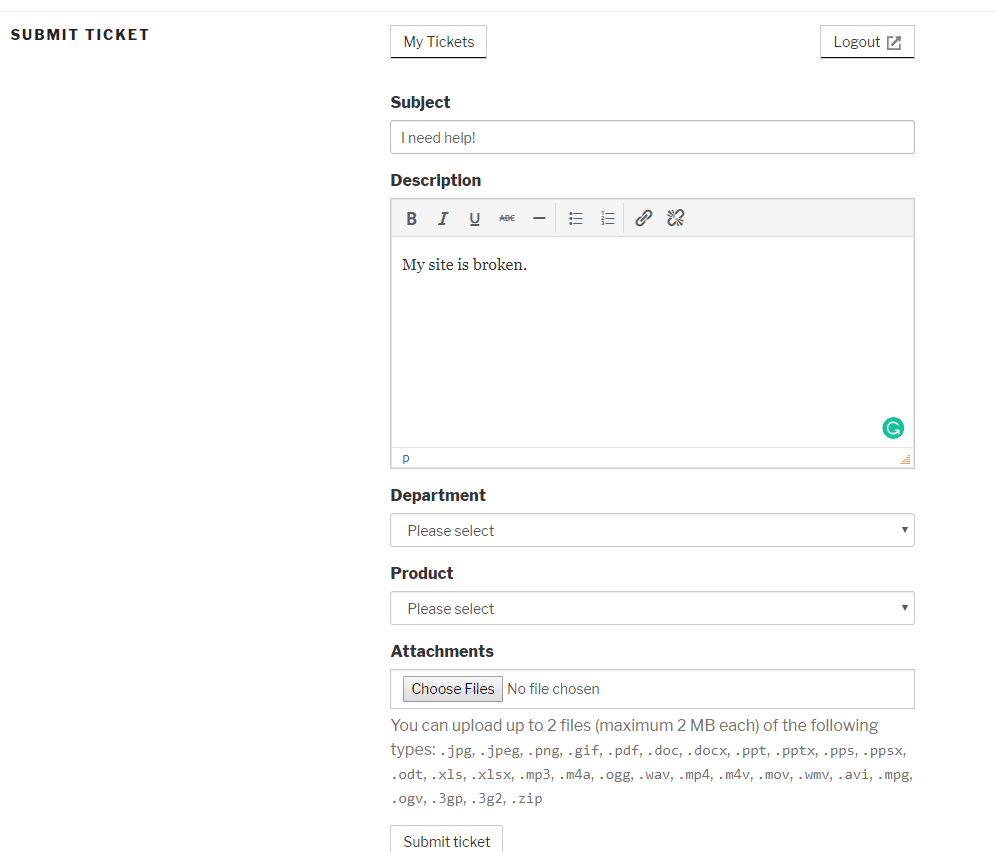 Upon submitting a ticket, the users can then navigate to the My Ticket page to check on statuses.

Step 4: Reply to tickets from the WordPress backend
Now, you can head back to your normal WordPress dashboard. Under the All Tickets tab, you'll see which tickets are open, in progress, and closed.

To reply, click on the ticket of your choice and communicate through the Ticket Replies area. Once the issue has been resolved you can click the Close Ticket button.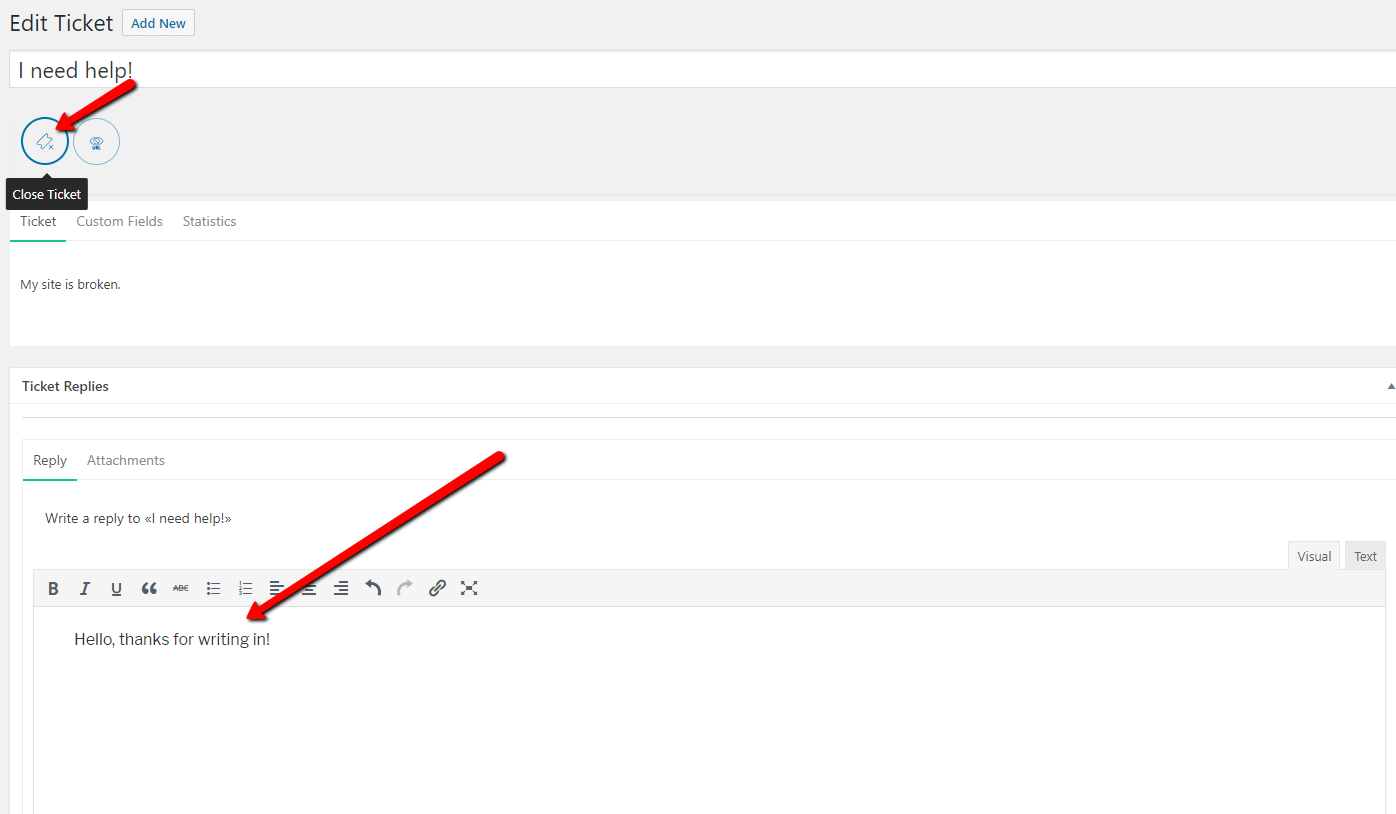 There's also information involving the agent, current status, and open tickets on the same page.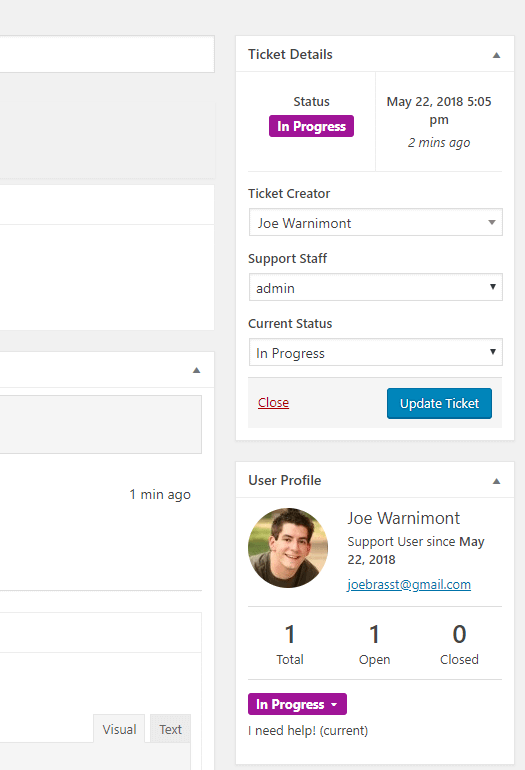 Finally, if you'd like to add additional products or departments, the buttons are available right in the dashboard.
Are you ready to add a WordPress helpdesk to your website?
The free version of Awesome Support sets you up with a fully-functioning WordPress helpdesk. But if you ever need more functionality, Awesome Support has a huge variety of premium add-ons that can help with everything from automatically assigning tickets to agents to receiving Slack notifications whenever a new ticket rolls in.
And to offer even better support, consider combining your new helpdesk with a WordPress knowledgebase and/or live chat plugin.
Do you have any other questions about adding a helpdesk to WordPress? Let us know in the comments and we'll try to help out!
Free guide
5 Essential Tips to Speed Up
Your WordPress Site
Reduce your loading time by even 50-80%
just by following simple tips.