The world is becoming smaller, but even so, language is still a common stumbling block between success on a local level and becoming a global juggernaut. Unless you learn how to create a multilingual WordPress website, you'll never be able to reach your full potential, audience-wise.
Although translating your website is a tough task, it can be done. Fortunately for us, WordPress makes the process simpler than it would be on other platforms, thanks to its powerful plugin system.
In this article, we'll teach you how to create a multilingual WordPress website (using the popular WPML plugin) in just four steps. However, before we roll up our sleeves, let's take a minute to talk about how this plugin works and what its major features are.
Introducing the WPML plugin

The WordPress Multilingual plugin (or WPML) is a multilingual plugin solution that provides you with almost everything you'll need to add new languages to your site, switch between them, and even translate your WordPress back end. As with other tools (one of which we've covered previously), WPML doesn't actually translate your site for you – it just provides you with the tools to do so efficiently.
It's important to note there are plenty of other excellent plugins that perform similar tasks, such as Polylang and Weglot Translate. However, WPML – in our opinion – offers a more thorough set of features, which can be attractive to small and large businesses.
Key Features:
Lets you add new languages to your WordPress site.
Enables users to switch between languages at will.
Helps translate your WordPress back end (e.g. categories, tags, and navigation menus) to other languages.
Supports posts, pages, and custom posts types.
Price:
WPML subscriptions start at $29 per year.
How to create a multilingual WordPress website (in 4 steps)
Before we get our hands dirty, it's important to back up your WordPress site. Backups are crucial – especially when you're about to add new functionality – and to that end we suggest using the UpdraftPlus plugin. For those of you who prefer the non-plugin approach, check out our recent guide to manually backing up WordPress.
As we mentioned, we've already explained how to create a multilingual WordPress website using Polylang previously. For some it represents almost everything they'll need. For the rest of you, let's begin!
Step #1: Install and activate the WPML plugin
Although you may be au fait with installing plugins, let's go over the process for completeness.
After purchasing a subscription to the WPML plugin, you'll get a link to download a ZIP file. Once you've done so, head over to your WordPress dashboard and into Plugins > Add New. From here, select Upload Plugin and locate the WPML file on your computer:

Click on Install Now, and once the process is complete, choose the Activate option – that's it! We're ready for step number two.
Step #2: Determine your site's languages
Once the plugin is installed, you'll notice a new WPML tab in your dashboard. Navigate to WPML > Languages, and the plugin will ask you to confirm your website's current language before proceeding: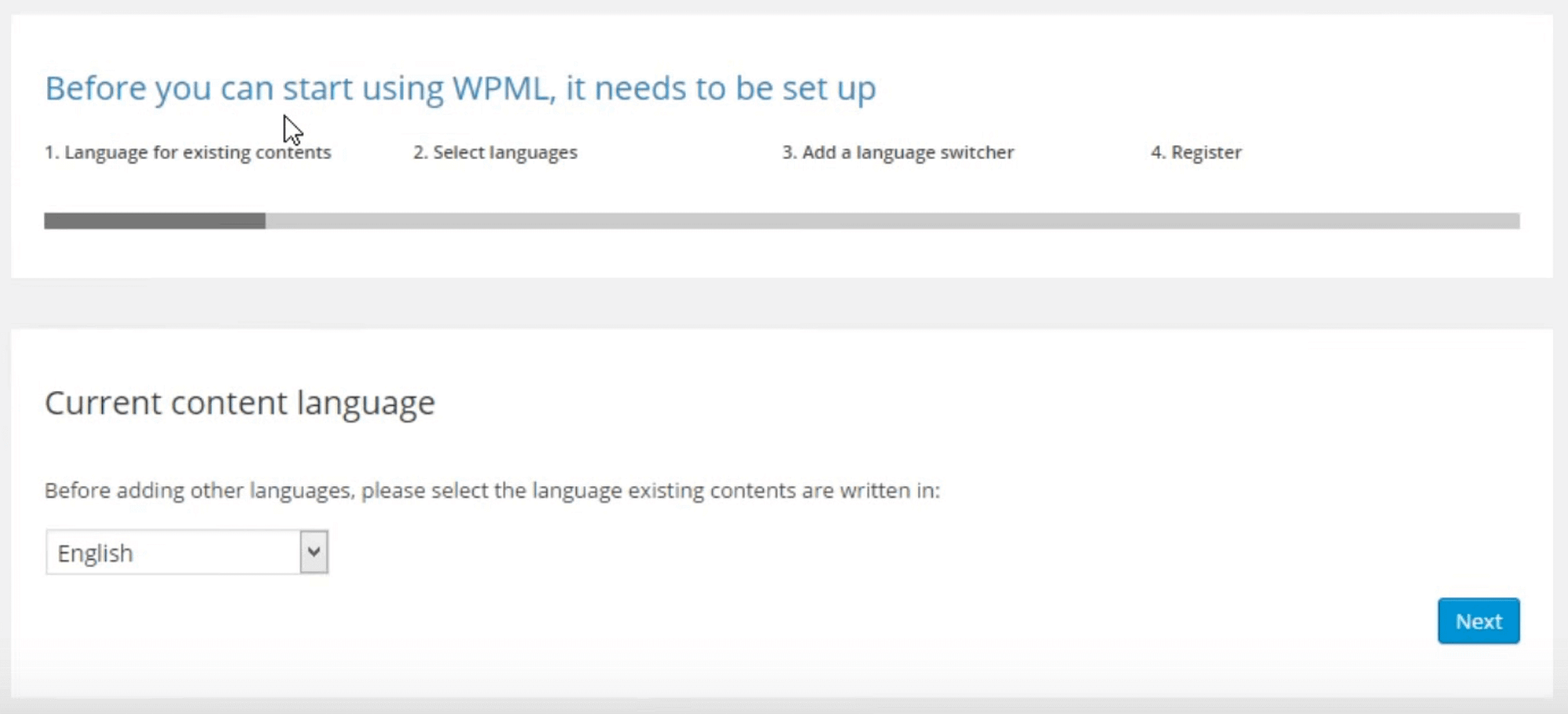 Click on Next, and you'll be prompted to choose your site's new languages by checking the relevant boxes. There are dozens to choose from, so take your time:

So far so good, right? Now we need to add a 'language switcher' feature to our site, so that users can choose from the options we've given.
Step #3: Set up a language switcher
In simple terms, a language switcher is a tool that users interact with to jump between the available languages on a website. It usually comes in the form of a drop-down list, a collection of flags – or in this case, a widget.
After choosing your site's new languages, you'll be prompted to add a switcher to your website. The first option you'll see is Widget Area – go ahead and enable it:

Moving on, we need to set the style for our language switcher. Scroll down until you find the Language switcher style section, and select either a drop-down menu, or a plain list:

Finally, we can enable how languages will appear within our menus. However, these options are purely aesthetic, so they're up to you:
Once you've saved your changes, we're almost done! There's only one key step left in our list – getting our content ready for translation.
Step #4: Prepare your content for translation
As we mentioned earlier, WPML does not automatically translate your content for you. Machine translations are still not at a point where they should be trusted to make good work of entire posts or pages – you'll need to either do the work on your own, or outsource it.
If you choose the Edit option for any of your posts and pages (or custom post types), you'll find a new meta box next to the WordPress editor: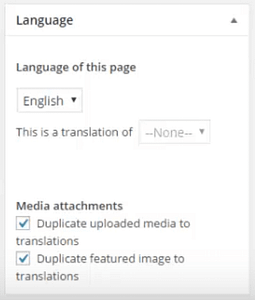 Here, you can set the main language for your post, and choose whether you want to set it as the translation of another page. For example, you could create a new page, select a new language, and mark it as the translation of your homepage. If a user switches between languages while on the home page, they'll land on the page you just created.
You can also choose to add specific languages to your pages, which will prompt WPML to create copies of them. That way, you get to preserve their structure and can limit your changes to translating their content.
Now you're ready to begin the actual translation process. If you're multilingual, you can do the work yourself – otherwise check out WPML's guide to content translation, which will point you towards all the resources you need. It can even help you translate your themes and plugins!
Conclusion
You'll need to put in some effort if you want to create a multilingual WordPress website, but the rewards can be plentiful. Not only will you get access to a much larger audience, your website will also come off as more professional in exchange for your efforts.
If that sounds like a win-win proposal to you, here are the four steps you need to know to create a multilingual WordPress website:
Install and activate the WPML plugin.
Determine your site's new languages.
Set up a language switcher.
Get your content ready for translation.
Do you have any questions about how to create a multilingual WordPress website? Ask away in the comments section below!
Free guide
5 Essential Tips to Speed Up
Your WordPress Site
Reduce your loading time by even 50-80%
just by following simple tips.
* This post contains affiliate links, which means that if you click on one of the product links and then purchase the product, we'll receive a small fee. No worries though, you'll still pay the standard amount so there's no cost on your part.