If you need to display multiple images on your site, a gallery is usually the best option. And while there are numerous WordPress gallery plugins that you can choose from to help you add galleries to your website, it is actually very easy to create a gallery in WordPress using built-in functionality.
In this article we…
Will give you a step-by-step tutorial on how to create a gallery in WordPress.
Look at how to enhance your WordPress galleries using Jetpack.
Consider WordPress gallery plugins that can add advanced features to your website.
By the time you have finished reading, you will be ready to start creating your own galleries in WordPress.
How to create a gallery in WordPress
Here's an example of what you can create using the core WordPress gallery functionality: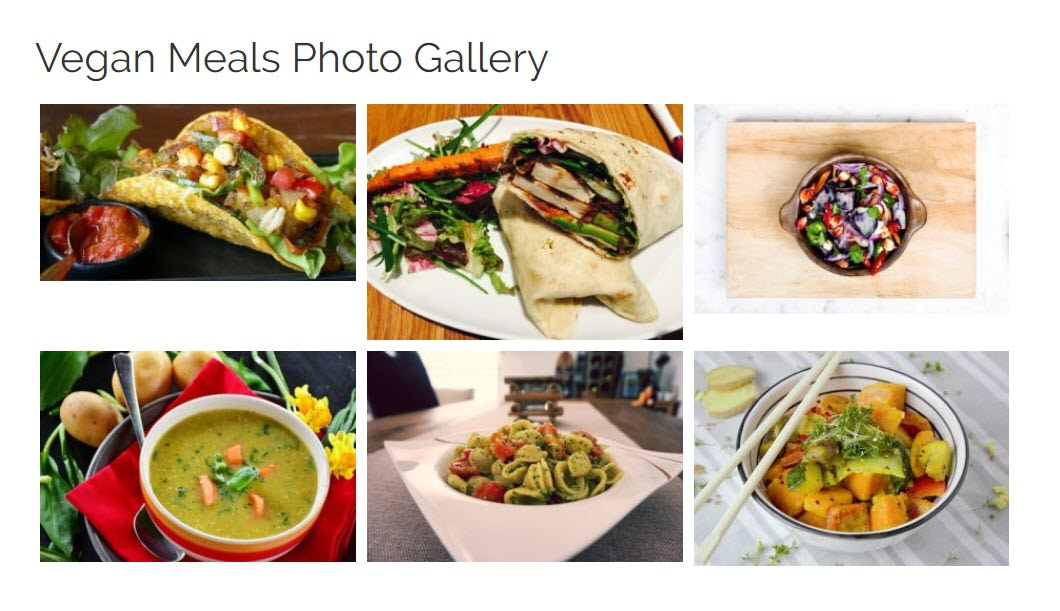 Ready to get started? All you need to do is go to the normal WordPress editor by creating or editing a piece of content:

Then, click the Add Media button like you would do to normally insert a single image.

From the left-hand side menu, select Create Gallery. Then, you can either select existing images from your Media Library or go to the Upload Files tab to upload new images:
Then, select all the images you want to appear in your gallery and click on Create a new gallery in the bottom right-hand corner.
Edit your gallery
Before you insert your new gallery into your WordPress page or post, you have the opportunity to edit it.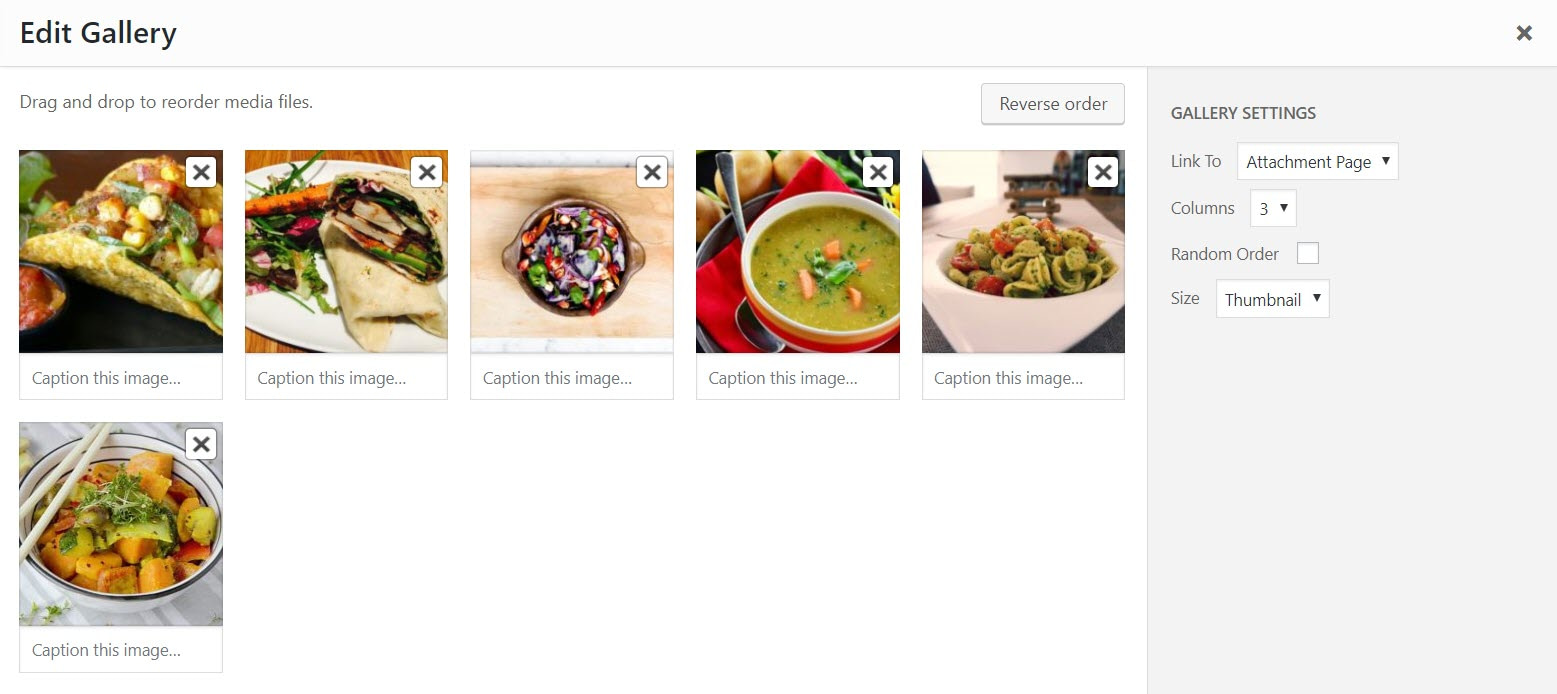 Here, you can drag and drop the images into the order you want or simply click the Reverse order button. You can also caption each image to make them relevant to your audience.
Under GALLERY SETTINGS, you also have a few different setting options. Here you can
Choose how many columns you want your gallery to display
Select your Link To preference
Alter the size of your images
Randomize the order of images
By clicking on each individual image, you can also add the image properties.
Once you are happy with your editing, select Insert gallery. Then, you should see a live preview of your gallery in the editor: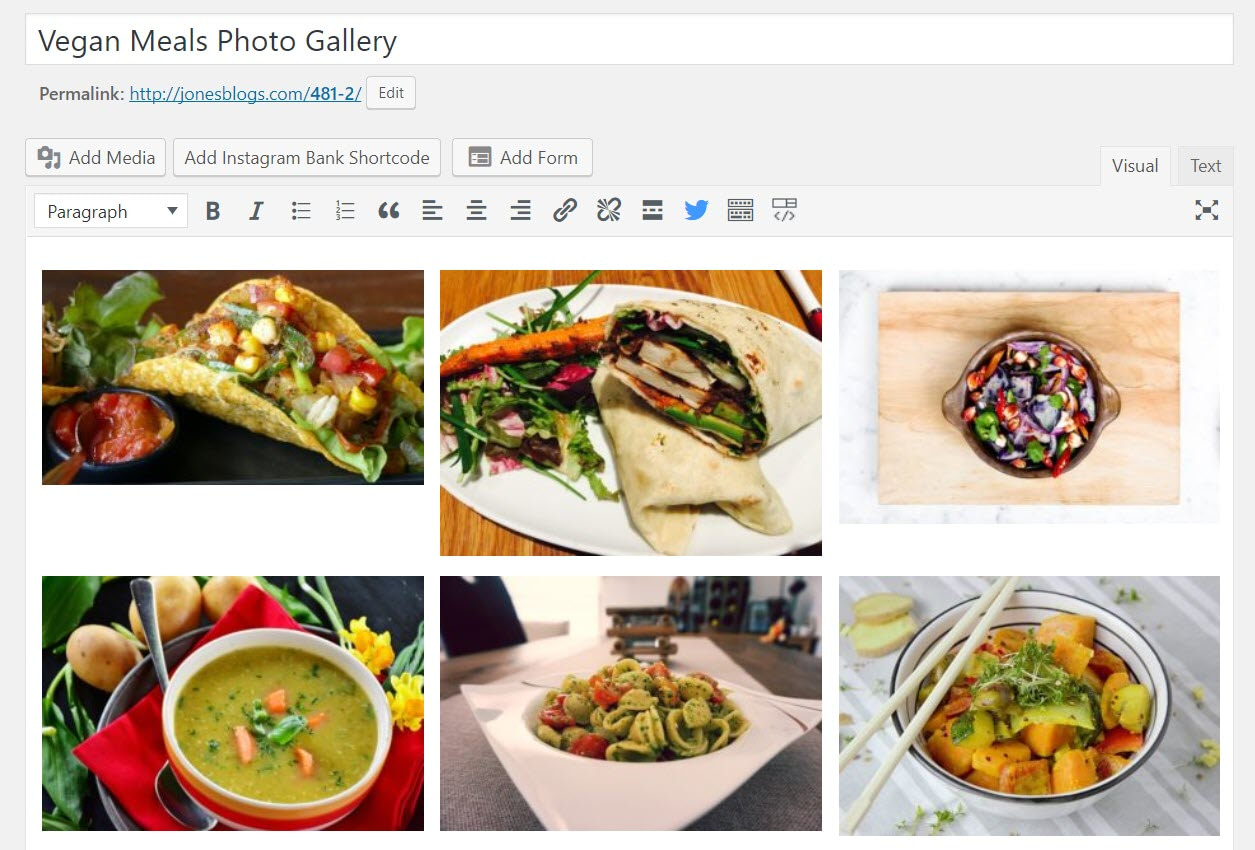 If you want to make any changes to your gallery, click directly on the gallery in the editor. Then click on the pencil icon and you will be returned to the Edit Gallery page.
Once you are happy with the appearance of your gallery, publish your post like normal to make it live.
Using Jetpack to enhance your galleries
Although it is quick and easy to create a gallery in WordPress, the settings and display options are pretty limited. Luckily, the popular Jetpack plugin contains some relevant modules that can help you add the 'wow' factor to your galleries.
Under the hood, Jetpack works like any other WordPress plugin. In order to use it, you first need to install and activate it (here's how). Additionally, here's our guide on some of the more useful features you'll find in Jetpack (apart from what I'm describing below).
So let's have a look at what Jetpack offers in terms of wanting to create a gallery in WordPress:
Image CDN
Image CDN, formerly known as Photon, is a useful module to activate if you are displaying numerous images on your WordPress website. This module provides an image acceleration and editing service for all Jetpack-connected websites.
Once you have enabled Image CDN, your site's images will be served dynamically from WordPress.com's servers. Using Image CDN will result in less load on your host. It also means that images will load faster, improving the user experience on your website.
To activate the Image CDN module, select Jetpack > Settings from your WordPress menu. Then under the Writing tab, scroll down the page until you reach Media.

Now toggle on the button next to Speed up images and photos.

Importantly, you must enable Image CDN if you want to display your images in Tiled Galleries. Let's find out about Tiled Galleries next…
Tiled Galleries

The Tiled Galleries module will enable you to display your galleries in three different styles:
Square mosaic
Rectangular mosaic
Circular grid
You can also choose to showcase the images in a slider. These options will enable you to create interesting and stylish galleries that will help grab your audience's attention.
To access the Tiled Gallery feature, first you will need to activate Image CDN (as mentioned above). Then, when you re-open the Edit Gallery page in the WordPress Media Library, you will find extra options have been added to the GALLERY SETTINGS menu.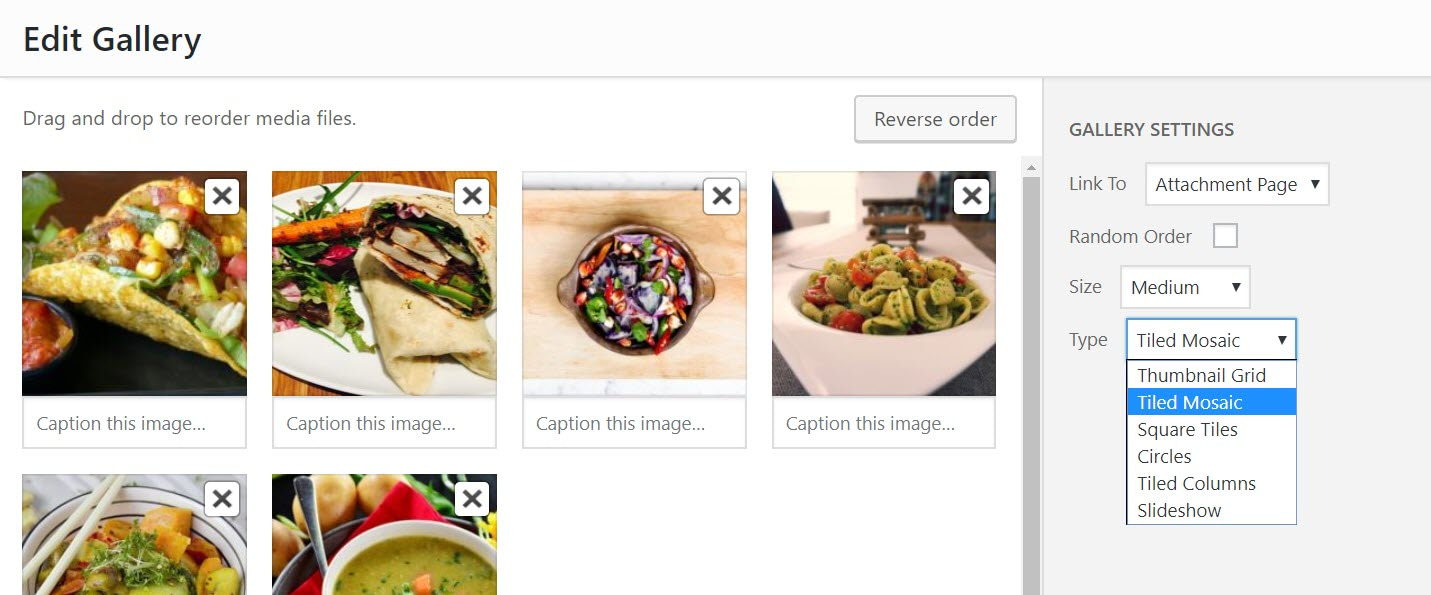 Try out the different Tiled Gallery options, previewing them on the frontend of your site. Here's a preview of a Tiled Mosaic gallery…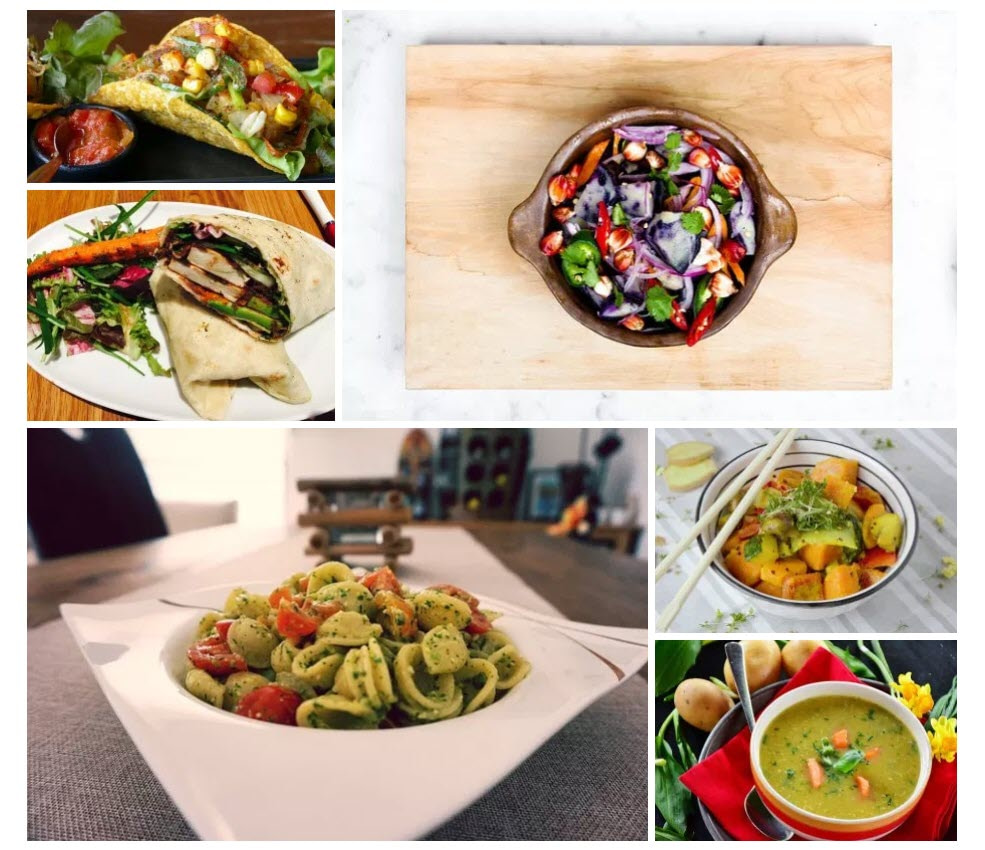 Once you are happy with your gallery, Publish the page.
Carousel
The other Jetpack feature that will help improve the aesthetics of any WordPress gallery is Carousel. With this module, any WordPress gallery you have embedded in your site will launch using a full-screen lightbox effect like below: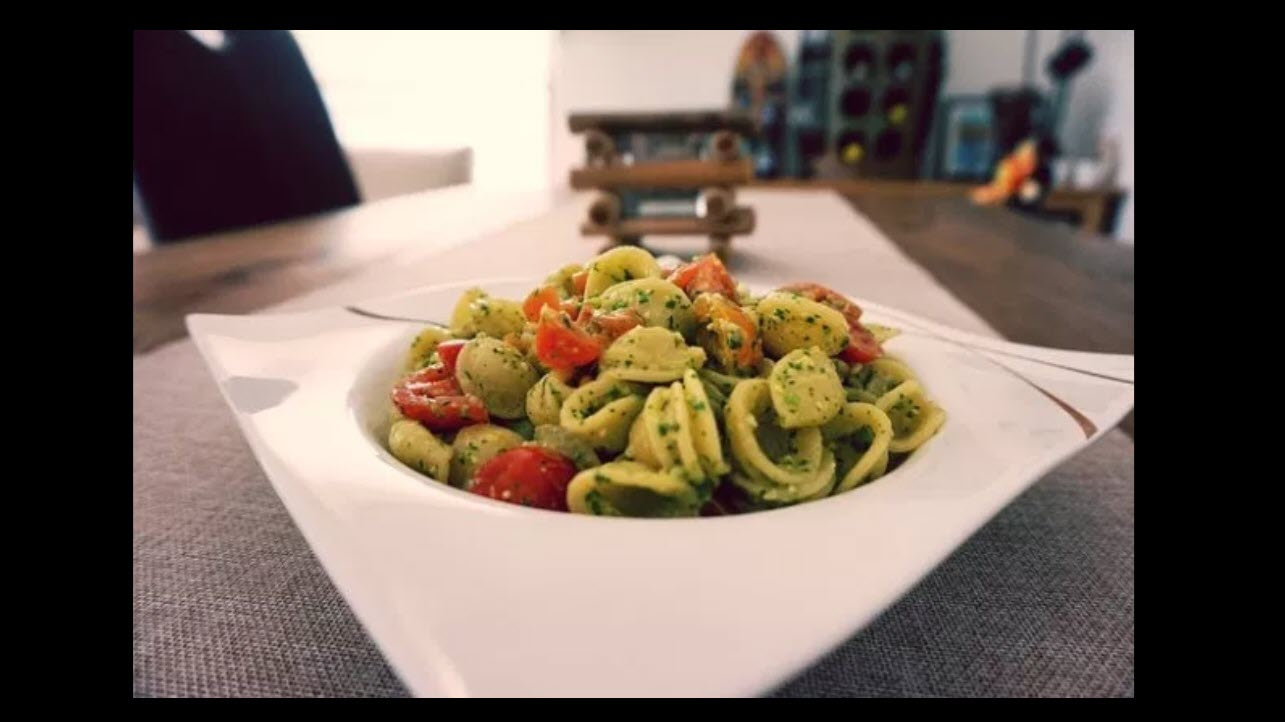 To activate Carousel, simply select Jetpack > Settings from your WordPress menu. Then under the Writing tab, scroll down to Media. Here, turn on the button next to Display images and galleries in a gorgeous, full-screen browsing experience.

You can then select whether you would like your carousel to appear with a black or white background. And you can also opt to show photo metadata in the carousel.
WordPress gallery plugins
If your website displays countless galleries, as many photography websites do, then a premium feature-rich gallery WordPress plugin may be a better option for you. Three of the best currently available include…
You should also check out our roundup of the 6 Best WordPress Lightbox Plugins.
Final thoughts on how to create a gallery in WordPress
For basic galleries, using the built-in WordPress gallery functionality is just fine. You can even enhance it a bit by using some of the handy Jetpack modules. And if you need some more advanced gallery functionality, there are plenty of dedicated gallery plugins that you can turn to.
Have a question about how to create a gallery in WordPress? Please ask away in the comments below…
Free guide
5 Essential Tips to Speed Up
Your WordPress Site
Reduce your loading time by even 50-80%
just by following simple tips.