Hosting events regularly is easier with a website. Attendees can then find all the information they need and even purchase tickets. However, if you don't know how to connect Eventbrite with WordPress, you may find it difficult to incorporate all the features you need.
There are several advantages to connecting the two. You can use Eventbrite to handle event management and payment processing. Meanwhile, with WordPress, you can create pages with more detailed information, enable users to leave reviews, and more.
In this article, we'll teach you two ways you can connect Eventbrite with WordPress:
Add an event's checkout to WordPress
Embed your Eventbrite calendar in WordPress
Let's get to work!
A quick introduction to Eventbrite
Eventbrite is a platform where you can look for upcoming happenings in your area. You can also sign up as an organizer to promote your own events: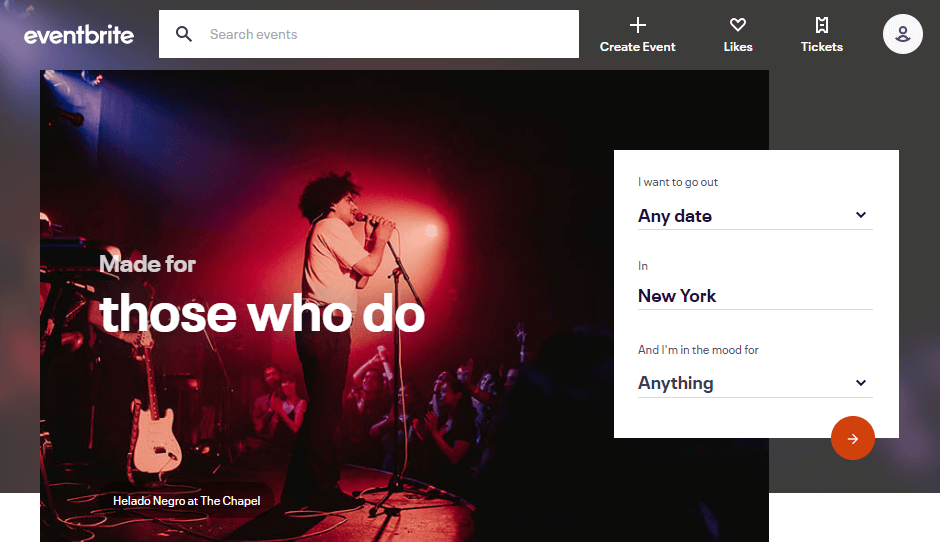 As an organizer, you can set up event pages including all the information people need to know before they sign up to attend. Moreover, Eventbrite can process payments, enable users to create lists of functions they're interested in, send reminders, and more: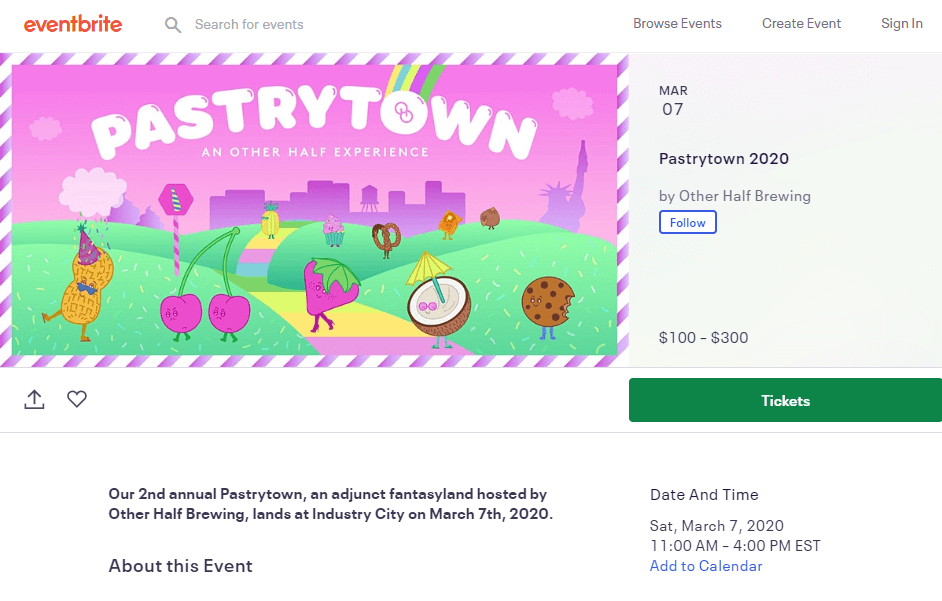 In the past, we've talked about how you can enable appointment booking through WordPress. However, it's much easier to use a dedicated platform that handles all the small details for you when you're putting on large events rather than providing services to customers.
To match Eventbrite's functionality, you'd need to set up a plethora of plugins. It can be cheaper to pay a fee to become an organizer than to attempt to deck your WordPress site out in enough premium extensions to achieve the same effect.
How to connect Eventbrite with WordPress (two options)
While you could simply link visitors out to your Eventbrite pages, it's far easier for them if they can see all your upcoming events and purchase tickets right on your WordPress site. With that in mind, here are two ways to integrate Eventbrite with WordPress.
1. Embed your Eventbrite checkout page on your WordPress site
For this tutorial, you will need a live Eventbrite event. We went ahead and set up an example to show you how the process works: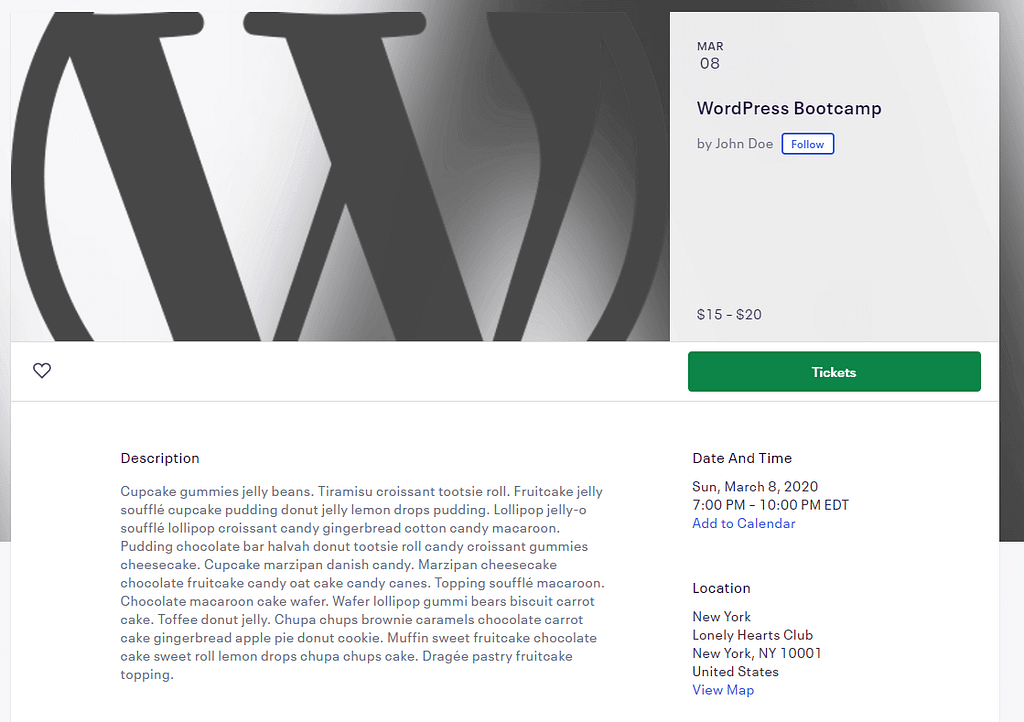 The default page above doesn't look half bad, but with WordPress, you can incorporate your own branding and style. Then, you can connect Eventbrite to take advantage of its checkout and management features.
To do this, navigate to your Eventbrite management dashboard.
There, look for the Invite & Promote tab in the menu to the left.
Click on it and select the Website Integrations option: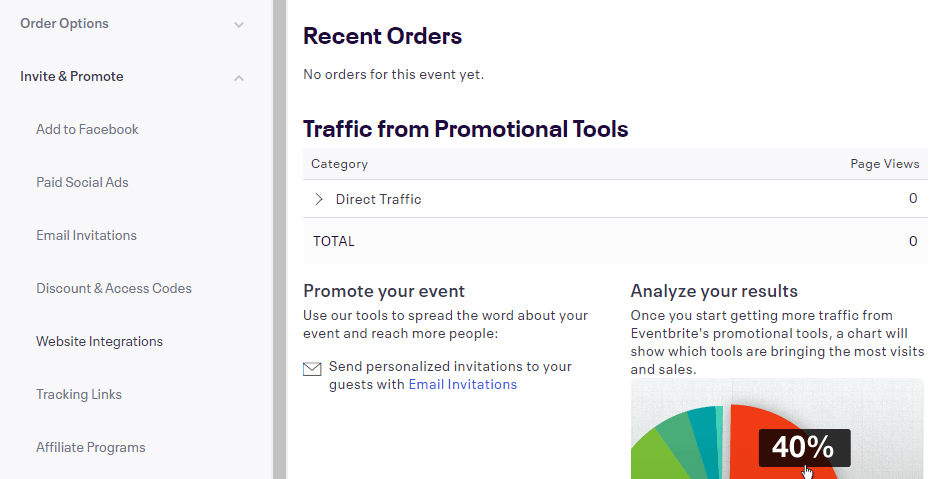 Right off the bat, Eventbrite offers you the option to embed its checkout process on your website. You can choose between adding a button to open a payment window, or incorporating the form right in your page's content: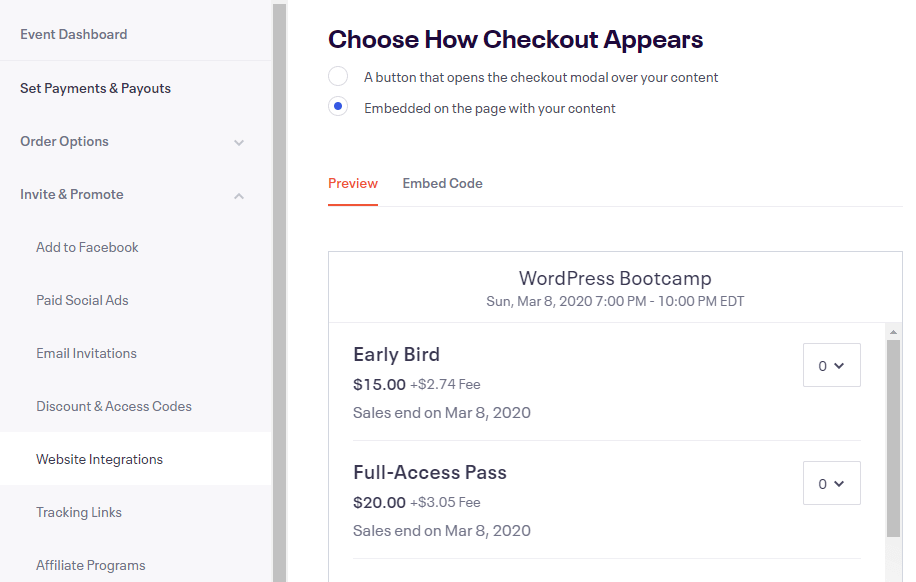 Keep in mind that both approaches only work if your website loads over HTTPS.
All you have to do once you select your preference is click on the Embed Code tab and copy the JavaScript within: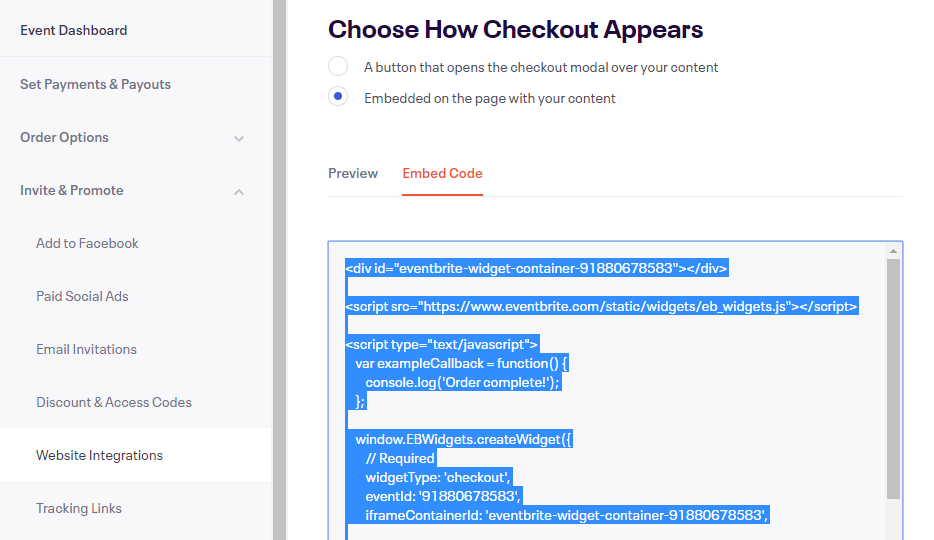 You have several options when it comes to how to add this code to WordPress. One is to use a Custom HTML widget to place it in your sidebar or footer: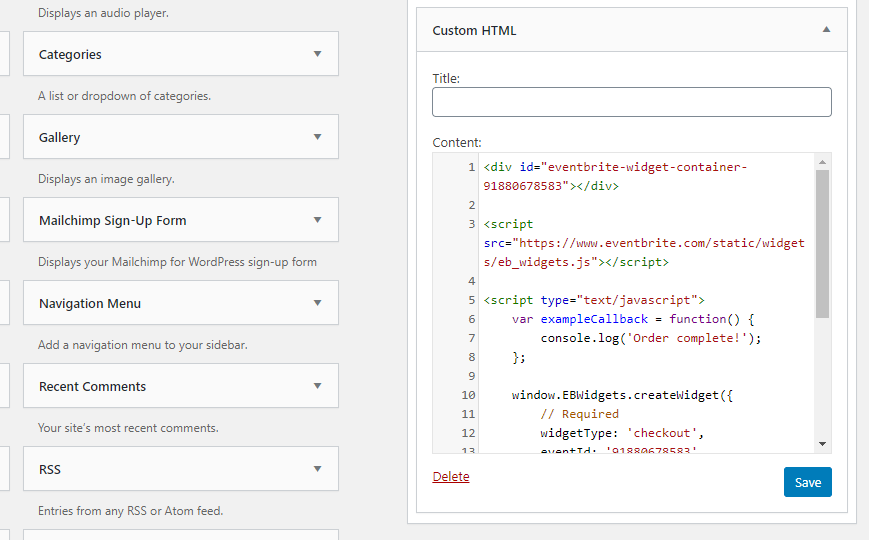 This is best if you chose to add the Eventbrite checkout button. If you want to use a fully embedded payment process instead, you can add it to any page using the Block Editor.
Open the post or page editor, place a Custom HTML block where you want the checkout system to appear, and paste the embed code within: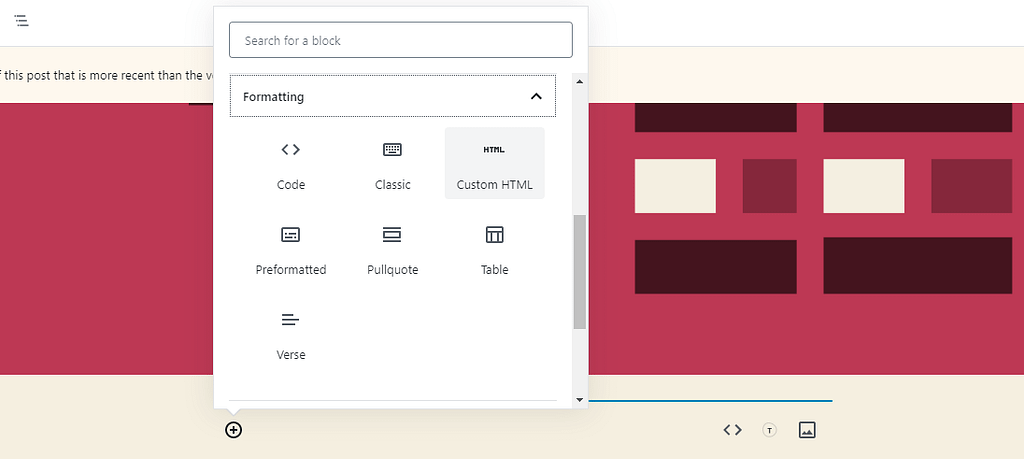 When you're done, your checkout process will show up on your post or page. You can start using it to process ticket sales right away: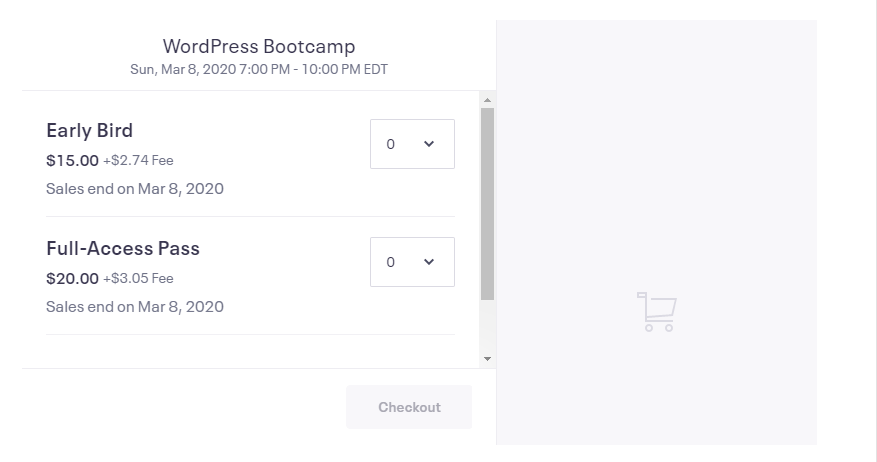 As a final note, if you only want attendees to purchase tickets through your website, set your event to private on Eventbrite.
2. Display your Eventbrite calendar in WordPress
If you manage multiple events, you may want to set up a calendar so your users can check out all the dates at once. Eventbrite offers this functionality, and it enables you to embed your schedule into WordPress.
With this approach, whenever users click on an event in your calendar on your website, it'll open the corresponding Eventbrite page. If you're okay with users navigating away from your content, this may be a viable strategy for you.
You can generate a calendar by accessing your Eventbrite dashboard and navigating to Invite & Promote > Website Integrations. Scroll down until you see the Event Calendar option and select it:

On the next page, Eventbrite will enable you to configure which elements you want your calendar to include. Among them are the event name, the venue, your logo, the relevant date, and a registration button: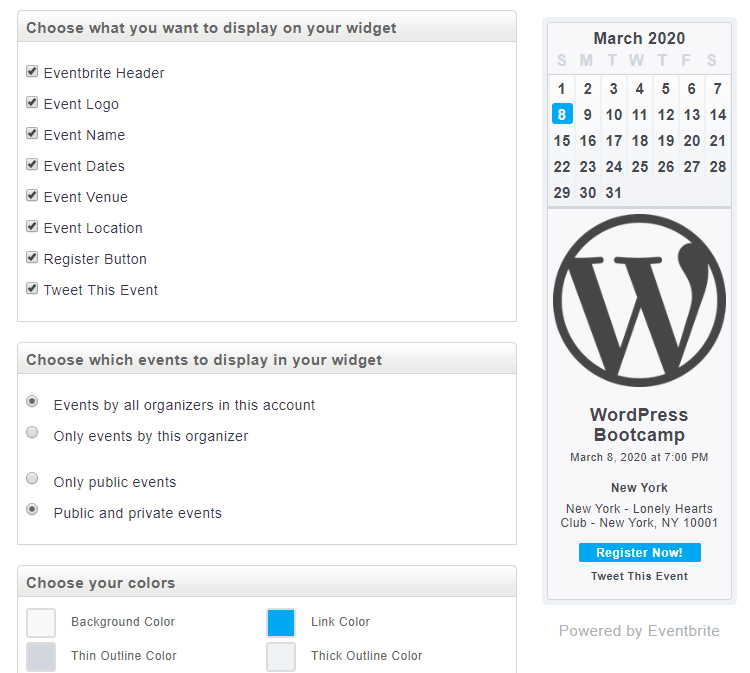 Those are all important details to help users decide which events interest them the most. We recommend sharing as many details as possible, as long as they're relevant.
While you're at it, Eventbrite also enables you to tweak your calendar's colors. You can use this feature to match your schedule to your website's palette.
After you're satisfied with your calendar's appearance, scroll down until you see the section that says Copy and paste this code for use on a webpage:

The next steps are essentially the same as those for adding the Eventbrite checkout process to your WordPress site. You can either:
Use a Custom HTML widget to place your calendar in your sidebar or footer.
Add a Custom HTML block to any post or page where you want your calendar to appear.
We recommend displaying your calendar somewhere prominent, such as your sidebar. That way, visitors are less likely to miss it and you may recruit more attendees.
Conclusion
Planning and hosting events is never easy. The process becomes much more stressful if you don't have an online platform capable of helping you manage RSVPs, ticket sales, and reminders, as well as displaying upcoming events. Figuring out how to connect Eventbrite with WordPress is a smart solution.
In this post, we covered two possible ways you can use these two platforms in conjunction:
Embed your Eventbrite checkout into WordPress.
Display your Eventbrite calendar in WordPress.
If you'd prefer a native WordPress events solution instead of Eventbrite, we also have a tutorial on how to use a WordPress events plugin to add an event calendar, as well as a review of the WP Event Manager plugin.
Do you have any questions about how to connect Eventbrite with WordPress? Let's go over them in the comments section below!
Free guide
5 Essential Tips to Speed Up
Your WordPress Site
Reduce your loading time by even 50-80%
just by following simple tips.