As you probably know, WordPress enables you and your users to set up individual profile pictures. However, you can only do so using the Gravatar system, which can be restrictive. That's why learning how to change your WordPress profile picture (outside of Gravatar) can come in handy.
Fortunately, WordPress enables you to tweak almost any aspect of your site using plugins, and profile pictures are no exception. By using the right plugin, you can overhaul your entire profile picture system to make it more user-friendly, and avoid relying on a third-party service.
In this article, we're going to talk about how WordPress' default Gravatar system works, and explain what its downsides are. Then we'll teach you how to replace it with a better version in three simple steps. Let's jump right in!
How WordPress' profile picture system works (and why you should consider changing it)
By default, WordPress uses the Gravatar platform to handle profile pictures. This system enables you to upload avatars and use them on any site that incorporates Gravatar, by logging in with the same user credentials.
On paper, this sounds like a smart idea since it can save time. After all, you don't have to upload a profile picture separately to each new site. In practice, however, this system isn't as convenient as it looks. There are a few main downsides to using Gravatar:
You can't change your profile picture from within WordPress. Instead, you have to log into the Gravatar platform and associate a new avatar with your email address.
It's difficult to use different profile pictures for specific websites. To do so, you have to add a new email to your Gravatar account, assign it a different avatar, and use that address to log into the site in question.
If you don't mind these inconveniences, Gravatar can be a welcome addition to your site. However, you may appreciate the option to upload your own unique avatar to your site, without using a third-party service. Let's find out how to make that possible.
How to change your WordPress profile picture system (in three easy steps)
In this section, we're going to show you how to use the ProfilePress plugin to overhaul your site's profile picture system:
We chose this particular plugin because it's easy to implement, and it enables you to upload your own avatar. You'll first want to install and activate the plugin, then move on to the first step.
Step #1: Configure the ProfilePress plugin
After installing the plugin, a new ProfilePress tab will appear in your WordPress dashboard. Clicking on it will reveal a few options for several purposes. For now, click on the Settings tab and check out the "Profile & Cover Photo" under the general settings:
In this section, you'll be able to set a size limit for images users can upload, and turn on a feature that will resize all profile pictures automatically:
We recommend setting a cap of 1–2 megabytes, to prevent avatars from taking up too much room on your server.
You can also disable the Gravatar system if you want, although that isn't necessary.
If the users don't set custom profile pictures, you can either upload one yourself (that will appear by default in all profiles) or select a generic logo that the ProfilePress plugin provides for you.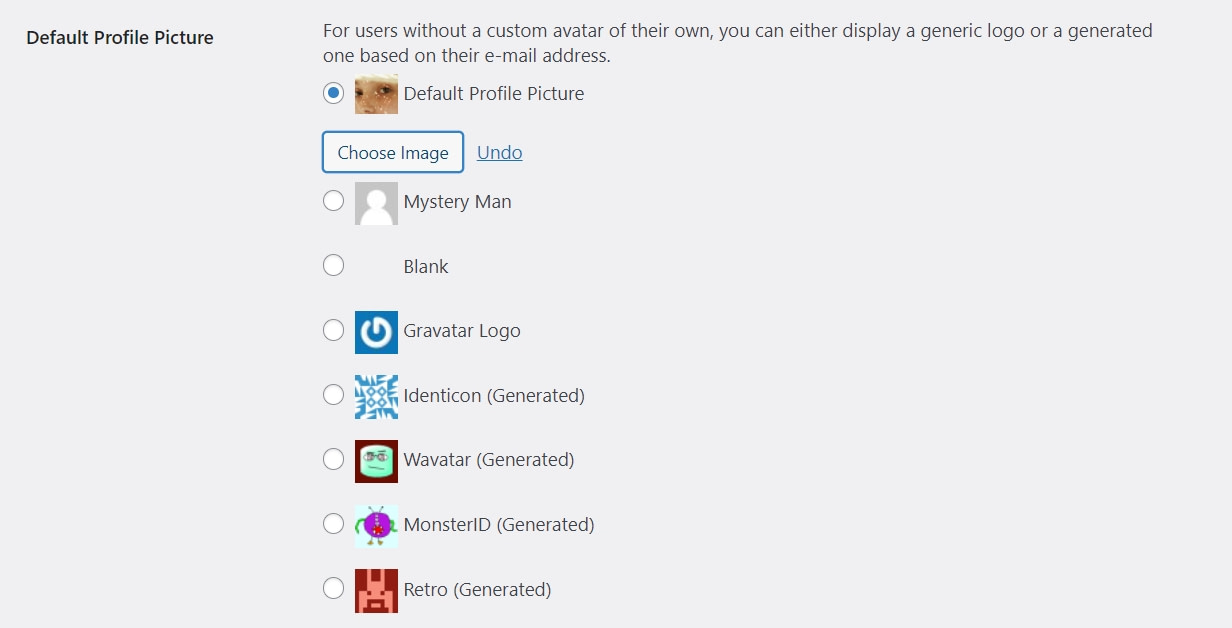 All you have to do is upload an image of your own to serve as your site's default profile picture, save your changes, and you're ready to go.
Step #2: Enable the upload of your profile pictures using shortcodes
Your new WordPress profile picture system should now be working, but you'll need to add an uploading feature to your front end before you can access it.
To do this, go ahead and open the editor for any post or page where you want to add an image uploading option. You should see a new profile picture icon right above your main editor:

Place your cursor in the page or post, at the spot where you want to include the upload feature, and then click on the icon. You'll see a window with two tabs, one that enables you to insert your own avatar into your posts, and another to add the upload functionality. Click on the Upload tab:
Now confirm your decision using the Insert Into Post option. A shortcode will appear on your page, like this:

Keep in mind that you can use this feature in multiple places on your site, by adding the shortcode manually anywhere you want. Now, let's check out how our new upload feature works.
Step #3: Test your new profile picture uploading feature
To see your new WordPress profile picture system in action, visit the page of your site where you inserted the shortcode during the previous step. The feature should look something like this: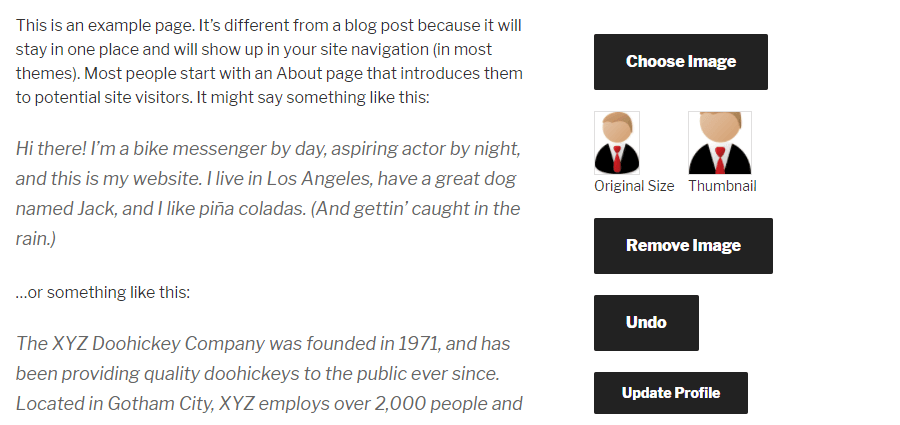 To change your avatar, click on the Choose Image button and pick the image you want to use. It shouldn't take long for the file to upload. If you're not happy with your choice, you can always hit the Undo button: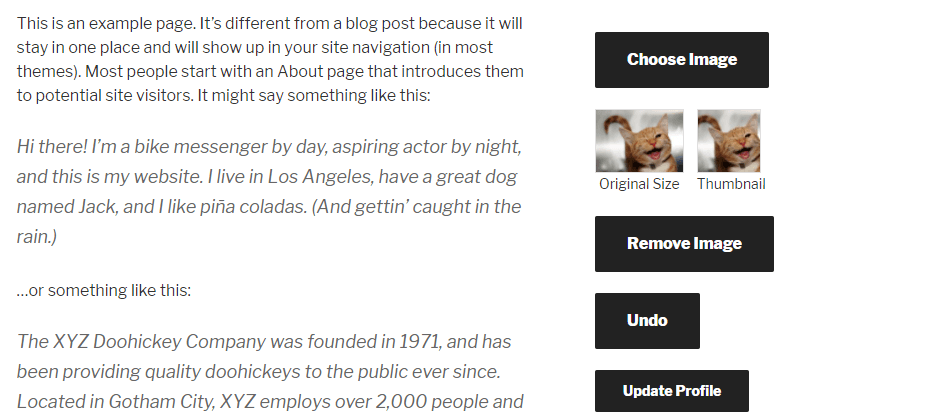 Otherwise, click on Update Profile and you'll be ready to go. Your new profile picture will appear whenever you publish a post or write a comment:

Keep in mind that if you didn't disable Gravatar during the first step, changing your profile picture using this new system will override that avatar. You can keep both systems on, which enables you to choose whichever one you prefer.
💡 If you're using the block editor, go to the post where you want to add the image uploading option. Here, add a new Shortcode block and paste one of the plugin's default shortcodes (you can find them on the ProfilePress' Settings page -> Profile & Cover Photo).
After pasting your preferred shortcode, click preview to see how it looks on the live website.
Conclusion
WordPress' default profile picture system is a bit lacking in functionality. Fortunately, replacing it is simple and can make your website more mobile-friendly. Not only will you have more freedom over your avatar, but you'll also be able to customize the system to your liking – something you can't do using Gravatar.
Let's recap the three steps to revamping your WordPress profile picture system using the ProfilePress plugin:
Configure the plugin.
Enable the upload of your profile pictures using shortcodes.
Test your new uploading feature.
Do you have any questions about how to change your WordPress profile picture? Let us know in the comments section below!
Free guide
5 Essential Tips to Speed Up
Your WordPress Site
Reduce your loading time by even 50-80%
just by following simple tips.