These days, a lot of people turn to the internet to find out whether a product or service is worth purchasing. If you happen to be an expert on a particular subject, there's nothing stopping you from creating your own reviews. If you want to make the most of those reviews, learning how to add review summaries to your WordPress articles is an easy way to improve their effectiveness.
In fact, the stats on the popularity of online reviews are quite impressive:
(Data source; chart by Visualizer Lite.)
The best way to convince readers to trust your opinions is by making your reviews as professional as possible. That means including images, backing up your statements with reliable sources, and including review summary sections to tie everything together.
In this article, we'll explain what review summary sections are, why they're so effective, and how you can set one up on your WordPress website using the WP Product Review Lite plugin (it's the one we use for reviews on this blog). That's a lot of ground to cover, so let's jump right in!
3 key benefits of review summaries
As its name implies, a review summary is a short section – usually located at the end of an article – which briefly sums up the most important points. If you've read some of our hosting reviews (like this one), you'll notice we like to include review summaries at the end. Example: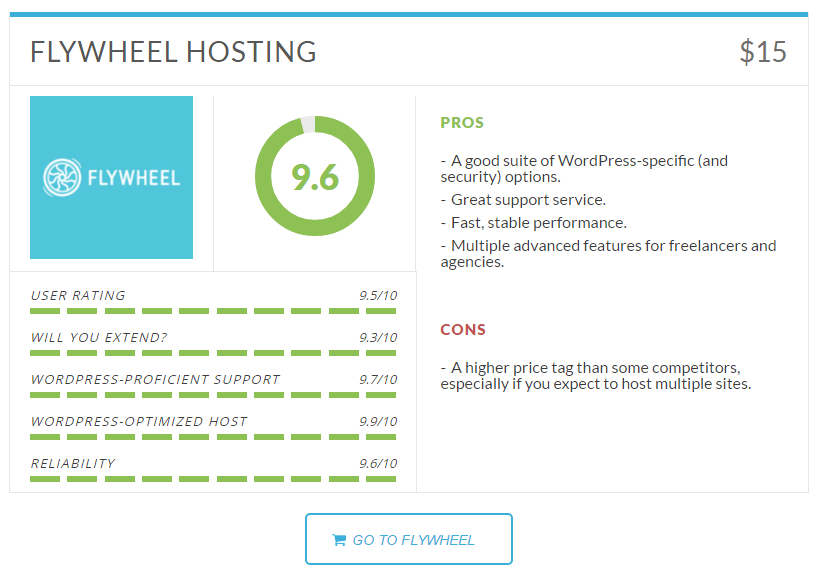 Review summaries might seem redundant, since they don't contain any new information. However, they offer several benefits:
Increased readability. A lot of people skim through online content – they only look for the information they care the most about. Review summaries enable those readers to find what they need quickly.
Highlighting key findings. Review summaries provide a nice format to highlight the most important points in your articles.
Positive visual impact. If properly styled (which we'll teach you how to do), a review summary section can look professional, and will bolster the overall look of your website.
Increased Search Engine Optimization (SEO). Review summaries can also provide a definite SEO benefit when combined with Schema markup. This is essentially code that helps search engines to read your content better.
Now that we know the why, it's time to get to the how. As usual, WordPress enables us to implement this feature using a simple plugin.
How to add review summaries to your WordPress website (in 3 steps)
For this section, we'll be using the same plugin that powers our review summary sections throughout Themeisle – WP Product Review Lite. It's an open-source version of one of our premium products.
Before we get started, you'll need to install and activate the plugin. Then you can jump into Step 1 whenever you're ready.
Step 1: Configure WP Product Review Lite's general settings
After you activate the plugin, a new Product Review tab will appear in your dashboard. Click on it, and you'll be sent to WP Product Review Lite's configuration page. Before we can add review summaries, we need to configure the plugin's settings.
First, you'll want to determine where your summaries will appear on the page. The two main options are before or after your content, but you can enable manual placement if you want to be more specific. You can also enable user reviews: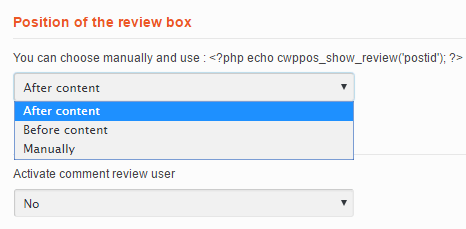 If you turn this option on, users will be able to contribute their own reviews through the comments section. Furthermore, the scores they give may affect the score displayed in your review summary, if you enable the Visitor Review Influence option: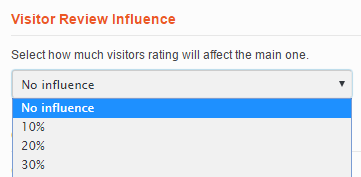 You can also configure how many items you want to appear under the pros and cons section, with three being the minimum and ten the maximum. Finally, you can specify a width for your review summary sections, which will depend on the layout of your pages:

Once you've personalized these settings (which shouldn't take more than a few minutes), you're ready for the fun part – styling your review summaries.
Step 2: Style your review summaries
WP Product Review Lite enables us to customize our review summary sections using color settings. To do so, head back to the Product Review tab and click on the Ratings Color section.

Most of the settings here are self-explanatory, and your choice of colors is a personal decision. However, you should try to aim for a variety of colors that are easily distinguishable and complement each other well, to make sure your review summary looks stylish.
You can also change the colors of the text that appears within each summary from the Typography tab. The same section will let you customize the color of your Call to Action (CTA) text. Each review summary includes a CTA or affiliate button, which can be used to drive conversions.
Step 3: Add your first review summary section
Now that you've configured the plugin and chosen which colors it will use, it's time to add review summaries to your site. All you have to do is select any post or page and navigate to the bottom, where you'll find an option to enable review summaries.
Once the option is enabled, you'll be able to set a title for your summary and select a featured image:
Below that, you'll find several options to configure your CTA or affiliate button. You can choose which text to display and which link to include:

It's worth noting this section also includes the option to display a price. However, any value you enter here will appear next to the section's title, rather than on the CTA.
In the next section, you can add the criteria you used to review the service or product. You can use any criteria you want, such as performance, features, or reliability. We recommend for consistency's sake that you re-use the same criteria for other reviews of similar products. For each criterion you add, you'll need to provide a score from 0–100:

Finally, the plugin enables you to list pros and cons under separate lists. You can add as many or as few as you want, depending on the settings you customized in Step 1. When you're done, remember to hit the Publish button to make your changes go live.
Conclusion
As long as you focus on providing readers with the information they need, they will come to trust your reviews over time. Of course, it doesn't hurt if your reviews also happen to look professional and stylish, and that's where review summary sections can help. Furthermore, these sections enable readers to find the information they need faster, and they can even help you drive more conversions.
To recap our steps above, here's how you can add review summaries to your website using the WP Product Review Lite plugin:
Configure the plugin's main settings.
Style your review summaries.
Add review summaries to your posts and pages.
Do you have any questions about how to add review summaries to your WordPress website? Let us know in the comments section below!
Free guide
5 Essential Tips to Speed Up
Your WordPress Site
Reduce your loading time by even 50-80%
just by following simple tips.