Struggling to add a contact form to WordPress? I don't blame you. WordPress makes it easy to launch your website but, out-of-the-box, it doesn't give you all of the tools you need to fully run your site.
Even though pretty much every website needs a contact form, there's no built-in WordPress contact form feature.
But don't worry – it's easy to add a contact form to WordPress using a third-party plugin. And in this post, I'm going to take you through the whole process step-by-step. By the end of this post, you'll be able to have your very own contact form that looks something like this: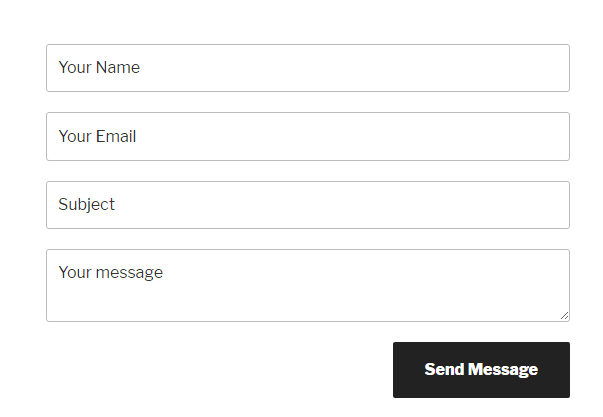 Here are the steps:
How to add a contact form to WordPress using Pirate Forms
⚠️ Pirate Forms is no longer under active development. We recommend using WPForms instead because it is the most beginner-friendly WordPress contact form plugin on the market.
Pirate Forms is a free WordPress contact form plugin that helps you quickly create your own unique contact form and add it to WordPress. I'll take you through all of the steps to get it set up.
Step 1: Install and activate Pirate Forms
Because it's a free plugin, you can install it directly from your WordPress dashboard by going to Plugins → Add New and searching for Pirate Forms: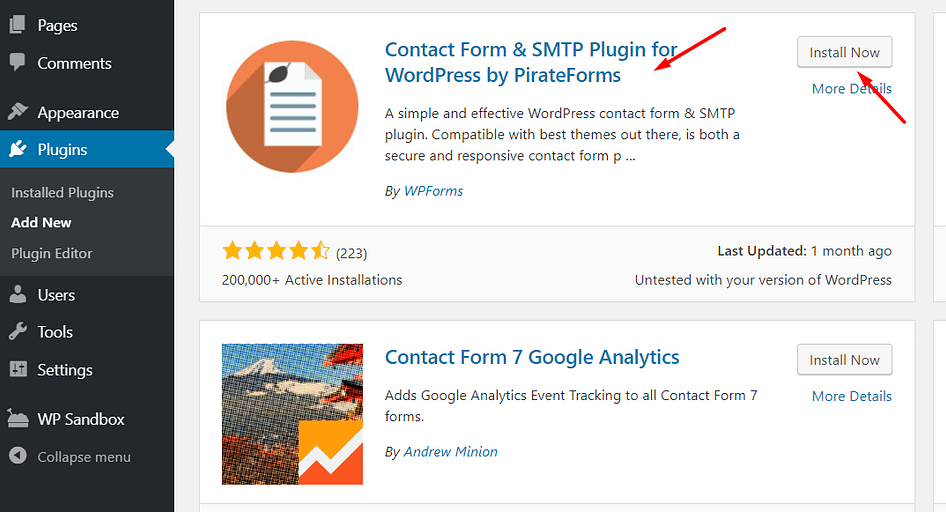 Then click the Install Now button. WordPress will install the plugin automatically. Then you can click the same button again to Activate the plugin.
If you need more help installing Pirate Forms, we have a whole post on installing WordPress plugins.
Step 2: Configure the option settings
Once you activate the plugin, you can configure it by going to Pirate Forms and clicking on the Options tab: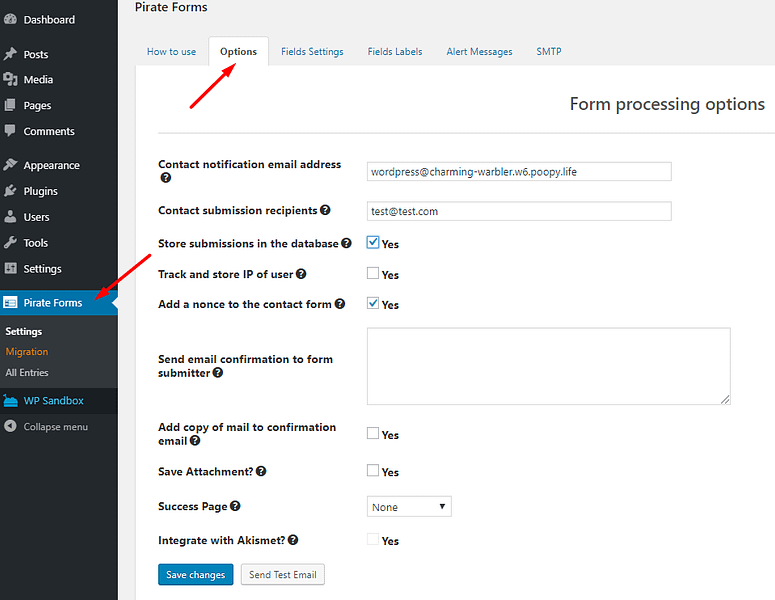 Here's what all of the options mean:
Contact notification email address – when Pirate Forms sends you notification emails, it will come from this address. You can leave it as the default.
Contact submission recipients – when someone submits your contact form, Pirate Forms will send the details to these email addresses. You should definitely add your primary email address. If you want to add multiple emails, you can separate them with commas.
Store submissions in the database – when enabled, you can store form submissions inside your WordPress site (in addition to sending notification emails). When disabled, the only record of form submissions will be notification emails.
Add a nonce to the contact form – put simply, this helps protect you against spam. Only disable it if you're having problems with form errors.
Send email confirmation to form submitter – if you want to send a confirmation email to the person who submitted your form, you can add that message here.
Success Page – if you want to redirect people who submit your form to another page on your WordPress site, you can choose that page here. Otherwise, users will stay on the same page after submitting your form.
The only thing you really need to configure here is your email address! Everything else can be left as the default.
Step 3: Configure your form fields
On the Fields Settings tab, you can choose which fields you want to include in your contact form: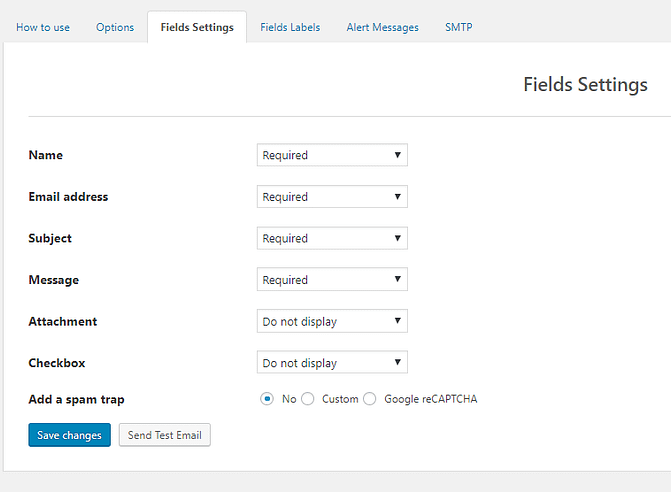 For the first six fields, you can choose between:
Required – users must complete the field to submit your form.
Display but not required – users may complete the field, but they don't have to.
Do not display – the field will not appear.
You can also add a reCAPTCHA to protect yourself from spam. ReCAPTCHA requires users to enter the text in an image before they can submit your form. I recommend you disable this option for now. If you start receiving tons of spam messages, you can always add it later. Requiring users to enter a CAPTCHA isn't very nice, so you should try to avoid it if at all possible.
You can also add an Attachment field. When enabled, users will be able to include files (for example, PDFs or Word Documents) when they submit your form. Unless you specifically need people to be able to upload files, you should leave this disabled.
Step 4: Choose your field labels
In Step 3, you chose the fields that are available on your form. Now, you can choose the labels that appear above your form field in the Fields Labels tab.
For example, if you want the text "Enter your full name" to appear above the Name field, you should enter it like this: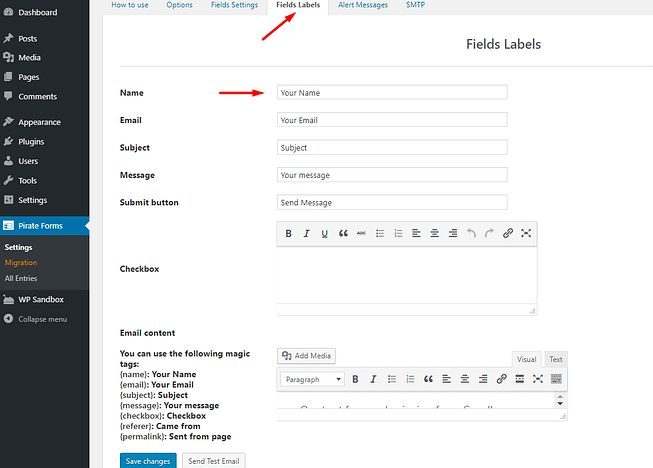 You don't need to change any of the labels. It's entirely your preference.
Step 5: Configure your alert messages
Alert messages appear when a user either:
Tries to submit the form with an error.
Successfully submits the form (if you didn't choose to redirect them to a thank you page earlier).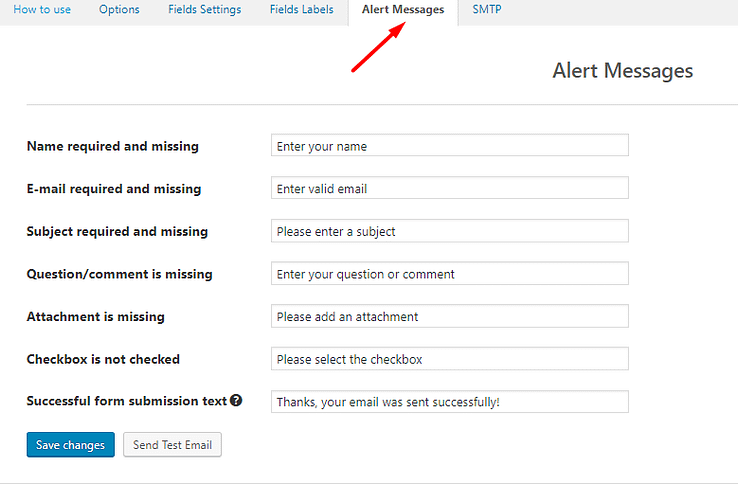 If you want, you can customize the messages. But again, it's totally fine to leave them as the defaults.
Step 6: Add your contact form to WordPress
Once you've configured your form, you're ready to add it to WordPress! You'll use something called a shortcode to add it to your page. A shortcode is just a little piece of text that tells WordPress you want it to add your contact form.
So, go to Pages → Add New and create a page named "Contact Me" or something similar: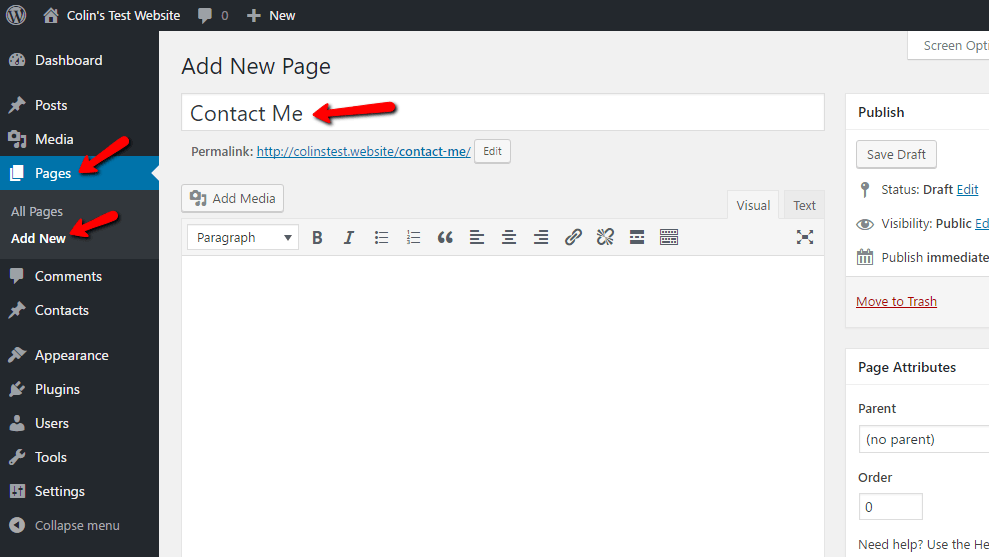 Then, paste in this shortcode:

Basically, anywhere in your post/page: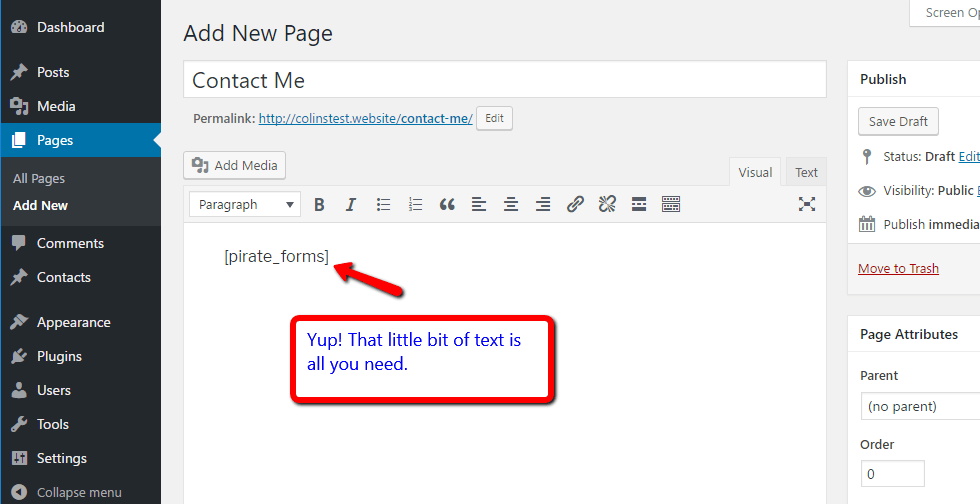 And then Publish your post. When you view the page, you should see a form like this in the middle of it: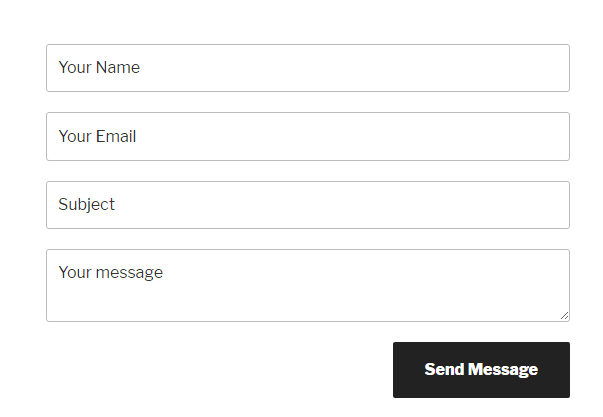 Pirate Forms will automatically try to match its style to your theme. So your specific contact form might look a little different. But the basic idea should be the same!
And that's it! You just learned how to add a contact form to WordPress.
Alternatively: Premium options for adding more complex contact forms
Pirate Forms is a simple way to add a contact form to WordPress. But if you need more complex forms, you might want to consider a premium plugin.
Premium plugins let you do things like add calendars and other complex fields. If you do need those advanced fields, two good options are:
You can also extend these plugins with add-ons like GravityView.
And if you want even more options, we put together a big contact form plugin comparison.
But again, if you just want a quick and simple way to add a contact form to WordPress, I recommend you stick with Pirate Forms.
Free guide
5 Essential Tips to Speed Up
Your WordPress Site
Reduce your loading time by even 50-80%
just by following simple tips.