If your site's main goal is to attract new customers, then you'll need to make yourself available so potential leads can contact you. There are several ways to do this, including through contact forms, emails, and … learning how to add a call now button to your website.
That last method is particularly handy for mobile sites, since users will be able to call you directly from their phones with the tap of a finger. It's even better than simply displaying your phone number because having a dedicated button makes the process easier and quicker for potential customers (which should help you make a strong first impression).
In this article, we'll talk about some of the reasons you might want to add a call now button to WordPress (and make it touch-friendly on mobile). Then we'll teach you how to do it in two simple steps. Let's get to it!
As the name implies, a 'call now' button is a feature that enables your site's visitors to call you directly. You can add this element to both mobile and regular websites, but it's far easier to use with the former. That's because if you're using a smartphone, a call now button can be designed to launch your phone app right away. Desktop sites, on the other hand, will need to start some third-party application such as Skype to complete the process.
A prominent call now button can make for a welcome addition to many websites. For example:
It makes it easier for visitors to get in touch with you. Depending on what type of site you're running, customer support can be crucial to keeping everyone happy. Phone calls are one of the best options if you want to make your customers feel like you value their business.
They may improve your conversion rate. Making yourself available for phone calls can encourage potential customers to trust you more, which in turn can improve your conversions.
Keep in mind that not every type of website needs a call now button. For example, if you're running a WordPress blog, there may be no reason to make your phone number public to your readers. If, on the other hand, you're running a service or restaurant website, making yourself available via phone is usually a smart idea.
Introducing the Call Now Button plugin
Adding a call now button to your site isn't overly complicated – particularly if you know how to code. However, using a plugin such as Call Now Button can make the entire process much simpler.
With this tool, you can add a call now button to your mobile site in a matter of seconds. This way, you save a lot of time and can ensure that your button is fully responsive and works as it should. Plus, you also get access to multiple customization settings, including different styles, colors, and placement options.
Key Features:
Enables you to add a mobile-only call now button to your website.
Works with any mobile phone app.
Provides options to help you customize the location and style of your button.
Price: The Call Now Button plugin is 100% free from the WordPress.org Plugin Directory.
To save time, we're going to ask that you install and activate the Call Now Button plugin before moving forward. When it's ready, you can move on to the first step.
After activating the plugin, there are just a few small tweaks you'll have to make to get it working properly. First, go to Settings → Call Now tab on your dashboard and tick the Enabled option next to Button Status:

This simple change will get your button working. All that's left is to indicate the number it should call, using the field below. To avoid confusion, we recommend that you add your country code to your number, so international callers will be able to reach you as well.
When you're done, save your changes and check out your new button by visiting your site from a mobile device:
If you like the plugin's default button style, feel free to stop at this point. Your button will be perfectly functional. If you want to customize the way it looks, however, move on to the second step.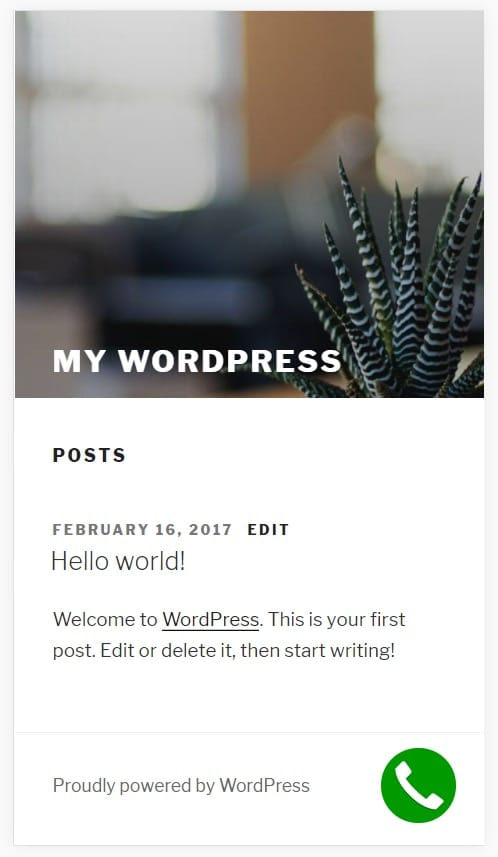 As we saw in the last section, this plugin adds a green circular call now button to your website by default. If green isn't your color or you're not happy with the placement, you can change both elements.
To find Call Now Button's customization settings, return to the Settings → Call Now Button tab on your dashboard. Then look for the Advanced Settings text next to Save Changes and click on it to reveal the styling options:
First off, you can customize your button's color and placement.
Please note that if you choose the Full bottom option, your button will appear as a fixed element on the bottom of your screen:
This option makes your button as visible as possible, although it also risks users clicking on it by mistake as they scroll down. Positioning your button in the bottom center of the screen is a smart compromise that makes it easy to spot but doesn't take up too much screen real estate.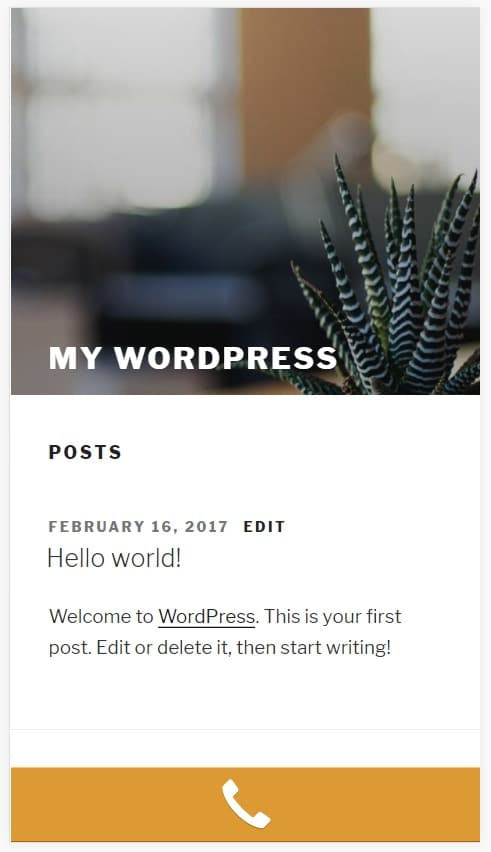 There's also an alternative button style you can use, if you select the Old button setting:
Finally, you can also modify your button so that it doesn't appear on specific posts and pages. Just enter their IDs in the Limit appearance field, and save your changes.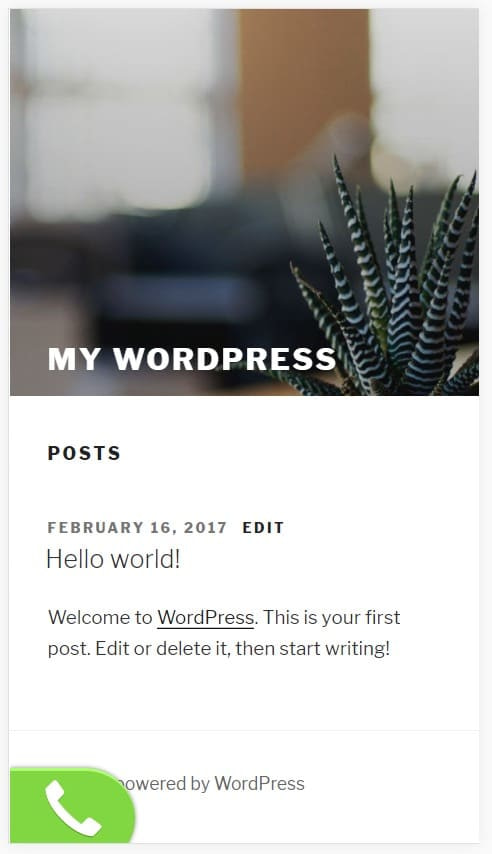 When you're done customizing your call now button, remember to test that it's working correctly. You'll want to check out its appearance and functionality using a mobile device – ideally, more than one type.
Conclusion
Learning how to add a call now button to your mobile site is a simple trick that can help you improve your conversion rate. It does this by making it as easy as possible for visitors to get in touch with you. Once they do, you're free to work your magic and turn them into customers.
Moreover, setting one up for your site is fairly easy. Just install the Call Now Button plugin and follow these two steps:
Enable the button and add your phone number.
Customize your button's location and style.
Do you have any questions about how to add a call now button to WordPress? Let's talk about them in the comments section below!
Free guide
5 Essential Tips to Speed Up
Your WordPress Site
Reduce your loading time by even 50-80%
just by following simple tips.