If you're promoting affiliate products or otherwise linking out to other websites, you might want to know whether or not the visitors to your WordPress site are actually clicking on those links. To do that, you need to find a way to track outbound links in WordPress.
The good news is that tracking these links isn't difficult, and can be done in just a few short steps using Google Analytics. You'll be able to easily see how many visitors clicked on each external link throughout your site. Then, you can use the results to optimize your outbound links for better performance and a bigger Search Engine Optimization (SEO) boost.
In this article, we'll first discuss why you should take the time to track outbound links in WordPress. Then we'll show you how to get the job done. Let's jump in!
Why it's smart to track your website's outbound links
Tracking which of your outbound links users clicks on can come in handy in a few ways:
If you're promoting external products (via something like affiliate marketing), you can see which products are most attractive to your readers to refine your marketing efforts.
You can see which information is the most interesting to your readers, and maybe use that information to cover the same topic on your site.
You can form partnerships with third-party sites if you have data on how much traffic you're sending them
And perhaps most importantly, one of the best reasons to track outbound links on WordPress is the fact that it's so simple to implement (while still providing helpful data).
How to track outbound links in WordPress (in three steps)
There are many tools you can use to track your links' performance. We're partial to Google Analytics, since it's free, easy to use, and comprehensive. In fact, we've already written about how to integrate Google Analytics with WordPress, using the MonsterInsights plugin.
This will require first signing up for a Google Analytics account, then installing and activating the plugin.
For this guide, we're going to assume that you've already:
Created a Google Analytics account.
Installed MonsterInsights on your WordPress site and connected it to your Google Analytics account.
If you need help with either of those steps, we wrote a detailed guide that you can follow.
Once you finish that up, you're ready to continue to Step 1 below:
Step 1: Enable tracking for outbound links
Once you have Google Analytics and MonsterInsights set up, you'll need to enable some additional tracking in the MonsterInsights interface.
Log into your WordPress site and navigate to Insights → Settings. Then click on the Tracking tab: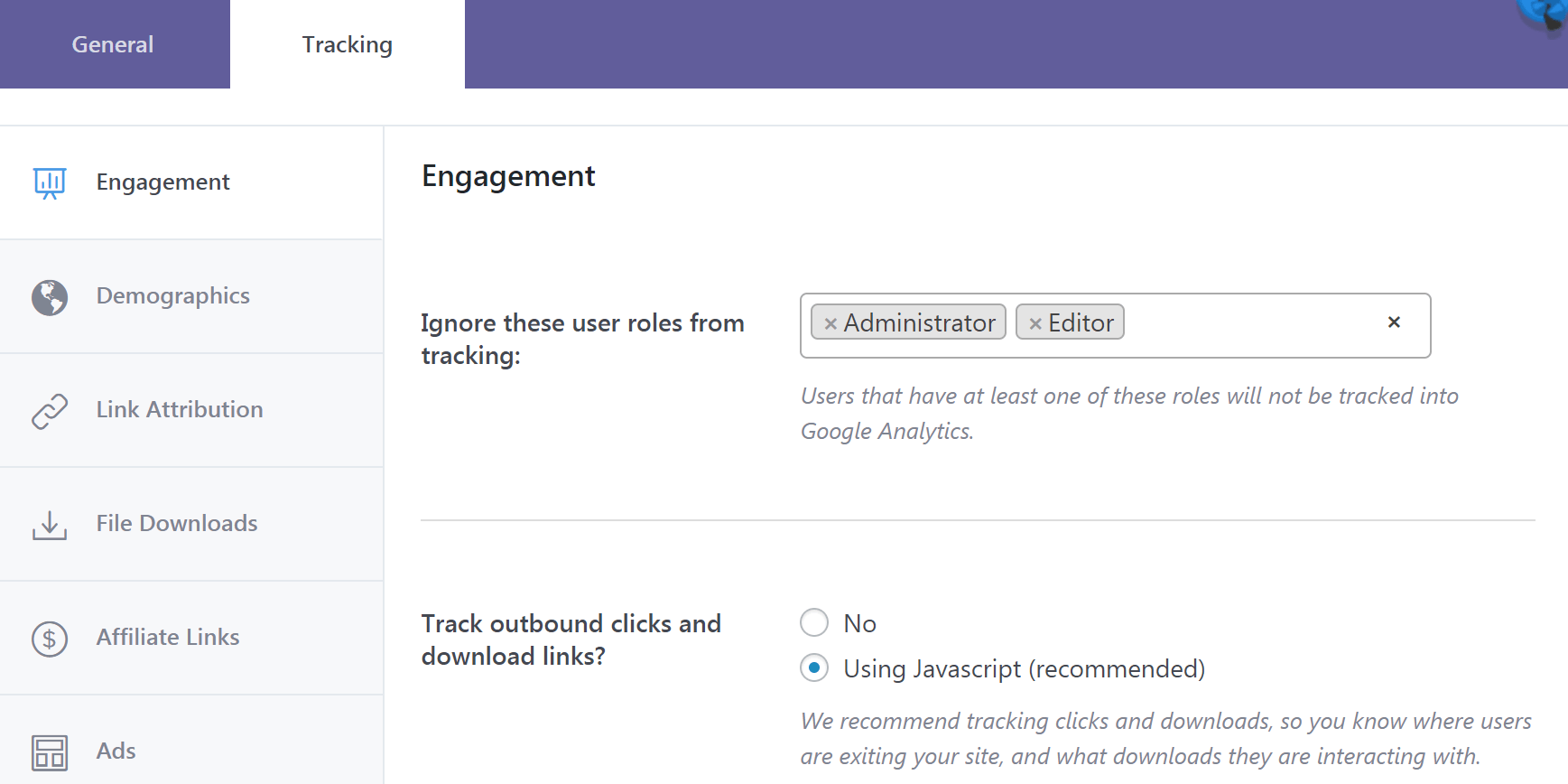 Within the Engagement section, find the option called Track outbound clicks and download links?. Select the Using Javascript option, then save your changes.
You've just told MonsterInsights to keep track of user clicks on all external links. To find that information, however, you'll need to visit your Google Analytics dashboard.
Step 2: View your outbound link reports
Of course, there won't be any data to view right after completing the previous step. You'll need to give the tool time to start collecting data. How long this will take depends on how much traffic your site receives. However, a few days should be sufficient to start seeing some results.
What you'll need to do next is log into your Google Analytics dashboard. Click on the Behavior tab, then select Events → Top Events: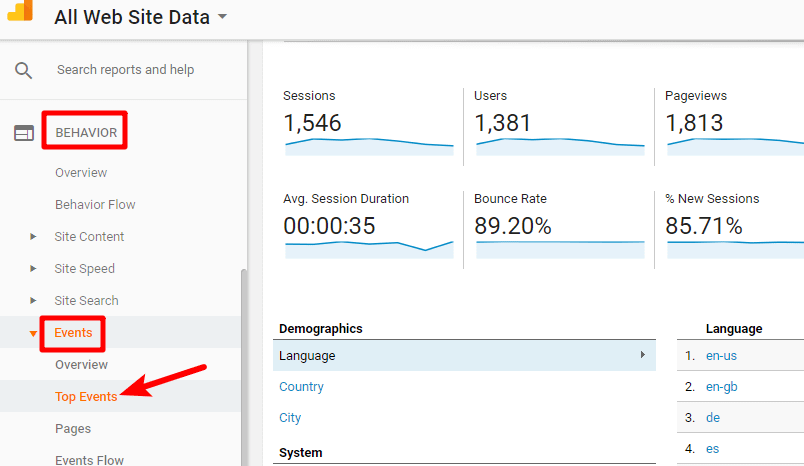 If you followed the previous step, you should see an event category called outbound-link. Click on it, and you'll see all the links users have clicked on, as well as a variety of useful information. This screen will show you how many visitors have clicked on each link, as well as the percentage of total clicks each link has received.
It's worth noting that you'll be shown these numbers under both the Total Events and Unique Events categories. The former shows all clicks, while the latter corrects for the fact that some users may click on the same link multiple times within one session.
There is more information available in this section, and if you have trouble understanding any of it you can refer to Google Analytics' documentation. However, the categories explained above should be sufficient to provide a clear picture of how well your outbound links are doing.
Step 3: Use the results to improve your outbound links' performance
This stage is technically optional, since you've now learned how to track outbound links in WordPress and view the results. However, you shouldn't stop there. Tracking your links is only the first step – the next task is using that information to improve your site's links.
You may notice a number of issues when you start to track outbound links in WordPress. Certain links may never get clicked on, for example, or get far less attention than others. You may even find that visitors are ignoring your external links in general.
Fortunately, there are several ways to use this information constructively, to better optimize your links:
If important links are being ignored, you can try reducing the overall number, in an attempt to draw more attention to them.
On the other hand, if all your links are being ignored, you may not be creating effective anchor text. Using strong anchor text can dramatically improve your results.
Finally, you can see what kinds of information visitors find useful or interesting, and provide more of the same in future (or even existing) content.
Google Analytics only shows you whether people are clicking on your links, of course – it can't tell you why. Therefore, you may need to work through a period of trial and error until you get the performance you want from your outbound links. Fortunately, you can use the analytics we've shown you to gauge how successful your efforts are.
Conclusion
Outbound links are a valuable addition to your website's content – they improve your SEO and provide more value to your visitors. What's more, you can easily track these links and find out which are either being clicked on or ignored.
Having this information, you can perform a lot of valuable optimizations, all of them a result of you learning how to track outbound links in WordPress. For instance, you can: optimize your affiliate links for more clicks, reach out to people who get a lot of those external clicks and suggest some partnership or other arrangement, plan your own content based on the external links that people click the most, and a lot more.
Do you have any questions about how to track outbound links in WordPress, or how to understand the results? Ask away in the comments section below!
Free guide
5 Essential Tips to Speed Up
Your WordPress Site
Reduce your loading time by even 50-80%
just by following simple tips.