Hello everyone, welcome to the July edition of our Pirate Interviews series. In this edition, we're gonna talk about WordPress and social media with Bridget Willard, our guest.
Before getting to know Bridget, don't forget to check our previous interview with Marieke van de Rakt, the CEO of Yoast. We discussed entrepreneurship, SEO, and WordPress. Also, make sure to browse through our full collection of interviews to discover more inspiring people.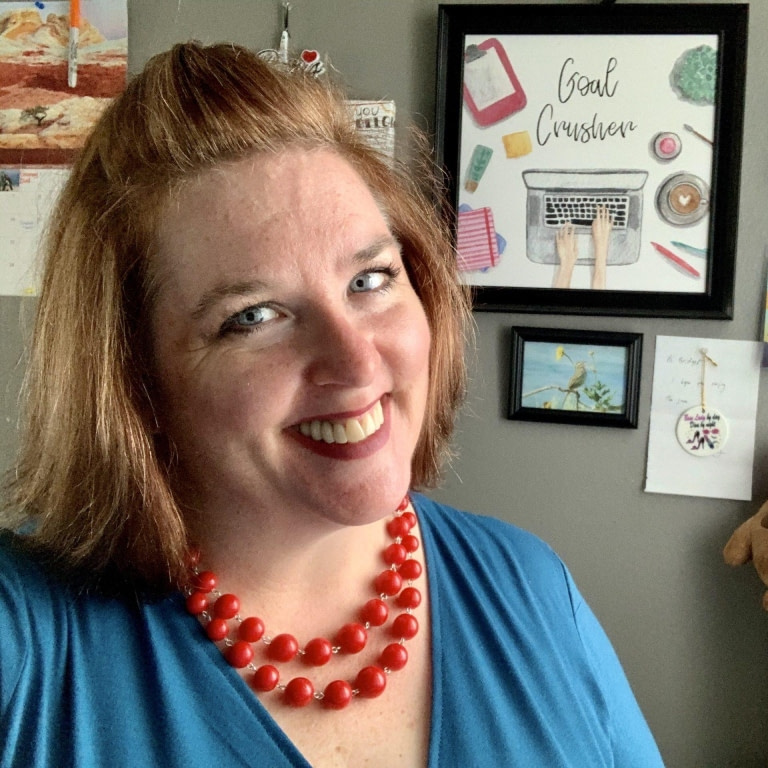 But let's get back to today's superstar, Bridget Willard. I first interacted with her when she contributed to our community roundup about WordCamp Europe. She is very friendly and she's the kind of person who always makes time to answer your messages.
She is a social media marketer and being sociable is indeed one of her biggest strengths. She was happy to join us for this interview and her excitement led to her replying to our questions in only one day, which gives her the title of the fastest respondent ever (beating Marieke by a hair).
Apart from promoting WordPress products and brands on social media, Bridget likes to learn new languages and change her hairstyle. That's why she will probably look different every time you'll see her speaking at WordCamps, co-hosting The Smart Marketing Show, or changing avatars on Twitter, her favorite network (read on to find out why).
Let's hear it from Bridget!
Bridget Willard Interview – "Social media is only successful when you show up and care about other people"
When and how did you start working with WordPress? Is there an interesting story here?
I started using WordPress.com to blog when I heard about it from Leo Laporte on the MacBreak Weekly podcast in 2007. That was the same year that I started using Twitter. Both combined changed my life. Before I knew about blogging, I was publishing my essays in html on separate pages using Front Page. WordPress is a life-changer for writers.
What's your technique for staying productive throughout the day?
Honestly? Fear. I'm a single woman who is self-employed. If I don't do the work to gain and keep clients, I'm in trouble. It's really that simple. And there is no way that I could get a job that would pay me enough. So, I create my own way.
I'd like to say it would be nice to pick up and live in a foreign country or even Vermont and significantly lower my cost of living. I may still do it. But right now we're in the middle of a pandemic that feels like it will never end.
How do you define "being successful"?
Being admired or even loved is nice but it doesn't pay the bills. I'm a pragmatic person. So to me, being successful means having a stable client base and reasonable goals for revenue growth. Mine is 10%.
I will say that I hit 97% of my revenue goal my first year in business and I have been able to keep my clients. One year, I worked part time at a travel agent in order to make ends meet. It was humbling but I felt that I deserved it. If I don't try to make my business successful, why would my clients trust my marketing advice?
Any new languages in progress?
I've been studying German ever since WCEU was in Berlin. I didn't get to go, but I continue to learn. It's good for your brain. One day, I'd like to see my friends in Germany. It seems that I have many.
What do you wish more people knew about WordPress?
I wish people knew that WordPress is not simple; rather, it's complex. It's something that is powerful and can be a huge part of your business marketing. But it is not a set it and forget it thing.
Who's doing things that are just cutting-edge and incredible in the WordPress space right now?
Big Orange Heart just released their live events platform, which is even more relevant right now. Of course the team at WPfeedback are doing amazing things. I enjoyed their virtual conference.
Describe the WordPress community in one word.
What's the one thing you'd like to change about WordPress?
WordPress needs governance.
What are your recommendations for a WordPress novice?
You're not going to be able to build your own website after one Meetup or WordCamp. If you want to learn WordPress, start by doing. Use a sandbox like DesktopServer. Stay simple. Choose a free theme. Publish. Get it done. Don't worry about making the best thing. Do something.
What do you think is the most efficient way to market a WordPress product at this moment?
WordPress products are best marketed using a content marketing approach. This includes blog posts and building relationships on Twitter. This is how I have helped many products grow their brand awareness. We overly rely upon Meetups and WordCamps, which are important, but they are a short-term awareness. Content marketing is forever.
Tell us a bit about the role you had in the Make WordPress Marketing Team.
The Make WordPress Marketing Team landed in my lap after Sara Rosso went on Sabbatical. At WCEU Paris in 2017, I began recruiting and appointing Team Reps among the people who showed interest. I pivoted the tasks by asking the volunteers what they wanted to see and how they could best use their time and skill sets to contribute. I then changed our mission to be the in house marketing and copywriting team for other Make WordPress teams. I'm very proud of my two plus years in that role — especially since many of my recruits and the systems we built are still in place.
I wrote about it here.
What makes a successful social media presence?
Social media is only successful when you show up and care about other people. I have a saying, "invest in people and they will invest in you." People like to automate because they can. Then they say social media doesn't work. But you wouldn't be the guest at a party who only talked about himself and expect to be invited back. Unless, of course, it was your party or you had some kind of leverage for blackmail.
So many people use social media to get. It's narcissistic at best. It doesn't work. Not in the long term. And most of us are in business for the long term.
How can you get started and gain visibility on social media?
The easiest way to start on social media is to start. You gain visibility by listening in on conversations and commenting. This is how you gain respect and start relationships. Then you have to maintain it.
You wouldn't plant a tree and never water it.
Can you grow a business without social media marketing?
Not well. Social media is another term for word-of-mouth. We use the internet for discovery and validation. When we hear about a product, we search for it on Google. Conversely, when we search for a service, we look at their website to see what they're all about. Social media marketing helps with your brand awareness.
How can you stay active on many social media networks without investing too much in planning and posting every day?
You don't need to plan as much as you think. It can be done in like 5 minutes a day for each platform. I'd invest 20 minutes in the morning and 20 after lunch.
What kind of social media content is receiving the most user engagement, from your experience?
In my experience dating back to 2009, the most engagement comes from Tweets. It is all about the user's intent and the culture of the platform. People go on Facebook to post about themselves, then they leave. I call it the post-and-go culture. Instagram isn't that much different. People neglect LinkedIn until they need a new job. But on Twitter, people want to learn, read, and stay up-to-date.
That said, sometimes email marketing is better for conversions. But don't forget that it takes 7-10 touches before you get a sale no matter what you do — in person, physical mail, content marketing, cold calls. Whatever. It's still 7-10 touches because we are still people. Human behavior doesn't change just because we have new technology.
How can you expand your audience and get new visitors on social (as opposed to returning visitors)?
You can expand your audience by taking advantage of Twitter's search, hashtags, following people. Basically, be assertive. Don't start a channel on a platform and expect people to come to you. It won't happen. You have to do your own business development.
You specialize in building brand awareness on Twitter. Why Twitter?
Why Twitter? Well, that's a blog post for sure. Twitter is a level playing field where people's intent is to learn, read, and grow as people. Don't look at pop culture or politics and discount the power of Twitter.
Twitter serves several marketing purposes including brand awareness, public relations, listening, content curation, and relationship building.
Are you part of any cool social media groups or communities? Can be about any topic, not necessarily career-related.
I'm not part of any social media group. I just make friends.
What's your personal definition of a "quality piece of content"?
A quality piece of content is clear, concise, and easy to read. It's also educational and useful to the reader.
Any marketing or content trends that you think will get all the hype in the near future? E.g., the rise of the podcasts in the past three years.
Trends are temporary. Human behavior is not. Hype is a drug we look for to give us a shot of dopamine. We chase the shiny thing to avoid doing the work. The only way you grow your business is if you participate in its growth. There is no dream without the work.
What is driving you to keep doing what you're doing? What's your personal mission?
My personal mission is to empower people to make their brands the best they can be online. I love watching a client's growth change how they feel about themselves. It fills my heart.
That sums up our Bridget Willard interview. If you enjoyed it and want to learn more, please leave your comments in the section below. Also, if you have any ideas for who we should talk to next, feel free to share your suggestions with us!
Free guide
5 Essential Tips to Speed Up
Your WordPress Site
Reduce your loading time by even 50-80%
just by following simple tips.