Ask anyone who knows WordPress what the best eCommerce plugin is and chances are they'll say WooCommerce. But what about all the competition? Are there any WooCommerce alternatives that offer better, or more unique, features?
Yes. Well, for some situations.
A handful of WordPress plugins, integrations, and standalone eCommerce platforms have specific features that make them more user-friendly in certain circumstances.
WooCommerce is still the best all-around solution – its popularity backs that up – but what if you want to make a multivendor store or sell subscriptions? Some of the WooCommerce alternatives are quite appealing.
Below, we'll go through some WooCommerce alternatives that might be a better option for specific use cases. We'll also explain why they're better and some of the downsides in comparison to WooCommerce.
1. Easy Digital Downloads for selling digital downloads
Easy Digital Downloads
 (EDD) says it all in the name. It turns any WordPress site into a digital eCommerce store. Different add-ons are sold for frontend submissions, software licensing, and payment gateways, but the basic plugin creates a store, accepts payments, and manages marketing.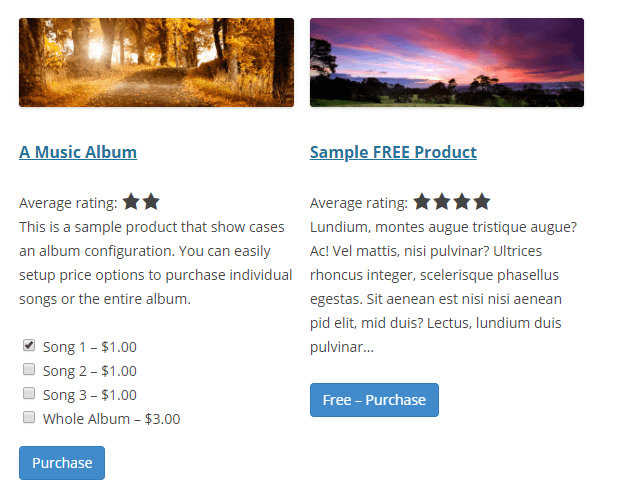 Pricing
The core plugin is free, and the add-ons start at $15.20. You can also buy add-on packages starting at $108.50.
What it does better than WooCommerce
EDD is the simplest option for selling digital downloads. WooCommerce supports digital sales, but it has a confusing configuration process, and some of the free advanced features in EDD require paid extensions in WooCommerce (like Product Bundles). Easy Digital Downloads adds a shopping cart, discount codes, customer management, and data reporting with one installation. Furthermore, if you're only selling digital items, your dashboard isn't cluttered with physical product features.
Downsides compared to WooCommerce
EDD is limited to virtual goods. So, if you plan on selling physical products in the future, WooCommerce is best. The EDD Simple Shipping add-on helps with physical items, but it's limited (no variable shipping costs, no shipping company integrations, and watered down reporting).
Who should use it?
Consider Easy Digital Downloads for a quick way to sell digital products and nothing else. Music, eBooks, photography, and videos all work well with EDD.
2. MemberPress for selling membership subscriptions
MemberPress
 is a WordPress plugin with what seems like every membership feature you'll need. With drip content, subscription management, and awesome
pricing pages
, the majority of your subscription or membership operation is set.
Pricing
Basic Plan – $129 per year.
Plus Plan – $249 per year.
Pro Plan – $369 per year.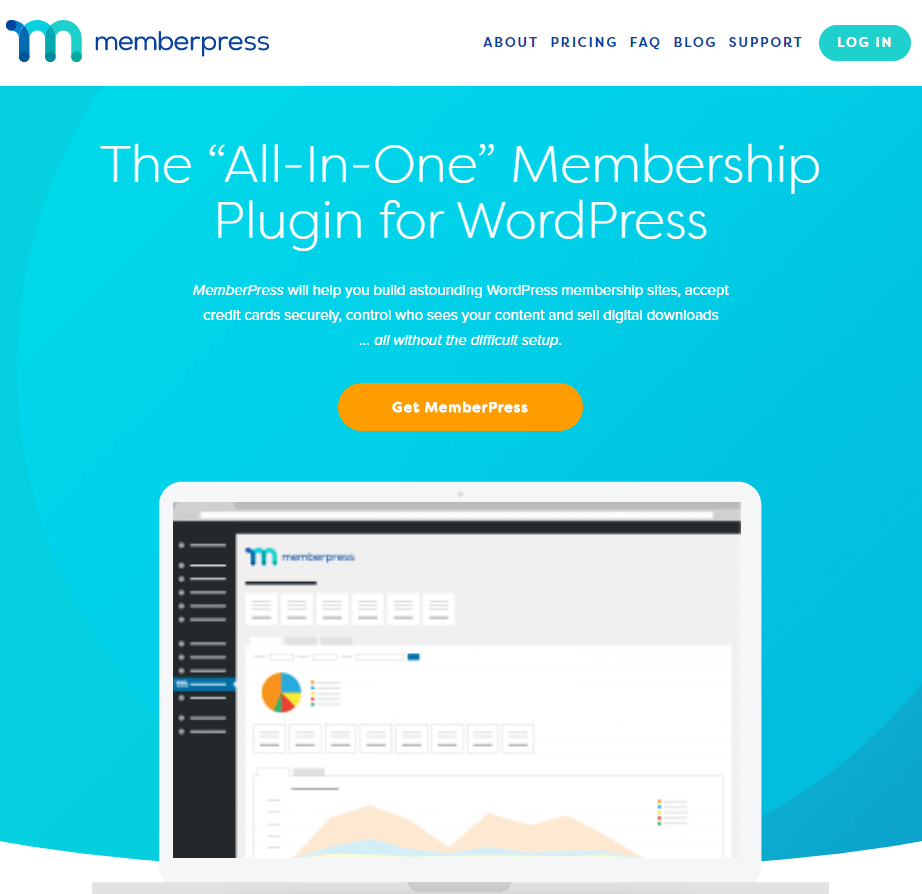 What it does better than WooCommerce
MemberPress stands out because of its premium support. Membership sites are a completely different breed compared to regular eCommerce stores. The WooCommerce documentation is fine for quick fixes, but sometimes you want to speak with a real person.
WooCommerce also requires extra extensions for full membership functionality. The WooCommerce Memberships plugin is amazing, but you'll need other extensions for affiliate programs, pricing pages, and more.
Also, MemberPress is cheaper.
Downsides compared to WooCommerce
MemberPress lacks a regular eCommerce shop for fixed-price items. Also, WooCommerce has support for more payment gateways.
Who should use it?
Anyone who needs a complete membership or subscription suite in one place.
3. Shopify for a simpler approach to eCommerce
Both WooCommerce and WordPress are open source and self-hosted platforms. That means you must find hosting and maintain the website. That's not a bad thing for most people, but web design beginners might find this intimidating.
That's where Shopify comes in.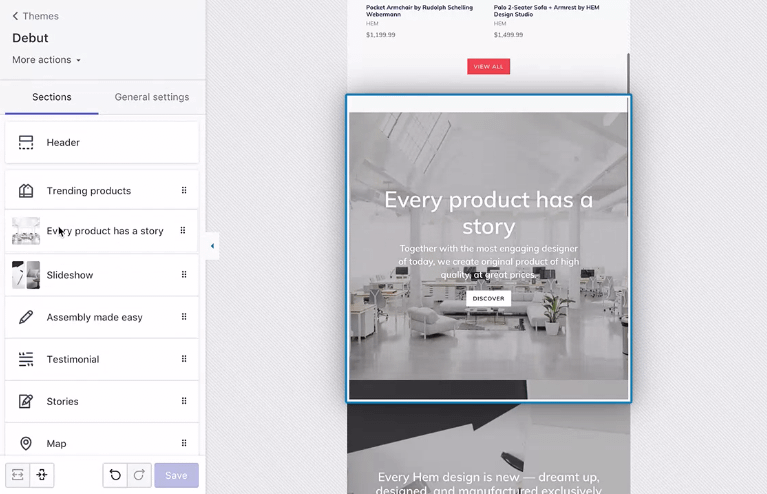 Shopify has a complete eCommerce builder, with hosting, domain names, design, themes, and marketing, all in the dashboard.
Pricing
Shopify Lite – $9 per month.
Basic Shopify – $29 per month.
Shopify – $79 per month.
Advanced Shopify – $299 per month.
Shopify Plus – Must contact.
What it does better than WooCommerce
Shopify makes building a store less complicated, with all tools in one dashboard. You never need to worry about things like hosting, security, or updates – Shopify does all that for you.
Downsides compared to WooCommerce
You can find a wider variety of themes for WooCommerce. It's also easier to scale up with WooCommerce, since you have full website control. Finally, Shopify uses the Liquid coding language, so advanced changes are tougher.
Learn more about Shopify vs WooCommerce.
Who should use it?
Shopify is good for absolute beginners who still want a great-looking, fully-functional store.
4. Arcadier for creating a multivendor store
Arcadier
 generates a complete multivendor marketplace for anything from
service bookings
to retail goods. It's fully hosted with unique features like customer
chat boxes
, negotiation tools, and
social logins
.
Pricing
Starter Plan – $34 per month.
Basic Plan – $68 per month.
Growth Plan – $170 per month.
Scale Plan – $340 per month.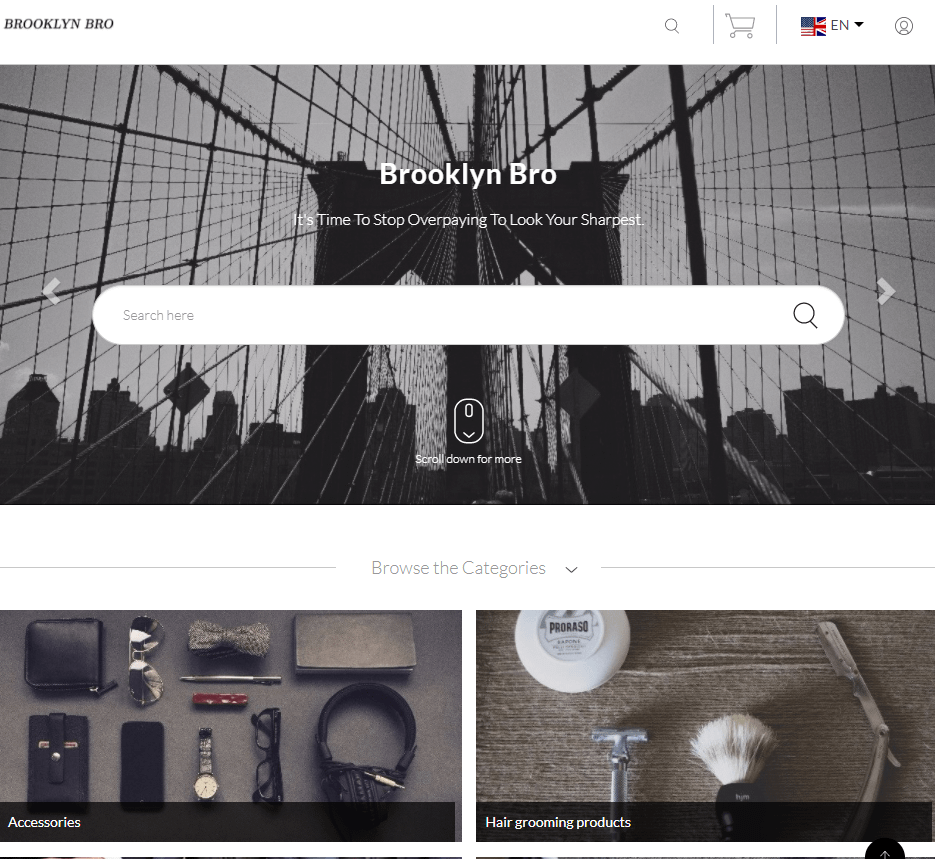 What it does better than WooCommerce
Like membership sites, multivendor stores are difficult to handle logistically. So, it helps to have a platform dedicated to multivendor selling, along with a great support team.
WooCommerce doesn't have multivendor functionality, but some plugins allow for it to work. Even though the plugins (like WP Marketplace) have strong feature sets, you'll notice things missing, like support for rentable goods or negotiation tools.
Downsides compared to WooCommerce
Arcadier requires a somewhat high monthly fee from the start. Most reputable WooCommerce marketplace plugins have free versions with affordable add-ons.
Who should use it?
Anyone who's creating a multivendor site from scratch. WooCommerce and a multivendor plugin might be a better option if you're adding multivendor functionality to an existing site.
5. Magento for a high-powered eCommerce-focused CMS
If you're missing a feature in WooCommerce, chances are
an extension can mitigate that problem
. However, some people would rather have every possible eCommerce feature built into their system, without having to piece together that extension puzzle. A configuration like this can help with scaling your business, seeing as how you don't have to research a new plugin to expand your selling opportunities.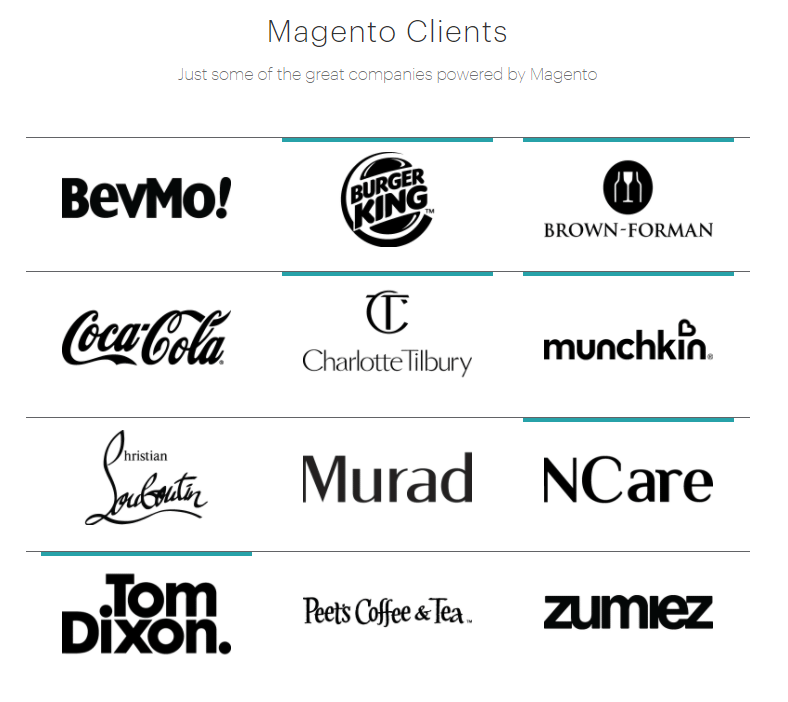 Magento is a solid WooCommerce alternative for those more technically advanced and looking for something outside of WordPress.
Pricing
The Magento Commerce Starter begins at $2,000 per month, while the Magento Commerce Pro Plan starts at $3,417 per month. There's also a limited, but free, open source version.
What it does better than WooCommerce
Magento is a powerhouse eCommerce platform made for larger businesses. It's an entire content management system with pretty much every little eCommerce feature included, without having to find plugins or add-ons.
Downsides compared to WooCommerce
Magento isn't that hard to set up, but configuring and designing usually takes an experienced developer–whereas WooCommerce is pretty easy for beginners.
Additionally, the paid Magento Commerce version is expensive.
Learn more about WooCommerce vs Magento.
Who should use it?
Magento is a good option for larger, growing businesses with advanced eCommerce needs. The customization possibilities are legendary with Magento, but you'll need to be a developer yourself or have the money to hire one.
Which of these WooCommerce alternatives is best for you?
Luckily, the decision of whether or not to go with WooCommerce is pretty cut and dry. WooCommerce works wonders for most eCommerce stores, but there are those random situations (like when making a multivendor or subscription site) when one of these WooCommerce alternatives might serve you better.
And if you're looking for more detailed information about the two most popular non-WordPress WooCommerce alternatives, check out our comparison posts for Shopify and Magento.
Have any other questions about choosing between these WooCommerce alternatives? Let us know in the comments!
Free guide
5 Essential Tips to Speed Up
Your WordPress Site
Reduce your loading time by even 50-80%
just by following simple tips.