As your website grows, you may eventually want to display specific posts more prominently so that your readers don't miss them. Many themes come with a 'recent posts' feature that lists your latest work. However, if you'd rather showcase your high-traffic content, you might need a WordPress popular posts plugin.
A decent popular posts plugin should give you some control over what type of content you want to display. For instance, many plugins enable you to show your most-viewed posts, or your articles with the most comments. However, you can also use tools with more advanced functionality if you want additional filtering options.
In this article, we'll discuss our favorite WordPress popular posts plugins, most of which are free. Let's dive right in!
Best WordPress popular posts plugins
If you want an easy way to highlight your best content, then each of the following plugins can provide a solution. However, the one that is the best fit for you will depend on the depth of features you require.
Our first recommendation is the WordPress Popular Posts plugin. As the name suggests, this tool enables you to show your most popular posts and control how they're displayed.
For instance, you can feature your most recent articles that fall within a selected date range. Alternatively, you can display your most popular articles based on the number of views, comments, and more. Besides that, this tool supports custom post types so that you can showcase various types of content.
WordPress Popular Post comes with a handy widget that you can add multiple times to the same area. For instance, if you want to display both your latest blog posts and your top-rated products on your sidebar, you can do so with this tool. Plus, you can customize each widget separately to show post thumbnails, author names, number of views, and more.
Besides all that, this plugin provides features such as:
Shortcode generator
Custom CSS support
Statistics dashboard
Multiple sorting options
Customizable templates
Caching
Disqus integration
Pricing: Free.
Note – some managed WordPress hosts block this plugin because it writes to the database on every visit (to track popularity) – if you're hosting at Kinsta, Presslabs, or some other hosts, you'll want to choose a different option, such as Jetpack.
Next up, we've got Top 10, a feature-rich WordPress popular posts plugin. Like our first recommendation, this tool enables you to highlight various posts through the use of widgets and shortcodes, which you can customize as you like.
Even though it's called 'Top 10', you can choose to display near-unlimited posts from your selected date range. You can also customize them to show details such as post thumbnails, excerpts, author names, and more.
Top 10 automatically counts all your page and post views, which you can use to display your most popular content. Besides that, you can use a custom featured image or your article's first image as its thumbnail.
Finally, Top 10 comes with a built-in caching system to limit its impact on your site's load times. Also, it's compatible with popular caching plugins such as W3 Total Cache and WP Super Cache.
In addition to all that, Top 10 includes features such as:
A choice of widgets and shortcodes
Post exclusions
Custom CSS support
Tracking dashboard
Developer-friendly code
General Data Protection Regulation (GDPR) compliance
Pricing: Free.
Jetpack is a popular all-around plugin that supercharges your WordPress site with tons of tools, such as security, backups, social media integration, and more. It also comes with a popular posts feature called The Posts and Pages Widget.
The tool comes with basic popular posts functionality for up to ten pieces of content. You can show the widget anywhere you want on your site using the [jetpack_top_posts_widget] shortcode. Alternatively, you can add it to your theme template file if you don't mind digging into your website's code.
Additionally, you can choose to display your popular posts as a list or grid and use multiple filters to customize the look of your widget. Since there's a chance you're already using Jetpack, this solution can help you avoid overloading your database with excessive plugins, too.
This is also a great option to use if your host bans other popular posts plugins because Jetpack's servers do the heavy lifting of tracking your most popular content.
Other features include:
Activity log
Malware and spam protection
Automatic updates
Built-in content delivery network (CDN)
Site analytics
Design tools
Multiple third-party integrations
Pricing: Free for popular posts feature.
Our next recommendation is Display Posts, a WordPress popular posts plugin that enables you to create powerful custom queries. For instance, you can generate a shortcode that shows posts from a particular category or use other parameters such as the comment or share counts.
You can also customize your popular posts display with CSS and choose to include details such as the thumbnail, excerpt, and more. This makes the plugin highly flexible and adaptable to your theme.
This tool comes with multiple extensions as well. For instance, you can add pagination, display listings in alphabetical order, and more. However, note that Display Posts may not be suitable for beginners due to the many styling options.
Still, if you're handy with shortcodes, you can enjoy features such as:
List or grid display
Custom image sizing
Events listing
Developer-friendly filters
Extensive documentation
Pricing: Free.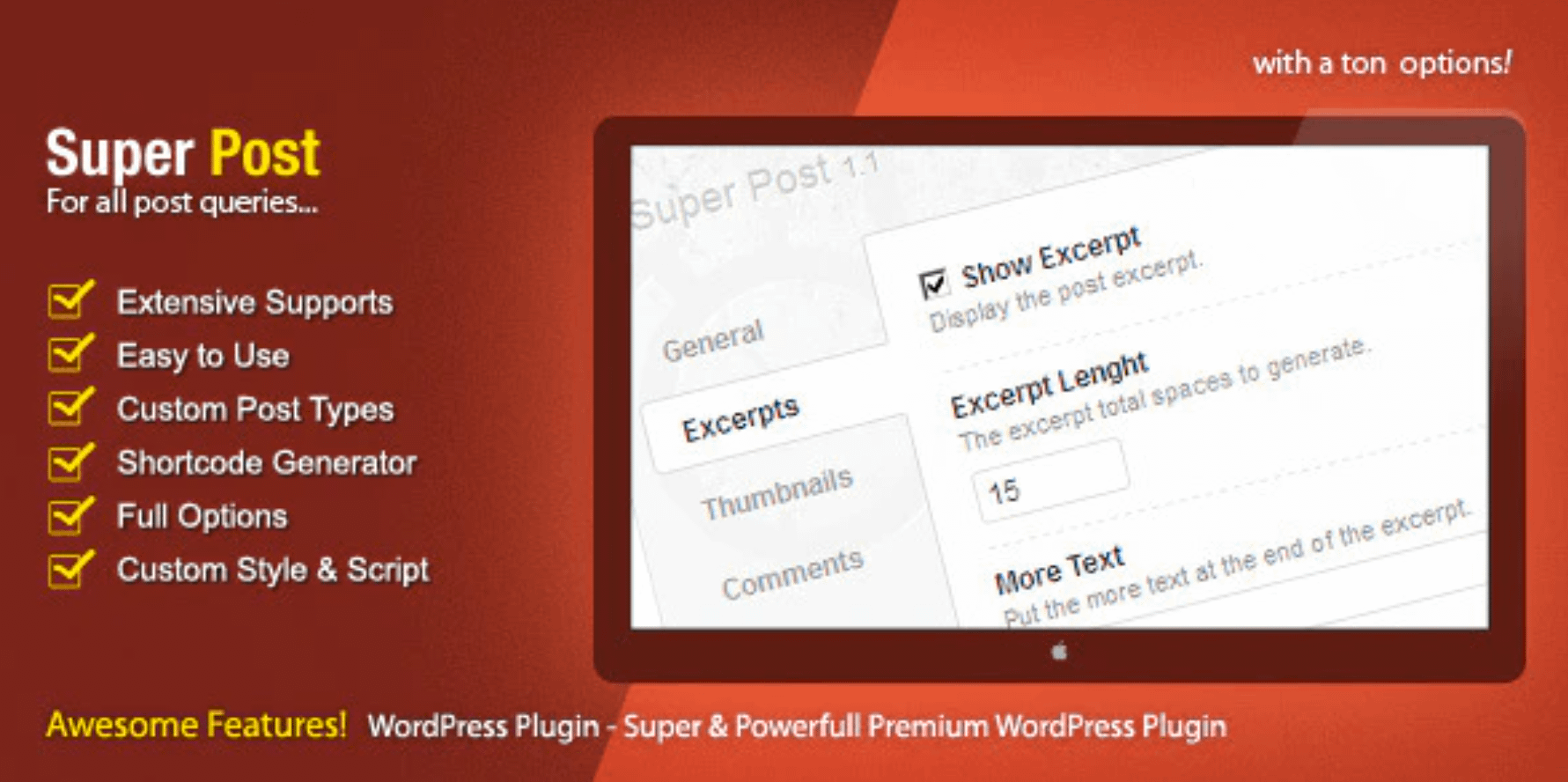 Finally, we have Super Post, a premium solution for displaying your popular posts. This tool comes with impressive features to help you showcase your work however you want.
Super Post enables you to feature almost any type of content, thanks to its easy shortcode editor. You can also apply various parameters and taxonomies such as categories, tags, and more. Plus, you can embed the shortcode anywhere you want your posts to appear, or use a handy sidebar widget instead.
Besides all that, this tool comes with social media sharing features, which include buttons for rating, liking, and sharing your content on popular social platforms or via email. You can also display near-unlimited posts thanks to the pagination feature, so your visitors can load more content without overloading your site.
Furthermore, Super Post provides features such as:
Multiple template styles
Advanced custom queries based on WP Query
Multi-widget support
Retrieval by post status (published, pending, draft, etc.)
Custom thumbnails
Choice of additional HTML or text
Pricing: $11.
Start showing WordPress popular posts today
Showcasing your best work can help you grow a loyal readership. However, the more content you feature on your site, the more difficult it becomes for visitors to find your cornerstone posts. Therefore, it's smart to use a dedicated tool to help you display your most notable work.
In this article, we've shared five of the best WordPress popular post plugins. To recap, WordPress Popular Posts and Top 10 are excellent free options to help you feature your latest or most popular work. If you need more advanced styling features, you can give Display Posts or Super Post a try. Otherwise, if you just want basic post listing functionality, Jetpack will get the job done.
If you want to use Jetpack, you can follow our guide on how to display popular posts with Jetpack to get up and running.
Do you have any questions about these popular post plugins for WordPress? Let us know in the comments section below!
Free guide
5 Essential Tips to Speed Up
Your WordPress Site
Reduce your loading time by even 50-80%
just by following simple tips.