Starting a WordPress website for the first time can be overwhelming. With so many different elements to deal with, the last thing you want is to have to spend time learning how to navigate your hosting account. That's why we decided to collect the best WordPress hosting for beginners.
Because WordPress is so popular, there are plenty of hosting companies that make it easy to create and manage a WordPress site – no technical knowledge required.
In this article, we'll give you an overview of our favorite beginner-friendly WordPress hosting companies. Let's dive in!
What makes a WordPress hosting company beginner-friendly?
The concept of web hosting can be challenging if you're brand new to creating websites. Chances are, you've performed a quick Google search and come across potentially perplexing terms such as managed hosting, VPS hosting, or shared hosting.
In simple terms, 'hosting' refers to the process of storing a website on a server so users can access it over the internet. WordPress hosting is specially optimized for WordPress websites.
The most beginner-friendly hosting companies will boast features such as:
Easy WordPress set-up: A hassle-free installation process with clear step by step instructions.
Customization: Access to free themes or website building tools that require no coding experience.
Intuitive dashboard: A clear control panel with a user-friendly interface to manage your site and billing information.
Extensive documentation: Access to useful resources and tutorials.
High-quality support: 24/7 customer service availability.
Extra promotional tools: Free credit towards Google Ads or discounted search engine optimization (SEO) services to kick off your new website.
Each of these features can give you a leg up when it comes to creating and managing a website. For beginners, this is invaluable as it provides more time for you to become accustomed to WordPress best practices.
Best WordPress hosting for beginners (5 top options)
Below are five of the best beginner-friendly WordPress hosting providers that can make your life easier. All of these hosts meet most, if not all, of the requirements that we discussed above.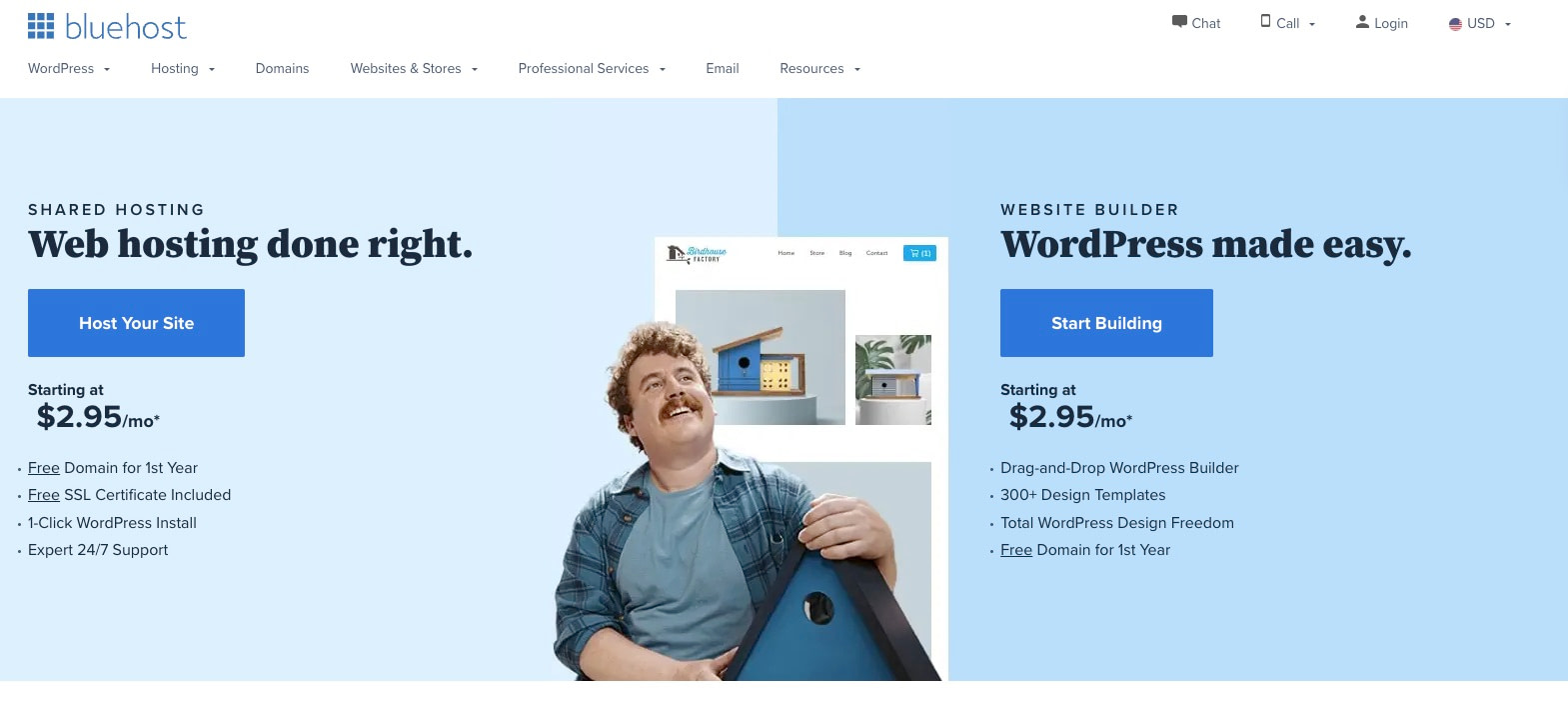 Bluehost is one of the hosts officially recommended by WordPress. It's a popular choice even for experienced website owners due to its affordable plans and wide range of services.
Some of Bluehost's most beginner-friendly features include:
Excellent customer service: 24/7 live support is available via phone, chat, and email.
Automatic installation: Bluehost automatically installs the latest, most secure version of WordPress for you.
Simple interface: Bluehost's dashboard is easy to use with all technical elements explained and walkthroughs available for every feature.
Scalability: If you're not sure which plan to choose, you can start with the Basic option and easily upgrade as your website grows with no downtime during the move.
Automatic updates: Bluehost automatically updates the WordPress software for you.
Bluehost's shared plans are some of the most budget-friendly options on the market if you don't expect much traffic. You'll also receive a $100 marketing credit towards Google Ads and Microsoft Advertising.
Bluehost's price point is an appealing feature if you're looking for the best WordPress hosting options for beginners. Bluehost's WordPress hosting services range from $2.75 per month to $13.95 per month. More expensive plans enable you to create multiple websites and accommodate larger volumes of traffic.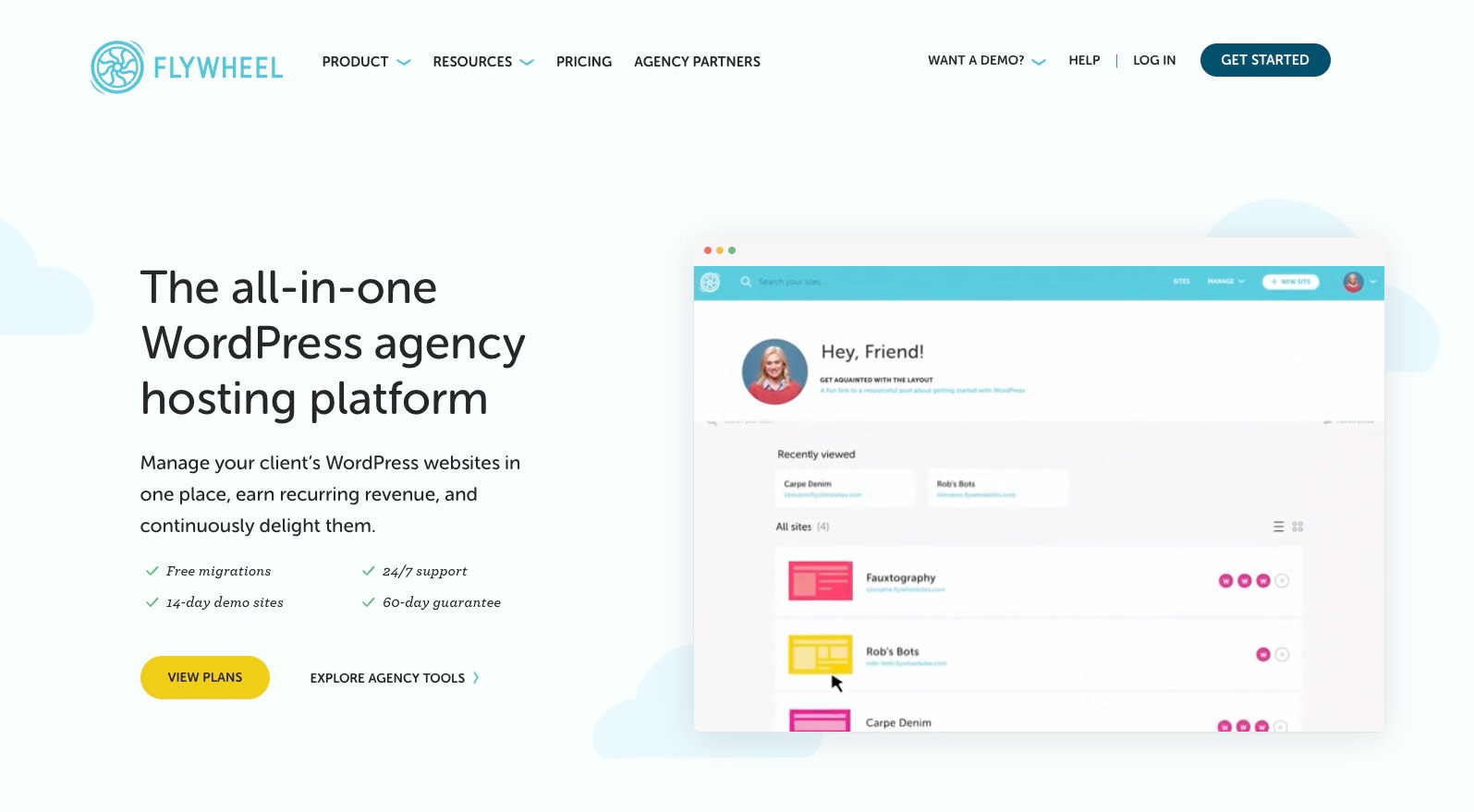 Although it's geared towards web designers and other creative professionals, Flywheel aims to make web hosting simple for anyone. It can also help you get familiar with more advanced concepts such as staging sites and templates through its user-friendly platforms Local by Flywheel and Blueprints.
We consider Flywheel one of the best WordPress hosting providers for beginners because it includes features such as:
Easy WordPress setup: Flywheel installs WordPress for you and will also update the software automatically.
Excellent customer service: Customer support is available 24/7, 365 days a year.
Intuitive dashboard: Flywheel's playful interface makes complex features super accessible.
Free demo site: You can create a demo site that you only have to pay for if it goes live.
Designer themes: Plans include access to over thirty premium WordPress themes.
Excellent resources: Flywheel offers extensive documentation including video tutorials, ebooks, and a dedicated blog with practical tips.
Flywheel is a fantastic beginner-friendly option if you want a hassle-free, designer experience and don't mind paying a little extra. Its plans start at $13 per month for a single, simple website. Pricing scales all the way up to $242 per month for expansive eCommerce sites.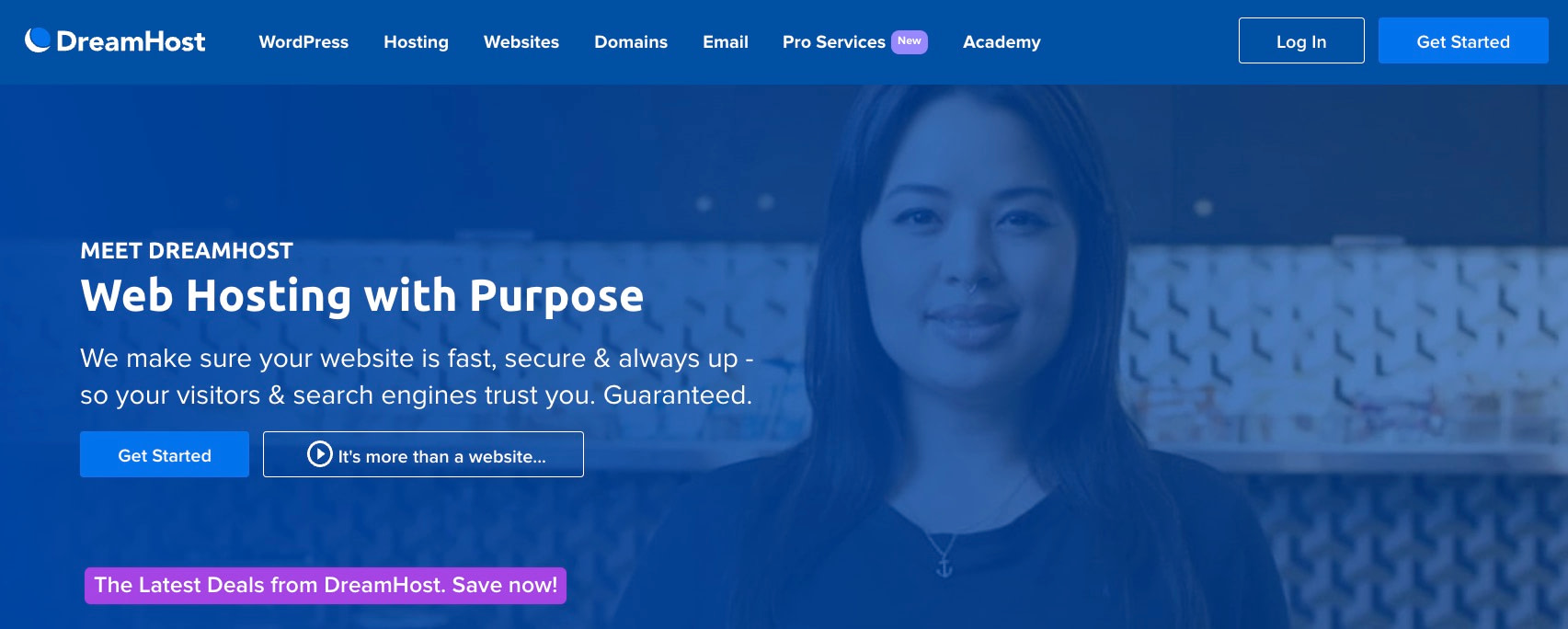 DreamHost is another popular hosting provider that is officially recommended by WordPress. It offers a variety of hosting plans with a 100% uptime guarantee.
Some of DreamHost's most attractive features for beginners include:
Generous money-back guarantee: DreamHost offers an impressive 97-day money-back guarantee.
Website building tool: The 'Remixer' is a website creation tool you can use for free with any shared plan.
One-click installation: Installing WordPress on DreamHost is fast and easy with one simple click.
Custom-made dashboard: Instead of using cPanel like most hosting platforms, DreamHost has its own user-friendly control panel.
Dedicated community: Although there is no phone support, DreamHost offers chat support as well as an active forum, detailed knowledge base, and a vibrant community of WordPress experts on Twitter.
Automatic updates: DreamHost will automatically update the WordPress software for you.
With DreamHost, you also receive $100 worth of credits towards Google Ads. It's relatively affordable, too, with WordPress hosting plans starting at $2.59 per month. For $16.95 per month, you can upgrade to a DreamPress plan, which offers priority WordPress support, free professional website templates, and more.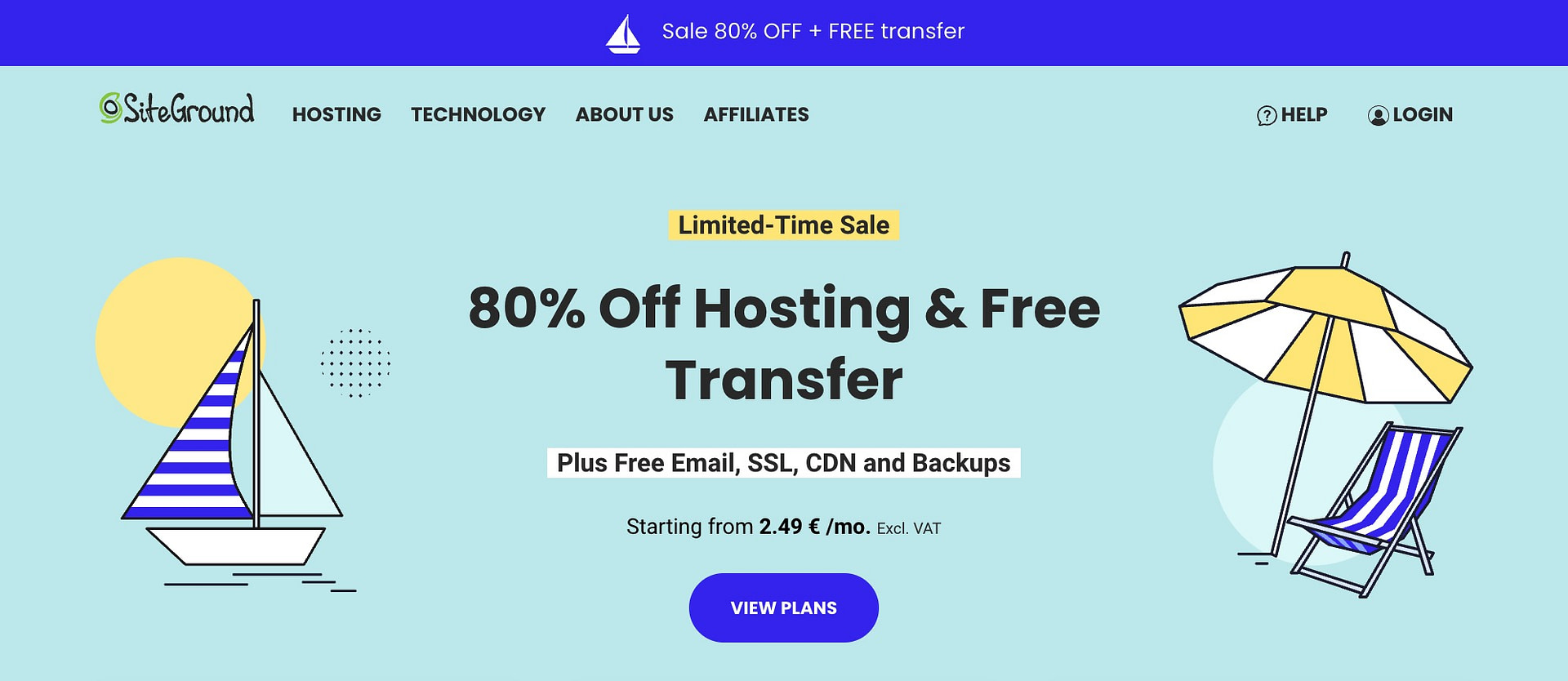 SiteGround is a popular web hosting choice amongst WordPress users due to its highly optimized plans. It offers managed hosting services that are powerful yet simple to use and is also officially recommended by WordPress.
Some features that make SiteGround beginner-friendly include:
Top-rated customer support: Exceptionally fast 24/7 support from WordPress experts.
Comprehensive knowledge base: SiteGround gives you access to numerous webinars and tutorials.
Simple WordPress installation: WordPress comes installed on your hosting plan for free.
Website builder: SiteGround provides a free drag-and-drop website building tool.
Customizable dashboard: You can navigate your account using a simple interface that you can adapt to your preferences.
Automatic updates: SiteGround automatically updates WordPress for you.
SiteGround provides expert WordPress support and consistently receives high ratings in our WordPress hosting comparisons and surveys. However, this is also reflected in its pricing.
WordPress hosting plans from SiteGround start at $3.95 per month for the first year of service, with a renewal rate of $11.95 per month. More expensive plans enable you to host multiple websites and run as much as $11.95 per month with a $34.95 per month renewal rate.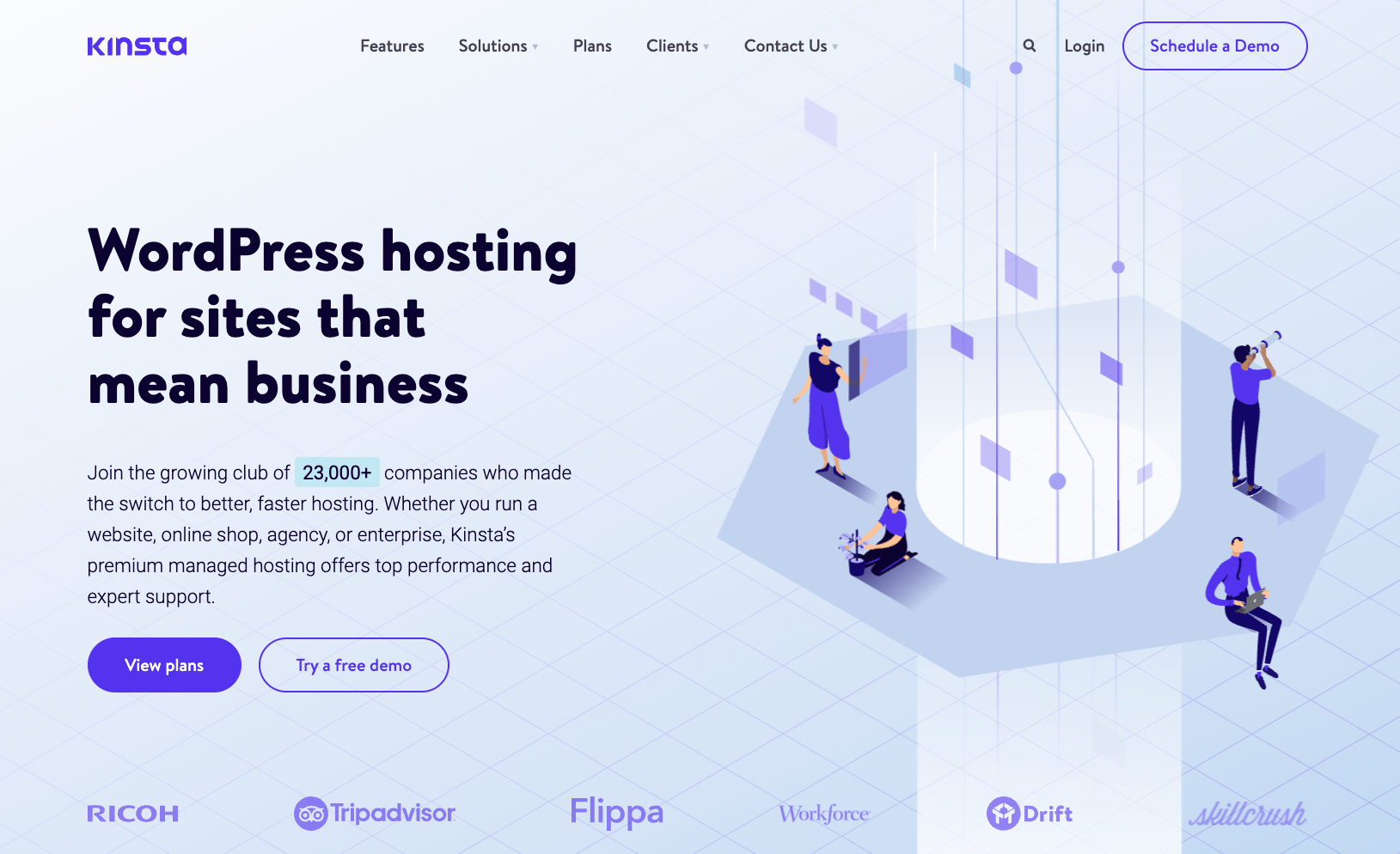 Our last pick is a fully managed WordPress hosting service that runs on Google Cloud infrastructure. Kinsta is also "designed with beginners in mind", providing a reliable and smooth user experience.
Here are a few reasons why Kinsta is beginner-friendly:
Easy set-up: You can start a new website or migrate an existing one with a few clicks.
User-friendly dashboard: Kinsta boasts a simple control panel that focuses on your daily website maintenance tasks.
Extensive knowledge base: There's an impressive resource center with excellent guides on various WordPress-specific and general web-related topics.
Advanced technical support: Senior WordPress experts are available around the clock via email or chat to help with any issues you encounter.
Automatic updates and backups: Kinsta automatically updates your site and also backs up your data every day so that you never lose it.
Kinsta is an excellent option if you want to invest in a robust service with exceptional performance, first-class support, and the ability to handle high volumes of traffic. As far as price is concerned, it's on the expensive side.
Plans start at $30 per month, which is pretty hefty despite all the features and the high quality of service Kinsta provides. Upgrading your account just a couple of times will put you at $100 per month.
Who has the best WordPress hosting for beginners?
With WordPress continually growing in popularity, it's no wonder there are numerous hosting companies that offer a variety of services specifically designed for WordPress users. However, having so many choices can be confusing, especially if you are just starting out.
To make it easier, we've narrowed down five of the best WordPress hosting options for beginners. While all are quality hosts, here's how we would break it down if you're still not sure which is right for you:
Once you choose your hosting, we have lots of other tutorials to make it easier for you to get up and running. Here are two that cover the entire process:
Do you have any questions about which host to choose or how to get started with WordPress? Ask us in the comments section!
Free guide
5 Essential Tips to Speed Up
Your WordPress Site
Reduce your loading time by even 50-80%
just by following simple tips.
* This post contains affiliate links, which means that if you click on one of the product links and then purchase the product, we'll receive a commission. No worries though, you'll still pay the standard amount so there's no cost on your part.