WooCommerce makes it easy to launch a store. But if you want to get customers and turn them into repeat buyers, you need a strong email marketing strategy in place.
Omnisend boasts a sleek interface for designing automated and manual eCommerce emails. The drag-and-drop designer syncs your products and allows you to put product information in your newsletters and automation campaigns. It has a free plan, with a $16 per month option available as the cheapest version.
MailPoet is a native WordPress email marketing solution that lets you do everything from your WordPress dashboard. It offers a free plan that lets you send unlimited emails to up to 1,000 subscribers, with paid plans starting at $13 per month.
You can opt for the MailPoet Sending Service which uses the MailPoet servers to send your emails. As an alternative, some users utilize MailPoet design tools and use a third-party sender–like Amazon SES–which is reliable and quite cheap.
Privy is an email marketing service meant only for eCommerce. It's meant to help you easily grow your list, design great forms, and send out items like coupons and emails with your products.
The email marketing starts at $10 per month, but the onsite displays are always free.
Klaviyo is a popular email marketing option in the eCommerce space. The setup is quick with WooCommerce, and it allows for personalization, segmentation, and emails that cover the entire customer lifecycle.
Email marketing is free for smaller lists. The cheapest premium plan is $20 per month, with SMS marketing offered separately.

Jilt is yet another powerhouse email marketer for WooCommerce and other eCommerce platforms. You're able to focus on automation, segmentation, and transactional emails, all without sacrificing design quality.
It started as an abandoned cart email tool, but has since morphed into a full-service WooCommerce email marketing solution.
The free plan from Jilt supports up to 300 contacts. The premium version starts at $29 per month.
Key features
Has a dedicated WooCommerce integration.
The announcements and newsletters are made just for WooCommerce.
Add cross-sells and up-sells to emails.
Segment based on past purchases.
Recover revenue with abandoned cart emails.
Jilt provides a stunning email designer, with drag-and-drop modules and syncing with your products.
You can use transactional emails for things like receipts and shipping.
How to run WooCommerce email marketing on your store
Are you curious about how to implement, design, and manage WooCommerce email marketing campaigns?
Our recommendations above allow you to test which tools are best for your store. You also might make a decision based mainly on pricing.
For this tutorial, we'll utilize Omnisend, since it includes the most essential email marketing features for eCommerce, has good pricing, and the email designer is excellent.
Check What Is Email Marketing? for some advice to help you with this powerful strategy.
1. Connect your store to the service
To connect your WooCommerce store to the email marketing plugin, download the Omnisend plugin and install it on your site. Here's a guide if you need help installing a WordPress plugin.
For all configurations, you must have a WordPress site, install WooCommerce, and sign up for an account for the email marketing tool. For instance, I'd need to sign up for Omnisend to form the link and get started with email marketing.
It depends on the service being used, but Omnisend requires you to paste in your account API key. Do that to connect the account with your WordPress site. You can find the API key in your Omnisend dashboard.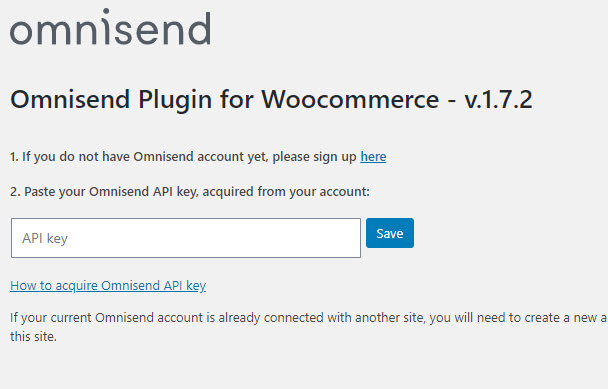 2. Create email automation sequences
Now it's time to design emails! If the API connection worked, you should see the WooCommerce store in your Omnisend dashboard.
Keep in mind, most of the marketing is configured in Omnisend, not WordPress.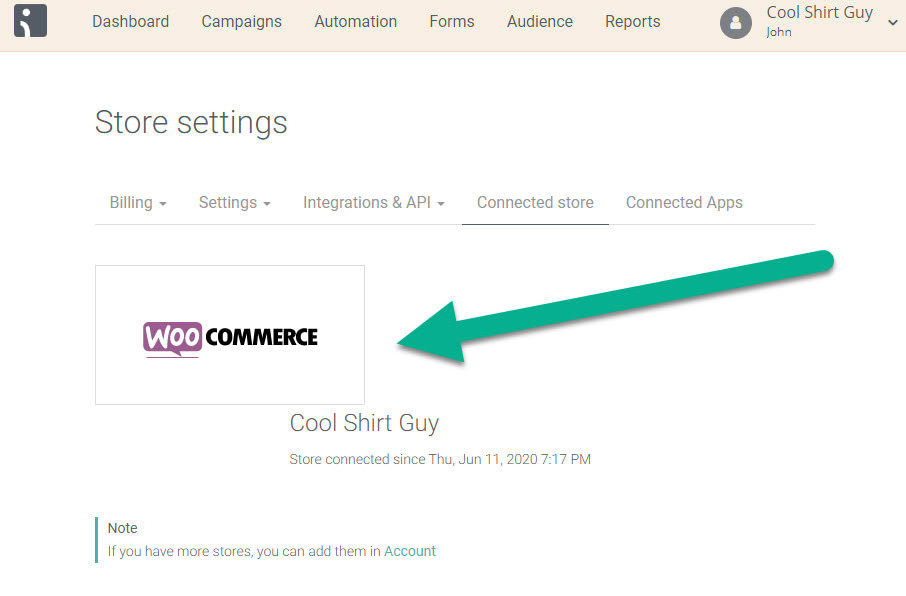 Go to the Automation tab.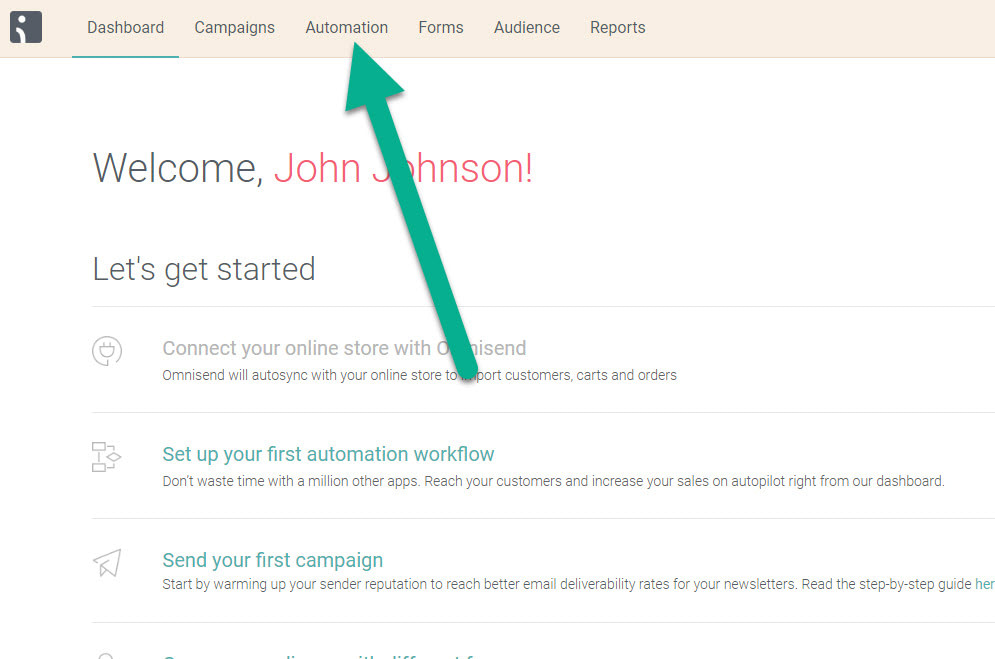 You have the option to make an automated email workflow from scratch, but Omnisend already has the most important ones organized for you.
Scroll to the Recommended workflows section to view templates.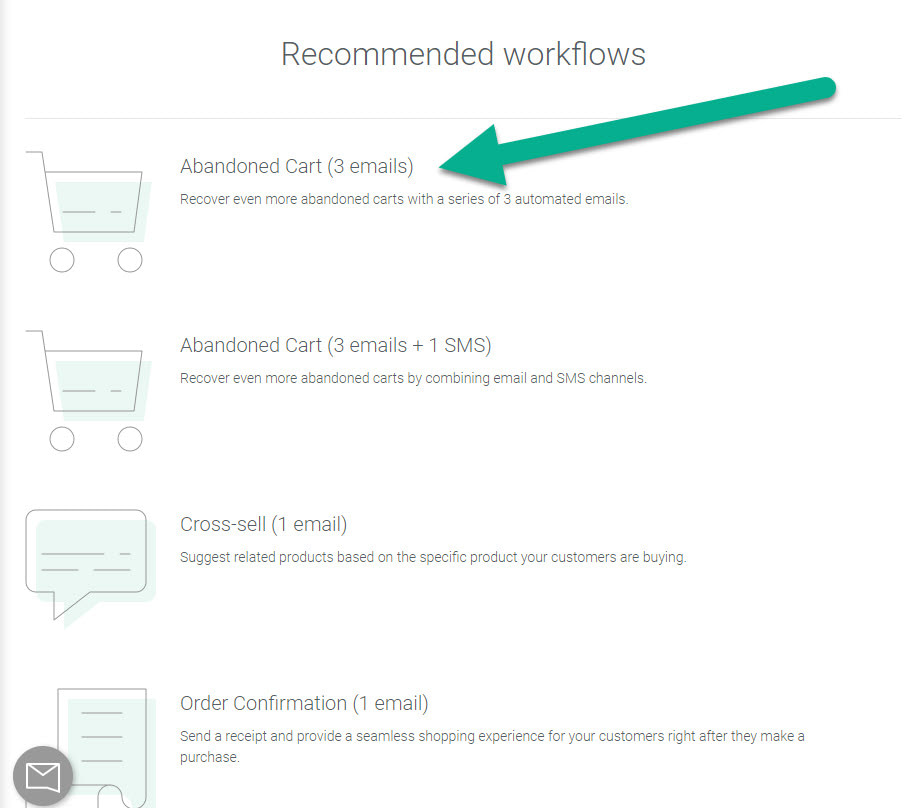 All you have to do is click on one to begin designing and activating the emails.
Some of the recommended workflows include the following:
Abandoned Cart
Cross-sell
Order confirmation
Customer feedback
Welcome
Customer reactivation
We'll cover the Abandoned Cart workflow to give you an idea of how all of them work. For this template, Omnisend will deliver three emails in a series after a customer abandons their cart with products still in it.
The premade workflow is shown like a flow chart, where the first email is triggered when a user adds items to a cart but doesn't make that purchase. An hour goes by, then an email is sent. The next email goes out 11 hours later.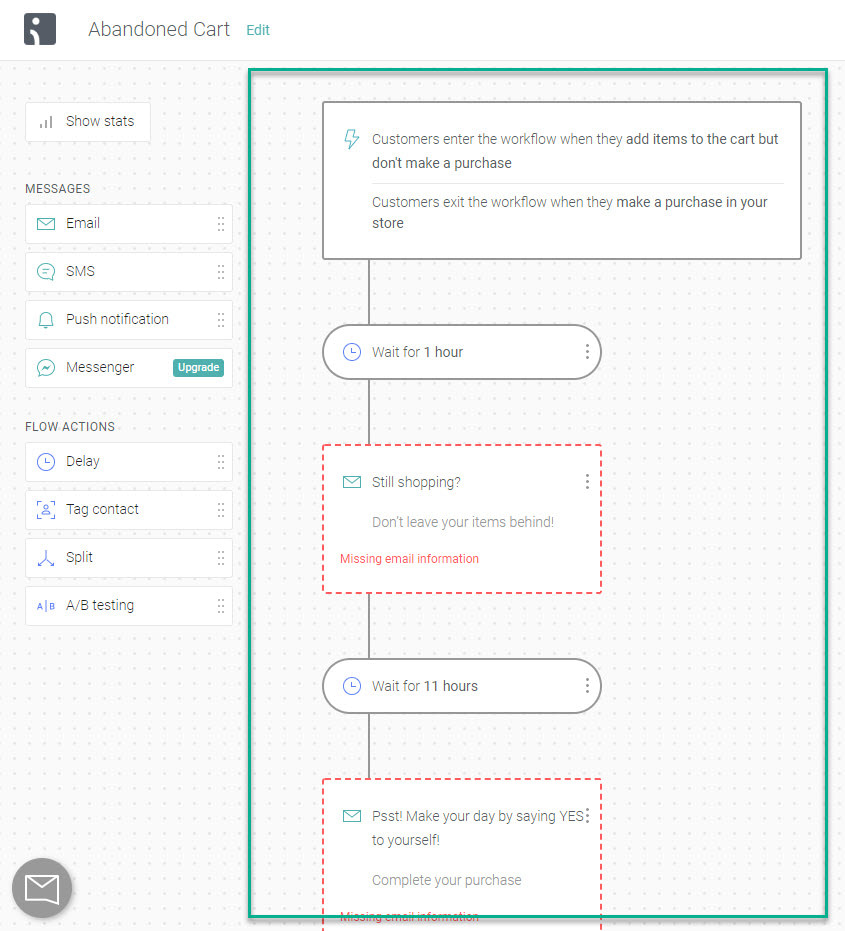 The third email is sent after another 12 hours.
As you can see, Omnisend already pre-fills the emails with some default text. To edit those emails, click on the boxes.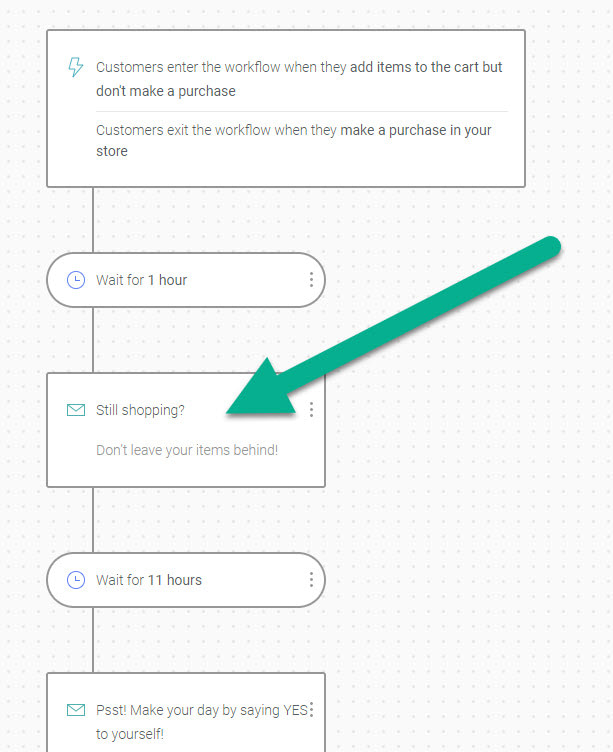 A slide-in window reveals information to edit, like the subject line, preheader, and email sender.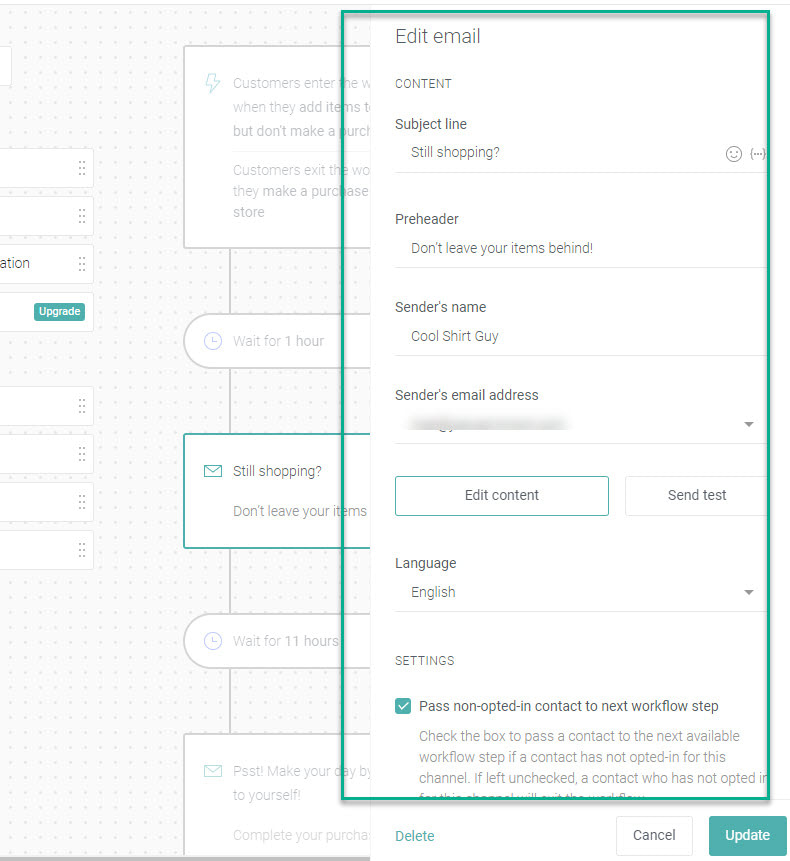 Click the Edit Content button to design the email.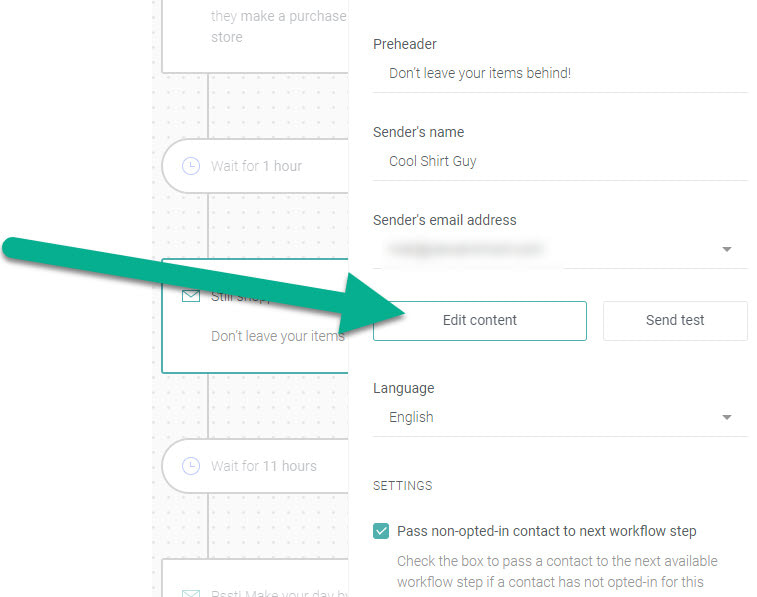 The email designer has drag-and-drop modules on the right for adding elements like product recommendations, coupons, and collections.
Luckily, with the premade workflows, the essentials are already there.
For the abandoned cart email, you would add a logo, maybe change the text, and any other areas that need improvement.
Those product modules will pull the items that were left in the cart for that customer.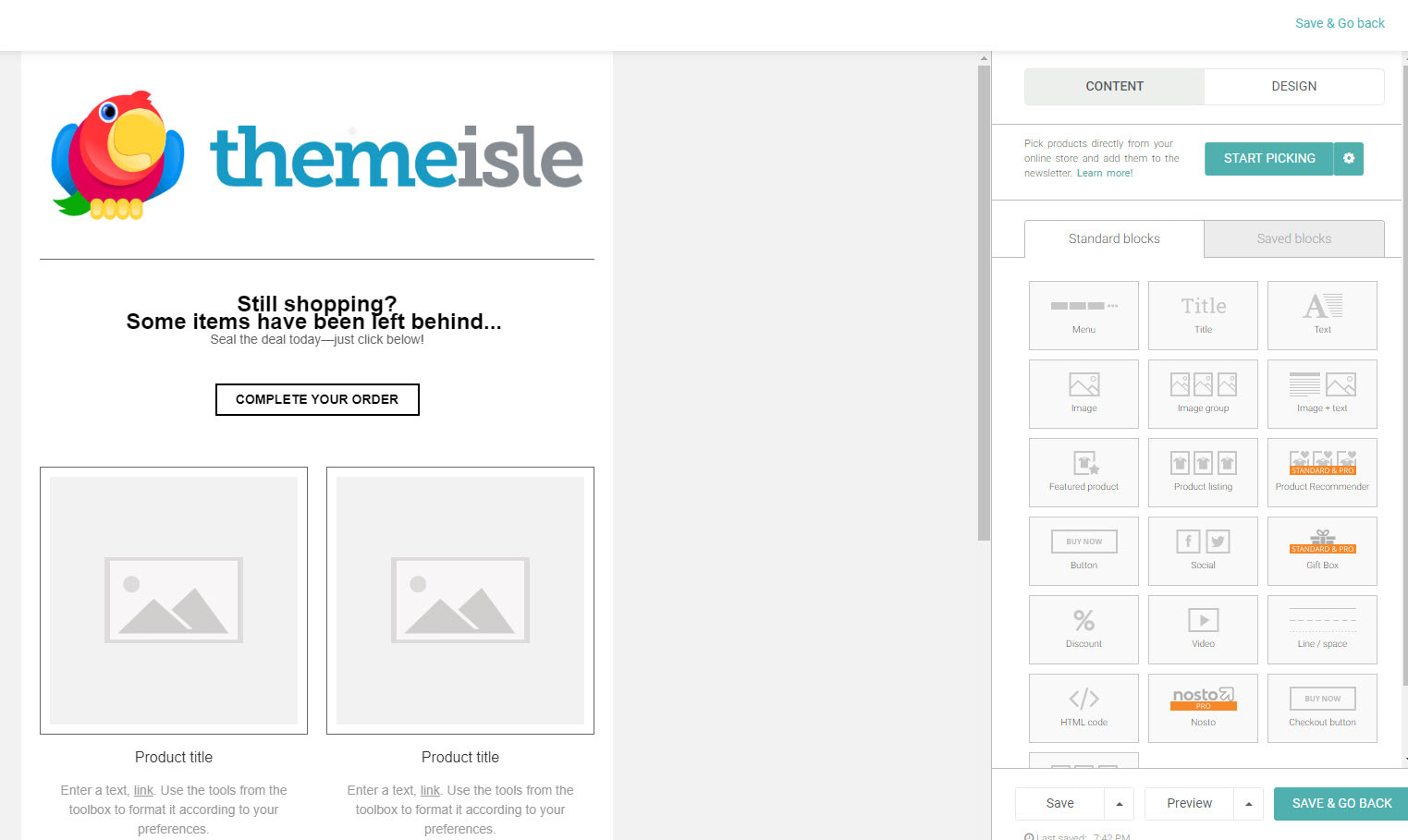 To add a specific product from your store, click on the Start Picking button.

This brings you to your store to go to a product page and add it to the email. You can add the product by clicking on the orange "+" button on the right.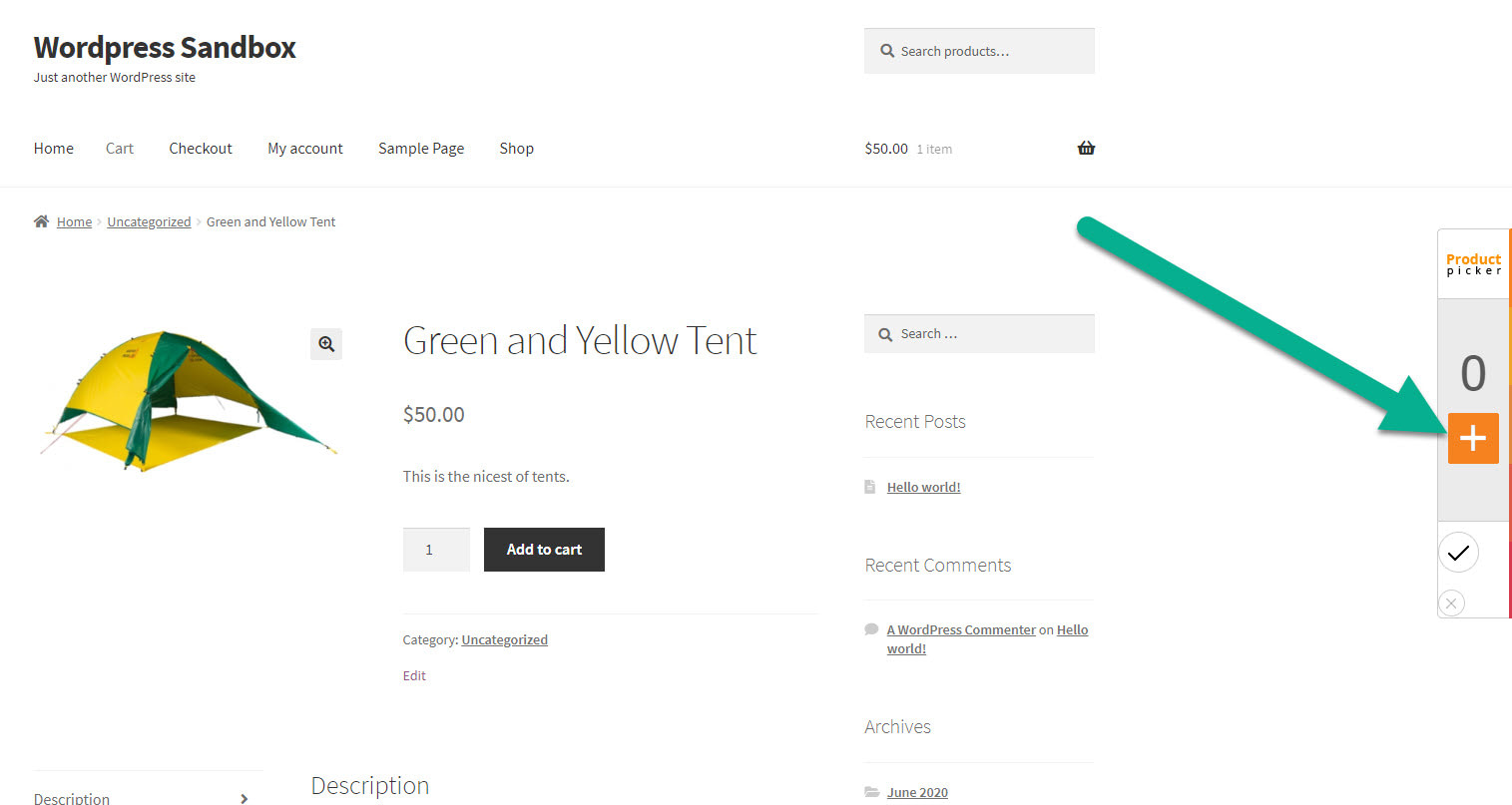 Other types of emails to create
We won't go through all of the emails to set up for an online store, since the design process is the same.
But as a best practice, consider configuring the following:
All the abandoned cart emails in the workflow.
A newsletter template to reuse.
Cross-sell emails.
Order confirmation messaging.
Customer reactivations with coupons.
Emails to welcome people to your list.
Receipts.
You can also check out some other email marketing campaigns that you might want to use.
Moving forward with WooCommerce email marketing
As mentioned, we recommend going through the email marketing tools to test them out and decide on the best features and pricing. After you commit to one, begin syncing your products and making automated emails to send to customers!
Once you've set everything up, you can follow our guide to writing better email subject lines to make sure your customers open your emails.
If you have questions about WooCommerce email marketing–the tools or the marketing process–let us know in the comments.
Free guide
5 Essential Tips to Speed Up
Your WordPress Site
Reduce your loading time by even 50-80%
just by following simple tips.