Each and every month, roughly 7,000 people go on Google and look up "how to sell online." This number, by any standard, is impressive!
Since you're reading this, you're one of those people and you're here for answers!
In this resource, we show you what selling online is all about, discuss the options you have, and show you how to sell online in an easy-to-grasp and, most importantly, effective way.
Here's what's to come:
FAQs on how to sell online
First, let's cover a handful of the most popular questions people usually have about selling online:
"How does it all work, and do I need an ecommerce store or website?"
Ah, yes, the one question to rule them all. Not getting into the process itself too deep at this stage (that will come later), let's just cover the basics:
First off, selling online is a simple concept at its core. It's all based on you showcasing your products (or services) somewhere online, and letting people buy those products (or services) right then and there.
Notice that I'm saying "somewhere online" and not "on your website." As surprising as this might sound, a website is not required to sell online. All you need is to list your offering "somewhere" (like on someone else's website, a social media platform, and, yes, your own site as well), and then have tools in place that would allow people to buy the thing from you.
To be fully honest with you, however, having an online store website, will certainly open up more opportunities and allow you to reach a wider audience.
"Can I sell on social media?"
As we partly mentioned above, yes, you can sell products and services straight from your social media profiles.
For example, Facebook allows you to set up what they call a shop page and list your products for sale there. Keep in mind, though, that with Facebook specifically, many of its features are limited depending on the country you're in. It's kind of a similar story with other social media platforms.
"What can I sell?"
To give you a short answer, you can sell anything you wish. There really is no limitation on what the web can "handle."
You can offer physical products, digital downloads, services, event tickets, appointment booking, subscriptions, and more.
We actually have a whole guide on how to pick what to sell online. Check it out here.
"How does getting paid online work?"
The exact method in which customer payments get to you depends on how you've set your operation up, the tools you're using, and the country you're in.
In the majority of cases, a third-party company, called a payment processor handles the technical aspects of making sure that payments are possible. In this model, the customer pays through the payment processor's platform, and then the payment processor transfers the money to you.
"Can I process credit cards?"
Yes, all of the major payment processors support credit card payments. Your customers will be able to pay using their favorite payment method.
"How much does it cost to sell online?"
Time for everyone's favorite answer – it depends.
It depends on a lot of factors. First, are you going to be setting up your own online store website? If so, the cost of that can be pretty high if you're not willing to go the DIY route. More on the cost of an ecommerce site here.
Then, there are the costs of payment processing. Generally, the industry standard fee is around 2.9% of the transaction amount + $0.30. That's for the US market. If you're going to be using international payment methods and processors, your fees may vary.
"Can I do it all myself?"
This one is a resounding yes!
The great thing about the web tools of today is that they've been built to be used by anyone, even complete beginners.
Of course, this doesn't mean that anyone can build a functional online store in a matter of minutes; but with some tinkering, you really can set up a fully fledged online selling operation. This is both for selling on social media as well as building your own online store website.
How to sell online – the simplest way to do it
There's a number of paths you can take when starting your adventure with learning how to sell online. As we said above, the most intuitive path for most people is to have an online store website built.
While not necessarily wrong, there are simpler ways to sell online.
Let's start with a general list, and then we'll discuss each one in a bit more detail:
Let's break these down one by one:
Building an online store
This is the most obvious, but also the most advanced way to sell online. With your own ecommerce store, you're in full control of the platform, the way you present your products, the prices you charge, and how the payments get processed.
At the same time, this is often the path that requires the highest upfront investment.
Luckily, there are platforms out there that make the whole process easier – even when you are on your own – like Shopify, WooCommerce, and others.
In most cases, having your own online store is the final stage when building up an online selling operation.
Your online store is a great central of operations, and you can connect all your other online selling channels to it.
We'll talk more on how to build one later on.
Selling via online marketplaces
Sites like Etsy and other similar platforms are great for reaching your first customers without having to invest in marketing directly.
The thing about Etsy is that people are already there, and they're actively searching for stuff to buy.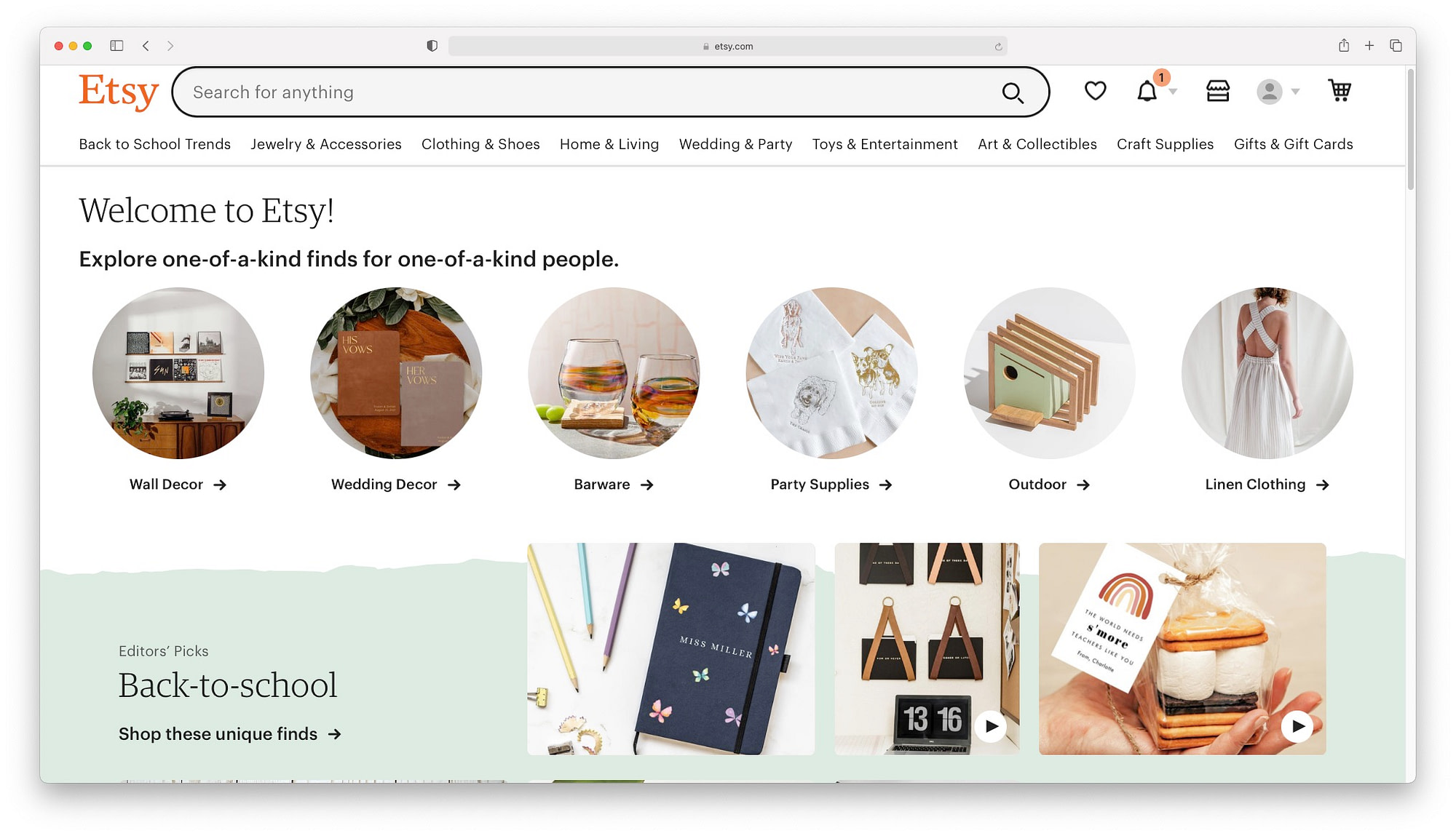 Of course, Etsy is a good choice only if you're selling particular type of stuff – usually hand-made products. If you're into other things, you will have to find a different marketplace.
There are similar marketplaces for clothing, fashion items (Poshmark), decor (Ruby Lane), ebooks, software, other digital products, and so on.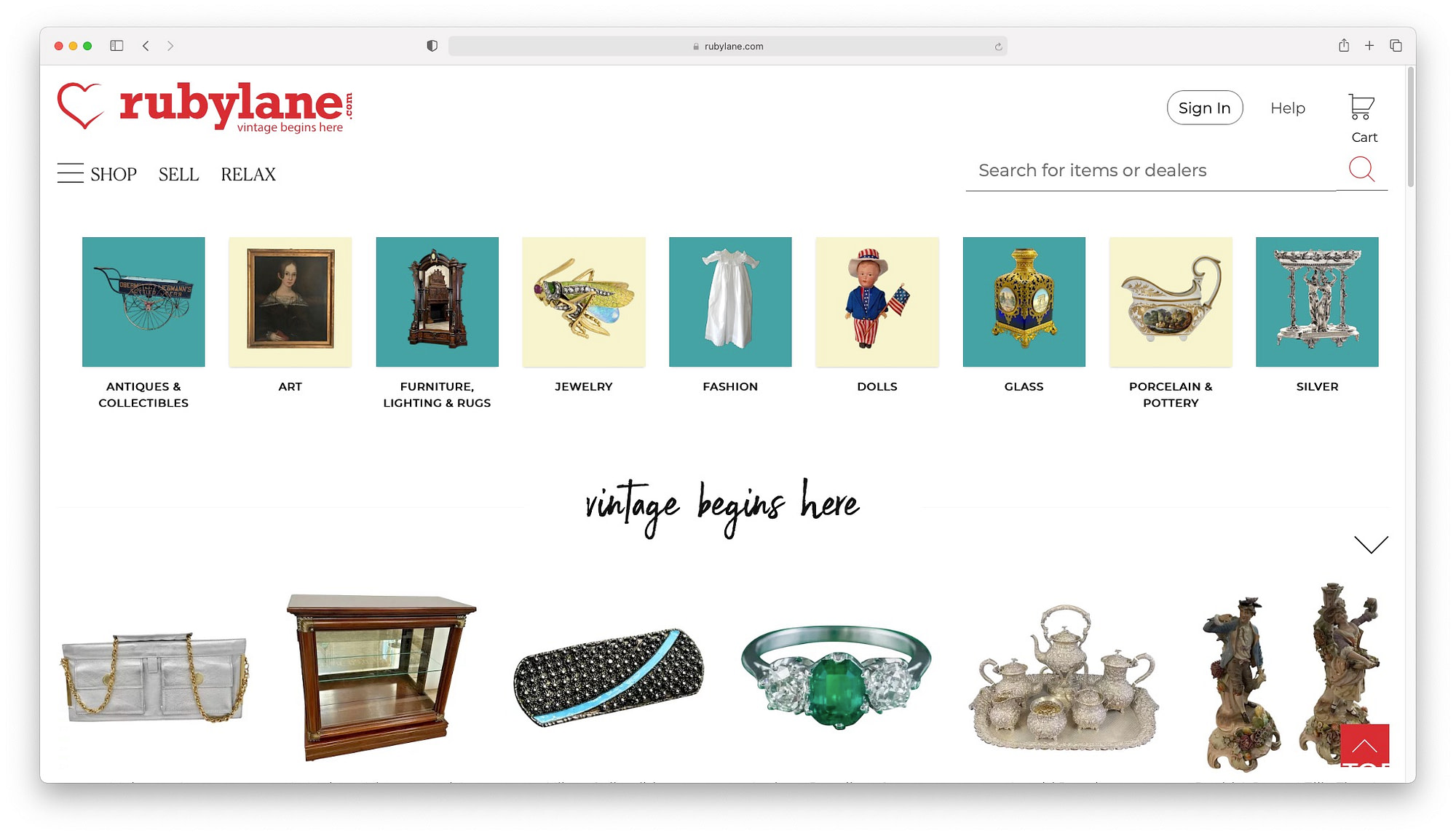 Selling through social media allows you to create a more personal relationship with the customer.
The idea is to build a presence on social media (a company profile), get followers, and then offer your products to those followers directly through the social media platform.
Whether you'll need an additional system in place to get the orders, process them, and accept the payments depends on the specific social media platform that you choose.
For instance, with Facebook Shop pages, you get pretty much everything handled in one place.
Selling via joint ventures
This way of selling online is about getting into a partnership with other business owners and either paying them for access to their audience or bartering something of yours in exchange.
If you're just starting out and learning how to sell online then running joint ventures can be hard.
However, it's certainly an option for when you're a bit further down the road and can offer your partners something of value in exchange – something that they will want.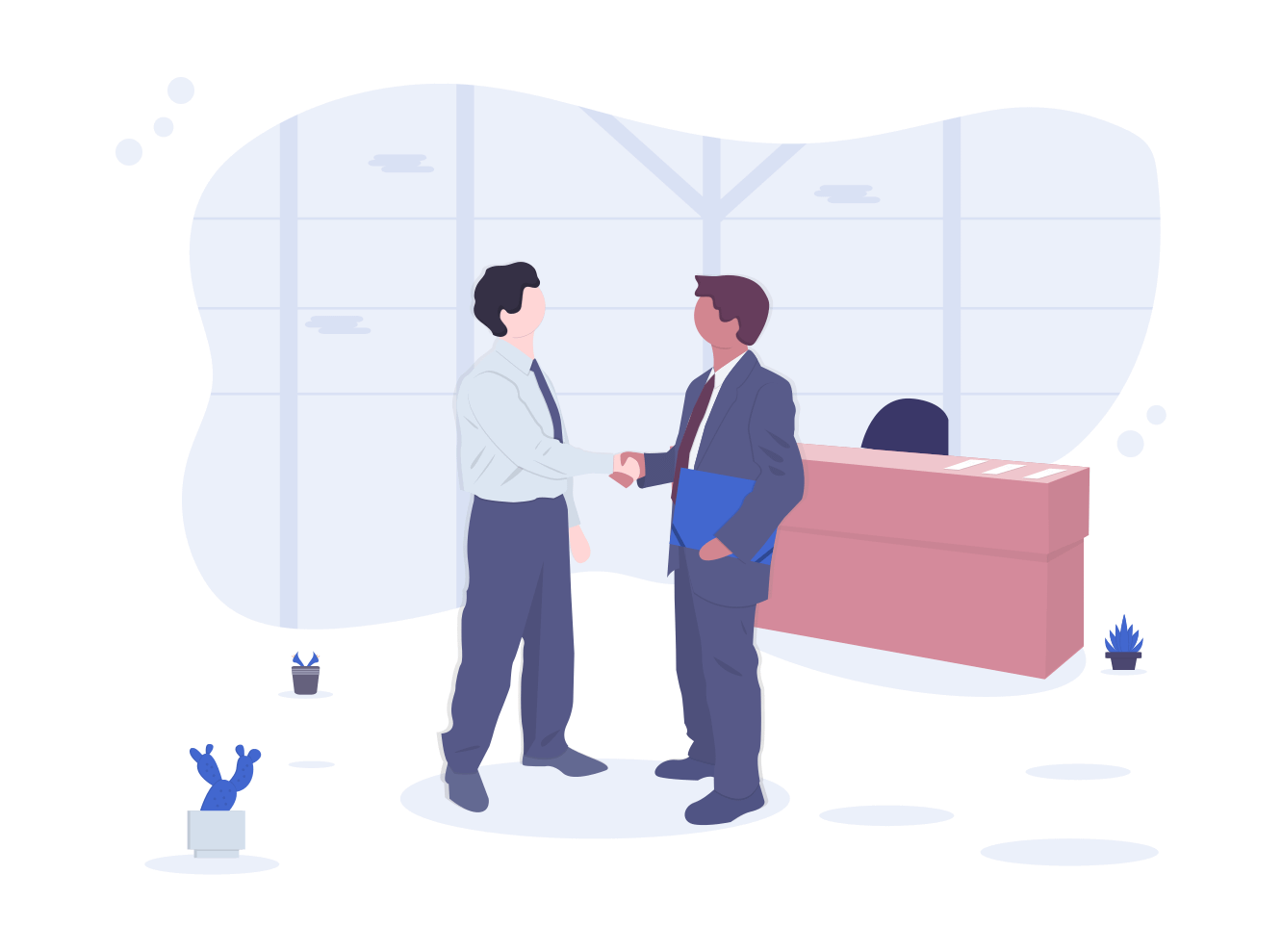 Selling via email
A lot of people these days say that they don't read emails. They're lying.
Emails are still one of the most effective ways of contacting anyone online, both for personal and commercial reasons.
The only downside to making selling via email possible is that you need to have access to a list of email addresses in the first place. This is not always easy.
Ideally, you should build a list of your own – by offering a newsletter or putting your existing customers on your list right after they buy from you.
If you don't have a list like that, you technically can experiment with buying access to someone else's list of emails, but you generally won't get too awesome results from that.
Selling through Google Ads or Facebook Ads
Using Google Ads or Facebook Ads to market your products is a very direct approach. Basically, you pay for exposure on peoples' news feeds or in their Google results, and then you can point your ad directly to your sales page.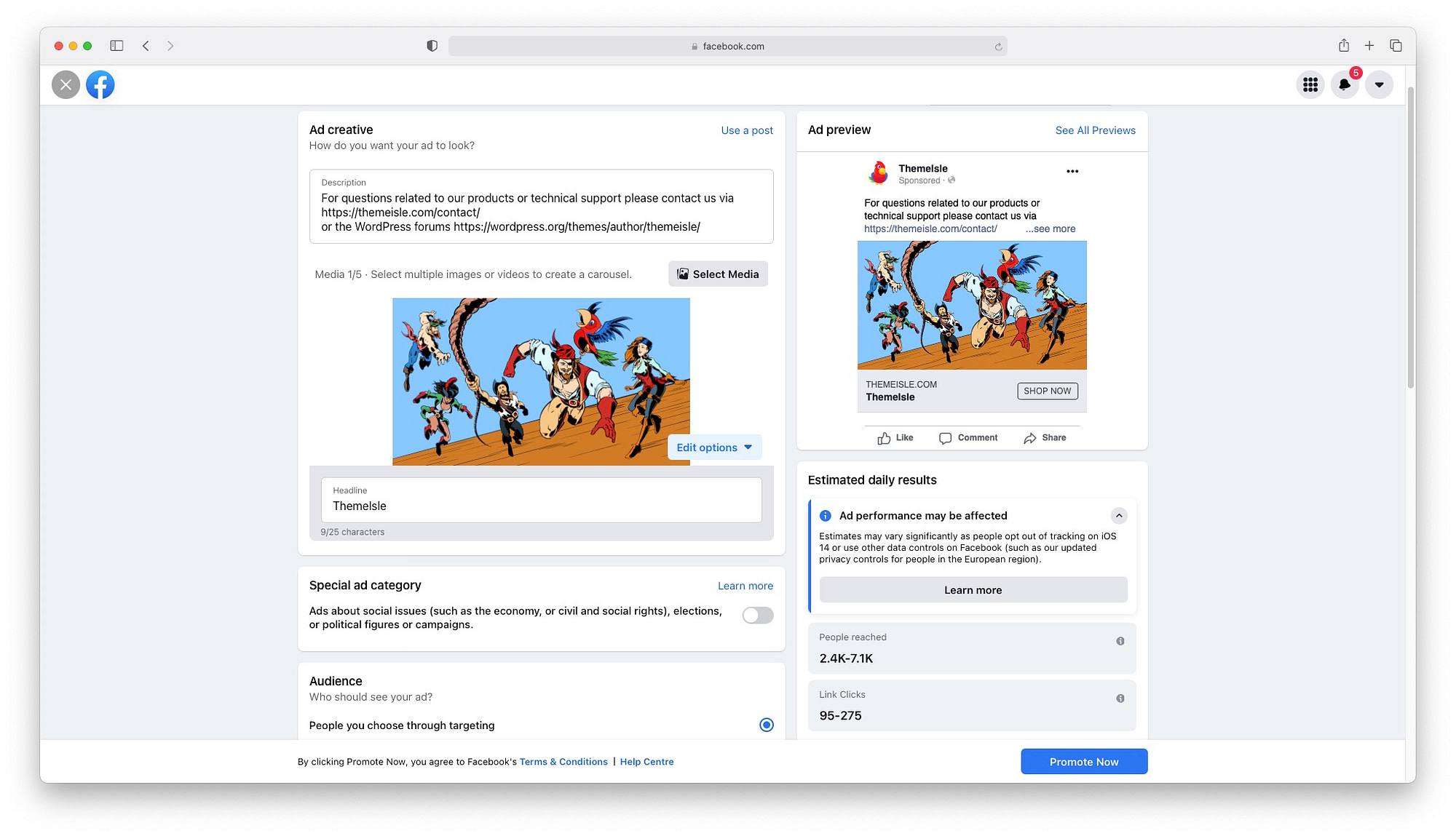 Figuring out the right budget to go for and the right margin can make or break your business.
At the same time, this is the fastest way to test a business idea. Basically, as soon as you launch your ad campaign, people are going to start flocking to your sales page.
Dropshipping
Dropshipping is when you act as a middleman between the product supplier and the customer.
In other words, the customer buys something from you, but whatever they buy is actually shipped directly from the manufacturer to the customer (without ever touching your hands).
With dropshipping, you can offer a huge catalog of products without ever worrying about warehousing any of it. The earning potential per unit sold is usually lower with dropshipping, but the volume of sales can make up for it.
You can get started with dropshipping by checking some of the popular dropshipping marketplaces, like AliExpress and its alternatives.
Selling via Amazon
While technically a marketplace, Amazon is unlike anything else. The sole fact that it's the biggest ecommerce marketplace on the web gives it a unique position.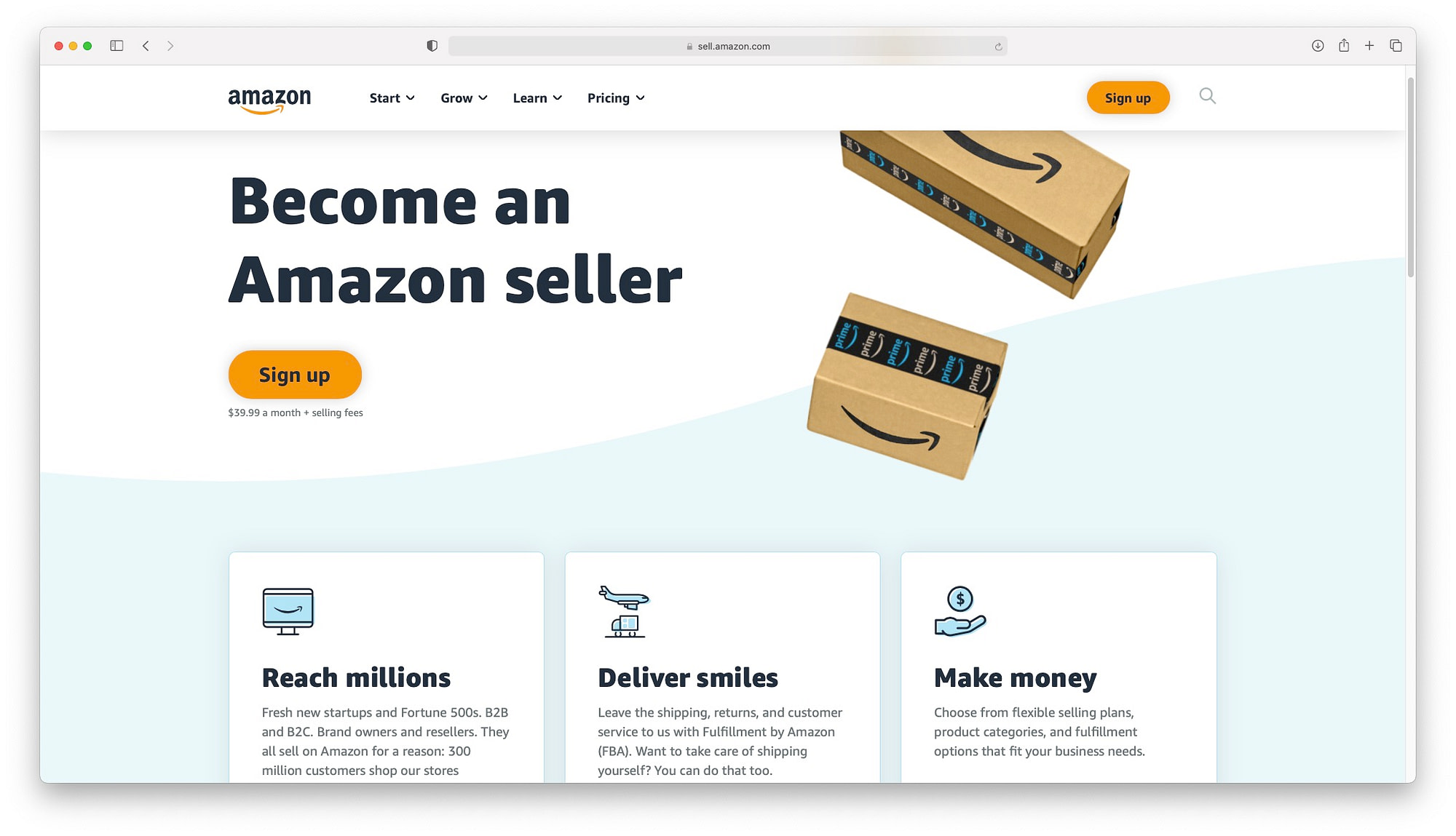 There are a couple of ways in which you can sell via Amazon:
You can list your products on Amazon normally. In this case, Amazon gets you customers and then you have to fulfill all orders yourself.
You can also take part in the Fulfilled by Amazon (FBA) program. Here, you send your products to Amazon, and then it's Amazon who fulfills all orders for you.
Lastly, you can sign a contract with Amazon and agree to sell your products to Amazon at a given price. Then Amazon sells the products on their platform and handles everything from start to finish.
Of course, each of these models comes with its own pros and cons and specific fees that you'll have to forfeit to Amazon.
Selling on eBay
Another online marketplace, but this one is a bit more like the wild west.
First off, it's mostly auction-based. So, you never know what the final sale price of your product is going to be. There's also more direct interaction with the buyers.
Nevertheless, if you have the right products, you can kill it on eBay! Just like with Amazon, there are already tons of people looking for all kinds of stuff there.
Selling on Craigslist, Facebook Marketplace, etc.
This one is all about selling online, but locally.
In this model, you post an ad on one of these sites, and then get contacted by people living mostly in your local area.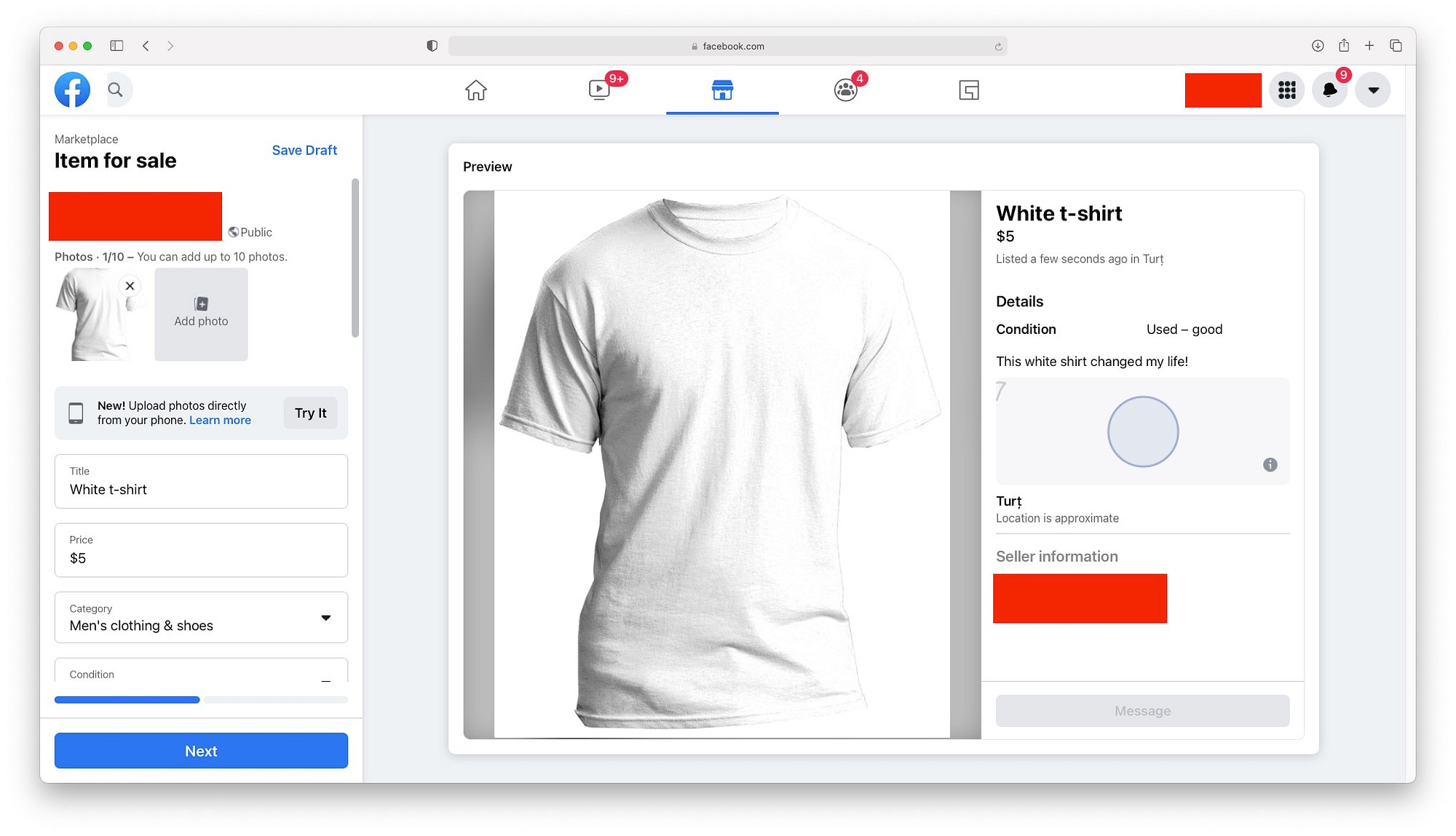 While you are agreeing on the sale online, the actual exchange of money and goods happens in real life.
This can still be a great method to sell online, especially if you're selling large physical products, like furniture or other types of stuff that people generally like to see in person before buying.
This sums up the most viable ways to sell online. Wondering which of them is the easiest to start with?
That would be selling via social media. When push comes to shove, there's no faster way to start selling and also get a starting point for building an audience. We'll cover the specifics later on.
Decide what to sell
The great thing about selling online – and also kind of a curse at the same time – is that the web allows you to sell basically anything. There are no limitations whatsoever.
While this gives you complete freedom, it can also be intimidating to get started in the first place since there are no clear indications as to what is the best kind of product to begin with.
We've published an in-depth guide to deciding what to sell online here. However, if you're in a hurry and would like a concise summary, here it is:
Start with your interests and passions
For most people, looking into one's passions and interests is a good place to start.
The thing is that you simply don't want to get into a field you know nothing about. Starting with your passions at least gives you a head start.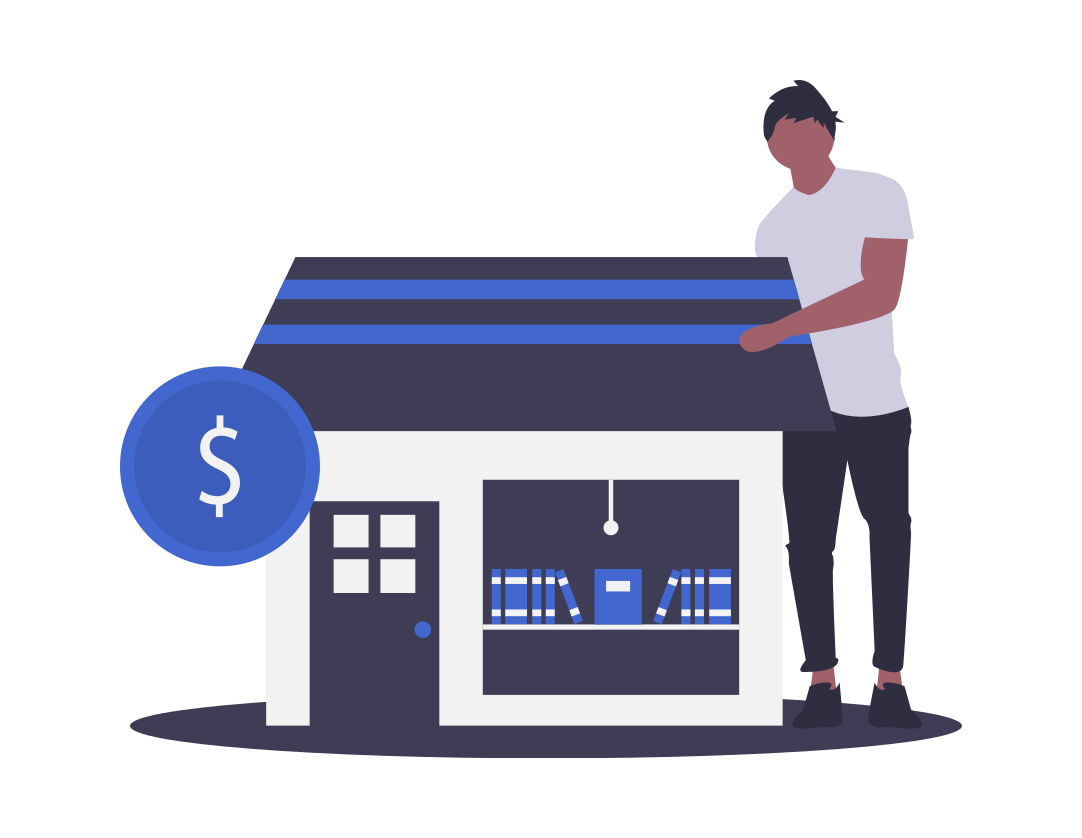 Decide on the type of product that you want to sell
I'm saying "product," but what you're going to sell doesn't have to be a product at all.
One of the first things that people are surprised to discover when they learn how to sell online is that you can sell not only all types of physical products but also stuff that's not as obvious.
Just to give you a few examples; here's what you can sell online:
digital downloads – such as eBooks, software, apps,
services,
appointment bookings – great solution for doctors, beauty salons, etc.,
music – yep, being on Spotify isn't the only way you can make money off your music,
subscriptions – charge a monthly fee for access to your product(s),
access to insider content – this can be done both as a one-off payment or a subscription,
restaurant table reservations – great for giving people an option to choose their favorite table every time,
food delivery orders,
and more.
Research what's already being sold on the web
No matter what you're planning to sell, chances are that someone's already selling something similar or even just like it.
This s a good thing!
Have a deep look into what's out there on the market, what your competition is doing, and how they go about offering their products.
The presence of competition is always a good sign that the niche is alive and that there's money to be made in it.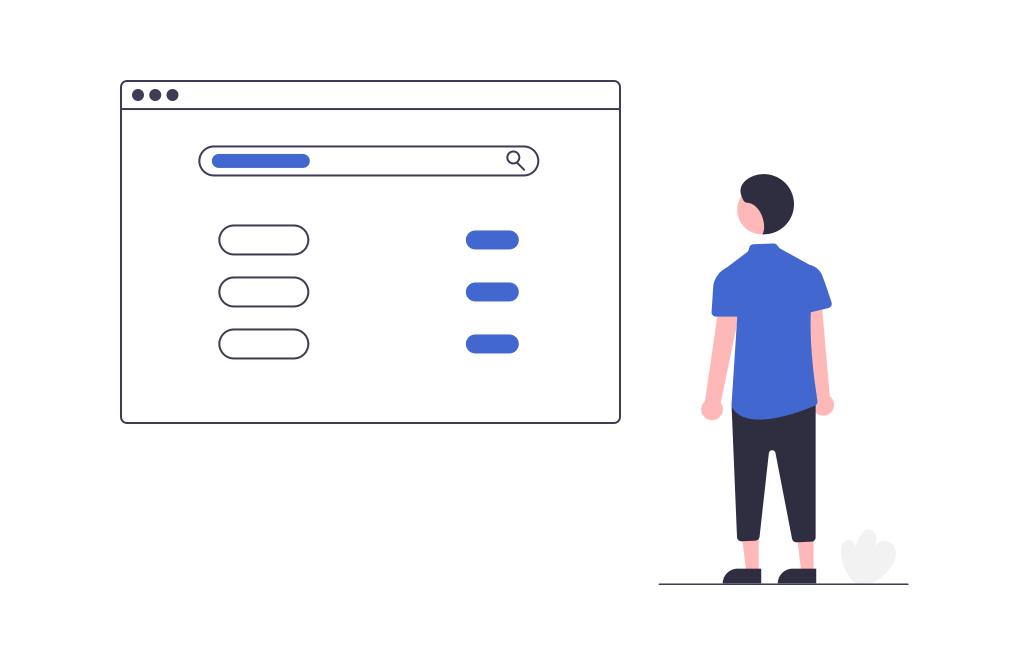 Identify a problem that you can help people solve
People rarely buy stuff just for the sake of it.
Most purchases start with a problem at its core. "I don't have shoes to wear to that upcoming wedding → I go online and get a pair!" Or, "My site has difficulty ranking in Google → I hire someone who's going to help me solve that."
In a similar fashion, identify what problem you are solving through your offerings/products/services.
Brainstorm how to best sell your products
While you can choose your platform and your preferred method of how to sell online based on "how you see things," it might not be the best approach.
Depending on what you're actually planning to sell, some methods of reaching your target market are going to be more effective than others.
Speaking of your "target market," identifying what that target market is should be your first order of business.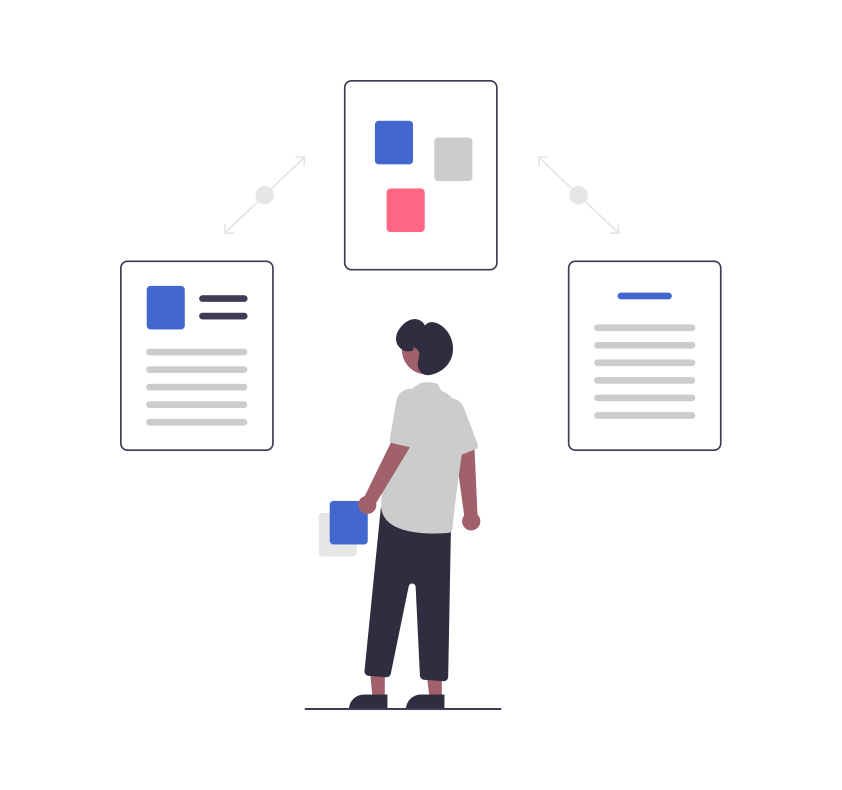 Identify your target market
First things first, "everyone who breaths" isn't a good target market definition.
If you ever want to get your business off the ground, you have to make things a little more concise.
The first question to answer would be, "who's the kind of person that buys the kind of product that I'm selling?" And, again, it's not anyone who breaths.
The best way to identify your target market is, again, to have a look at what your competition is doing.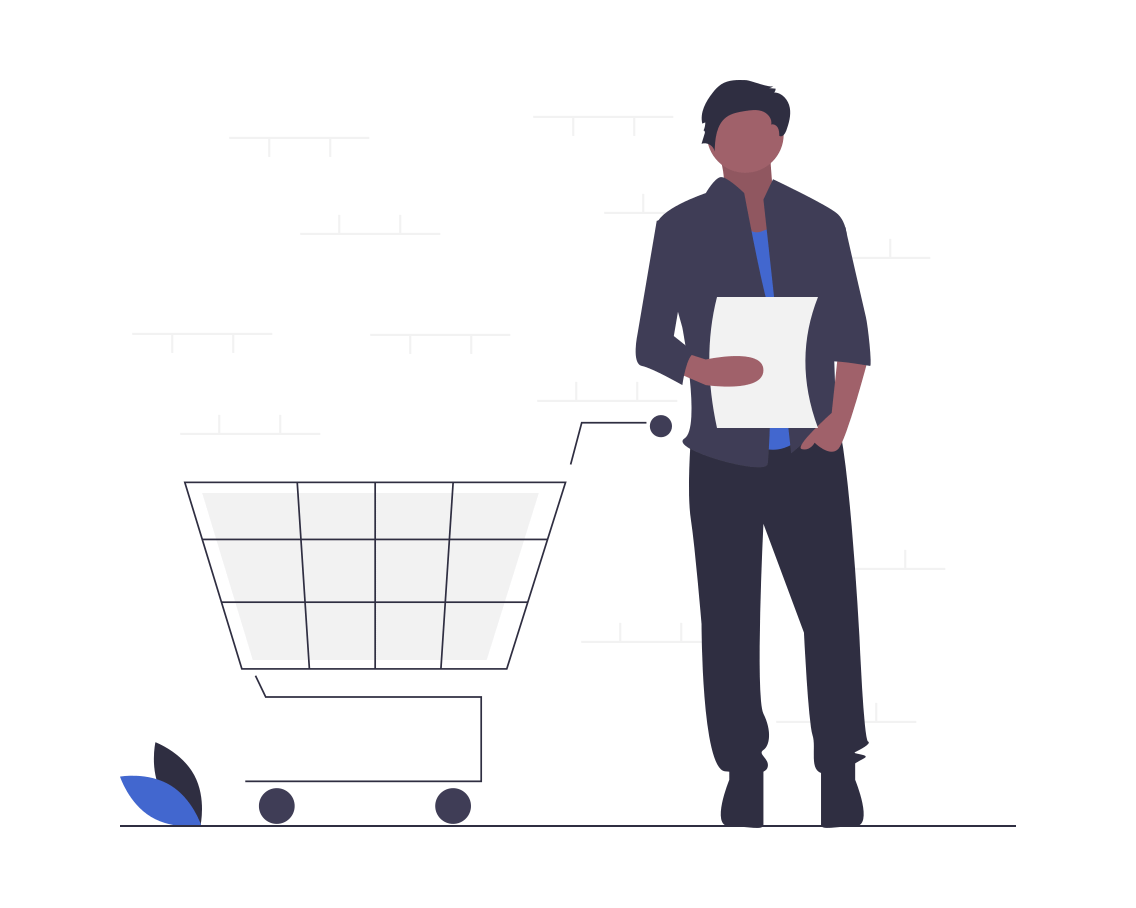 Pick your no.1 competitor – or the competitor that you want to be like the most.
Examine what they're doing online and the type of customer they're chasing.
You can do this by looking through their social media pages, subscribing to their newsletter, or reading through their website. All this will give you an image of who they're targeting.
Is it a rather sophisticated kind of customer or more casual? Do those customers hang out on Facebook or rather Instagram? Does the competitor promote expensive products predominantly, or more budget-friendly entry-level stuff?
All this is a goldmine of information. Once you answer these questions and others that you'll stumble upon yourself as you're doing this, you'll have a great overview of what's going on and how to best approach your customers.
Identify the most viable channels for selling online
This is once again about your competition and what they're doing to promote their products.
Go back to your research and this time note down the main platforms where your competitors are present and how they go about selling on those platforms.
The idea here is to try connect the dots.
While most stores will have a presence on multiple platforms, they might favor one of them over the others, or make one of them the de-facto hub for everything else.
For instance, a competitor might have their own ecommerce website and only treat Facebook or Instagram as platforms to advertise their products and get exposure. A different competitor might not even have a website but instead use their domain name to redirect to a Facebook Shop page.
Looking into what works in that way might take you a while, but it's going to be time well spent!
The platforms and channels that are the most effective for your competitors are usually the most effective for a reason.
For instance, you shouldn't dismiss the fact that all your competitors might be operating on Instagram predominantly, while you want to launch a separate online store website instead because "you know better."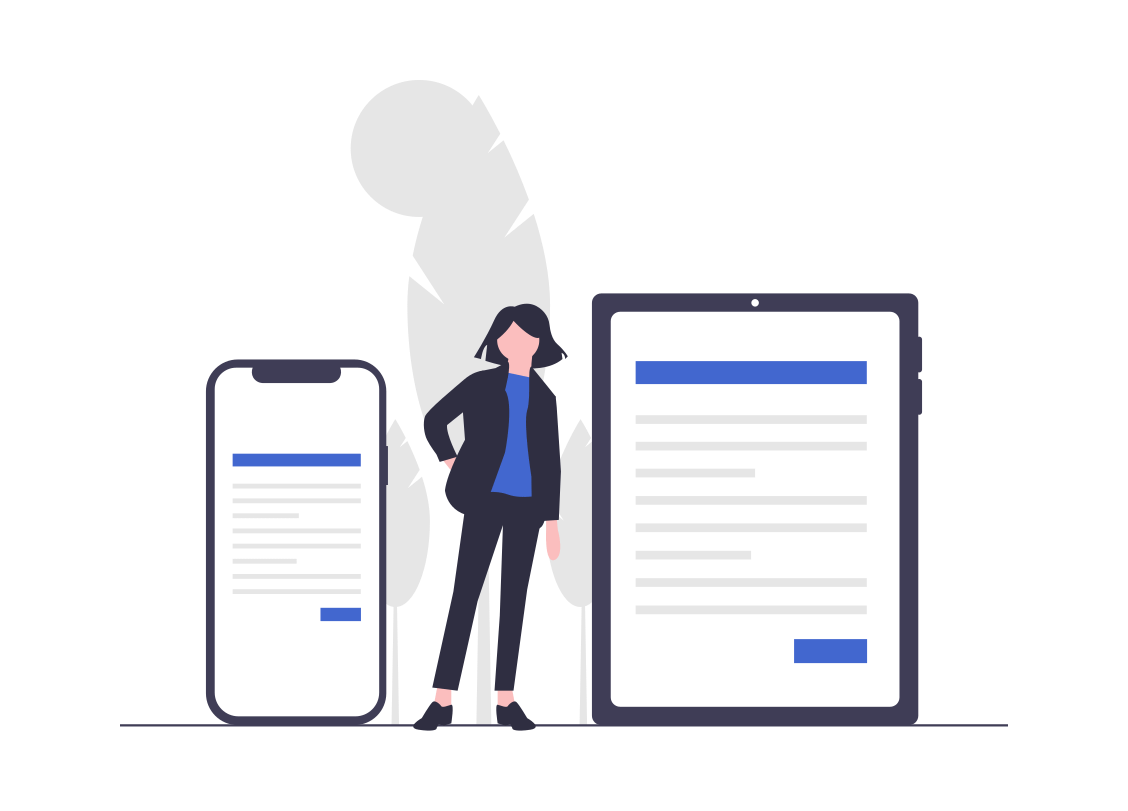 Do what your competitors are already doing. Try putting a spin on it, or do it better, but don't reinvent the wheel, so to speak.
Pick your method of selling online
Now is the time to pick your channel of selling online.
Just to remind you, you generally have the following options:
Your own online store.
Online marketplaces.
Social media pages.
Joint ventures.
Email.
Google Ads or Facebook Ads pointing to a direct sales page.
Amazon.
eBay.
Craigslist, Facebook Marketplace, other local marketplaces.
We've explained what these are one by one earlier in this guide. Click here to jump back to that section.
Remember, this is not about picking what you like the most but picking what works in the niche – based on the market research and competition research you did before.
How to set up your online selling operation
As you would expect, this is the most technical of the steps.
Depending on the path you've chosen – your preferred channel of selling online – completing this step can take a different amount of time.
Covering the specifics step by step in this guide would easily double its size, so, instead, you'll be better served by reading some of our other in-depth resources on each of the possible methods of setting up your online selling empire.
Read this if you want to learn:
Generally, setting up your operation on social media is the fastest way to get started. It's also a solution that gives you access to an audience.
On the other end of the spectrum is building your own online store website. This path will give you 100% control of your ecommerce operation, you'll be able to configure everything however you wish, and also expand it as your business grows.
What's next?
At this stage, you've learned how to sell online and where to make your first steps. Congrats!
The only thing left to do once you have everything set up is to start promoting your offers and get your first customers. This might be easier said than done, but with some experimentation, you'll figure things out!
Here are some other guides of ours that will help you out and show you how to get your online selling operation off the ground:
In case you have any questions on how to sell online, feel free to submit them in the comments below.
Free guide
5 Essential Tips to Speed Up
Your WordPress Site
Reduce your loading time by even 50-80%
just by following simple tips.