Who doesn't want more free WordPress products?
Nothing beats WordPress' ratio of high-quality to low-cost products. It doesn't matter what you're trying to build or what you'd like to try; WordPress has a free product to help.
In fact, most regular WordPress users will have a list of go-to products they'll use in their projects. Today, I'm sharing a few hidden-gem products that deserve a place on your go-to list. Amongst these hidden gems, you'll find a few adaptable themes and a bunch of plugins geared towards performance, marketing, and content.
What are we waiting for? Let's get started!
Here are the 11 hidden-gem free WordPress products that we'll feature in this post. All of these tools have free versions, while many also have premium versions with more features.
Additionally, some of these products are themes while others are plugins or separate web tools that integrate with WordPress in some way. For each product, we'll share a quick summary at the top of what it is and what it does. Then, we'll dig into the tool in more detail.
Here's the lineup:
💡 What it is: A lightweight multipurpose theme that you can use to create any type of website.
If you want to start a riot at a WordCamp, start talking about the best free theme. Of all the free WordPress products, free WordPress themes generate the most passion. For me, it's Neve. Now, you're going to say I'm biased. And maybe, I am since I work for the company who created it. But let me make a case for it anyway.
I really think it is the best equipped free theme out there. What I mean is, you can do a lot with Neve without reaching for your wallet or a bunch of plugins. For example, Neve free has three layout options for your archive page with infinite scroll and excerpt controls thrown in.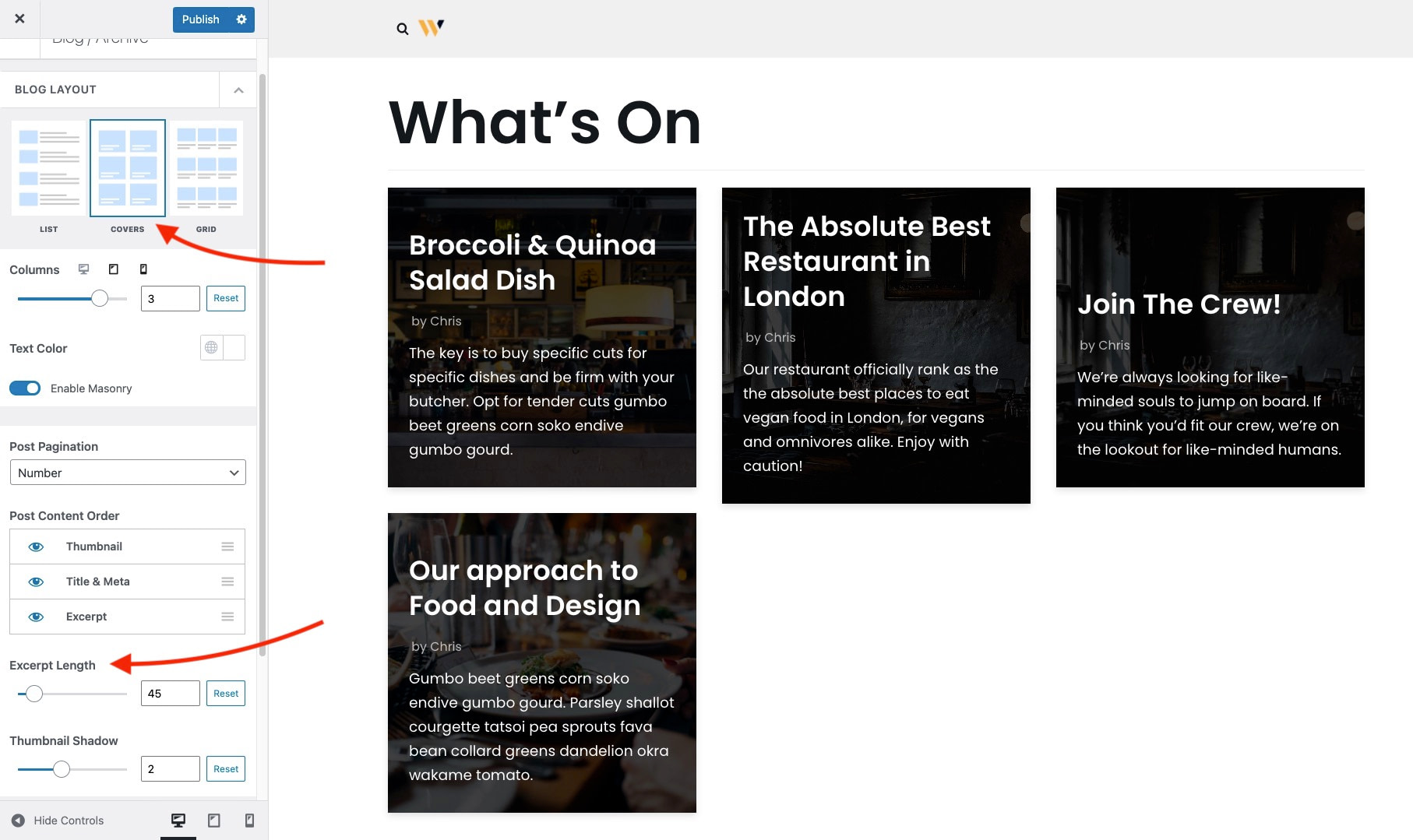 But let's go beyond features. Let's look at how easy it is to use. For example, you can change your button's entire appearance with toggles and sliders. No code needed.

But "no code" is just part of the picture. In the era of page builders and block editors, a free WordPress theme needs two things to be beginner-friendly: a solid starter site library and access to a good portfolio of blocks.
When it comes to starter sites, Neve free has a total of 30. Better yet, Neve is integrated with the whole page builder posse; we even built some starter sites for Thrive Architect.
⚙️ Other notable features:
Built for performance with a lightweight codebase.
Header and footer builder.
Global colors.
Advanced typography options for all text elements.
💵 Pricing:
If you decide to upgrade beyond the free Neve theme, plans start from $69 / year for unlimited sites, and the highest price is $159 / year for all booster packs and white label functionality.
💡 What it is: A plugin that adds new content blocks and templates to the WordPress block editor.
When it comes to blocks, on the other hand, we use the Otter plugin to handle the extra work. With Otter, you get over 20 extra blocks that bring more sparkle to your WordPress site:
Section block,
Button Group block,
Service block,
Post Grid block,
and many more.
Each block's settings are determined by the block's function. You'll do more than change colors or alignments. I'm talking about advanced options that help you build richer layouts. It could be line height, spacing, padding, zoom, or any mixture of pre-defined styles.
For example, the Maps block uses pre-defined styles to stand out. With six different map styles and four map types, you can create maps that match your design.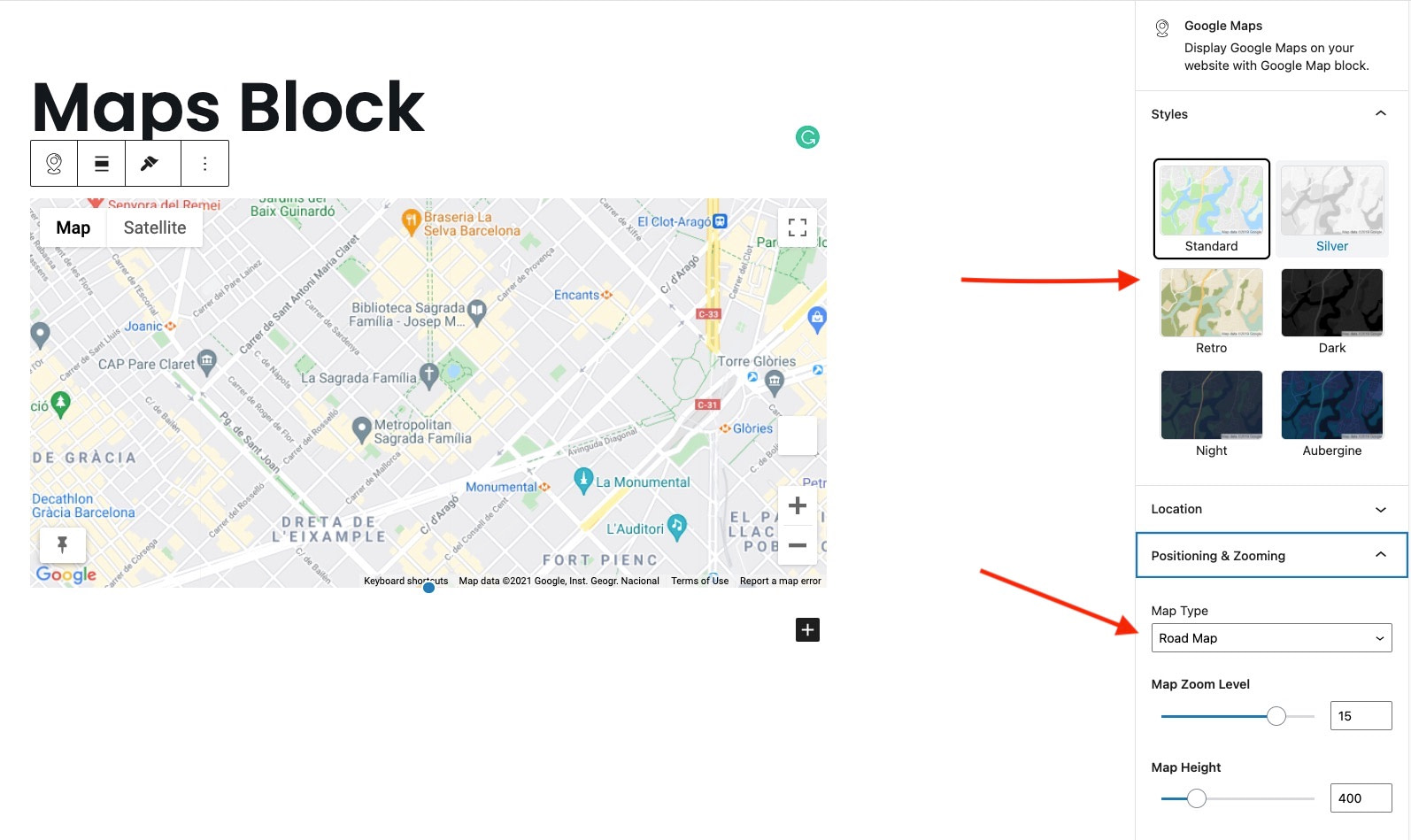 ⚙️ Other notable features:
20 blocks extra blocks for any WordPress theme.
Additional CSS can be added to any block.
Animation at the click of a button.
💵 Pricing:
Otter Blocks is completely free.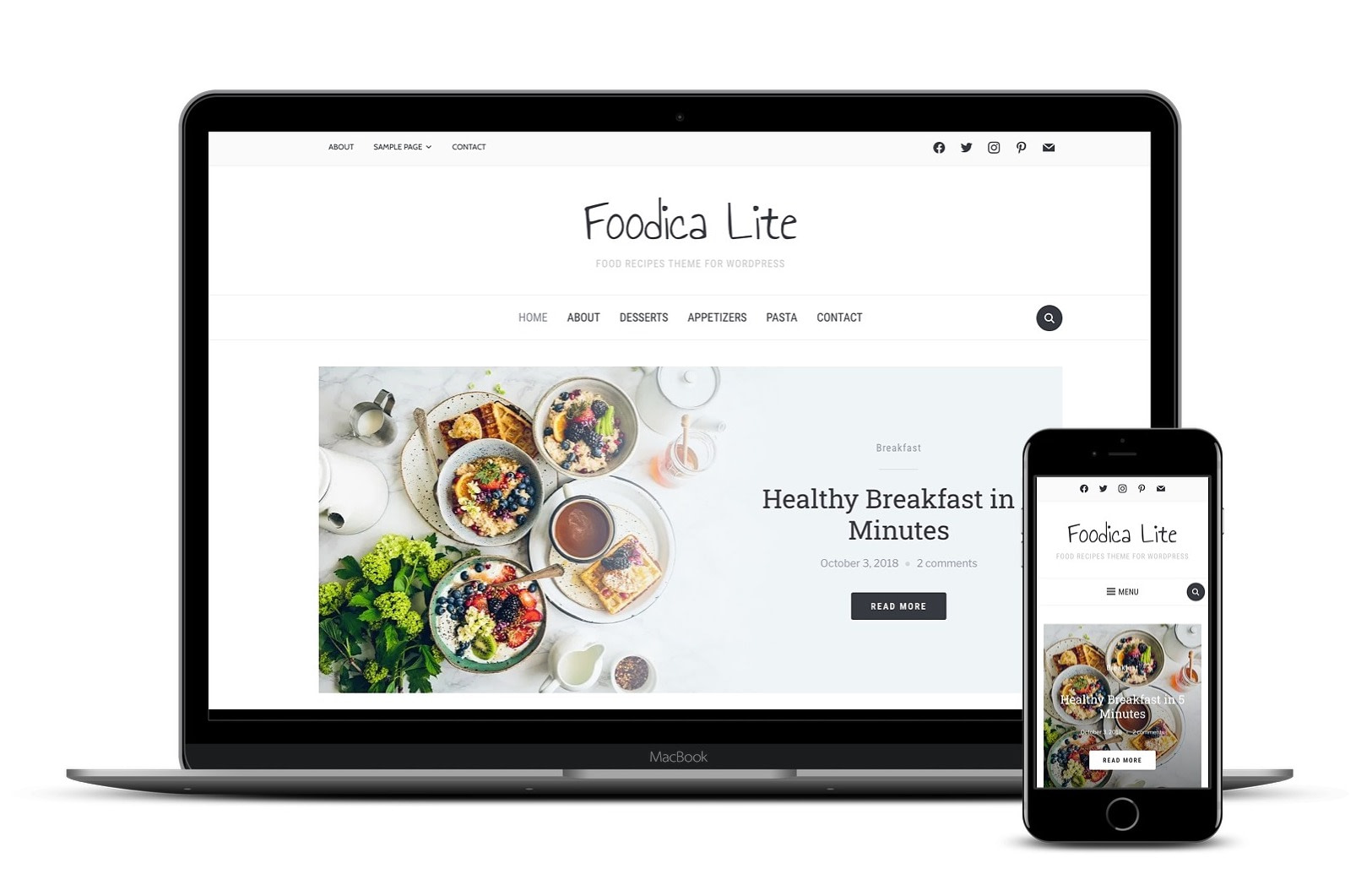 💡 What it is: A WordPress theme to help you create a food blog (or other related niche).
Foodica is more than a food theme. I'd argue that it's flexible enough to work for lifestyle bloggers, exercise websites, magazine sites, and more. In fact, any site that relies on images and text will win with Foodica's clean, simple design.
Now, I struggle with font pairing, so the stylish fonts that come with Foodica are a blessing. In fact, I'd go as far as to include Foodica as one of the strongest out-of-the-box themes for beginners. It's not just the design and layout, but also the integrations with Jetpack and WooCommerce.
Finally, Foodica comes with a recipe index template to help you show off your popular recipes with compelling visuals.
Want to take it further? Try these recommended tools:
⚙️ Other notable features:
Built-in slider.
Recipe index.
Easy keyword function for recipes.
One-click demo content importer.
When it comes down to it, Foodica is an elegant theme, perfect for anyone who wants to get a site up and running quickly.
💵 Pricing:
If you want to go beyond the free theme, you can get Foodica Pro for $79/year or you can pay $170 for a lifetime of updates and support.
💡 What it is: A WordPress plugin that adds new blocks that you can use to include recipe cards in your content (great for food blogs).
Out of Foodica's recommended plugins, I'd also recommend Recipe Card Blocks. It comes with seven unique blocks for sharing recipe details like ingredients, directions, and details.
⚙️ Other notable features:
Seven extra blocks.
Multiple recipe card templates.
Easy keyword function for recipes.
💵 Pricing:
Recipe Card blocks is completely free.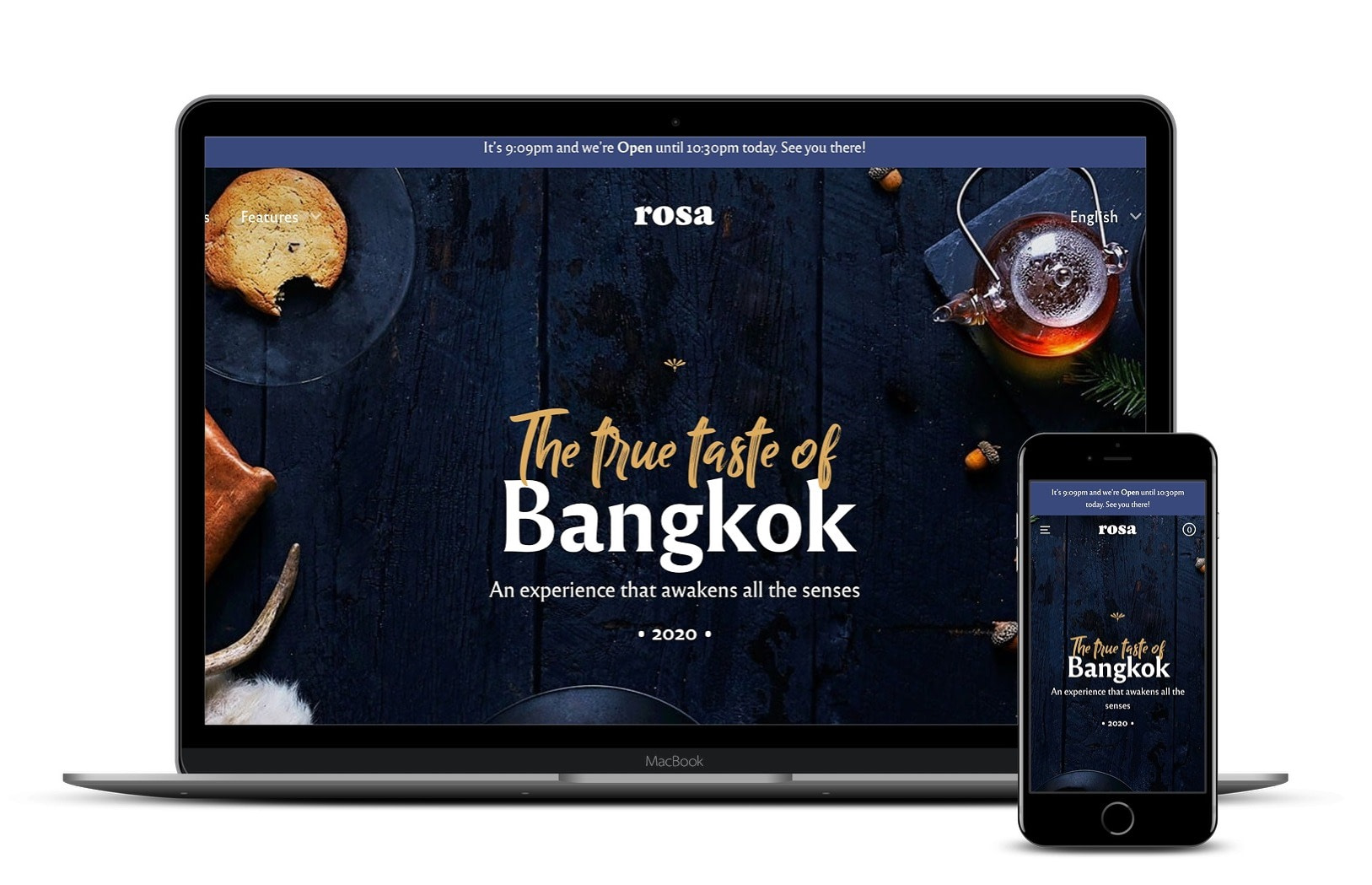 💡 What it is: A free WordPress theme designed to help you create a beautiful website for a restaurant or café.
Rosa 2 Lite is a great theme for anyone looking for a no-fuss journey to create a great-looking restaurant website. For one thing, essential pages for reservations and bookings are set up with the demo. All you need to do is add your contact information to make it work.
If you get stuck the documentation is easy to access from a button in the bottom right corner of the screen.
As with the other themes on this list, you need to install the recommended plugins to make the most of Rosa 2 Lite. In this case, Customify and Nova Blocks enable the theme's eye-catching elements.
However, you also get five nifty blocks as part of the deal:
Headline block,
Slider block,
Hero block,
Media + Text block,
Restaurant Menu block.
Once activated, Nova Blocks makes instant improvements to your homepage. All of a sudden you have design effects like overlapping blocks, separators with icons, and some dreamy scrolling effects that make your page more professional.
The menu block, in particular, is unreal. Not only do you get two styles but with simple controls for highlights and discounts, you can build a menu in a few minutes.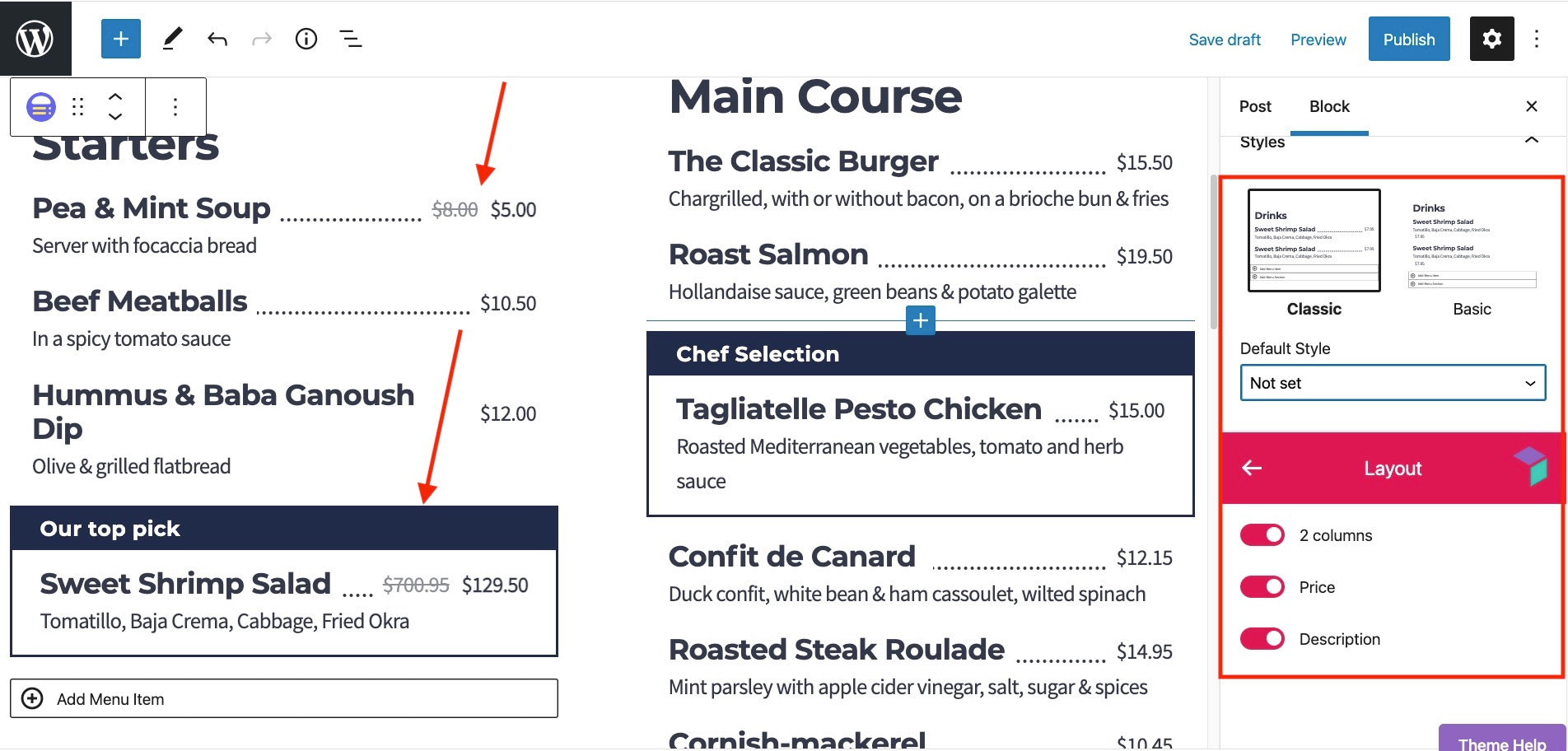 ⚙️ Other notable features:
Global colors and fonts with Style Manager.
WooCommerce integration for online food ordering.
💵 Pricing:
If you want to go beyond the free theme, you'll pay $70/year or $85/lifetime.
💡 What it is: A free plugin that gives you an easy way to optimize your website's images and speed up your load times.
Optimole is the first plugin I installed on my wife's WordPress blog. Not just because it comes from the Themeisle family of products, but mainly because it offers an all-inclusive image optimization service in a single package.
In fact, Optimole is jam-packed with features that go beyond simple image compression. You'll find tools for managing your media library nestled beside options for improved performance.
While all this is great, Optimole does the simple things well too. With superior compression rates and both lossy and lossless options available.
Let's look at some of Optimole's next-generation tools:
Avoid Google Core Web Vitals killers like Content Shifting with Optimole's image scaling feature. In other words, Optimole will calculate the size of an image container and send a perfectly sized image.
Most mature sites carry some extra weight around the media library, but with Optimole you can offload these images to the cloud and reclaim valuable disk space. Then, you can cross-share them with any website connected to your Optimole account.
Sounds expensive, right? It's not. There's no complicated calculation of credits with Optimole. With the free version, you get unlimited optimizations for up to 5,000 visitors/mo.
⚙️ Other notable features:
Watermark feature.
AWS CloudFront content delivery network (CDN) with access to 200 cities.
Smart cropping.
EXGIF data is stripped but not stored.
Automatic image quality degradation for visitors on slow connections.
Page builder compatibility with unique tweaks to handle image replacements.
💵 Pricing: The Starter package is good for 25,000 monthly visits starting at $19.08 when billed annually. The Business plan starts at $39.08 / mo when billed annually for 250k visitors/mo.
💡 What it is: A free plugin that helps you speed up your site's global load times by fully caching your site to Cloudflare's huge global network of servers.
This is one of the essential free WordPress products for Cloudflare users. Not only is the plugin free, but it also works for users on the free Cloudflare tier. If you're in this group, then this caching option is an absolute beast.
Unlike Cloudflare's regular CDN, which only works for your images and static files, WP Cloudflare Super Page Cache lets you cache your entire WordPress site without breaking key functionality like forms. This offers incredibly fast global load times.
Better yet, the recommended settings are good enough for most sites. That's right, you can get access to Cloudflare's world-leading CDN with out-of-the-box settings. The plugin has been set up to exclude your dynamic WooCommmerce and EDD pages by default, so you can take advantage of Cloudflare's cache everything rules.
In some cases, WP Cloudflare Cache can be integrated with your host's caching options. There's even a handy guide to help you complete the integration or disable any plugins in the event of a conflict.
⚙️ Other notable features:
Works with any Cloudflare plan.
Prefetch URLs on mouse hover.
Preloading of defined URLs.
Full control over what will be cached.
💵 Pricing:
Completely free although some Cloudflare options might require payment.
💡 What it is: A free plugin that helps you create a multilingual WordPress site.
TranslatePress is the best translation plugin for making a multilingual website. When it comes to free WordPress products for translation, TranslatePress is a market leader.
You can translate your entire website, with no limits on the number of words that you can translate. Equally important, you can translate everything using a simple point-and-click visual editor.
If you're lucky enough to know a second language, then you can handle the translations by hand. Alternatively, you can take it easy, let Google Translate translate everything automatically and just make the odd tweak to bring Google's work in line with your specifications.
The free version has a limit of two languages, but that's the biggest limitation you will face. You'll still enjoy access to the same interface for translating buttons, forms, images, menus, and more.
In the final analysis, TranslatePress is by far the best option for adding a second language to your online store, corporate site, blog, and more.
⚙️ Other notable features:
Integrated with page builders and WooCommerce.
Captures dynamic text strings.
Multiple language switcher placements.
Easy exclusions.
Completely self-hosted.
💵 Pricing:
The upgrade will cost $79/year for one site. In addition, you also get access to the SEO Pack add-on. In the event that, you need more sites, the three-site package will cost $139/year, which includes all the add-on plugins. If you need unlimited sites plus add-ons, then you will pay $199/year.
💡 What it is: A free plugin that lets you design your site using a visual, drag-and-drop builder.
As far as WordPress page builder plugins go, Brizy is the one that feels most similar to drag-and-drop website builders like Squarespace. Not only will you get the look and feel, but you'll also get the ease of use that makes website building easy.
In the first place, there are more than 500 blocks that follow modern design trends without losing any of their distinctiveness. While there are some premium blocks included in the mix, the free options have the same professional appearance. All in all, you're not losing anything with the free options. In fact, you'll see the same color schemes and abstract imagery across all the blocks and layouts.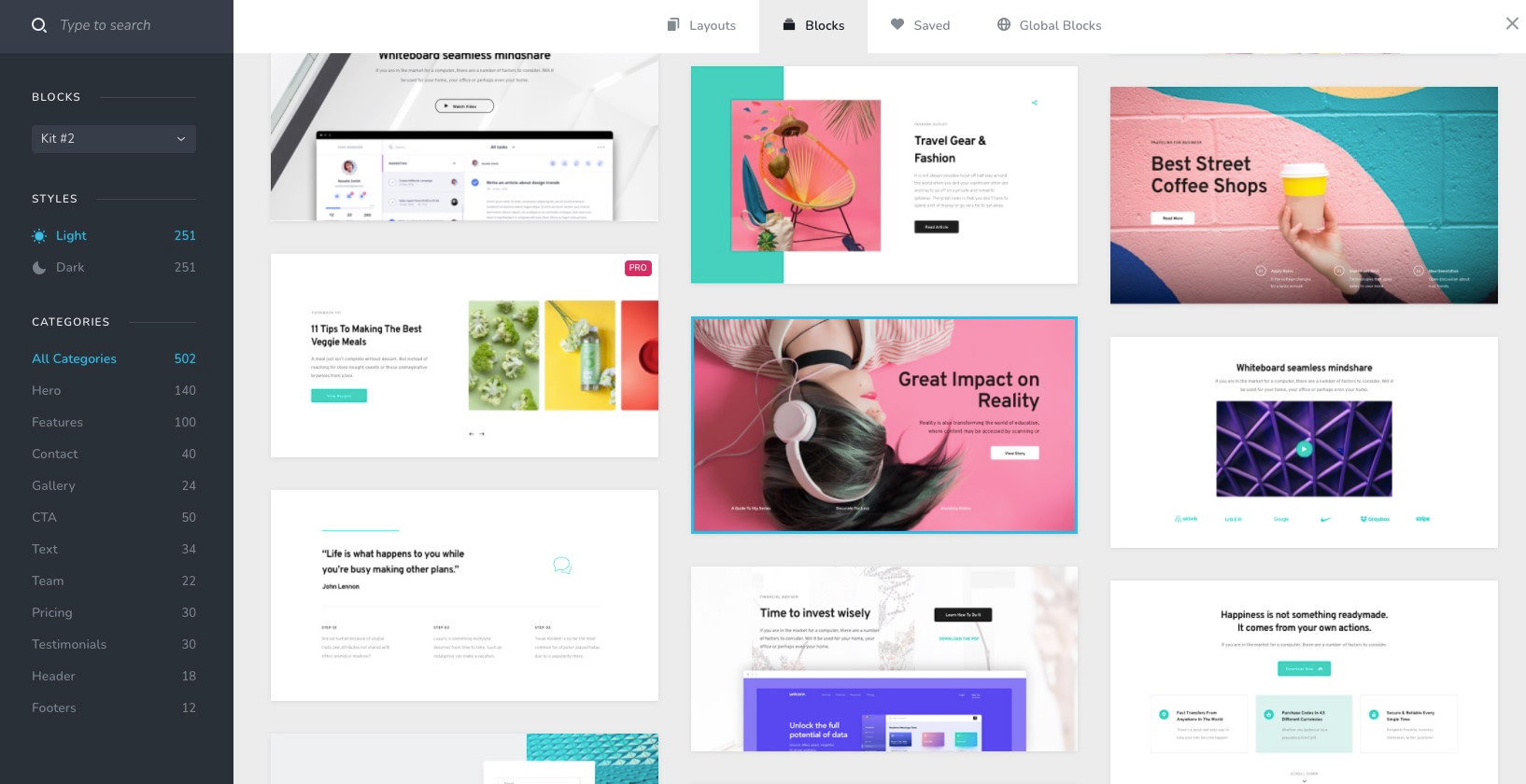 More than just impressive design, Brizy is well thought-out with most of the workflows easing you into the page building process. For example, the global styles help you control typography and colors with responsive sliders and toggles. Together with the inline editing options, you will be able to handle every style element like:
button size and height,
fills or strokes,
rounded corners,
letter spacing,
line height,
font selection,
alignment,
and more.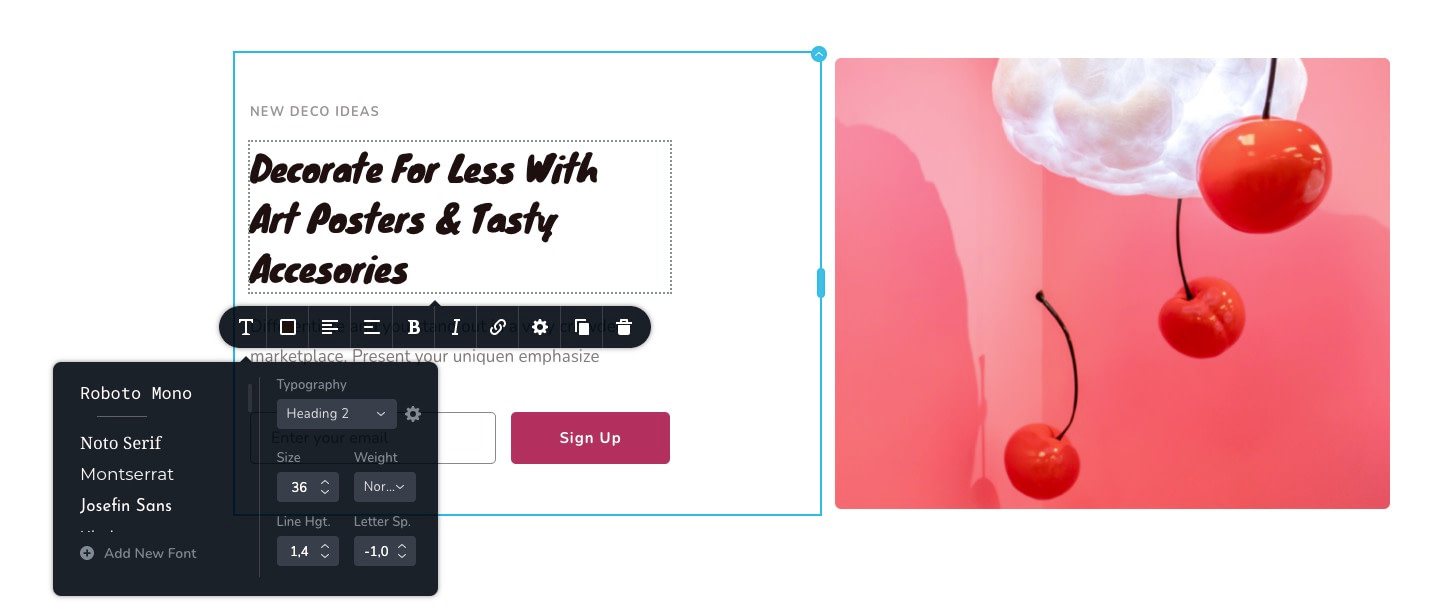 In fact, there's a lot to like about Brizy. For one thing, it's perfect for anyone who just wants to build a website. Especially because most of the controls are kept out of sight until you need them.
On the other hand, you will need to pay if you want any integrations with powerful tools like Mailchimp and Sendinblue. Similarly, advanced WooCommerce page building is only available in paid plans.
⚙️ Other notable features:
4,000 icons in glyph and stroke.
Auto-save to Brizy Cloud.
Make sliders from any block.
💵 Pricing:
To access the premium features, you'll pay $49/year for three sites, rising to $99/year for unlimited sites. Lifetime deals are available for $299.
💡 What it is: A free plugin that helps you create a free or paid WordPress membership site.
WordPress can be surprisingly difficult to use at times, so I love to use free WordPress products that make everything easier. This is where Paid Member Subscriptions steps in. With a beginner-friendly setup process, Paid Member Subscriptions makes it easy to do something difficult; create a membership website.
As a matter of fact, right from the moment you install the plugin, you have the opportunity to automatically create your membership pages like login, registrations, and more. Furthermore, you can even start to build your subscriptions and add payment methods.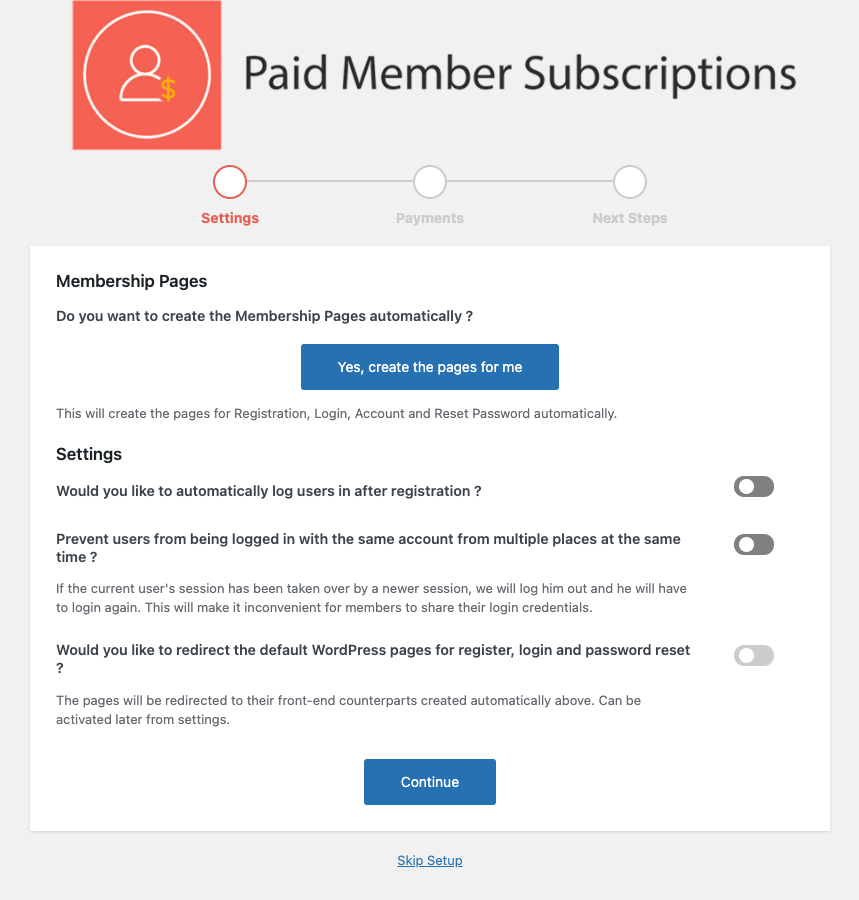 Once everything is set up, you'll find that Paid Member Subscriptions has every option you'll need. For example, it's easy to set up everything from sign-up fees to free trials right from the dashboard.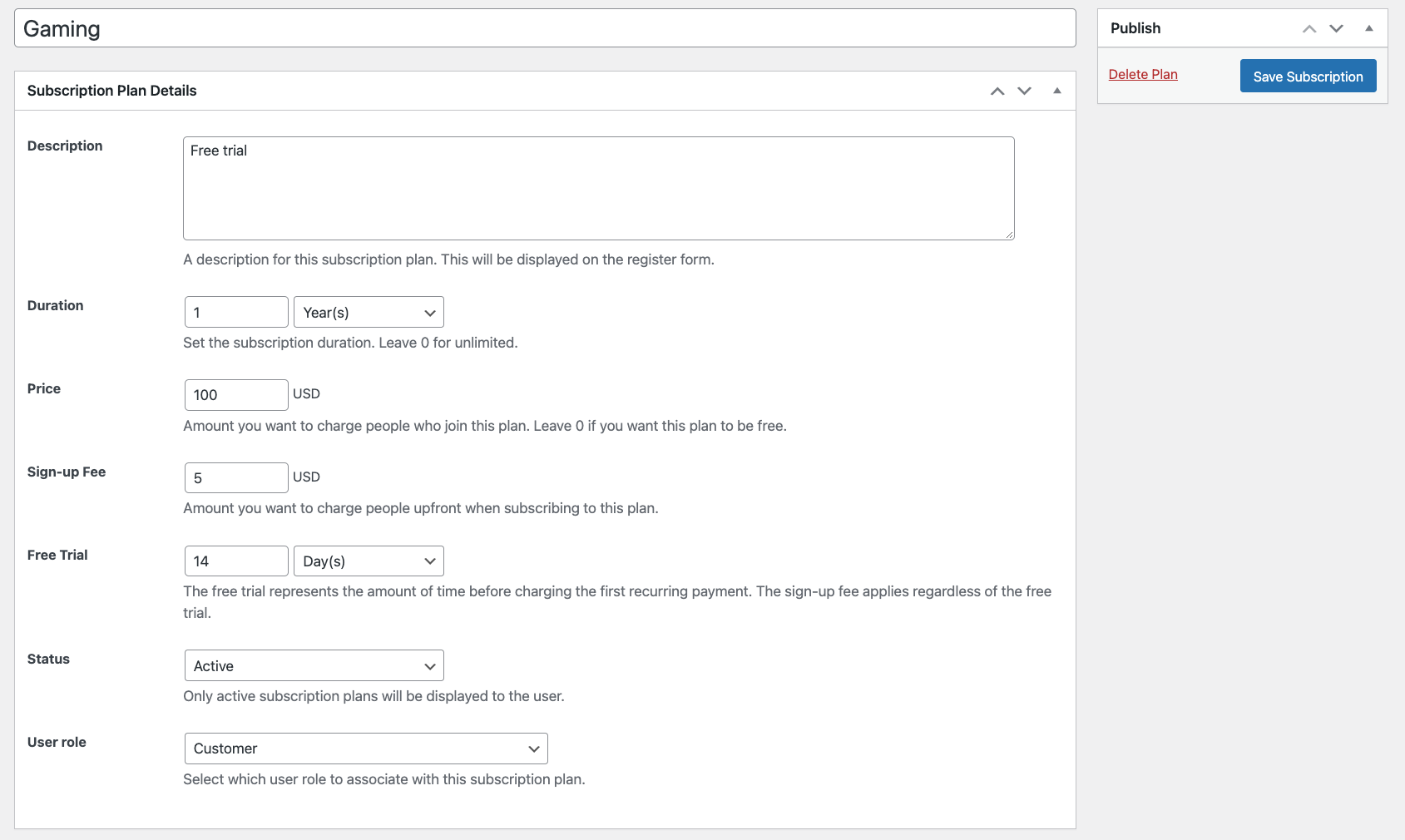 You can also restrict content as you publish it with helpful checkboxes located at the bottom of the editor. In fact, you'll have options for creating customized messages or redirecting users to other pages.
In conclusion, Paid Member Subscriptions is like every Cozmoslabs offering with a very generous free plan. Generally speaking, you can set up a fully functioning membership site and collect payments with very little trouble.
⚙️ Other notable features:
WooCommerce integration that helps you provide member's only discounts and exclusive sales.
GDPR options.
Automatically log users in.
Prevent account sharing.
💵 Pricing:
For more advanced features like automatic recurring payments, you can get the Hobbyist plan for $69 for use on one site with eight add-ons. On the other hand, the Pro plan costs $149 with 16 add-ons, including automatic tax calculation and multiple user subscriptions.
💡 What it is: A free plugin to help you automatically share new and old content on your social media accounts.
Revive Old Posts is a great tool for automatically sharing your content to a variety of social media platforms. In particular, it's a great way to share your older posts and keep them alive on your social media profiles. Not only can you share your best content, but you can also write variations to keep the posts within the rules while also giving your content an opportunity to shine.
Furthermore, you can increase your reach with hashtags applied automatically based on categories or other pre-defined criteria.
Equally important, the auto-post feature will help you reduce your workload by posting every article to your social media profiles within seconds of publication.
⚙️ Other notable features:
Set UTM tags to your posts for better tracking of social media performance.
URL shortener compatibility.
Post exclusion based on URLs or categories.
Choose a minimum time between posts to avoid spam reports.
💵 Pricing:
The core plugin is free, but you'll need the Pro version to access more advanced features. For one website, you can expect to pay $75 while three websites will run you $149, and unlimited websites can be had for $299.
These are our picks for the best free WordPress products
Well, that sums it up for my secret non-obvious free WordPress products. While some might appear niche, they're still worth keeping in the back of your mind for future projects.
Do you have a favorite WordPress product that few people know about? Let us know in the comments section below!
Free guide
5 Essential Tips to Speed Up
Your WordPress Site
Reduce your loading time by even 50-80%
just by following simple tips.