Starting a website can be a powerful way to bring your religious community together. However, since your congregation may have very specific needs, finding the best church website builder can feel difficult.
Fortunately, there are several website builders that are particularly well-suited to religious organizations. By taking a close look at what each solution has to offer, you should be able to choose the perfect tool for your online community.
In this article, we'll look at a few things to consider when searching for the best church website builder. Then we'll give you an overview of the top five tools for building a church website. Let's dive right in!
What to look for in the best church website builder tools
Choosing the best website builder for your church will depend in large part on how you're planning to use your website and the ways that you'd like to be able to connect with your community.
For example, you might want a service that offers robust calendar capabilities. That way, you can keep your parishioners informed about upcoming events.
On the other hand, you might want to reach practitioners on a virtual level. If that's the case, you could look for a service that will enable you to broadcast recorded sermons. Such tools can connect you to worshipers across the world.
Regardless of whether you're targeting virtual or in-person visitors, audience interaction features can be very important. Aspects such as a forum for prayer requests can increase your engagement levels. Furthermore, you may want to create a donation area to increase your financial support.
Finally, the best website builders usually come with high-quality templates. Pages designed with religion in mind can provide you with guidelines for a professional appearance that matches visitors' expectations. As such, they can be a crucial tool for streamlining your site's development.
With that in mind, let's get into our collection of the best tools to build a church website in 2022 and beyond…
Best church website builders for 2022 (top five options)
Here are our five favorite options for the best church website builder on the market today.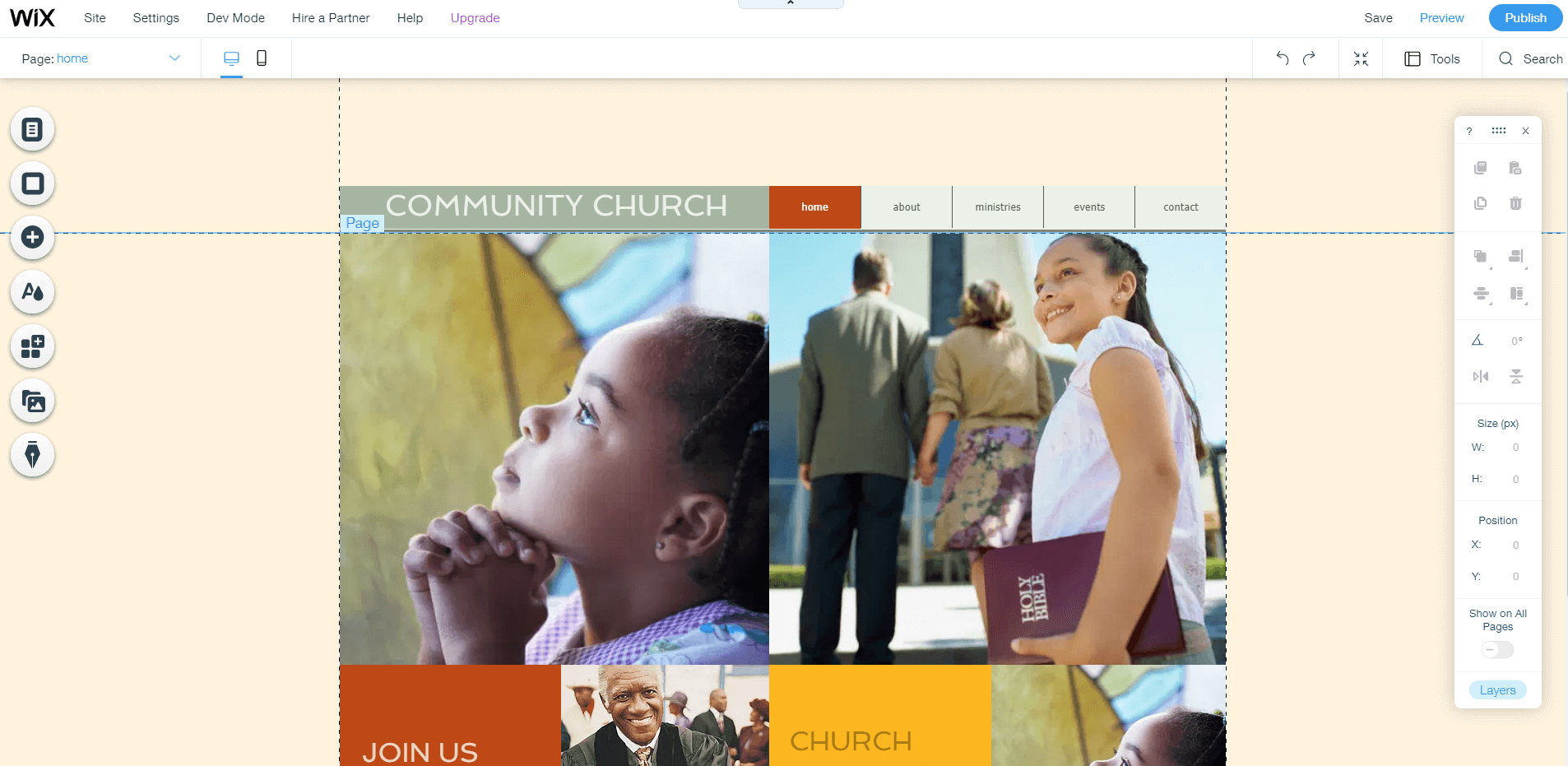 Wix is a powerful, popular, and affordable way to create a site. Thanks to the large variety of customization options, it's also applicable to nearly every niche.
There are a few reasons Wix may be the best church website builder for you. For one thing, the interface is an easy drag-and-drop tool with descriptive menus. Therefore, you don't need too much technical experience to craft a gorgeous page.
⚙️ Features:
20 unique church-centric templates to help you get started
A mobile view editing tool to provide your audience access to your site across multiple devices
The ability to import media from social media accounts, or upload and edit your own directly in the site builder
Wix also provides impressive media options. It offers thousands of free stock images and videos directly from the interface. Most of these are extremely high quality, so you can add them to your site to project a more professional image.
You'll also have access to the Wix App Market, an expansive library of third-party programs that can extend your site's functionality. Thus, it's easy to create a customized church page without ever leaving the Wix builder. As such, we highly recommend Wix if you're searching for an all-in-one solution.
💵 Pricing: Wix's pricing plans begin at $14 per month. If you want e-commerce features such as online payments, you'll need to opt for one of the Business plans. These start at $23 per month.
To learn more, you can read our full Wix review or follow our tutorial to make a website with Wix.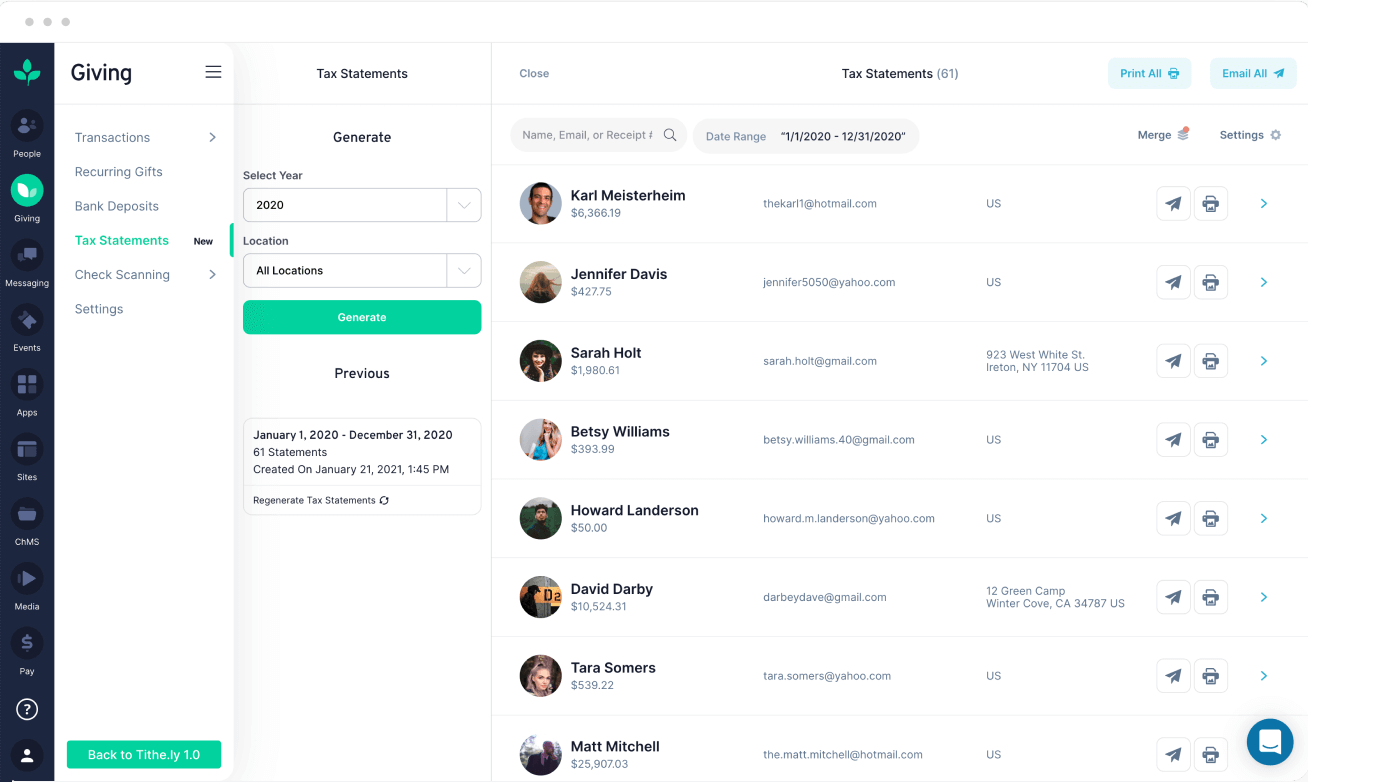 Donations can be a crucial way to financially support your church. If this is a top priority for your website, you might consider using Tithe.ly. This platform designs tools to increase giving, and it also comes with a robust site builder.
Tithe.ly thus offers a unique advantage: centralization. This software enables you to conduct community outreach, handle finances, and embed sermons from a single website. Additionally, its large selection of professional templates will help you easily format all of this information in a stylish way.
⚙️ Features:
Built-in search engine optimization (SEO) tools to help you expand your reach
An interactive 'Plan Your Visit' feature that encourages users to schedule a time with your church
Unlimited storage and user accounts
Tithe.ly may be the best church website builder for you if accepting donations is a priority. You'll have the opportunity to set up a complete giving system directly on your site. Features such as automated giving and an option to cover your processing fees can also provide financial flexibility.
💵 Pricing: Tithe.ly is a premium solution. You'll pay an initial setup fee of $149. After that, you'll pay $19 per month. If you want to use all of the Tithe.ly products, including the site builder, you'll need to pay $99 per month.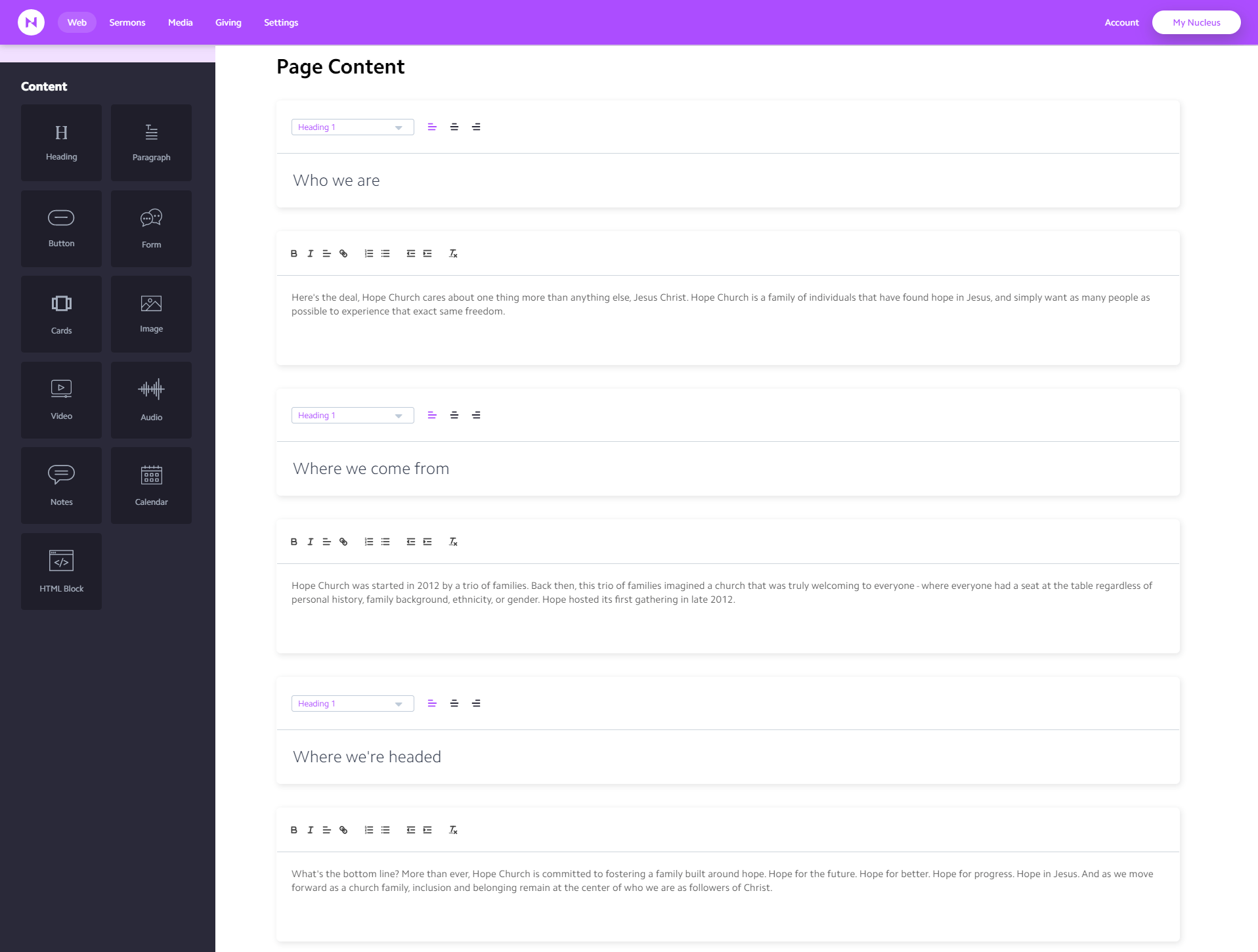 Not everyone has the time to customize each element of their church website. If you want a powerful solution that will produce a stellar site in record time, we suggest Nucleus.
Nucleus is a little different from your standard site builder. Most notably, it uses a card-based approach, meaning that your site is segmented into individual units. As a result, your dashboard is highly organized.
This means that there's no need to learn a complicated interface with thousands of options. Instead, you can simply fill in the fields on a basic template. This can make adding text content more efficient.
⚙️ Features:
A native form builder to accommodate anything from prayer requests to new member inquiries
The option to add a live chat for maximum outreach potential
A flat payment rate and no page limit to accommodate any future growth
The simple layout of Nucleus makes it perfect for a text-heavy site, such as a congregation blog. The huge variety of structural templates also makes Nucleus a top choice for a quick start.
💵 Pricing: There's a single pricing plan for Nucleus Web: a flat rate of $99 per month. There are no set-up fees, and you don't have to worry about cost increases for an increased user base.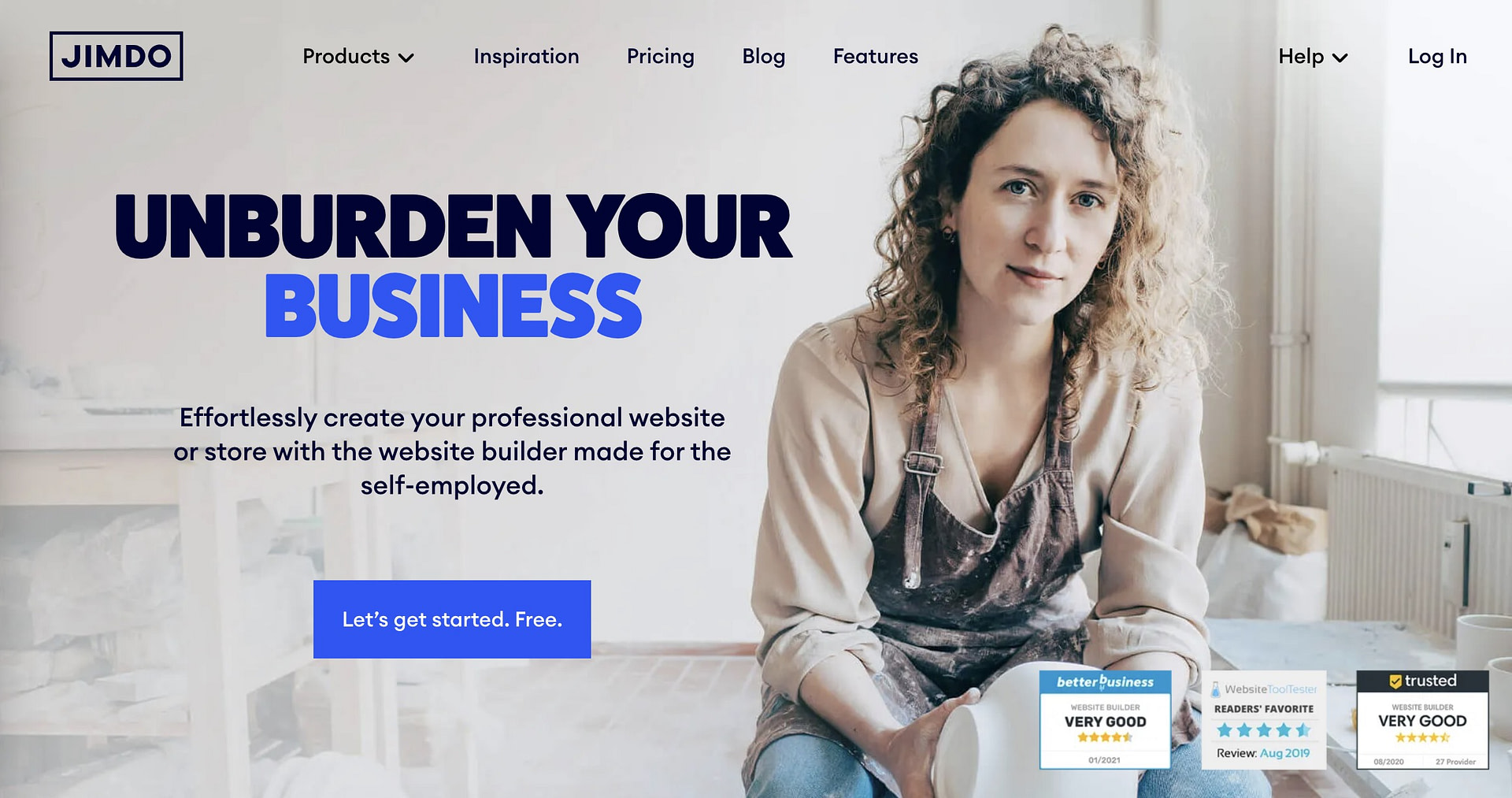 Jimdo may not be dedicated to religious organizations, but it's still a top competitor for the best church website builder. The basic drag-and-drop interface makes it easy to add dynamic features such, as a store catalog or custom code.
⚙️ Features:
A mobile app so you can manage your website no matter where you are
Built-in features to help you meet the standards of General Data Protection Regulation (GDPR)
The ability to build your site from an existing social media account
We find that last feature particularly appealing. If you've been using social media to build your church's online presence, you probably have content on those platforms that you'd like to keep. Thus, Jimdo's ability to weave it into your new website can be a considerable benefit.
Jimdo also offers one of the most impressive free plans on the market. For example, you'll have access to HTTPS security and Jimdo's stock image library. As such, this builder may be a smart choice if your church is on a tight budget.
💵 Pricing: Jimdo's pricing plans are fairly accessible, starting at $9 per month. Alternatively, you can gain access to even more features, storage, and bandwidth with the $15 per month package.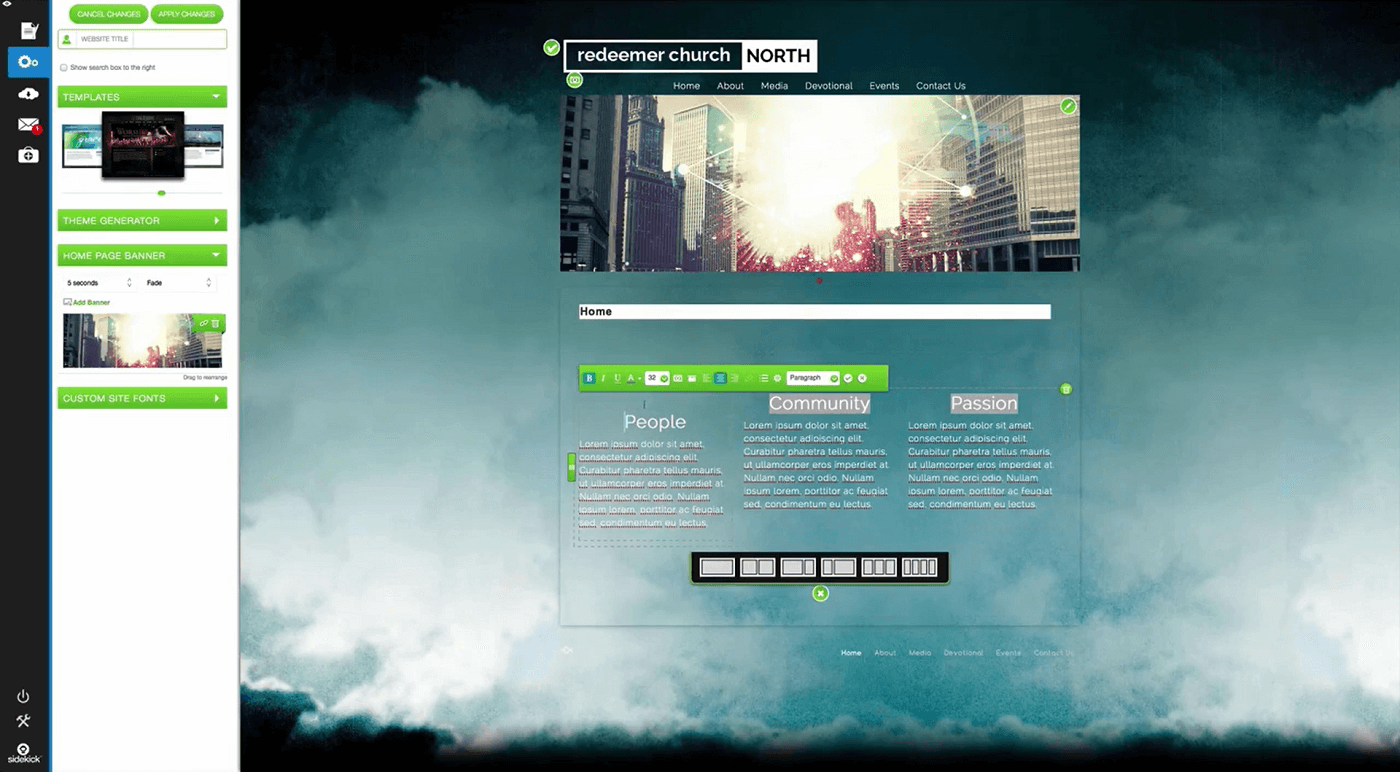 If you're looking for a stunning site that will leave a lasting impression, it's hard to compete with the style capabilities offered by Sharefaith. This church-centric website builder has an expansive library of modern themes. Each one is fully customizable, enabling you to create a picture-perfect page.
Furthermore, editing is easy thanks to a responsive interface that mirrors your site's front end. There's no need to switch between your builder and preview tabs – with Sharefaith, what you see is what you get.
⚙️ Features:
A large library of 58,000 graphics to enhance your designs
Podcasting, video, and audio capabilities to help you spread your message in multiple formats
Up to 24 GB of storage and 2,000 email accounts
As you can see, Sharefaith may be the best church website builder for you if you prioritize design. The templates give you a strong head start, and the nearly endless personalization potential helps you make your site your own.
Given its multimedia capabilities, we also recommend Sharefaith if you're trying to reach members who may not be able to physically attend meetings. This website builder makes it easy to embed virtually any kind of content. Therefore, you can help visitors get to know your organization right from their computers or mobile devices.
💵 Pricing: Sharefaith is another premium website builder. The starting price is $50 per month. This will give you access to three subdomains, unlimited website changes, and online donations.
Create your church website today
Choosing a website creation tool can be a big decision. When you're trying to spread an important message, every element of your page counts. Fortunately, analyzing your top options can help you find the best church website builder for your congregation's needs.
In this article, we covered several impressive page builders. However, we have to say that Wix is our favorite option. Even if it's not 100% dedicated to church websites, the huge library of responsive templates (including dedicated church designs), social media capabilities, and stock resources make it simple to build and customize your perfect church site. You can follow our Wix tutorial to get started.
If you are looking for a tool built specifically for churches, though, Sharefaith takes top billing.
Or, another option is to use the open-source WordPress software. With WordPress, you can find a huge number of themes dedicated to church websites, such as the Church template for our Neve theme. If you want to use this approach, you can follow our guide on how to make a WordPress website.
Do you still have any questions about choosing the best website builder for your church? Let us know in the comments section below!
Free guide
5 Essential Tips to Speed Up
Your WordPress Site
Reduce your loading time by even 50-80%
just by following simple tips.