Since most of the in-person events of this year won't be happening and the summer calendar is suddenly empty, attending online WordPress conferences is a good alternative for getting your dose of social interaction with the WordPress community.
Is taking part in an online WordPress event worth the time? In this post, we will try to help you make the right decision about investing in a virtual event and learn about its advantages.
Then, we'll share some upcoming events that you can join.
So here's our take on why participating in an online conference might turn out to be helpful to you.
Why you should participate in online WordPress conferences
It's good for branding
After sponsoring and helping many offline WordCamps and meetups, local and global, we wanted to join the initiative of supporting virtual conferences. We took this first step by partnering with the upcoming WP FeedBack Summit, a free event for businesses and freelancers with various backgrounds.
How is that beneficial to your brand? By partnering, the organizers will promote your business and your website will be exposed to thousands of people from around the world, as is the case of any event of international proportions.
Even as an attendee, you have the chance to meet and introduce yourself to potential employers. Lots of people seeking professional help usually attend these kinds of events.
It's good for learning
When you sign up for an online meeting, you have the chance to learn from experts in your area of interest from the comfort of your couch or even remotely, from a place of your choice. What's more, many of these events are free, so you get to find out new insights without spending a dime.
If you're one of those guys who usually go to conferences for the presentations and not necessarily for socializing, then a virtual event seems like a perfect match for you.
You give back to the community
You don't have to be a sponsor, a media partner, a volunteer, or an organizer to help the community. Just by attending, you promote an event that can be useful to many individuals on many levels. If you enjoy it, you can recommend it to your friends or to other WordPress people you know.
Attending an online event will increase awareness toward such initiatives and will help it get acknowledged within the community and beyond.
It's a win-win. Your presence contributes to keeping the conference spirit alive in the virtual environment and you, personally, leave with a richer knowledge for your professional endeavors.
You chat and make friends
You might think that connecting with people and chatting is not as fun when done online as it is when you actually meet someone in the flesh. It's true to some extent. But it's still possible.
Signing up to a virtual event will come with great opportunities to eye potential partnerships with people or companies that you relate to the most. Or simply find cool people to chat with about the weather.
You probably think the environment is not as inviting to conversations as a physical gathering would be but there are people who would find this blind approach more fitting rather than an in-person introduction.
However, most of the virtual events have a networking space or post-event talks for those who want to chat about random topics and make friends.
You can attend from anywhere on the globe
As opposed to in-person conferences and meetups that sometimes you can't attend for simple reasons (e.g. living too far from the location, not being able to afford the related expenses, or just having a busy calendar that doesn't allow you to engage in activities that require your full time and attention), an online event comes with the flexibility that you can't always get from the former.
Sometimes, a virtual conference comes more in handy than one that requires your physical presence. This way, you can attend it from any continent and organize your schedule in a more efficient way so that you can handle your other daily routines.
You even have the possibility to attend meetups held in various places on the globe, a luxury you didn't have before they all moved online.
Upcoming online WordPress events
WP FeedBack Summit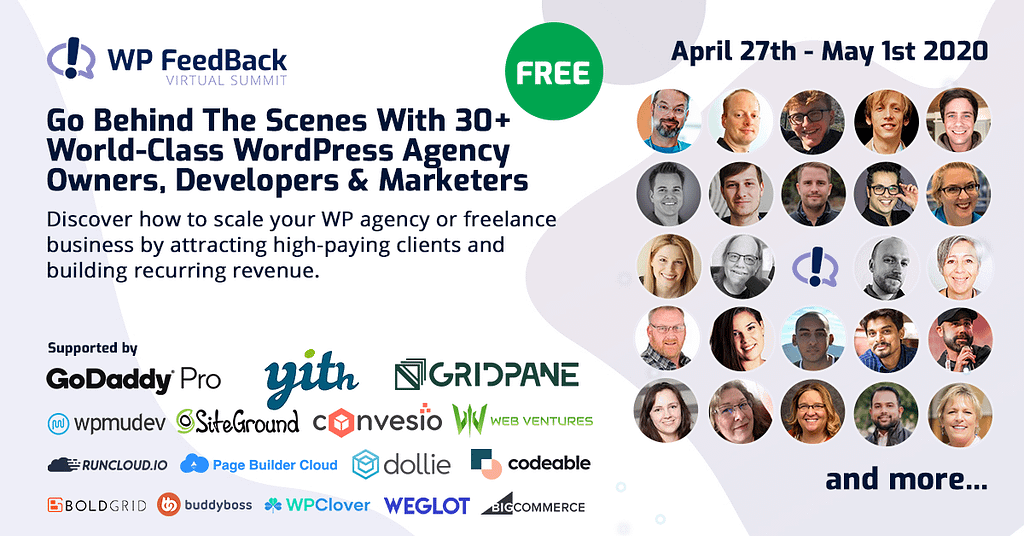 The next big gathering for WordPress-ers is happening next week, when WP FeedBack Summit will start and last for five days. The conference is available from April 27th to May 1st and offers free access to anyone who wants to join. You just need to register via email, then you will be given all the resources and the essential information (schedule, time zones, account data) you need for participation.
What to expect from this conference? Five days of presentations and interviews with 30 WordPress professionals such as company owners, freelancers, marketers, developers, bloggers, and more. They will share insights and valuable advice gained in years of being actively involved in the WordPress community.
The lineup presents speakers from popular WordPress brands. Some of the names are…
Adam Warner from GoDaddy
Ronnie Burt from WPMU DEV
Simon Kelly from WP Elevation
Mark Zahra from WP Mayor
Raleigh Leslie from Codeable
Bob Dunn from Do the Woo
Ronald Gijsel from YITH
Radost Dacheva from SiteGround
…and many more.
If you want to meet new people or simply socialize, the hosts will provide a networking lounge for diverse discussions and a media room for those involved in spreading the word about the event.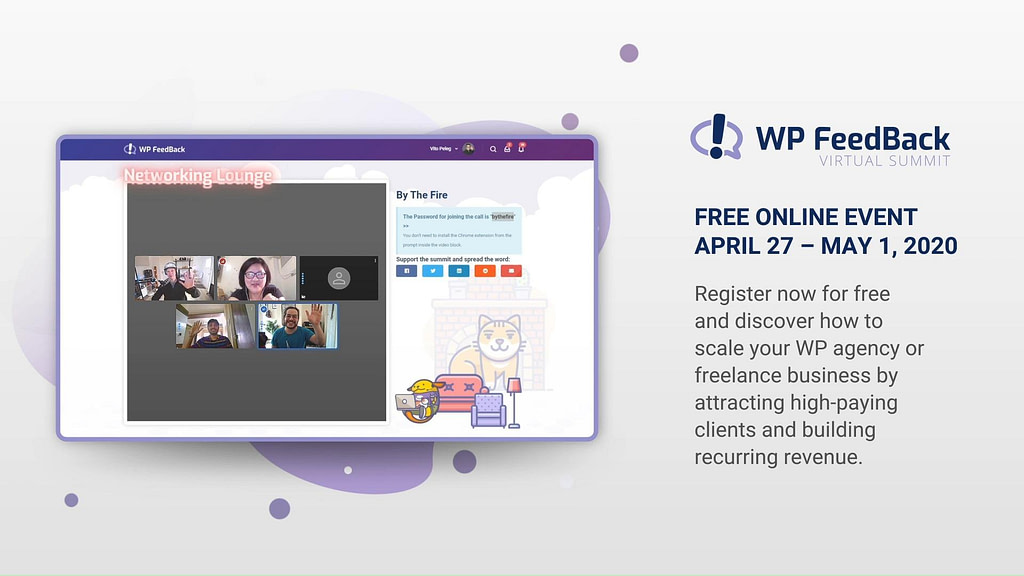 Our team decided to take part as well. Actually not only to take part but also to contribute as media partners and give a helping hand with the promotion. After having previously partnered with WordCamp Europe, we wanted to get involved and support the online community as well.
So join WP FeedBack Summit if you miss engaging in a big WordPress conference this year.
Local WordCamps and meetups
Beyond WP FeedBack Summit, there are also several local WordPress communities that refused to take a break or postpone and moved online instead. You won't find too many available for streaming but the nice part is that you can attend any of those that are available no matter in which country you are located.
MyCamp.rocks made a list of all the WordPress events that will be streamed online in the upcoming months. The page is updated on a regular basis with new information and entries.
Some larger events, like WordCamp Europe 2020, will also be going online.
Join WP FeedBack Summit today!
Unfortunately, it looks like most of us will be stuck at home for the foreseeable future. So why not make the most of it and get involved with the WordPress community while still following social distancing?
For an easy way to dip your toes into the world of online WordPress conferences, you can join WP FeedBack Summit next week from April 27 – May 1. Registration and "attendance" is free – so join today!
What's your personal take on online WordPress events? Did you join any this year? Let us know in the comments.
Free guide
5 Essential Tips to Speed Up
Your WordPress Site
Reduce your loading time by even 50-80%
just by following simple tips.