Creating a comprehensive WordPress real estate website can be an intimidating project. Just about anyone can set up a few simple pages to display pictures of properties, but that's hardly enough for a professional realtor or company to entice clients with. If you want your website to stand out, you need to think bigger.
Fortunately, WordPress enables you to implement complex features quickly thanks to its plugin system. Plus, there are plenty of themes that create an excellent foundation for a real estate website. All you have to do is pick the right combination of tools, and you're all set.
In this article, we're going to talk about what features and functionality make for an excellent WordPress real estate website. Then we'll teach you how to create your own in three simple steps. Let's get to work!
What functionality you'll need for your real estate website
A real estate website is a site designed to help you display your listings, attract more potential customers and leads, and hopefully bolster your sales. Of course, you're not likely to make the actual sales online, but a functional real estate website is the perfect way to get people's attention and start the process.
Every type of website requires a different feature set to do its job. For a real estate site, these are the main aspects you'll want to include:
All relevant information about each individual listing: You'll need to list factual information and details about the property, and include plenty of photographs.
Your contact information: Visitors shouldn't have to scour your website looking for ways to communicate with you, so you'll want to include phone numbers, emails, and any other ways interested parties can reach you.
The option to make appointments: Especially if you already deal with too many phone calls and/or emails, an online appointment system can save time and streamline your workflow.
Listing your contact information is simple, and won't require anything beyond the basic WordPress platform. However, the other two features require a bit more work to implement properly.
Additionally, if you're going to be listing a large number of properties, you need stellar search and filter functionality for potential buyers. Look for things like:
Map listings: These enable visitors to quickly find properties in their target area.
Home filters: Visitors need to be able to filter by bedrooms, bathrooms, square footage, and more.
Custom fields: Look for a solution that lets you add custom fields so that you can tailor your filtering to your specific market.
How to create a WordPress real estate website (in three simple steps)
As we mentioned earlier, there's a lot you can accomplish by combining the right WordPress themes and plugins. However, before we talk details, you'll need to get two things out of the way if you're building a brand new site – registering a domain name and choosing a web host. If you're just getting started, SiteGround offers a good combination of performance and price on the latter front.
Before you move on to the first step, you should also have WordPress already set up and ready to go. When your real estate site is installed, named, and online, read on to start customizing it.
Step #1: Pick the right theme to highlight your properties
There are thousands of WordPress themes to choose from that can serve as a solid foundation for your real estate site. One of the best places to start is themes dedicated specifically to creating a WordPress real estate website.
There are many excellent WordPress themes designed with real estate sites in mind, such as Real Homes:

This popular theme packs its own listings system (and a powerful search feature for your visitors), which means you have one less thing to worry about. You may also notice that Real Homes includes custom galleries to highlight your properties, which is a plus for any theme in this field.
Keep in mind that a real-estate focused theme can be a great first step, but you don't need to pick one based on the fact that it offers a listing system. After all, that's the kind of feature you can get using a plugin (we'll show you how in just a moment). You may want to keep an eye out for themes with other key real estate features, however, such as those that enable you to include maps and appointment systems.
If none of the dedicated WordPress real estate themes tickle your fancy, you can always go with a multipurpose WordPress theme.
Take Neve, for example:

This multipurpose theme of ours enables you to build any type of site you want using pre-built elements. While we didn't design it specifically for real estate sites, it packs several features that will come in handy. For example, some of its pre-built sections are perfect for introducing your team of realtors, displaying testimonials, and enabling customers to get in touch with you fast.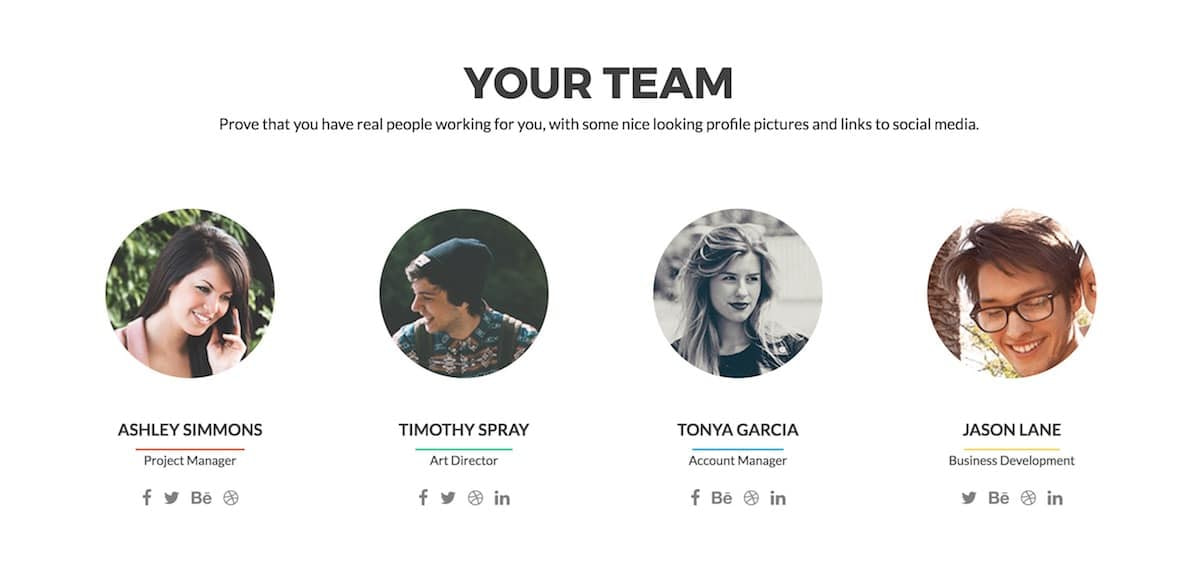 Regardless of your pick, the process for setting up your new theme is always the same. Once that's done, you can further modify your real estate site's functionality with plugins.
Step #2: List your properties on your site
Property listings are the heart and soul of any WordPress real estate website. To succeed, yours need to be descriptive, look compelling, and come accompanied by plenty of photographs. The better these sections are, the more enticing the property will appear (and the more leads you can attract).
In some cases – such as with Real Homes – the theme you pick will include its own listing functionality or plugin. However, if it doesn't, you'll need to find a solution on your own. We recommend Easy Property Listings:
This particular plugin enables you to create stylish listings in multiple formats. Plus, it's fully customizable and looks great on mobile devices.
Even better, Easy Property Listings is free – which is always welcome news. All you need to do is install and activate it, then check out this tutorial on how to create your first listings.
While the basic plugin is free, you can buy some paid add-ons to further enhance your WordPress real estate website.
Step #3: Implement an online appointment system
If you want to encourage someone who is browsing through your listings to decide to view them in person, you need to make it easy for them to set up an appointment. Using a contact form or ensuring that your phone number is readily available is a start, but these methods are not as efficient as setting up an appointment online (for you or your leads).
To activate this feature, you'll need a plugin such as Easy Appointments:
Not only is this tool free, it also enables you to manage appointments for separate locations, which is perfect for a WordPress real estate website. Best of all, we previously wrote an entire article on how to set up Easy Appointments. It will walk you through activating the plugin, configuring your locations, and displaying a booking form on your front end.
Conclusion
Real estate websites often have a lot of moving parts. For example, you need to figure out the best way to display your listings and ensure that you keep your information up to date. WordPress enables you to do much of this out of the box, but you'll need to tweak your site by adding a few extra features to make everything work just right.
Here are the three steps to creating a functional WordPress real estate website:
Pick the right theme to highlight your properties.
List your units using Easy Property Listings.
Do you have any questions about how to create a WordPress real estate website? Feel free to ask us in the comments section below!
Free guide
5 Essential Tips to Speed Up
Your WordPress Site
Reduce your loading time by even 50-80%
just by following simple tips.