Even if your website is small, running and maintaining it can take a lot of work. You need to create content, communicate with your audience, keep an eye on security, and much more. But just because there's work to be done, that doesn't mean you need to be the one to do it. By learning how to automate WordPress tasks, you can put things on autopilot and lessen your own workload.
Automation is likely a term you're familiar with. In this context, it simply means having software or some other tool perform a routine job automatically, without the need for your constant input. WordPress may not offer many automation options out of the box. However, there are many ways to make automation happen using plugins and other solutions.
In this post, we'll talk about eight ways you can automate WordPress tasks to save time. Let's take a look!
1. Plugin, theme, and platform updates
Keeping your website updated is vital for ensuring that its performance and security are solid. At the same time, staying on top of updates can take valuable time away from creating content and other tasks. Especially when you have a lot of themes and plugins, remembering to update them all promptly can be a chore. However, forgetting can lead to compatibility issues and security holes.
Fortunately, WordPress already automates some updates for you. Plus, you can instruct your site to perform various updates manually, using WordPress' built-in systems and some coding. For even more control over your updates, you can use a plugin like Easy Updates Manager to automate WordPress tasks and manage them without any fuss.
Just make sure to only automate updates for plugins and themes you trust!
2. Full site backups
As with updates, backing up your site on a regular basis is an essential security measure. A full backup stored in a safe, external location means you're always able to restore your site quickly if it's hacked, information is accidentally deleted, or it develops a serious bug or other issue. It's best to perform backups regularly and to keep multiple copies around. This means it can save you valuable time to automate WordPress tasks in this area.
Plugins are your best bet for setting up a backup schedule and then never having to worry about it again. For a free solution, UpdraftPlus is a customizable and flexible option. For even more functionality and automation options, the premium BackupBuddy plugin is an excellent tool.
3. Post scheduling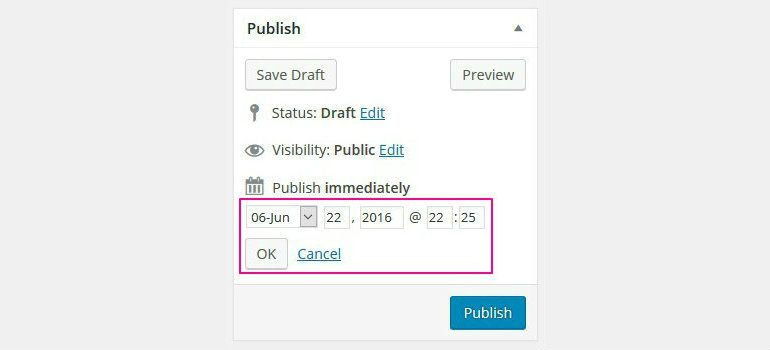 If you run a blog or a news site, you probably publish new posts on a daily basis. This is particularly true if you're in charge of a large, multi-author operation. You can't fully automate the process of creating and posting content. However, you can make parts of it easier on yourself and your team. For example, you can schedule posts in advance, so you'll always know what content is coming up and can stick to a consistent schedule without trouble.
In most situations, manually scheduling posts in advance is probably your best bet. Yes – you still have to pick the date manually – but everything after that is automatic. If you have an especially high volume of posts, though, you can also turn to a plugin like Auto Post Scheduler.
4. Social media posting
No matter what type of site you're running, a strong social media presence can bolster its success and help you build a community. To do this, you'll need to develop a social media strategy. Then, you'll want to automate as much of that strategy as you can, including sharing content to various platforms.
Revive Old Post helps you automate your WordPress site's social media by automatically sharing both new and old content to your various social network accounts. All you need to do is configure the plugin once and then it can essentially run on autopilot. For more information, check out our post on how to automatically share content on social media.
5. Image optimization
If your website has a lot of images and other media, optimizing them is a smart strategy. This process typically makes the files smaller and easier to load, which results in faster page speeds and a better experience for your visitors. However, it can be time-consuming to manually optimize every single media file.
Instead, you can tell your site what files to optimize and how to do so, then let it do the work for you. ShortPixel is an excellent comprehensive image optimizer that enables you to optimize any uploads to your WordPress Media Library automatically.
As an alternative, you could instead go with EWWW Image Optimizer, which gives you a lot of flexibility over the process.
6. Blocking spam comments
Your site's comments sections are an important place for developing a strong community. You'll want to make sure this is a friendly place, which means eliminating spam comments as much as possible. Getting rid of these comments means your real audience has the space they need for conversations and questions. Yet, going through each post by hand is often not feasible.
There are a number of settings built into WordPress that can help you combat spam, such as blacklisting certain words and restricting comment privileges to registered users. For stronger security, you can use Akismet, a free yet powerful plugin that's included in many WordPress installations by default.
7. Cleaning up your database
Most of the time, you'll automate WordPress tasks that affect the front end. However, it's also worth paying attention to behind-the-scenes maintenance as well. For example, after a while your WordPress database can quickly become bloated with old information, slowing down your site. Keeping your database maintained avoids this problem, and can be easily automated.
As with many automation tasks, the best approach here is to use a plugin. WP-Optimize removes unnecessary data, enables you to customize what it cleans up, and can be set to run at any frequency you'd like. To get rid of even more bloat, you can also check out Advanced Database Cleaner.
8. Building an email list
Finally, let's discuss email marketing. This is a useful promotion strategy for many websites – you can gather up email addresses from your audience, then send out news, content, deals, and more. If you want to grow a large and successful email list, however, you'll want to automate it rather than soliciting each address and sending every email by hand.
To do this, you'll want to integrate your WordPress site with an email marketing service that enables you to automate key tasks. There are a lot of quality email marketing services for WordPress. Once you choose one, you can use a service like OptinMonster to automatically build your email list on WordPress.
Automate WordPress tasks and start saving time!
As a website owner, your time is best spent focusing on the big picture. You should be communicating with your visitors, creating content, and performing research to improve your site, rather than spending all day maintaining your site. For that reason alone, it's vital to find as many ways as you can to automate WordPress tasks you don't need to have a hand in.
In this post, we've looked at eight WordPress tasks you can automate to save some time. Whether it's something mundane like WordPress updates or more user-facing like social media posting, you can find a tool to help you automate it.
What do you think about the idea to automate WordPress tasks? Are you excited to get some of those methods working on your site?
Free guide
5 Essential Tips to Speed Up
Your WordPress Site
Reduce your loading time by even 50-80%
just by following simple tips.