Finding the best free grammar checker tool is quite a daunting task. As someone with a huge workload, you cannot possibly manually check things like emails, long blog posts, social media posts, documentation and so forth, and search for grammatical errors in each one at the same time.
And if you are just starting your business or are a beginning blogger, budget limitations make it almost impossible to hire a professional team for something as trivial as fixing minor grammatical glitches and making your text error-free.
To help you find the best free options to automate your grammar check, we have compiled the top picks for English grammar checkers.
Let's begin!
Best "grammar checker" free tools
Now that we've shared our thoughts on why you should consider using a free grammar checker, let's look at eight brilliant tools to improve your English writing. Although all of them are free, some tools come with premium versions if you ever need more advanced features.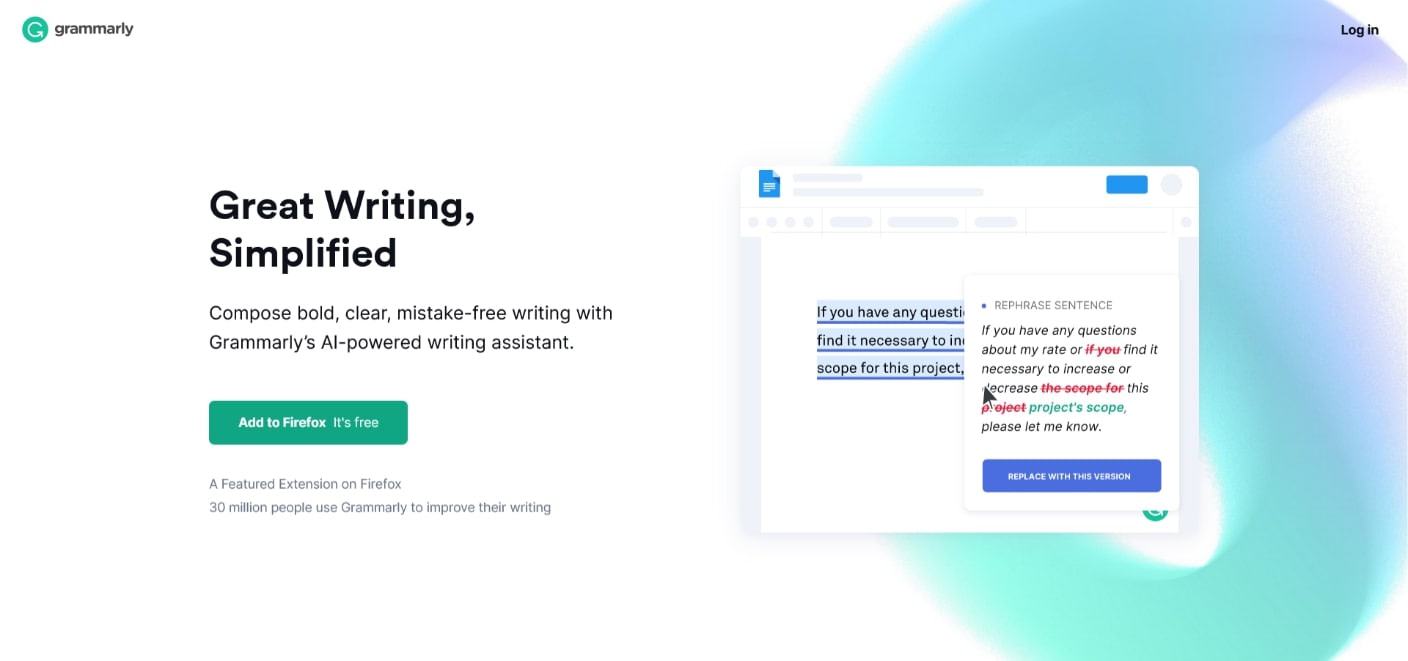 Grammarly is one of the best free grammar checker tools that you can use for grammar, spelling, punctuation errors, and more.
It lets you check 100,000 characters at a time. You just have to copy and paste the content into the Grammarly editor, and it will check the content for factors like correctness, clarity, engagement, and delivery. With a text editor-like interface, you can easily do text formatting – bold, italic, heading tags, and other stuff.
Should you want to use it directly in your WordPress site or your emails, you can do that using a free Chrome or Firefox browser extension, and it will highlight the errors by underlining them in red.
Side note: There's also a mobile app for checking everything you write on your phone, even offline.
⚙️ Features (free):
AI-based text checker
Browser, Google Docs, and MS Word integration
256-bit AES & SSL/TLS encryption
Personal dictionary
1 user per account
Available for mobile interface
⚙️ Features (paid in Grammarly Premium):
Advanced style suggestions
Better sentence structure analysis
Tone and formality level checker
Wordiness and ineffective vocabulary filter
Built-in plagiarism checker
Style consistency checker
Human proofreading (additional cost)
Inclusive language
AML SSO (for accounts with 50+ users)
Word choice
💵 Pricing:
This grammar checker is available for free, but to unlock advanced features, you'll have to spend $12 a month.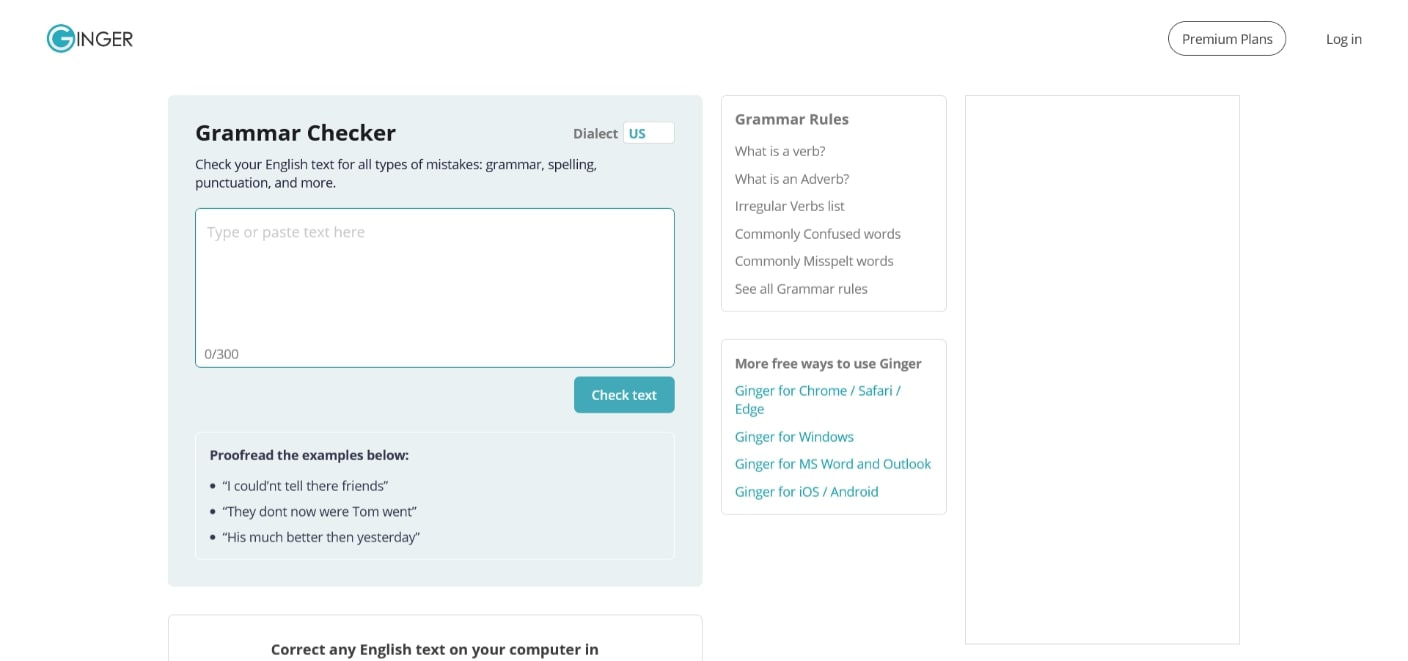 Next on our list of the best free grammar checker tools is Ginger. Ginger offers a spell checker and online proofreading tool. The first one is more focused on spelling and grammar checks.
The contextual spell checker identifies the correction that best fits the meaning of the original sentence. It not only improves your writing skills but also boosts productivity.
You can use Ginger as a browser add-on, MS Word/Outlook integration, iOS/Android, Windows app, or directly from their online site.
It is best for checking irregular verbs/adverbs, confusing wordings, misspellings, and common grammar rules in the English language.
⚙️ Features (free):
Smart grammar corrector and spell checks
Proofread and type at the same time
Third-party integrations available
Personalized practice sessions
Terminology management
Style check
Knowledge base
⚙️ Features (paid):
Unlimited AI-powered corrections
Word definitions
Unlimited synonyms
Unlimited sentence rephrasing
40+ language translations
7-day money-back guarantee
💵 Pricing:
The premium plan for Ginger costs $13.99 per month. You can get a 40% annual discount by paying yearly.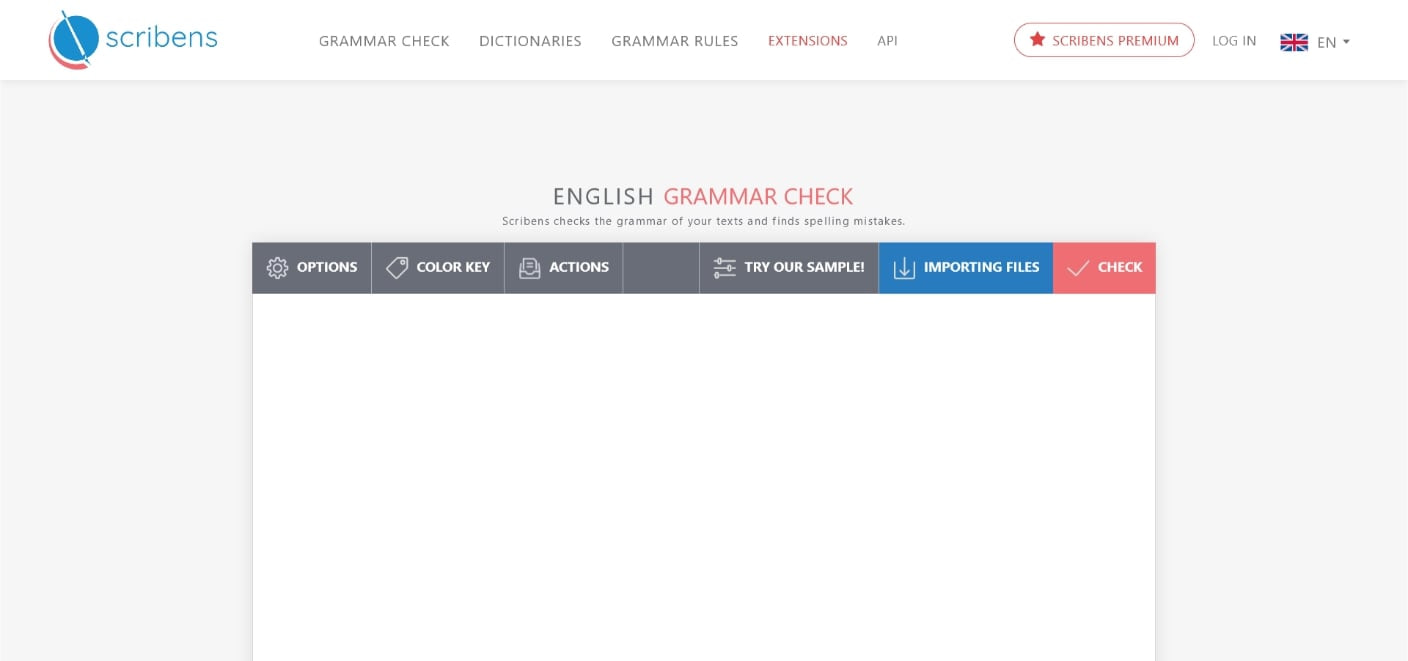 Scribens is a free grammar checker tool that lets you check hundreds of typos, and grammar, spelling, and style errors without breaking a sweat.
Backed by sophisticated algorithms, the software claims to work better than Microsoft Word. You can change settings to either British English or American English vocabulary. Decide whether you want to manually fix unknown proper nouns or let autocorrect do its thing. It also lets you select the font size of the document, so you don't need to change it again and again during editing.
The color codes for Scribens are as follows –
Grammar – red
Verbs – green
Suggestion – yellow
Typography and punctuation (commas, etc.) – blue
Overall, it's great for proofreading and editing blog posts manually, but you cannot use it for more advanced editing since features like plagiarism checking or reporting are missing.
⚙️ Features (free version):
Spelling and grammar corrections
Beginner-friendly interface
Access to dictionaries
No daily word limit
Proofreading optimized
Vocabulary enhancement
Rephrasing and subjectivity
Windows, Mac, browser compatibility
⚙️ Features (paid):
Text checks up to 200,000 characters
Microsoft Word, OpenOffice, and LibreOffice
Direct email checks (Gmail/Outlook/Hotmail/Yahoo)
Direct correction for Facebook, WordPress, and more
Backup and management of recent texts
Premium version for French language
Multiple useful extensions
No advertising
💵 Pricing:
Scribens is available for free. The premium features cost €9.90 per month.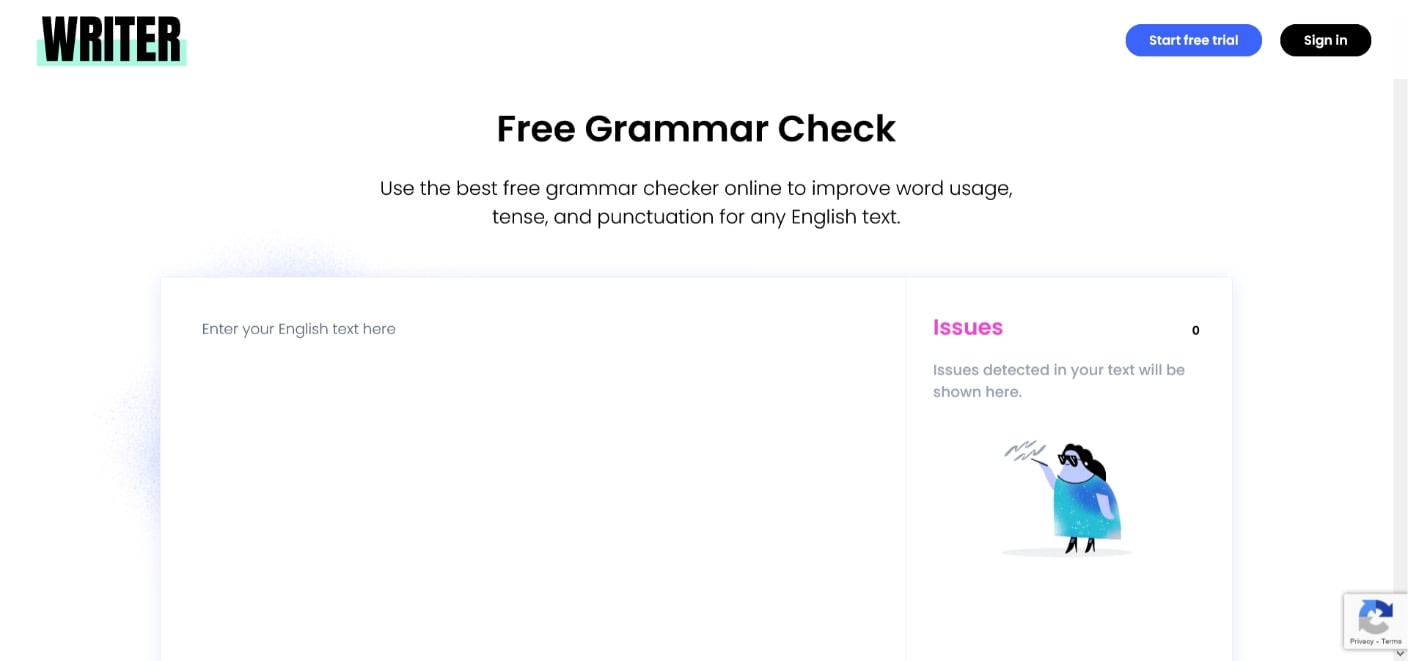 With a consumer rating of 4.7/5 on platforms like SiteJabber, Writer is one of the best online grammar checkers.
The AI-based tool is a perfect copy editing solution for editing everything from emails to Google Docs.
What makes this writing tool unique is not only the smart AI algorithms for editing but also the wide range of integrations, including HubSpot, WordPress, Twitter, Slack, and much more.
⚙️ Features (free):
Readability and language check
Grammar and spelling editor
Tense and punctuation analyzer
Inclusivity and plagiarism check
Verb conjugations
One-click proofreading
Company-approved messaging and terms
⚙️ Features (paid):
Content scoring
Up to 200 custom terms
One style guide that allows you to have a consistent writing style throughout your texts
Content security
API access and SSO (higher-tier)
EU-US privacy shield
AICPA SOC 2 and HIPAA compliance
Email support
💵 Pricing:
You can use a basic in-browser grammar checking tool for free. To access the premium features and tools, Writer costs $11 per month, and you can add more users for the same price per additional user.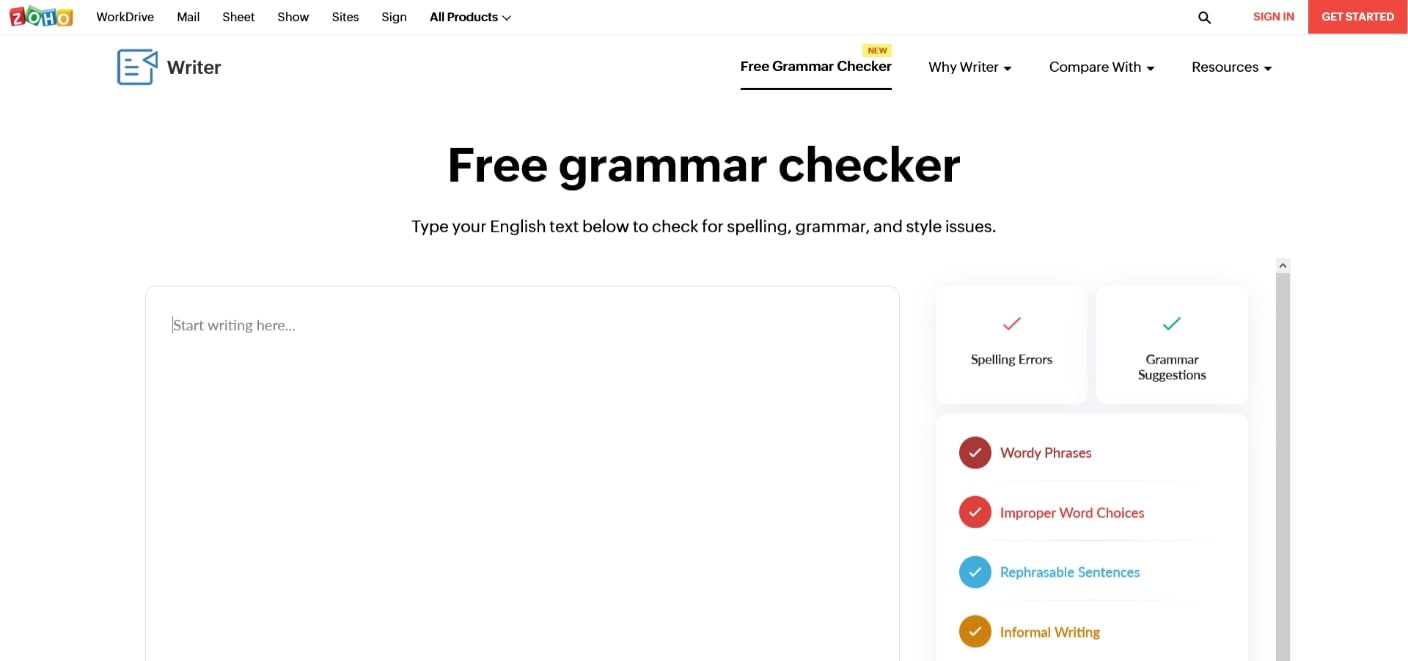 Zoho Writer is an awesome online tool for checking spelling mistakes, grammar errors, and style issues. This free grammar checker solution is packed with tons of awesome features.
Backed by machine learning, you will see smart suggestions like context-aware suggestions (like effect/affect), subject-verb agreement, redundancy, and pointing out punctuation mistakes.
Zoho Writer's smart writing assistant tracks the way you use adverbs, cliches, and passive voice. The powerful word processor, Zoho Writer, is perfect for creating professional, perfect documents and files for your business.
⚙️ Features:
Check wordy phrases
Improper word choices correction
AI-powered writing assistant
Readability analysis
Flesch-Kincaid index
Writing quality improver
Spelling and style check
Polysyllabic words and run-on sentences detector
💵 Pricing:
You can use the grammar checker in Zoho Writer for free.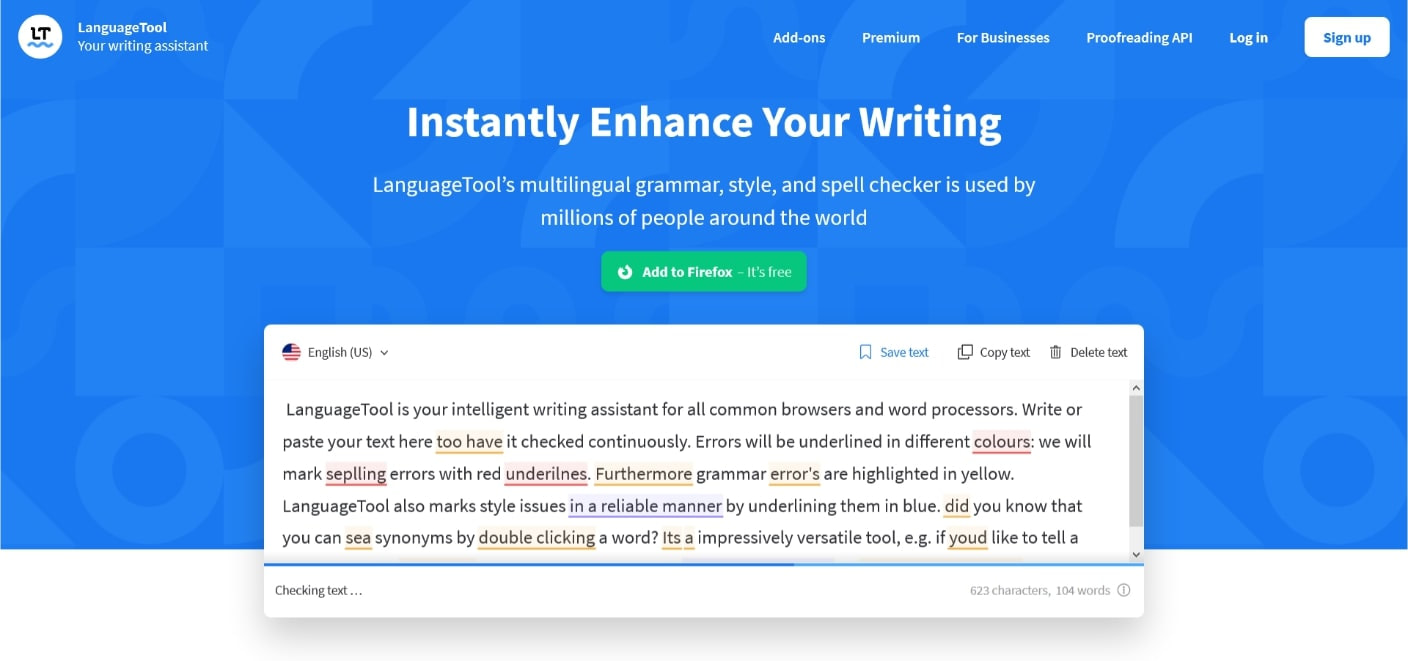 LanguageTool is a writing assistant that you can use as an alternative to Grammarly (with a little better features).
LanguageTool checks grammar, style, and spelling. Plus, it is multilingual, allowing you to edit content in English, German, Spanish, French, and Portuguese. This free grammar checker tool costs $0 for up to 10,000 characters per text.
⚙️ Features (free):
Basic grammar and punctuation checker, and style checking
Distraction-free writing experience
Personal dictionary
Quality scoring for your texts
Securely stored texts
Multiple integrations
Multiple languages
Access more suggestions
macOS app available
Browser add-ons
⚙️ Features (paid):
Style/tone suggested corrections
Up to 60k characters per text field
Detection for incorrect names and email titles
Incorrect number detection (IBAN, ISBN,..)
Add-on for Microsoft Word
Add-on for Google Docs
User management
💵 Pricing:
The paid plan for LanguageTool starts at €3.99 per month.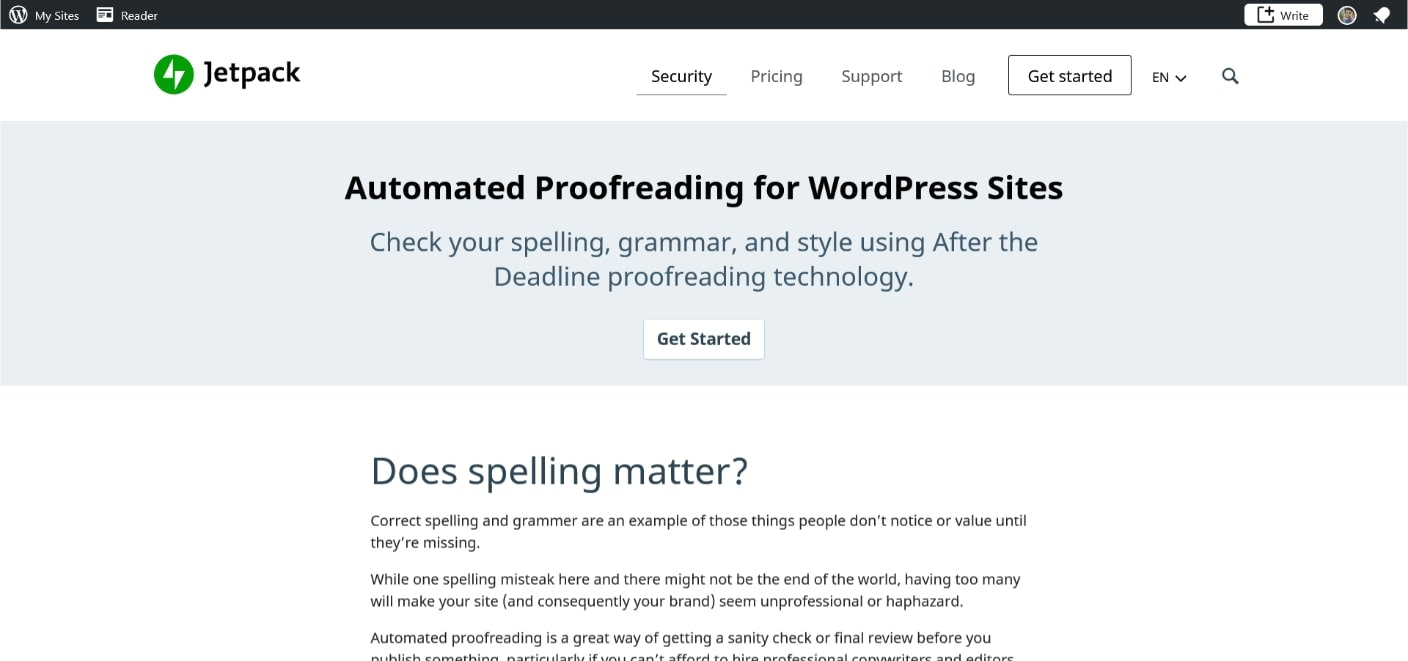 ⚠️  Note; as of Jetpack version 7.3, the Proofreading module has been removed. You can use this feature only if you're on an earlier version of the plugin. 
Jetpack is one of the most popular WordPress plugins known for site security, performance optimization, and other powerful tools (one of which is the Jetpack proofreading module).
All you need to do is go to Jetpack > Settings > Writing and enable the spelling, style, and grammar check features, and it will automatically mark your errors on the WordPress editor in the following colors –
Red – misused words and spelling errors
Green – grammar mistakes
Blue – style suggestions
⚙️ Features (free):
Color coding for error recognition
Available in English, French, German, Portuguese, and Spanish
Dedicated WordPress plugin
Regular updates by the Automattic team
No hidden fees
💵 Pricing:
Jetpack proofreading is available for free. You can install the plugin from the WordPress directory.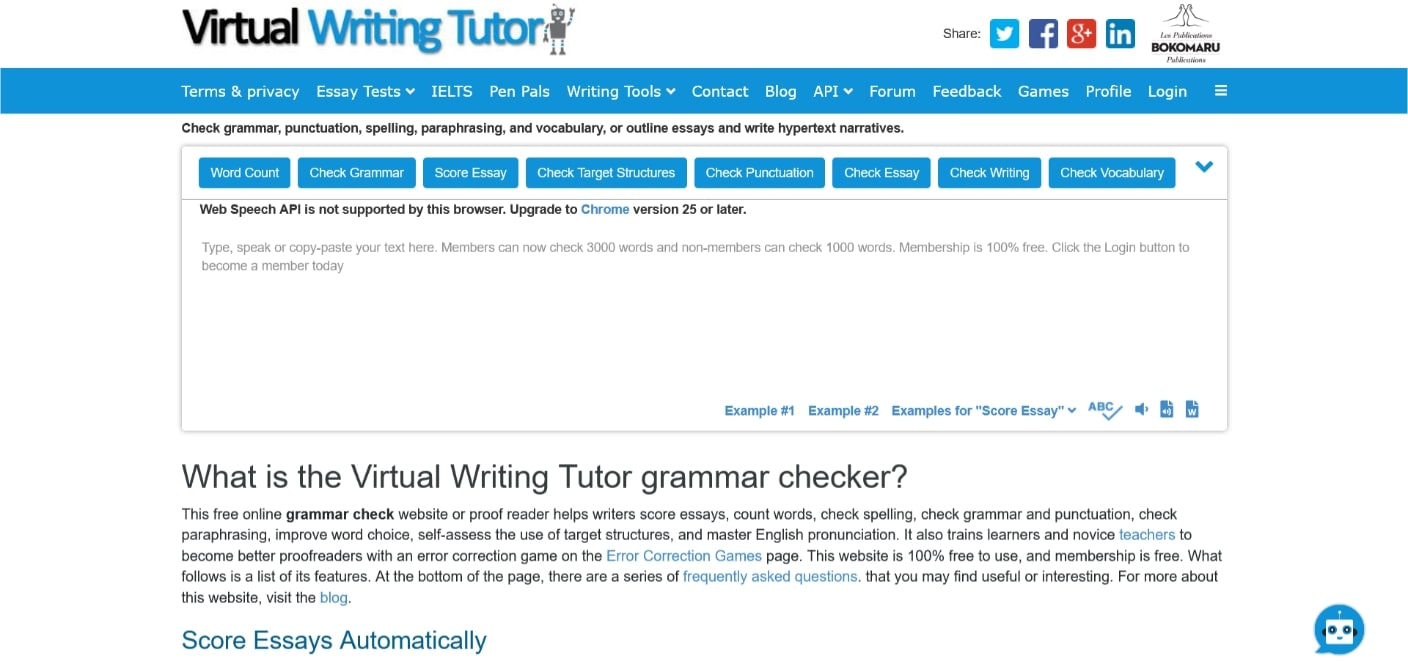 Virtual Writing Tutor is a free online platform that you can use for multiple things like creating a cover letter, checking essays, and practicing tests for IELTS.
When it comes to using it as a grammar checker, it offers a lot of editing options (even though the design looks pretty basic).
You can use Virtual Writing Tutor for checking grammar, punctuation, spelling, paraphrasing, and vocabulary. If you have just started a blog, you'll like the built-in word count checker and target structure checker.
⚙️ Features (free):
Vocabulary checker tool
Academic and conversational vocabulary checker
Cliches and power words check
Error correction game
Word counter
Grammar checking API service
Paraphrase checker
Responsive design
Phone and ticket-based support
💵 Pricing:
Virtual Writing Tutor is free.
Which is the best grammar checker free tool?
There are tons of grammar tools that you can use, some not mentioned on this list, like Hemingway, ProWritingAid, WhiteSmoke, etc.
However, when it comes to precision and accuracy in checking errors, there are only a few options that have proven to deliver quality and consistent results.
If you want a tool to check grammar during content creation, Grammarly is the best pick.
If you just want a quality online tool that you'll use every once in a while, Zoho Writer might be better for that.
That said, don't forget to pair your grammar checker with other blogging tools for better results.
💡 For some other tips to create better content, check out our guides on how to write better blog posts and how to edit a blog post.
Do you still have any questions about choosing one of these free grammar checkers? Let us know in the comments!
Free guide
5 Essential Tips to Speed Up
Your WordPress Site
Reduce your loading time by even 50-80%
just by following simple tips.
* This post contains affiliate links, which means that if you click on one of the product links and then purchase the product, we'll receive a commission. No worries though, you'll still pay the standard amount so there's no cost on your part.