Google Sites makes website creation simple, with everything stored securely. You can make your site public or private, and control access to it. However, it's somewhat too basic to build a fully functional website. As a result, you may want to look at Google Sites alternatives.
In this post, we'll share seven tools that will give you a lot more flexibility to build a custom website (with no code required).
Why do you need Google Sites alternatives?
Google Sites comes in two versions – the old Classic Sites (going away soon) and the New version. You can create as many pages as you like and arrange them in any manner. There are a few templates to help you get started – simply add content just as you do in a document.

Google Sites is free up to the overall free storage limit offered by Google for your Google account. Google Sites is also part of Google Workspace – formerly G Suite (premium), a set of apps that have been optimized for use by businesses.
Feature-wise, Google Sites offers a simple drag-and-drop builder, pages, logo, favicon, navigation, sections, and customizable background images. It's automatically responsive too. You can stay with a free Google Sites domain or purchase a premium custom domain.
However, while it's ok for very basic uses, Google Sites isn't very strong when it comes to:
Search engine optimization (SEO)
Pre-built website themes
Customization options
Features – for example, maybe you want to add an events calendar or a job listing
So if you want to go beyond a very simple portfolio or brochure website, you'll probably prefer one of these alternatives.
Seven best Google Sites alternatives
Selecting from among the best Google Sites alternatives is more about matching your specific website requirement with the feature list of each alternative. We'll make that easy for you in this post. We'll highlight the features of the various alternatives that matter most in website building:
WordPress.com lets you create any kind of website without knowing any code. It's a completely hosted solution with everything taken care of – right from domain name to maintenance to security. All you do is register for an account to start building your site.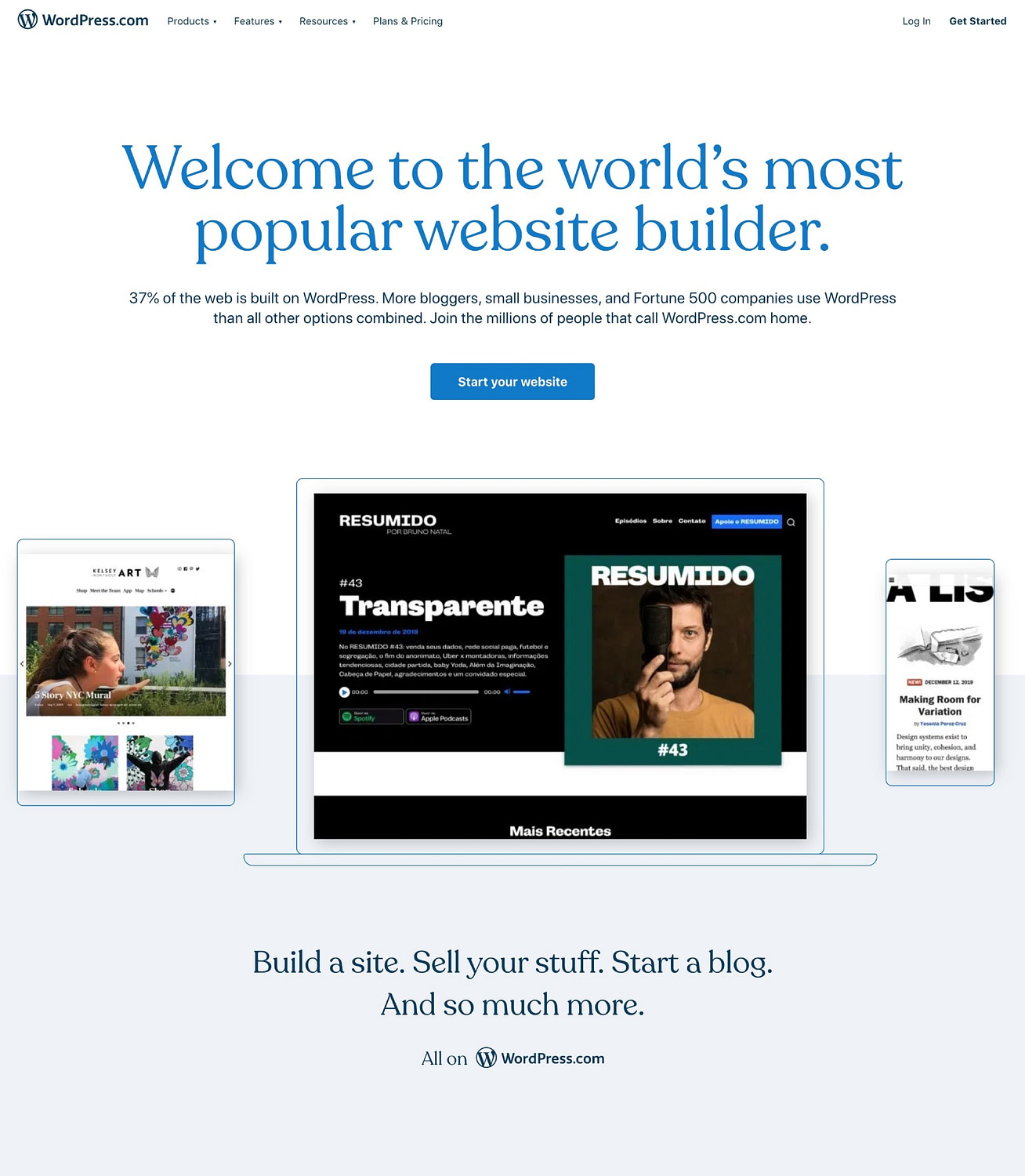 Pricing
There are four paid plans:
Personal – $4 per month
Premium – $8 per month
Business – $25 per month
eCommerce – $45 per month
All plans are billed annually.
For basic sites, there's also a free plan that lets you use a WordPress.com subdomain – e.g. [yoursitename].wordpress.com.
Why it's a good Google Sites alternative
Even with the free version, WordPress.com offers thousands of professionally designed templates and themes to choose from.
WordPress.com is suitable for all website types, including eCommerce.
You'll find helpful tools for marketing and monetization, like subscriptions and recurring payments.
Higher WordPress plans give you complete control over CSS
With the Business plan and above, you can install your own WordPress themes and plugins.
WordPress comes in two flavors:
WordPress.com (above)
Self-hosted WordPress, also called WordPress.org
The second option is where you need to find hosting and install WordPress. You can then customize it to turn it into any website you want it to be.
While this may sound daunting to a beginner, hosts like Bluehost make it a breeze. With a free domain name, WordPress auto-installation, and intuitive interface, you'll have a website ready in a few minutes, and this is why we consider this path to be one of the best Google Sites alternatives out there.
Learn more about the difference between WordPress.com vs self-hosted WordPress.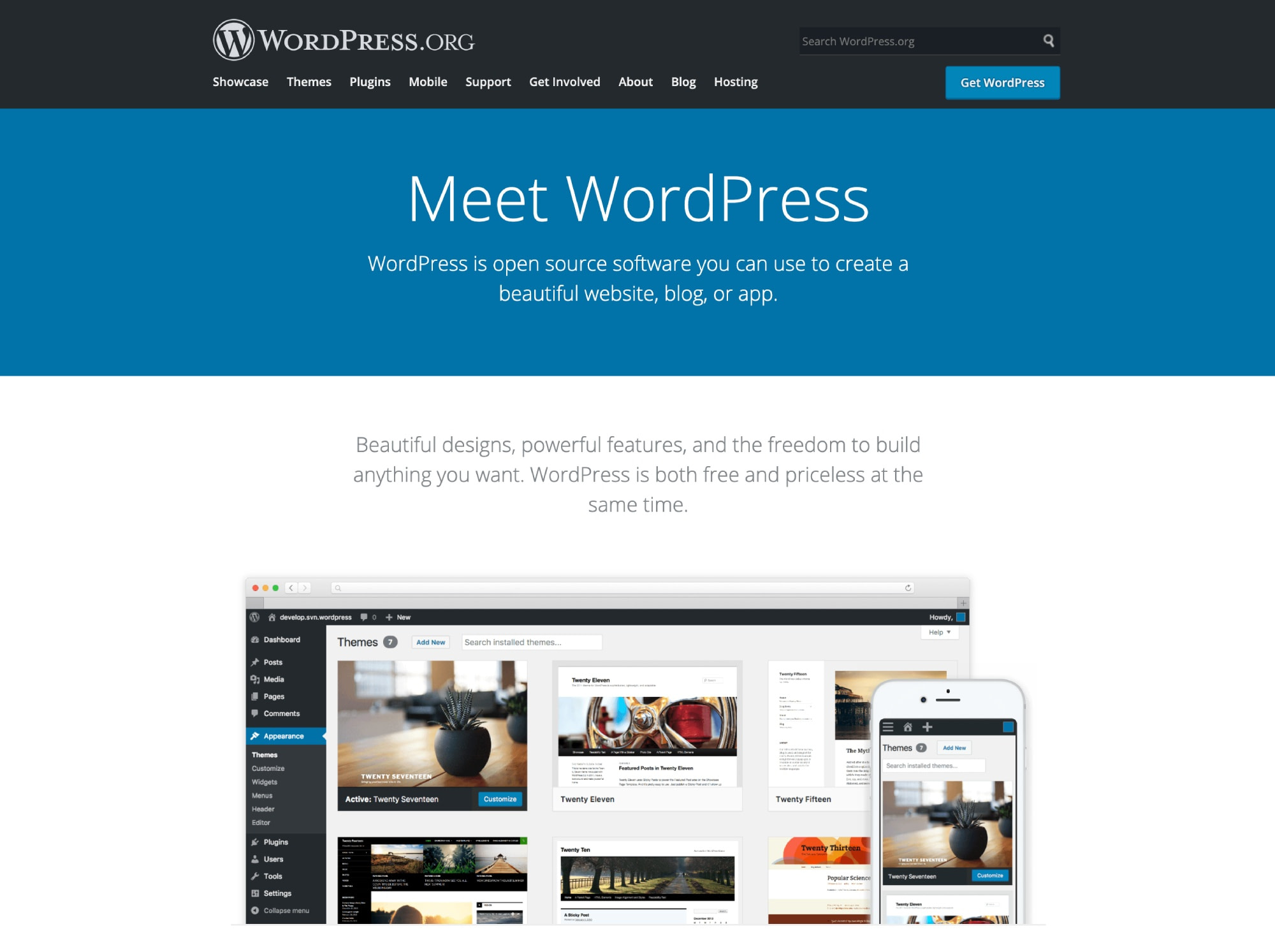 Pricing
By itself, the software is free. However, there are other costs such as hosting and domain name registration which you should consider.
Generally, you should expect to pay around ~$70 for an entire year of running a basic self-hosted WordPress site – learn more about how much WordPress costs.
Why it's a good Google Sites alternative:
With a host like Bluehost, it's almost as simple to create a self-hosted WordPress site as it is to use Google Sites.
WordPress is an open-source, powerful CMS with intuitive website-building and endless customization options. The WYSIWYG editor gives you full control over page building.
WordPress has an initial learning curve but offers more freedom in the end.
You can use WordPress to build any website, from a blog to a business site, eCommerce store, directory, and more.
You can extend your WordPress site using thousands of free themes and plugins.
👉 How to make a WordPress website
Wix is a flexible hosted website builder that you can use to create a basic business website, an eCommerce store, and more. It allows you to create stunning websites with no code required.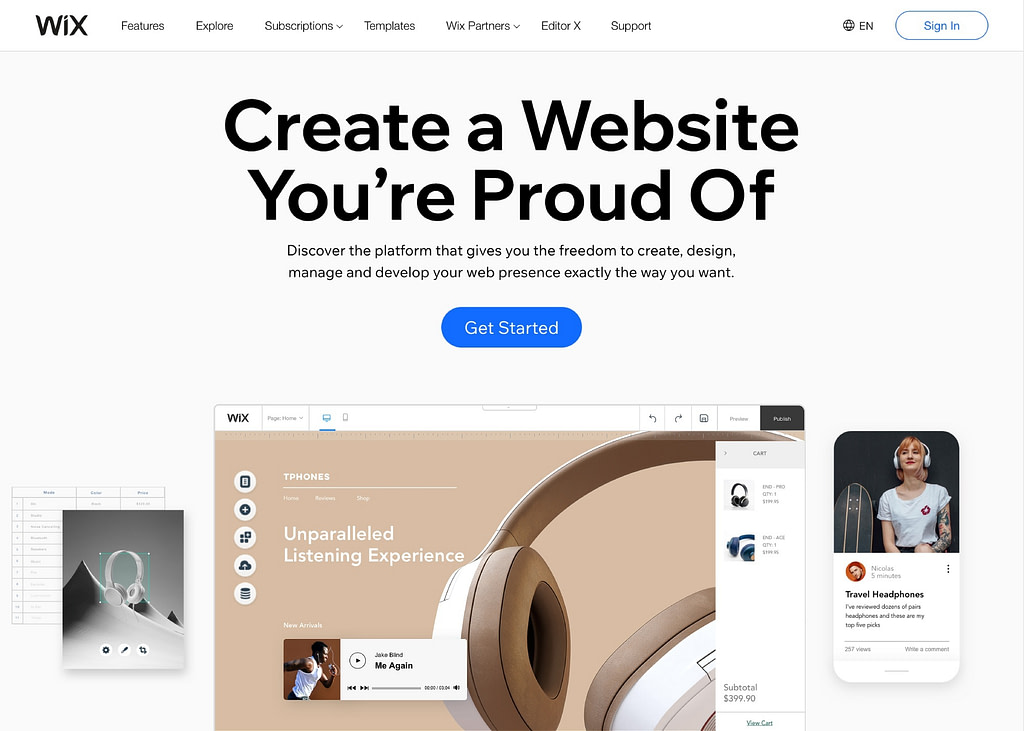 Pricing
While you can create a very basic free website with Wix, you'll need to upgrade to a paid plan to start receiving payments. Moreover, with a free plan, you cannot have a custom domain or change templates.
For a serious website, the cheapest plan that you'll want to consider is the Combo plan, which starts at $8.50 per month. Most businesses will prefer the Unlimited plan, though, which starts at $12.50 per month.
Why it's a good Google Sites alternative:
You can build your website using drag-and-drop and a visual editor – no code required.
Wix offers 500+ design templates covering any and every type of website. You'll have access to an extensive collection of icons, images, clip art, and free apps. Wix Artificial Design Intelligence helps to build personalized websites.
You don't have to worry about any website maintenance or security.
If you want to sell products, you can have a simple shopping cart, a seamless checkout process, and end-to-end fulfillment.
Weebly is a hosted platform. It offers a website builder and a range of professionally designed templates. It's a little more focused on eCommerce than some of the other Google Sites alternatives on this list, which is something to consider.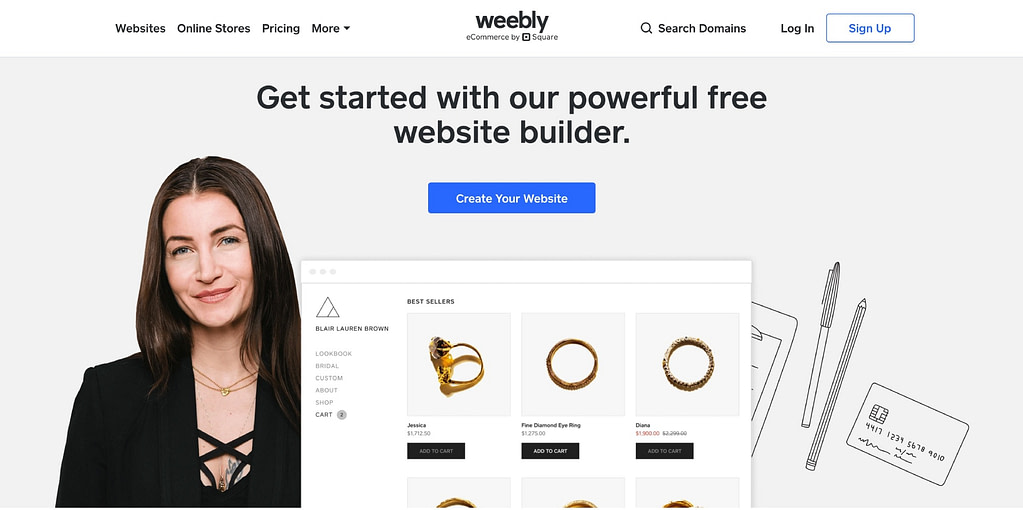 Pricing
You can build a site for free with Weebly with a [yoursitename].weebly.com subdomain and Weebly branding. You'll also get 500MB storage and lead capture forms.
Beyond that, you'll need to pay. Plans start at just $5 per month to connect a custom domain name, but most people will want to go with the $12 per month Pro plan to access more features and remove Weebly ads.
Why it's a good Google Sites alternative:
Weebly offers a free website builder, eCommerce tools, and powerful mobile apps to build functional stores. You can manage them from anywhere
Store plans include shopping cart and payment acceptance through Square and third-party providers
eCommerce features include inventory management, automatic tax calculator, integrated shipping labels and shipping calculator
Weebly helps with marketing by optimizing for search engines, capturing leads, popup notifications, abandoned cart emails and stats
With Weebly, you can promote your product with coupon codes and gift cards
If you want to build high-quality websites with stunning templates, you need to check out Squarespace. It's a popular content management system with a powerful website builder.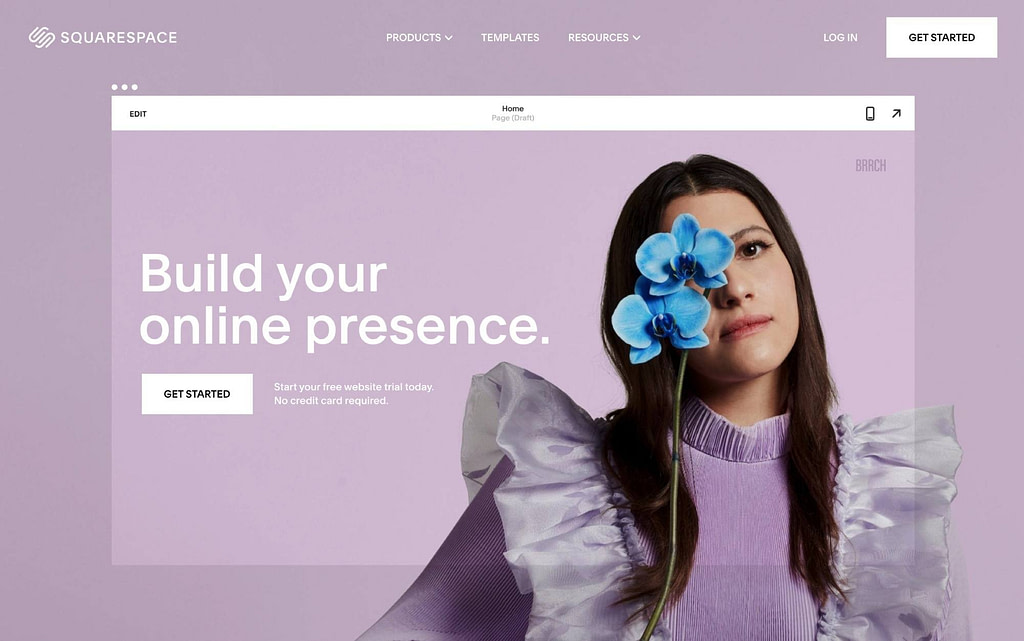 Pricing
Squarespace is free to start. Paid plans start at $12, and go up to $40. Rates are per month, billed annually.
Why it's a good Google Sites alternative:
It offers many beautiful theme templates with great visuals, all customizable. If you wish, you'll be able to switch templates later.
Squarespace handles all of the maintenance and security for you.
You'll be able to sell subscriptions, services, digital content as well as in-person. You can also manage your store from a convenient mobile app.
It includes marketing tools to reach and grow your audience, and takes care of SEO and email campaigns. It integrates with third-party tools and apps for marketing, shipping, finance, and more.
Squarespace displays social links, connects to social accounts, and also auto-posts to them. You can also import and download content from connected accounts.
Medium is a community-centric platform that any visitor can access and read. It's also a platform for writers to express themselves on any and every issue. You'll generally find serious writing on niche subjects on this platform.
Overall, Medium is a good alternative if you're looking to publish long-form content.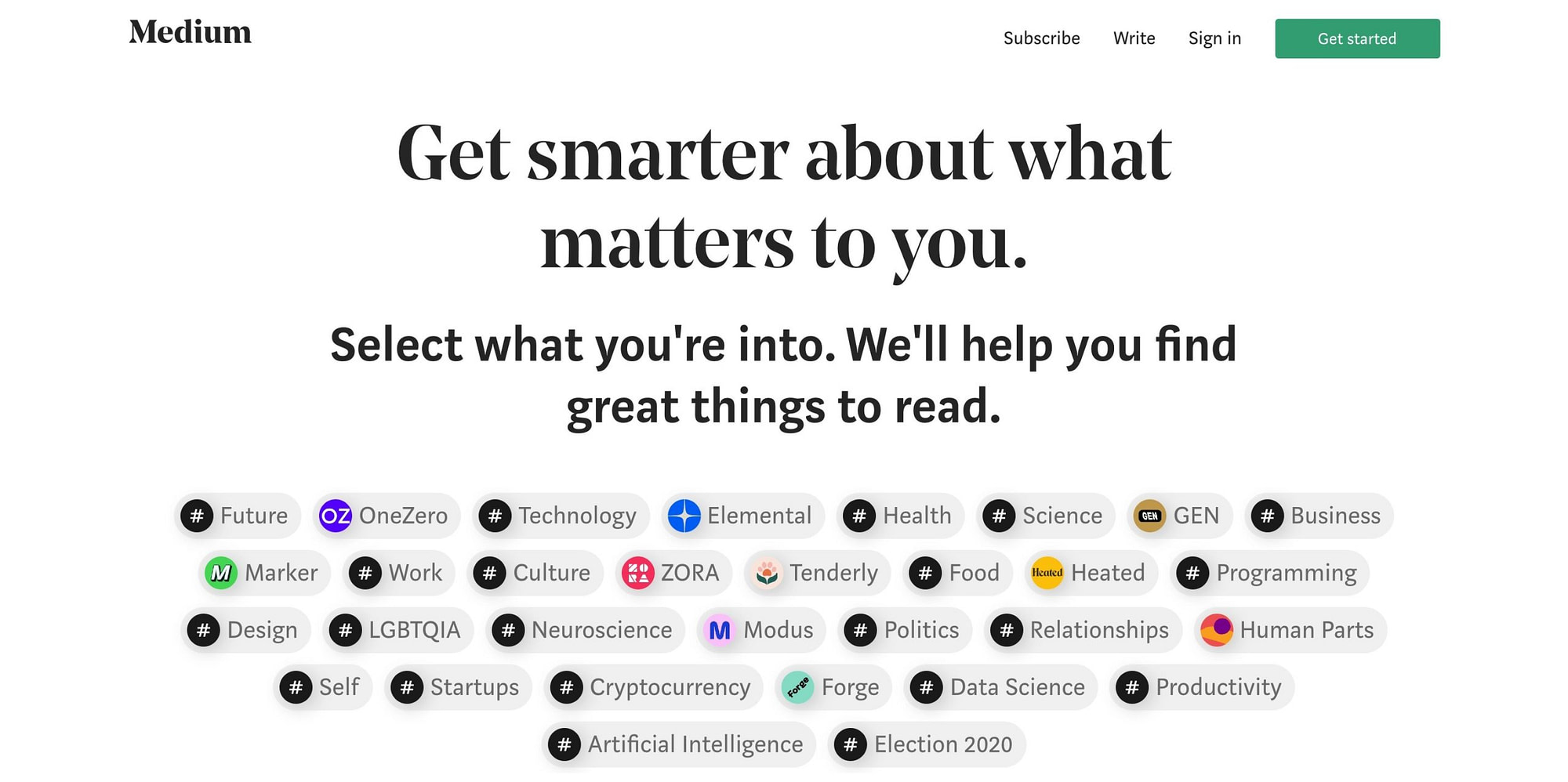 Pricing
As of now, everything is free on Medium for content creators. All you need to do is sign up and you can start publishing.
Why it's a good Google Sites alternative:
For writers on a tight budget, Medium is a useful tool. It helps to host your content for free on a quality public platform
With Medium, you can simply focus on writing and leave all technicalities to the hosting platform
Medium has a wide reach with close to 120 million users
Webflow is a comprehensive website building tool that you can use without knowing a line of code. It comes with hassle-free, fast, and reliable hosting.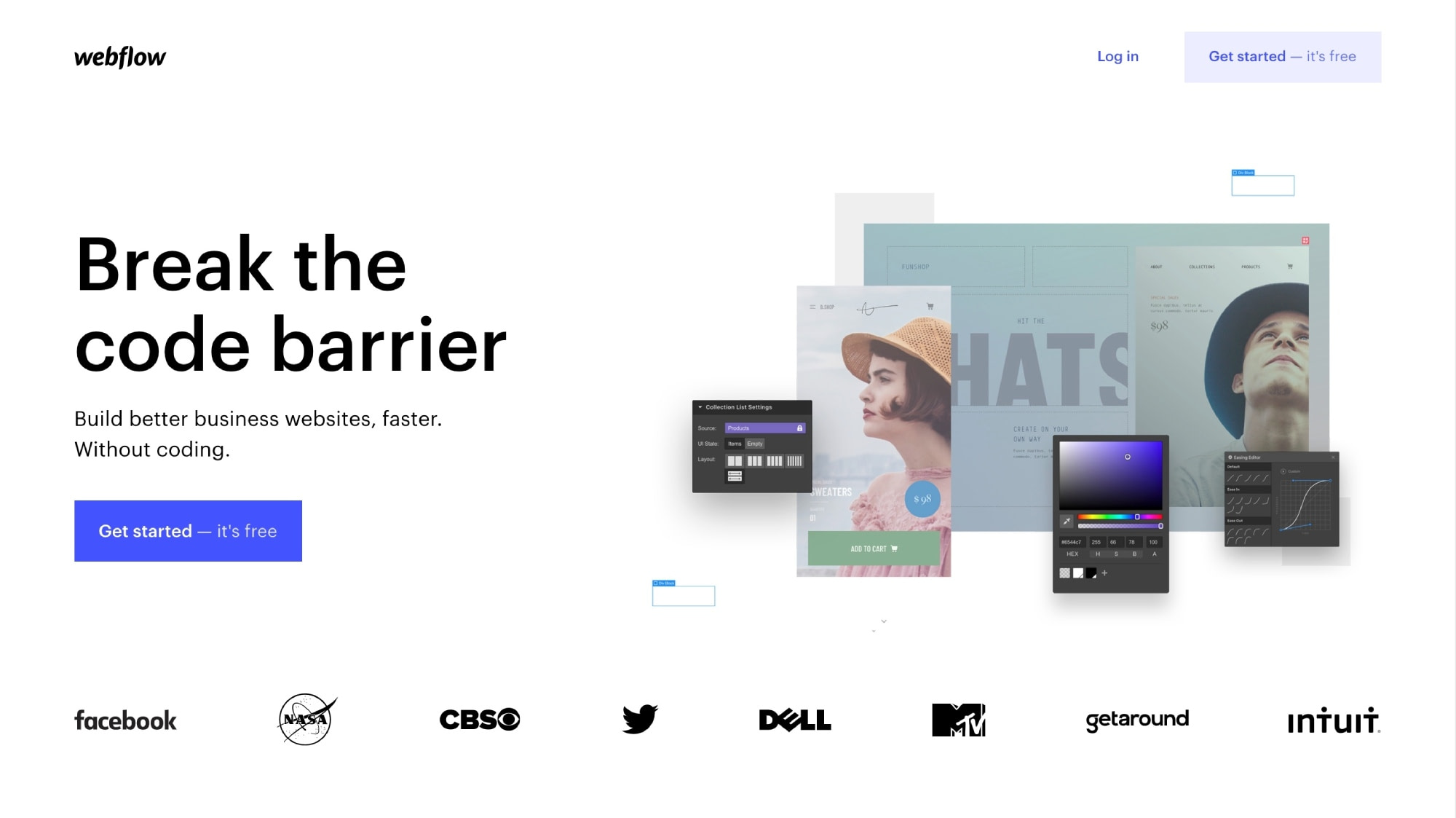 Pricing
You can start for free with Webflow, and experiment with up to two projects. Beyond that, you'll need to select from Site plans that start at $12 per month, or Account plans that start at $16 per month (billed annually).
Why it's a good Google Sites alternative:
Webflow has a built-in CMS with customizable databases. This means you can add dynamic content, including online stores.
It comes with 100+ responsive templates.
Webflow has built-in SEO features.
Using Webflow, you can easily create immersive animations and interactions.
Since it's powered by Amazon Web Services, your website will reside in a hosting network that can scale.
Your sites integrate with third-party marketing tools and require little maintenance.
Final words
The best Google Sites alternative for you depends on your specific needs and budget.
If you're looking for an affordable way to launch a customizable website, WordPress is a great starting point. You can use WordPress.com for the ultimate simplicity or self-hosted WordPress if you want a little more flexibility.
👉 How to make a self-hosted WordPress website
If you're willing to pay, a hosted website builder like Wix or Squarespace also makes a great starting point, though you'll need to crack open your wallet to use them.
Do you have any questions about picking the right alternative for your needs? Ask us in the comments!
Free guide
5 Essential Tips to Speed Up
Your WordPress Site
Reduce your loading time by even 50-80%
just by following simple tips.
* This post contains affiliate links, which means that if you click on one of the product links and then purchase the product, we'll receive a commission. No worries though, you'll still pay the standard amount so there's no cost on your part.