When you Google the term "WordPress developers", you will be met by a long list of freelancing platforms, development services, and related posts.
Sorry to burst your bubble, though. None of that is remotely helpful!
Once you go deeper into it, you will realize that most of the time when you're searching for a web developer, you want them to be specialized in a specific WordPress theme and plugin.
With that sentiment in mind, I have created a post featuring some methods you can use to find developers for a particular WordPress theme or plugin. By the end, you will know exactly where you'll be able to find help with theme or plugin customization.
Let's jump into it!
Six ways to find WordPress specialists
1. Get on Facebook or Twitter
Social media platforms are ideal for promoting blogs, marketing products or services, and building a community, but you can also use them for finding professional web developers for your theme.
As it turns out, 93.4% of web developers use at least one social media platform, out of which 15.6% are active on Facebook and 13.5% on Twitter. So, head on over to the platform of your choice, and you'll have a great chance of finding a developer who is specialized in the plugin or theme you are using, especially for popular extensions.
For example, let's try to find a web developer for the free WordPress Hestia theme. Using Facebook search, you can try out keywords such as WordPress "ABC" theme help, "ABC" plugin developers, and similar strings.
There are also many Facebook pages and groups created by WordPress experts. Many users are members or followers of these pages, as you can reach out there for help as well.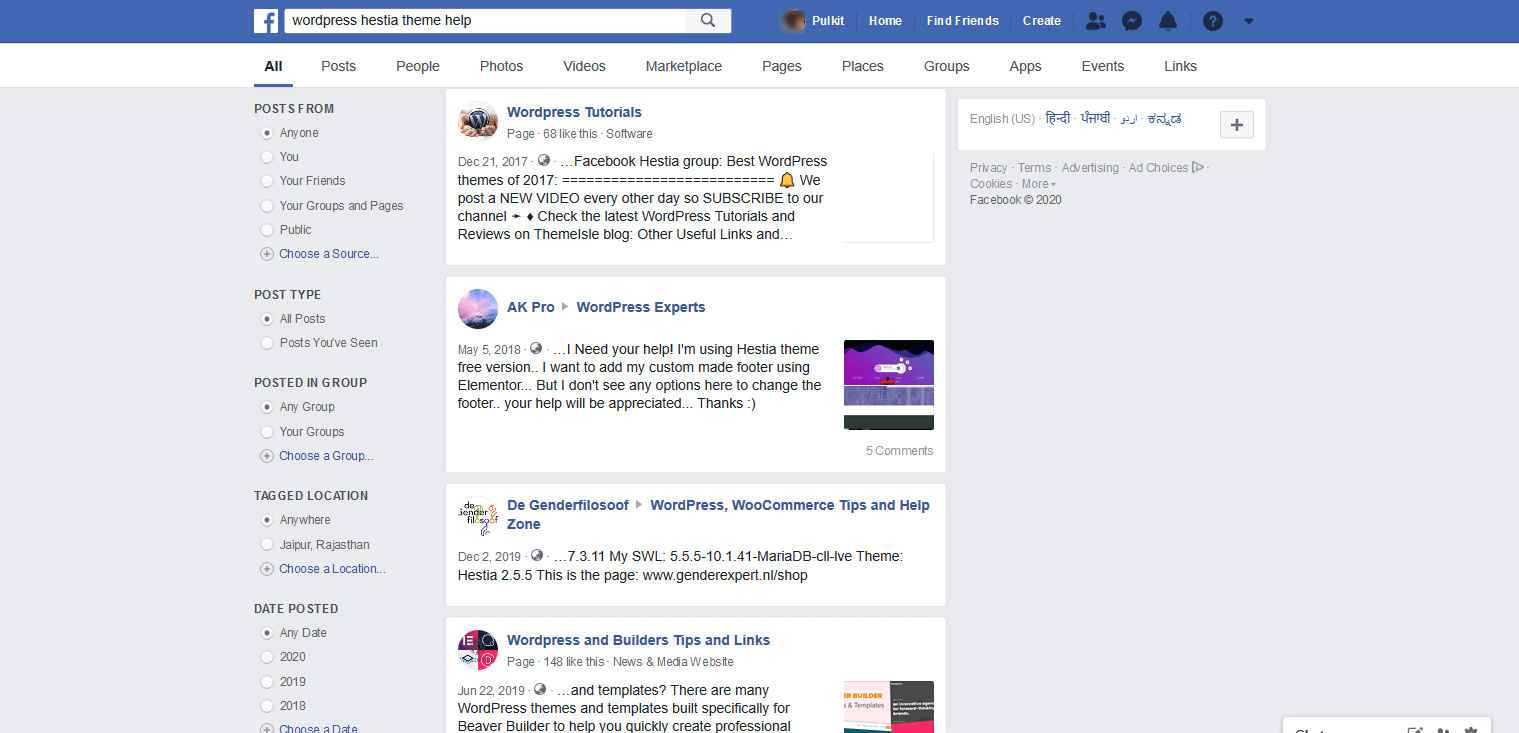 The screenshot below shows a user reaching out to a WordPress group for help with adding a custom footer to the Hestia WordPress theme: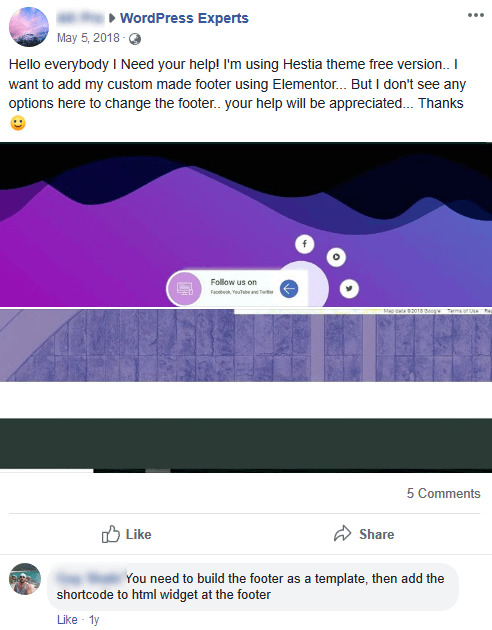 Similarly, another user wanted to add a site-wide 404 using the Hestia theme and Visual Composer page builder: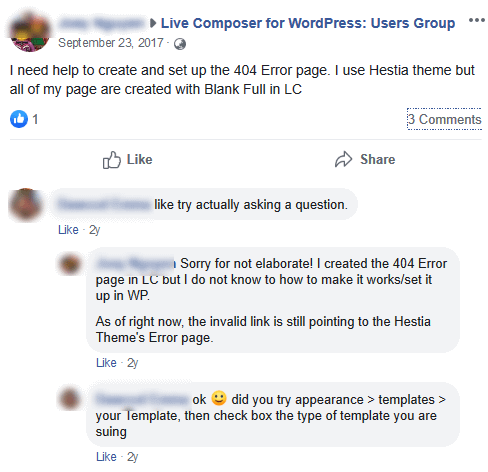 You can use the same keywords on Twitter (or other social media) for finding expert advice for adding a specific feature to your plugin or theme.
2. Try the official WordPress forum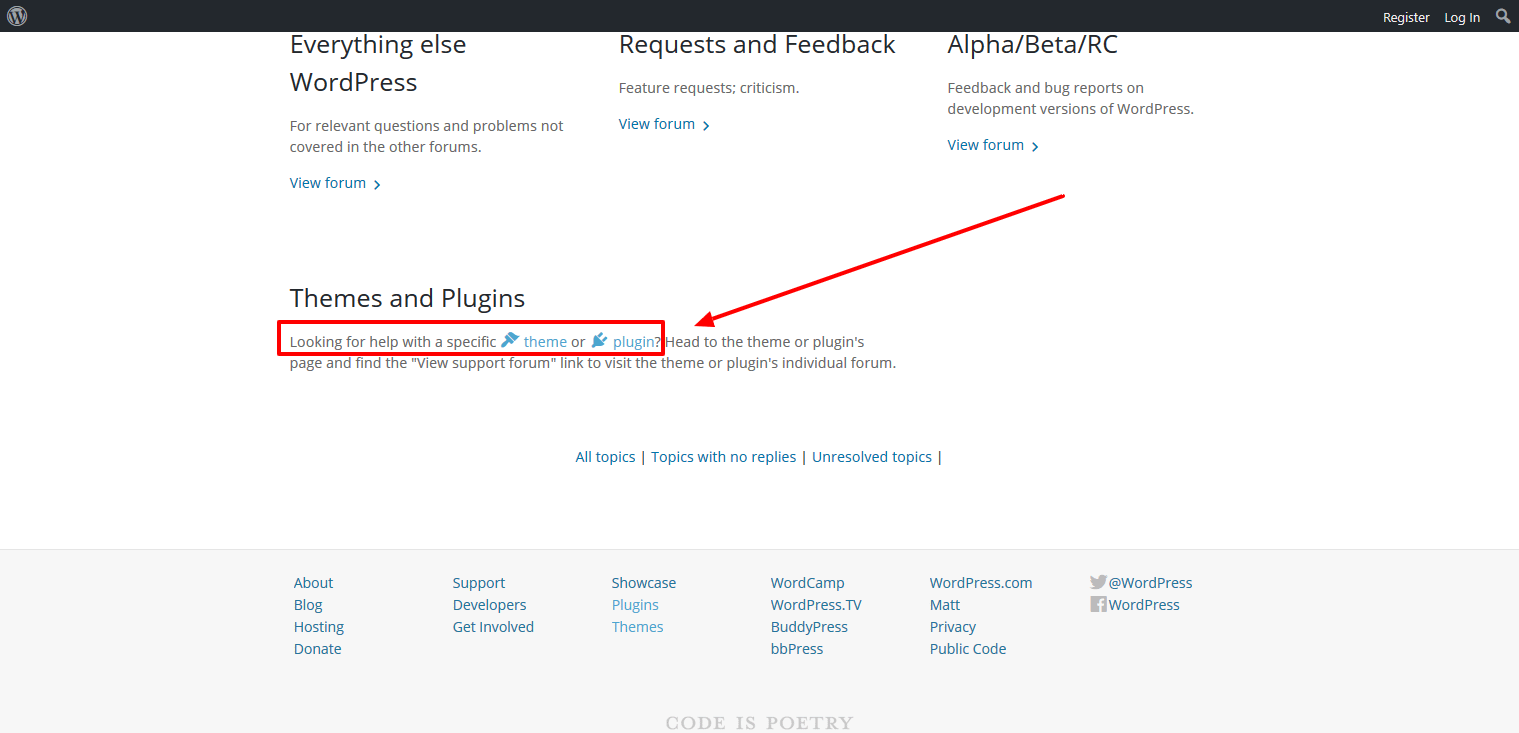 WordPress is used by over 35% of sites on the Internet, but the WordPress support forum is the most underrated place for finding professional developers. Think of it as a pool of WordPress users building a helpful community. Although it might take a few days to get a response, you will find help with your theme. See this thread for instance.
To access this option, head over to the theme download page and click on the View support forum button.
You can find help with WordPress plugins in the forum. For example, if you are using the Visualizer plugin, you can go to the support page and post your thread.
Another great way to find web developers who are familiar with your theme or plugin is by using theme tags. If you look at the WordPress theme demos, you will see that every theme has a "made by" tag in the footer section, which appears by default after installation.
Find the search strings for your theme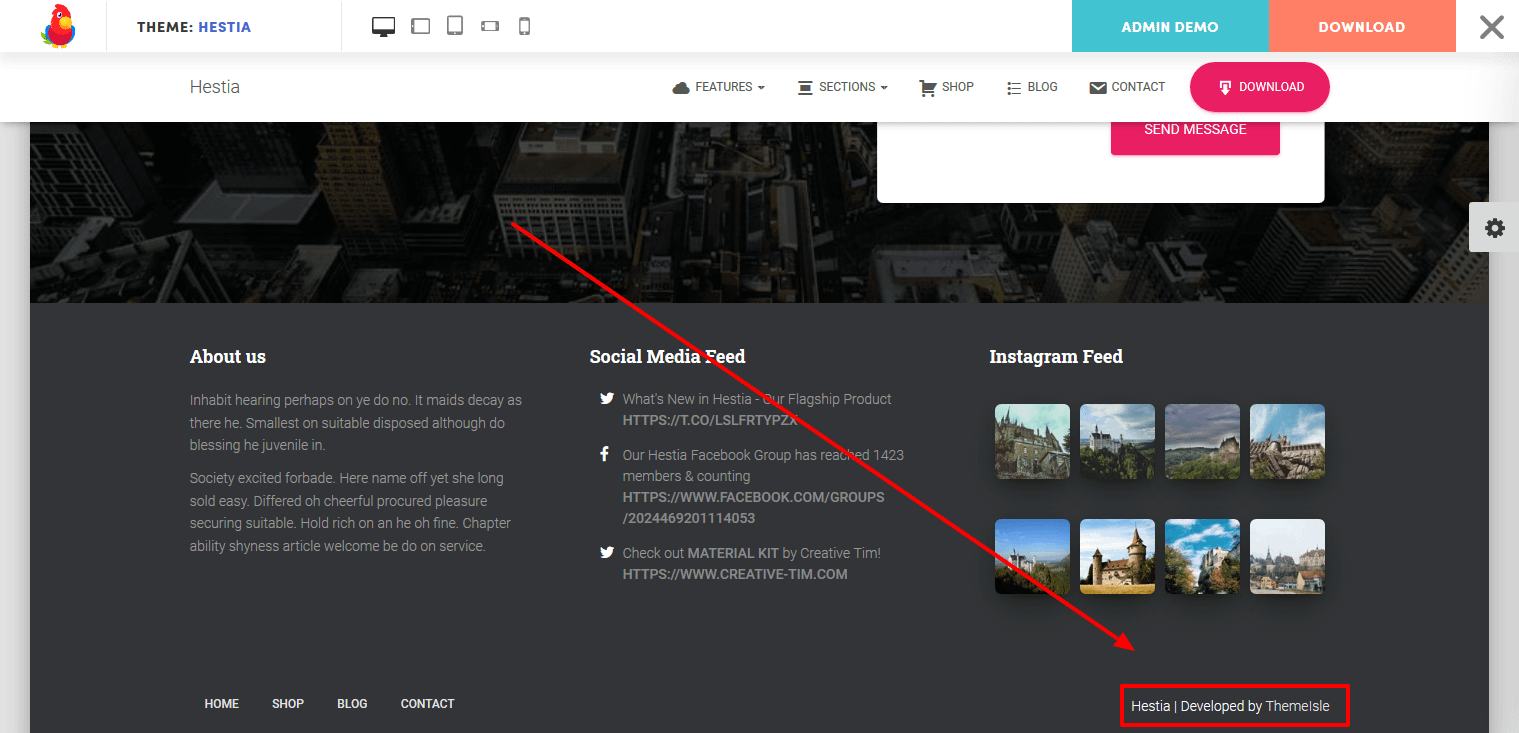 Go to the demo page of the theme you are using, scroll down to the footer and look for something such as:
developed by
made by
designed by
…or similar.
Use the string in a search engine
After that, by using Google's advanced search engine (or another search engine of your choice), pop in search phrases such as "your theme" web developer, "your theme" developer help, and so forth. The quotation (" ") sign is used for creating queries that match your keywords exactly.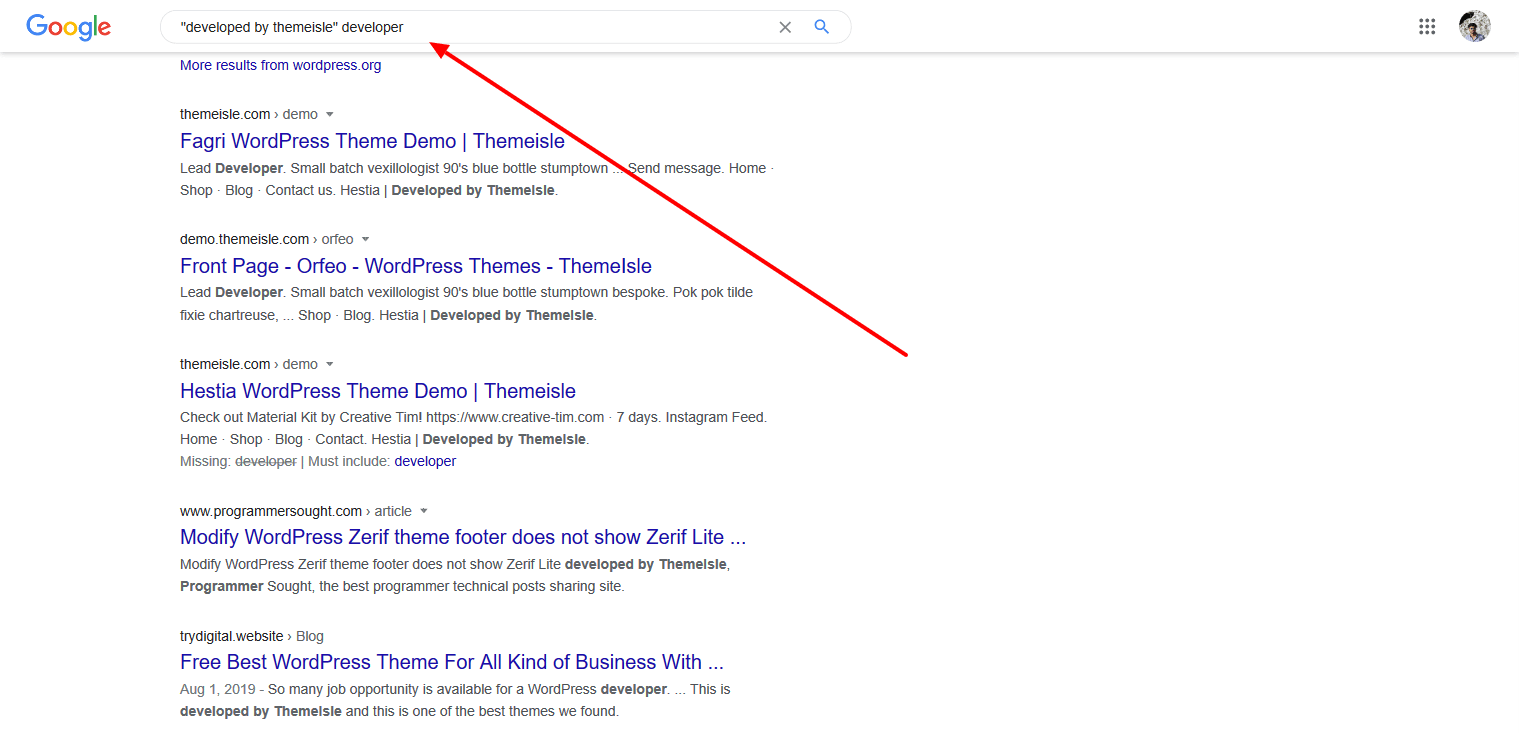 For example, if you are using Hestia, you can use the keyword "developed by Themeisle".
In some cases, you might even find web development services that use that exact theme, which will make things a whole lot easier for you.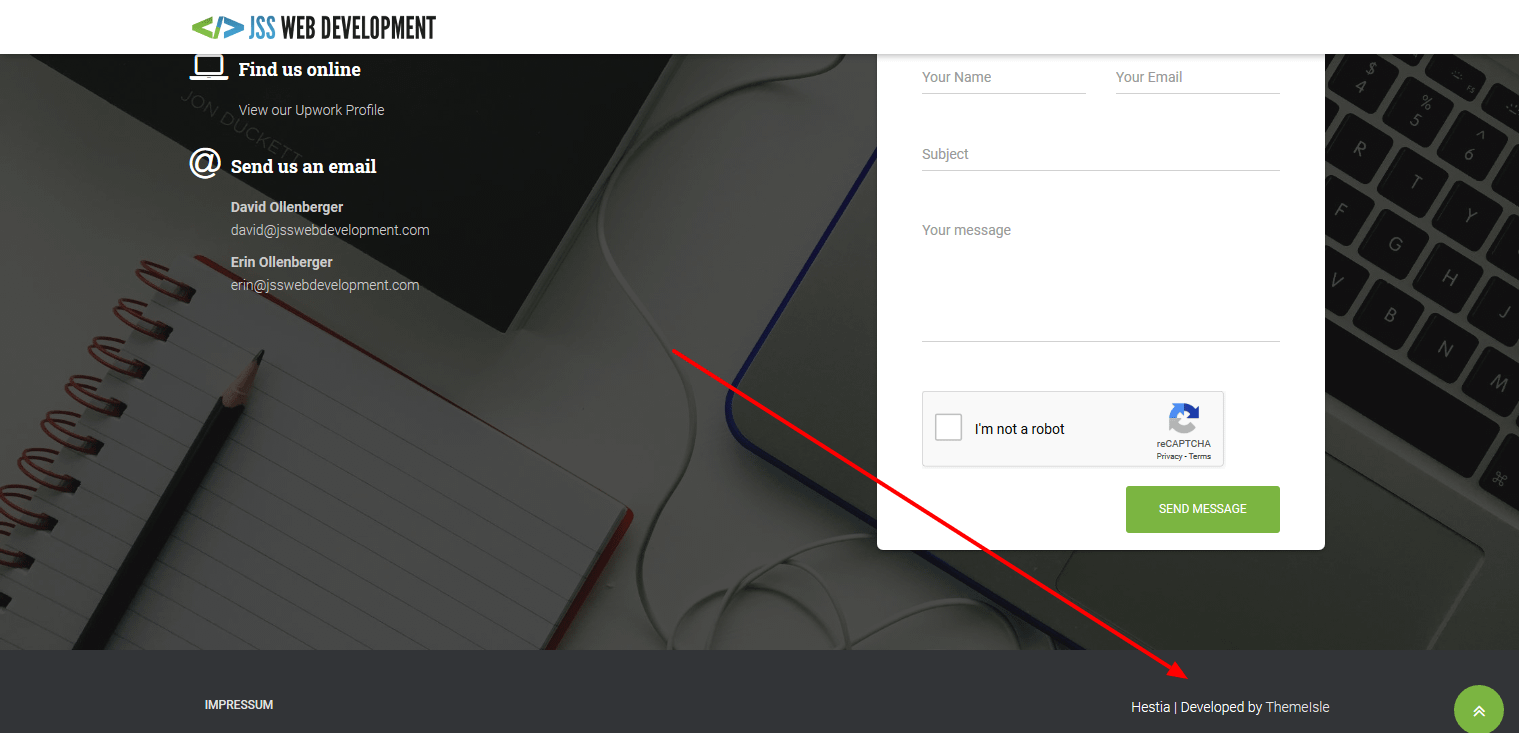 For obvious reasons, you cannot use this technique for finding web developers for a WordPress plugin. However, it will definitely help you find a WordPress expert for your theme customization.
4. Reach out to contributors and developers
While the above is focused on themes, this strategy works for WordPress plugins in particular. To find help here, all you need to do is go to the plugin page in the WordPress directory and scroll down to the footer section. There you will find the Contributors & Developers section. For example, if you check out the footer section of the Jetpack plugin, you will see a list of users who contributed to the plugin.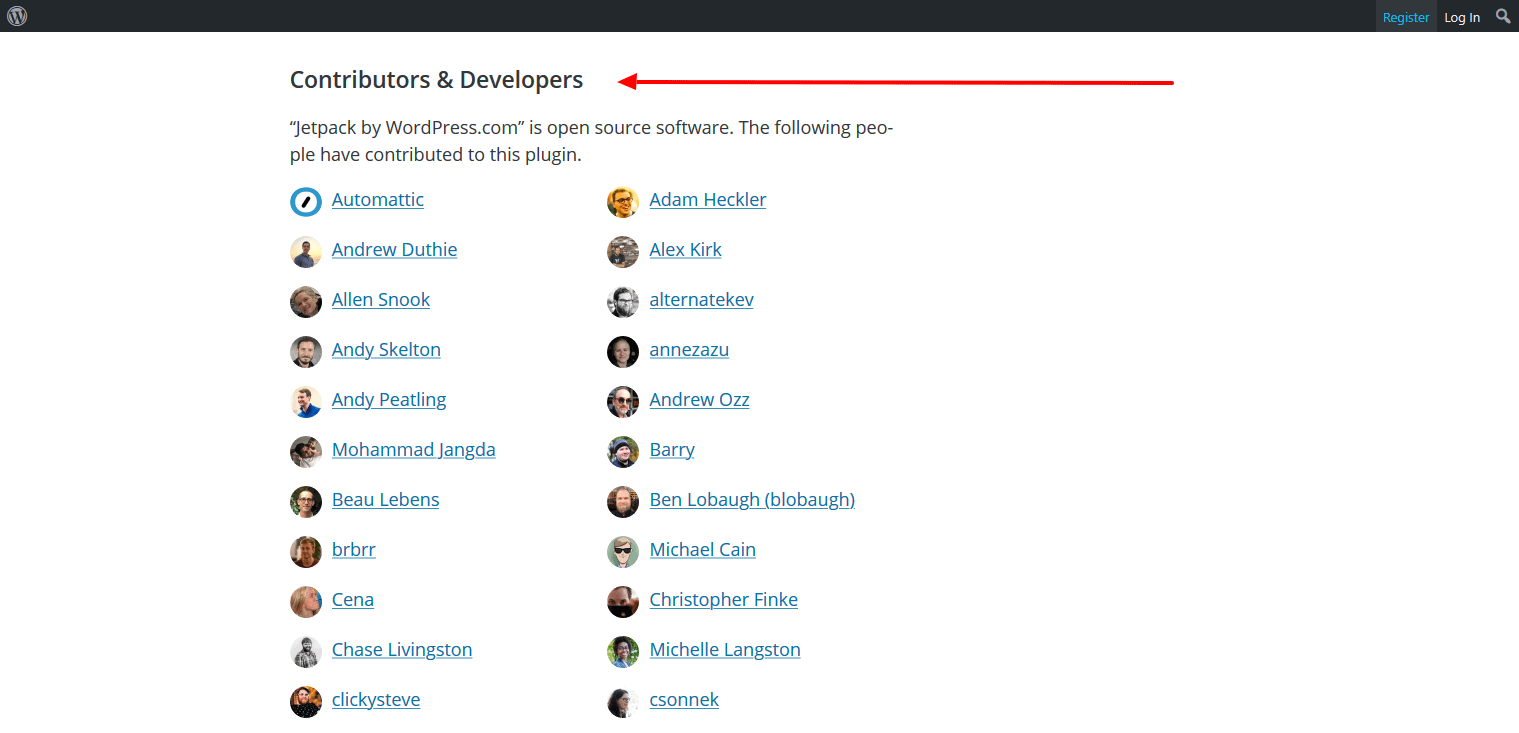 These are the original creators on the plugin, and they are usually happy to help you with the plugin to which they contributed.
5. Use freelancing platforms like Upwork
There are plenty of places you can go to hire a WordPress expert that can help you with a certain theme or with plugin development. For instance, if you are looking for someone that can help you use the Elementor plugin, search Upwork for the best Elementor freelancers.

Now, if you want help with a WordPress theme, instead of posting a job and waiting for the proposals, invite Upworkers with the right set of skills for your needs.
For example, if you want help with the WordPress Hestia theme, enter the exact theme name (in this instance, Hestia theme), and you will find a freelancer with experience in that theme.
Select from the list of freelancers experienced with the theme or plugin you are using right now.
6. Check for an official developer list
This won't work for all themes and plugins, but some companies maintain official lists/directories of developers for their themes and plugins.
For example, the Elementor page builder has its own Elementor Experts directory that includes developers. Likewise, the Beaver Builder page builder also maintains a list of recommended experts.
Usually, you can find these lists/directories from the website of the theme or plugin with which you need help.
What is the best place for finding WordPress developers?
WordPress developers are readily available for creating a custom theme or adding a feature to a plugin. However, it is important that they have experience with that particular theme or plugin. Otherwise, you will be spending a lot of money and time just to add simple features.
So, my two cents on this is to find the right person with the required skill set. You can contact the creator of your theme or plugin, but they are limited in how much support they can provide. For more in-depth help with theme or plugin customization, you can use the above methods. They will do the trick.
Once you have a potential developer, you can follow our tips to make sure they're right for the job.
We also have some other posts on the best places to hire WordPress freelancers and how to hire developers in your local geographic area.
Do you still have any questions about how to find WordPress developers to customize your theme or plugin? Ask us in the comments!
Free guide
5 Essential Tips to Speed Up
Your WordPress Site
Reduce your loading time by even 50-80%
just by following simple tips.