If you're looking for a way to encourage purchases, it's hard to go wrong with a bidding system. One study found that customers paid an average of 25% more[1] than the retail price during an auction. However, knowing which WordPress auction plugin will work best with your website can be difficult.
Fortunately, there are plenty of options for you to choose from. By carefully reviewing each of the tools that are available and keeping your needs in mind, you can find the solution that's right for you.
In this article, we'll present six of the best WordPress auction plugins. We'll cover their standout features and pricing options as well. Let's jump right in!
Best WordPress auction plugin
Now that we've talked about why you should use an auction plugin let's look at six of the best options. Each of these plugins offers similar features, so the best one for you will depend on your budget and skill level.

Auction Nudge helps to connect your WordPress site with your eBay account. Rather than create its own auction infrastructure, this plugin relies on eBay's existing resources. This arrangement enables you to keep all auction administration within eBay.
Another benefit of connecting these accounts is that setup is fairly simple. After you install and activate the plugin, all you have to do is link your eBay information and adjust your settings. Your listings, profile, and feedback will populate after you've finished.
⚙️ Features:
Highly customizable display options.
Advanced filtering by category or keywords.
Compatibility with 13 international eBay sites.
This plugin is straightforward and effective. Its functionality is primarily focused on connecting your accounts. If you want to share your auction information without too many bells or whistles, we recommend considering Auction Nudge.
💵 Pricing: What's more, Auction Nudge is free to use, with no premium option available. That's because it's a part of the eBay Partner Network. It's worth noting that the developer may receive commissions on completed transactions, at no cost to you or your users.
The Ultimate WordPress Auction Plugin is a particularly user-friendly option. This plugin offers an intuitive and stylish interface.
If you're not very comfortable with technology, you'll probably still find the setup fairly easy. Auctions are hosted directly on your site. You can activate the plugin, add your payment info, and get straight to adding your first item.
⚙️ Features:
An easy-to-navigate auction management page.
Payment settings that are ready for PayPal accounts.
Compatibility with a wide range of high-performing themes.
Ultimate WordPress Auction Plugin is a tool that offers a robust bidding experience without the need for much technical knowledge. As such, this might be the solution for you if you're less technically inclined. The matching theme also makes it worth considering if you want a dedicated site for auctions.
Additionally, there's a sister plugin for you if you're a WooCommerce user. Ultimate Auction for WooCommerce shares the same developer and most of the same features. The key difference is its integration with WooCommerce. If you'd rather use WooCommerce, you may want to consider trying this version instead.
💵 Pricing: The basic version of either plugin is free to use. However, if you're in the market for features such as silent auctions and scheduled bids, you may want to consider a premium plan. Paid options start at $79 per year for a single site.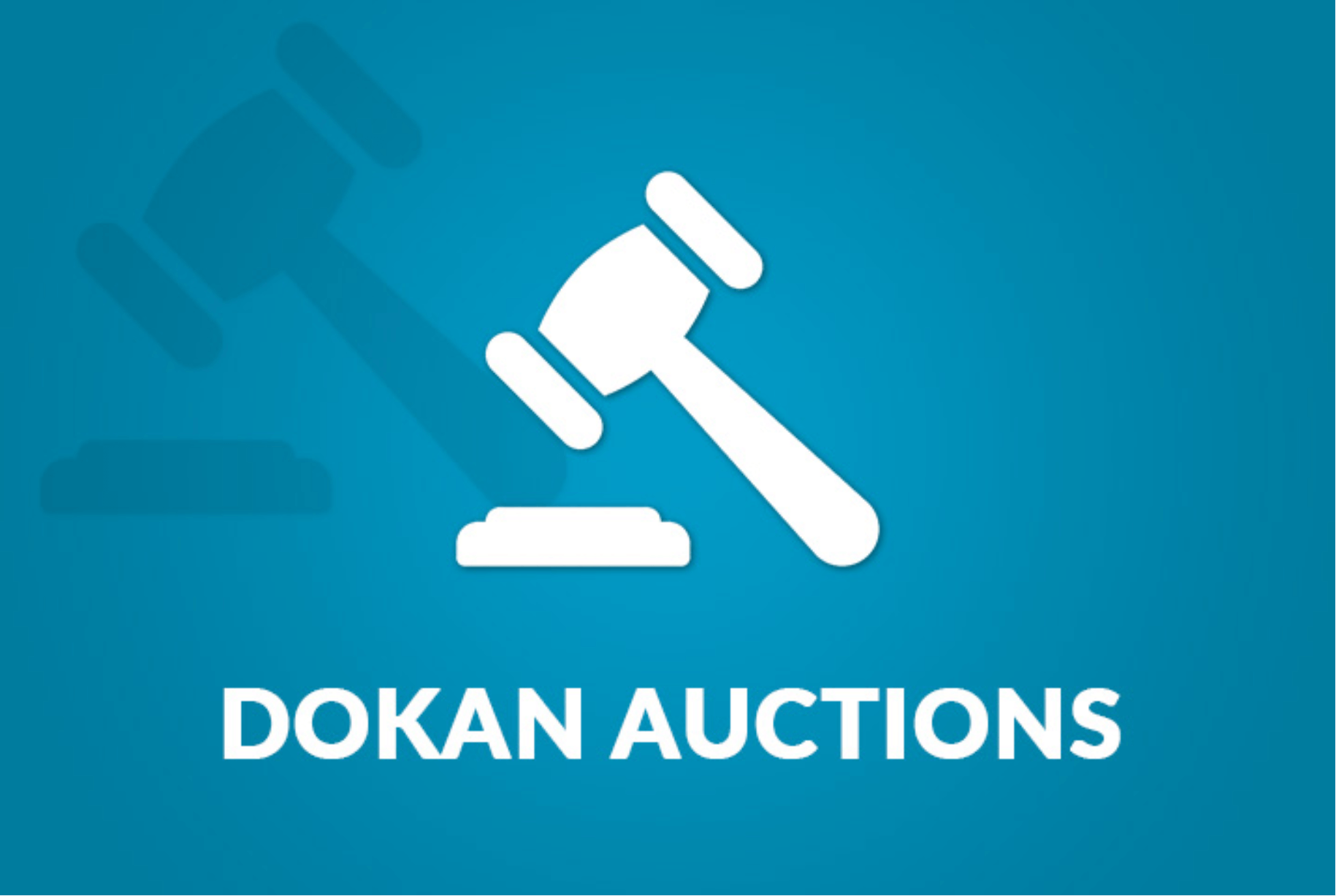 Dokan Simple Auctions works a bit differently than the other plugins we've looked at so far. Rather than connecting your eBay account or creating an entirely auction-devoted page, Dokan Simple Auctions is more of an add-on.
First, you'll have to download the core Dokan plugin and go through its setup process. You'll also need to obtain the WooCommerce Simple Auctions plugin. After that, you can use the Dokan Simple Auctions add-on to include multi-vendor bidding functionality in your marketplace.
By "multi-vendor" functionality, we mean that other sellers will be able to register on your store and create their own auctions for shoppers to bid on. It's kind of like creating your own lightweight version of eBay.
⚙️ Features:
A powerful seller dashboard to keep track of your auctions.
Robust and organized support for multiple vendors.
Extended functionality for the popular core plugin.
Despite these impressive features, getting started with this plugin can admittedly take some time. It also requires investing in two other tools. Therefore, we recommend Dokan Simple Auctions only if you're specifically looking to create a multi-vendor auction site.
💵 Pricing: Dokan Simple Auctions itself will cost you $49 per year. The core Dokan platform is free, with more features available starting at $104. Finally, you'll also need the WooCommerce Simple Auctions plugin, available for $29.
WP-Lister Lite for eBay provides an easy way to connect your WooCommerce shop to your eBay store. It's also been designed to integrate seamlessly with WordPress, making its operation second nature if you're a frequent WordPress user.
Setup is simple: activate the plugin and follow the on-screen instructions. Afterward, you can start promoting auctioned products directly from your eBay store.
⚙️ Features:
The ability to verify listings and fees before promoting them.
Support for product variations such as sizes and colors.
The opportunity to create templates for your listings directly from the WordPress post editor.
One major appeal of this plugin is how it enables you to cross-list products. To that end, we recommend WP-Lister Lite for eBay if you're looking to expand your reach. Audiences may discover your products in any number of ways, from organic searches to referral traffic. Cross-listing can improve your odds of being seen.
💵 Pricing: WP-Lister Lite for eBay is free to download. You'll be able to list unlimited items on eBay and get basic features. If you're interested in functionality such as creating orders within WooCommerce, a more robust premium option is available for $149 per year.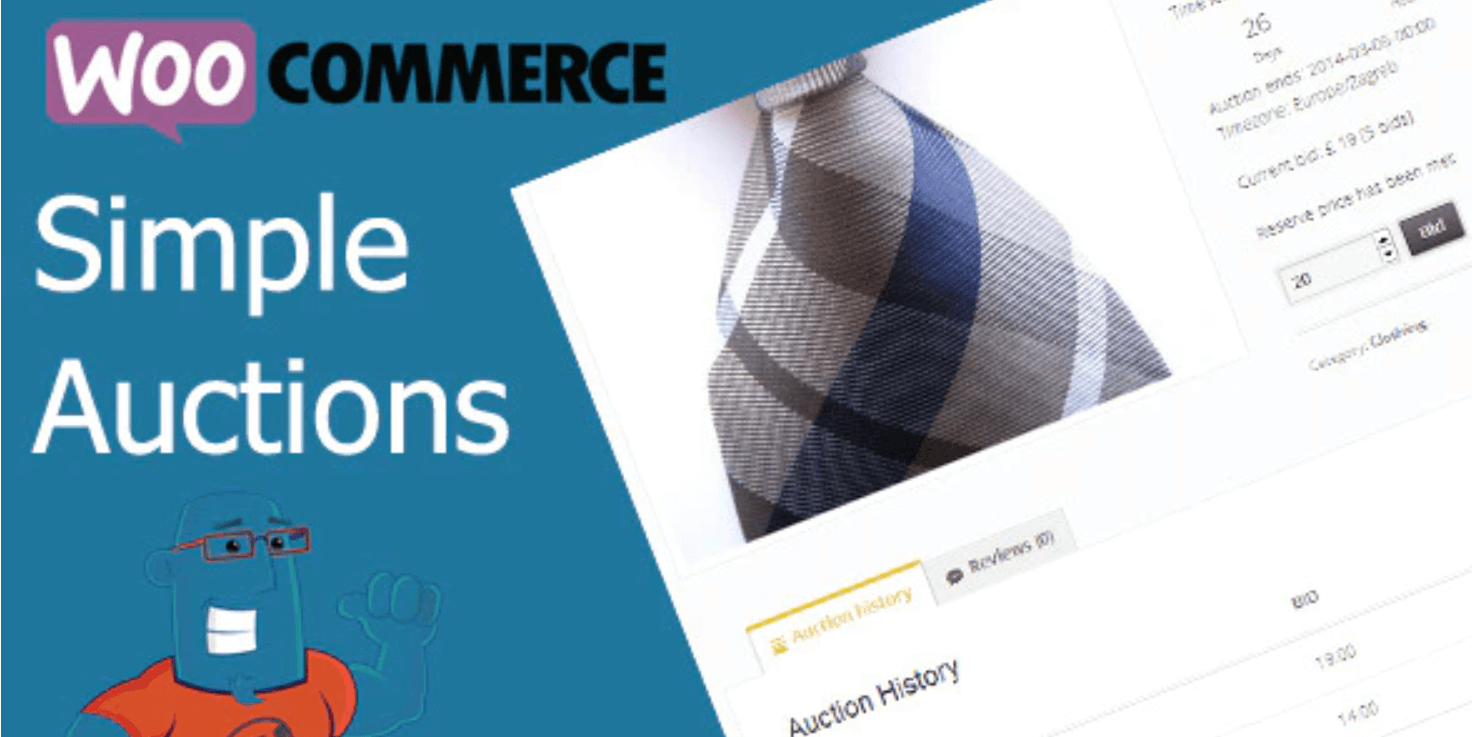 You may recall that we briefly mentioned WooCommerce Simple Auctions in our Dokan Simple Auctions section. However, this plugin is also a formidable tool on its own. It works with WooCommerce to help you add a new product type and start the bidding process.
After purchasing the plugin, you'll need to install and activate it. You'll then be prompted to connect your WooCommerce store. Finally, all you'll need to do is confirm some basic details before launching your first auction.
⚙️ Features:
Front-end sorting capabilities to enhance the customer experience.
A payment details verification process.
Role-based bidding restrictions for exclusive auctions.
WooCommerce Simple Auctions offers a wide range of functionalities. It's also fairly straightforward to operate. However, it lacks a free option. Therefore, we recommend this WordPress auction plugin if you're comfortable with investing some cash in order to access impressive features.
💵 Pricing: WooCommerce Simple Auctions starts at $29. If you want an extended license or a longer support period, the price increases to $231.25.
YITH Auctions for WooCommerce enables you to start an auction system on your site that's fully within your control. Working with your existing WooCommerce store, this plugin will help you manage both manual and automatic bids.
Once you've purchased and activated YITH Auctions for WooCommerce, you'll be able to set up individual auctions.
⚙️ Features:
Encrypted usernames to protect the privacy of your customers
The option to extend auctions in the last few minutes to encourage more bids
The ability to set a minimum reserve price in order for the winning bid to be successful
This plugin is designed to help you optimize your auctions. However, you'll likely need to tweak the settings to find what works best for your audience. Therefore, we recommend YITH Auctions for WooCommerce if you already have a clear sense of what your visitors want, or you're looking to build your own WordPress auction site.
💵 Pricing: YITH Auctions for WooCommerce on a single site will cost you $109.99 per year. This price includes updates and support for the period. If you're handling more than one site, there are more expensive plans offering additional licenses.
Get started with a WordPress auction plugin
Running an auction can be a lucrative way to get the most out of your products.
Whether you're looking for ease of use, dynamic features, or an affordable price, there's a plugin that's right for you.
Each of the six plugins we've covered is a top-quality option. However, we feel that one rose above the rest: WooCommerce Simple Auctions. This tool offers well-rounded functionality while remaining accessible to beginners. If you're on a budget, the free Ultimate WordPress Auction Plugin is a comparable scaled-down option.
Ready to get started with a WordPress auction plugin? Or, if you're using eBay, follow our guide on how to cross-list products between WordPress and eBay.
Do you still have any questions about choosing a WordPress auction plugin? Let us know in the comments section below!
Free guide
5 Essential Tips to Speed Up
Your WordPress Site
Reduce your loading time by even 50-80%
just by following simple tips.