Ever wished that you could change how the WordPress dashboard looks? In short, that's the promise made by WordPress white label plugins.
These plugins help you change your dashboard's looks, modify its functionality, and even customize things like your login page.
When it comes to WordPress white label plugins, though, you're spoiled for choice. So…we're going to try to make your decision a bit easier by investigating six popular plugins that white label your dashboard. By the end, you'll be able to choose the plugin that's right for your specific situation.
Why white label your WordPress dashboard?
Whether you're giving other people access to your WordPress dashboard or using it solo, using one of these WordPress white label plugins offers a few benefits. You can:
Add or remove menu items, links, and more to create a dashboard that better matches your workflow.
Better brand your dashboard by adding your own logo and colors.
Hide items from certain users or user roles.
Make your dashboard more aesthetically pleasing and just generally nicer to work in.
All those add up to a better experience for both you and anyone else who will see the internal workings of your WordPress site.
Top WordPress white label plugins compared:
1. AG Custom Admin
AG Custom Admin lets you change everything from styling to functionality. It's the most detailed of all the WordPress white label plugins on this list.
What I like about it is that, despite coming with lots of features, they are all very well structured by categories, so it should be clear to everyone how to use the tool.
Furthermore, the interface is user friendly so that you can quickly make changes even if you're not a techie.
One especially helpful feature is that you can add new items to the main menu. For example, if you feel like adding 'Flowers' next to 'Posts', 'Pages', 'Media' etc. (and link to an external or internal page), you are free to do it.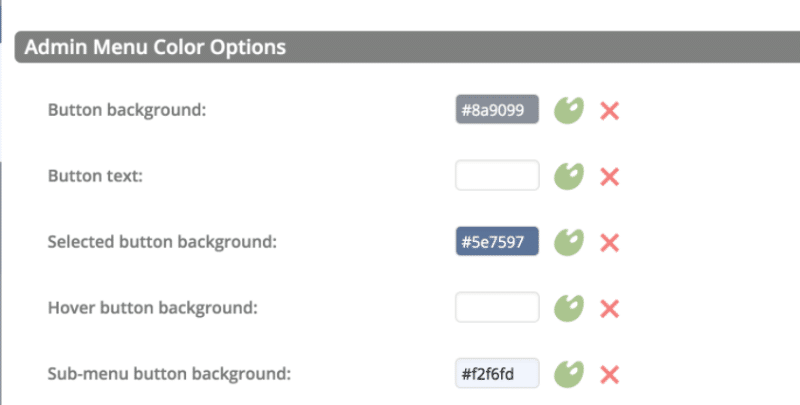 Key features
Multiple dashboard themes, though only a few are free (the prices for premium themes vary from $10 to $25).
Custom footer: text, version text, and the option to hide the footer.
Custom content on dashboard homepage: text, images, display/remove existing tabs (e.g. blocks like Welcome, Activity, At a glance, Quick Draft etc).
Login page customization.
Admin menu customization. You can rename/remove items. You can as well remove the icons, the separators, the folding, and the pop-up boxes.
Tons of color options for bars, icons, background, footer, fonts, widgets etc.
Custom code for extra functionality
PROS
It lets you customize basically anything on your dashboard, even add new menu items next to the default ones.
You have a large palette of colors for every element, so you can design the interface beautifully by mixing your favorite tones.
CONS
Almost all the pre-made admin themes it comes with are premium (but the good news is that you can send a request to submit your own theme idea)
THIS PLUGIN IS BEST FOR…
2. White Label CMS
White Label CMS is a simpler version of AG Custom Admin. You can accomplish many of the basic things offered by AG Custom Admin, but not the more advanced ones. Basically, this plugin allows you to hide or display various elements such as boxes, links, icons, menu items and sub-items, and create your own sections and texts.
White Label CMS is quite simple, it has drop-down tabs with options grouped by categories. Compared to the previous tool, there are many custom options that it doesn't provide, but if you don't want a substantial dashboard change it should be enough for you.
White Label CMS is perfect for some cool adjustments and cleanup, together with a subtle touch of your own brand/taste. Though, it's important to mention that it doesn't provide any design settings, so the visual part of your admin panel will remain the same.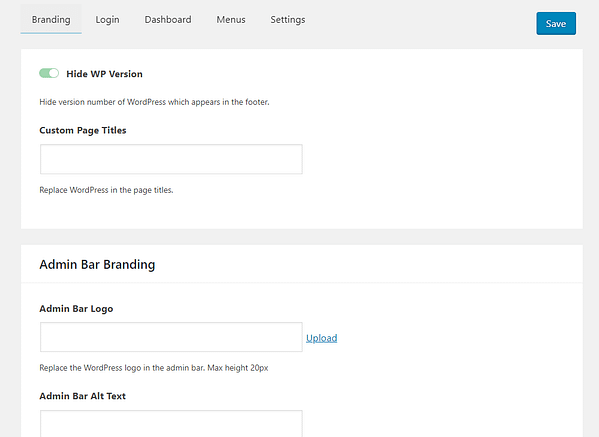 Key features
Four tabs/categories: branding, dashboard panels, admin settings, and modify menus.
Custom code for extra functionality.
Custom logos, menus, footer, and login page.
Unique welcome widget with a custom title and description for every user role.
Adds RSS feeds widget to the dashboard homepage.
Hides meta boxes you don't need, for both post and page sections.
'Reset to default' option.
PROS
Quick and easy to use, you can customize your admin page in just a few minutes (works smoothly).
It lets you add RSS feeds to the dashboard in a separate RSS category.
CONS
Not the largest range of options and settings, but sufficient to change your WordPress dashboard's vibe and look.
THIS PLUGIN IS BEST FOR…
People who want to quickly customize the WordPress dashboard but don't need detailed control or styling options.
3. Custom Login Page Customizer
Unlike the previous two WordPress white label plugins, this plugin focuses specifically on the WordPress login page.
Custom Login Page Customizer uses the real-time WordPress Customizer to help you style your entire login page without needing to know any code. Change colors, backgrounds, form styling, and more.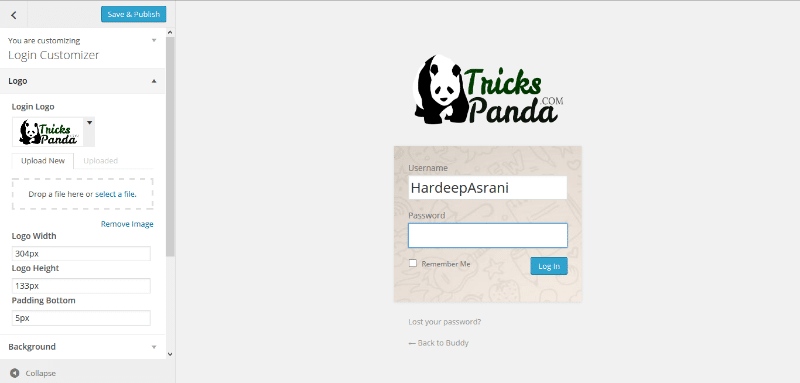 Key features
Real-time customization via Live Customizer.
Custom logo.
Custom main background or image.
Change the login form's background and size, modify the fields, and the text.
Login button styling.
Custom CSS.
Unlimited colors for all the forms and fields.
PROS
It helps you create a unique login screen, well branded and customized.
You can see all the changes in real time via the Live Customizer.
CONS
The plugin was built only for login pages, so you can't customize your whole dashboard with it.
THIS PLUGIN IS BEST FOR…
People who just want to customize the WordPress login page and don't care about the rest of the WordPress dashboard.
4. WP Admin UI Customize
This plugin is a bit more technical in presentation and management than the other ones, so if you're not very familiar with the style, you may have a hard time understanding the plugin. The particularity of this plugin is that it works with shortcodes and your own code snippets.
An interesting thing about the tool is that you can customize admin pages for each user role. For instance, if you want the editors to have certain options available and a specific interface when they log in, you can create a custom appearance for them. If you want a different approach for the subscriber, you're free to do it too.
The main feature of this plugin is that it focuses mostly on the structure of your menus and sidebars, and not on the actual styling of your dashboard.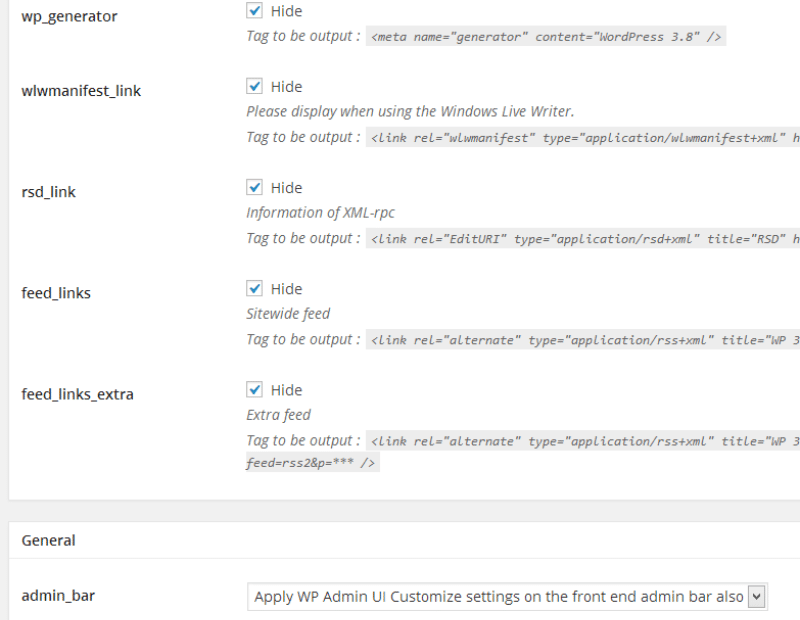 Key features
Custom interfaces by user roles – allow, add, or restrict certain rights.
Hide updates, sections, items.
Edit the admin bar, the menus, and sub-menus.
Broad login screen customization.
Reset all the options for all the user roles by switching to default.
PROS
It lets you create dashboard customization variations by user roles.
It takes care of many details, letting you personalize your dashboard to a fairly large extent.
CONS
It is pretty technical; the overall interface and presentation can be confusing.
It doesn't come with color schemes for your admin's page design.
THIS PLUGIN IS BEST FOR…
People who want to change the menu and sidebar options offered to each specific user role. Remember that this one is a bit less user friendly than the other WordPress white label plugins, though.
5. Blue Admin
At its core, Blue Admin is a plugin that changes the skin used by your dashboard. That means, by default, it doesn't change functionality – just appearances, which is a pretty big shift from many of the previous WordPress white label plugins.
If you want to change functionality, though, the plugin also includes three free add-ons that let you make changes to your admin toolbar, login page, and user more color schemes.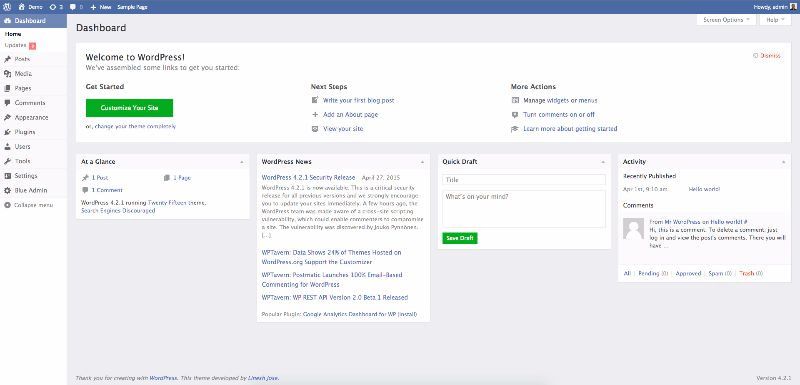 Key features
Three free add-ons: Admin Bar Menu, Login Page, and Color Schemes.
Creates an admin bar menu just like a normal menu (after the activation of the add-on).
Custom login page – the background, the foreground, and the logo of the login box.
Free and premium color schemes – color variations and combinations.
PROS
It comes with three easy to use add-ons that add new helpful functionality
It doesn't require much manual input to get dramatic results
CONS
No advanced settings, such as changing the menus, the content, or modifying the default WordPress dashboard architecture.
THIS PLUGIN IS BEST FOR…
People who are mainly concerned with changing the appearance of the WordPress dashboard (but also wouldn't mind being able to change the Admin Toolbar and login page).
6. Slate Admin Theme
Just like Blue Admin, this one changes your dashboard's appearance right upon activation. Not only the colors change, but also the design, which offers a more modern and simplified version of the current WordPress look. There are no settings or customizations here. You either like the design or you don't.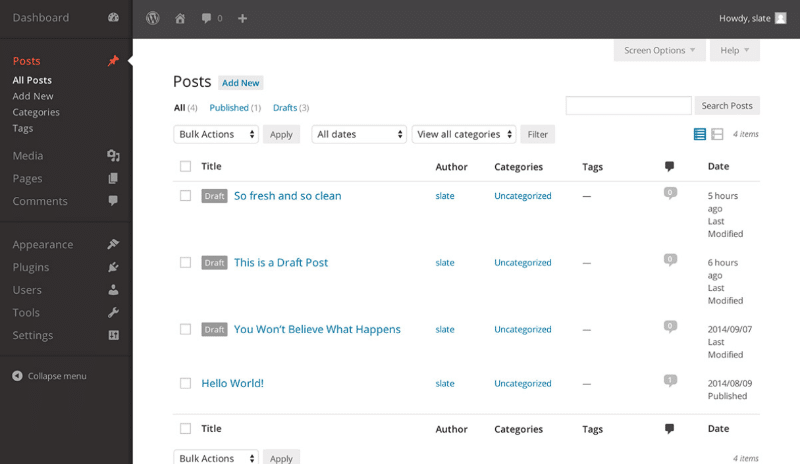 Key features
No customization required at all.
Lightweight and simple functionality.
PROS
Change the dashboard's design instantly without doing any customization.
Lightweight and simple.
CONS
No options or settings – WYSIATI (what you see is all there is).
You only get a single color scheme and a single design.
THIS PLUGIN IS BEST FOR…
People who just want to change the WordPress dashboard's appearance and like the style offered by Slate Admin Theme.
Summary
After analyzing these six WordPress white label plugins more in-depth, let's recap what makes each one unique:
So this is our take on customizing your site's back-end. Which of these plugins sounds more appealing to you? Also, if you're using nice WordPress white label plugins other than the ones we featured in this post, we would love to hear about them, so feel free to share your recommendations with us.
Free guide
5 Essential Tips to Speed Up
Your WordPress Site
Reduce your loading time by even 50-80%
just by following simple tips.