The WordPress community is large and constantly evolving. Developers are always tweaking and improving plugins and themes, pushing out security updates, and adding features and bug fixes all of the time. With so much going on, you might be thinking about keeping up with the latest breaking news by signing up for one of the many WordPress newsletters.
The simple solution would be to sign up for the very best, and forgo all others. Many WordPress newsletters provide valuable, up-to-date information about the community, although because each newsletter provides something different, signing up to a few is a good idea. In addition, you'll want to focus those promoting original content, rather than simply rehashing articles that you could otherwise view on their blogs.
This post will discuss some of the most informative WordPress newsletters, including their parent websites, the kind of material they report, and how to sign up for them. Let's get to it!
The below newsletters aren't presented in any particular order, so take a look at each one in turn to see how it suits your needs!

The MasterWP newsletter is perfect for WordPress professionals. It includes a number of quality articles each week for those who enjoy honest discussions on issues involving WordPress, both technical and social. It features apps and tools to improve your WordPress experience and links to further content. Furthermore, their goal is to inform and provoke thought – as such, they do not include ads or affiliate links.
You can sign up for the MasterWP newsletter on their website. From there, you'll receive it every Wednesday. In addition, you can view some of their most popular editions to get a feel for its content.

The WP Wednesday is a newsletter geared toward WordPress business owners. More specifically, their target audience is freelancers and other related professionals. Although some of the content is curated from the WP Elevation blog and podcast, their newsletter also includes exclusive content you won't find anywhere else.
This newsletter will keep you up to date on themes, plugins, and other tools. In addition, they often have how-to guides and tips for business owners. You'll also receive links to live shows and webinars on a variety of topics.
You can sign up for the WP Wednesday newsletter on the WP Elevation website. You'll then be sent a weekly roundup of blog posts and other content straight to your inbox.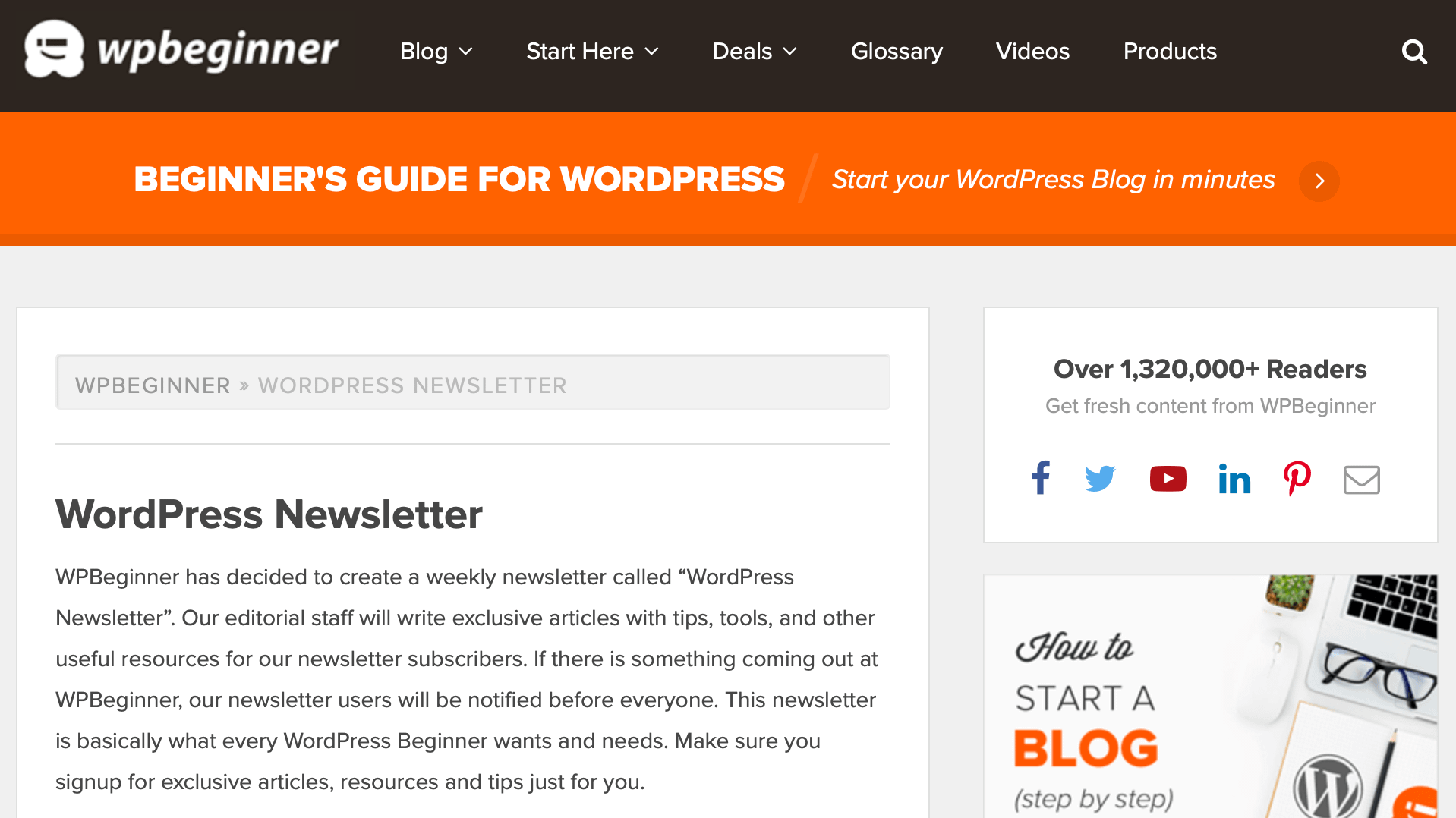 The WPBeginner newsletter is (unsurprisingly) aimed at beginners. Subscribers will find a wealth of exclusive content delivered to their inbox each week. It contains tips, tools, and resources to help you learn all about WordPress.
Plus, this newsletter will notify you of new blog content as it's published on the WPBeginner website. You'll learn about starting a blog, site performance, security, search engine optimization (SEO), and much more. Some of the more common articles on how to fix WordPress errors are well-received and are one of many 'go-to' reference pieces to keep handy.
The WPBeginner newsletter signup form is available on their website. It's a great way to receive content tailored to the beginner and intermediate WordPress topics, written exclusively by their editorial staff.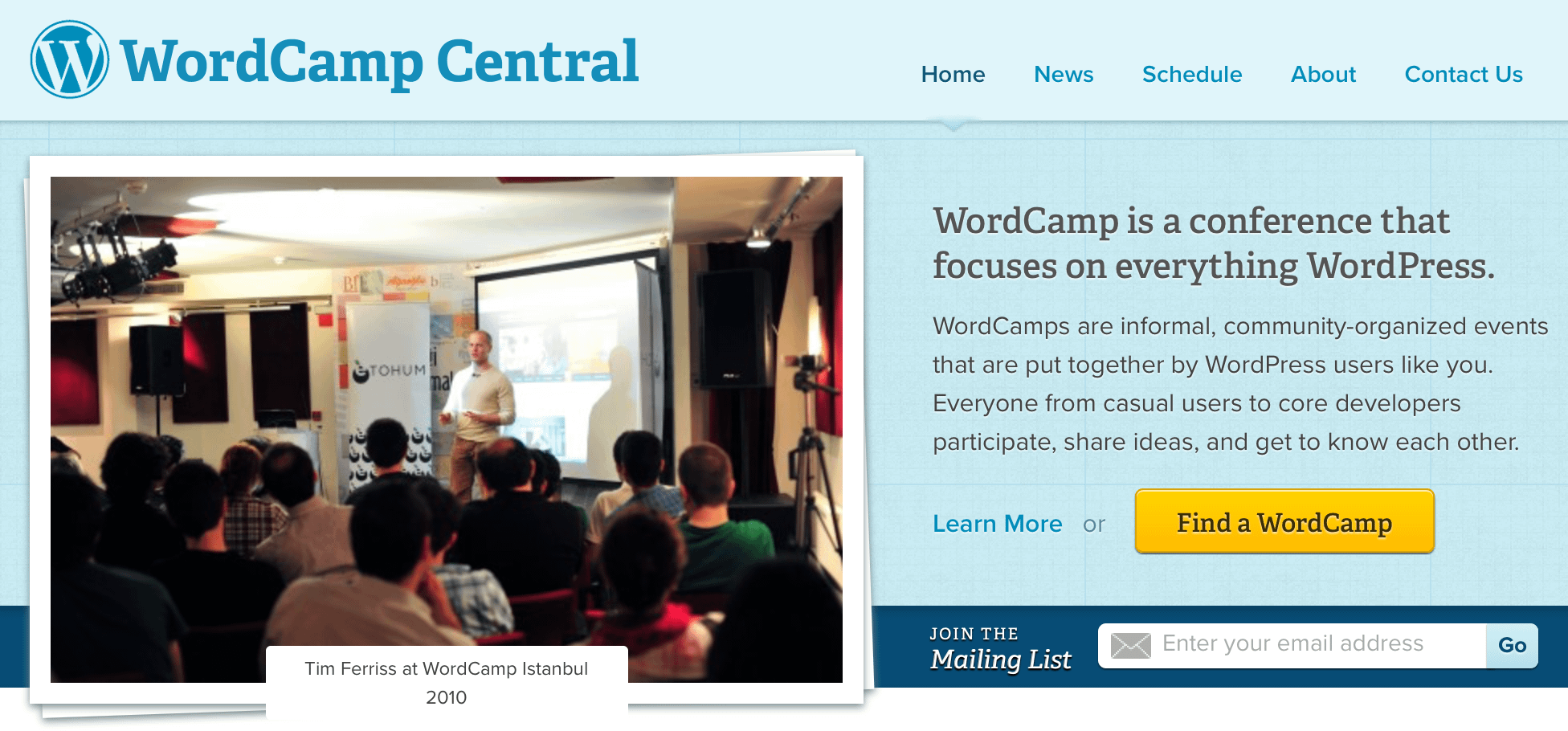 This newsletter revolves around WordCamp conferences. It's a great way to stay informed on these popular events and find out if there is going to be one in your area. In addition, it features various WordPress-related content, often written by those directly involved in the events from all over the world.
WordCamp events include things such as hands-on workshops, discussions, and guides, and their newsletter often has write-ups of these. Furthermore, it reports on events and other WordCamp happenings.
To sign up for WordCamp News, simply head on over to their website. You'll receive periodic news, reminders of upcoming events, and informative articles from WordPress users.

The CodeinWP Weekly Newsletter provides a comprehensive look at everything WordPress. Delivered weekly, it is for freelancers, web designers, business owners, developers, and anyone interested in WordPress.
You'll receive up-to-date news about the WordPress community, as well as reviews and comparisons of plugins and themes. Much of its content is exclusive to the newsletter and not found on the blog itself. Additionally, it includes links to valuable WordPress resources. It's a great way to stay informed and to grow your WordPress knowledge.
To sign up for the CodeinWP Weekly Newsletter, visit the website. For all-inclusive news, tips, and other articles, this newsletter is not one to miss!

WordCandy Weekly is a newsletter focused on recent WordPress developments relating to the core software and efforts to evolve WordPress. It will keep you informed on updates, new releases, and bug fixes. It is a wonderful way to stay apprised of everything you need to know in the WordPress world, especially if you're a developer.
This newsletter is perfect for busy professionals as it quickly provides a summary of the most important news and information. It comes out every Monday at 9 am EST, and doesn't contain ads, affiliate links, or any other form of monetization.
In short, the WordCandy Weekly is going to be ideal for busy developers who need the most pertinent news, without hidden agendas or attempts to part you from your cash.
Finally, we'd be remiss not to mention ThemeIsle's own newsletter! It's the best way to ensure you don't miss any new blog posts and is packed with resources, reviews, and tutorials.
When you sign up, you'll also receive a free guide – we're currently giving away five tips on keeping your WordPress website super speedy. Of course, we think the newsletter is essential, but encourage you to find out for yourself.
You can sign up for the Themeisle newsletter via the form at the end of this post.
Conclusion
Whether you are a beginner or a seasoned professional, WordPress newsletters can keep you knowledgeable and up-to-date on everything related to the world's most popular content management system (CMS).
Each newsletter delivers news, updates, and other content directly to your inbox, every week. For those with busy schedules, letting the news come to you is a no-brainer.
In this piece, we've discussed six quality WordPress newsletters and how to sign up for them. Let's quickly recap them:
Do you have any questions about any of these newsletters or would like to suggest one we missed? Let us know in the comments section below!
And if you want to sign up for the Themeisle WordPress newsletter, click the button below, enter your email, and download your free WordPress performance guide:
Free guide
5 Essential Tips to Speed Up
Your WordPress Site
Reduce your loading time by even 50-80%
just by following simple tips.