Looking for VaultPress alternatives to automatically back up your WordPress site with more flexibility and/or a lower cost?
While VaultPress is a popular option that many users like, it's by no means the only quality offering when it comes to WordPress backup solutions.
In this post, we'll discuss six VaultPress alternatives for managing backups on your WordPress website. We'll explain how they work, present their key features, and discuss what makes them stand out from the rest. Let's get to it!
Why VaultPress may not be right for your website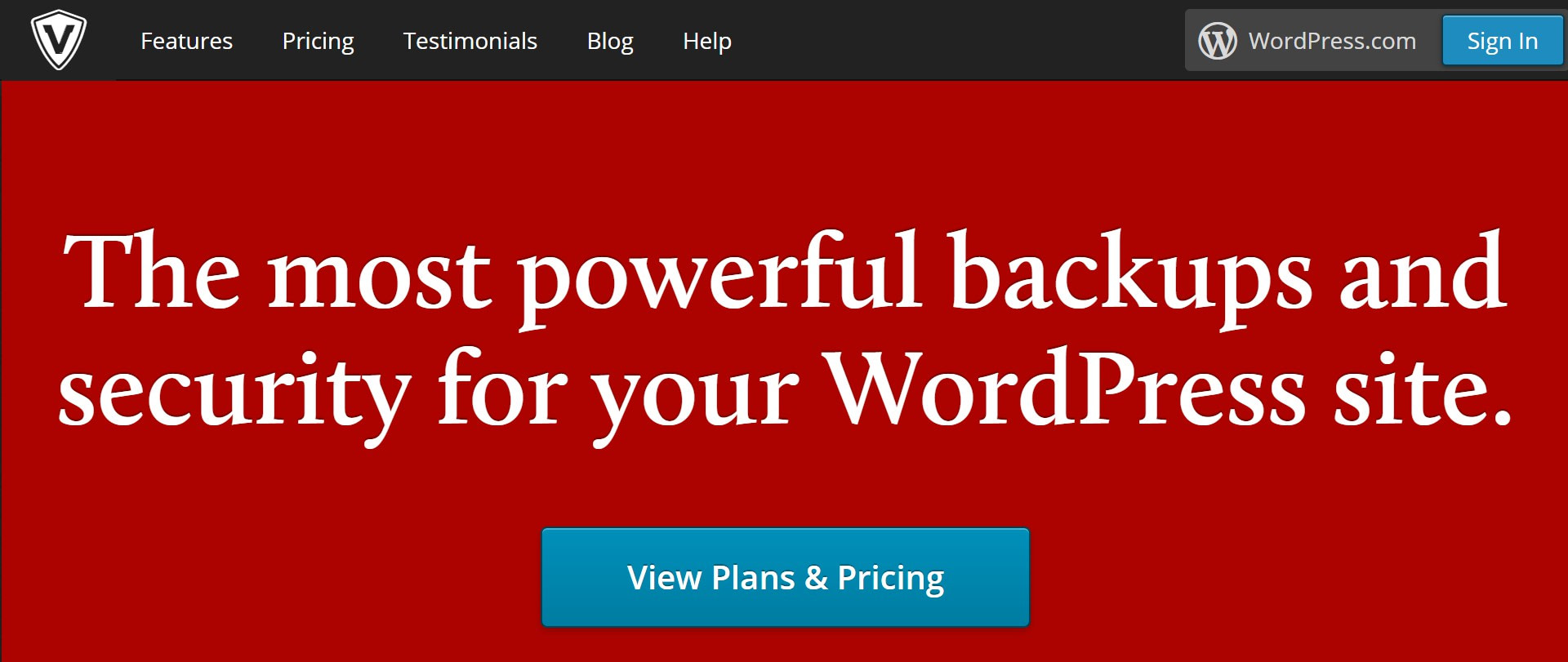 If your site has ever been hacked or experienced a crash, you'll understand how important a backup of your website is. For many, VaultPress has been the go-to plugin to handle this issue as it's known for both excellent service and a near-perfect backup rate.
However, this doesn't mean it's the right option for your website. For starters, while it used to be a stand-alone service, VaultPress is now a part of Jetpack's suite of tools. As such, you'll need a subscription to use VaultPress. For some, this is not an issue as Jetpack offers a number of powerful features, such as performance enhancements and social media sharing. However, if you prefer a more simple solution for automating backups, you'll likely want to look for a standalone plugin.
Another factor to consider is pricing. For instance, VaultPress provides automated, real-time cloud backups for $3.50 per month, but these plans only store your backup for 30 days. If you want an unlimited backup archive, you'll need to upgrade to a higher plan that will cost you $29 per month per website.
VaultPress/Jetpack also doesn't offer discounted prices for multiple sites like many other WordPress plugins – you pay the exact same rate for every site you use. So if you want to use VaultPress on multiple WordPress sites, that cost can add up fast.
Six VaultPress alternatives for managing backups on your WordPress website
The good news is that VaultPress is not the only fish in the sea. Below you will find six VaultPress alternatives for managing your backups. For each plugin, we'll outline its features and offer a reason why you may wish to choose it over VaultPress. Let's jump right in!
UpdraftPlus is one of the most popular free backup plugins available for WordPress websites. You can store backups locally or via the cloud using services such as Dropbox or OneDrive. In addition, you can schedule backups or run them manually. Plus, you can easily restore backups directly from the WordPress back end.
Let's look quickly at some of its key features:
You can choose to run manual or automated updates (even with the free version).
Backups can be stored on a separate server to your site.
Customization is simple and easy.
The premium version enables you to migrate or clone your website, send backups to multiple remote storage locations, contact personal support, and more.
Although the free version can handle automated and manual backups, there are plenty more additional features in the UpdraftPlus Premium Personal plan, which starts at $70 per year. However, the free version is going to be more than adequate for most sites.
Overall, the free version of UpdraftPlus comes with a lot of functionality and has over 2,900 five-star reviews. This makes it an ideal VaultPress alternative for many.
BlogVault is another VaultPress alternative that's worth your attention. It offers the most one-to-one alternative to VaultPress, with a very similar approach to backups, as well as advanced features like built-in staging sites.
It automatically backs up your site to external cloud storage, and you can manage all of your backups from the BlogVault cloud dashboard (including backups from multiple WordPress sites). You can also integrate it with MalCare (from the same developer) if you want to add off-site malware scanning, like VaultPress offers.
Secure off-site storage on Amazon S3 servers, as well as an option to use Dropbox.
Manage backups for multiple sites from one dashboard.
Real-time backups for WooCommerce stores.
Migrate your site from one host to another.
Built-in staging site functionality.
Option to run off-site malware scans if you integrate with the MalCare plugin from the same developer.
While there's a free version of the plugin on WordPress.org, it's merely a trial of the premium version. The paid version starts at $7.40 per month for a single site. But, unlike VaultPress, you'll get a discount if you use it on multiple sites. For example, the 5 sites plan costs $16.58 per month (which is just $3.32 per site).

BackupBuddy is a premium plugin with a lot of useful features that enables you to easily schedule your backups. It's known for its top-notch support team, and the developers offer a number of solutions for securing your WordPress website further.
Let's take a look at some of its features:
You can schedule daily, weekly, or monthly backups.
There are options to customize how you restore your backups when needed.
Email backup notifications are sent to your inbox.
You have the option to download the zipped backup file to your computer.
There are also migration options, which makes it easy to change your host or domain name.
As for pricing, you'll look to pay around $80 per year for one site. However, you can back up an unlimited number of sites for $199 per year. Overall, BackupBuddy is a powerful solution, and if you're looking for great support alongside a quality plugin, you'll be impressed!
The BoldGrid Backup plugin is a solution bundled with the BoldGrid page builder plugin (although you can also download it from the WordPress Plugin Directory). It enables you to easily create website backups and restore your site in the event of irreversible damage.
Of course, if you're using the BoldGrid page builder, this solution would likely be a no-brainer, as you'll be using solutions developed 'under one roof.' However, we'd argue that there are more suitable options, not to mention more flexibility, if you're not a BoldGrid user.
Here's a rundown of some key features of this plugin:
You're given the option of automated and manual backups.
The plugin automatically creates a backup of your website before major updates.
It monitors your site for issues and sends you email alerts.
Your website can be migrated or cloned using the plugin.
While BoldGrid Backup is free, there's also a premium version starting at $60 per year. However, this also includes a suite of other tools and services. If you're already thinking about moving away from VaultPress and Jetpack, this may not appeal to you.
Next up on our list of VaultPress alternatives is BackWPup. It provides a full backup to either a server of your choice or a number of cloud services. You can also restore your website from a ZIP file easily and quickly.
We like the large number of services you can target, and how flexible the backup location is. Compared to other free solutions, the range of locations to save your backups is arguably the best on offer.
Here are some of BackWPup's key features:
You can schedule backups (even with the free version).
There are a large number of target backup locations.
The plugin includes a database check and repair feature.
The free version can handle regular backups of your website, but for world-class support and daily backups, you'll need to pick up the premium version. This will cost you $69 for the first year, and a $39 renewal per year for one site. For up to 100 websites, you'll pay $349 per year.
Finally, Duplicator is a plugin that focuses primarily on its migration features, although it's also a feature-packed backup plugin too. It enables you to move, clone, or migrate your WordPress website without any practical downtime.
Because it's mainly a migration plugin, some features you expect out of a backup solution aren't available out of the box. For example, scheduling is missing, as are cloud storage options (more of which later.) This makes Duplicator not as easy to slot into your workflow as VaultPress and its other alternatives.
Its key features include the following:
The ability to move, migrate, or clone a website.
You're able to create site bundles, containing your site, database, and assets.
You can use a bundled site as many times as you'd like (create a template with a pre-configured theme, plugins, setting, etc.).
For scheduled backups, cloud storage to a number of popular services, email backup notifications, and additional support, you should consider the premium version. It starts at $59 per year for three websites and goes up to $129 per year for unlimited site licenses.
Conclusion
Backups are a crucial part of managing a successful website, and as such, there are myriad options at your disposal. The solution you choose will depend on your needs and the features you value most. Lots of site owners use VaultPress based on its pedigree, price, support, and ease of use – and it's hard to argue with its quality.
However, there are a number of VaultPress alternatives worth considering. This piece has featured six. Let's quickly review them:
Do you have any questions about these VaultPress alternatives? Ask away in the comments section below!
Free guide
5 Essential Tips to Speed Up
Your WordPress Site
Reduce your loading time by even 50-80%
just by following simple tips.