Searching for the best Magento hosting providers for your online store?
Though most hosts can meet Magento's basic hosting requirements, Magento stores have unique needs as compared to other websites, especially if your store has a lot of products and/or a lot of shoppers.
For that reason, it's important to pick a host that goes beyond the bare minimum Magento hosting requirements and creates a platform that can help your Magento store load quickly and reliably.
In this post, we've collected six of the best Magento hosting providers, including options for serious stores that can pay hundreds of dollars per month as well as cheap options for small stores or people just getting started with Magento.
Let's dig in…
Best Magento hosting providers compared
If you're in a rush, here's a quick comparison of these six hosting providers, showcasing what type of user they're a good fit for and whether they offer Magento-only plans or just include some special Magento features on generic hosting plans.
Keep reading to get more detail about each host.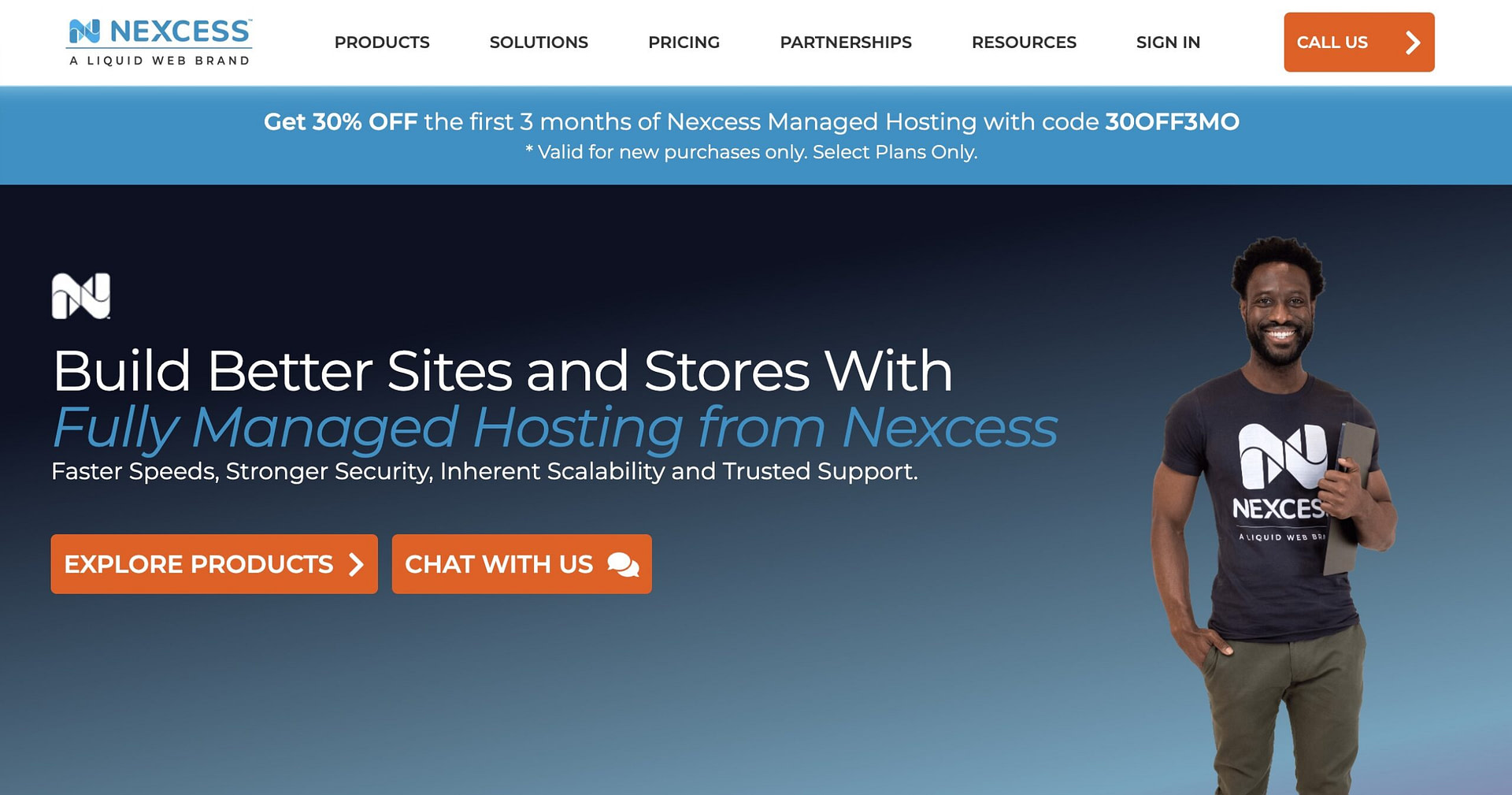 If you want high-quality, managed Magento hosting, Liquid Web is one of the top options as it offers dedicated Magento hosting via its Nexcess subsidiary. Liquid Web advertises the hosting on both its own website as well as the Nexcess website – it's the same plan either way, though.
Many hosts offer Magento-ready hosting but don't build in much in the way of unique Magento features. Liquid Web does though with features like Nexcess Magento 1 Safe Harbor which lets you keep securely using Magento 1 even though it reached its end of life in mid-2020.
All in all, if you're willing to invest in high-quality managed Magento hosting, Liquid Web/Nexcess are one of your best options.
⚙️ Features:
Cloud hosting, with dedicated vCPUs and RAM on higher-tier plans.
Auto-scaling technology to automatically respond to traffic spikes without slowing down your store.
Built-in content delivery network (CDN).
Automatic nightly backups.
Containers available to easily implement Elasticsearch (product search), Solr (product search), Varnish (caching), or RabbitMQ (messaging).
Proactive security rules, like proactive Magento security patches, nightly malware monitoring, and more.
Magento 1 extended security to keep using Magento 1 even though it reached its end of life.
24/7/365 support via phone, chat, or email, including support staff with Magento expertise.
PWA-ready (Progressive Web App) to deploy a PWA version of your store for mobile visitors.
Staging sites.
💵 Pricing:
Liquid Web's managed Magento hosting plans start at $34.30 per month, which Liquid Web recommends for stores with 20 concurrent visitors (concurrent visitors refers to visitors that are actively browsing your site and clicking on links).
The cheapest plans with dedicated vCPUs and RAM start at $209.30 per month: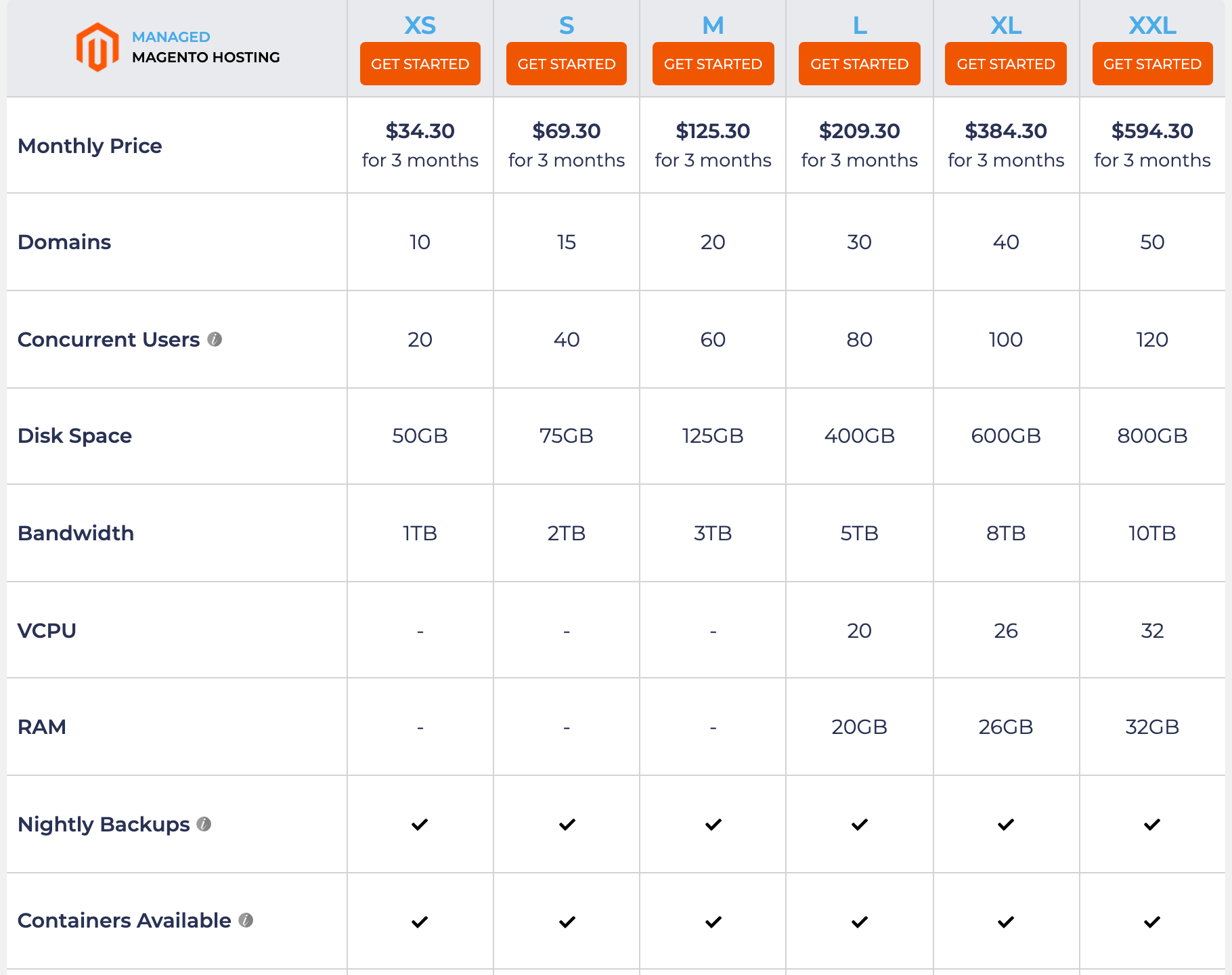 For more advanced users, Liquid Web and Nexcess also offer Magento bare metal hosting (from $540/month) and Magento managed clusters (from $1,500/month), though these products are a lot pricier than the managed Magento cloud hosting.
A2 Hosting is a popular budget web host that advertises Magento hosting plans. However, these plans are really just the higher-tier of A2 Hosting's shared hosting plans, which offer better performance thanks to LiteSpeed Web Server.
Still, for smaller Magento stores, higher-end shared hosting might still do the trick, and the fact that A2 Hosting's Turbo servers use LiteSpeed Web Server instead of Apache means you'll experience better performance than run-of-the-mill shared hosting.
⚙️ Features:
Shared hosting powered by LiteSpeed Web Server.
Automatic daily backups.
Unlimited SSD storage.
cPanel.
24/7/365 support via live chat, phone, or email.
Staging sites.
Unlimited email accounts.
💵 Pricing:
A2 Hosting advertises two Magento hosting plans:
Turbo Boost – from $9.99/month with promotional pricing (your first billing cycle) or $20.99 with regular pricing.
Turbo Max – from $14.99/month with promotional pricing (your first billing cycle) or $25.99 with regular pricing.
You could technically still install Magento on the cheaper shared hosting plans (even though A2 Hosting doesn't advertise it), but you'd really be pushing the limits of their performance for any serious store.
You can learn more in our full A2 Hosting review.
Cloudways offers a unique approach to Magento hosting. Instead of providing its own hosting infrastructure, Cloudways lets you choose your preferred cloud hosting from services such as DigitalOcean, Vultr, Linode, Google Cloud, and AWS.
Once you choose your provider and the resources of the cloud VPS that you want to use, Cloudways will handle setting everything up and securing it so that you can safely run a Magento site, including dedicated installers for Magento 1 and Magento 2.
This approach lets you achieve surprisingly good performance for a low price. However, it does add a little bit of complexity to the process, so we don't recommend this approach for casual users.
⚙️ Features:
Choose cloud hosting from DigitalOcean, Vultr, Linode, Google Cloud, or AWS.
Magento 1 and Magento 2 installers.
Full-page caching solution for Magento 1.x stores, along with other caching options like Varnish, Memcached, and Redis.
Free SSL certificates.
Easy staging sites.
Automatic backups.
CDN add-on to easily serve your store's content via a global CDN.
Proactive firewalls to protect your Magento store from threats.
24/7/365 support via live chat or ticket.
One-click vertical scaling. Easily add resources to your store's server as it grows without needing to migrate.
💵 Pricing:
What you'll pay for Cloudways depends on the underlying cloud VPS that you choose. Prices vary based on the provider (e.g. DigitalOcean vs Google Cloud) as well as the actual resources of your server.
While Cloudways' cheapest plan is a $10 DigitalOcean plan, Cloudways recommends at least 2 GB of RAM for Magento stores (because 1 GB of RAM is too little for any serious store).
The cheapest plan with 2 GB of RAM is the second-tier DigitalOcean plan, which costs $22 per month for:
2 GB RAM
1 CPU core
50 GB storage
2 TB bandwidth
You can learn more in our full Cloudways review.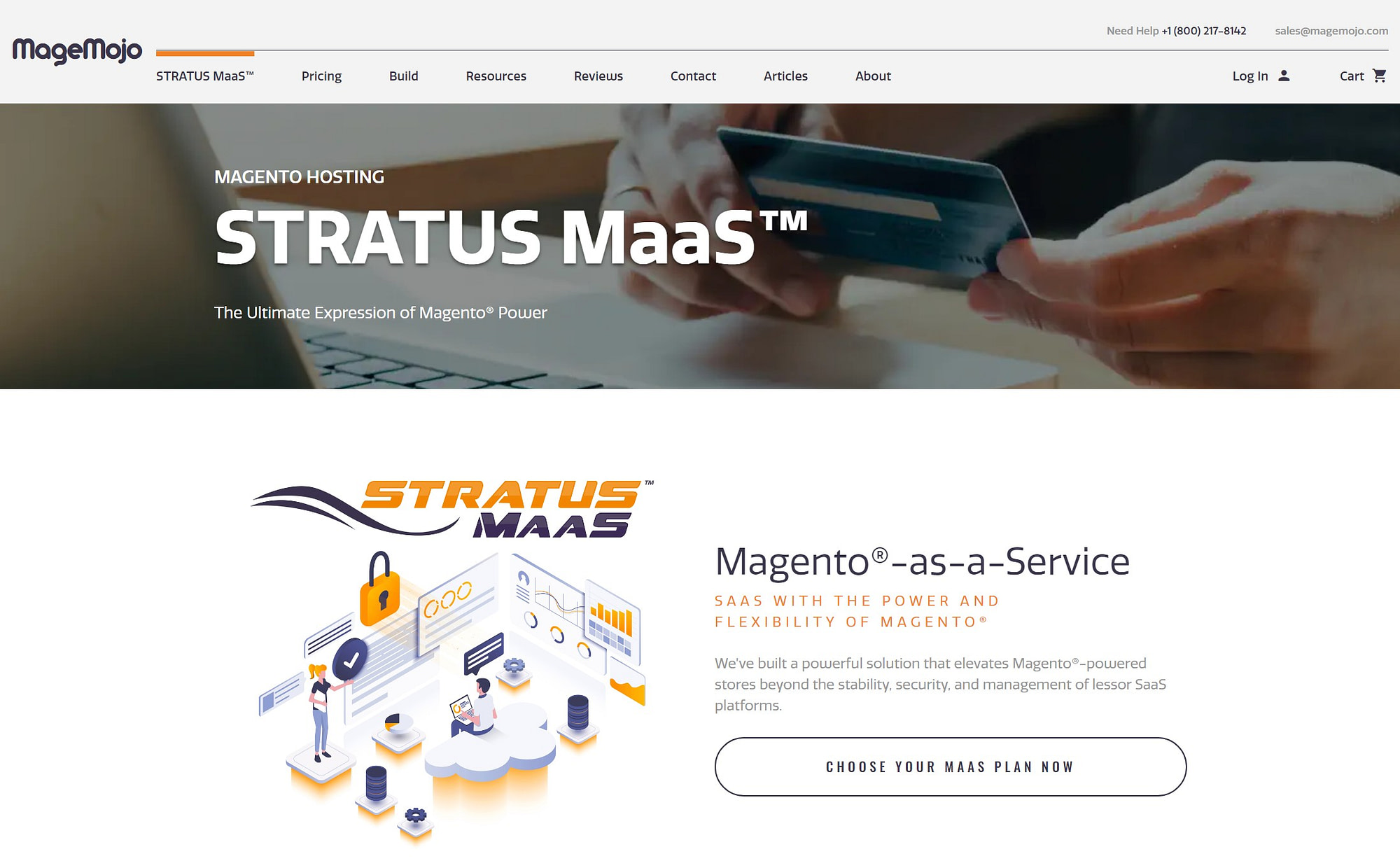 As the name suggests, MageMojo is 100% focused on hosting Magento stores – it's all that they do. MageMojo offers what it calls "Magento as a Service" (MaaS) hosting powered by the cloud.
Instead of trying to guess what amount of resources your store needs, MageMojo offers automatic scaling and bills you based on your store's traffic (much like managed WordPress hosting, if you're familiar with that product). If you want a hands-off solution where you don't have to think about whether your store needs 8 GB of RAM or 16 GB of RAM, this approach might be just what you're looking for.
⚙️ Features:
100% dedicated to Magento – "Magento as a Service".
Automatic scaling so your store always loads fast (vertically and horizontally).
Powered by AWS resources (EC2), including bundled Amazon CloudFront CDN and Amazon Simple Email Service (SES) for transactional emails.
Magento-specific firewall and malware scanning to protect your store.
Automatic hourly backups.
Support for progressive web apps.
Staging sites.
Allows WordPress installs if you want to use WordPress for your store's blog.
24/7 support with 60-minute or 15-minute response times depending on your plan.
💵 Pricing:
MageMojo's plans start at $98 per month for up to 2,500 visitor sessions and 25 GB of storage. Higher-tier plans offer more resources and faster support response times.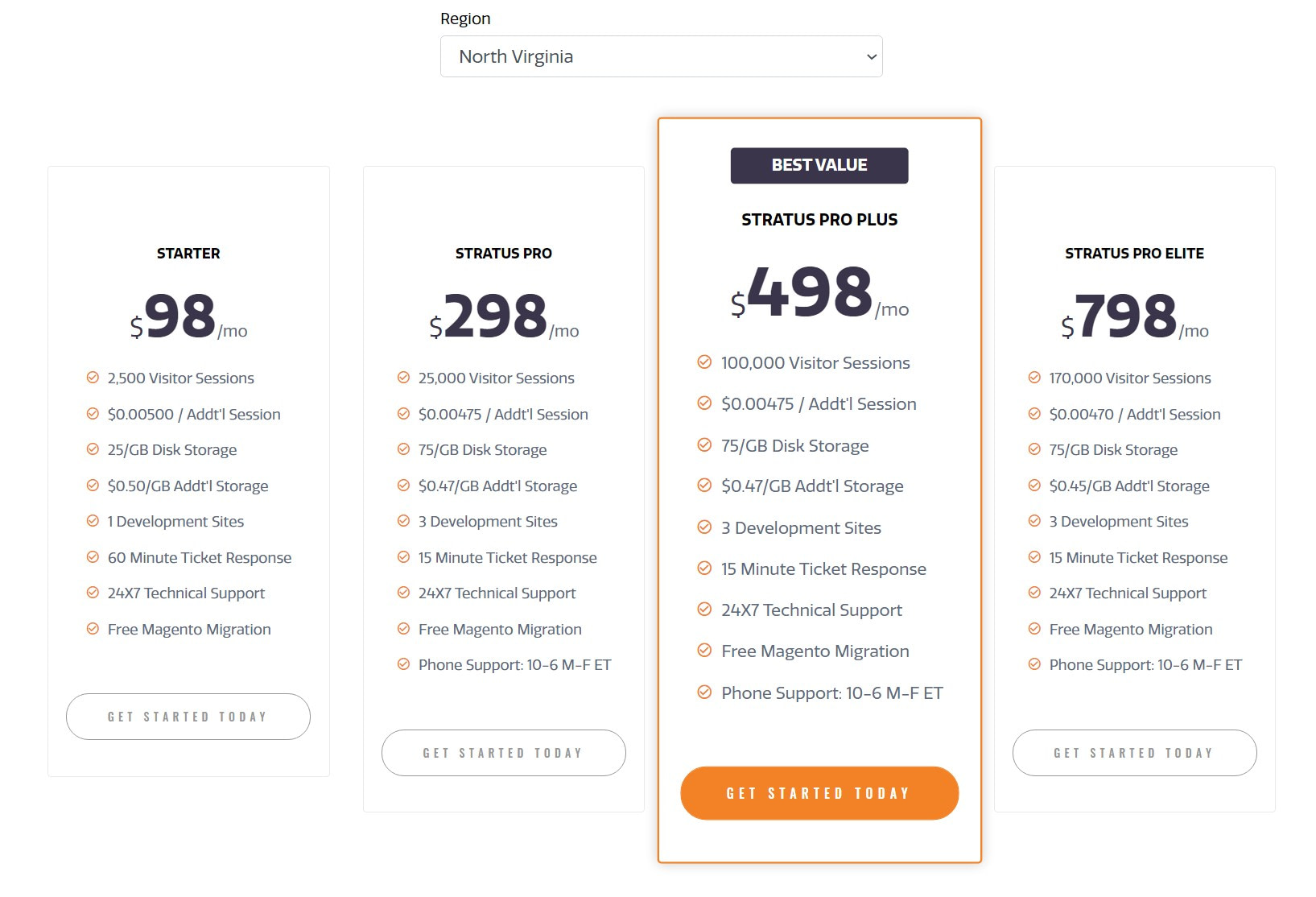 To estimate your store's costs, MageMojo lets you connect your Google Analytics account to see exactly what you would've paid based on your store's actual usage.
Krystal offers excellent Magento hosting for the UK and Europe. Krystal is based in the UK, with its pricing in Pounds, which means it's not a good option for North American Magento stores (or elsewhere). But if you're in the UK or Europe, you should definitely give it a look.
Krystal's Magento plans are the same as their regular shared hosting plans, but Krystal only recommends using Magento on the higher-tier plans. These plans use LiteSpeed Server and include Magento-specific optimizations like using the LiteMage module for Magento-optimized caching.
Krystal specifically advertises its plans as Magento 2 web hosting, though there's nothing preventing you from using it as Magento 1 hosting.
⚙️ Features:
LiteSpeed Web Server, along with LiteMage for a dedicated Magento caching solution.
Automatic backups every four hours.
cPanel.
PCI-DSS compliance.
Free SSL certificates.
Unlimited bandwidth.
Proactive security features – firewalls, real-time malicious file scanning, and weekly full security scans.
24/7 UK-based support via live chat, ticket, email, or phone.
Unlimited email accounts.
💵 Pricing:
Krystal only recommends hosting Magento on its Sapphire plan and up. These plans start at £29.99 per month with month-to-month billing and go up from there. You can save some money if you pay annually or triennially.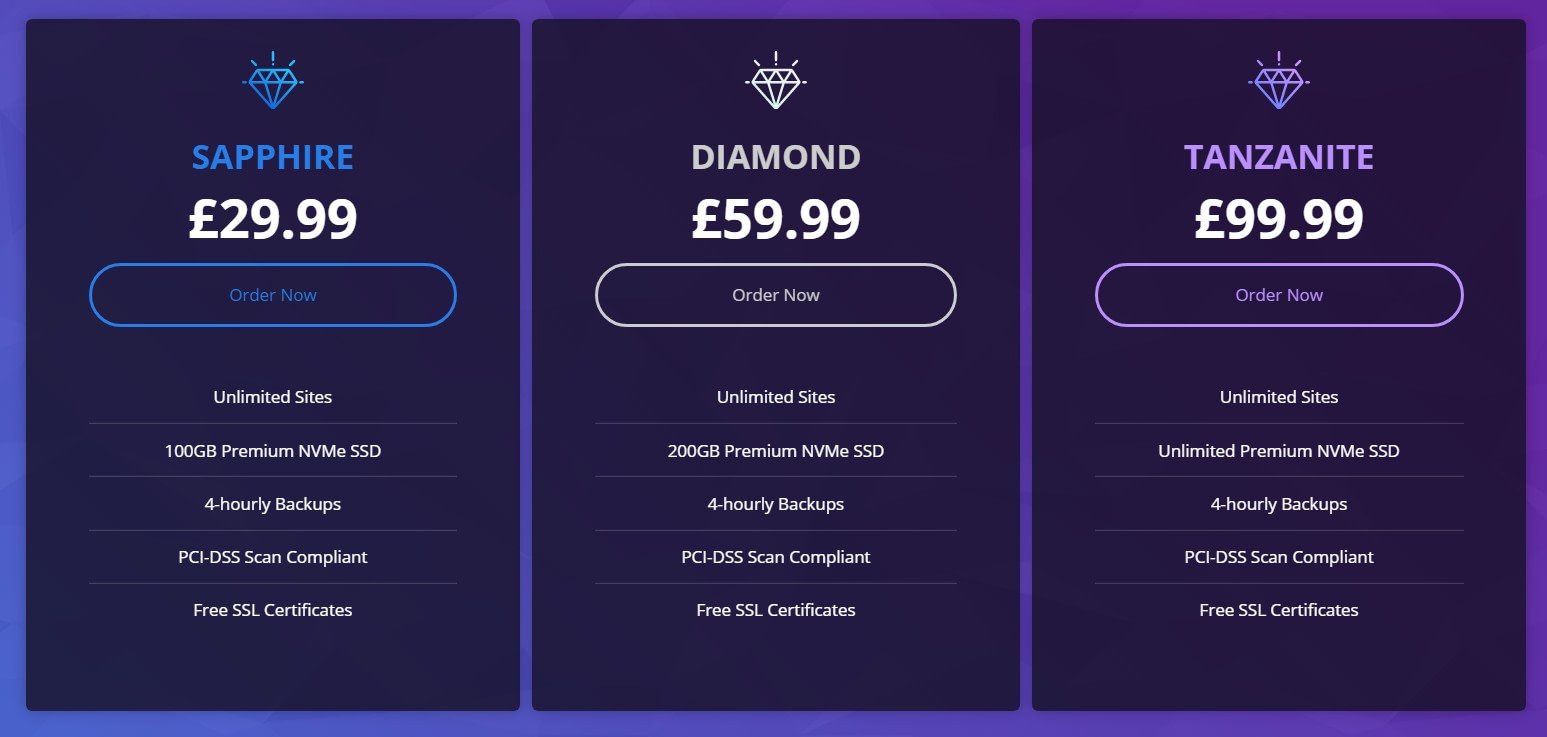 You'll also get a free domain name for the life of your plan, which is pretty generous.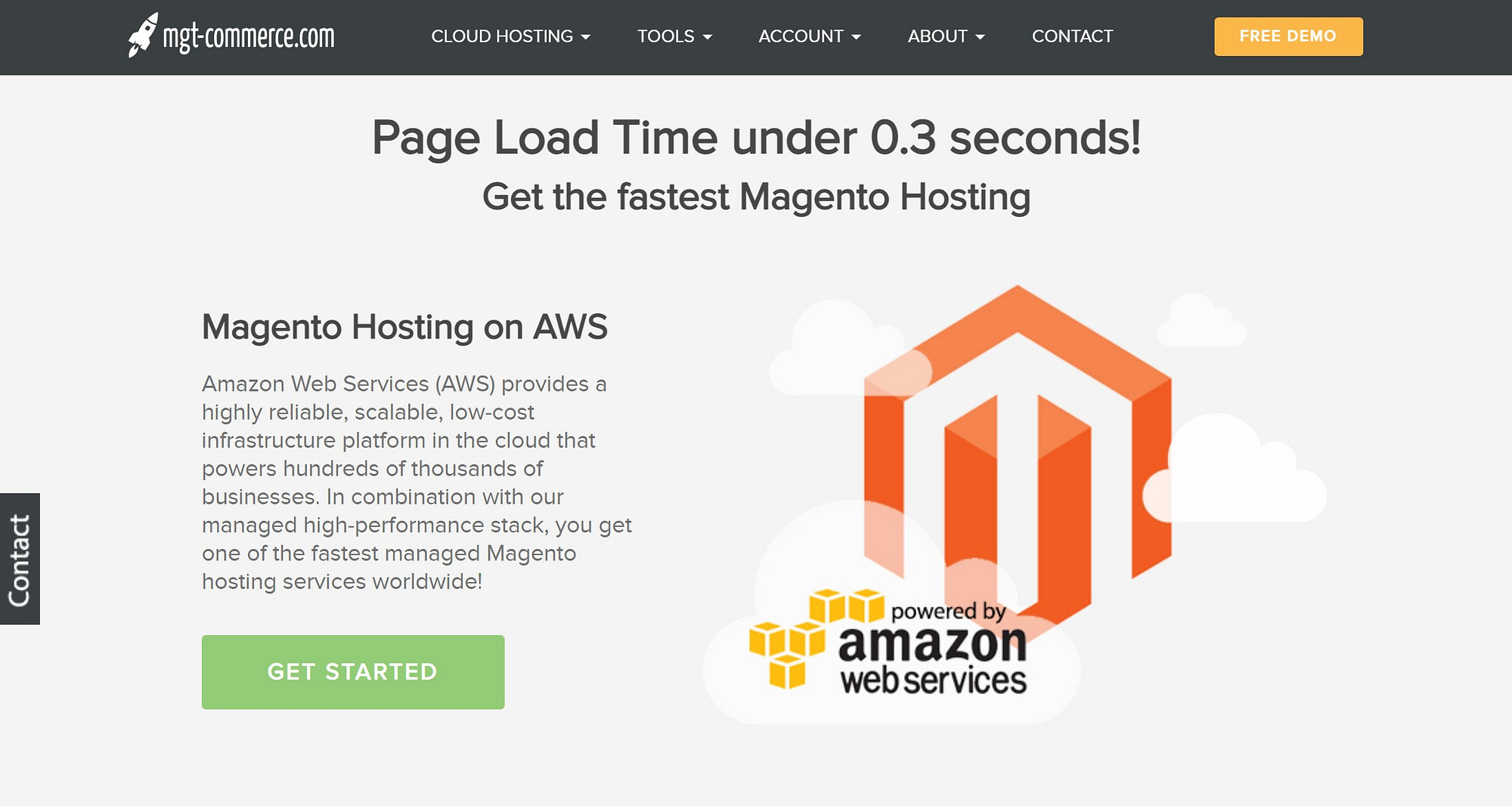 MGT-Commerce is another hosting service that's 100% dedicated to Magento stores. It helps you host Magento stores in the cloud using infrastructure from AWS.
Though MGT-Commerce itself is located in the EU, you can choose from any AWS data center, which includes data centers on every single continent.
You can also choose between different types of servers including single server, multi-server, or auto-scaling environments.
⚙️ Features:
100% dedicated to Magento hosting.
Powered by AWS infrastructure, with data center options on every continent.
Offers single server, multi-server, and auto-scaling
Hourly backups.
Add-ons for Magento-optimized Varnish caching and firewalls.
Managed code deploy add-on for zero-downtime deployments.
Staging sites.
CDN powered by Amazon CloudFront.
Automatic security patches.
24/7/365 support via ticket.
99.95% uptime guarantee.
💵 Pricing:
What you'll pay for MGT-Commerce depends on the environment and resources that you need. In general, the cheapest option is a single server for €99 per month, though you'll need to upgrade for more advanced features like Varnish caching and staging sites.
MGT-Commerce also offers free migrations on all of its plans.
How to choose from the best Magento hosting providers
Overall, the best Magento hosting provider really depends on your store's needs and your budget.
If you have a small Magento store without much traffic, shared hosting might do the trick.
But if you have a higher-traffic store, you'll almost certainly want to upgrade to some type of cloud hosting or dedicated Magento solution.
Overall, serious store owners will want to invest in a dedicated Magento hosting solution such as:
They aren't as cheap as some of the other providers, but the investment is worth it for serious store owners.
On the other hand, if you're just getting started with your store and on a tight budget, you might want to start off with shared or budget hosting until you start growing. In that case, you'll want to check out:
A2 Hosting as a good budget option.
Krystal if you're in the UK.
Cloudways if you're an advanced user (it's not shared hosting, but it can be quite affordable).
And if you're still on the fence about Magento in the first place, you can browse our roundup of the best eCommerce platforms to see some other options.
Still have any questions about picking between the best Magento hosting providers? Let us know in the comments!
Free guide
5 Essential Tips to Speed Up
Your WordPress Site
Reduce your loading time by even 50-80%
just by following simple tips.