Podcasts are a great way to make money online, share your expertise, network with professionals in your industry, and market your work. It takes only a decent headset to get started. You can use one of the best free podcast hosting services and start your show without spending a dollar.
Let's dive right into it!
Why you need podcast hosting
You may be thinking that you'll upload your podcasts directly to networks like Apple Podcasts and Spotify. Those are, after all, the places where your podcast is most likely to find an audience. Unfortunately, these platforms don't actually store podcasts.
Your existing website host doesn't have the tech needed to host a podcast either. Specifically, they don't have the tools to compress your audio and distribute it to podcast networks or "podcatchers." To achieve this distribution, you'll need to work with a dedicated podcast host.
Some podcast hosts also offer tools for recording, editing, and monetizing your podcast. This lets you do all of the important tasks related to running a podcast in one place.
How free podcast hosting works
If podcast hosting is such a specialized service, how can companies afford to provide it for free? Well, there are a couple of ways.
First, many podcast hosts limit the storage space available to members of their free plan. This is often listed as an amount of recorded time that you can upload, for example two hours. You may also find that some free podcast hosts limit certain features only to premium accounts.
Other podcast hosts use revenue-sharing to make their money. This means they place ads on podcasts, then split the revenue from those ads with the podcast hosts. Considering that podcast advertising is a billion dollar industry,[1] this is a great way for hosting companies to earn money. Even better, some podcast hosts will help you find advertising partners.
Best free podcast hosting
Now that we've discussed the finer details of podcast hosting, let's see what you can achieve with the best free podcast hosting services.

⚙️ Features:
# of episodes/storage space: Unlimited
# of podcasts per account: 1
Outbound bandwidth: Unlimited
Website:

❌

Monetization:

✅

(US only)
Distribution: One-click distribution
Analytics: Advanced analytics built right into the Anchor dashboard
Anchor is a 100% free podcast host owned by Spotify. The service provides unlimited access to everything, including tools for recording and editing your podcast. You'll even gain access to free libraries of music and sound effects that can be used to give your podcast a more professional feel.
Another big advantage of Anchor is access to the platform's detailed analytics. Podcasters can easily access information about the number of people who listen to each podcast episode, what services people are using to listen, and where in the world your listeners are. You can also view a line graph that tracks listener trends over a weekly, monthly, or even a daily period.
Podcasters in the US are also able to take advantage of Anchor's monetization program. This is a revenue sharing program where Anchor splits the revenue 70/30 with the creator, with the 70% going directly to podcasters. Anchor doesn't publicly list their advertisers, but the leverage of being part of the Spotify network allows the company to negotiate with bigger companies than you could reach on your own.
I personally use Anchor to host the Spoonie Authors Podcast and have quite enjoyed working with the platform.

⚙️ Features:
# of episodes/storage: Unlimited
# of podcasts: 1
Outbound bandwidth: Unlimited
Website:

✅

(with ads)
Monetization:

✅

(via paid subscriptions for listeners)
Distribution:

✅

Analytics: Advanced
Acast offers one of the most generous free plans on this list. There's no limit to the number of episodes you can have, file sizes you can upload, or the number of times people can download your podcast. You'll also get access to an easily edited podcast site.
Free users can also access marketing tools, like an AI transcription service and access to Snipper, a tool that helps you create audio/video clips for social media.
Unfortunately, you won't be able to run multiple podcasts on their free plan. However, it's worth noting that the premium plans include direct integration with Patreon, one of the most popular tools for earning money on podcasts.

⚙️ Features:
# of episodes/storage: 6 hours/20 episodes
# of podcasts: 1
Outbound bandwidth: 15 GB/month
Website:

❌

Monetization:

✅

Distribution:

✅

Analytics: Basic
Podomatic is a powerful podcasting tool that lets you record, edit, and publish your podcast all in one place. The company also provides embeddable players for a wide variety of social networks and your website.
There are two ways to monetize your podcast on a free Podomatic plan. First, you can get sponsorships through the Podcorn program. You can also create a merch store using What For Apparel, a Podomatic subsidiary that uses POD technology to deliver products like T-shirts and mugs directly to your listeners.
If you have plans to eventually upgrade to a paid account, it's worth noting that Podomatic Pro is incredibly affordable, with plans starting at $2.49/month (when billed annually).

⚙️ Features:
# of episodes/storage space: 2 hours/month for up to 90 days
# of podcasts: 1
Outbound bandwidth: 250 GB
Website:

✅

(with ads)
Monetization:

✅

Distribution:

✅

Analytics: Basic
Founded over ten years ago, Buzzsprout is one of the oldest and most respected names in podcast hosting. Its main draw is automated file optimization and conversion. This makes it possible to plug virtually any file type into the Buzzsprout software and turn it into a high-quality podcast.
Another reason why Buzzsprout is on this list of the best free podcast hosting is the availability of integrations. You can combine Buzzsprout with a variety of popular tools, including advanced analytics tools and WordPress.
Buzzsprout also offers a wide range of monetization options that includes sponsorships, advertisements, and the ability to accept donations.
The one disadvantage of Buzzsprout is the limited storage space available on the free plan. This means you'll need to have a plan for monetization, and the eventual switch to a paid hosting plan, if you host your podcast on Buzzsprout.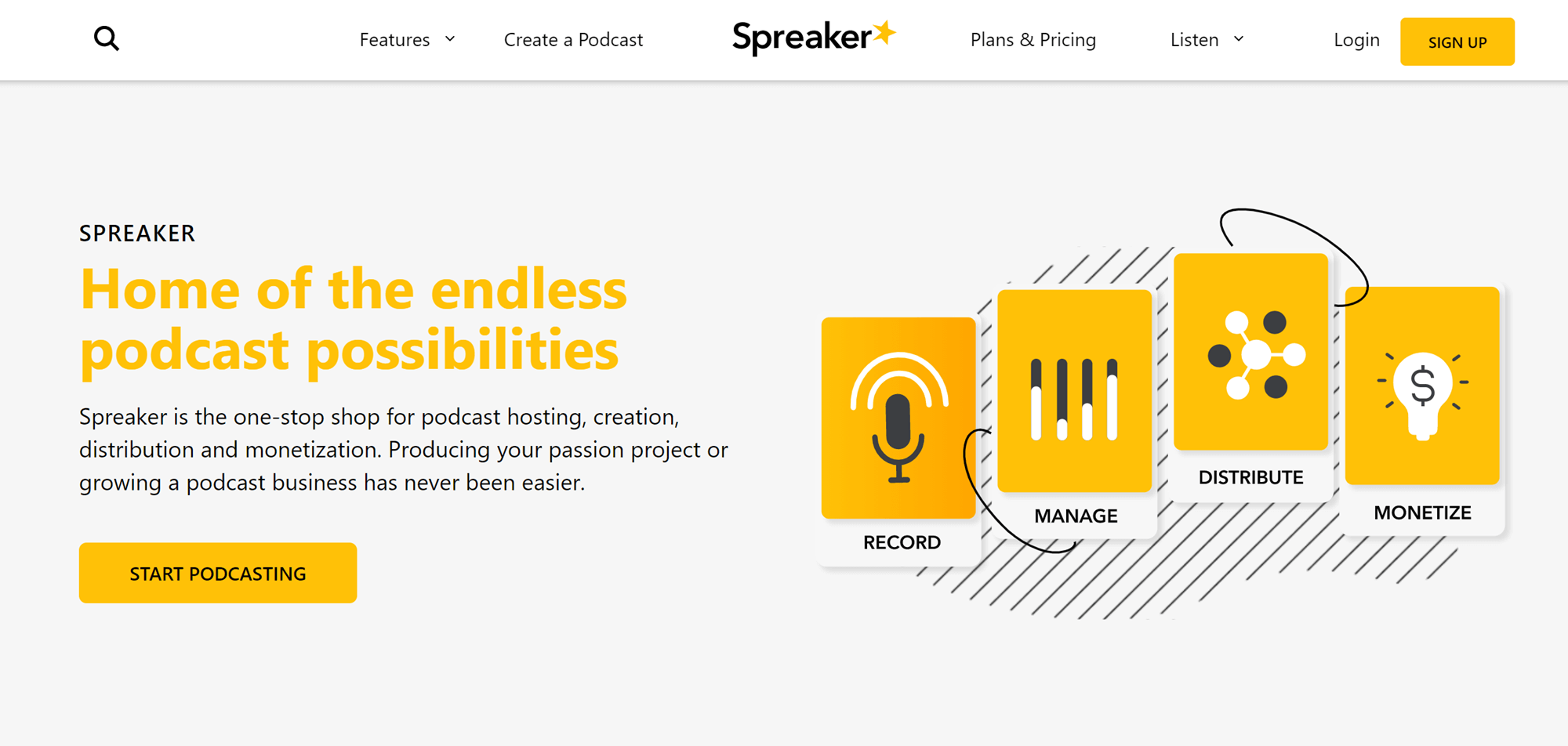 ⚙️ Features:
# of episodes/storage space: 5 hours (10 episodes)
# of podcasts: Unlimited
Outbound bandwidth: Unlimited
Website:

❌

Monetization:

❌

Distribution:

❌

Analytics: Basic
Spreaker is a high-quality podcast host with a plethora of advanced features, including episode scheduling and the ability to host live podcasts. It is also the only podcast host on this list that lets you host multiple podcasts on one account.
Yet, the free plan of Spreaker does come with some pretty strict limits. First, you can only store up to ten episodes or five hours of content at once. This is fine for a limited run podcast, but if you want your podcast to run for a long time, you'll need to include a plan for monetization and moving to a paid tier.
The other major limit of Spreaker's free plan is the lack of monetization options. If you want access to Spreaker's advertising program, you'll need to invest in one of their paid plans. However, at $6/month (billed annually) for the lowest tier plan, this isn't a major cost.

⚙️ Features:
# of episodes/storage space: 5 hours (500 MB) total
# of podcasts: 1
Outbound bandwidth: 100 GB/month
Website:

✅

(with ads)
Monetization:

❌

Distribution:

✅

Analytics: Basic
Podbean is a great podcast host with a limited free plan that lets you test their platform. You can upload episodes, create a simple website, and use integrations with email marketing tools and social media to perfect your promotion.
Another benefit of Podbean is the direct connection to the Podbean Audio Recorder app. This app lets you record, edit, and publish podcasts directly from your phone. There are versions available for both Android and iOS.
The five hour limit does mean you'll need to switch to a paid plan for a long running podcast, but the premium plans offer some of the most advanced features available. They include the ability to create a monthly patron program, similar to what many podcasters use Patreon for.
Final advice on the best free podcast hosting
As with any business decision, the best free podcast hosting is the one that meets your needs and your goals:
If you want to build a WordPress site for your podcast, check out this in-depth guide on how to go from zero to a fully featured and beautiful website.
Do you have any questions about starting a podcast with these services? Ask away in the comments below!
Free guide
5 Essential Tips to Speed Up
Your WordPress Site
Reduce your loading time by even 50-80%
just by following simple tips.