Even if you're already taking all the necessary precautions to maintain and protect your WordPress site, sometimes your site can still go down for reasons that you can't control. You need to be prepared for when this happens in order to quickly put things back in order because the longer you wait, the more money you're leaving on the table. Fortunately, there are a few nice website monitoring services and tools out there that will monitor WordPress uptime and downtime for you, so you don't have to check it manually.
In this post, I am going to talk about the five best tools and plugins that will help you keep track of your website's status, so you don't have to. Furthermore, I'll summarize how to use them to reach your goal. Some can be used for free and some are paid services, but all five are friendly and intuitive.
Five best website monitoring services and tools to monitor WordPress uptime and downtime
There are all kinds of reasons outside of your control that can cause your site to go down. When that happens, one of these tools can quickly notify you so that you can step in and get things working again.
1. ManageWP Worker
ManageWP Worker is the plugin that synchronizes the ManageWP platform with your site. The plugin provides some basic features for free, but the uptime monitoring feature is only available in the premium plan.
How does it work?
While you install it on your WordPress site, most of the action takes place in a separate dashboard provided by ManageWP, which monitors all of your sites in one place. So once you install the plugin, you need to go to your ManageWP account and add your site's URL there.
Next, once things are all set, go to Uptime Monitoring and activate the add-on (it costs $1 per month for each site). You can then get notifications via: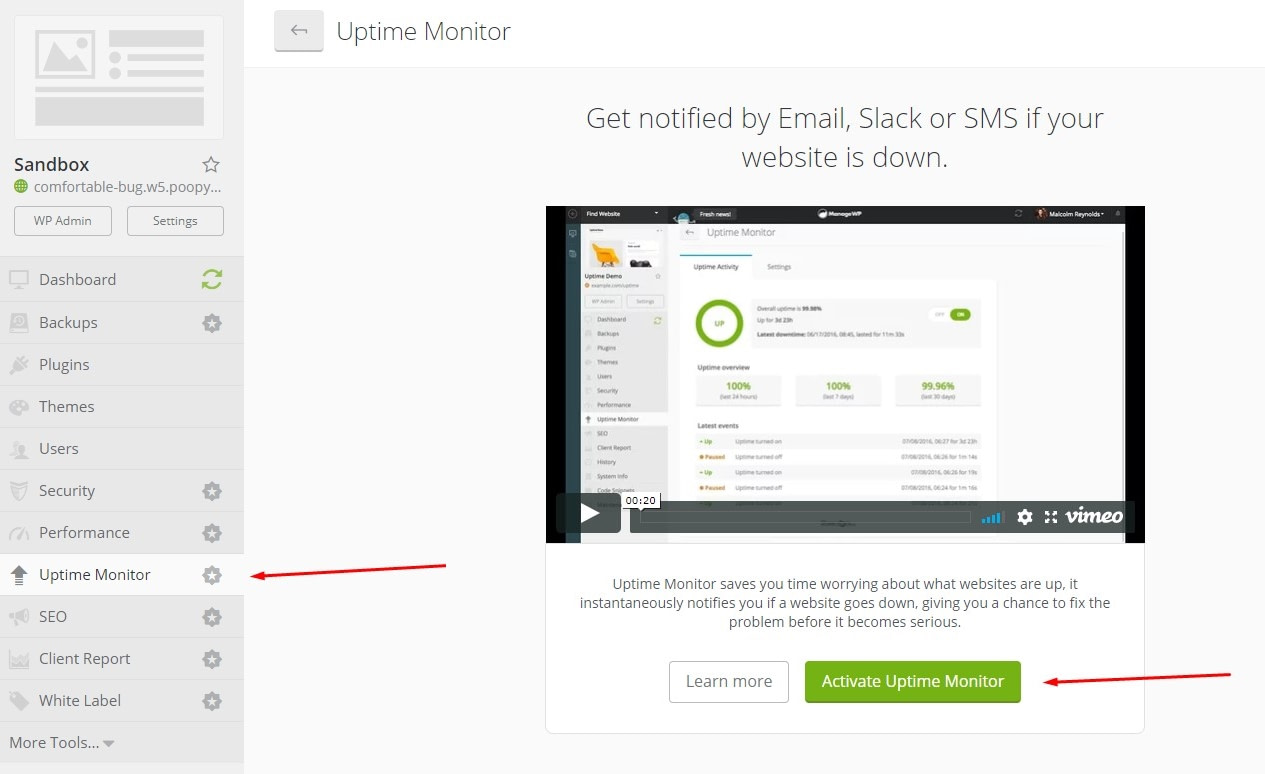 Main Features
Modern dashboard with widgets for statistics.
Cloud backup.
Security updates and checks in bulk actions.
Automatic safe backups and updates.
Performance and security checks.
Uptime monitoring (premium add-on).
SEO ranking optimization (premium add-on).
Cloning and migration (premium add-on).
White label options (premium add-on).
Pricing
While the base tool is free, to monitor WordPress uptime you'll need to pay $1 per month per site.
2. Jetpack
Jetpack is a multipurpose plugin that does a bit of everything, and helping you monitor WordPress uptime is one of those things.
To use the plugin, you just need to activate it, connect it to your WordPress.com account, and enable your desired modules.
In this case, you specifically want to enable the Downtime Monitoring feature in the Security section. You can find it when you click on Jetpack -> Dashboard via your WordPress main menu.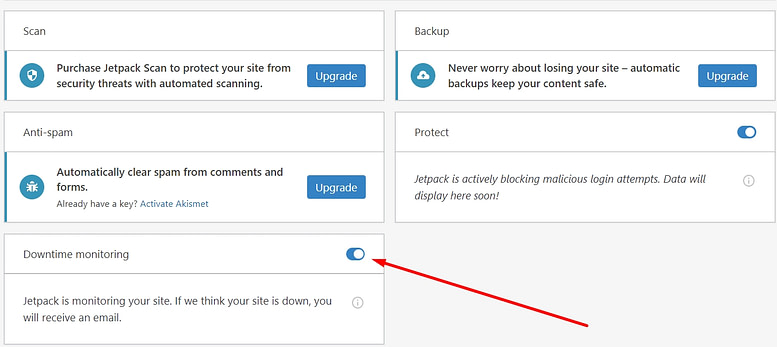 Via Jetpack's Settings tab, select your notification preferences, and you're good to go (aka the plugin will start monitoring your site and will send you an email if it goes down.).
Keep in mind that Jetpack does not offer advanced monitoring, but only basic checks and notifications when your site goes offline. Also, you don't have any advanced settings for customization.
Main Features
Lazy image loading for a faster website.
Hundreds of professional themes for any kind of site.
Unlimited and high-speed image and video content delivery network.
Malware scanning and automated threat resolution.
Secure logins and daily backups.
Spam filtering and downtime monitoring.
Site analytics and stats.
Automated social media posting.
SEO tools.
Pricing
Downtime Monitoring is available on the free Jetpack plan.
3. Super Monitoring
Super Monitoring is one of the easiest tools to use for uptime monitoring. You do not need to install anything on your WordPress site, you just have to create an account and add your site's URL. The tool will show your site's status right away in terms of availability, loading time, and daily health.
From the same window, you can configure the settings, together with the frequency and conditions for the automatic monitoring. You can choose to receive alerts and reports via email and/or SMS.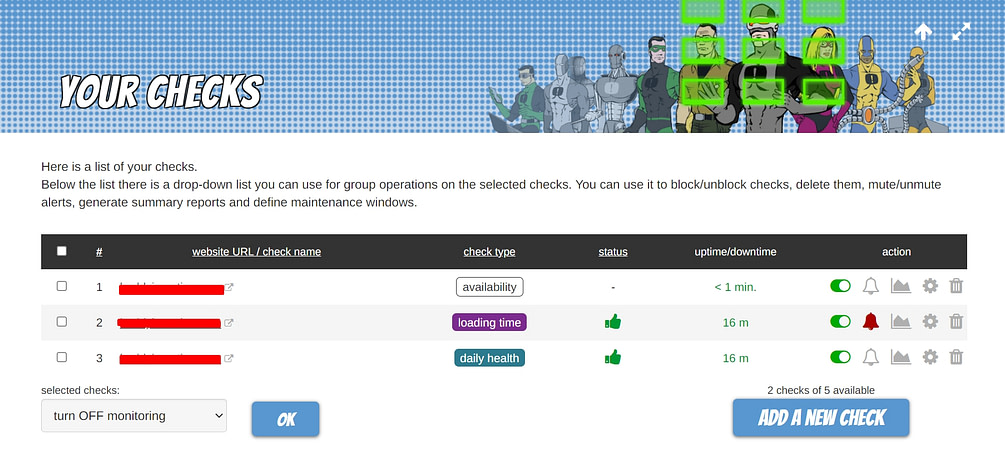 This tool does not provide only uptime monitoring services. It also offers performance checks, content verification, form tests, daily health reports, file integrity monitoring, public page status, change detection, and a lot more features.
As I already mentioned, you can simply add your site and monitor it from the tool's official website. But if you still want to check the reports via your WordPress dashboard, Super Monitoring provides a dedicated WordPress plugin that you can install like any other plugin.
Main Features
Unavailability detection.
Performance checks.
Uptime/downtime monitoring.
Web form testing (contact, login, registration, etc).
Website content verification.
Page loading time and response time measuring.
Instant email and mobile alerts.
Pricing
Super Monitoring provides five pricing plans (with a 14-day free trial):
Super – $5.99/month or $59/year
Hyper – $14.99/month or $149/year
Extra – $19.99/month or $199/year
Ultra – $29.99/month or $299/year
Multi – $39.99/month or $399/year
4. Uptime Robot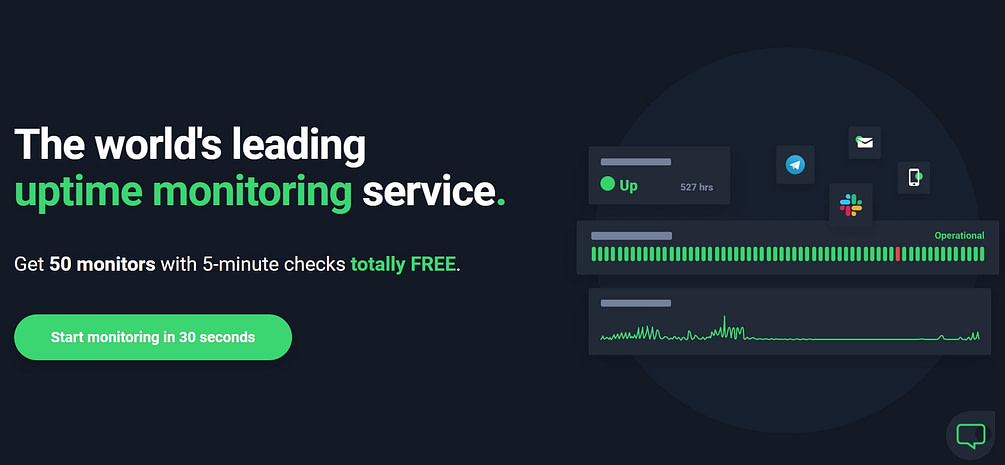 Uptime Robot is a free tool entirely devoted to uptime monitoring. It lets you add 50 monitors (aka websites, pages, or forms) that are checked every five minutes. To start the adventure, you need to create an account here – just like in the other cases.
The cool thing is that it will allow you to monitor WordPress uptime without the need for a plugin.
After you log in, you will be redirected to the Uptime Robot dashboard, where you need to add your own website:
Click Add New Monitor
Select your monitor type and details
Enter your site's URL
For more features and functionality, you can upgrade to their premium plan, where you can get a larger number of monitors that check more frequently + SMS and voice call alerts.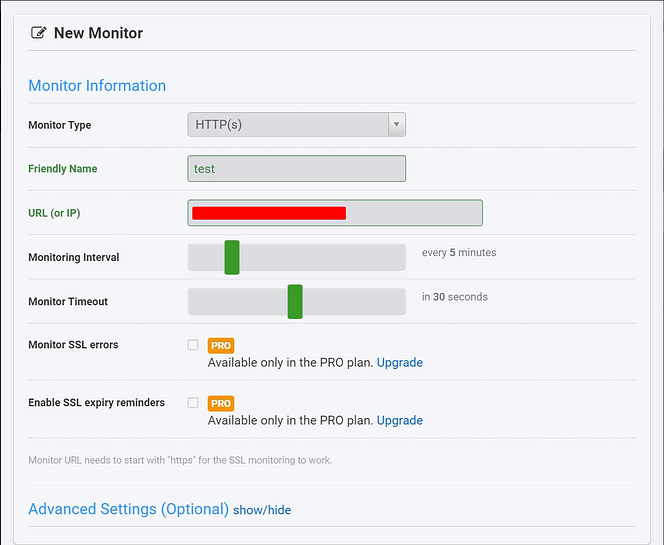 Main Features
Multiple types of checks: HTTP(S), ping, port, and keywords.
Alerts via email, SMS, Twitter, push notifications, Slack, HipChat, web-hooks.
Statistics for uptime, downtime, and response times.
Downtime verification from multiple locations.
Advanced notification settings.
REST API integration.
Public status pages for team sharing.
Maintenance windows.
Pricing
Uptime Robot provides two plans:
Free
Pro – $8/month (or $7 if you want to be billed annually)
5. InternetVista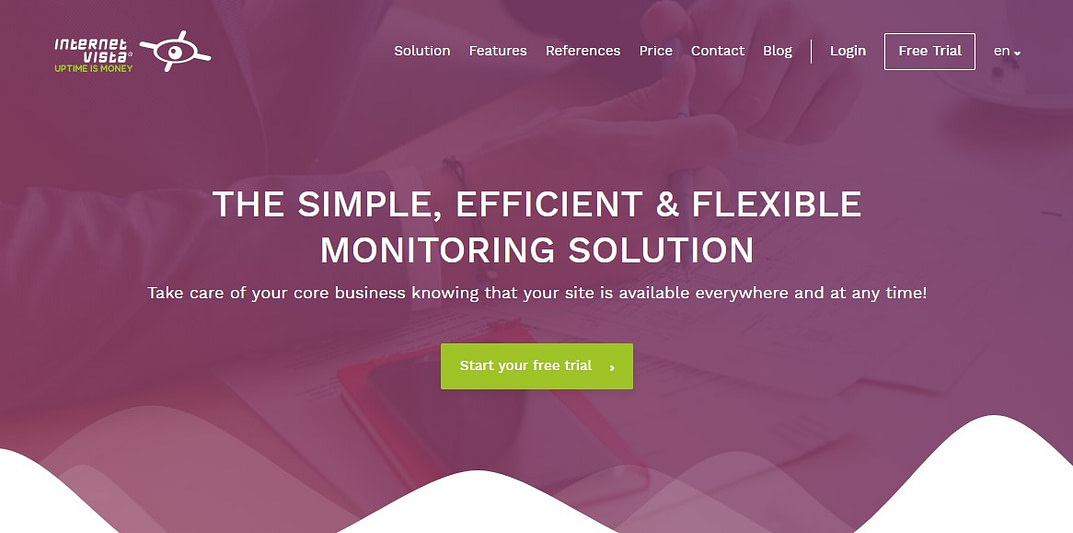 Last but not least, InternetVista is a paid solution for businesses that need to put their sites under observation. Their motto is "Uptime is money", which is definitely true for professionals. Even though the tool doesn't provide free services, you can test it by signing up for their free trial period that lasts 31 days.
Once you sign up, you can add your site and view its stats in a dedicated dashboard.
In the Applications tab, you can set up your preferences regarding the alerts and what pages you would like to monitor. InternetVista lets you manage more than only websites: you can also add emails, services, and servers to get notified about.
And in the Media tab, you can choose how you want to be alerted – by email, SMS, Twitter, Slack, or a webhook.

Main Features
Nothing to install or to develop; just an online registration.
No false alarms. All the errors are checked twice before sending the alerts.
Professional assistance is one telephone call away.
Monitoring subscription management via multi-user web application, mobile apps, or REST API.
Monitoring of all your web services: website, user path, API, email servers, online services, and various technical services.
Performance reports.
Real-time alerts (integration with WordPress, Slack, Twitter, or SMS).
Multilingual platform.
Pricing
InternetVista has four plans (all offering a free trial) as follows:
Start – $5.68/month
Business – $23.34/month
Enterprise – $71.35/month
Custom – from $2.48/month
These are our recommendations to monitor WordPress uptime and downtime regularly, so you can make sure everything works smoothly on your site. But in case we did miss something important, we would like to hear it from you. You'd make us happy if you would share your own methods for monitoring your website via the comments section below.
By the way, which one of the tools in this post is your favorite?
Free guide
5 Essential Tips to Speed Up
Your WordPress Site
Reduce your loading time by even 50-80%
just by following simple tips.