Searching for free Trello alternatives to manage your projects? We've collected some of the top options, all of which have free plans.
Trello uses the popular Kanban method, enabling you to track progress on your projects from one stage to the next until they're complete. However, the basic version of Trello limits boards to ten tasks at a time, which may not be sufficient for complex projects. Also, the Kanban view may not always work for your team, which is why it's worth investigating other options.
In this article, we'll give you an overview of five of the best free Trello alternatives that will suit various projects and teams. Let's dive right in!
Best free Trello alternatives in 2022
Now that you know why Trello might not be a perfect fit for you, let's consider five of the top alternatives. Each of the tools will make managing your projects easier, so the best fit for you will depend on the range of features you need.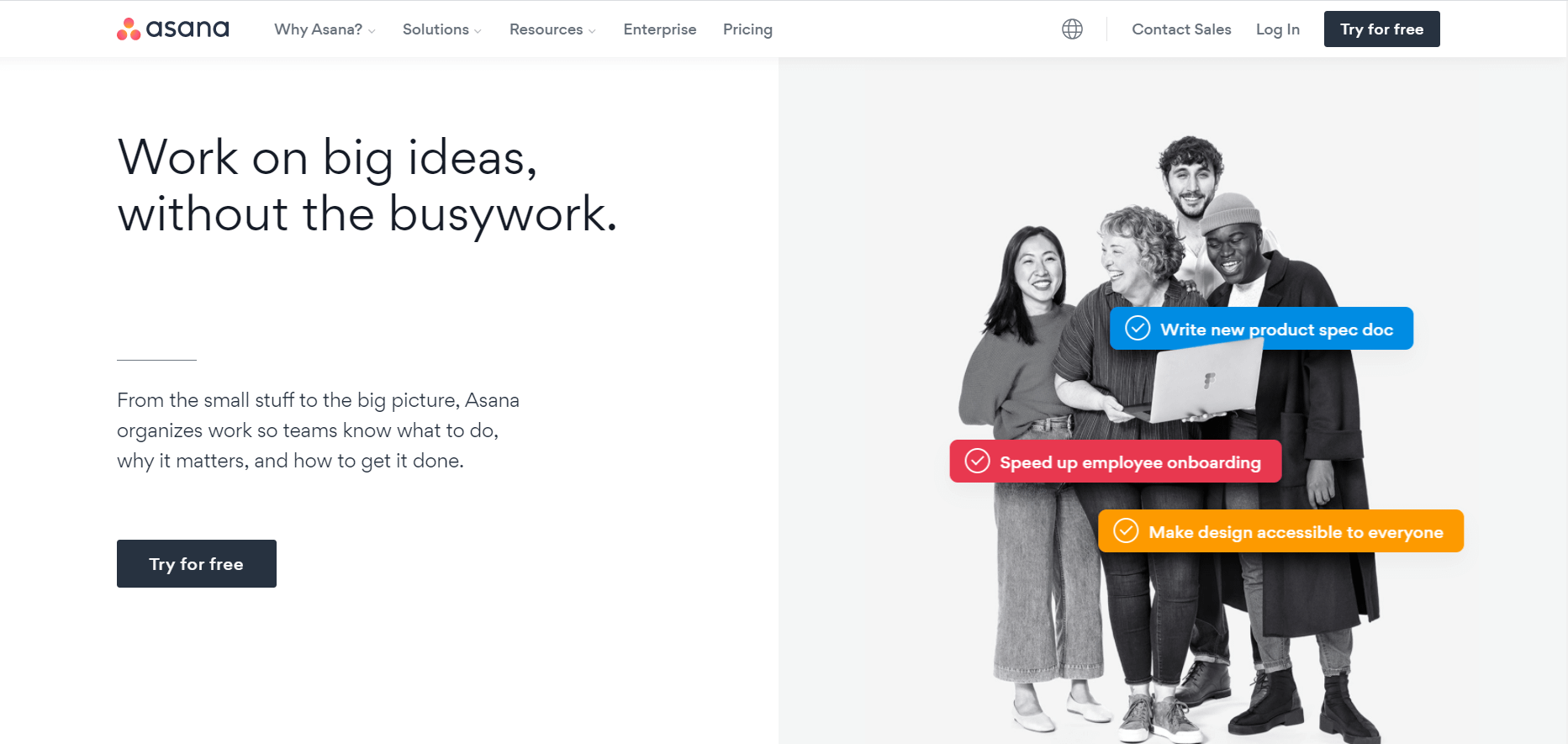 Our first recommendation is Asana, one of the leading project and task management tools on the market. It comes with a range of comparable features to Trello, such as the Kanban board view (much like Trello) and advanced workflow automation.
If you like Trello's user experience (UX), you'll likely appreciate Asana's responsive drag-and-drop interface. It enables you to assign tasks and move them from one stage to the next with a few clicks. You can also view and edit details, add files, and attach team conversations to relevant tasks.
Besides that, you can view your team's workload as a board, list, or timeline. This way, you can easily track the progress of each task and prioritize accordingly. You can also integrate Asana with over 100 third-party apps – such as Slack, Dropbox, and Salesforce – so rest assured your workflows will run smoothly.
In addition to everything mentioned above, Asana includes features such as:
Email notifications
Comment, follow, and like buttons
Custom templates
Privacy controls and data security
Mobile app
Unlimited storage
Pricing: The free plan enables you to collaborate with up to 15 users, create unlimited tasks, and upload files up to 100 MB per item. If you manage a larger team or need more advanced options, pricing starts at $10.99 per user per month.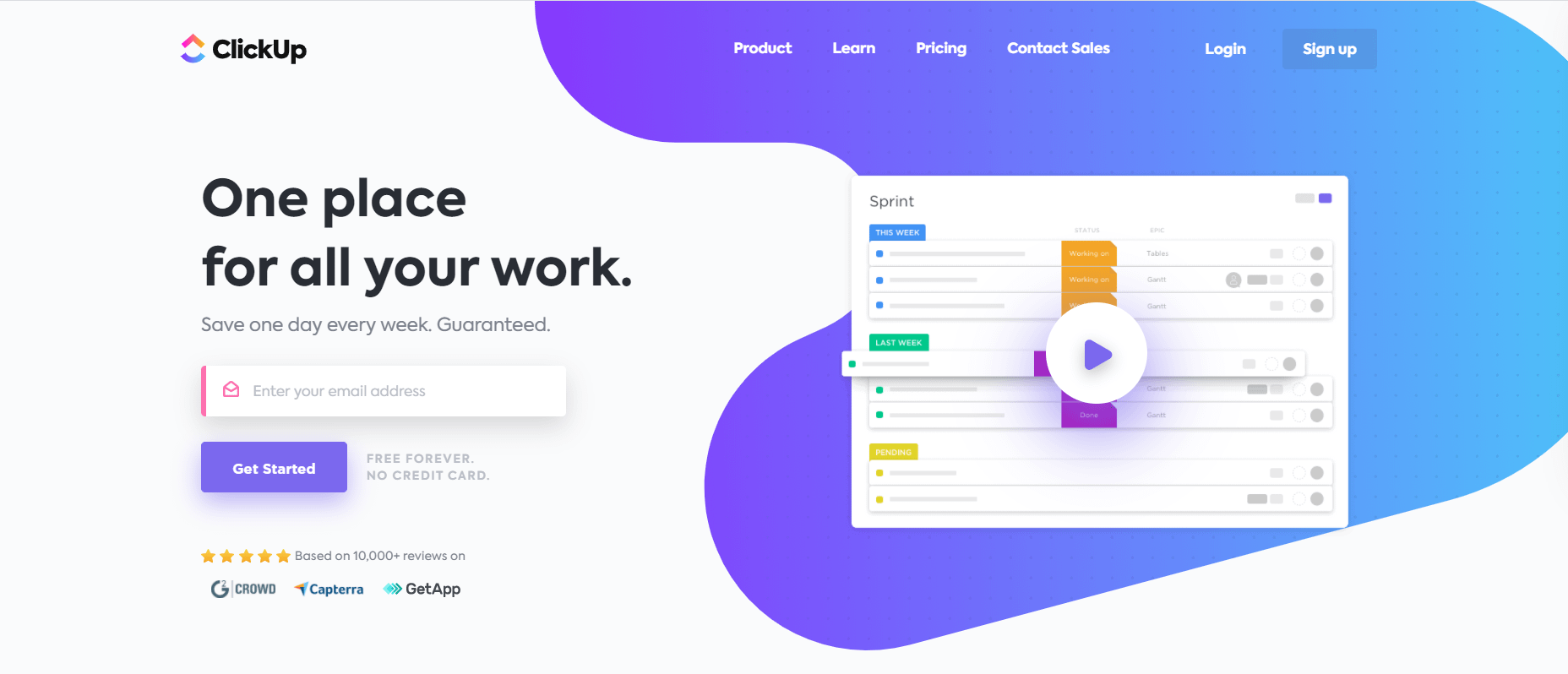 ClickUp is a relatively new player in the project management app market, but it's quickly establishing itself as a worthy Trello competitor. It gives you all the features you'd expect from this type of tool. For instance, you can create and assign tasks, track progress with a visual dashboard, add comments, and more.
ClickUp also comes with excellent team collaboration features, such as real-time editing, reporting, mentions, and threaded discussions. Plus, you can invite guests from outside your organization and manage permissions to protect sensitive information.
Compared to Trello, ClickUp comes with a more streamlined view of your workflows. For instance, you can switch from cards to a board, list, or timeline view. Plus, you can see all your projects on a single screen and drag and drop the most urgent tasks to move them to the top of your team's to-do list.
On top of that, ClickUp also includes features such as:
Multiple task assignees
User activity detection
Email notifications
Custom fields
Time tracking
Dependencies
Various third-party integrations
Easy Trello content export
Pricing: ClickUp's 'forever free' plan comes with 100 MB storage, unlimited tasks and members, and two-factor authentication (2FA). For unlimited storage and more advanced options, pricing starts at $5 per member per plan.
Our next recommendation is Teamwork, a cloud-based project management platform with generous features. This tool is an excellent choice for Trello users who need a scalable solution for their growing businesses.
Teamwork enables you to manage multiple complex projects, communicate with your team members, and even handle service requests via its ticketing system. This tool also enables you to work with external clients and customize their permissions, making it an excellent solution for agencies.
Teamwork is also handy for remote collaboration, thanks to the syncing and Chat features, which enable you to co-edit files in real-time. Plus, you can manage your team's workload from a handy dashboard and distribute tasks without having to check in with each member individually.
Teamwork also provides features such as:
Gantt charts
Time tracking
Reporting and analytics
Board, list, or portfolio views
Various third-party integrations
Project templates
Pricing: The 'free forever' plan is suitable for small projects with up to 5 users and 100 MB storage. If you want to take advantage of Teamwork's enterprise-level features, pricing starts at $10 per user per month.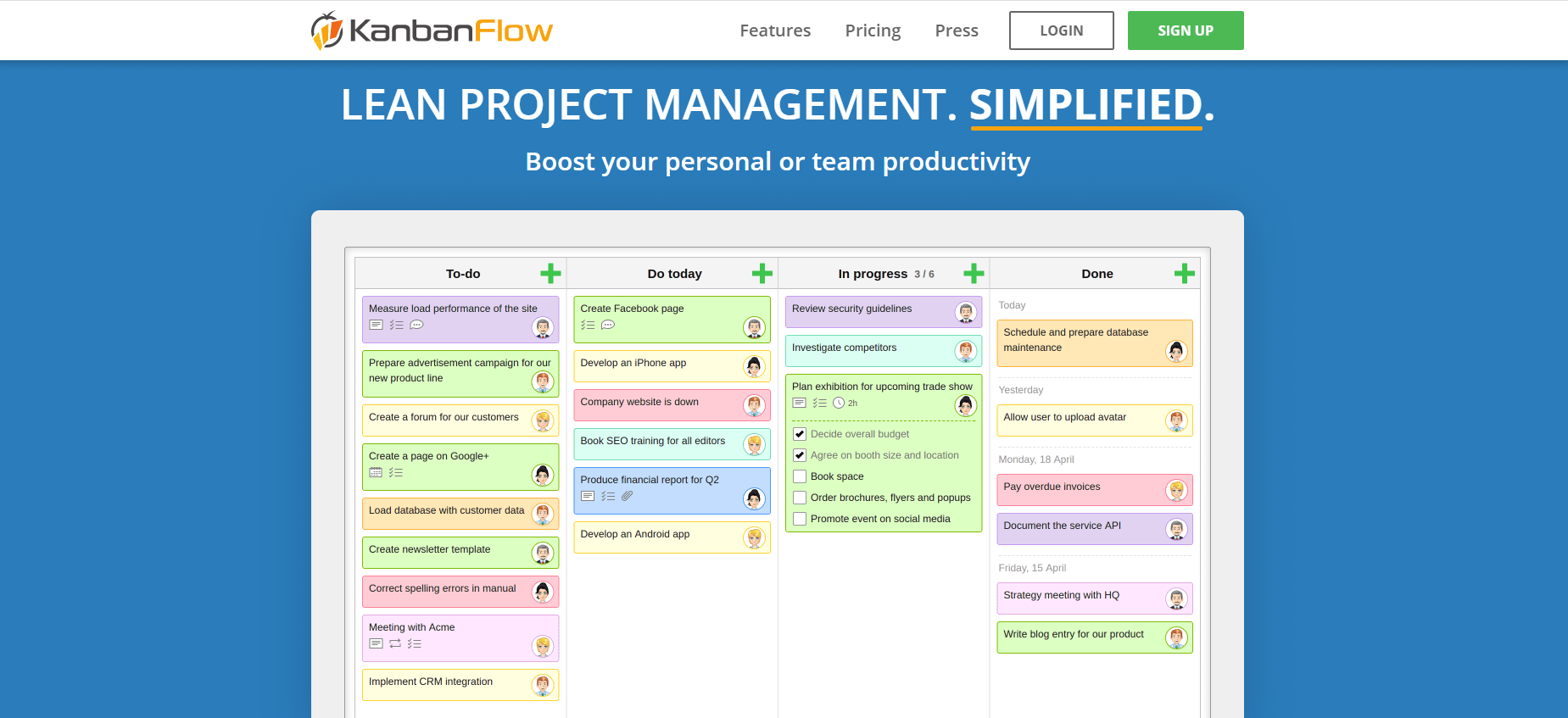 Next, we have KanbanFlow, a simple alternative to Trello that enables you to manage your projects visually. As the name suggests, this tool's primary focus is on the Kanban board, so it will suit users who like to manage their workflow using this method.
KanbanFlow helps you focus on your current workload rather than overwhelm yourself with new assignments, thanks to its task limiting feature. Besides that, you can maximize your productivity and use the built-in Pomodoro timer to complete each task more efficiently.
Furthermore, you can access various analytics and reporting features to help you identify and resolve bottlenecks. For instance, you can access multiple graphs and charts or even create forecasts based on historical data.
With this platform, you also gain access to features such as:
Workflow automation
Various integrations through Zapier
Time tracking
Subtasks
Filtering options
Mobile app
Pricing: You can use a stripped-down version of KanbanFlow for free with unlimited users and boards. The premium version gives you additional task automation, reporting, and integration options for $5 per user per month.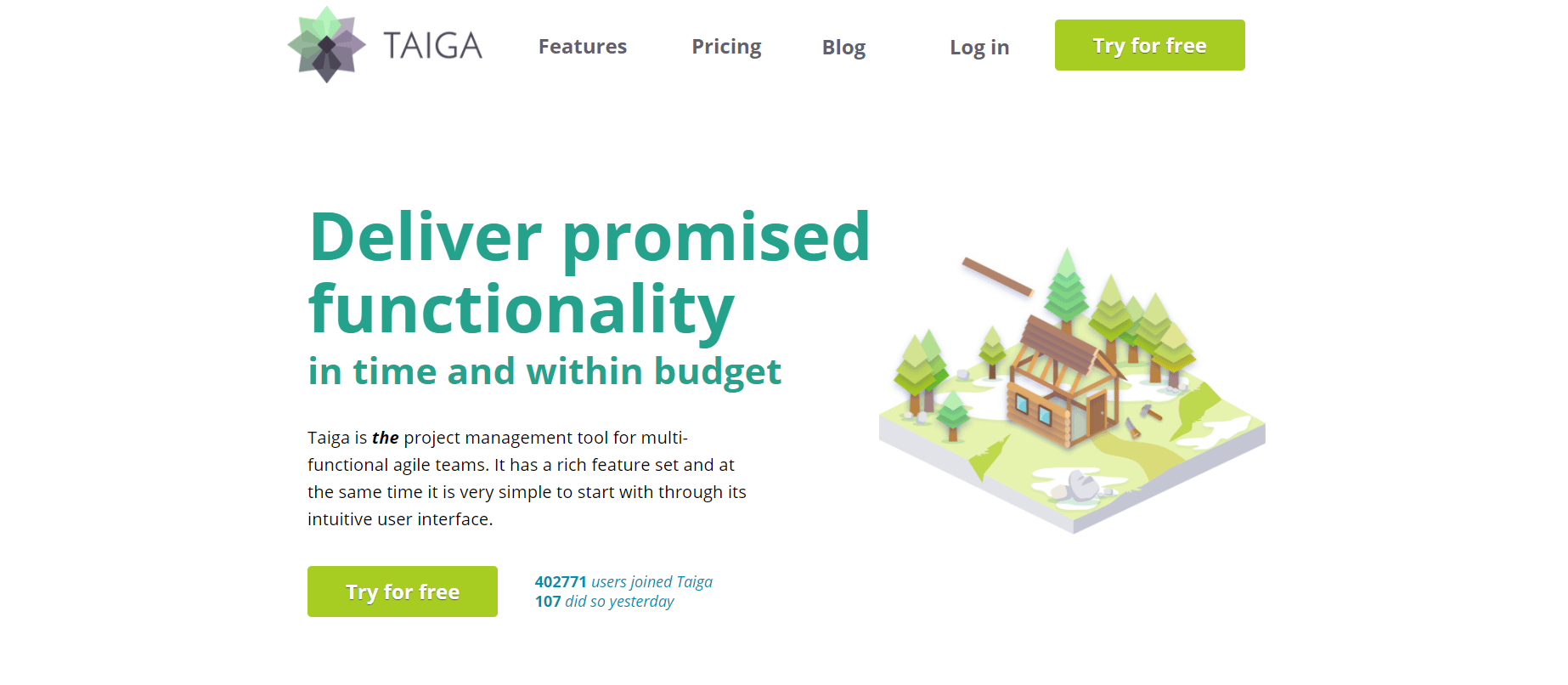 Our final recommendation is Taiga, an open-source alternative to Trello that's suitable for Agile development teams. Besides the typical Kanban view, Taiga also offers advanced Scrum and Sprint tools, making it an excellent project management app all around. In fact, it won 'The Best Agile Tool' title in the 2015 Agile Awards, so rest assured it's well suited to this methodology.
Taiga's interface is intuitive and user-friendly, with many customization options that make it highly accessible. For instance, you can choose from over 20 languages, adjust colors, or add custom fields. You can also manage roles and permissions so that you can collaborate with members from outside your team.
It also provides powerful reporting options, such as access to the team performance dashboard, detailed project timelines, wiki functionality, and more. Plus, you can track bugs more effectively with extensive filter options.
Other features include:
Workflow automation
Various third-party integrations
Work In Progress (WIP) limits
Time tracking
Project estimates
Ability to easily switch between Kanban and Scrum views
Pricing: Taiga is free to use for up to three members on one free private project with a maximum of 300 MB storage. For unlimited members and projects, pricing starts at $5 per user per month.
Get started with a free Trello alternative today
A reliable project management tool can boost your productivity and ensure that your team's workflows are running smoothly. Trello is an excellent solution for many projects, especially those relying on the Kanban method. However, other options might suit your team better.
In this article, we've discussed our top five free Trello alternatives. To recap, Asana and ClickUp are both excellent tools with comparable features to Trello. More advanced users might prefer Teamwork or Taiga as they're more scalable and suited to other project management methodologies. Otherwise, if you want a no-frills solution, KanbanFlow might be perfect for you.
Do you have any questions about any of these free Trello alternatives? Let us know in the comments section below!
Free guide
5 Essential Tips to Speed Up
Your WordPress Site
Reduce your loading time by even 50-80%
just by following simple tips.