Want to know what your visitors are thinking? With a WordPress survey plugin, you can ask them questions and easily analyze the results.
You can gather feedback to improve your website or service, understand what your visitors are interested in, plus a whole lot more.
Whatever the reason, a survey form that gathers feedback is indispensable. It should be eye-catching and, of course, interesting. There are many things to consider when looking for a survey plugin, but don't fret; we have you covered.
In this post, you will learn about five of the best WordPress survey plugin options and how to use them.
Let's get going!
Five best WordPress survey plugins in 2022
1. Quiz and Survey Master
Quiz and Survey Master is a free WordPress survey plugin for designing surveys to discover how your landing pages or courses are performing. It is packed with useful features to make up for its not-so-friendly interface.
You can fully customize the survey text (everything from blocks text to the submit button). You can use the plugin to create multiple choice questions, true/false, fill in the blank, and a few other types of queries.
How to use
Although its interface looks old school, Quiz and Survey Master is easy to use. Once you install the plugin, it will appear on the left sidebar of the WordPress dashboard. To get started, click the Add New button.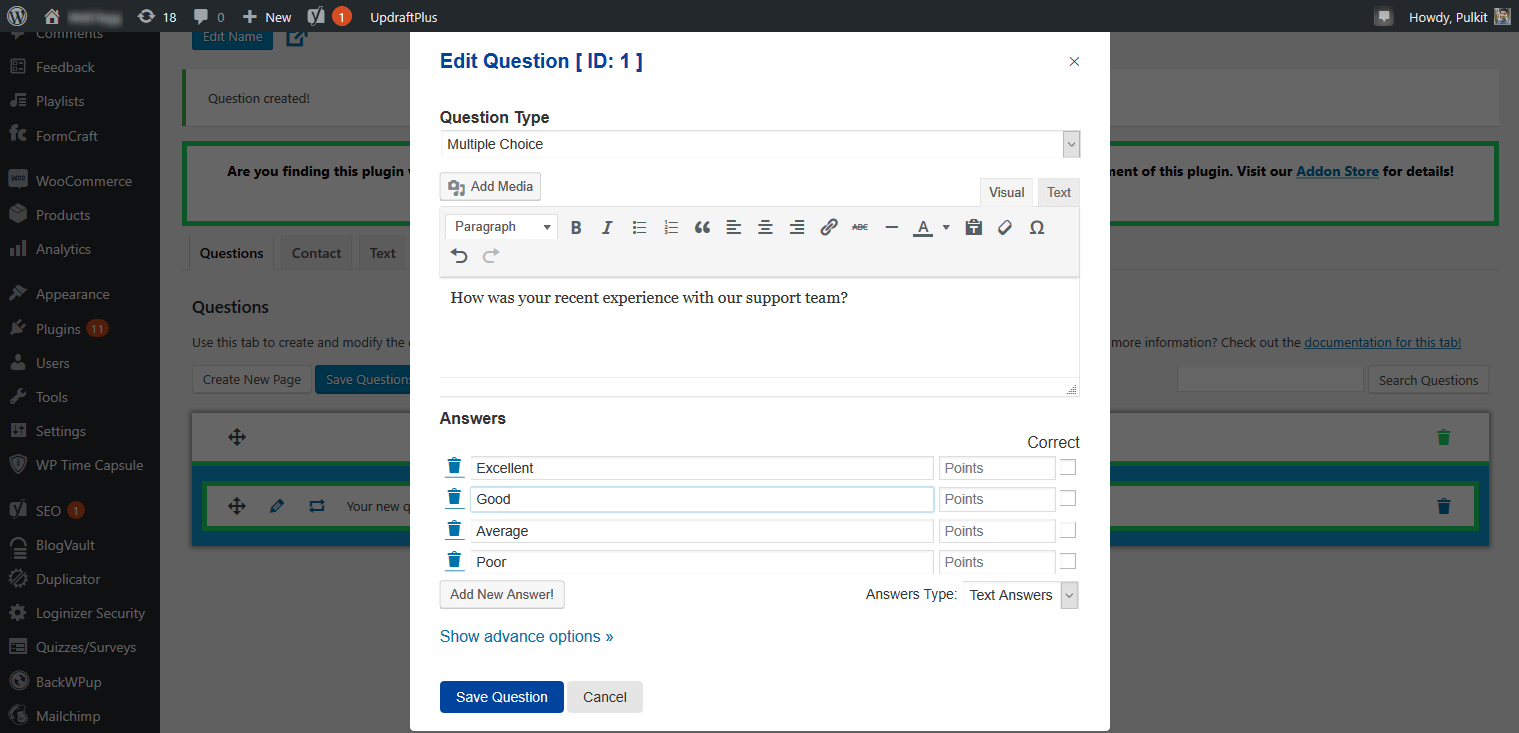 Select the question type, add it and save the changes, it's that simple.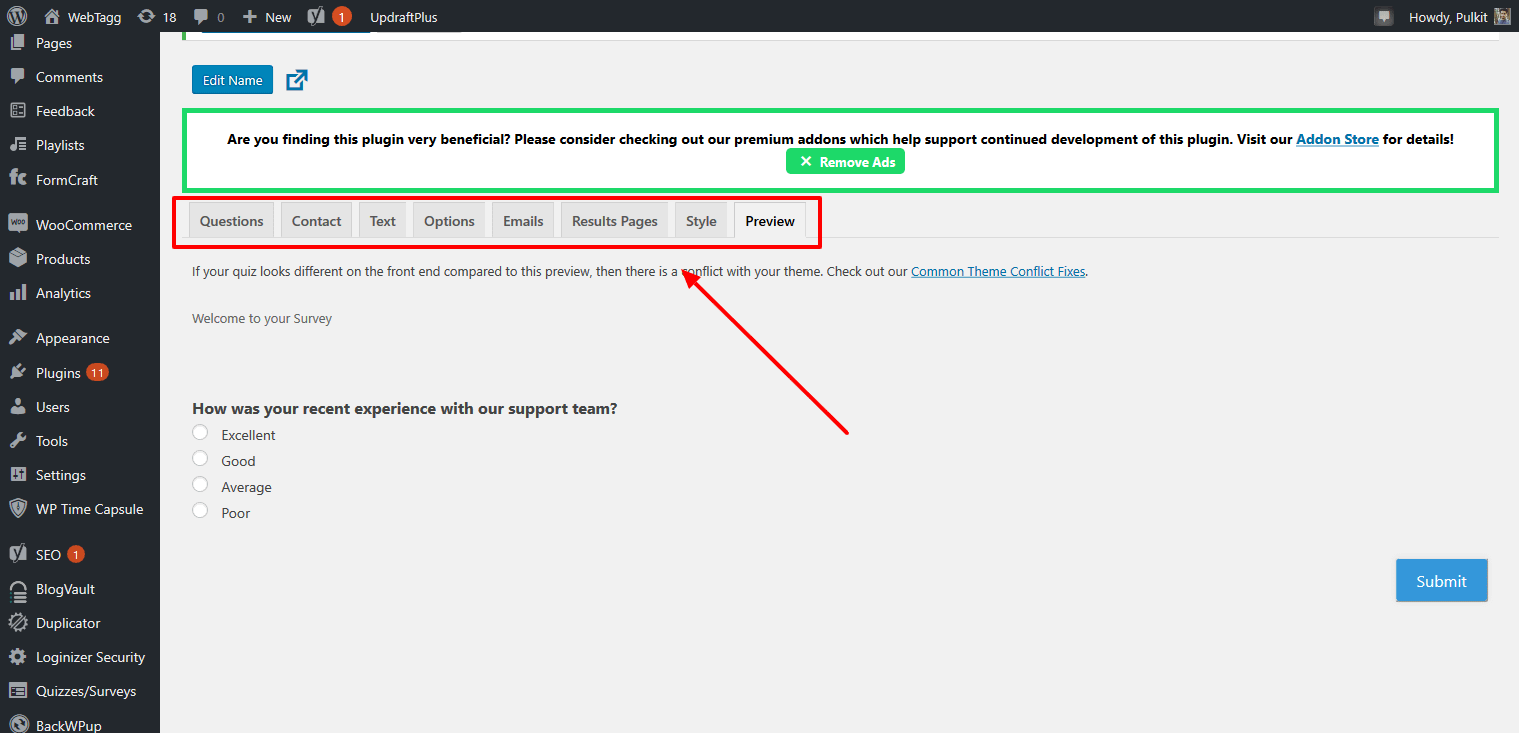 Use Style, text, emails and options tab to customize the survey as per your needs.
Pros:
Quiz And Survey Master is simple to use .
You can require users to log in to take the quiz.
Auto-scheduling and time limit features.
Track how long a user takes on a survey.
Cons:
You need to buy a premium $10+ addon to integrate with Mailchimp to grow your email list.
The free version displays ads on your WP dashboard.
Price: This plugin is available for free. But you can buy Quiz And Survey Master addons for $10+ each to get more advanced integrations like Mailchimp, Campaign Monitor, and more.
2. Crowdsignal
Crowdsignal (previously known as Polldaddy) is a powerful WordPress plugin for creating surveys. This plugin is made by Automattic, the same people who created WordPress.com, Jetpack, and the WooCommerce plugin.
To help you build your surveys, it includes an easy-to-use drag-and-drop interface.
You can choose from 20 unique styling options for your questionnaires. It is highly customizable, providing full control over your ratings.
Once you get some survey results, you can analyze them with helpful charts and graphs.
How to use
In order to use this plugin, you need to access the Crowdsignal API key. Just go to the Crowdsignal page and click the 'Try for free' button. Sign in using your WordPress.com account. After logging in, generate your API using by scrolling down to the last section on the account page.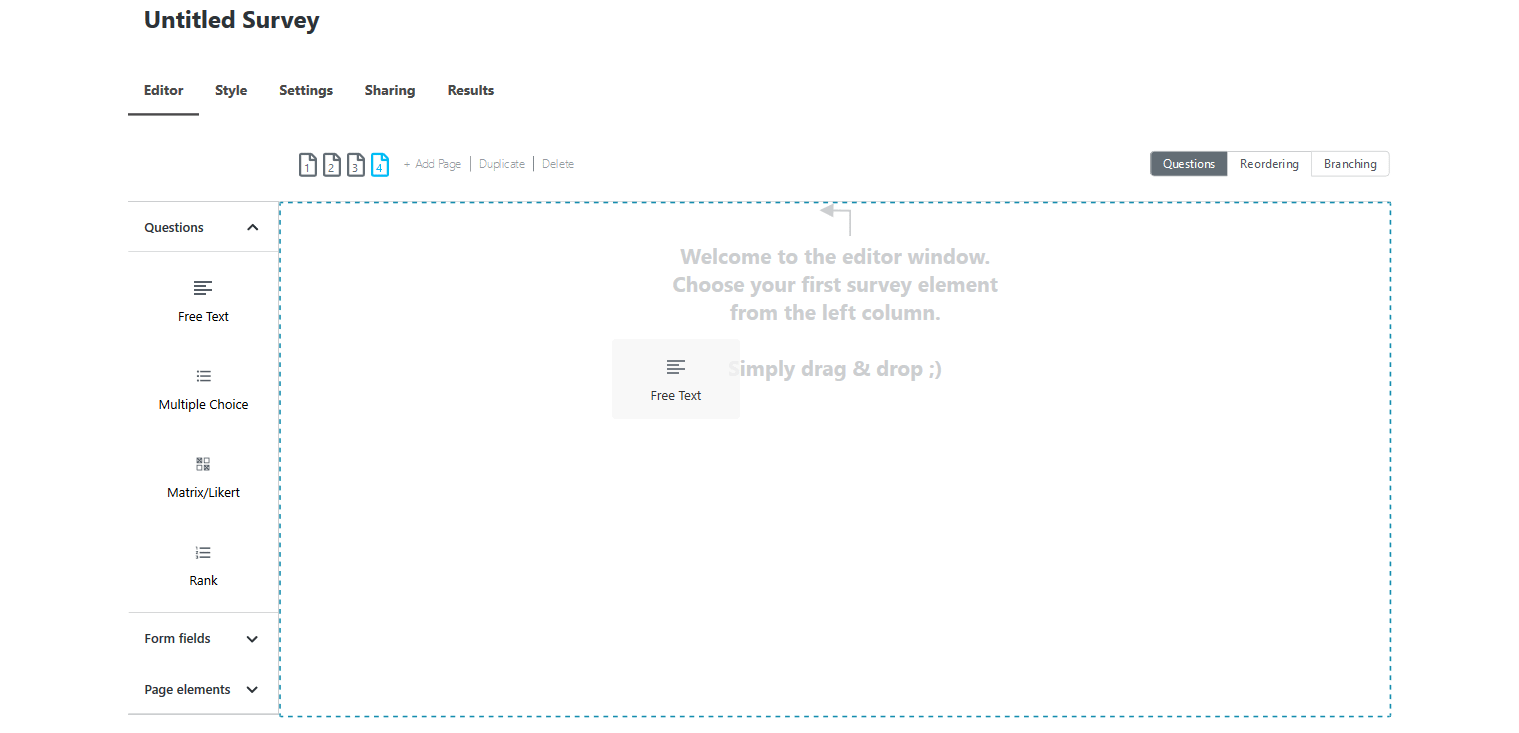 However, to use the drag-and-drop survey maker, you must create it using your Crowdsignal account. It is tidy and great. Drag and drop the text, select the types of questions and choose the styling options.
Once you create a survey in the Crowdsignal interface, you have a few different options for embedding it on your WordPress site, like using a shortcode.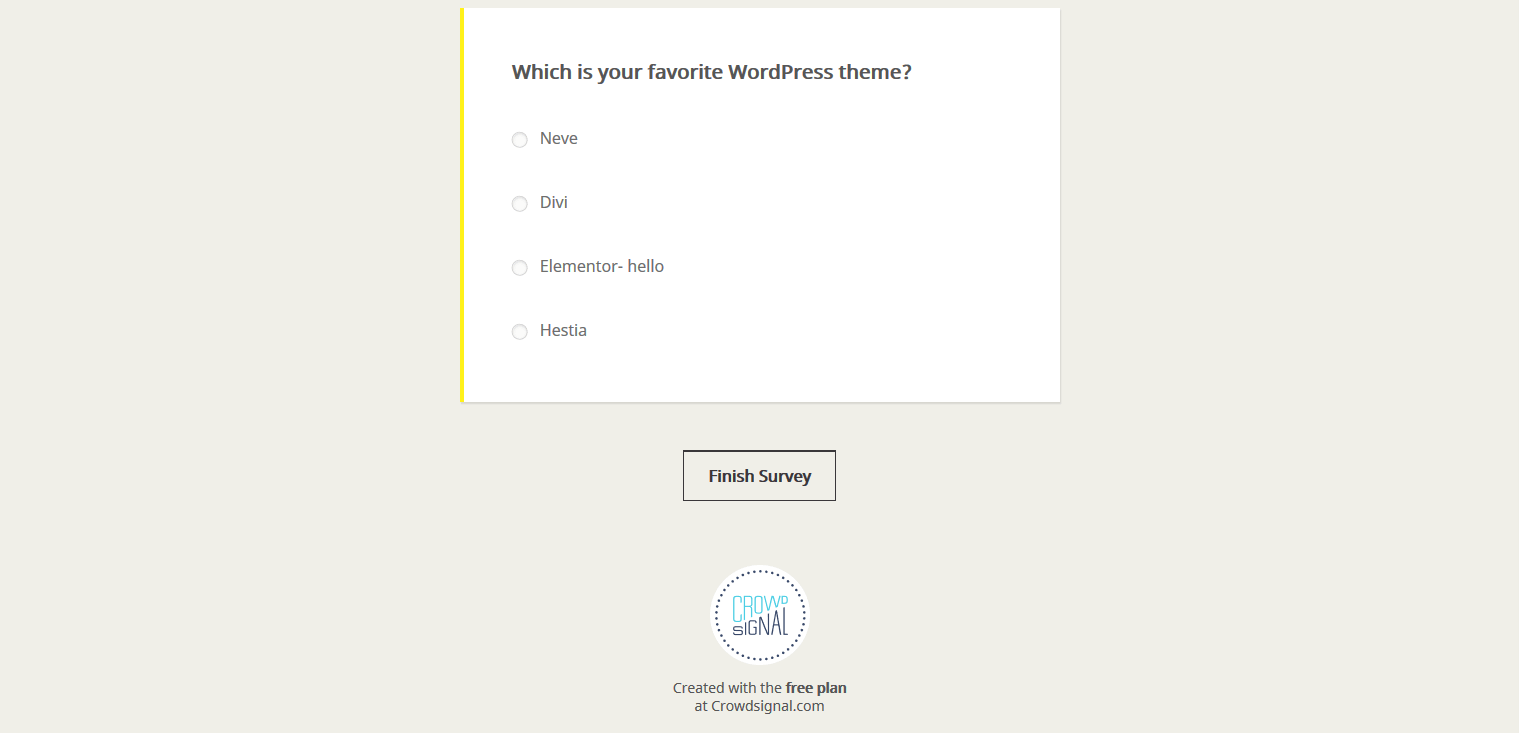 Pros:
You can build a form in just a few clicks with drag and drop.
The customization options are awesome.
You can easily generate reports for the survey campaign.
Cons:
Not as simple as some other survey plugins.
The free version includes Crowdsignal branding.
Price: There's a limited free plan with Crowdsignal branding. Crowdsignal Pro plans with more sophisticated features start at $17 per month.
3. FormCraft
FormCraft is a freemium WordPress plugin to help you create all types of WordPress forms, including surveys. You will have live drag and drop customization with complete flexibility, and you also get pre-made templates to make the form creation simpler.
You can also set limit the number of responses to a survey and integrate with email, like sending autoresponders to survey participants.
How to use
Get the premium form builder. Upload it to your WordPress website and create a survey form. Go to the FormCraft dashboard and devise a new form. You can either choose a fresh template or upload a new one.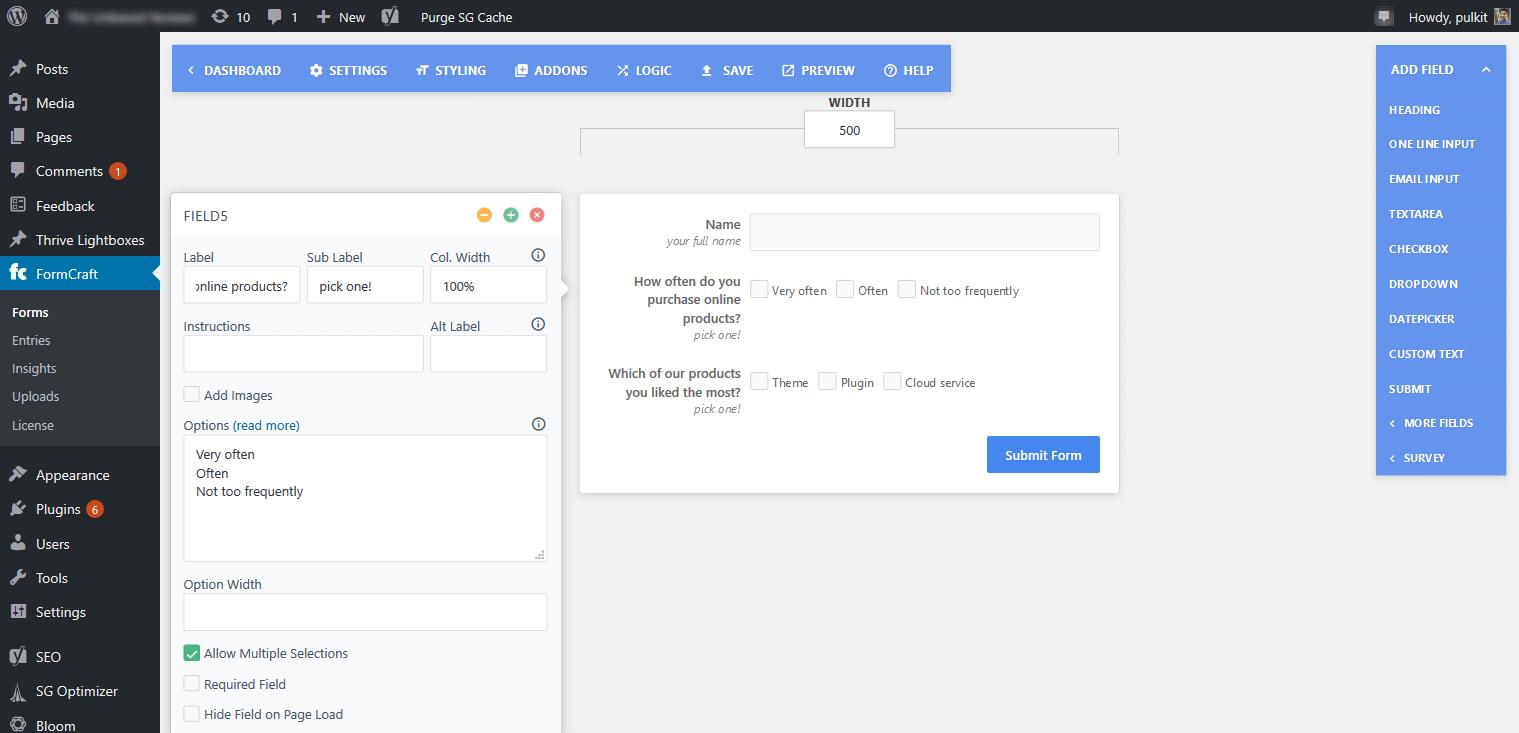 Adjust the width and click on the ADD FIELD button on the right side. Preview the design and optimize it for user engagement.
Pros:
Formcraft has unique color schemes and background options.
Integrations with plugins like MailPoet, Mailchimp, ReCAPTCHA and so on.
The drag-and-drop interface is easy to use.
This WordPress survey plugin has an integrated analytics window.
Cons:
There is no specific template for survey forms; you can only select from other template types and customize it.
Price: Get this paid plugin for $35 via CodeCanyon or try the free version at WordPress.org.
4. WP Poll
WP Poll is a WordPress survey plugin with quiz features. It has graphical poll reporting. You can design a robust survey form with fantastic styles.
Choose from 5 unique timer styles to make the survey form more engaging or even change animations for multiple selections. You can get WP Poll pro if you are looking for features like locking content until users answer a poll and social share buttons.
How to use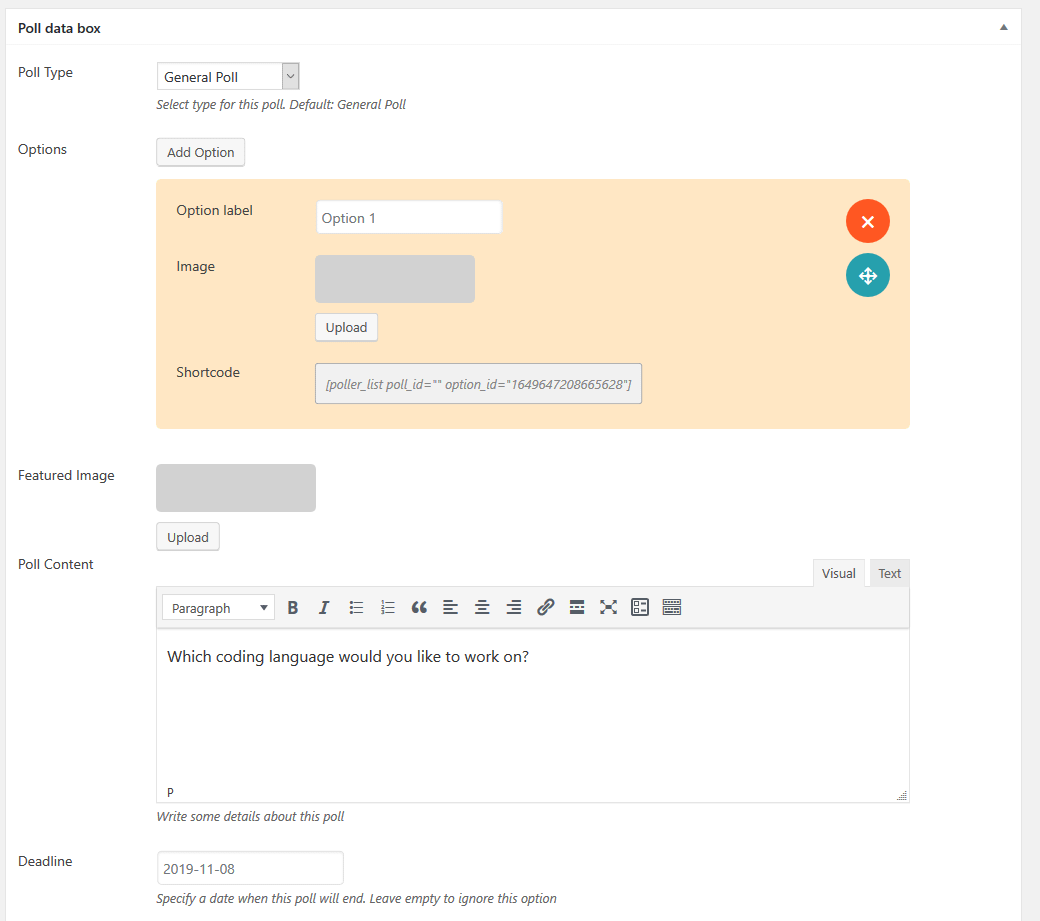 WP Poll is fairly smooth to use, just set details like multiple votes, deadlines, and timers. Enter the questions and copy the shortcode on the right side, paste it where you want to add the survey form.
Pros:
You can reset results for the survey form (available in Pro)
There are 7+ input type animation effects along with 8 different themes for each survey
WP Poll is user-friendly and easy to use.
Cons:
There's no drag-and-drop builder.
Price: WP Poll is a freemium plugin. The pro version costs $29 per month.
5. WPForms
WPForms is a popular form plugin that also makes a great WordPress survey plugin, especially if you purchase the premium version with its dedicated reporting features.
Simply install the WPForms lite from the WordPress plugin directory and create a survey form using the drag-and-drop builder. The unpaid version gives you access to standard fields like email, multi-choice questions, name, dropdown, single-line text, and checkboxes.
To add advanced fields like rating, Net Promoter Score, and more, you'll need to purchase the premium version. The premium version also adds a reporting dashboard to help you analyze your results as well as integrations with a ton of popular email marketing services.
How to use
Once you install WPForms, it will appear on the left side of your WordPress dashboard. Enter the name/heading for the survey. Start dragging and dropping fields in the form. After designing the questionnaire, simply copy/paste the embed code in a widget or post.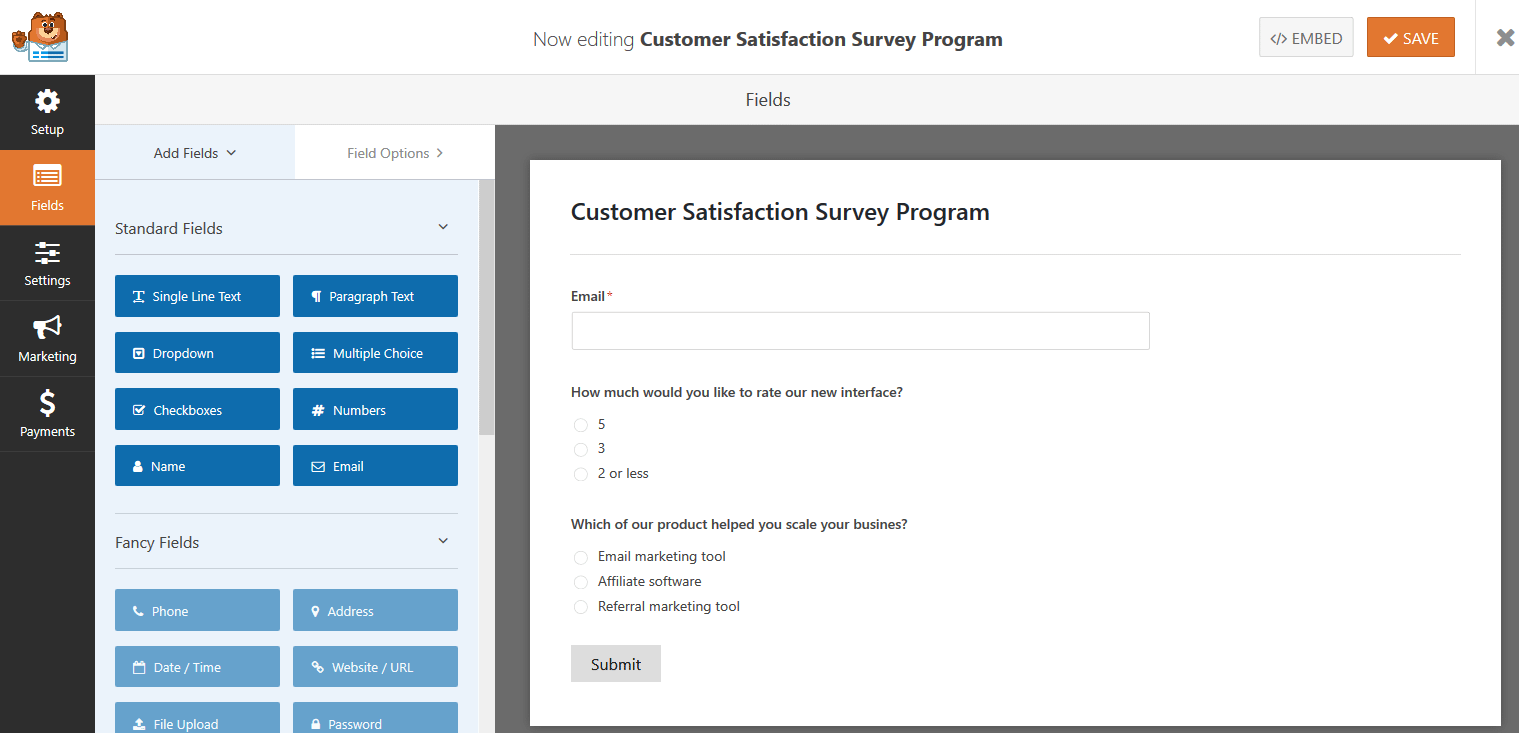 Pros:
WPForms builder has a beginner-friendly interface.
It has pre-built survey form templates (available in Pro).
Show a custom 'thank-you' message, or redirect the user to a different page.
The Pro version includes a dashboard to help you analyze survey responses.
Cons:
The free version doesn't include any dedicated survey templates and lacks other survey-specific features.
Price: While you can create basic surveys with the free version, you should consider going Pro for the best survey experience. The cheapest paid plan with the survey features costs $199.50.
Which is the best WordPress survey plugin for your website?
Although most business sites overlook it, feedback and surveys are essential. Whether its a customer satisfaction survey or employee feedback; you don't have to contract expensive developers just to learn what your visitors think.
Choose from one of the following plugins and start designing your WordPress survey form today:
Do you have any questions about how to pick the best WordPress survey plugin for your needs? Leave a comment and we'll try to help!
Free guide
5 Essential Tips to Speed Up
Your WordPress Site
Reduce your loading time by even 50-80%
just by following simple tips.