Are you making these common SEO mistakes? Search engine optimization (SEO) is one of the most effective ways to generate traffic for your website. But if you're not careful, you can be getting less-than-optimal SEO results from the content you produce.
The good news is that most of these SEO mistakes are easy to avoid as long as you know what to look for. For instance, some of them include trying to rank for the wrong keywords and failing to reach users with your content. As such, avoiding these potential pitfalls can give a potential boost to your ranking.
In this piece, we'll cover five common SEO mistakes you might be making in WordPress.
We'll discuss each one and offer some tips for how you can avoid them. Let's get started!
1. Trying to rank for the wrong keywords
Keywords are an essential part of SEO. The most effective ones match search terms commonly used by your target audience. However, this is not always easy to accomplish. Often, people choose keywords without a lot of movement or try to rank for the wrong audience.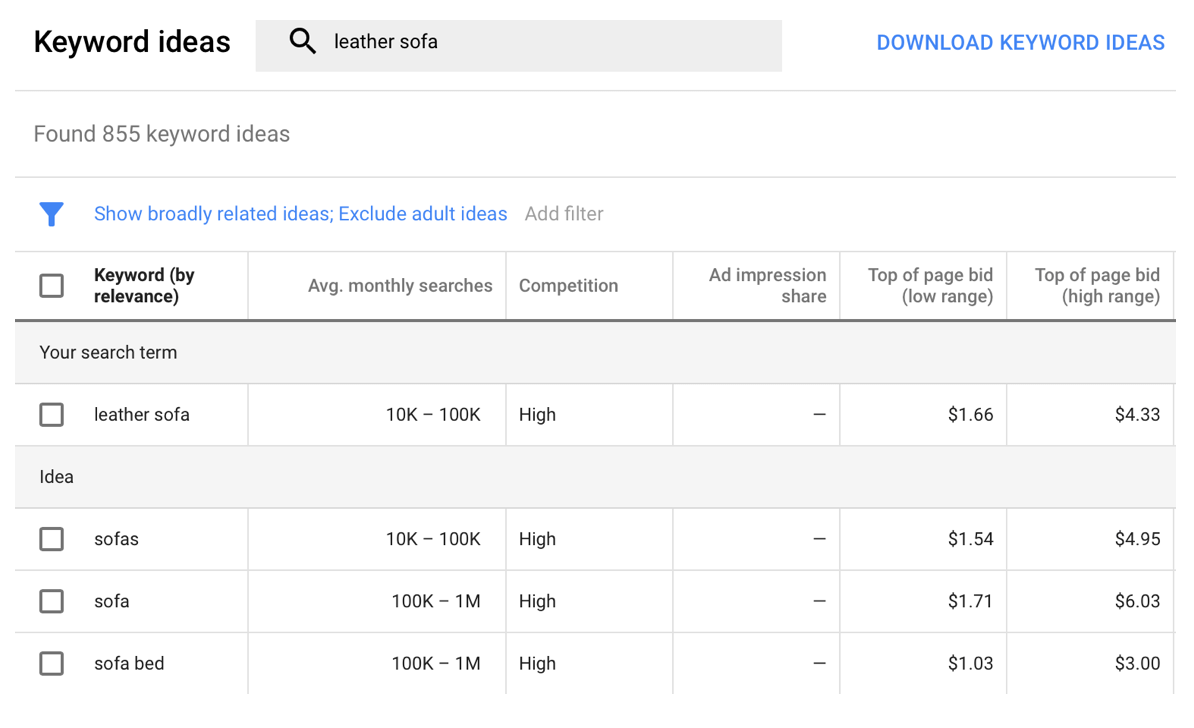 Another issue is in choosing keywords with too much traffic, such as our example. Sometimes, website owners try to rank for keywords that are too generic, and it means their content is often lost among the competition. As such, you'll struggle to find it in search results.
This is why you should look at 'long tail keywords.' For the uninitiated, these are longer (up to around six words) and highly-specific. As such, they usually receive fewer searches, but have a more targeted audience and are often easier to rank for.
Basically, with SEO, sometimes you're better off being the big fish in a little pond rather than trying to swim in the big pond – at least until your site's authority grows.
It's also important to do a little research. A handy tool for this is Google Keyword Planner. With it, you can get results for how often your keyword is searched for, as well as a list of alternative possibilities. With this information, you can brainstorm the best keywords for your content.
2. Having a poor internal linking structure
The links you put into your content are more than just for readers. They are also for search engines as they use them to identify your most important pages. When content creators fail to include links or skip this step, it has a negative impact on SEO.
When creating your content, it is important to include a few links sprinkled throughout. These links should connect to both outside content and other pages on your own website. They should also appear as organically as possible when included within the text. For example, making them as descriptive of the linked content as possible.
These links are vitally important for SEO, not only to keep users engaged, but to signal to search engines that you have quality content. In addition, they provide clear pathways to conversion pages and additional content for users.
If you pay attention to this post, you'll see how we include lots of contextual links – like the one in the previous paragraph!
3. Failing to target the correct audience with your content
Your content is the meat of your website. In general, the better your content is, the more traffic you will attract and the higher your search rank will be. Conversely, when it falls flat or attracts the wrong audience, your SEO will suffer.
When search engines see your content as authoritative and knowledgeable, it gives it a higher ranking. For example, Neil Patel is known as an expert in his field (web marketing) and the content on his website often appears first for certain search results.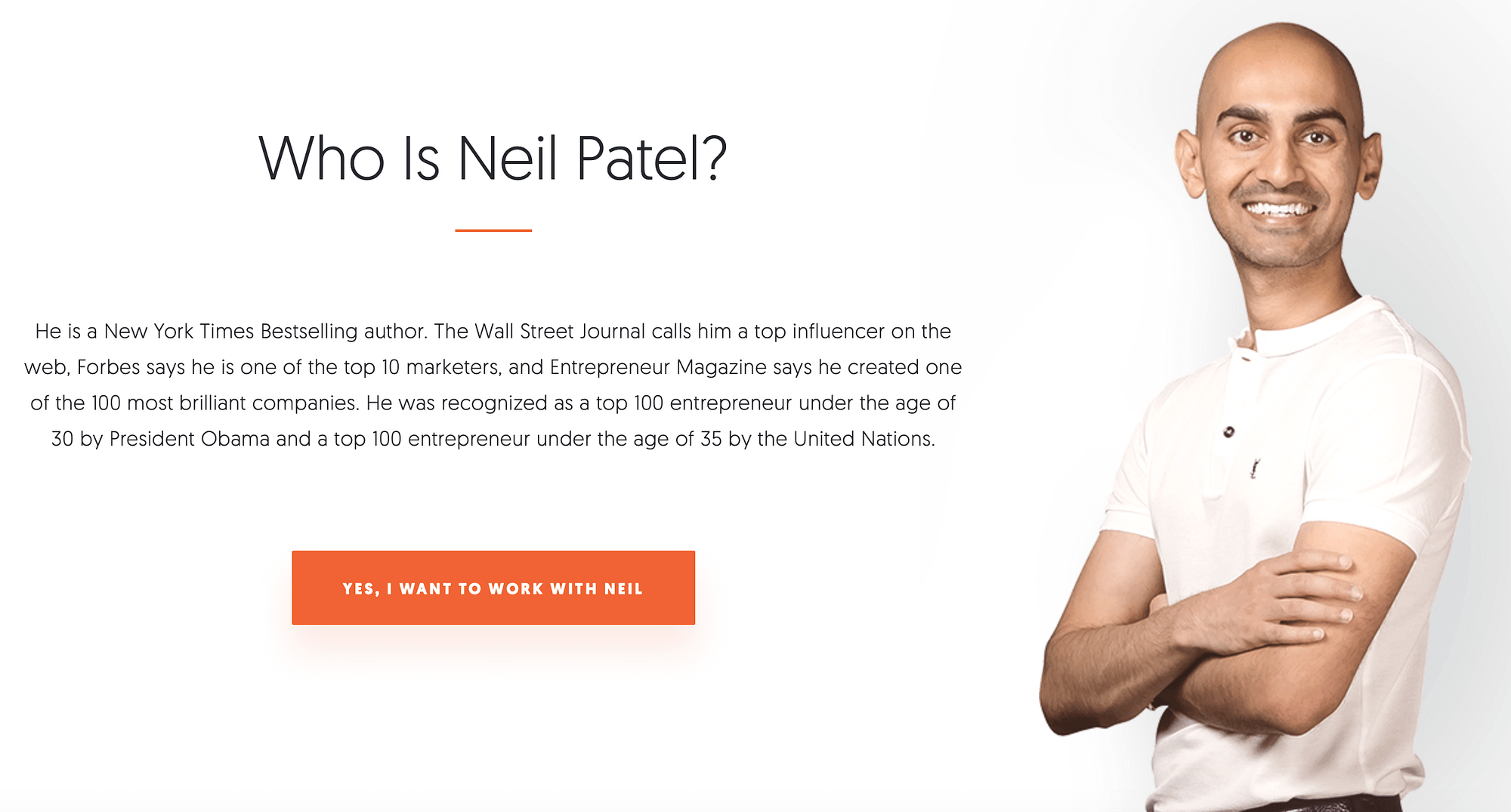 You can hardly expect a search engine to rank your content highly when it is poorly written or not fleshed out enough. In order to have the best result for the search inquiry, you need to write the most compelling content.
To write quality content, you'll need to make connections to popular topics in an easy-to-read style. Also, it should be original, with actionable advice and useful information. It also helps to be entertaining and to have a clear message. In fact, we wrote a great piece on this exact subject, so check it out for more insight!
4. Not having a clear call to action (CTA)
Your CTAs tell users what to do and where to go next. In addition, they encourage users to click through your site to more profitable pages. On top of improving your bounce rate, they also offer search engines a clear purpose for each page on your website – critical for SEO.
For example, these brief explanations of the services offered by the Red Rocket Web Specialists are each accompanied by an obvious CTA. What's more, they stand out with bright colors contrasted against a light background.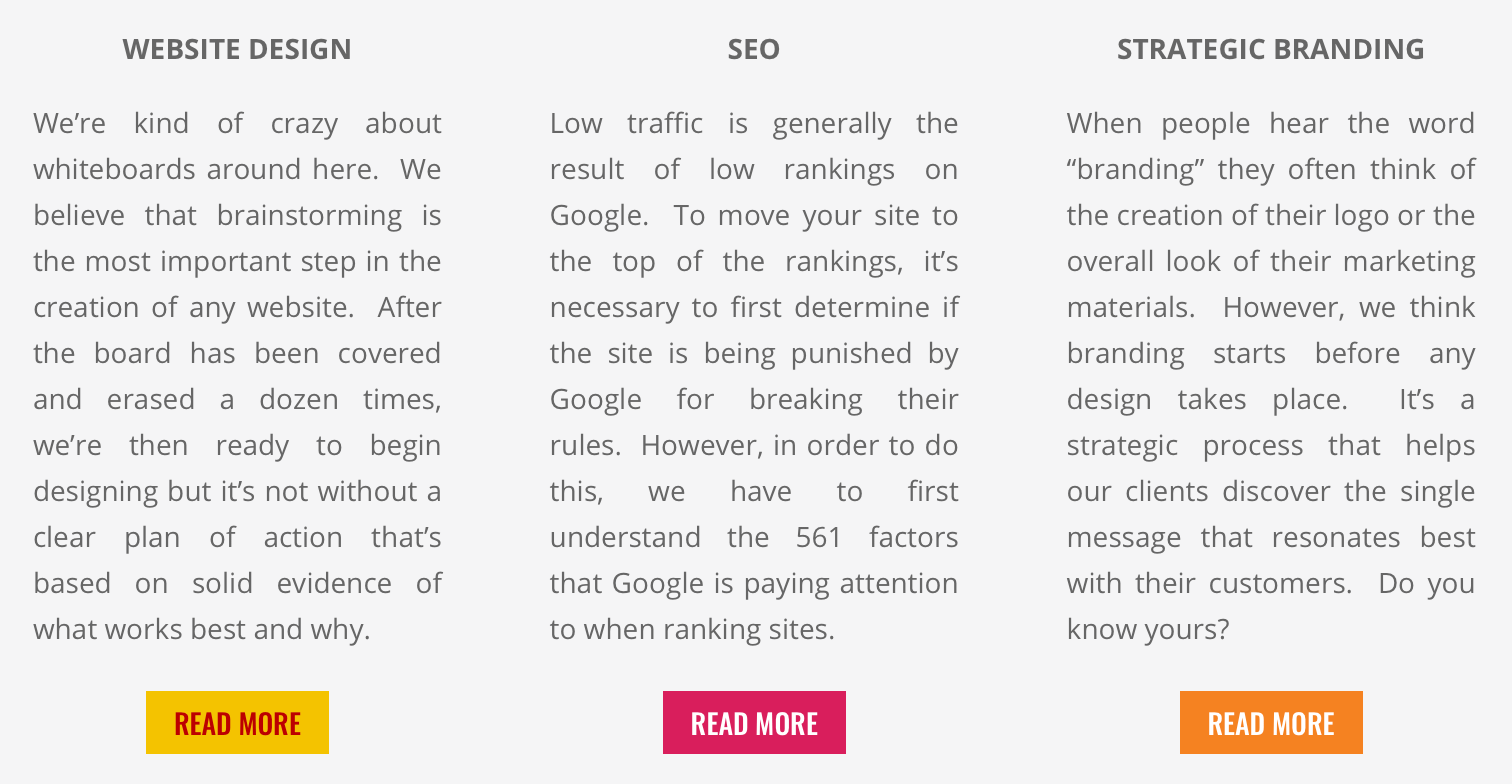 When you don't have clear CTAs, very few users who find your content will move to other content on your site.
As you can see, you should include a CTA wherever there is a natural stopping point for your content, such as at the end of a blog post. It can also help your conversion rates to make them clear and to have them stand out from the rest of the page. Of course, there are a number of ways to do this, including using colorful buttons (like the ones in the example) and employing actionable words.
5. Neglecting suggestions from your chosen SEO plugin
Of course, one of the most effective tools for improving SEO for your content is to use a plugin that provides an SEO analysis, such as Yoast SEO. However, there are still those who fail to follow the suggestions or shrug them off as unimportant.
Content that is not optimized to follow these suggestions will likely fail to rank very highly in search results. If you publish your posts too quickly, without including all of the elements search engines are looking for, your content is bound to perform poorly.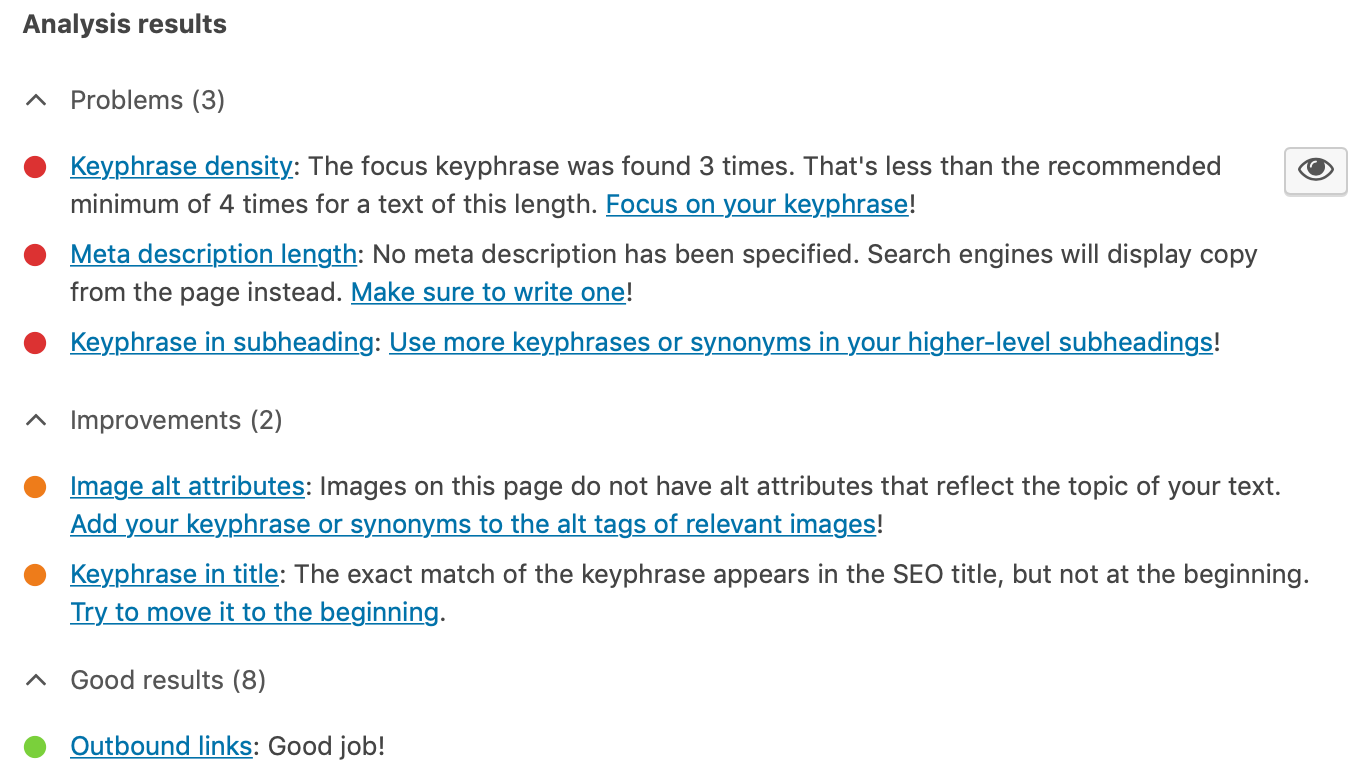 Here, we can see some obvious issues with the current state of this content. For instance, certain elements are critical for SEO, such as the meta description and the keyword density.
However, with this analysis, we know what needs to be fixed and so we can go about doing so. Many of these issues are simple, and completing them will help the content to rank higher (in theory, at least.)
To go about this, simply follow the SEO analysis you're given, and make sure you include certain elements such as a meta description (examples here) and your keyword placed at various points in the piece (especially at the beginning and end).
For an SEO plugin with good on-page SEO suggestions, we at Themeisle recommend (and use) Yoast SEO:
There are also some quality Yoast SEO alternatives that include on-page SEO suggestions, with two good options being:
Stop making these SEO mistakes today
SEO is an essential strategy to grow your website. Therefore, it is important not to make any SEO mistakes that might have a negative impact on your business – and on your conversion rates.
In this piece, we've discussed five common SEO mistakes to avoid when using WordPress. To quickly review, they are:
Trying to rank for the wrong keywords.
Having a poor internal linking structure.
Failing to target the correct audience with your content.
Not having a clear call to action (CTA).
Neglecting suggestions from your chosen SEO plugin.
Would you like to ask a question about common SEO mistakes to avoid when using WordPress? Let us know in the comments section below!
Free guide
5 Essential Tips to Speed Up
Your WordPress Site
Reduce your loading time by even 50-80%
just by following simple tips.