Searching for the best WordPress plugins for testimonials?
Whether you're selling products, services, or anything else, reviews and testimonials are an important part of converting your visitors into customers. Using any of these testimonial plugins will give you the tools to publish user opinions that can help build trust with new customers.
In this article, we'll compare the five best WordPress plugins for testimonials, discuss their features, and show you what they look like in action.
Let's get to it!
First off, Strong Testimonials enables you to create custom testimonial submission forms and add them to your website. When users submit testimonials, you can preview them and choose which ones to publish.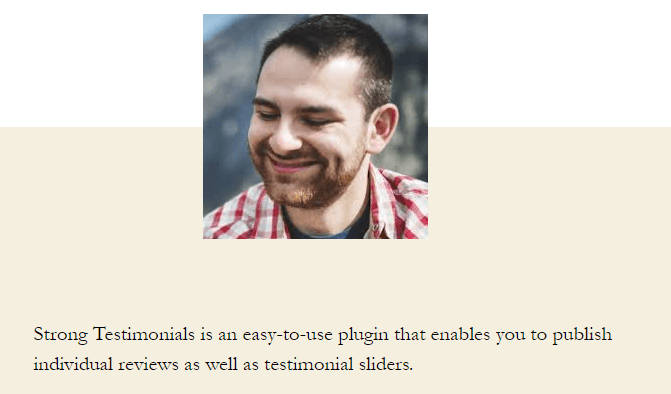 With Strong Testimonials, you can share individual reviews or set up testimonial sliders with multiple options. In addition, the plugin enables you to set up multiple custom 'views' or styles, so you can use different types of testimonials throughout your website.
Standout features:
Create and publish custom testimonial submission forms
Publish individual testimonials or sliders
Create custom styles for your testimonials
Add testimonials using shortcodes or widgets
Price:
All of the features we've covered so far are part of the free version of Strong Testimonials. The plugin also offers premium licenses, starting at $29 per year. Premium plans include support for multiple websites, advanced templates, custom form fields, and more.
Testimonial Rotator enables you to add testimonials manually to your website. Those testimonials can include several custom fields and star ratings. However, the real strength of the plugin lies in constructing testimonial sliders, which can include any reviews you receive.

However, the downside of using this plugin is user submissions, as they aren't handled all that gracefully. What's more, your styling options leave a lot to be desired. 
You can enable adding new testimonials for specific user groups through the admin interface, which isn't ideal in our opinion. To set up proper form submission, the plugin integrates with Gravity Forms. However, Gravity Forms only comes in a premium version, so you'll need to open your wallet if you want to use the integration.
Standout features:
Set up testimonials using custom fields and star ratings
Compile testimonials into rotators
Integrate the Gravity Forms plugin into your workflow to enable user testimonial submissions
Enable testimonial submissions via the admin for specific user roles
Price:
Testimonial Rotator is 100% free.
Testimonials Widget is a great option for handling large numbers of reviews and testimonials. The plugin enables you to set up complex taxonomies, including categories and tags, for your testimonials. You can use those taxonomies to create carousels that display only the elements you want.

The carousels can include testimonials put together by you, shortcodes from third-party plugins, and custom CSS. You can place individual testimonials on your pages using shortcodes or widgets, as well as full carousels.
Standout features:
Display individual testimonies and carousels using widgets and shortcodes
Include third-party plugin shortcodes as part of your carousels
Customize testimonials using CSS
Set up custom categories and tags for your testimonials
Price:
The free version of the Testimonial Widgets plugin supports all the features we mentioned before. You can also purchase a premium license starting at $29.99 per year for a single website, which supports advanced slider effects.
Testimonial Builder offers a much more streamlined process than other similar plugins we've seen so far. The plugin's primary selling point is its templates that help you to kickstart your testimonial designs. It comes with two free options out of the box, and you're able to customize every element within.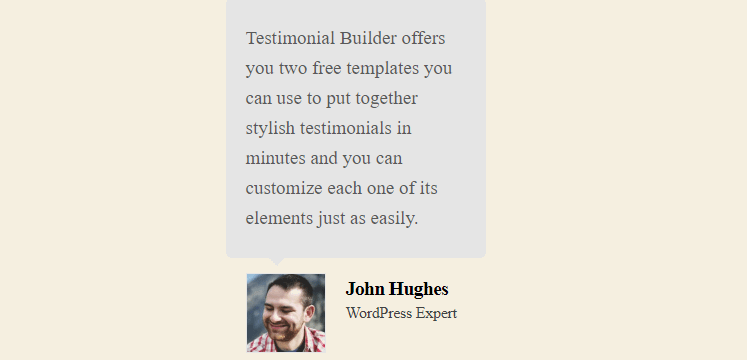 You can set up multiple testimonials as part of a single element, then publish them together using a shortcode the plugin generates. Plus, the plugin supports custom CSS code for each testimonial.
Standout features:
Set up testimonials using pre-built templates
Publish testimonials individually or as groups
Set up custom CSS for each testimonial
Add testimonials to your content using shortcodes
Price:
The free version of Testimonial Builder only includes two templates. However, with a pro license – which starts at $14 for six months – you get access to 150 templates, which is obviously a huge increase.
Testimonial Slider enables you to create testimonials and place them on your website using either grids or sliders. You can add as many testimonials as you want, and the plugin comes with several style customization options.

However, the plugin requires you to generate a shortcode for every type of testimonial display you want to set up. This means you still need to use its built-in shortcode generator even if you want to show a single review. Otherwise, none of the testimonials you build will show up when using the Block Editor.
Standout features:
Set up testimonial grids and sliders
Generate individual shortcodes for as many styles of grids or sliders as you want
Price:
We focused on the free version of the plugin for this comparison. However, you can also get a premium license that gives you access to more layout options, unlimited grids, advanced taxonomies, and much more.
Premium licenses for Testimonial Slider start at $15 per year for a single website.
Recapping the best WordPress plugins for testimonials
Testimonials and reviews are one of the best ways to build trust with potential customers. People will usually trust what other consumers have to say over traditional marketing. By empowering your customers with a way to share their thoughts, you may be able to get more conversions.
To get started, we recommend you check out any of these five best WordPress plugins for testimonials:
Free guide
5 Essential Tips to Speed Up
Your WordPress Site
Reduce your loading time by even 50-80%
just by following simple tips.