Searching for the best offshore web hosting?
There are dozens of reasons you might want to choose offshore web hosting. However, there are nearly as many providers that offer this service. With so many options available, finding your ideal match can feel impossible.
Fortunately, a few candidates stand out above the rest. By evaluating the features offered by the top offshore hosts, you should be able to find a service that fits your needs and budget.
In this article, we'll go over a few features that you may want to look for in an offshore web host. Then we'll cover five of the best options available today. Let's dive right in!
What to look for in an offshore web hosting provider
There are plenty of reasons to choose offshore web hosting. Perhaps you prefer more flexible privacy laws than the U.S. can offer. Alternatively, you might want to maintain your anonymity. Whatever your motivation, there are a few features that you can look for to support these needs.
For starters, you may want to consider where exactly the offshore hosting takes place. Some countries have stricter privacy laws than others. Popular locations for offshore web hosting include the Netherlands and Russia (or other nearby countries such as Bulgaria).
Furthermore, you might want to consider a provider's multilingual support options. Even experienced users can run into technical difficulties with their host. If this happens to you, you'll probably want to work with an employee who speaks your language.
Another possible hurdle with offshore providers is payment. International transactions can be complicated. That's why you might want to look for a service that offers different ways to pay, such as a cryptocurrency option. For example, some PayPal alternatives could be very affordable across borders.
Finally, you may also want to think about your own privacy during registration. If you're looking for offshore hosting, you may not want your name attached to your website. Consider finding a provider that understands this and collects as little of your data as possible.
Best offshore web hosting providers
Now that we've talked a little about what to look for in an offshore web hosting providor, let's look at 5 top options. Each of our showcased hosts offer high-performance technology stacks with global coverage, so the best option for you will depend on your budget and the features your project demands.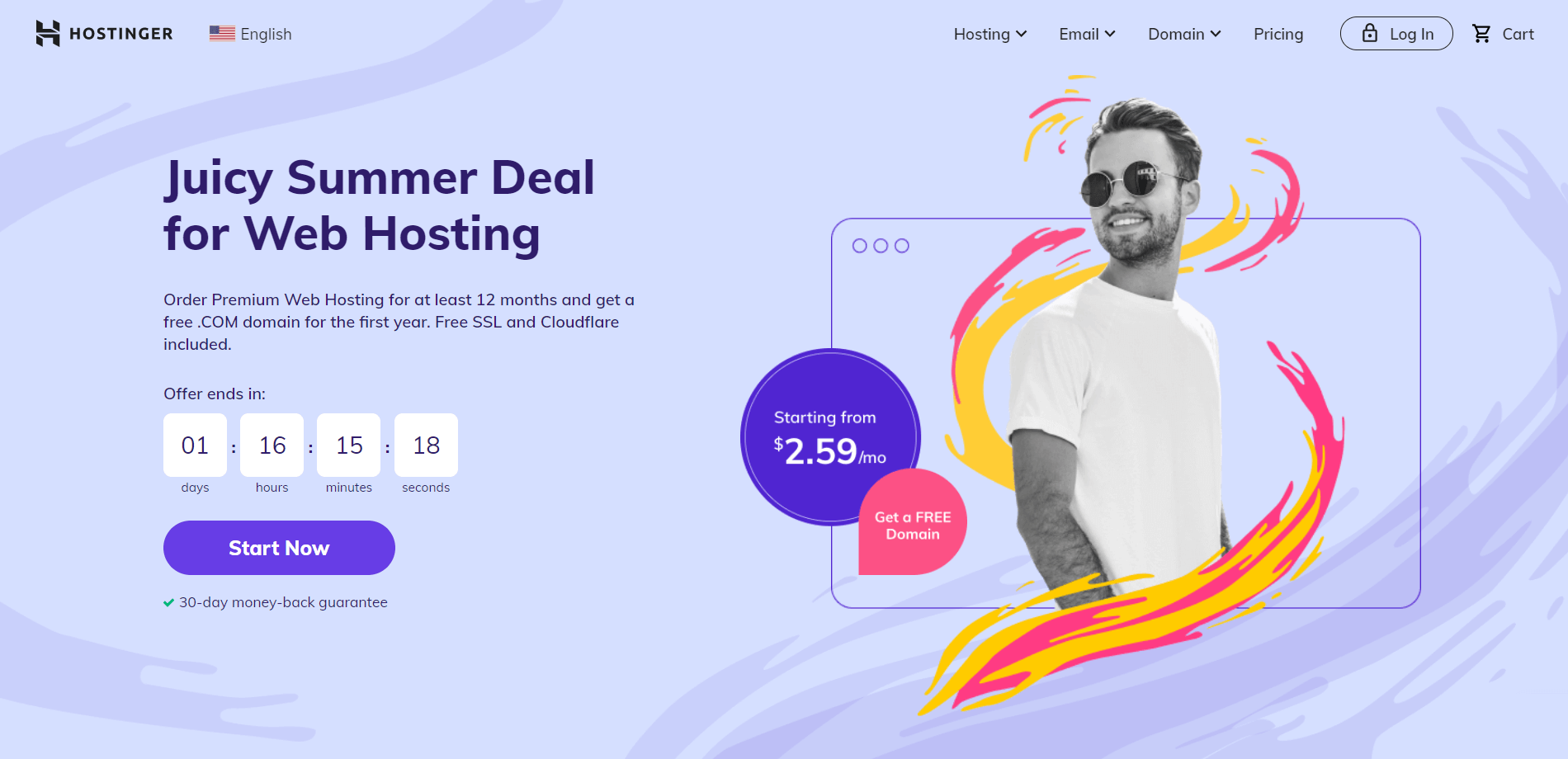 🗺️ Main headquarters: Lithuania and Cyprus
💻 Server locations: Netherlands, Lithuania, Indonesia, Brazil, Singapore, UK, USA
Hostinger is a popular choice for both local and overseas hosting. You can choose from a range of budget or premium options and Hostinger uses LiteSpeed Web Server for improved performance.
⚙️ Features:
A custom cache manager to provide quick load times consistently
One-click installation for over 100 apps
Strong firewalls to protect your page
Furthermore, you get a lot of control with Hostinger. You can choose from seven different server regions around the world, including options in privacy-friendly jurisdictions like the Netherlands. Each location uses powerful Tier-3 databases.
This also means you can pick the location with the best privacy laws for your content. As such, Hostinger could be a smart choice if you value having control over your server.
Moreover, Hostinger's admin panel is very user-friendly. Combined with around-the-clock support, you can probably count on a smooth experience with this brand of offshore web hosting.
💵 Pricing: Shared offshore plans start at just $1.99 per month. This makes it the most affordable option on our list. If you're planning on using offshore hosting for your small business, consider opting for the $4.99 per month Business plan.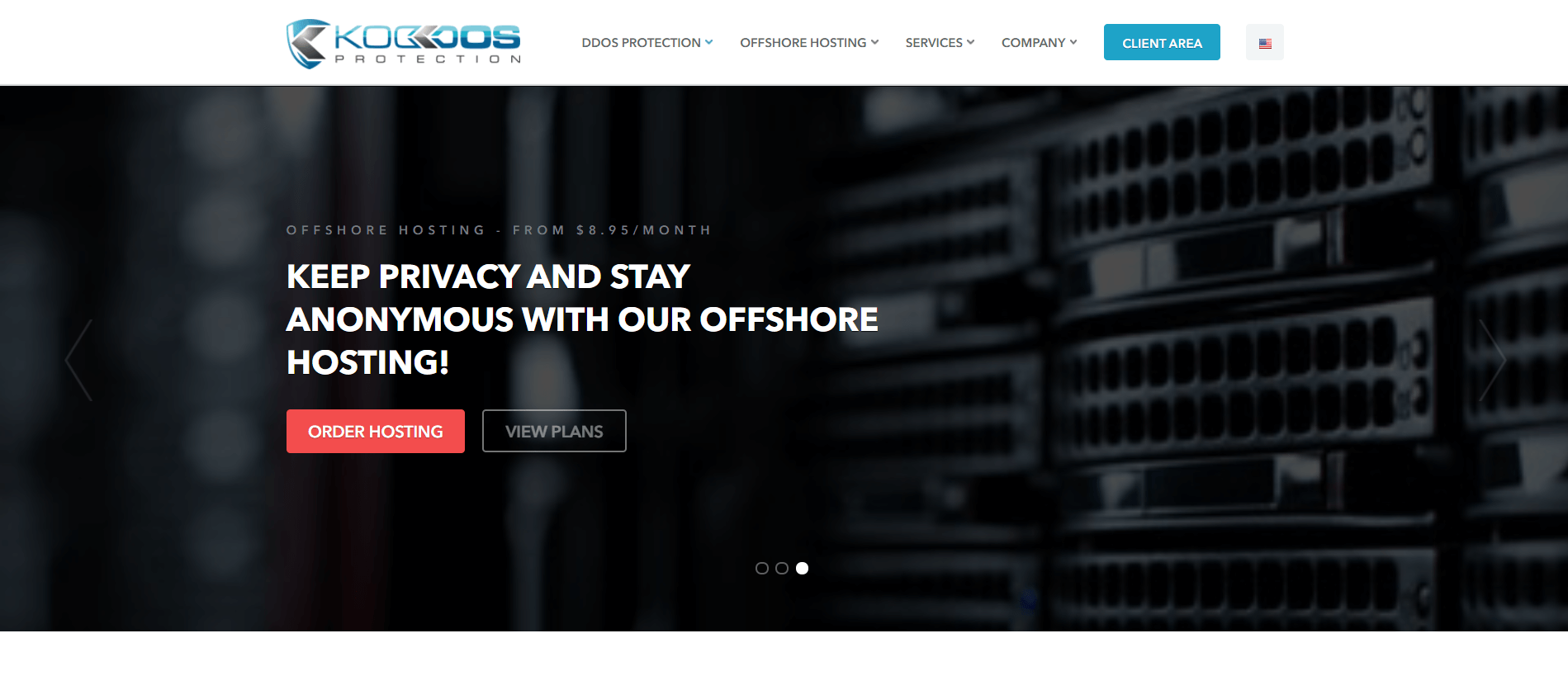 🗺️ Main headquarters: Hong Kong
💻 Server locations: Netherlands and Hong Kong
If you appreciate high-quality hardware, look no further than Koddos. This company offers offshore web hosting in the Netherlands. However, you can also choose Hong Kong if you want.
⚙️ Features:
Unlimited MySQL, email, and FTP for all plan levels
Advanced Cloudflare and Distributed Denial of Service (DDoS) protection
All servers are connected to at least 1 Gbps for reliable service
Given all these aspects, we recommend Kodos if you prize a speedy site. Additionally, since Kodos specializes in combating DDoS attacks, your site will be very secure.
Koddos is also a logical choice if you're looking for a hosting reseller. This is one of the many services that this company offers. If you'd like to reap the benefits of both reseller and offshore hosting, Koddos should be on your shortlist for consideration.
Additionally, Koddos doesn't require you to sign a contract. As such, it's also a fitting choice if you don't want to be locked down. This may also make it easier to scale up or down if you need to.
💵 Pricing: Koddos has options starting at $8.95 per month. You can scale all the way up to $39.95 per month. Higher tier plans give you more storage, bandwidth, and domains.
🗺️ Main headquarters: India
💻 Server locations: Netherlands, Malaysia, Germany
Specialization can be valuable. If you want a provider that only offers offshore web hosting, Flaunt7 may be the right solution for you. This company will help you set up shared, VPS, or even dedicated hosting overseas.
⚙️ Features:
Regular server backups to keep your site safe in the event of a disaster
SSD powered servers for maximum loading speeds
Optimization advice rather than suspension for overusing your resources
Additionally, Flaunt7 might be a particularly fitting choice if you're worried about Digital Millennium Copyright Act (DMCA) complaints. These usually occur if you have copyrighted material on your page. However, Flaunt7 ignores all invalid DMCA messages. Thus, you can keep your content posted for longer and with less hassle.
💵 Pricing: Flaunt7's shared hosting starts at an affordable $3.99 per month. However, there are tons of plans to choose from. Your options will scale all the way up to $999.99 per month for the top-notch dedicated hosting options.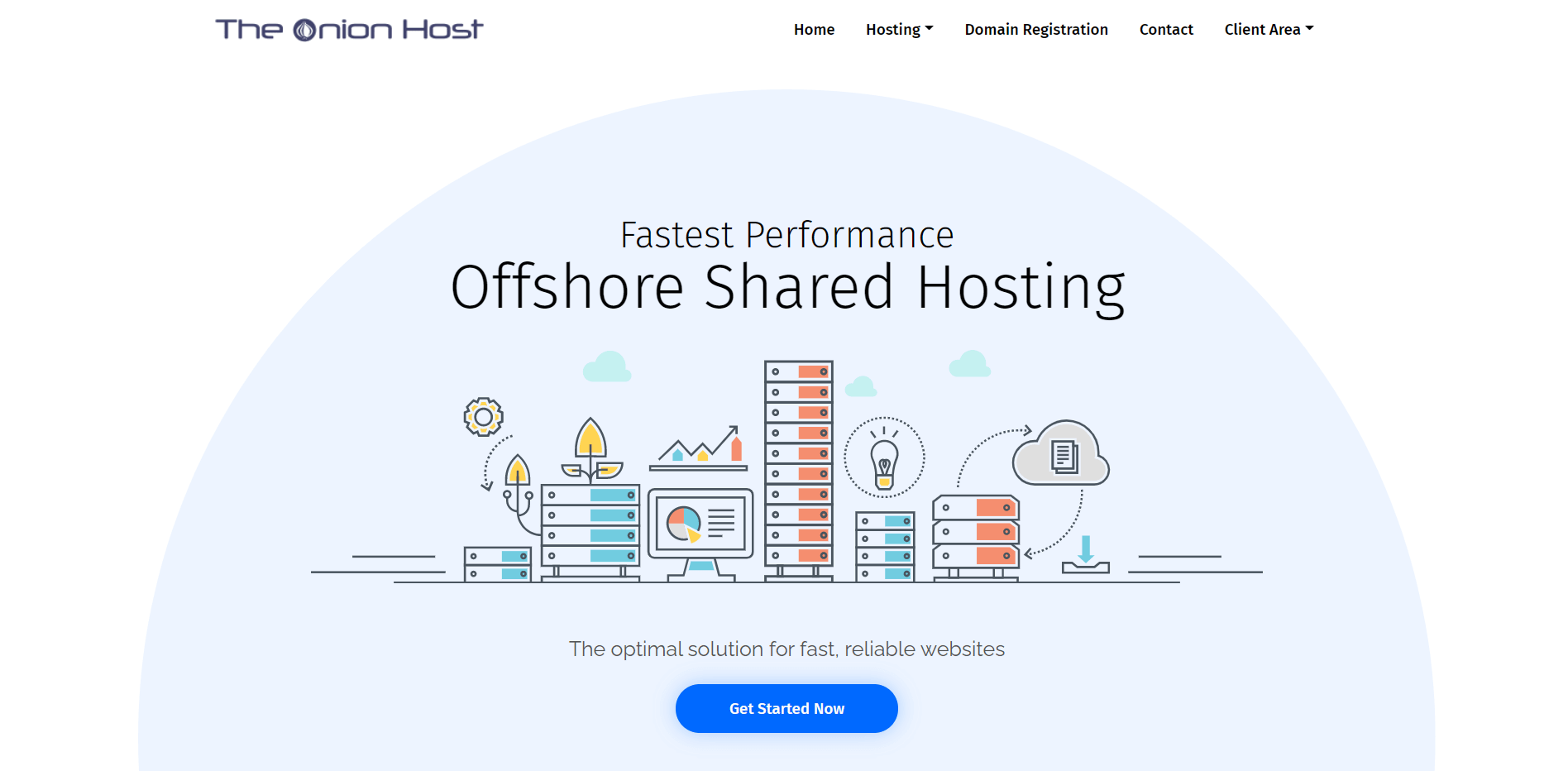 🗺️ Main headquarters: Bulgaria
💻 Server locations: Bulgaria and the Netherlands
You may not be familiar with The Onion Host, but this flexible provider can deliver impressive power at affordable prices. This is partially thanks to its Tier 1 data center in Bulgaria.
The Onion Host's user-friendliness is also a major factor. This service arguably offers the easiest way to get the most effective results. Here are a few features that we feel demonstrate this fact:
⚙️ Features:
Automated provisioning for a stress-free maintenance experience
Choice of CentOs, Debian, or Ubuntu as your operating system
Ability to use a variety of payment options for your bill, including Bitcoin
In addition to your choice of operating system, you can also choose from shared, VPS, or dedicated hosting. When combined with optional full root access, you have the final say on how the most important parts of your offshore web hosting will run.
💵 Pricing: If you're interested in shared hosting, plans start at $3.99 per month. If you prefer a dedicated server for your content, those options start at $70 per month. As a bonus, The Onion Host offers a 100% money-back guarantee. Thus, it might be a smart starting point if you're cautious about signing up for offshore web hosting.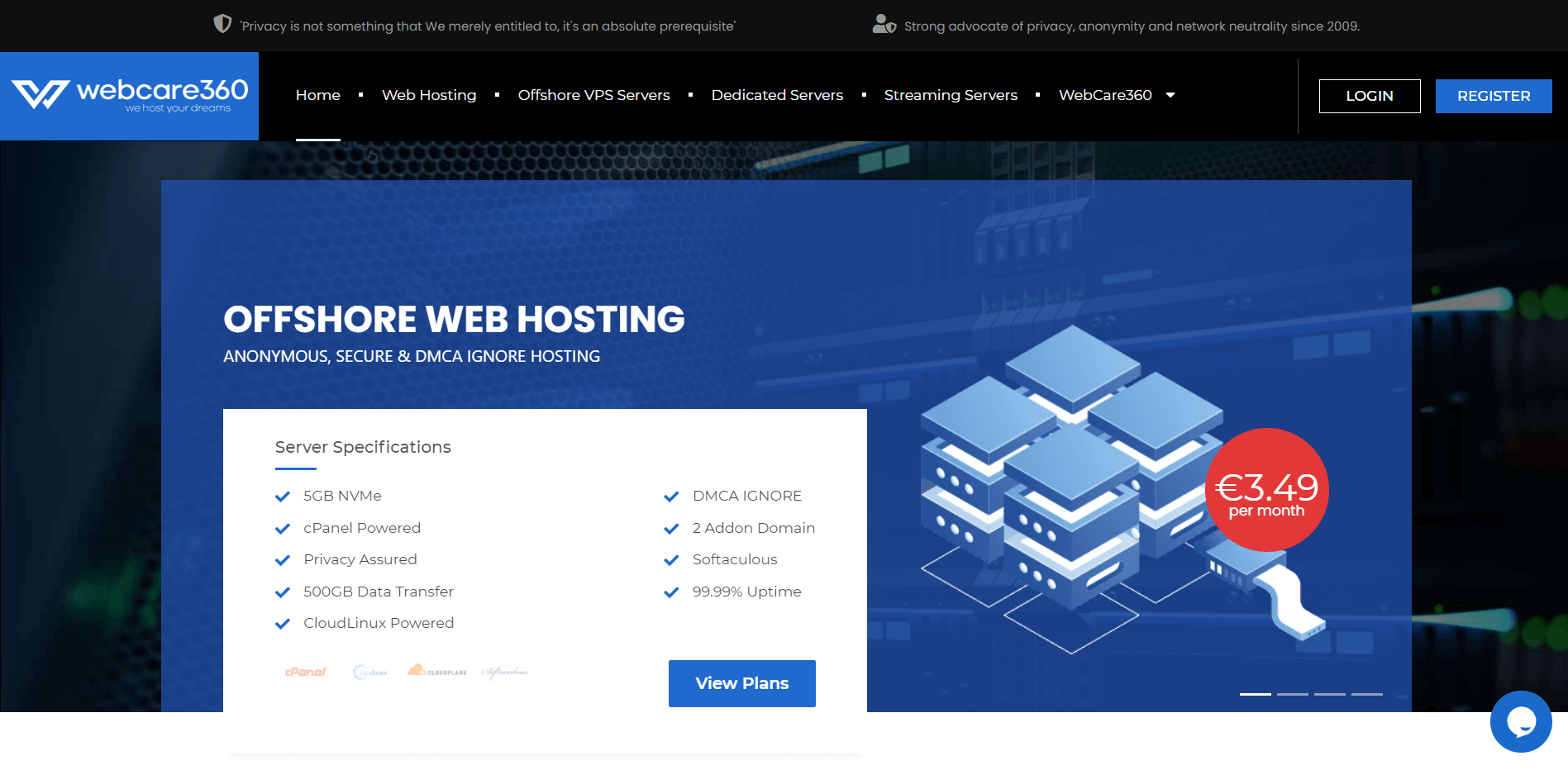 🗺️ Main headquarters: St. Kitts & Nevis
💻 Server locations: Ukraine, Sweden, Russia, Netherlands, Poland, Bulgaria
One of the major benefits of offshore web hosting is privacy and anonymity. WebCare360 integrates that advantage into its service philosophy. As such, it collects the bare amount of information during registration. All you need to provide is your name, email address, phone number, and payment data. No documentation is required at all.
⚙️ Features:
Top-tier NVME-SSD hosting for incredible speed no matter where your visitors are
No monitoring of your site content, and no re-selling of your data
Built-in Attracta SEO tools to support your traffic numbers as well as your privacy
In addition to these elements, the support team at WebCare360 personally responds to all queries – there are no automated messages to waste your time. The service also offers cPanel to manage your hosting.
Because of the limited information that you need to supply, WebCare360 can be a good option if you value privacy.
💵 Pricing: Shared hosting costs range from $3.99 to $99.99 per month. While features such as storage may differ, all plans include 24/7 robust support and advanced privacy measures.
Get started with offshore web hosting today
Selecting the right hosting provider can be a little challenging. If you're seeking offshore web hosting, this choice can be even more difficult. Fortunately, a careful evaluation of the features offered by the best providers can help you make an informed decision.
In this article, we covered five formidable offshore hosting services. However, we're particularly impressed by The Onion Host. With an incredible amount of customization features for your site, you're likely to find a powerful option that will help you maintain your privacy.
If you want to see how offshore hosting providers stack up to more mainstream options, you can browse our collection of the best web hosting to see how they compare.
And once you pick your hosting, you can follow our guide on how to make a website to get started.
Do you have any questions about finding your perfect offshore web hosting provider? Let us know in the comments section below!
Free guide
5 Essential Tips to Speed Up
Your WordPress Site
Reduce your loading time by even 50-80%
just by following simple tips.