Finding the best inventory management software is important, that's a fact!
Inventory management software will not only help you better track and organize your warehouse, but it will also help you cut down on hardware expenses. Through the software, companies can manage problems like product overstocking or outages, and they can effortlessly manage orders, sales, and deliveries.
However, checking out all the different inventory management software options could be a bit tedious. So, we have collected some of the best options and shared our picks for the top five.
Through this post, you will be able to thoroughly explore the top inventory options, as well as their features and pricing plans.
Five of the best inventory management software solutions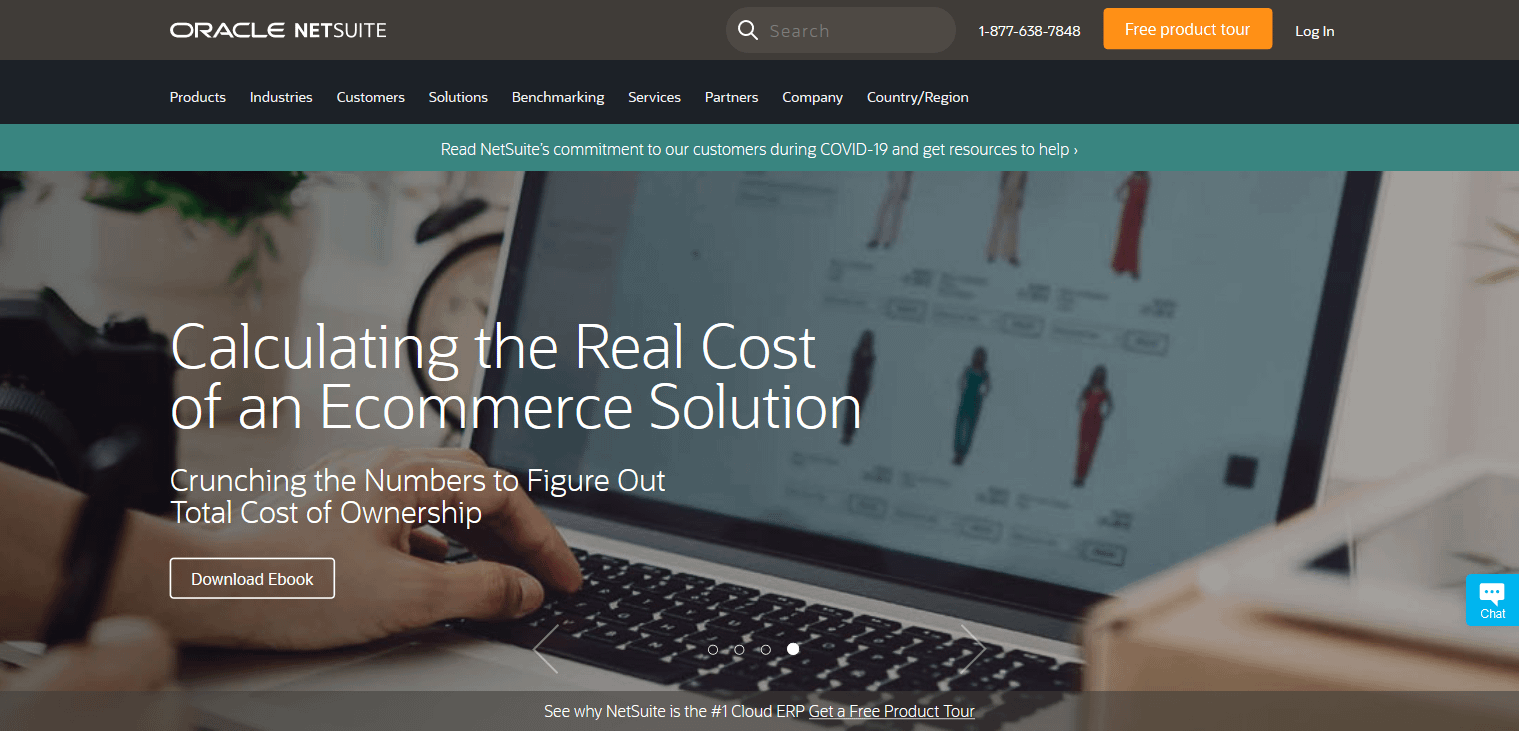 NetSuite is an all-in-one business solution to help you with inventory management, accounting, and marketing. NetSuite is helpful for businesses of all shapes and sizes.
Think of it as a cloud-based inventory system that brings together the back-office and financial processes on a single dashboard.
NetSuite was acquired by Oracle in 2016, so it has the resources of a billion-dollar company behind it.
Features
Multilingual support
Revenue recognition
Built-in business intelligence
Retail inventory management
Over 350 integrations
Global support
Kitting
Forecasting
Production identification
Multi-warehouse support
Integrated POS
Order management
Supply chain management
Fully responsive
Multi-currency feature available
Dropshipping option
Tax compliant
Price
Pricing starts at $99/month. Alternatively, you can sign up for a free Netsuite ERP demo on their website.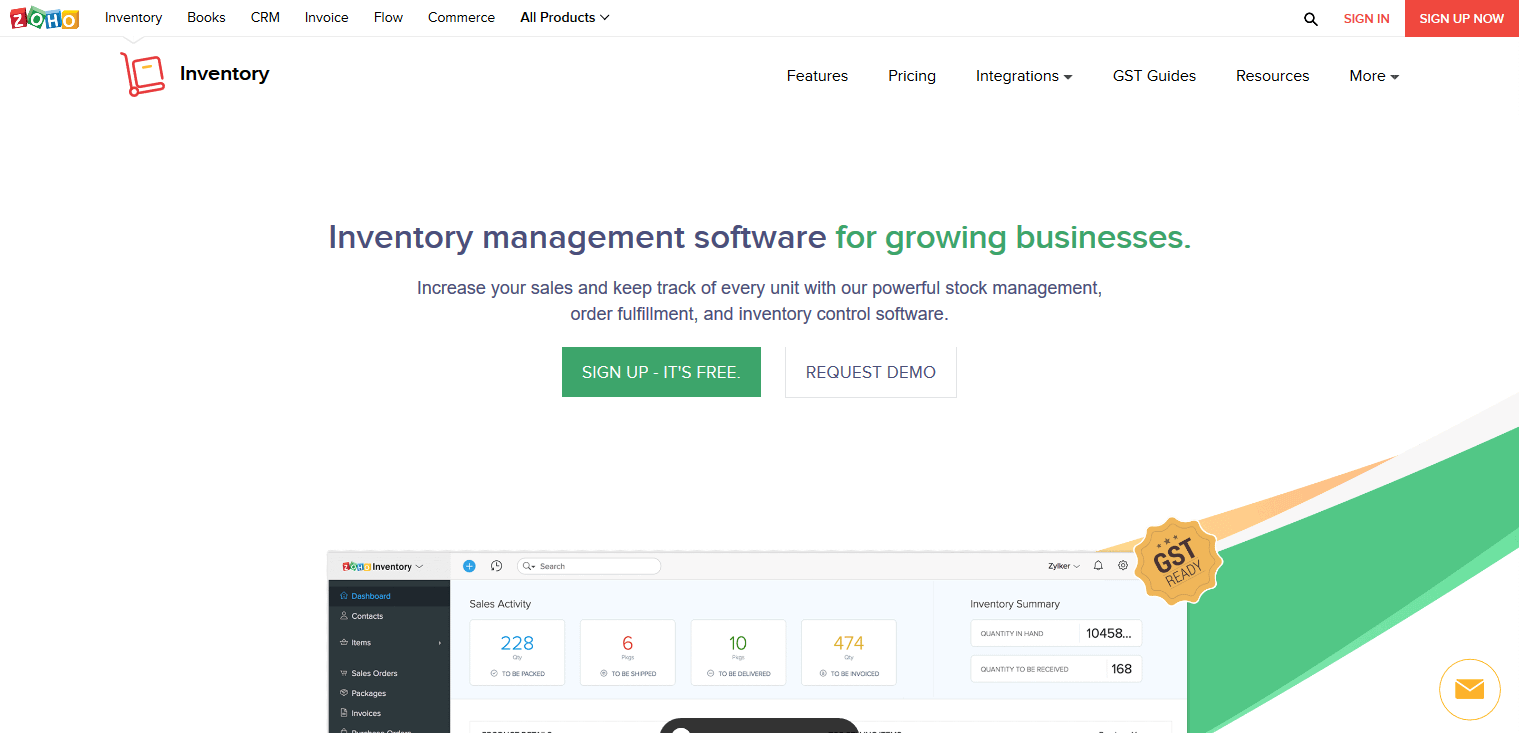 The only reason Zoho Inventory is in the second position is because of some extras NetSuite has to offer like forecasting. Putting that aside, Zoho Inventory is the best inventory management software in the marketplace.
Zoho Inventory is tightly integrated with other apps in the suite. You can use this software for both inventory tracking as well as creating sales orders and invoices.
Zoho Inventory also has a built-in integration for WooCommerce.
Features
Inventory reports
Order fulfillment with integrations for 40+ shipping carriers
Calculate real-time shipping rates and print labels
Multilingual and multi-currency
Backorders available
Invoicing and billing available
Multiple store integration
Dropshipping option
Android/iOS support
Free setup assistance
Price
Zoho Inventory has scalable pricing options. Their plans are solely based on usage limits for limits such as:
Online orders per month
Offline orders per month
Shipping labels per month
Shipment trackings per month
Warehouses
Users
This means you only pay for the features you want depending on your business size.
The four plans are:
Free – $0
Basic – $49
Standard – $99
Professional – $249
You can also use Zoho add-ons for adding to your usage limits.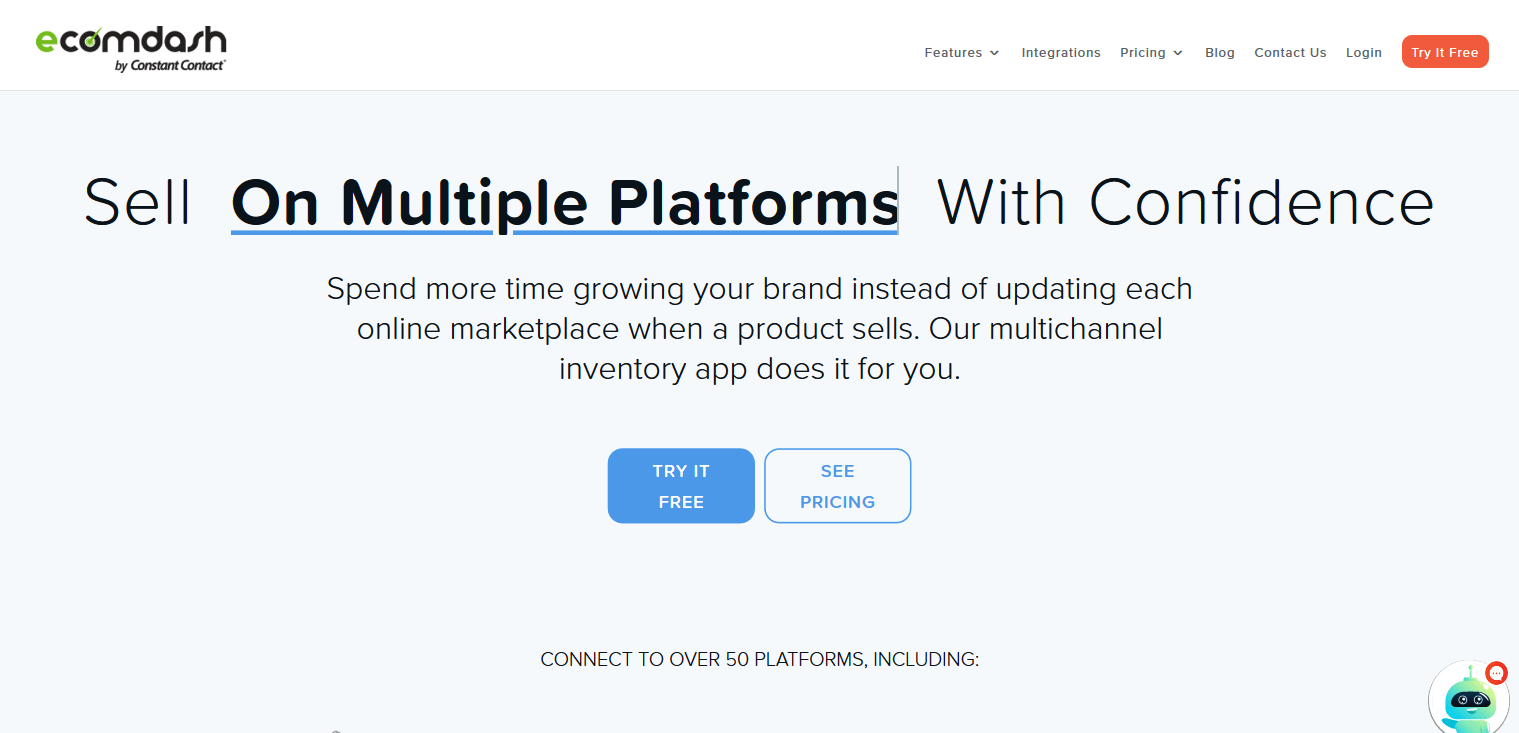 Ecomdash is a fairly simple cloud-based, multi-channel inventory management software that offers an interface to manage inventory, orders, and shipments from the same admin panel.
It is the best option for small to mid-sized inventories. You can easily manage multiple inventories using ecomdash.
Feature-wise, again ecomdash is one of the most unique inventory mapping systems. Check out a more in-depth feature list below.
In 2019, ecomdash was acquired by Constant Contact/Endurance International Group (EIG).
Features
Multichannel inventory management
Integrations for WooCommerce, Shopify, Amazon, eBay, and more
Fulfillment by Amazon (FBA) management
Unlimited support
Order fulfillment with real-time shipping rates and label printing
Set custom alerts
Product SKU mapping
eCommerce API
Easy product and sales tracking
Track manufactured items
Bundles and multipack listing
Free inventory resources
Unlimited integrations
Price
You can try this software with a 14-day free trial. Paid plans are slightly more sophisticated.
Their pricing is based on sales per month. For instance, if you have 100 monthly orders, you will have to pay $60 per month. If you have more than 10,000 orders, you'd have to reach out to ecomdash to set up a custom plan. Nevertheless, you can save 20% if you choose annual billing.
If you are looking for something that offers inventory-specific features, then Cin7 is for you.
Cin7 easily syncs online sales channels, POS systems, and third-party integrations to offer a comprehensive inventory interface.
This automated inventory platform syncs the physical and online channels to create a more efficient order processing. All this makes it good for everyone from startups to bigger brands.
Features
Multi-channel support
Integrations for WooCommerce, Shopify, Magento, eBay, Amazon, and more
Flexible inventory methods
Accurate profitability and costs tracking
Inventory planning
Higher stock visibility
Pre-order/backorder management
Built-in B2B functionality
Barcode, batch, FIFO and serial tracking
Dropshipping and return inventory management
Single-click accounting synchronization
Real-time reporting
Custom inventory fields
Mobile stocktaking
Automated inventory adjustment
Forecasting and kitting feature
Supplier management
Walmart integration
Extensive setup resources
Price
Although they have three pricing plans, you can unlock a plan for your inventory for as low as $299 per month.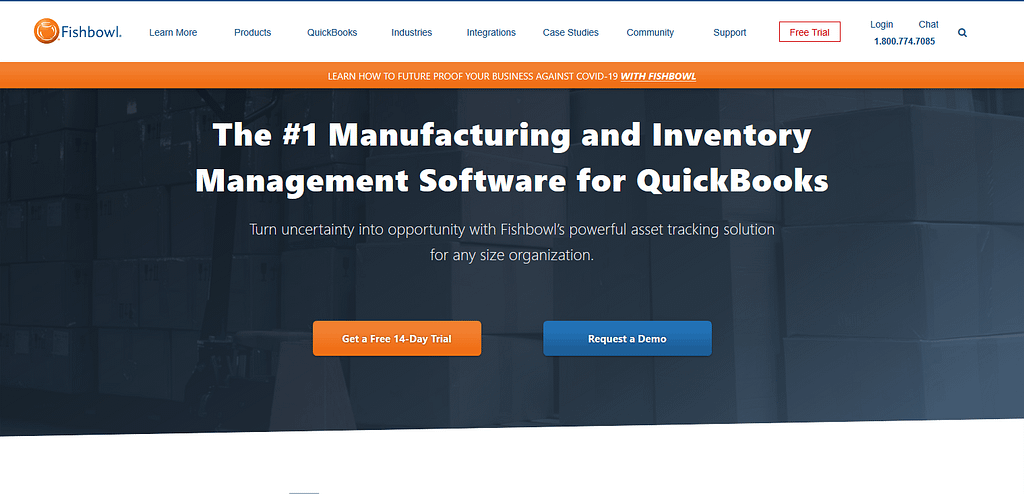 Fishbowl is the best inventory management software for growing brands and enterprise customers. It seamlessly integrates with Quickbooks for better inventory management.
This software is fully-geared towards inventory automation. The work order system enables users to create and share work orders for a variety of tasks.
When talking about the setup process, Fishbowl offers a variety of training and support resources including starting-up videos, online tutorials, in-house experts, and more.
Features
Multi-channel inventory syncing
Integrations for WooCommerce, Shopify, Amazon, and more
Inventory costing
Inventory tracking
Forecasting
Centralized inventory database
Stock history reporting
Data exporting/importing
Multi-warehouse routing
Barcode support
3PL inventory management
WYSIWYG editor
Shipment integration
Price
Fishbowl offers a good price based on the number of inventory-focused features it offers.
You'll pay $4,395 for lifetime permanent ownership of the software. You'll only need to pay again if you want to continue receiving support and updates after the first year.
Which is the best inventory management software?
As I said at the beginning of this post, finding the right inventory management software is important, especially when your business is growing.
Managing inventory and marketing at the same time is difficult, which means you need software that keeps you updated on what products you have in hand and create an effective marketing strategy accordingly.
Here are a few pointers to help you make a decision on which inventory management software to use:
If you're still in the planning stages for launching your eCommerce store, you also might want to check out our guides to the best eCommerce platforms and how much an eCommerce store should cost.
Do you have any questions about choosing the best inventory management software for your store? Ask them in the comments!
Free guide
5 Essential Tips to Speed Up
Your WordPress Site
Reduce your loading time by even 50-80%
just by following simple tips.