SSL (Secure Sockets Layer) certificates are a type of digital file that ensures a secure internet connection and safeguards your visitors' sensitive data, such as payment details or personal information. They vary in validation level and can be expensive, which is why it's worth looking into free SSL hosting providers.
Publishing a website without an SSL certificate in place can negatively impact your online authority. Once users enter your site, their browsers will warn them that their connection with your site is not secure, which might prompt them to leave. This, in turn, can ruin your search engine optimization (SEO) efforts due to the high bounce rate and low trustworthiness of your website.
In this article, we'll discuss five of the most popular free SSL hosting providers. They all offer a wide range of services and highly affordable prices. Let's go!
An introduction to SSL certificates
An SSL certificate initiates a secure session in web browsers, changing the protocol from HTTP to HTTPS. It's also cryptographically signed by a Certificate Authority (CA). This way, browsers are able to verify your site because they can see that a trusted CA vouched for it.
If you're running a simple blog, this process might not be necessary (although it's still recommended for SEO). However, as soon as your site requires users to log in or enter personal details, an SSL certificate becomes an essential requirement.
Most hosting providers now offer the standard Let's Encrypt SSL for free with their plans. This certificate uses the ACME (Automatic Certificate Management Environment) protocol, which encrypts communication between your site's visitors and your web server.
However, you may want to consider using a premium SSL certificate with Extended Validation (EV) instead. For starters, with a paid solution, you shouldn't have to worry about the hassle of monthly renewals. Many providers offer one to two years of protection before requiring you to install a new certificate. Many hosts will automatically renew SSL certificates for you, but you can still run into issues sometimes.
On top of that, while the security level is practically the same for both standard and premium SSL certificates, the premium options require more thorough validation. For instance, you might need to confirm your company's location, phone number, and more. This can minimize the chances that your domain will become involved in phishing scams.
Additionally, premium CAs offer customer support to help you troubleshoot any errors you may encounter. Plus, unlike free SSL providers that run on donations, you don't have to worry as much about your premium CA going out of business and leaving your site exposed to attacks.
Premium SSL certificates can get pricy, but are well worth the investment for most enterprise-level sites. Some examples of premium SSL certificate providers that you might want to check out are Comodo and GeoTrust.
When you purchase your hosting plan, your provider will typically automatically install a free Let's Encrypt SSL certificate on your domain. However, some providers might require you to enable it manually, or you might need to renew your SSL certificate yourself, so contact your web host if you're not sure.
TL;DR: Free SSL certificates are totally fine from a security perspective, but you might want to consider upgrading to a premium certificate for even more trust. However, most websites use free Let's Encrypt certificates, even including eCommerce stores such as all Shopify stores, so you'll be in fine company with just a free SSL certificate.
Best free SSL hosting providers
Now that we've explained what SSL certificates are and the difference between standard and premium solutions, let's look at five providers that offer Let's Encrypt SSL for free.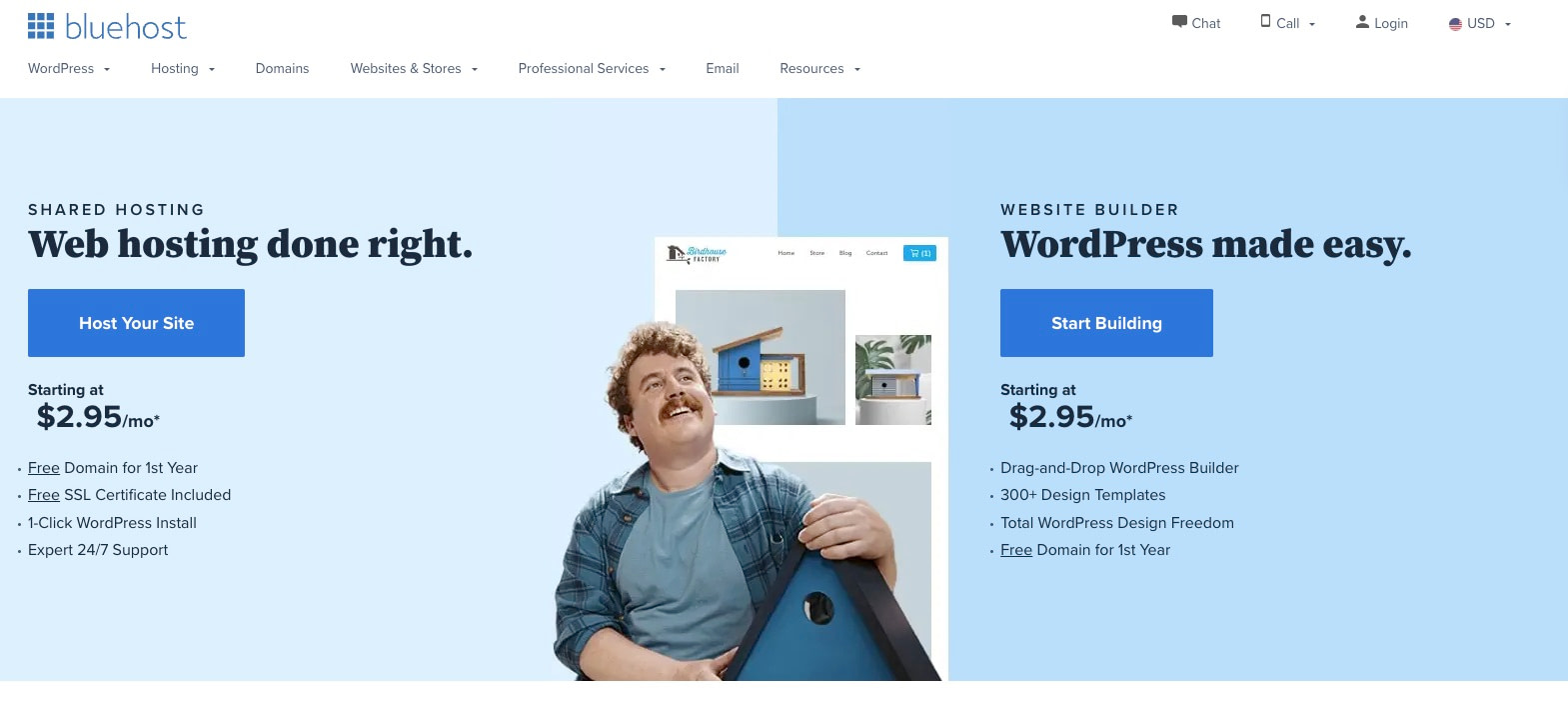 Bluehost is a well-known provider in the web hosting industry that's on the official list of WordPress.org recommended hosts. However, the company offers a wide range of services that are not limited to this platform, from shared to virtual private server (VPS) and dedicated hosting.
Bluehost's shared hosting plans come with unlimited bandwidth (apart from the Basic plan) and a free SSL certificate from Let's Encrypt. You can also claim a free domain and email, making it easy and affordable to set up a professional email address.
Besides all that, Bluehost is amongst the most beginner-friendly web hosting companies, with an award-winning, intuitive dashboard, one-click WordPress installation, and various themes. Plus, you get access to knowledgeable customer support that can help you around the clock.
⚙️ Features:
Automatic backups //  Scalable solutions  // Unlimited SSD storage (except for the Basic plan) //  Free content delivery network (CDN)  // Google Ads credit
💵 Pricing: Bluehost's plans start from just $2.75 per month for the Basic package, which comes with 50 GB SSD storage. All Bluehost plans include a free Let's Encrypt SSL certificate. Alternatively, you can purchase a Comodo Private SSL certificate.
👉 Want to know more? Read our full Bluehost review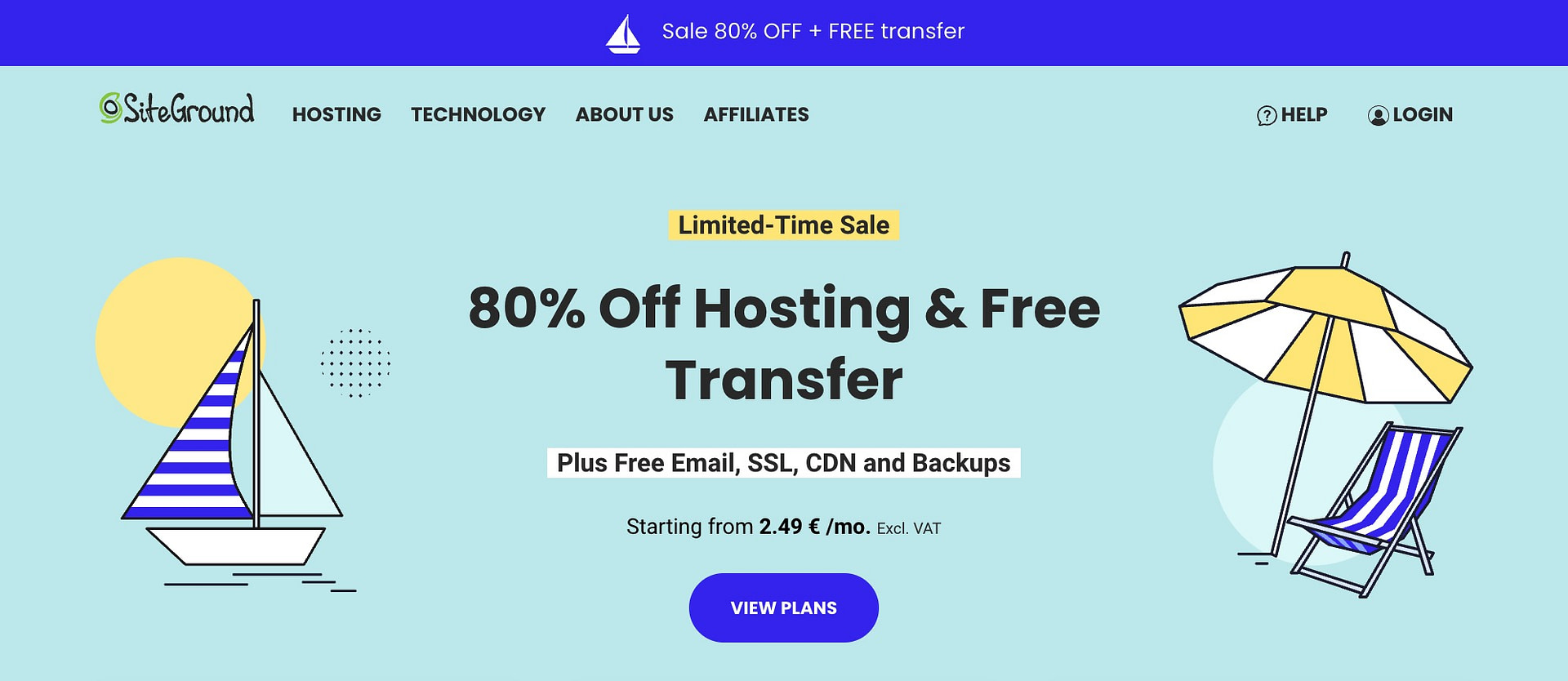 Next, we have SiteGround, another company on the WordPress.org recommended hosting list that offers free SSL certificates on all plans. It's an excellent option for beginners due to its managed WordPress hosting and top-rated, expert customer support.
If the environment is your top priority, you'll be happy to know that SiteGround operates on Google Cloud, a platform committed to renewable energy match. Besides that, you'll benefit from an ultra-fast network and persistent SSD storage as well.
Although SiteGround's pricing is not as affordable as Bluehost's, you'll get plenty of premium features that will suit small businesses and agencies. For instance, higher plans come with a handy site staging tool and enable you to invite collaborators and fully white-label sites for your clients.
⚙️ Features:
Daily backups //  Free CDN  // Unlimited databases //  Email hosting  // Unmetered traffic //  Speed-boosting caching on higher plans 
💵 Pricing: SiteGround's rates start from $2.99 per month for the StartUp plan, which includes 10 GB of storage and supports approximately 10,000 monthly visits to a single website. All plans come with a free Let's Encrypt SSL certificate pre-installed. Alternatively, you can opt for a Let's Encrypt Wildcard or Premium Wildcard SSL certificate, which you can order from your dashboard.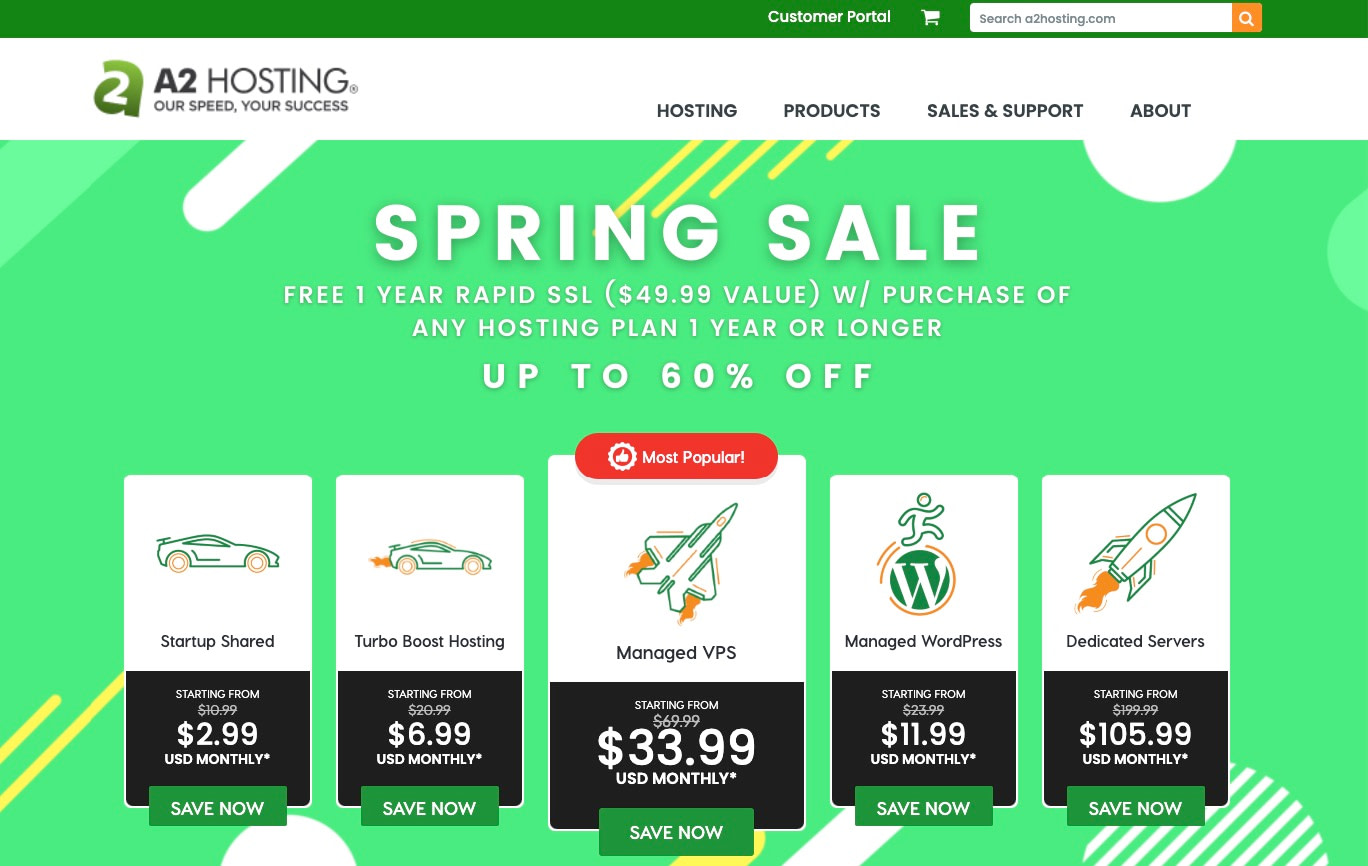 Our next recommendation is A2 Hosting, one of the fastest web hosting companies on the market. It provides services optimized for WordPress, Drupal, and Joomla, with 'turbo' servers powered by LiteSpeed Web Server that promise up to 20 times faster page loading speeds.
A2 Hosting comes with tons of features that will suit beginners and advanced users alike. For instance, less-experienced customers can benefit from free migration and access to 24/7 expert support. On the other hand, site developers will enjoy useful tools like Apache, Git, and Python.
⚙️ Features:
Data centers around the world //  Unlimited SSD storage on higher plans  // Unmetered bandwidth //  99.9% uptime guarantee  // Automatic backups on higher plans //  Website builder 
All plans come with the free Let's Encrypt SSL certificate pre-installed. A2 Hosting also offers a range of affordable Rapid and GeoTrust SSL certificates that anyone can purchase, such as:
Single site RapidSSL: from $19.99 per year
RapidSSL Wildcard: from $89.99 per year
Premium GeoTrust True BusinessID: from $77.95 per year
Advanced GeoTrust True BusinessID with EV: from $121.95 per year
💵 Pricing: A2's shared hosting services start at only $2.99 per month, which is suitable for a single site with up to 100 GB of SSD storage. To get unlimited features and the turbo speed boost (LiteSpeed), you can upgrade from $5.99.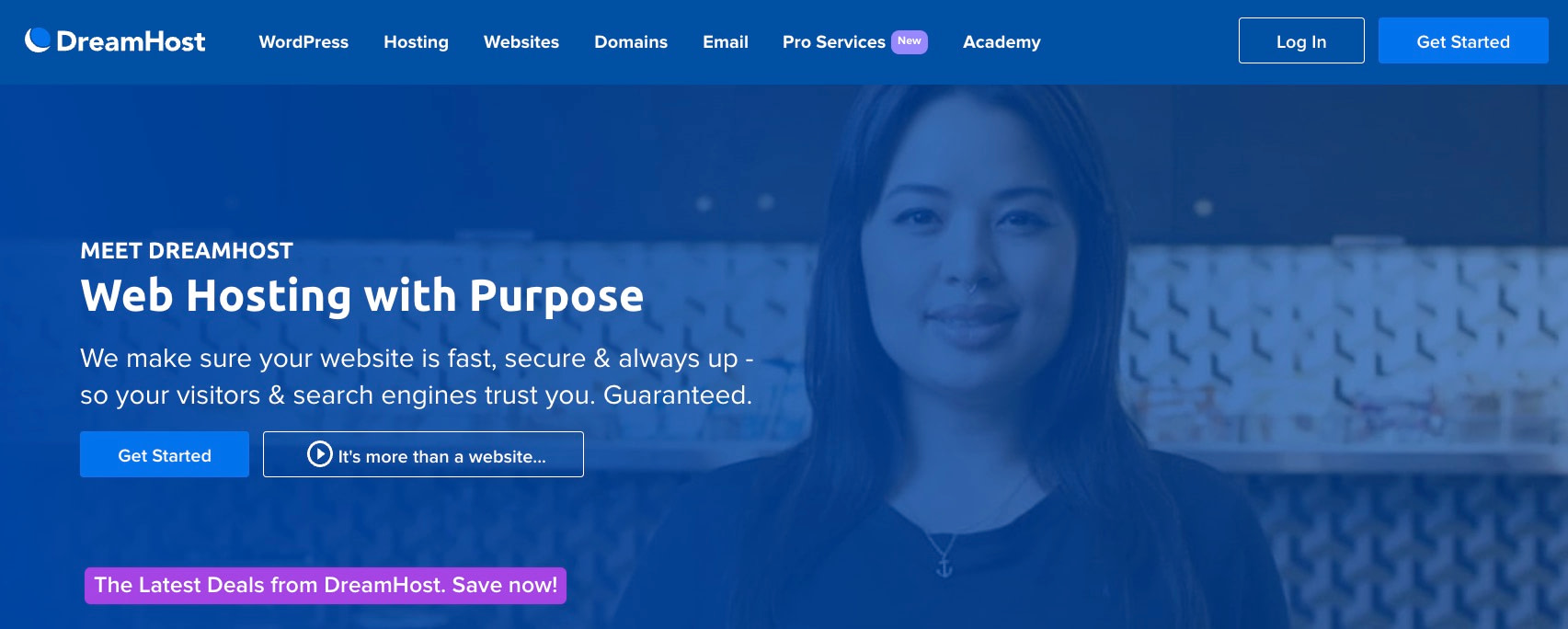 Our next free SSL hosting option is DreamHost. This WordPress.org-recommended provider comes with a range of shared, VPS, dedicated, and cloud hosting plans. There is also a managed WordPress service called DreamPress.
DreamHost offers only two shared hosting plans, which makes it less overwhelming for first-time website owners. Both are extremely affordable and come with a free Let's Encrypt SSL certificate. These plans also give you unlimited bandwidth and a free domain, which is an excellent value.
The company delivers stellar performance as well, thanks to its fast SSD storage and servers optimized to run your WordPress site at full capacity. Plus, DreamHost promises a 100% uptime guarantee.
⚙️ Features:
One-click WordPress installation //  Automatic updates  // Website builder //  Daily backups  // Free migration plugin //  24/7 support  // A generous 97-day money-back guarantee
💵 Pricing: You can opt for the Shared Starter plan for just $2.59 per month for a single site. The Shared Unlimited plan gives you unlimited email hosting for just $3.95 per month. All DreamHost plans come with a free Let's Encrypt SSL pre-installed. There's also an option to add a premium Sectigo SSL certificate, which costs $15 per year.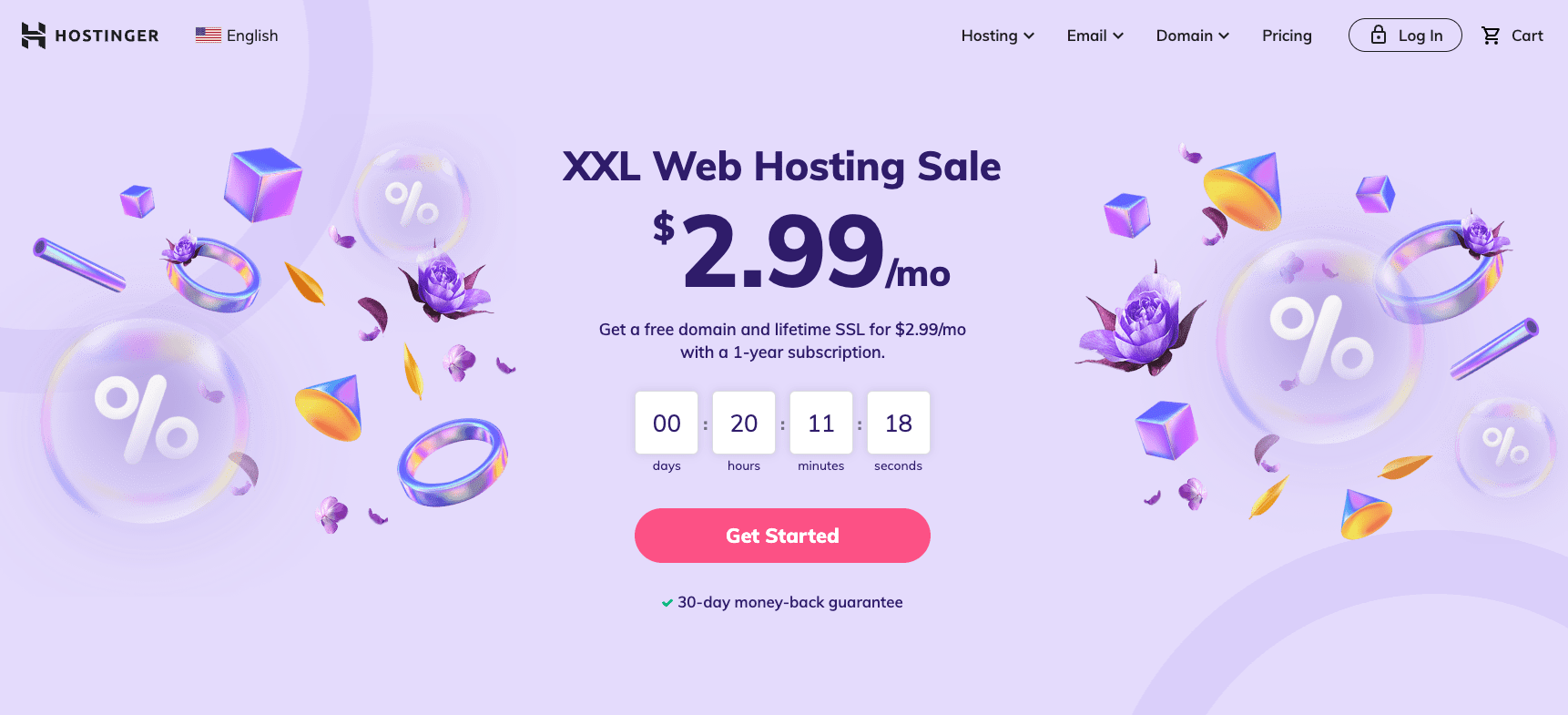 Finally, we have Hostinger, a budget-friendly provider that offers a wide range of hosting packages. Besides the usual shared, VPS, and cloud hosting plans, it also provides specialized services, including Minecraft and Windows hosting.
Even though you won't get a free domain with the cheapest plan, Hostinger still gives you many useful features. For instance, plans include the LiteSpeed Cache plugin to accelerate your WordPress site, weekly backups, and automatic WordPress updates. Plus, you get a free Let's Encrypt SSL certificate included with every plan.
If you don't want to build your site with WordPress, Hostinger also offers its own website builder called Zyro. It gives you access to modern, responsive templates and innovative artificial intelligence (AI) tools. For instance, you can generate instant content and slogans, monitor your visitor's activity with a page heatmap, and more.
⚙️ Features:
Free email //  Unlimited bandwidth on higher plans  // Git access //  One-click WordPress installation  // Site-building wizard //  Weekly backups  // Free domain on higher plans //  99.9% uptime guarantee 
💵 Pricing: The cheapest single shared hosting is only $1.99 per month and gives you 10 GB of SSD storage, 100 GB bandwidth, and up to 10,000 monthly visits. To get a free domain and higher storage, you can also opt for Premium shared hosting for $1.99 per month. All plans come with a free Let's Encrypt SSL certificate pre-installed. Alternatively, you can purchase a Comodo Positive SSL certificate for $7.49 per year.
Get started with free SSL hosting today
An SSL certificate is a must-have for every website owner. Beyond securing your site, it instantly boosts your SEO efforts and makes your site look more trustworthy.
Fortunately, many web hosting providers include them for free in their plans, saving you a lot of money.
In this article, we've discussed our top five free SSL hosting providers that offer Let's Encrypt with every plan. To recap, if you want super fast hosting and a wide selection of premium SSL solutions, A2 Hosting comes highly recommended. On the other hand, beginners might prefer Bluehost, DreamHost, or Hostinger due to their ease of use. Lastly, if you're looking for a top-notch managed hosting experience, it's worth giving SiteGround a try.
For some other ideas, you can check out our post on how to get cheap or free SSL certificates. And once you have your SSL certificate, you can follow our guide on how to move WordPress to HTTPS to take advantage of your new certificate.
Do you have questions about any of these free SSL hosting providers? Let us know in the comments section below!
Free guide
5 Essential Tips to Speed Up
Your WordPress Site
Reduce your loading time by even 50-80%
just by following simple tips.
* This post contains affiliate links, which means that if you click on one of the product links and then purchase the product, we'll receive a commission. No worries though, you'll still pay the standard amount so there's no cost on your part.