Searching for the best free autoresponder tools to help you automate some or all of your email marketing efforts?
An autoresponder is simply a feature that sends an email when a user takes a specific, predetermined action, like joining your email list. Email autoresponders are extremely useful thanks to the amount of time and effort they save over time.
In this article, we'll share five great email marketing services that offer free autoresponder features, including some thoughts on how to choose the right tool for your needs. Let's get to work!
An introduction to autoresponders
As we mentioned above, an email autoresponder is a tool that sends an email to a user when they complete a set action. These actions can include filling out a form, making a purchase, or changing a setting on the user's account.
Autoresponders ensure that your customers receive the attention they need from your brand, without requiring you to compose every email yourself. Instead, you simply create a few templates using an email marketing tool, set the parameters for when they should be sent, and sit back.
These tools can save you hours of work. They also ensure that important messages never get missed in the bustle of running your business.
When choosing the best free autoresponder tool, there are a few key features that you should never go without. These include:
A drag-and-drop email builder. This lets you create well-designed emails without needing to know the intricacies of HTML layouts.
Analytics. It's important to know how your emails are doing – this data helps to inform future decisions about design and content, and ensures that you get the maximum return on investment (ROI). At a minimum, your chosen tool should track open rates and click rates from links within the email.
Design templates. Designing an effective email from scratch can be tough. Templates can help to ease this process by giving you a useable starting point that you can tweak to match your brand's specific needs.
Fortunately, many popular free autoresponders cover these basics. However, if you're checking out lesser-known alternatives, make sure to look out for these features.
Best free autoresponder tools in 2022
Now that you know why you need an autoresponder and what to look for, it's time to explore some of the best options on the market. These tools are all affordable email marketing suites with powerful features, including autoresponders. They all also offer paid plans if you need to upgrade.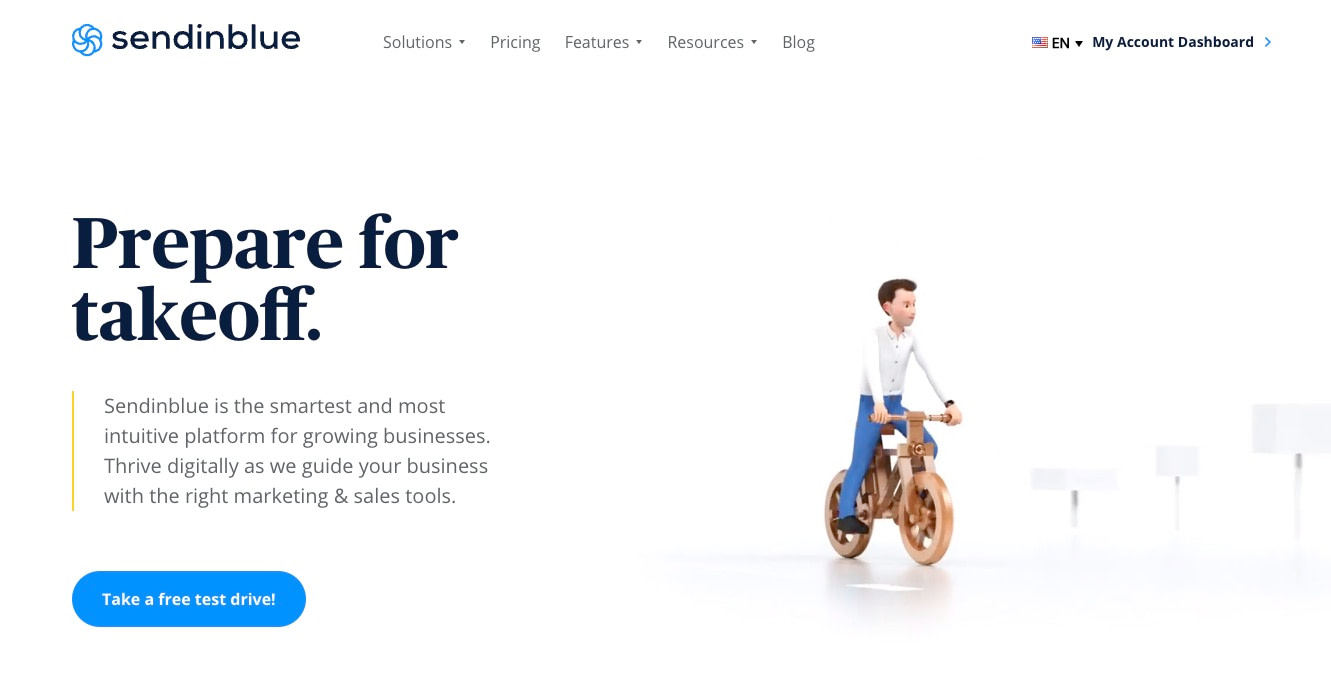 Sendinblue is one of the more well-known names in email marketing, and for good reason. It offers a wide array of tools to handle all of your email needs, including an autoresponder. While there are paid plans available to unlock all the features of this powerful software, there's also a free autoresponder available for up to 300 emails per day.
⚙️ Features:
Automate your emails with the autoresponder feature.
Quickly create and customize emails with a drag-and-drop interface.
Use templates to quickly build attention-grabbing emails.
Track your campaigns with deep analytics.
Simplify your workflow with WordPress dashboard integration.
🆓 What's included for free:
You can access all of the email features for free, with the only catch being a 300-email-per-day limit. That includes the email builder, template library, and storage for unlimited contacts.
💵 Upgrade options:
If you need to send more than 300 emails or want to access additional features such as A/B testing, a landing page builder, and much more, you can upgrade to one of the paid plans. These start at $25 per month for up to 10,000 emails.
To learn more, check out our full hands-on Sendinblue review – it's the actual service we use here at Themeisle.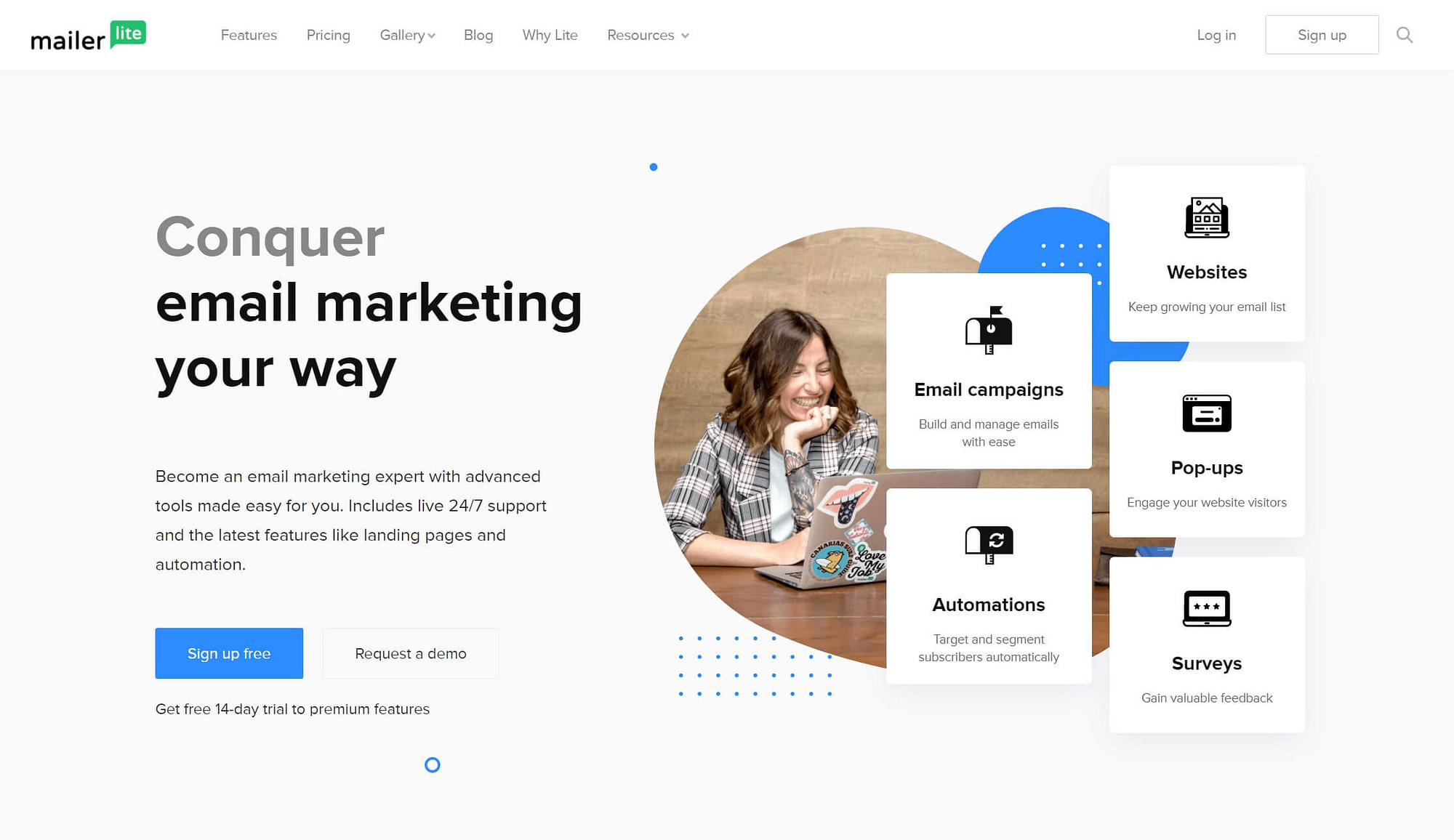 MailerLite offers lots of useful features in an affordable package. This is another powerful, full-featured email marketing suite with a very useable free tier. One of the best features is the automation editor, which helps you build email workflows via a drag-and-drop interface.
⚙️ Features:
Use powerful automation tools to ensure that your subscribers get the emails they need, when they need them.
Create customized automation workflows to guide subscribers through their journeys.
Keep tabs on your key metrics with a variety of analytics.
Create landing pages and popups to help convert users to subscribers and customers.
Make use of a WordPress integration option.
🆓 What's included for free:
The free plan includes all of the basic email features for up to 1,000 subscribers, with a generous limit of 12,000 emails per month. These features include a drag-and-drop editor, landing page builder, and autoresponder functionality.
💵 Upgrade options:
MailerLite pricing is based on the number of subscribers you have. All paid plans provide access to the full feature set and unlimited emails per month, and they start at $9.00 per month for up to 1,000 subscribers.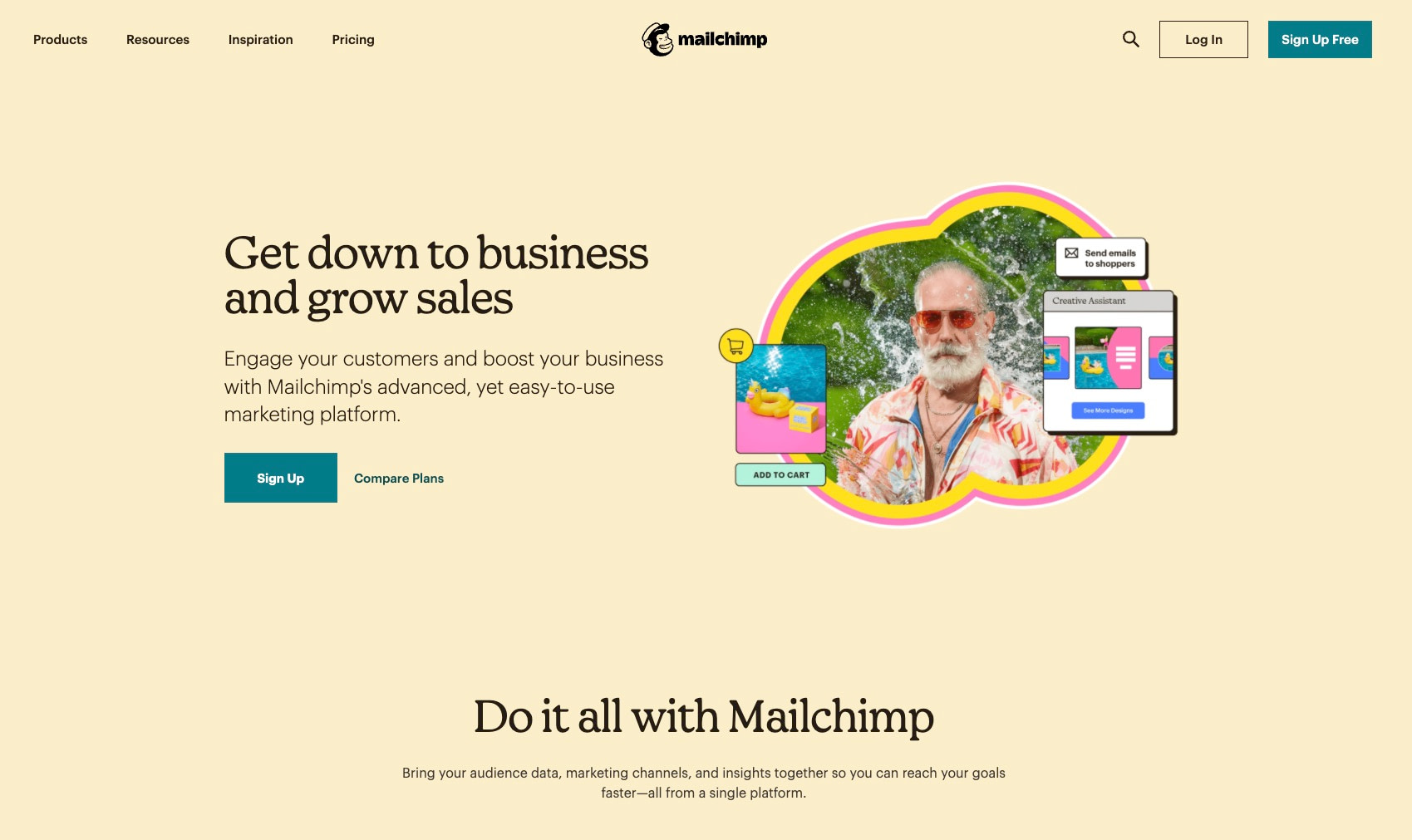 Mailchimp is one of the oldest and most well-respected names in email marketing. It enables you to easily design and automate your messages, while also offering extensive customization options. The free tier includes useful one-step email automation, so you can keep in touch with your audience without needing to stay glued to your computer.
⚙️ Features:
Automate your emails with powerful (yet easy-to-use) tools.
Create high-converting landing pages and social media posts in addition to emails.
Use the built-in marketing calendar to stay on track.
Lighten your workload with the AI-powered Creative Assistant.
Integrate with your WordPress site using a popular and well-reviewed third-party plugin.
🆓 What's included for free:
Mailchimp's free tier is very robust. It includes support for up to 2,000 contacts, as well as automations, a subject line helper, and useful branding tools to ensure that your messages are as effective as possible.
💵 Upgrade options:
If you want to get a little more out of Mailchimp, there are multiple tiers of paid plans available. They start at $9.99 per month for up to 50,000 contacts and include features like A/B testing, 24/7 support, and powerful email targeting tools.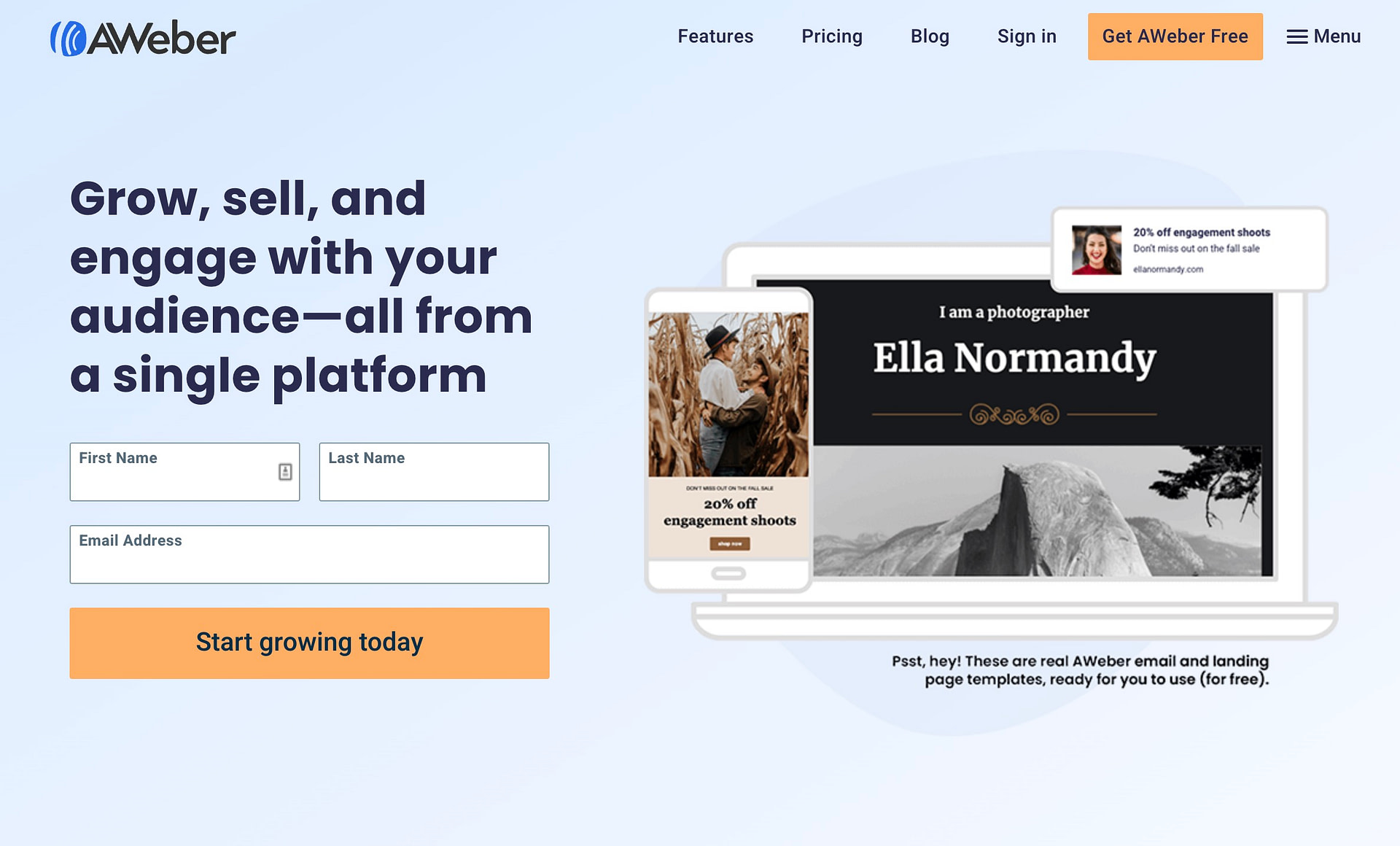 AWeber is another old name on the email-marketing block. It offers all the basics you need for email marketing (such as an autoresponder), plus additional nice-to-have features, including a landing page builder and powerful template-based designer.
⚙️ Features:
Build your emails with ease using the drag-and-drop designer.
Take advantage of the power of AI to help create branded emails that match your audience.
Build landing pages that convert clickers into customers, so your emails never go to waste.
Track campaign progress with readable and useful analytics.
🆓 What's included for free:
AWeber's free tier includes support for up to 500 subscribers and 3,000 emails per month. You also get access to excellent features such as email automation, templates, the drag-and-drop builder, and a WordPress plugin to help streamline management.
💵 Upgrade options:
If you need more from AWeber, there are multiple premium packages available. Prices start at $16.15 per month for 500 subscribers and can run as high as $146.15 per month for 25,000 subscribers. Additional premium features include split testing, behavior-based automation, and the ability to remove AWeber branding from your emails.
To see how AWeber stacks up against Sendinblue, check out our full AWeber vs Sendinblue comparison.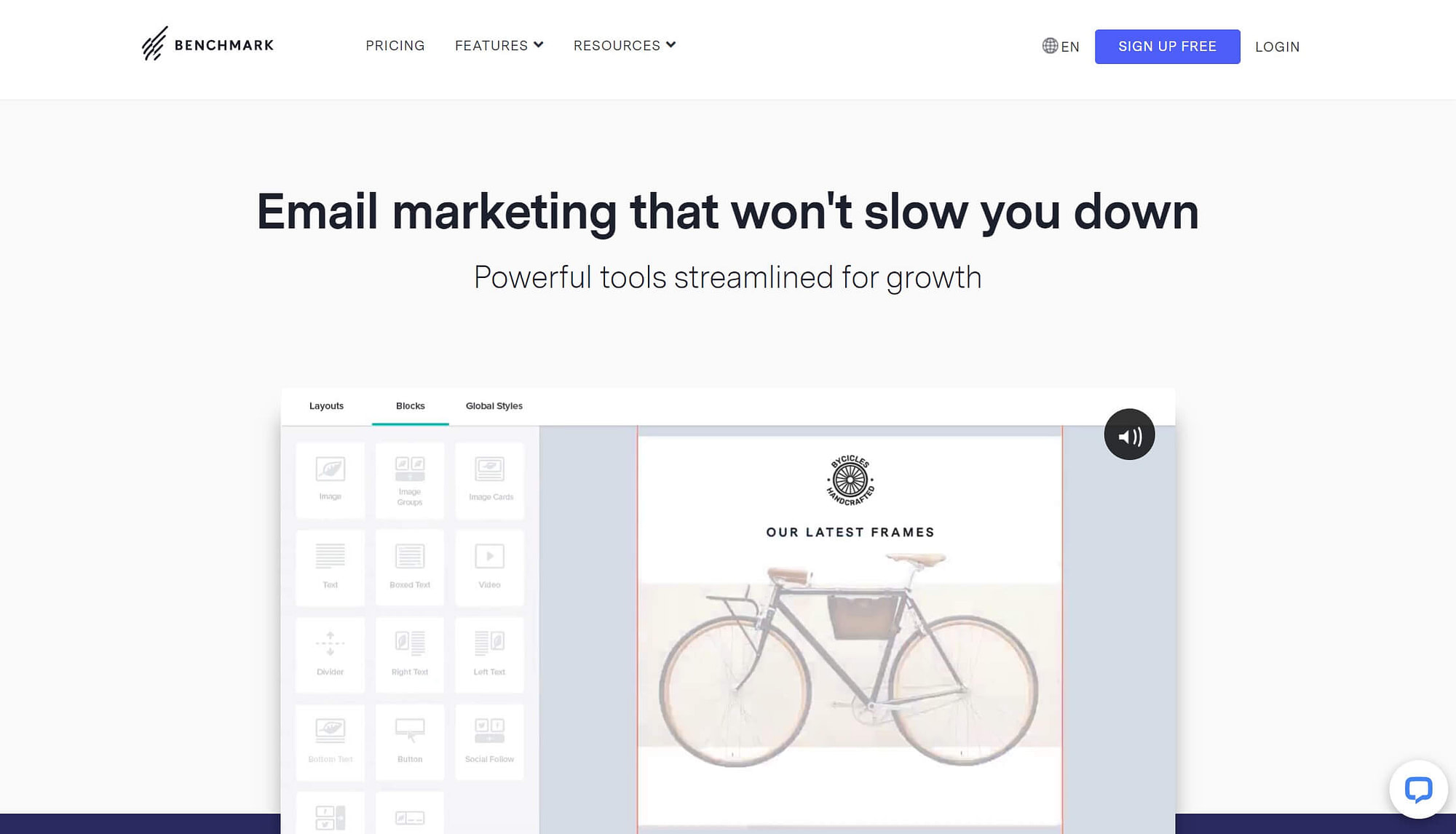 Last but certainly not least, Benchmark is a streamlined email marketing platform that combines powerful features with a slick and highly-usable design. It offers the usual email building and automation tools, plus clear analytics and even lead-generation capabilities. The best part of Benchmark is the design, though – it feels modern and is a pleasure to use.
⚙️ Features:
Capture new subscribers using gorgeous forms that blend in with your site's design seamlessly.
Tick every box with a useful email checklist feature.
Automate your emails to boost engagement and sales.
Optimize your campaigns with A/B testing and detailed analytics.
Integrate your email marketing with over 1,500 other services and platforms, such as Zapier, Google, and PayPal (and your WordPress site).
🆓 What's included for free:
The Benchmark free tier includes everything you need to get started with email marketing and automation. This includes list management, drip campaigns, analytics, and useful templates. Unfortunately, the free tier is limited to just 250 emails per month, so if your business is growing, you'll be looking to upgrade fairly quickly.
💵 Upgrade options:
If you do find you need to upgrade, Benchmark offers plans based on the number of contacts you have. All paid plans include unlimited emails per month, which is fantastic. Prices start at $13 per month for up to 500 contacts and can get quite high if you have a list in the tens-of-thousands range (although if your list is that big, you're probably not going to be bothered by the price). You'll also unlock additional features such as advanced reporting and segmentation.
Try a free autoresponder today
Whether your business is just getting started, or you've been around for a while and are growing, you probably don't have time to spend sending emails manually. This tedious task takes you away from more important things, such as strategy and product development.
Fortunately, finding the best free autoresponder tool can help. Even better, there are tons of free tools available that can save you both time and money. We recommend starting with Mailchimp for a tried-and-true service, or MailerLite for a more affordable option if you intend to move to a paid plan eventually.
For some other free options, you can browse our collection of the six best free email marketing services.
Do you have any questions about these autoresponder tools? Let us know in the comments section below!
Free guide
5 Essential Tips to Speed Up
Your WordPress Site
Reduce your loading time by even 50-80%
just by following simple tips.