When you're running an online store, there are many aspects and operations to stay on top of and manage. With customer service being so critical to business success, the last thing you want is to provide a subpar experience for shoppers. Therefore, you might be wondering if an eCommerce chatbot can help you in this department.
Fortunately, it can. These tools provide a powerful solution for streamlining and automating customer support. Not only can they help you address and answer shoppers' inquiries promptly, but they can also tailor and customize the buying journey. Plus, there are a wide variety of chatbots to choose from.
In this post, we'll start by discussing why you might need an eCommerce chatbot and some tips for choosing one. Then we'll provide you with a list of five of the best eCommerce chatbots you can use on your site. Let's get started!
📚 Table of contents:
Why you might need an eCommerce chatbot
You could have the best online store on the web. Unfortunately, if you provide poor customer service, you likely won't have much success.
Similar to live chat software, there are many benefits to using an eCommerce chatbot on your website. The most important is that doing so can significantly enhance your customer service operations and your visitors' experiences.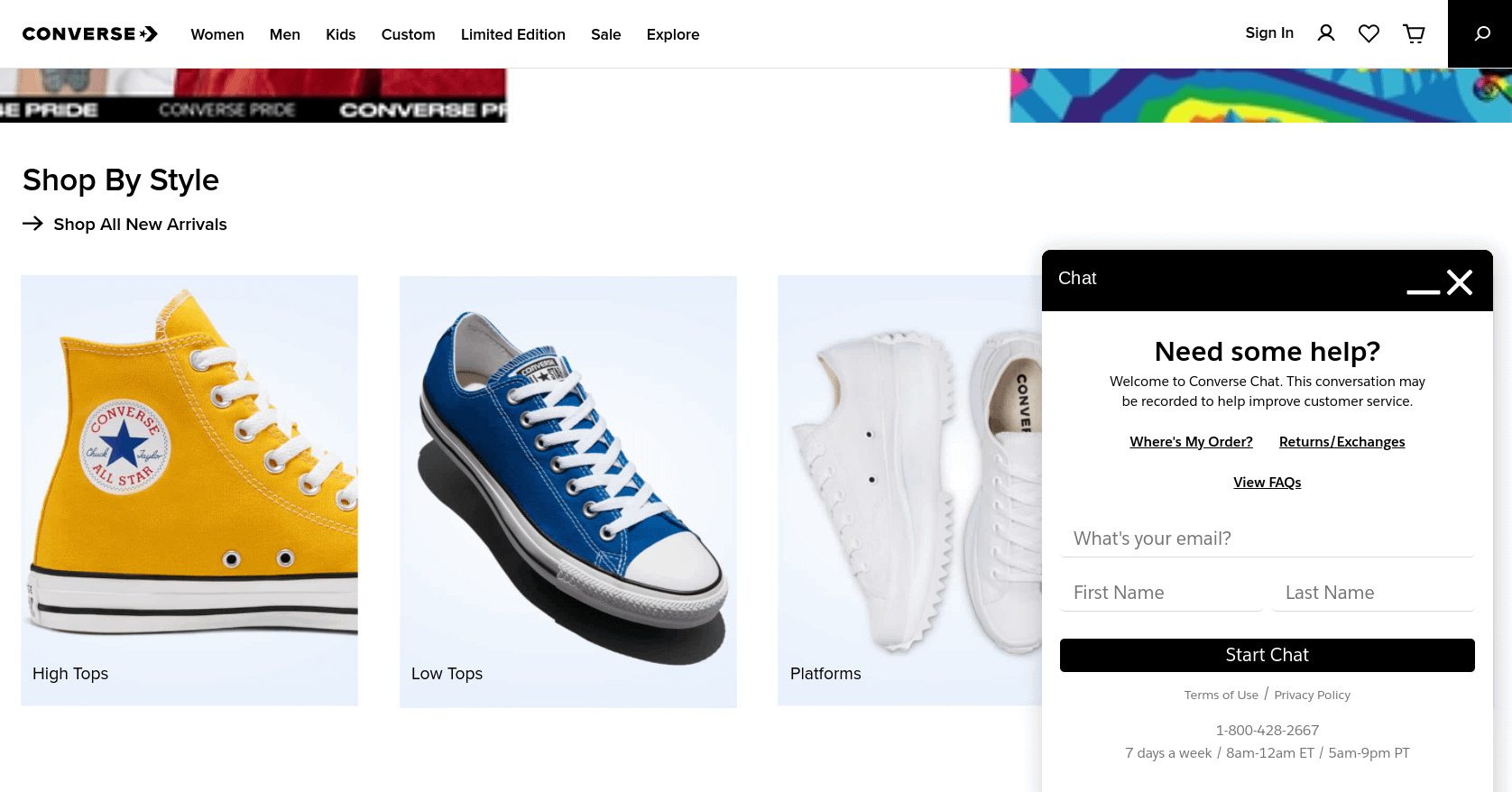 Some of the advantages of using an eCommerce chatbot include:
You can immediately greet customers when they arrive on your site to provide a more personalized experience
Chatbots can automatically recommend articles, frequently asked questions (FAQs), and other resources to help shoppers solve problems
They can point users to specific pages on your site that might be of interest to them
You can offer product recommendations via your chatbot to drive sales
Using a chatbot enables you to gather information about visitors to help personalize their shopping experiences, such as collecting email addresses to add to your mailing list
Chatbots can complete buyers' purchases for them
Chatbots can be particularly helpful when you don't have a large support team (or one at all) and need help managing customer inquiries and questions.
Even if you're capable of handling your customer service operations during working hours, chances are that some shoppers may browse your store during 'off' periods. A chatbot can make sure they have access to assistance if they need it.
How to choose an eCommerce chatbot tool
There are a handful of aspects you'll likely want to consider when choosing a chatbot. One of the most important is its ease of use. As with any type of tool you use on your site, it's important to make sure that it's one you'll be able to navigate and configure on your own, especially if you're a beginner.
In the same vein, you may also want to ensure that an adequate amount of support and documentation is offered with your chatbot plugin. This is why we also recommend that any solution you select is one that is actively maintained and updated by the developer.
Another factor to consider is which eCommerce platforms your preferred chatbot can operate on. For example, some tools are specific to WooCommerce while others are geared toward WordPress users in a more general sense or other eCommerce tools. One is not necessarily better than the other, but it is essential to make sure that the eCommerce chatbot you choose is compatible with the current tools, platforms, and solutions you use.
Finally, you'll likely want to consider the price. Fortunately, many chatbots are relatively inexpensive, and there's an option for just about any budget.
Now that we understand more about the benefits of eCommerce chatbots and what factors to consider when choosing one, let's take a look at some quality options. Below are five of the best eCommerce chatbots currently on the market. For each, we'll discuss its features, price, and potential audience.
Facebook Messenger is one of the most popular and powerful chatbot platforms in the world. It's free to use and lets you build your own bot. When doing so, you can choose from templates for product lists and more.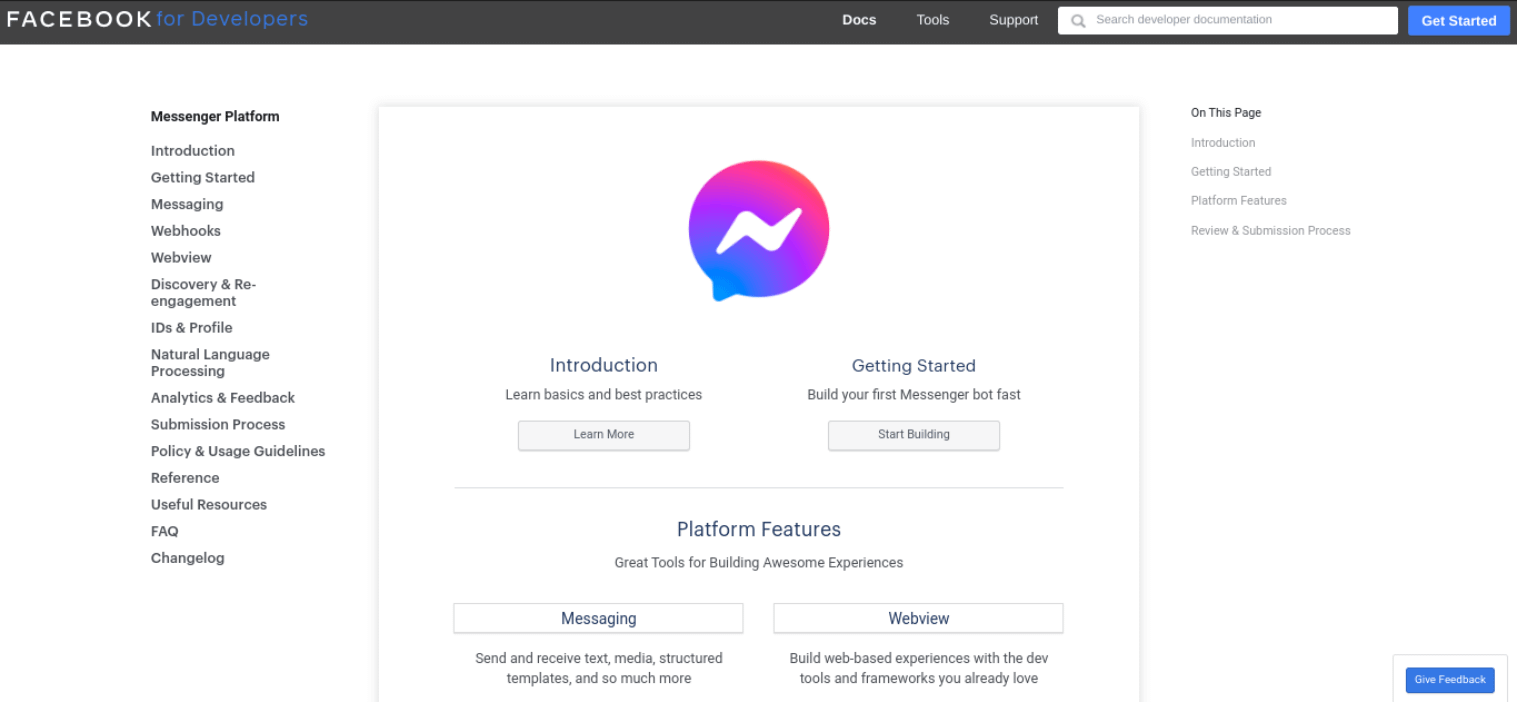 While the Messenger platform itself does require a moderate level of technical skill to use, it features a handy drag-and-drop design kit for building your chatbot. Additionally, it offers a WordPress Facebook Chat plugin you can use to connect your WordPress website with Messenger.
⚙️ Features:
Product list templates
WordPress integration
Chat extensions
Analytics
Platform design kit
Payment acceptance
💵 Pricing: Free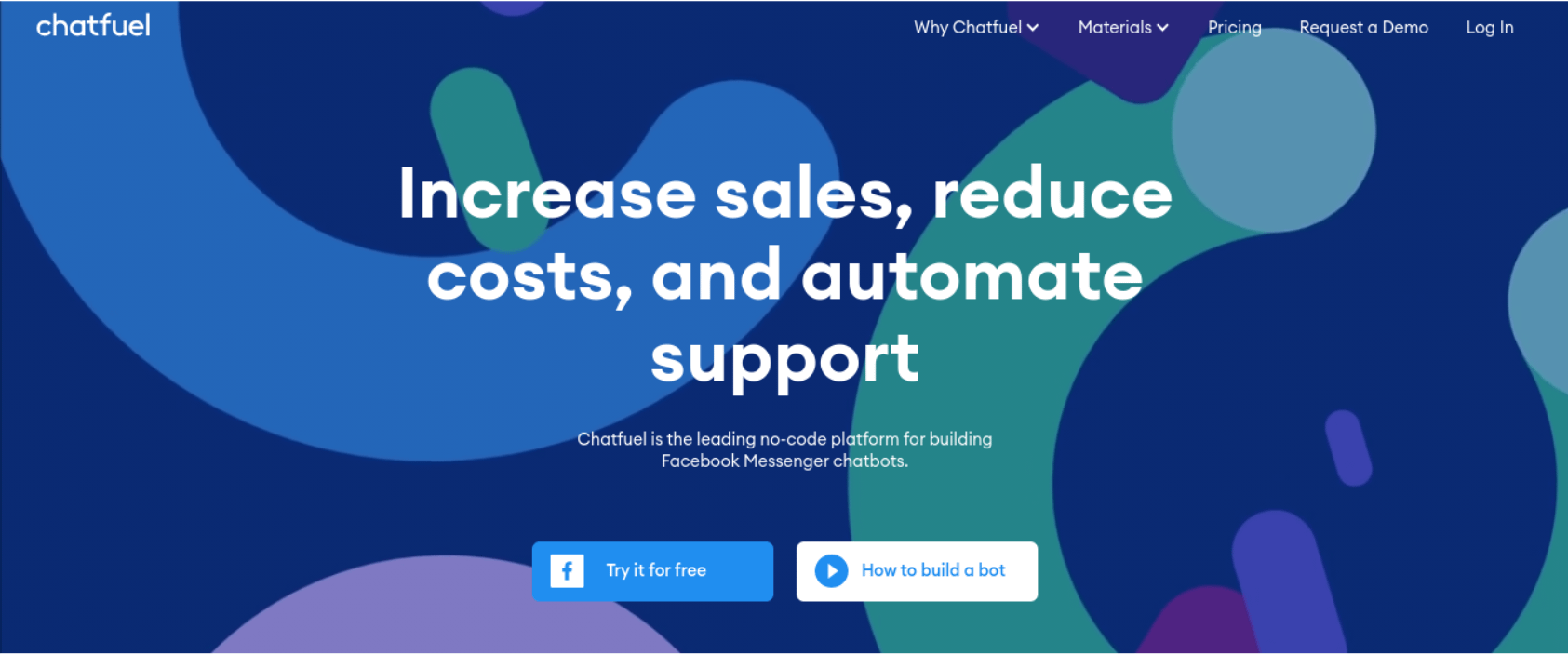 Chatfuel is another of the most popular and dependable chatbot tools available. The platform lets you easily integrate with Facebook Messenger and build a chatbot without any coding skills or experience required. In fact, Chatfuel claims you can create your own chatbot within minutes!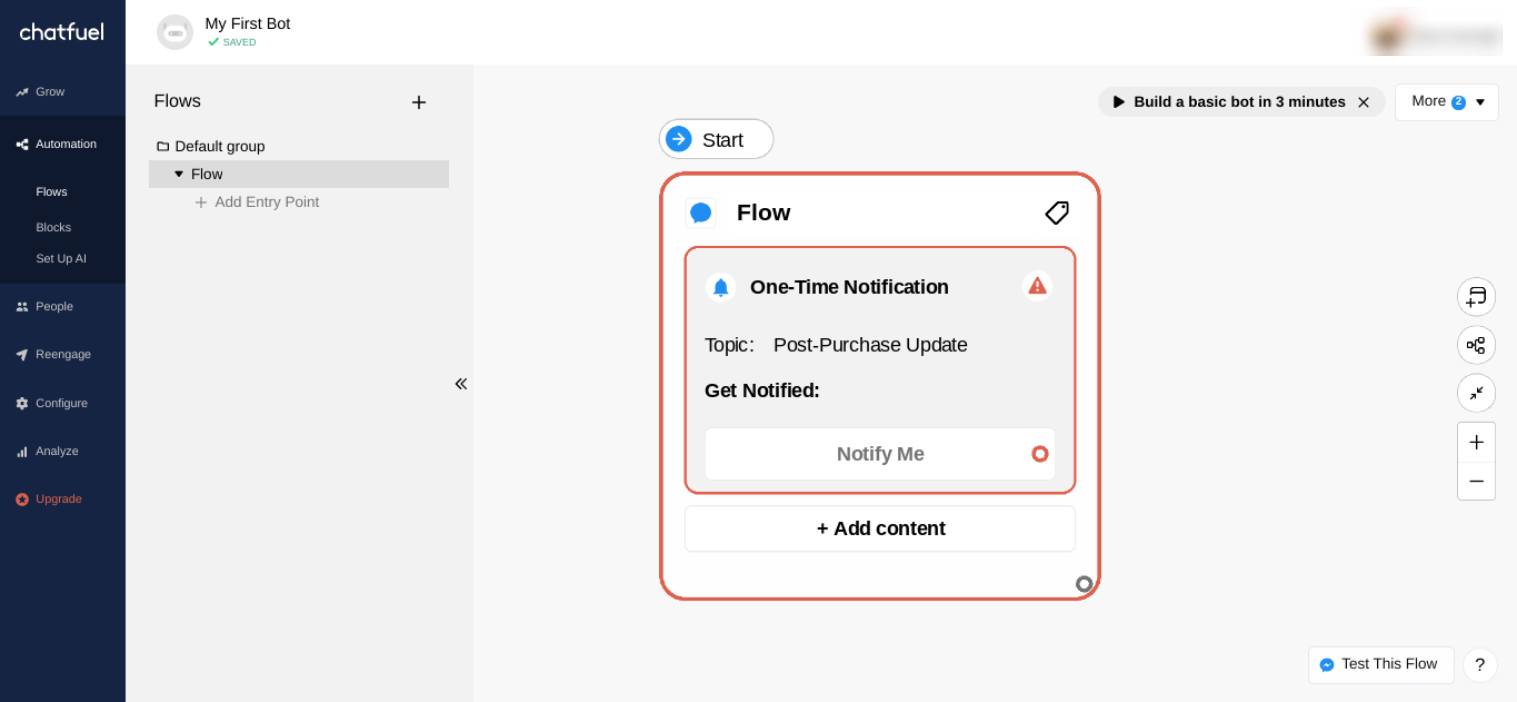 Chatfuel is definitely worth considering if you're looking for a high level of customization and control. It's a robust tool that is both flexible and suitable for users of all levels. While you can create an account and start a trial for free, you will need to sign up for a premium plan to actually begin using all the chatbot features.
⚙️ Features:
Drag-and-drop editor
Pre-built chatbot templates for WooCommerce, Shopify, and Magento
Full-featured bot that automatically integrates with Messenger
A/B testing
Cart reminders
Targeted ads via Facebook Ads
Payment acceptance
Speech recognition
💵 Pricing: Free trial account, then $15 per month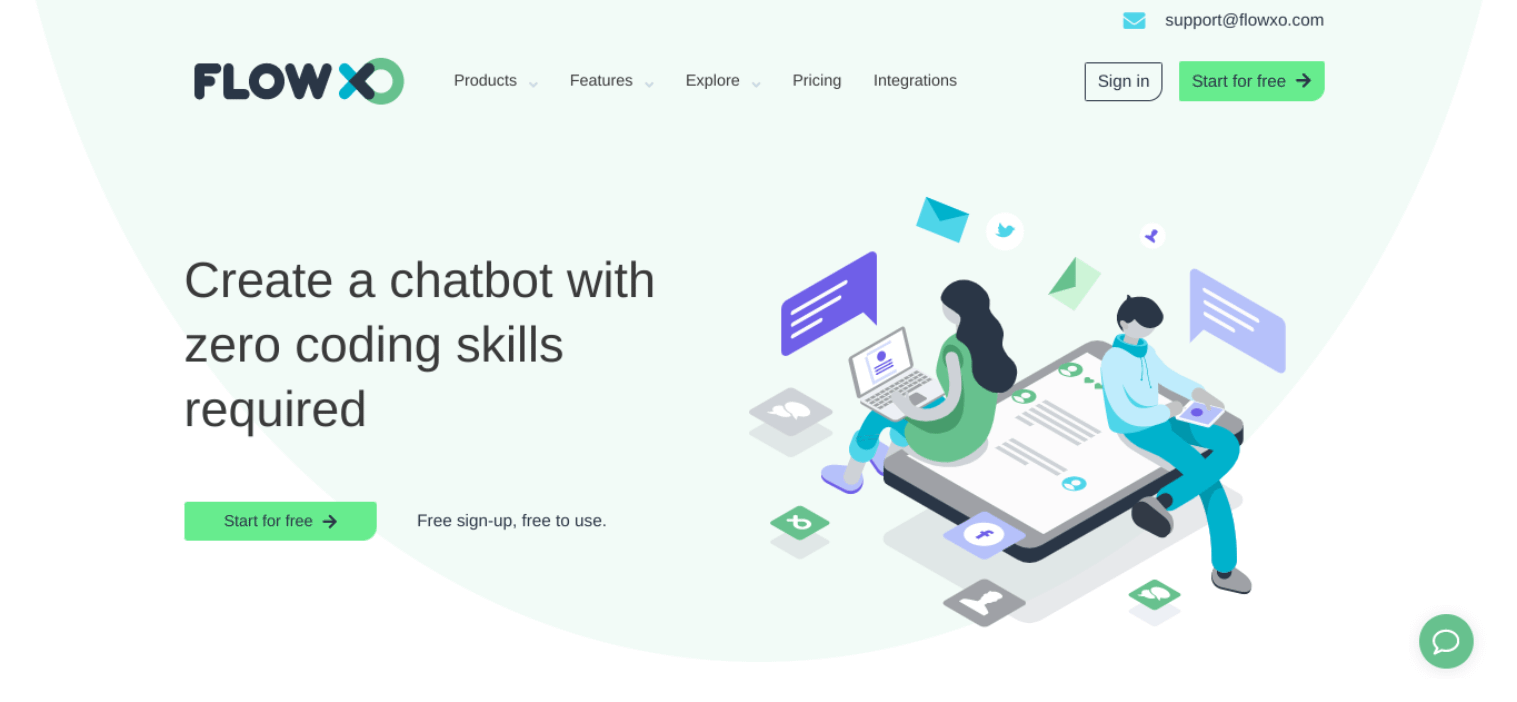 FLOW XO is a powerful tool that lets you build chatbots for WordPress sites, Facebook, Slack, and more. It's an incredibly flexible platform and you can use it for a wide variety of purposes, including lead generation, live chat, and more.
You can also choose from bot templates, including ones for purchasing tickets, answering FAQs, registering accounts, etc. It also boasts an intuitive, easy-to-use User Interface (UI), making it a solid choice for any skill level.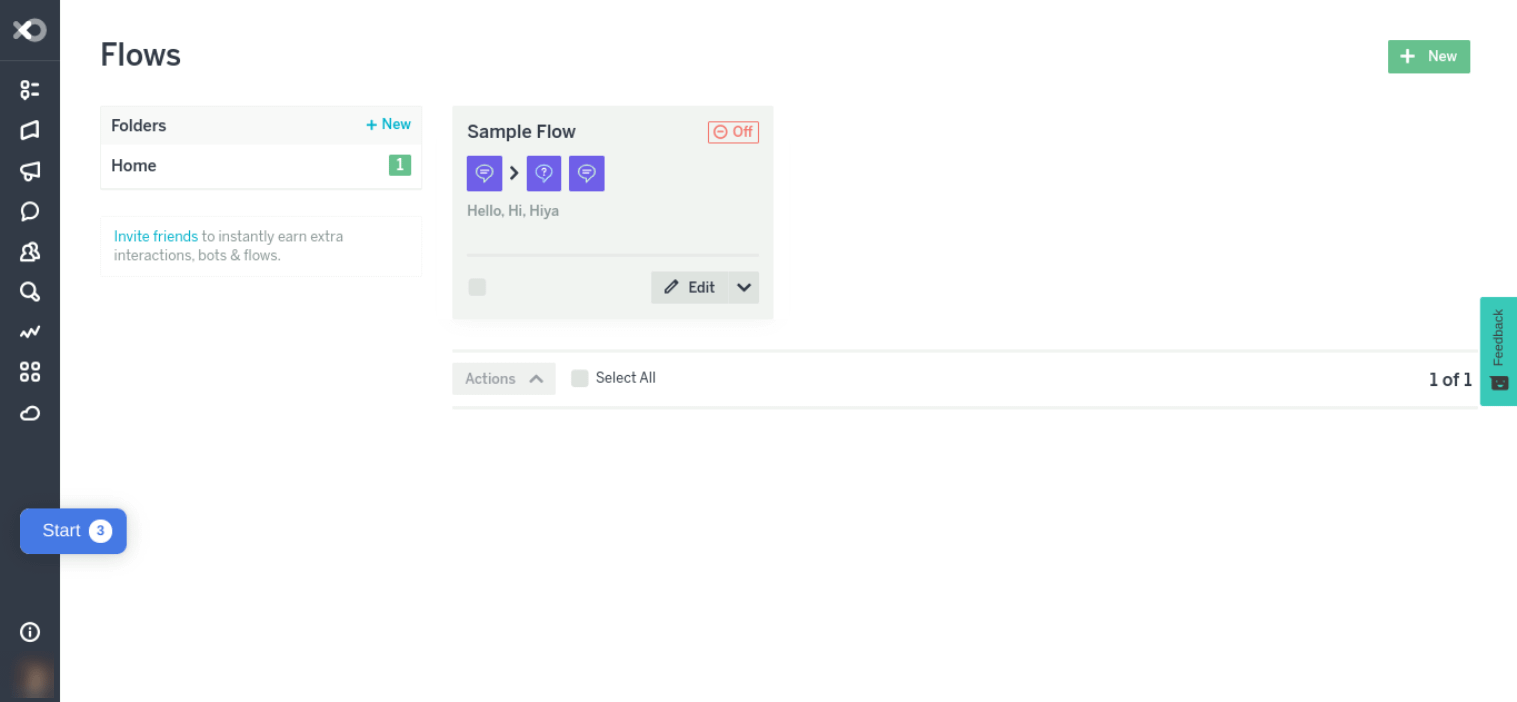 FLOW XO also offers flexible pricing. You can start with a free plan, then upgrade once you're ready to commit to a premium solution and extend your bot functionality.
⚙️ Features:
Integration with multiple platforms including WordPress, Facebook Messenger, Slack, and more
Dedicated eCommerce integrations for WooCommerce and BigCommerce
Lead generation tools
Payment acceptance
Live chat
Bot templates
💵 Pricing: Start for free, then upgrade for $19 per month
WP-Chatbot is a free tool by MobileMonkey that lets you add a live chat widget to your WordPress site. Although it has powerful integration with Facebook Messenger, you can also use it as a native chatbot solution on your site. Additionally, it enables you to conduct live chat conversations with customers.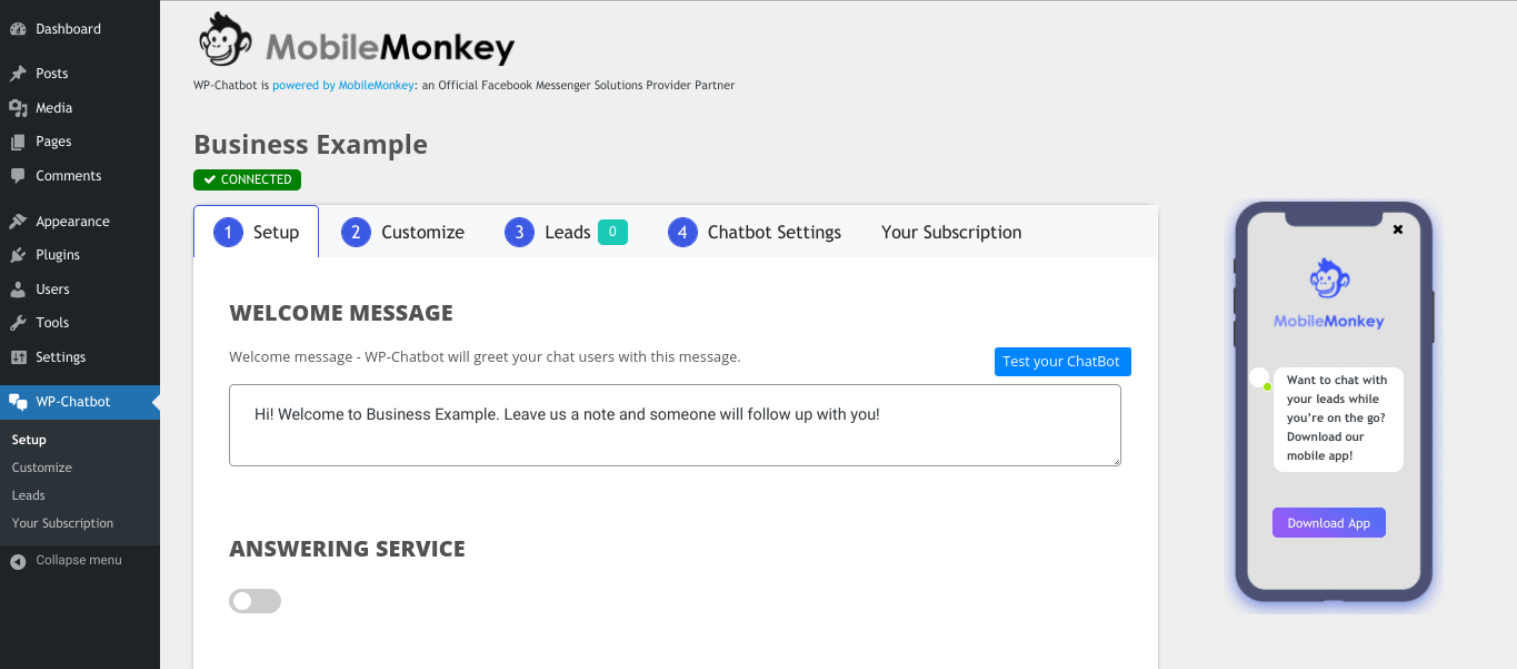 Not only is it compatible with all versions of WordPress, but it can be used on any device and in any location across the globe. This is a solid option if you're looking for a free plugin. It's also great if you're active on Facebook and want to integrate your site with Facebook Messenger and your business page.
⚙️ Features:
One-click installation for WordPress
WooCommerce compatibility
24/7 live chat
Single inbox for all incoming messages
Integration with your Facebook Messenger account and Facebook Business Page
💵 Pricing: Free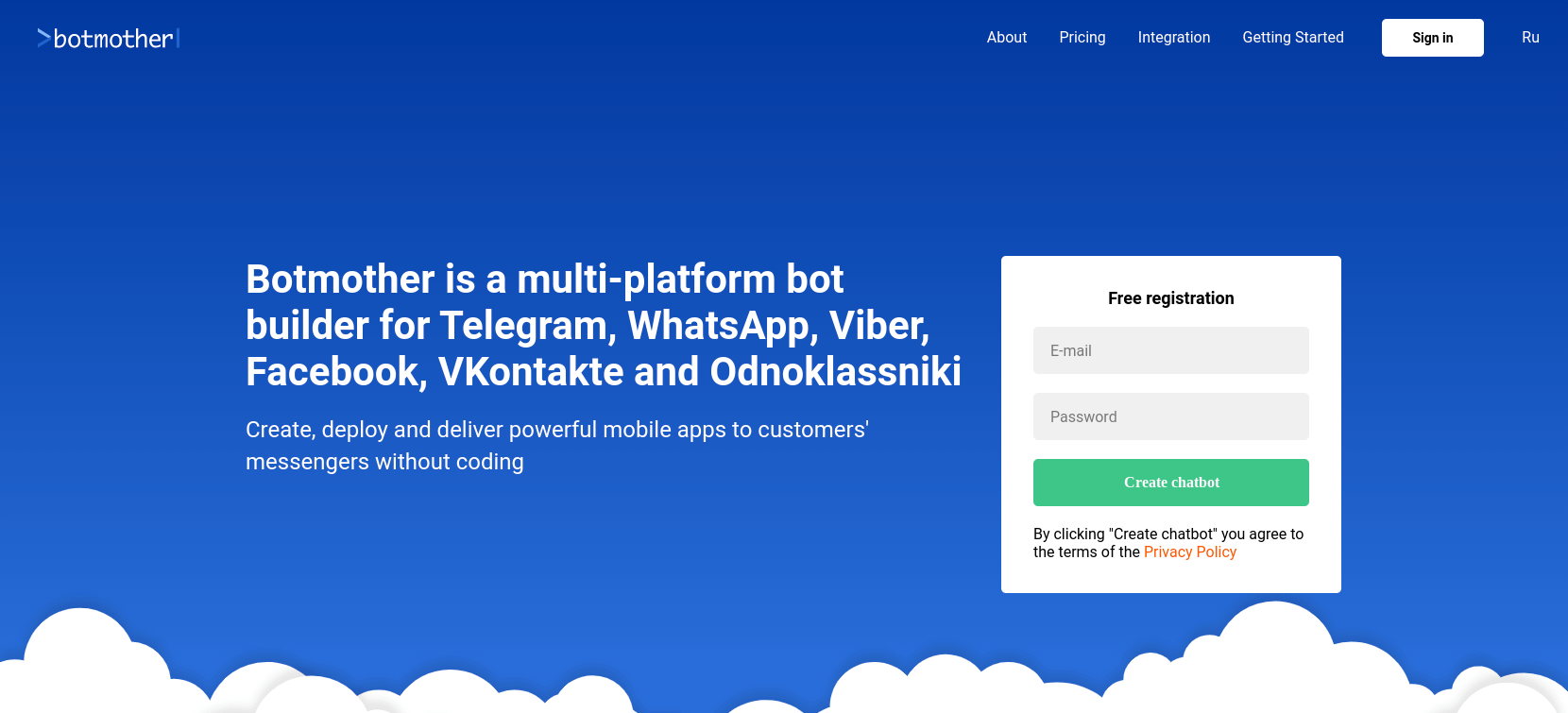 Botmother, while not as well known as some of the other options on this list, is still a quality tool for building an eCommerce chatbot. What's particularly advantageous about this solution is that it can you can create one bot to use across multiple channels and platforms, including WhatsApp, Facebook, Telegram, and more.
Botmother is particularly helpful if you're looking to create new sales channels. Using artificial intelligence (AI) technology, the chatbot will automatically guide users through the shopping and checkout processes that you configure. You can also use pre-built templates to make setting up and building your bot that much quicker.
However, Botmother lacks the dedicated eCommerce platform integrations that some other chatbots offer, so it's more focused on helping you accept eCommerce payments directly within the chatbot.
⚙️ Features:
Multi-platform bot builder
Payment acceptance via multiple gateways (PayPal, BePaid, etc.)
Built-in analytics
Pre-built templates
User dialogues and option to connect to an operator
Debug mode
Support via email and chat
💵 Pricing: Free to test, then $17 per month per bot
Create your own eCommerce chatbot today
Managing an online store is no easy task. However, the right tools can help make it significantly simpler. When it comes to improving your customer experience and personalizing shoppers' journey on your site, eCommerce chatbots can be a powerful solution.
In this post, we discussed five of the best eCommerce chatbots to consider using for your WordPress site. If you're a beginner looking for a general, all-in-one option, Chatfuel is a quality choice. If you're on a budget and looking for a free, WordPress-specific plugin, WP-Chatbot might be right for you.
Finally, if you're looking for a full chat solution that includes both human chatting and chatbots, you can also browse our collection of the best live chat software for eCommerce.
Do you have any questions about eCommerce chatbots? Let us know in the comments section below!
Free guide
5 Essential Tips to Speed Up
Your WordPress Site
Reduce your loading time by even 50-80%
just by following simple tips.