If you want to keep your site's data safe, backups are critical. And unless your host offers an easy backup tool, you're going to need a backup plugin. However, because there are so many WordPress backup plugins available, it can be difficult to choose the plugin that's best for your specific situation.
To help you find the solution that's right for your site, we'll introduce you to four popular WordPress backup plugins and compare their features and pricing. And we'll even show you how you take a backup with each plugin. Let's begin!
4 WordPress backup plugins compared (in a nutshell)
If you're short on time (or just want a preview) here are the four WordPress backup plugins we'll be covering in this article:
WordPress backup plugins compared

| | Features (free version) | Premium version starts at | Ease of use (rated 1-5) |
| --- | --- | --- | --- |
| UpdraftPlus | Manual and automated backups, restore feaure, saving to external storage | $70 | 4 |
| WPBackItUp | One-click backups, unlimited backups | $79 | 5 |
| BackupGuard | Customizable backups, restore feature, supports Multisite | $19.95 | 4 |
| Duplicator | Customizable backups, cloning and migration functionality | $39 | 3 |
Of course, a simple table isn't enough to really convey what each plugin can do and what the experience of using it is like. So we encourage you to read on for our full review of these popular backup tools.
4 WordPress backup plugins compared (in full)
Below, we'll dig into each plugin's features in more depth and give you a look at how you can actually use each plugin to back up your site.
Features
Since all four tools we're comparing are WordPress backup plugins, they have quite a bit in common. Each will enable you to create a full backup of your site that you can save to your local computer.
However, each plugin does offer somewhat different functionality. Here are their key features:
UpdraftPlus: This plugin offers standard backup features for your site's files and database, as well as a restore option. It also includes an automated backup feature and enables you to save backups easily to a remote location, such as Dropbox or Google Drive.
WPBackItUp: With this tool, you get a simple one-click backup feature, making the task as easy as possible. You can create and download as many backups as you'd like. However, the base version of this plugin doesn't offer a restore option or automated backups.
BackupGuard: When creating backups through this plugin, you can choose to copy your site's files, database, or both. You can also customize which folders and tables get copied. The restore feature is just as customizable, and as an added bonus, this plugin supports WordPress Multisite.
Duplicator: Finally, this plugin is a more comprehensive option. Along with backups, it also enables copying, cloning, and migrating your site. This makes it a useful all-in-one tool if you're interested in those features. It lets you copy either your entire site or just certain parts, although the base plugin doesn't include a restore or automated backup feature.
Now that you know what each plugin offers, let's take a look at how you can actually use each plugin to back up your site.
How each plugin fares in a real-world backup test
We've discussed what each of the WordPress backup plugins can do in the abstract – but what really matters is what they are actually like to use. The overall similarity of each tool means your choice will most likely come down to your User Experience (UX). With that in mind, let's walk through the process of creating a backup with each plugin.
To build a backup with this plugin (after installing and activating it), you'll need to visit Settings > UpdraftPlus Backups on your WordPress dashboard. You'll see three buttons that will enable you to back up, restore, or clone and migrate your site:

If you click on Backup Now, you'll be presented with a simple screen that enables you to customize which files to copy, and whether the database should be included. If you've set up a default remote storage location, you can also choose to save the backup there: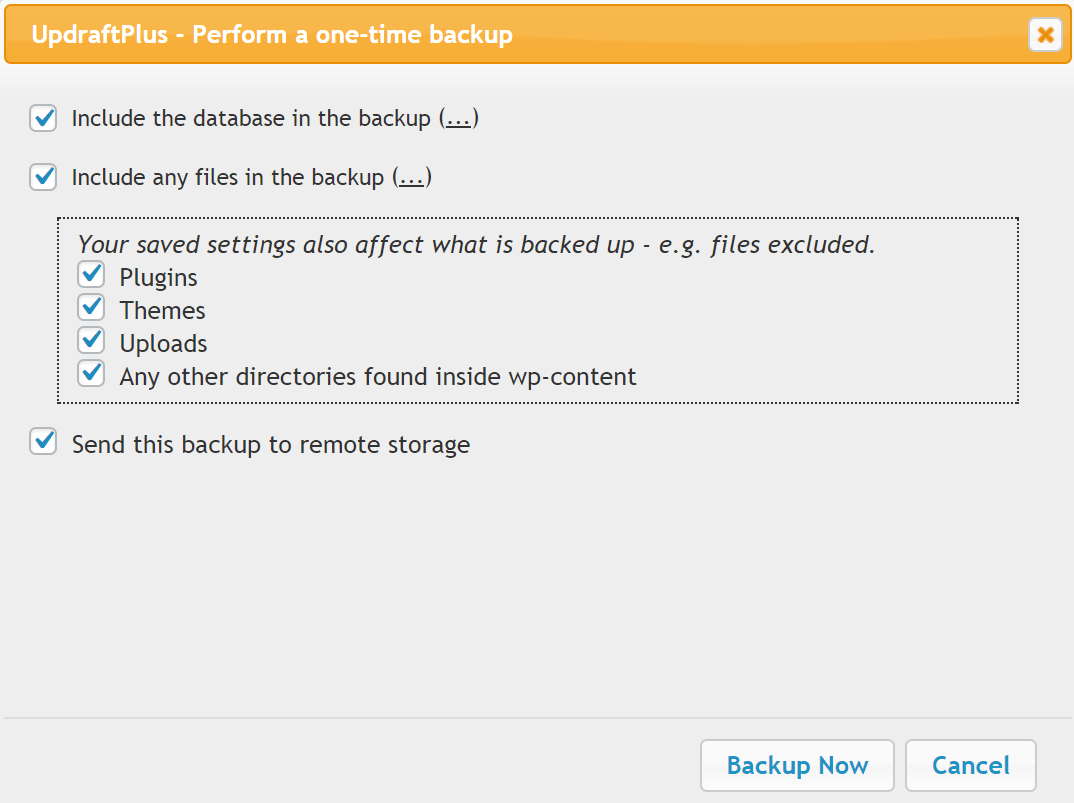 When you're ready, click Backup Now. A progress bar shows you the status of the update, and a success message upon completion. From here, you can also head over to the Settings tab to set up a backup schedule and choose your default storage option.
This plugin adds a new BackupGuard tab to your dashboard. To create your first backup, you'll need to head there and click on the green button:

You'll be able to choose between a full or custom backup, and decide exactly what to copy over with the latter option: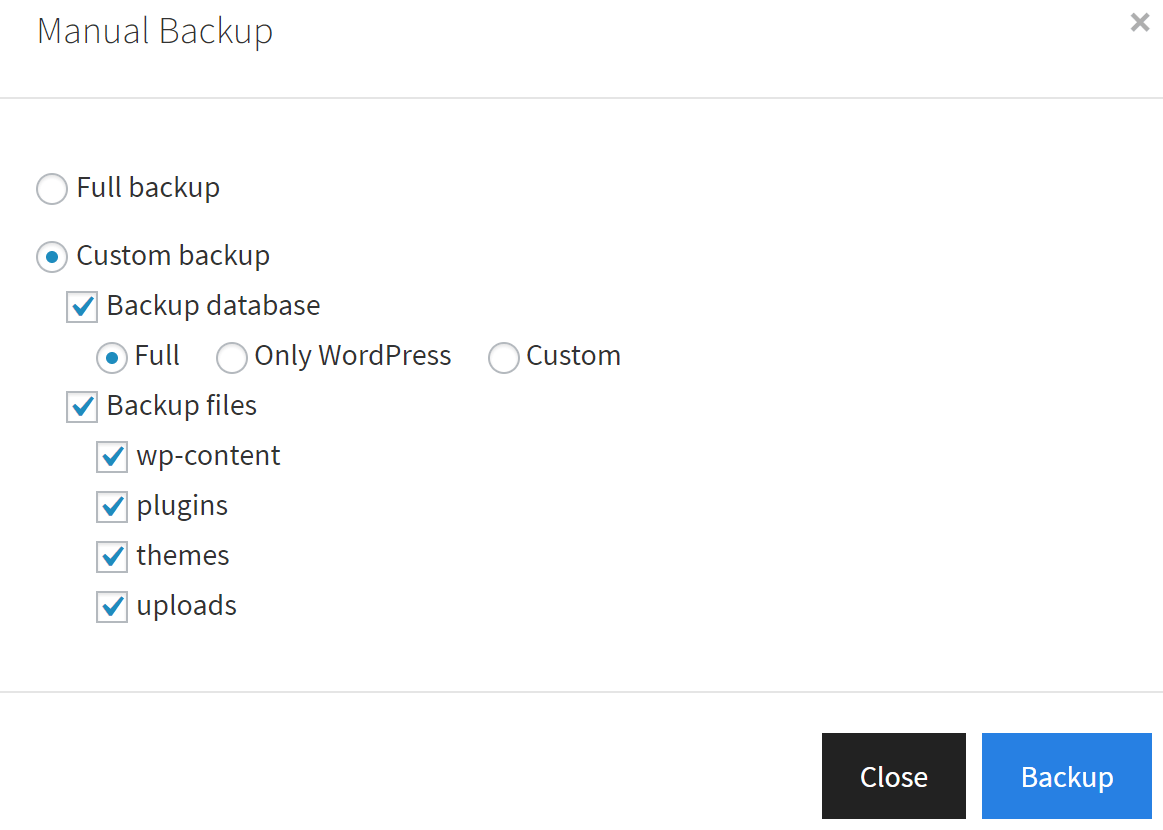 Once you choose Backup, you'll see a progress bar. When it's complete, you'll see a green checkmark under Status. There's no automatic storage option, but there is an easy-to-use restore button next to each backup in your list. Most other features require a premium license.
Let's move on to WPBackItUp. This plugin also adds a dedicated tab in your dashboard, with a clear Backup section: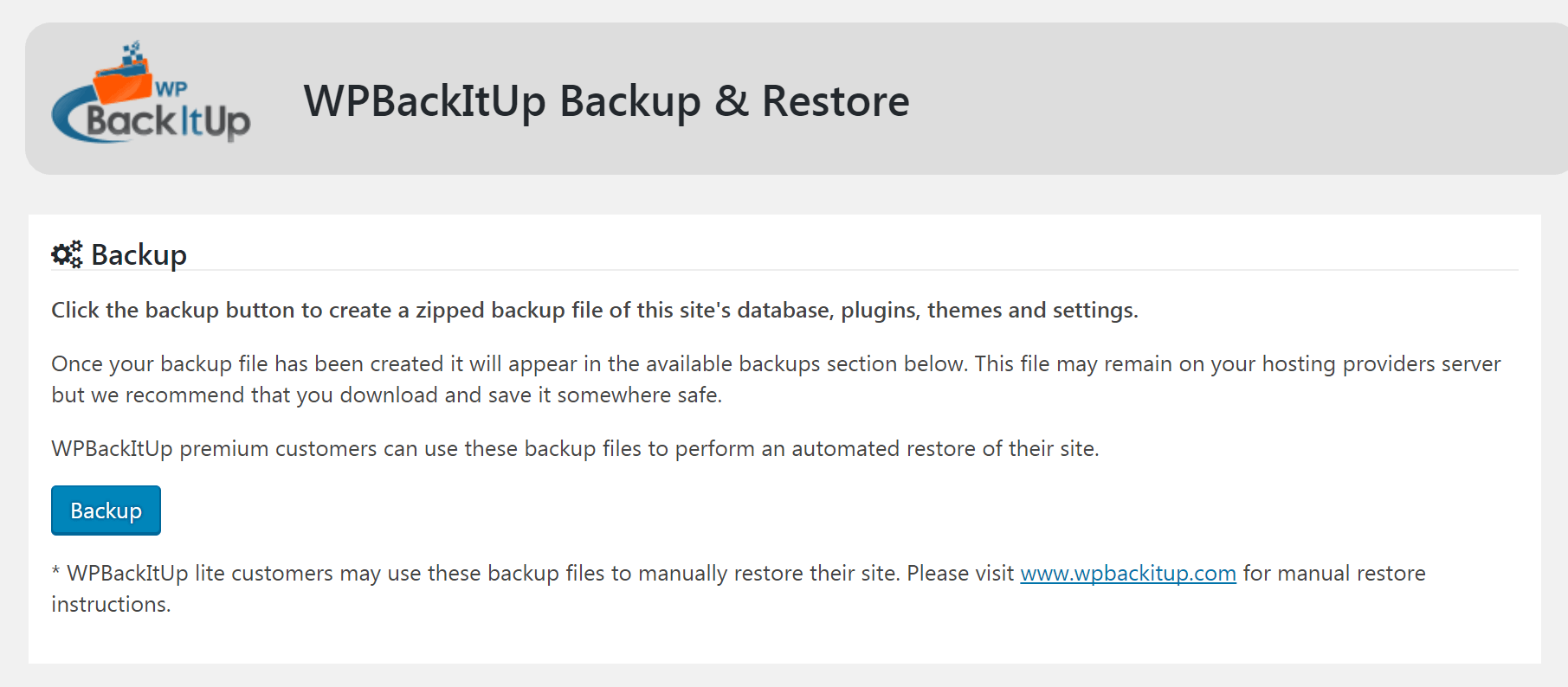 Unlike the previous two options, this backup process is conducted with a single click. You simply select the blue Backup button, and wait a few minutes. You can view progress in real time under the Status section:

Once the backup is ready, you'll find it under the Available Backups section ready to download. However, there's no restore option or way to send the backup to storage by default. You can visit the Settings tab to set how many backups should be kept, and to customize what fields and tables to include in future backups.
Finally, let's take a look at Duplicator. This plugin is meant as a more advanced tool, so it's not quite as easy to understand as the others. To create a backup, you'll need to click on Create New under Packages: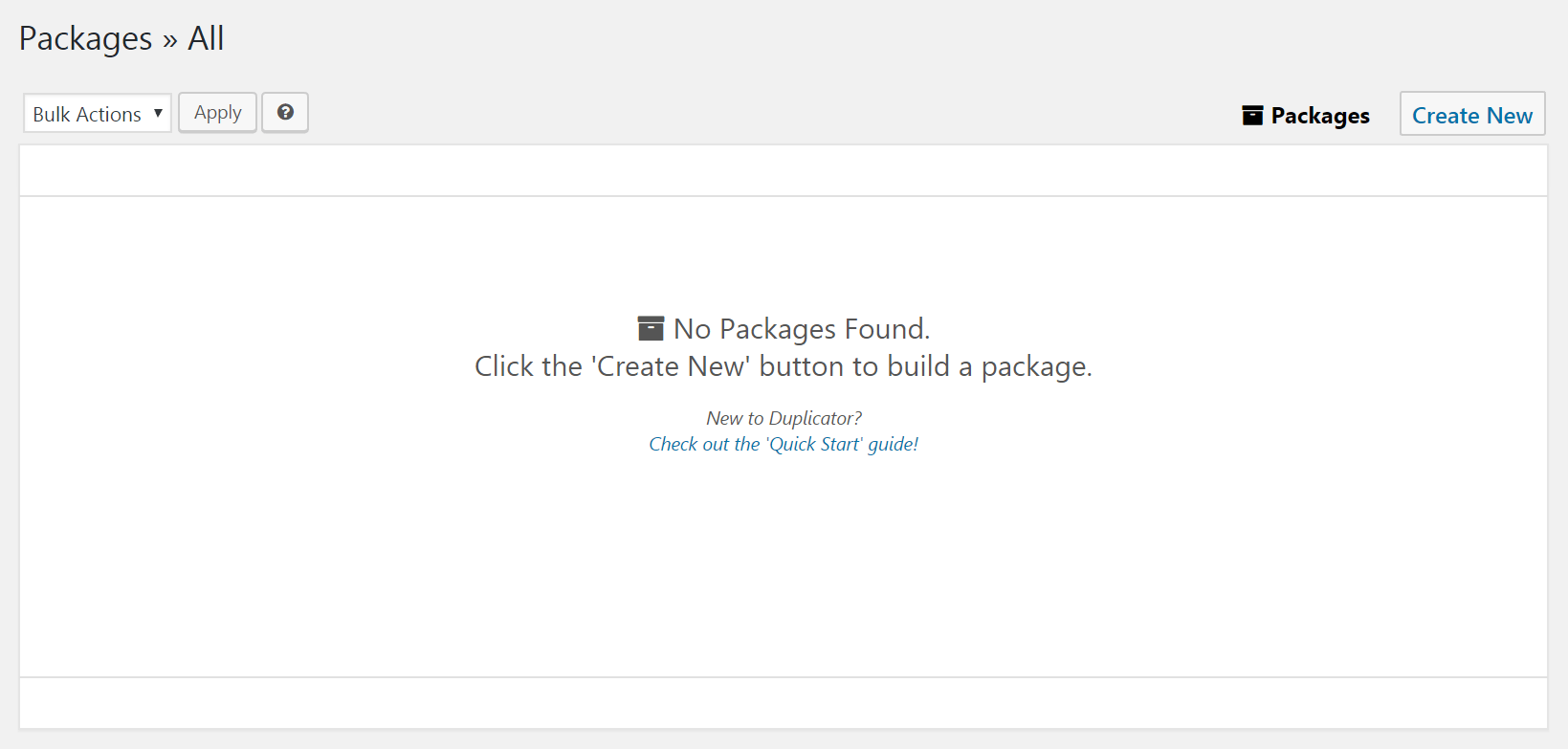 The Storage option will be set to default unless you have the Pro version. Under Archive, you can determine which files and database tables will be backed up (selecting none of the options backs up your entire site). There are also more advanced options under Installer.
Click Next, and the tool will scan your system and give you a chance to address any issues that arise: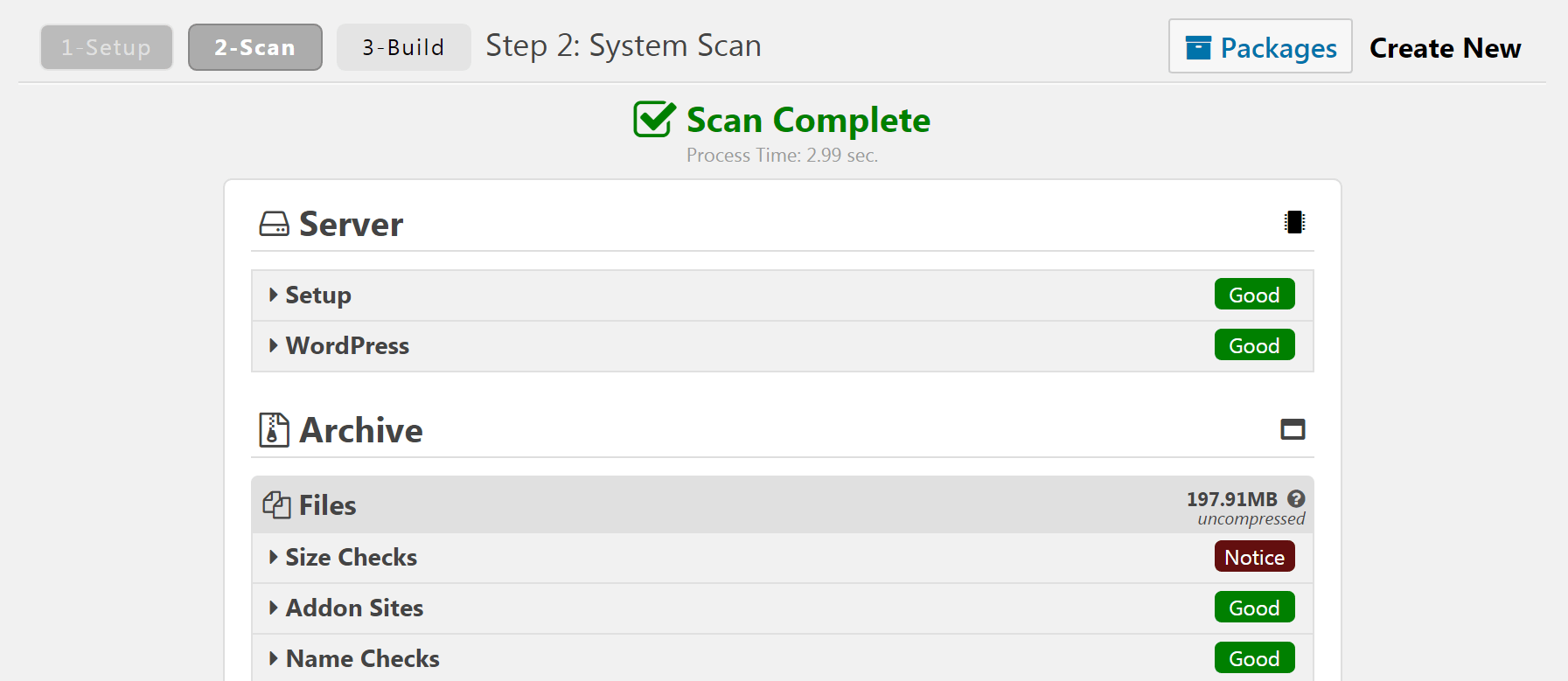 Otherwise, check the box that says Yes. Continue with the build process! and click on Build. After a few moments, your 'package' will be ready.
You can then download the Installer and Archive files, which are used to restore your WordPress site, migrate it, and so on. Of course, you'll need to do these things manually unless you have the Pro version.
How much does each backup plugin cost?
All four plugins we've introduced are available for free from the WordPress Plugin Directory. However, the developers of each offer a premium version as well, with additional functionality and a year's worth of support.
Let's quickly review the paid version of each backup plugin:
Which backup plugin should you choose?
WordPress backup plugins compared in full

| | UpdraftPlus | WPBackItUp | BackupGuard | Duplicator |
| --- | --- | --- | --- | --- |
| Customizable backups | Yes | Yes | Yes | Yes |
| Automated backups | Yes | Premium only | Premium only | Premium only |
| External storage options | Yes | No | Premium only | Premium only |
| Restore feature | Yes | Premium only | Yes | No (manual restore required) |
| Other notable features | Wide variety of cloud storage options | One-click backup option | Supports Multisite | Cloning and migration functionality |
| Premium version starts at | $70 | $79 | $19.95 | $39 |
| Ease of use (rated 1-5) | 4 | 5 | 4 | 3 |
The plugin you ultimately decide to use will depend largely on your needs and budget. UpdraftPlus is the most full-featured free option, with BackupGuard a close second.
If you're willing to pay for a premium plugin, both WPBackItUp and UpdraftPlus offer a lot of functionality, while BackupGuard has the lowest price.
As for ease of use, WPBackItUp is the most beginner-friendly of the four plugins, although it's lacking a restore feature by default. Duplicator is the hardest to pick up, on the other hand, but does offer the most in terms of backup customization. If you're an advanced user looking to back up specific files or migrate your site, it's a useful tool. However, if you simply need a backup solution, it might be overkill.
For a balance between ease of use and customization options, UpdraftPlus and BackupGuard are solid choices, and both offer a simple restore button.
If we had to pick an overall winner, however, it would be UpdraftPlus, due to the wealth of features available in its free version.
Conclusion
If you have a WordPress site, it's almost a guarantee you'll want to install a backup plugin. These handy tools enable you to safeguard all of your site's data, so it can be easily restored if the need arises. What's more, there are plenty of free options available that are well worth your attention.
Let's take one last look at each of the WordPress backup plugins we've talked about:
Have you used any of these WordPress backup plugins before, and how did you like it? Tell us about your experiences in the comments section below!
Free guide
5 Essential Tips to Speed Up
Your WordPress Site
Reduce your loading time by even 50-80%
just by following simple tips.