Email marketing for bloggers can be one of the most powerful ways to promote your content. As such, building an effective strategy can grow your audience and keep them coming back for more.
There are a number of ways you can go about achieving this. For starters, you'll need a suitable email marketing platform and some methods to incentivize your audience to subscribe. If you choose, a few affiliate links to generate some off-site revenue will help too.
In this post, we'll offer a straightforward guide to email marketing for bloggers. We'll discuss why email marketing is useful for bloggers, and offer some key tips to help you create a strategy. Let's get started!
Why email marketing is useful for bloggers
In a general sense, every email you send to a potential or current customer is email marketing. However, this technique typically involves cultivating a subscriber list, then sending them messages with varying degrees of frequency depending on your goals.
This can be an extremely powerful way to connect with your audience. As a blogger, you can keep your captive subscriber list up to date on your latest posts or other relevant events. In turn, this encourages return visits and, over time, builds a sense of community.
In addition, your emails can be a good way to connect with your audience on a more personal level. Many people enjoy getting emails, as long as they are informational, useful, and not 'spammy.' Some may even engage directly as a result, providing you further opportunities to connect.
Compared with other direct marketing methods, such as popup offers and pay-per-click (PPC) advertising, building and maintaining an email list of subscribers for your blog can be more effective. With newsletters, you can prove your expertise and credibility by providing value, building trust and generating leads over time.
You can read more about what is email marketing and why it is an important strategy.
How to create an email marketing strategy for your blog (4 key tips)
Having a strategy in place may help you to keep your focus as you build your email marketing subscriber list. With the following tips, you'll be well on your way to success!
1. Build your subscriber list
Your first step will be to build your subscriber list. Arguably, this can be the most challenging part of email marketing. Of course, if you don't have subscribers, your amazing content will go without engagement.
To get more email subscribers, you'll need a signup form on your website. Ideally, you want it to stand out and attract your readers' attention with an effective call to action (CTA). You can place one on your home page, About page, or even consider using a popup. For example, take a look at where HubSpot places their subscription form: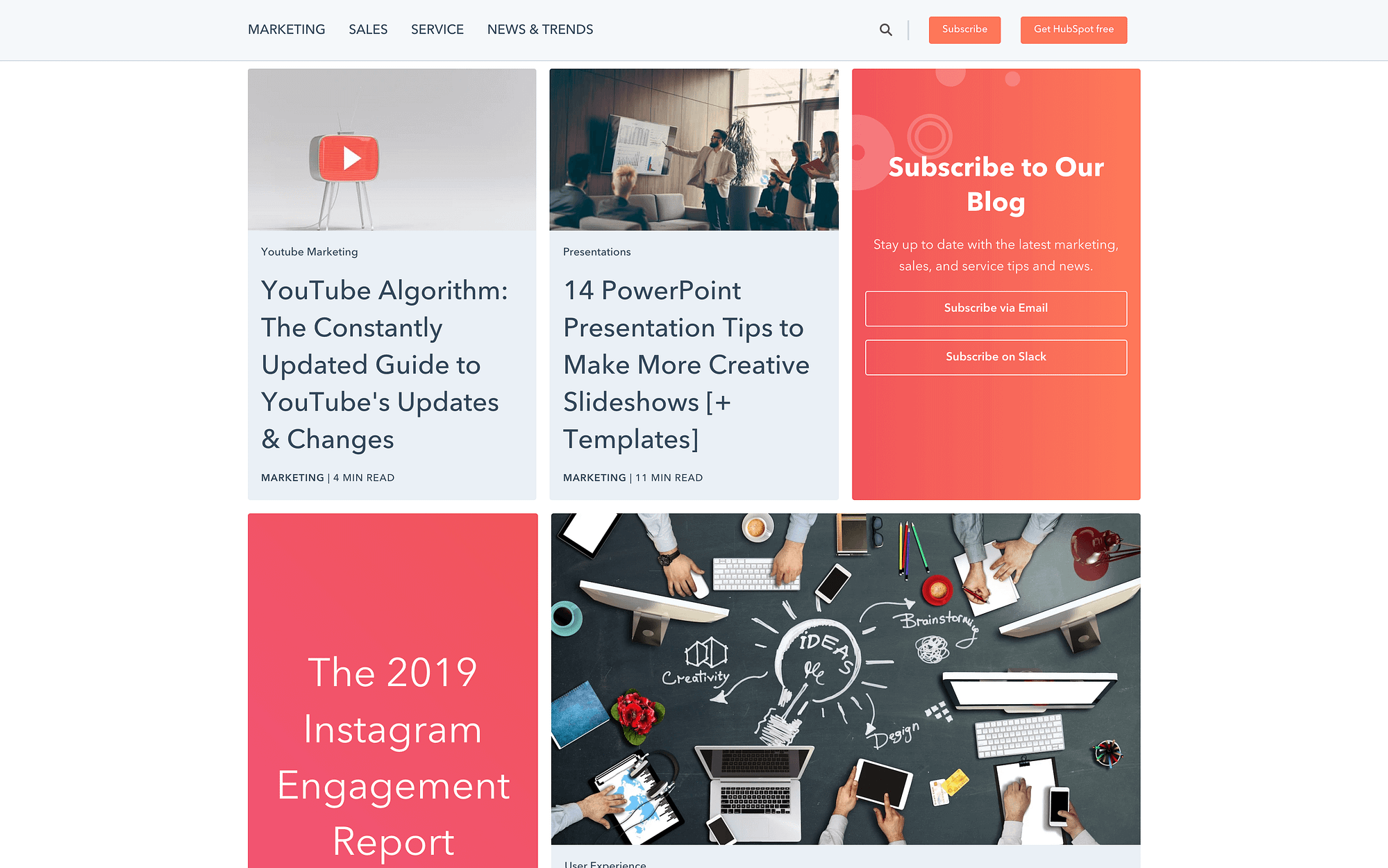 The on-brand bright orange stands out over the other understated sections. It draws the reader's eyes, and also provides a number of ways to subscribe to the blog.
One tool that works well for capturing email leads is OptinMonster. It lets you display a variety of popups and forms to grow your email list.
2. Choose an email marketing platform that integrates with WordPress
You'll also want to choose an email marketing platform that integrates with WordPress. With the right tool, you can create simple emails to get the job done: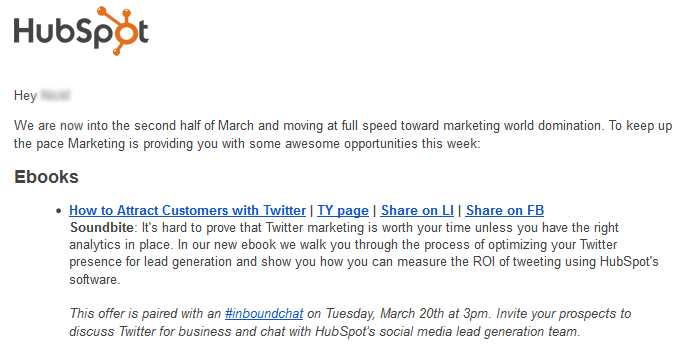 HubSpot uses a simple format for their emails. Straightforward branding is at the top, and there are links to additional content.
To create high-converting emails with substance over style within WordPress, we at Themeisle recommend (and use) Sendinblue.
The Sendinblue Subscribe Form plugin lets you create customized subscription forms, send beautiful newsletter emails, and provides real-time insights into deliverability and performance.
Installation and activation is the same as practically any other WordPress plugin, and we'd encourage you to take a look at our documentation for a guide on how to get started it.
3. Give subscribers a taste of your latest content
Now, with a subscriber list in place, you can focus on your emails. Ideally, your email content should lead back to your website in some way. This lets you boost engagement on your blog and keep your audience hooked with valuable content to boot.
Fortunately, email is already highly-accessible, especially via mobile, making it a great way to alert readers to new blog posts. However, to further entice them, you may want to give them a taste of what you're offering. This can be the beginning of your post or an exciting excerpt, followed by a link to the full article on your website. Check out this Neil Patel email: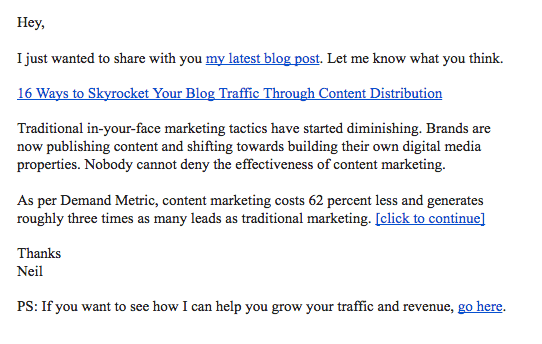 There's a simple email message with several links to the latest blog post, as well as an excerpt of the first few lines. The hope is that you begin reading the article and are interested enough to continue reading. In this way, traffic to the blog will increase, as will overall engagement.
4. Add affiliate links to generate offsite revenue
Affiliate marketing is just one method you can use to monetize your blog, and it can be easily integrated into your email marketing efforts. It's a technique to market a company's products or services in exchange for a commission on converted sales. Usually, this is in the form of an image or link to a product page.
In addition to your blog posts, you can also include affiliate links in your emails. As long as these links are relevant to your audience, you can employ this method to generate extra revenue.
However, it's important to be careful how you use this strategy. Too many links can come across as spammy. Furthermore, if the only thing your emails are doing (or at least seem to be doing) is plugging a product, they're not providing the value your subscribers likely expect. This can have a negative impact on your list, and in the worst case scenario see readers unsubscribe to your mail outs.
Additionally, make sure to check the terms of your affiliate partnership. Some affiliate programs – most notably Amazon Associates – don't let you place affiliate links in emails.
Conclusion
Email marketing for bloggers not only keeps your readers up to date, but also encourages return visits and gives you the flexibility to increase your revenue through affiliate links. For many bloggers, it is a vital part of their marketing strategy.
To create an email marketing strategy for your blog, consider the four following tips:
Build your subscriber list.
Choose an email marketing platform that integrates with WordPress.
Give subscribers a taste of your latest content to get them back to your site.
Add affiliate links to generate further revenue.
Do you have any questions about email marketing for bloggers? Ask away in the comments section below!
Free guide
5 Essential Tips to Speed Up
Your WordPress Site
Reduce your loading time by even 50-80%
just by following simple tips.