In early 2020, Mailgun discontinued its forever free plan, which may have you on the hunt for some cheaper and/or more functional Mailgun alternatives.
Mailgun is one of the most popular transactional email tools available. However, this doesn't mean it's the only choice you have. There is a range of alternatives offering similar features, but with a much lower price tag.
Narrowing down the best alternatives can be a challenge. The right email marketing software can make your life easier, but the wrong one can create a new range of problems. Fortunately, we've got the answer!
In this article, we'll discuss whether Mailgun is worth the cost by looking at the features offered and the price tag. We'll then detail four of the best cheaper alternatives you can consider using.
Three of the alternatives offer forever free plans, as well.
Quick summary: Best Mailgun alternatives
If you're in a hurry, here are the four tools that we'll look at. Keep reading for more detail…
Is using Mailgun worth the expense?
In short, transactional emails are different from other marketing emails. These are automated one-to-one emails triggered by set events. The recipient will also be expecting them to arrive in their inbox. There are different types of transactional emails including receipts, password resets, invoices, and trial expiration notifications.
Email sending services – such as Mailgun – are generally used to send these types of emails. Even so, Mailgun offers a lot of features other than transactional emails including:
Scheduled delivery
Bounced email handling.
Intelligent routing and forwarding
Complaint handling
Detailed event and email tracking
While these features are ideal for most users, the price tag is not. Mailgun no longer offers a free plan, and the cheapest option is on a pay-as-you-go (PAYG) basis, with 5,000 free emails per month for the first three months and then PAYG after that.
The other features are not included, and to get them all, the cheapest plan is $35 per month with 50,000 emails.
The lack of a forever free plan is one of the reasons why many Mailgun users are looking for cheaper alternatives. If you're in this situation, there are many other software providers you could consider. Some of these providers have forever free plans while others have entry-level plans with a cheaper comparative price tag.
Cheaper Mailgun alternatives for transactional emails
Looking for cheaper Mailgun alternatives can be overwhelming. To make your choice easier, we've narrowed down four top options. These alternatives offer arguably similar features with better pricing.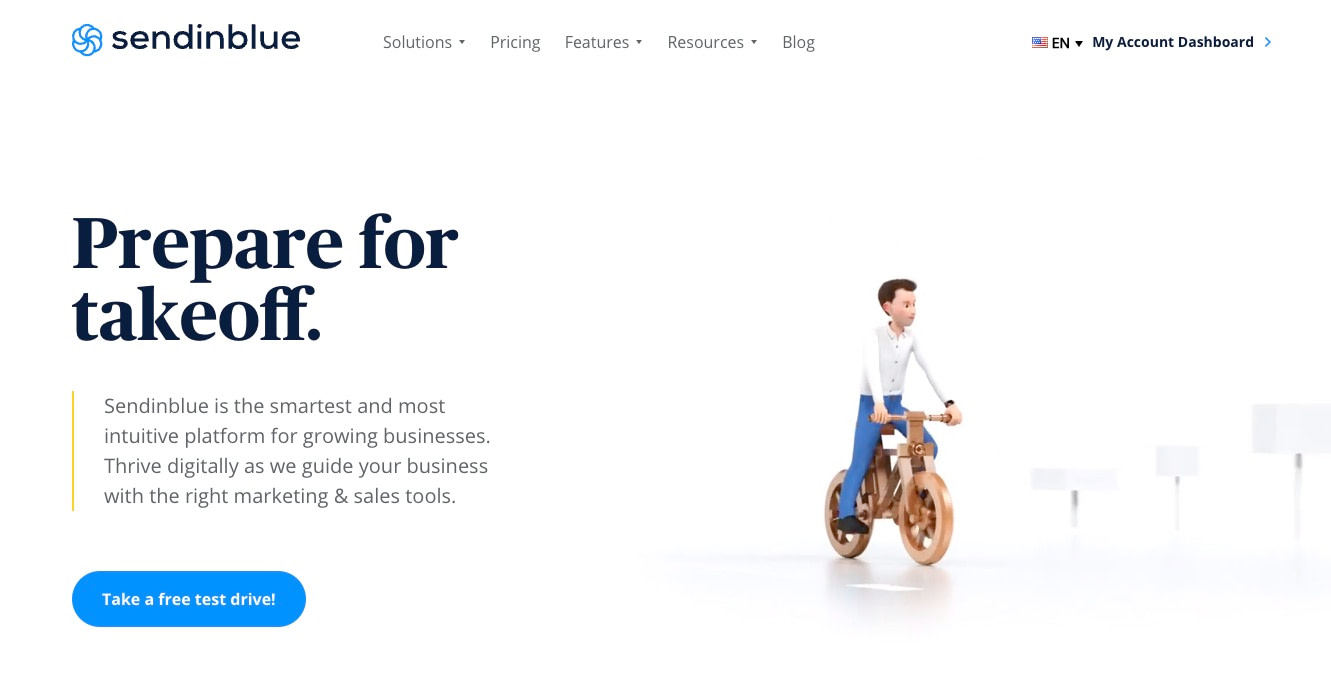 Has a forever free plan ✅ Send 300 emails per day for free
Sendinblue does much more than send transactional emails. It is an all-round product that handles your entire email marketing chain. The suite of services creates a one-stop-shop for all your marketing needs. What's more, with headquarters located in France, you can ensure your emails all meet GDPR requirements.
Some of the stand out features include:
Email and SMS marketing: You are able to send email and SMS marketing messages with this software.
Marketing automation: Save time with automatic list segmentation and email marketing.
Detailed analytics: This includes email heat maps and click-through reports to improve your emails.
Sendinblue has the potential of being a full customer relationship manager (CRM). This does give it an edge over Mailgun. The free plan is another reason to consider switching. However, this free plan does not have full access to all the features.
Sendinblue offers five payment plans. The free plan is the best starting point and offers 300 emails per day. There are no contact limits and you will have access to SMS marketing, chat, and the entire email template library.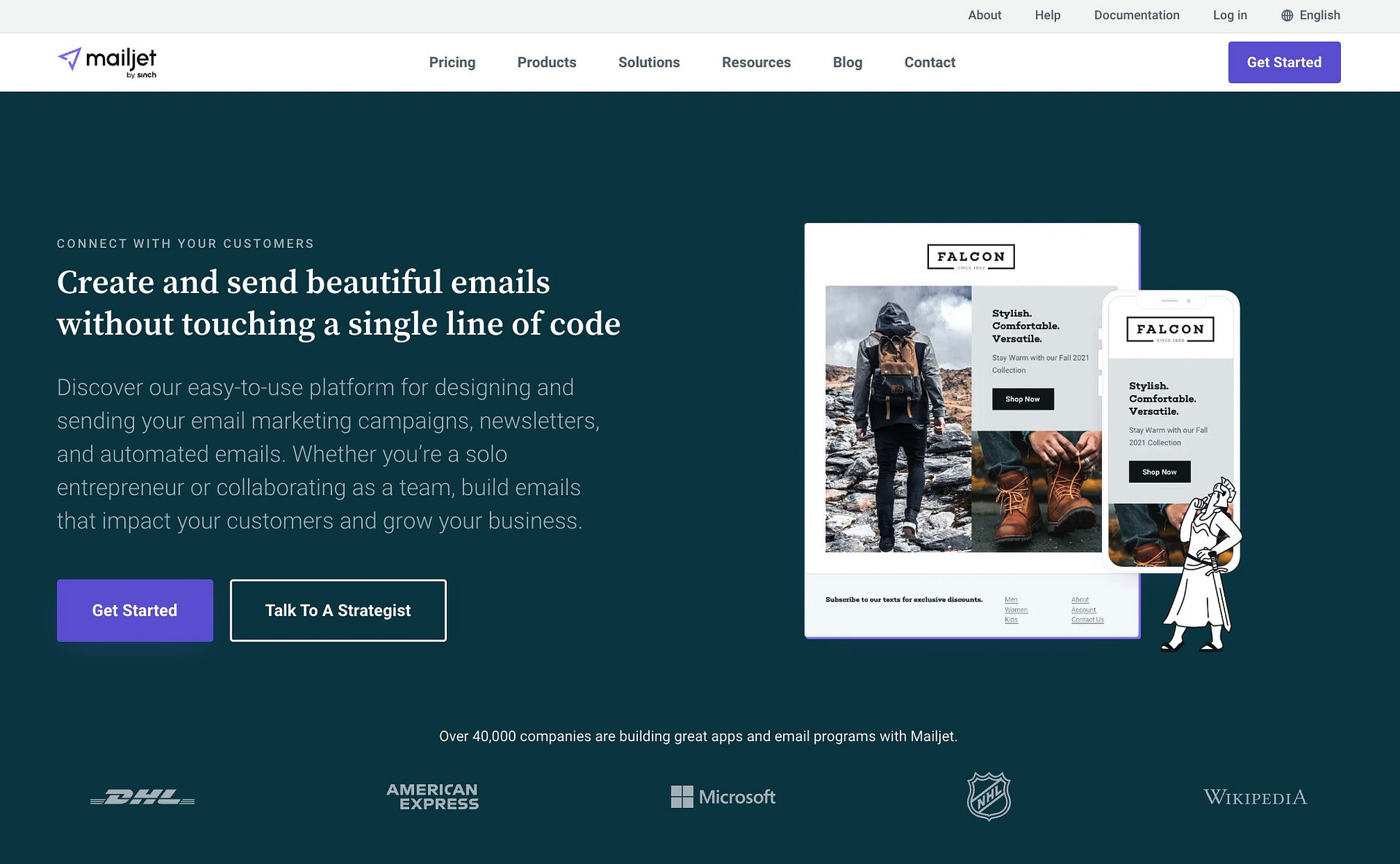 Has a forever free plan ✅ Send 200 emails per day for free
If you are looking for a user-friendly alternative, Mailjet might be the best solution. The software makes life easier for marketers and developers. The component design lets marketers create engaging emails without disturbing any integration APIs.
The most important features offered include:
Drag-and-drop email builder: You can create your own email templates with this easy-to-use builder.
Email and SMS marketing: An SMS marketing API is part of the transactional email suite.
Email analytics: Real-time monitoring and email data help you track your effectiveness.
Mailjet has a lot to offer and is very user-friendly. While this makes it an attractive alternative to Mailgun, the free plan might sweeten the deal. The paid plans also have multiple tiers to make scaling your marketing easier.
There are four plans on offer from Mailjet. The free plan offers 200 emails per day and has no contact limits. You also get access to the APIs, advanced analytics, and email editor.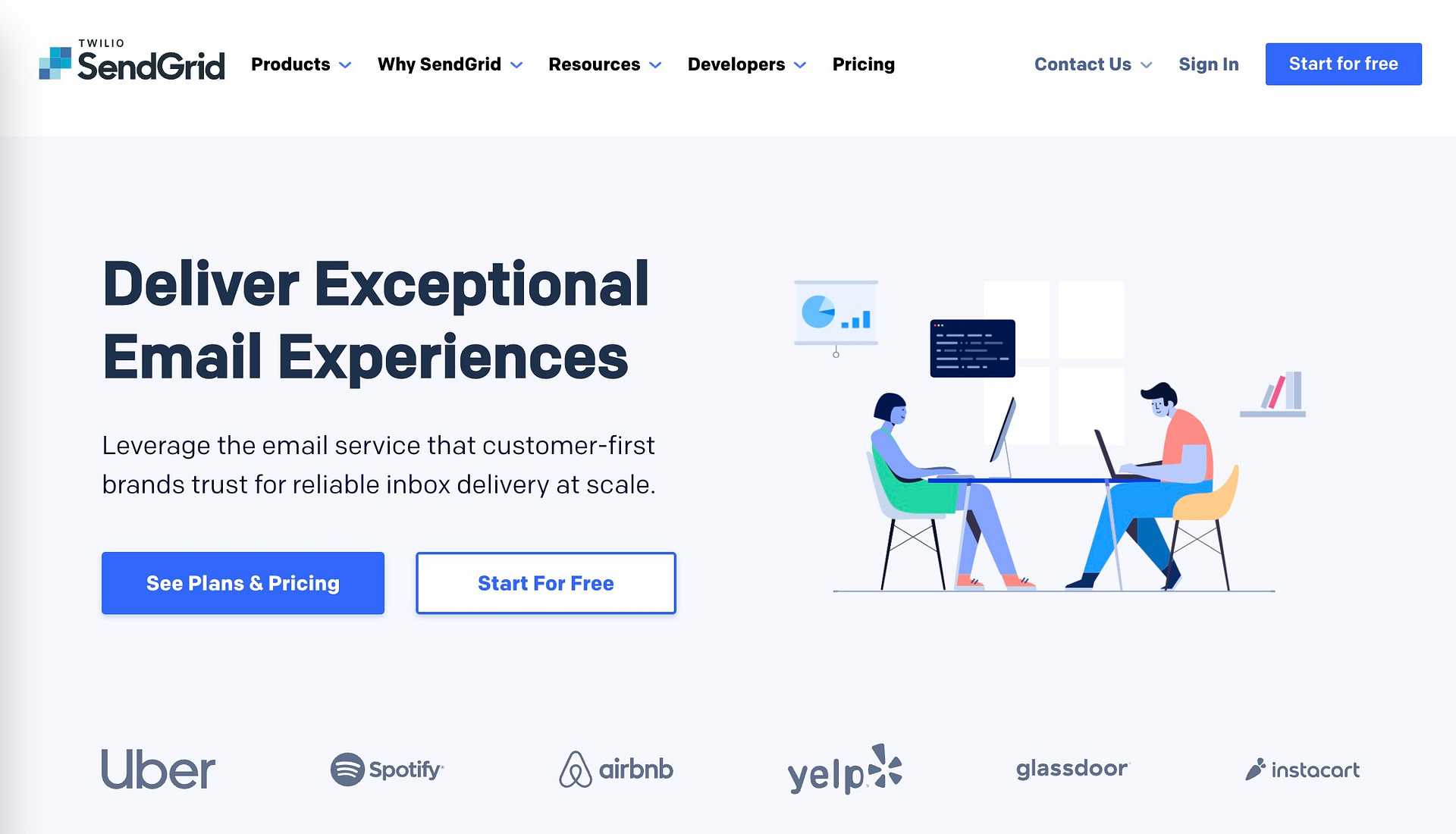 Has a forever free plan ✅ Send 100 emails per day for free
SendGrid stands out from the other alternatives when it comes to integration. The system was built from the ground up to focus on working with other software. The integration has led to large companies such as Uber, Glassdoor, and Spotify using it.
Other than unsurpassed integration, the stand out features include:
Easy automation: The automation process is user-friendly and works on simple triggers.
Email testing: To get the most out of your emails, you can preview them, spam test, and run link validation.
Email template builder: The drag-and-drop editor is easy to use, but you can also code your emails in HTML.
SendGrid is a solid alternative to Mailgun if you want to integrate your emails with your website or other software solutions. The company also provides a range of guides, video tutorials, and webinars to get you started. There is also a free plan you can take advantage of.
SendGrid has four plans to choose from. The free plan offers 40,000 emails for 30 days, then continues at 100 emails per day. You also get access to all the APIs and analytics.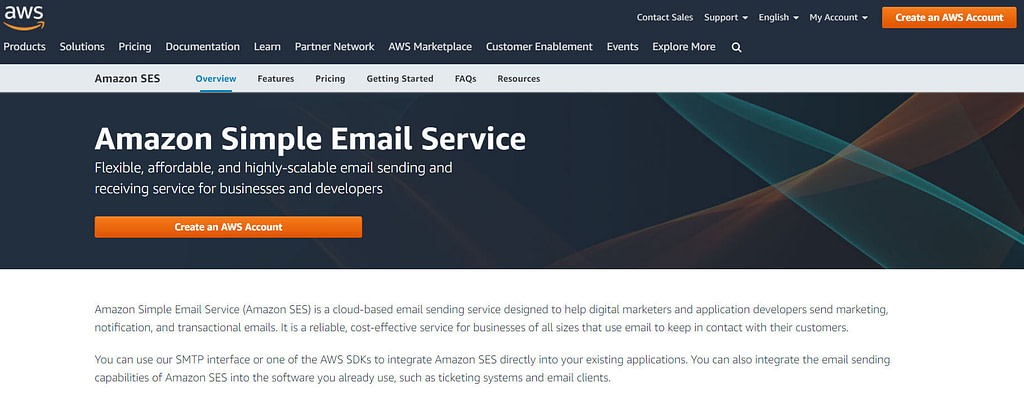 No forever free plan (except for EC2 customers) ❌ But it's much more affordable at $0.10/1,000 emails vs $0.80/1,000 emails for Mailgun.
Additionally, if you host your application in Amazon EC2, you can send 62,000 emails per month for free forever.
You cannot beat Amazon SES when it comes to deliverability and low price per email. The only issue is the learning curve of the system. The success of the system is clear by the large companies that use it such as Siemens, HBO, and Vodafone.
Other than deliverability, the other stand out features include:
Sender reputation management: This dedicated dashboard tracks issues affecting email delivery.
Mailbox simulator: You can test how your emails handle different situations such as bounces.
AWS integration: If you use AWS, you'll get seamless integration across the product line.
Amazon SES offers unparalleled deliverability that might improve your email marketing success. This is one of the reasons why it is an excellent alternative to Mailgun. The free base plan is another.
Amazon SES plans are pay-as-you-go. You'll pay just $0.10 per 1,000 emails that you send.
Additionally, if your application is hosted in Amazon EC2, then Amazon will also let you send 62,000 emails per month for free forever. This free tier is not available if you host your application elsewhere, however.
Conclusion
While Mailgun is one of the most popular transactional email providers, you don't have to use them. There are other cheaper alternatives you can turn to instead. They offer similar features and could be the email sending service you have been looking for.
If you are thinking about changing your email sending service, our four recommendations are:
If you want to go beyond transactional emails, we also have some posts on more full-featured email marketing platforms:
Do you have any questions about the best Mailgun alternative for your needs? Ask us in the comments!
Free guide
5 Essential Tips to Speed Up
Your WordPress Site
Reduce your loading time by even 50-80%
just by following simple tips.
* This post contains affiliate links, which means that if you click on one of the product links and then purchase the product, we'll receive a commission. No worries though, you'll still pay the standard amount so there's no cost on your part.