'Gamification' is a term that's become increasingly common in recent years. It's a popular technique for promoting engagement and getting people excited about otherwise mundane tasks. And guess what? Thanks to the awesome WordPress open-source community, you can add gamification to WordPress with ready-made plugins.
Using the principles of gamification on your website is a creative way to get your visitors more invested in your site and hopefully keep them coming back long into the future.
In this article, we'll explain what gamification is and how it can benefit you. Then we'll introduce three ways you can add gamification to WordPress. Let's jump in!
What gamification is (and why it matters)
In simplest terms, 'gamification' means applying the elements of games to traditionally non-game tasks. This means taking the basic elements of game design – objectives, rules, obstacles, win and loss conditions, and so on – and using them to make something that's usually work or a rote task feel more like a game.
Gamification is applicable to a wide variety of contexts. Right now, however, we're concerned with how it can be used on your WordPress website to make interacting with it more like a game. This can result from small changes that only affect a few pages or can influence the design of your entire site.
There are a lot of benefits to gamifying your website, including:
Increasing people's feeling of engagement with your site and encouraging them to spend more time on it.
Creating a sense of personal investment in your blog, company, or community, by giving your audience perks for participation.
Incentivising desirable behaviors, such as clicking on calls-to-action, by offering rewards.
So far, this may all seem rather abstract. Gamification is beneficial – but what would it actually look like on a website? Let's answer that question by exploring how to add gamification to WordPress.
3 ways to add gamification to WordPress
What follows are a few ways gamification has been used on websites. These suggestions can serve as inspiration, and help you start thinking about ways to apply it on your own site.
1. Add interactive modules to your site
If you're new to gamification, you may want to start by experimenting with smaller 'gamified' elements that don't impact your entire site. Fortunately, there are many such modules that you can add easily.
For example, you could include polls, quizzes, surveys, puzzles, and actual games on your site. Check out Treehouse for an example, which teaches lessons through quizzes and interactive challenges: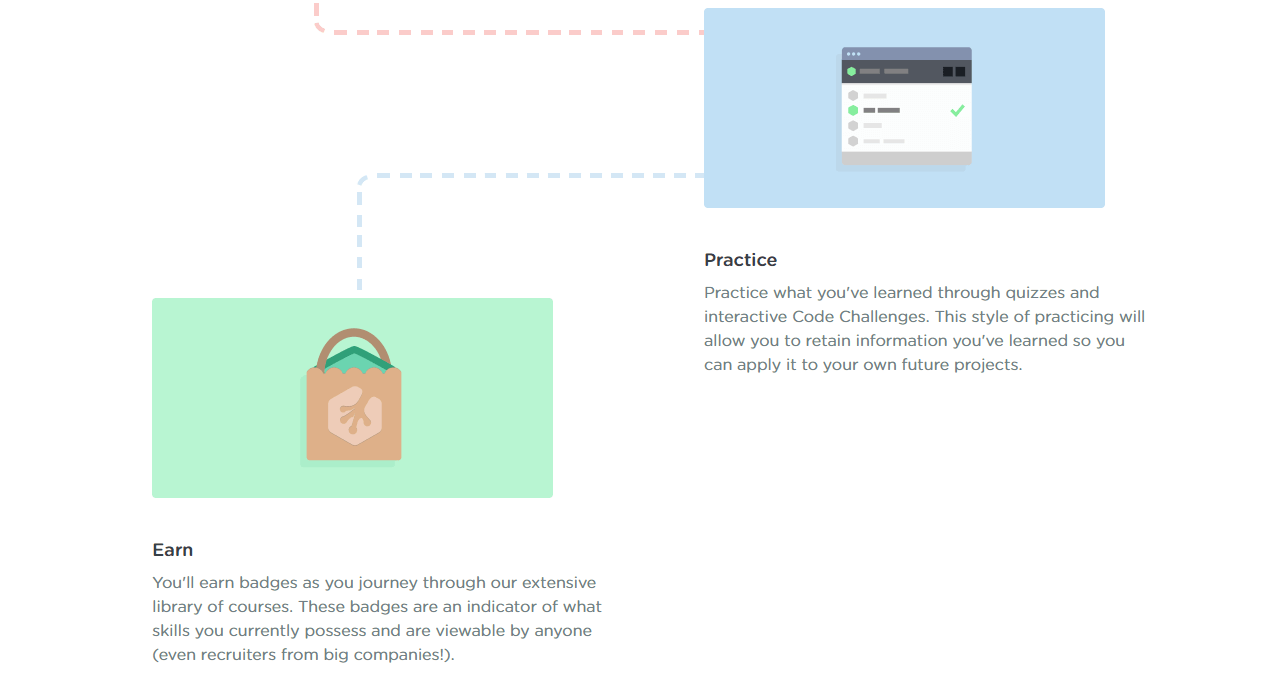 To really apply the principles of gamification with these modules, you'll want to use them strategically. You can do this by offering rewards or perks for their completion, such as exclusive content. We'll discuss rewards more thoroughly in the following two sections.
If you want to add interactive modules to your website, you could create them manually (if you're proficient with coding). Alternately, you can use a dedicated plugin. For example, the aptly named Poll, Survey, Quiz, Slideshow & Form Builder is a solid option that makes it easy to incorporate small gamified elements into your site:
2. Reward users with badges for achievements
Now, let's start talking about how to add gamification to WordPress in a more comprehensive way. If your website lets users create their own accounts, you can gamify their experience by offering a simple reward for participation – badges.
Badges are typically small graphics that can be added to a user's profile, and are rewarded for specific actions or achievements to encourage desired behaviors. On Stack Overflow, for example, you can earn badges for helping other users: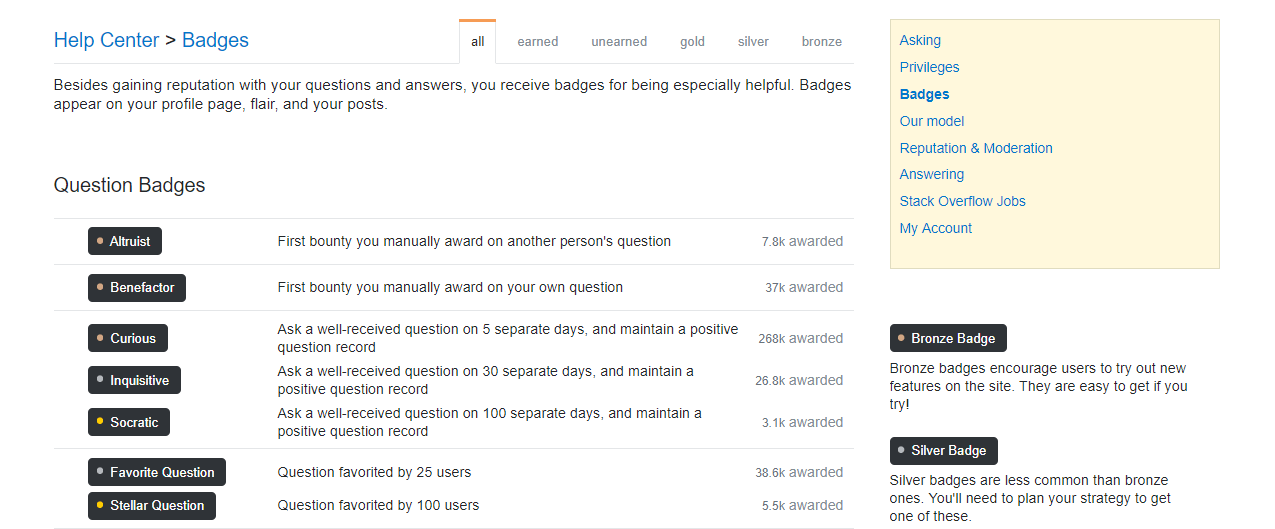 Here are just a few ways you could use badges effectively:
Offer them for users who have been signed up for a certain amount of time.
Award badges to users who have commented or posted a specific amount.
Create badges for users who have followed up on key calls to action.
Badges can be a source of pride for your users, increasing their investment in your site and its community. There are fewer dedicated tools for adding this feature to WordPress, unfortunately. BadgeOS is one option, enabling you to set up a badge system and have it implemented automatically, although some users have noticed compatibility issues with other tools.
Alternatively, if you're a designer (or are willing to hire one), you can simply create your own badges and award them as you see fit.
3. Create a points system and offer rewards
What if you want to go all out with gamification? You can transform your entire site into a game by creating an overall rewards system. In practical terms, this usually means rewarding users with 'points' for completing various tasks and interactions.
These points can be awarded for anything you like – commenting, reading articles, participation in one-time events, and so on. You can also integrate this with our first example of gamification, offering points for completing quizzes, polls, and surveys. Many businesses, such as Verizon, offer points for spending money on their services: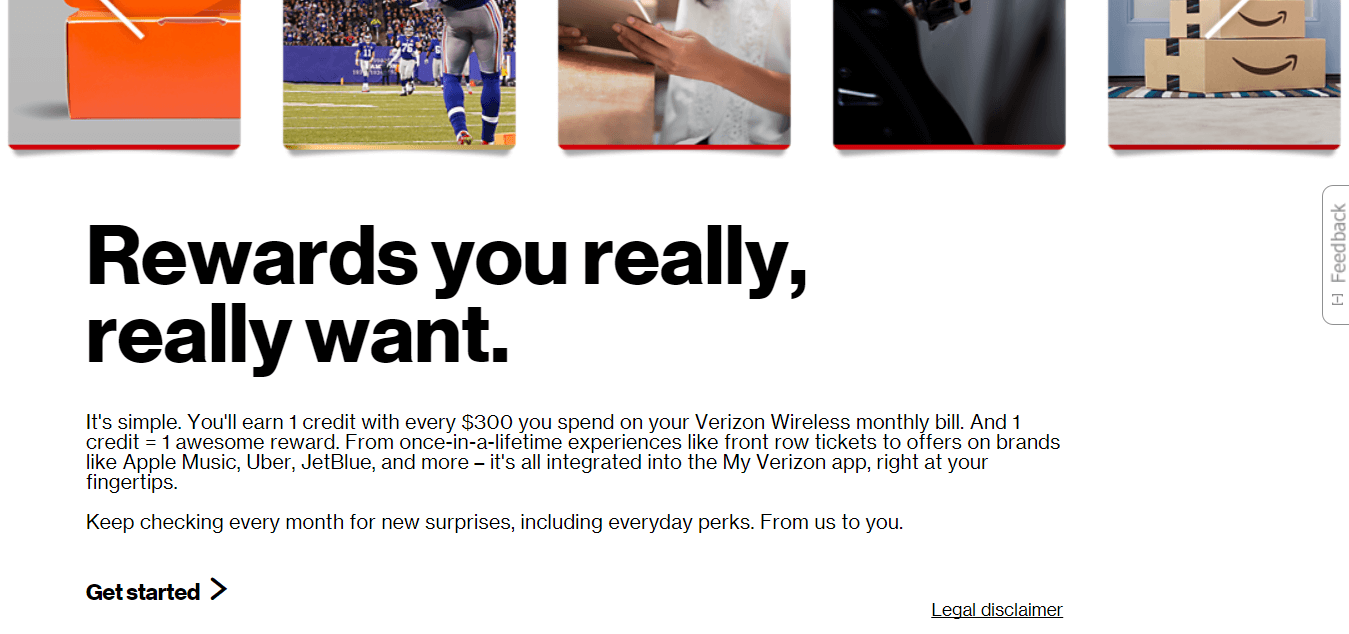 As users earn more points, they'll be given set rewards or be able to spend them on perks of their own choosing. The sky is the limit here as well. You can offer exclusive content, badges, greater access to your site, or anything else you can think of. For best results, you'll want to customize your rewards to suit your specific audience.
Since this is a more complex technique, you'll definitely want a dedicated tool to implement it. MyCred is a strong option for WordPress users, adding a customizable points system to your site and providing features such as a log for each user to track their progress:
And if you specifically want to gamify your WooCommerce store, then Rewards Points for WooCommerce is worth checking out:
Conclusion
Gamification is an exciting method for increasing visitor engagement and participation on your website. If you're looking for a way to turn passive viewers and readers into active users, adding game-like elements to your site may be the answer. With a little experimentation, you can make visiting and using your website a lot more fun.
Here are just three ways you can add gamification to WordPress:
Add interactive modules to your site.
Reward users with badges for achievements.
Create a points system and offer rewards.
Do you have any questions about gamification in general, or how you can use it on your website? Ask away in the comments section below!
Free guide
5 Essential Tips to Speed Up
Your WordPress Site
Reduce your loading time by even 50-80%
just by following simple tips.