Tired of maintaining your WordPress site all by yourself? With the WordPress maintenance services on this list, you can find a trusted partner to maintain your site so that you can focus on the fun stuff.
Backups, updates, security…maintaining a WordPress site can be a chore. Thankfully, there's a booming industry that specializes in helping site owners take care of their online properties, freeing you to handle other tasks.
In this article, we'll introduce you to three of the best WordPress maintenance services out there. Then, we'll also share some thoughts on whether or not WordPress maintenance services are worth the money.
Let's get to it!
Three top WordPress maintenance services
The best way to figure out if WordPress maintenance services are for you is to check out the top providers. Here are our three favorite options:

WP Buffs offers to take care of almost every aspect of website maintenance for you. A monthly plan entitles you to around-the-clock tech support, CSS tweaks, plugin configuration, various updates, and more.
However, it's important to note that a big part of what you pay WP Buffs for comes down to plugins. They offer performance optimization and security audits as part of their plans and rely on WP Rocket, WP Smush Pro, and iThemes Security for these tasks.
What WP Buffs offers:
Unlimited website edits (content updates and CSS tweaks)
Plugin configuration
Website optimization
Theme, plugin, and WordPress core updates
Daily cloud backups
Emergency support
Around-the-clock monitoring
As you might expect, WP Buffs' services don't come cheap. Plans start at $67 per month. However, the basic tier is limited to updates, backups, analytics monitoring, and emergency support. For reference, you could invest in the premium plugins listed above and handle these tasks and more by yourself for $555 less per year.
The full set of features WP Buffs can provide costs even more at $197 per month. However, if you're willing to pay for convenience, this is still a valid option.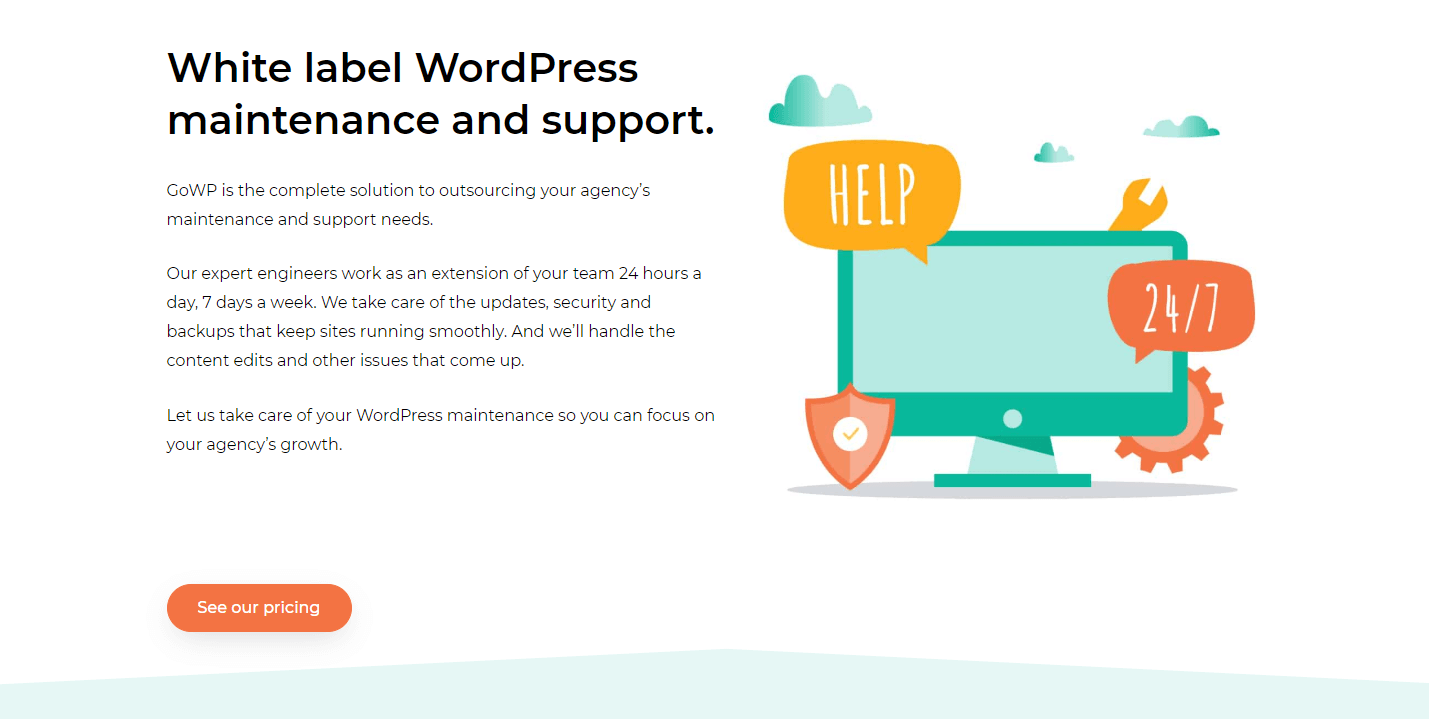 Although GoWP bills itself a WordPress support service, they also provide maintenance plans for their users. This includes update management, daily backups, security scans, malware cleanup, and more.
What GoWP offers:
WordPress core, plugin, and theme updates
Daily backups
Daily security scans
Malware removal
Content edits
24/7 support
A dashboard plugin so you can monitor tasks from the back end of your site
In this case, you only get the choice of two tiers of service. The more expensive option includes unlimited content edits and access to a team of WordPress experts in case you run into any issues.
With the basic maintenance plan, which starts at $29, you can't reach out for support directly. Instead, GoWP takes care of everything for you in the background. If you'd rather be able to communicate with an expert in case something goes wrong, you'll need to pay $79 per month.

WP Site Care likes to say they were the first company to offer WordPress maintenance services. We can't vouch for that claim, but we can say they provide some of the most interesting features in their plans.
Unlike other services, WP Site Care includes performance optimization with every plan, which is a nice touch. Their advanced plan also provides some interesting extras. For example, you can enjoy up to two hours of custom development work, as well as a firewall for your website and version control software.
What WP Site Care offers:
WordPress development
Managed WordPress hosting
Emergency WordPress help (attacks, hacks, fatal errors)
Mobile optimization
Site migrations
Page speed optimization
Plugin and theme customization
Uptime monitoring, backups, and malware scanning
The Standard WP Site Care plan costs around $80 per month. It includes some of the simpler features, such as daily backups, update management, security monitoring, malware cleanup, and access to tech support. However, the plan is available annually only, making it $990 for the first year. For a hefty $499 per month, you'll gain access to the more advanced services, including custom development hours.
Ultimately, WP Site Care strikes a nice balance between the options we've seen thus far. It's more expensive than GoWP, but it does offer a more complete service. At the same time, its basic plan blows WP Buffs' out of the water, which makes it a solid pick if you can afford it.
Are WordPress maintenance services worth it?
Some people would rather pay for WordPress maintenance services whereas others prefer to do the work themselves. Both approaches are entirely valid. The decision usually comes down to four factors:
Whether you enjoy WordPress maintenance work (or at least don't hate it!)
If you're proficient in the necessary tasks
How valuable your time is
Whether or not you can afford it
You don't need a professional service for your website to run perfectly, especially if you don't mind doing the work yourself and have experience with running a website. On the other hand, outsourcing this responsibility can take some items off your to-do list.
Most WordPress maintenance tasks are relatively simple, such as removing unused files, speed optimization, updating content, and more. It's even possible to automate responsibilities such as database cleanup and backups.
From time to time, you might have to troubleshoot an error, which can be tricky, but there are plenty of resources to help you solve those issues. On the other hand, tasks such as malware removal and custom development are out of reach if you're not a web professional yourself.
In a nutshell, WordPress maintenance services can be worth it, but it all comes down to personal preference, skill, and your budget.
Conclusion
Upkeep may not be glamorous, but it's necessary to keep your website in good shape. That means troubleshooting errors, cleaning up unnecessary files, ensuring loading times remain fast, and much more. WordPress maintenance services enable you to offload that work, but in most cases, they can be rather expensive.
If you don't have the time to take care of maintenance tasks, you may want to consider using one of these three WordPress service providers:
WP Buffs: Although they offer a decent range of services, you only get access to the most useful ones with an expensive plan.
GoWP: This WordPress maintenance service is ideal if you're looking for a budget option.
WP Site Care: Although it's not cheap, WP Site Care covers all the maintenance tasks you might need, plus custom development hours.
Another alternative to a WordPress maintenance service would be to use managed WordPress hosting. While the best managed WordPress hosts don't offer quite as many services, they can still handle much of the maintenance load for you at a lower price point.
Or, you can just roll up your sleeves and learn how to handle WordPress maintenance yourself.
Do you have any questions about WordPress maintenance services? Let's go over them in the comments section below!
Free guide
5 Essential Tips to Speed Up
Your WordPress Site
Reduce your loading time by even 50-80%
just by following simple tips.