On the hunt for the best Google My Business WordPress plugin?
Google My Business (GMB) has it all for online businesses. You can post updates, sales, and photos from your business, and your page gets indexed on Google for more people to find you and write reviews.
Not only that, but Google My Business lets you write posts (similar to a blog or social network) for business updates, offers, and events. Therefore, it makes sense to share some of your most important WordPress blog posts and pages as Google My Business posts for an easier workflow. All you need is a Google My Business WordPress plugin to make it happen.
In this post, we'll showcase three of the best options and show you how they help you connect your WordPress site to Google My Business.
Best Google My Business WordPress plugins
Now that we've shared the benefits of Google My Business, let's consider the three best options for integrating it with your WordPress site.
The Revive Old Posts plugin offers several quick ways to share your content from WordPress to Google My Business, as well as other social networks such as Facebook, Twitter, LinkedIn, and more.
You can use it to share new posts when you publish them and/or to "revive" older content by sharing it.
The plugin automatically shares new posts to your connected accounts and has settings to omit certain content based on specifics like the age of a post.
To connect it to Google My Business and start automatically sharing, all you need to do is:
Install the plugin on your WordPress site.
Link your Google My Business (GMB) account to the plugin.
Configure the types of posts you want to send to your GMB page.
After that, the plugin automatically does all the work for you.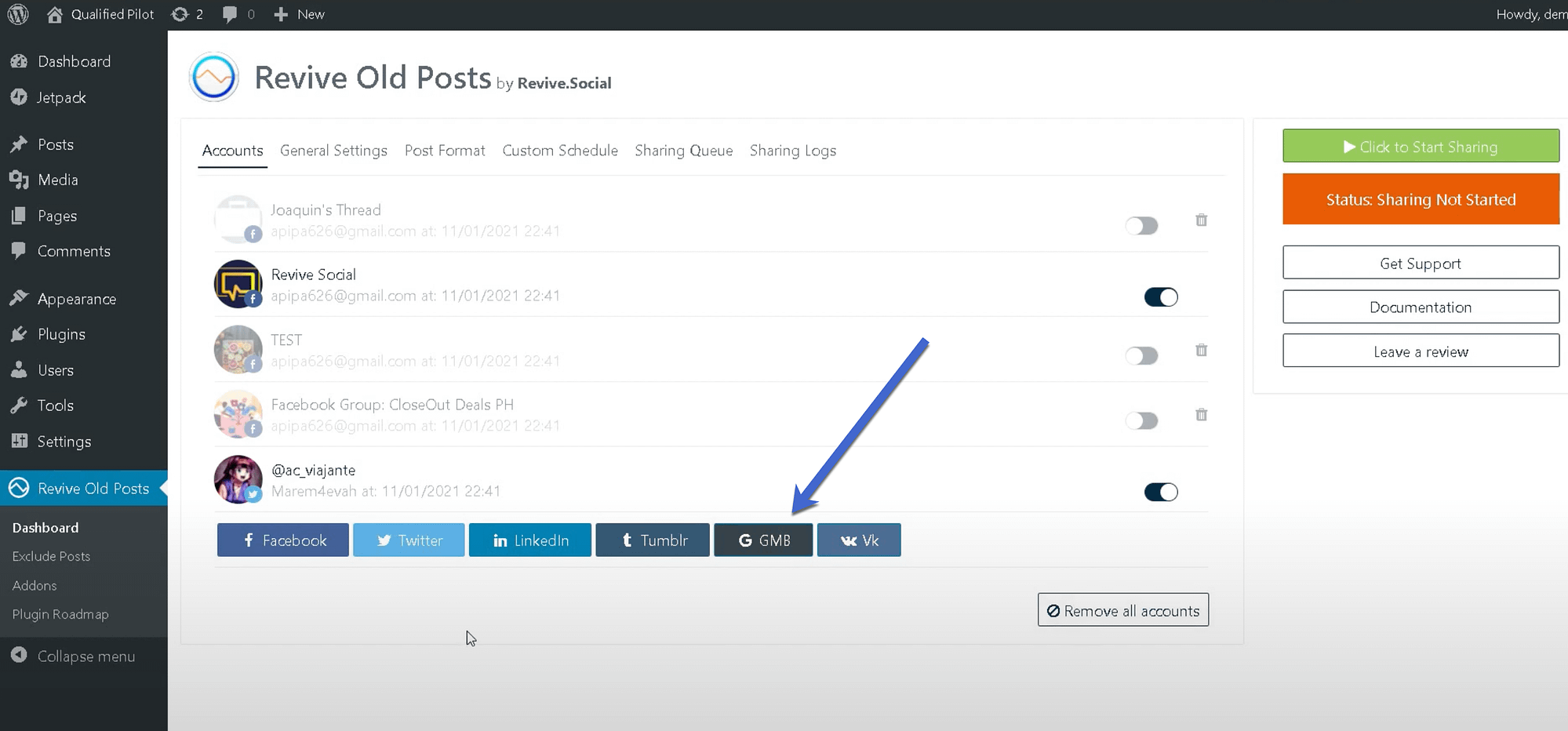 ⚙️ Features:
A button to link to your Google My Business account so that all sharing gets completed automatically.
Settings to specify which posts to share to GMB, like the post's age, post types, and special taxonomies.
Options to make sure only a certain number of posts get shared from your Google My Business plugin.
Custom scheduling and post formatting tools.
Settings to enable features like Google Analytics, instant sharing, and content variations.
Exclusions for specific categories and tags.
Automatic hashtag generation.
Connections to various other social networks (for automated posting) like Facebook, Twitter, and LinkedIn.
💵 Pricing: The core Revive Old Posts plugin is free, but the Google My Business functionality requires an upgrade, starting at $75 per year. It's an excellent value, considering you receive the Google My Business posting and several other features like RSS feed sharing, content variations, and sharing to Facebook Groups.
The Post to Google My Business plugin enables website owners to make an instant integration between WordPress and Google My Business, allowing you to create and share Google My Business Posts from the WordPress dashboard.
In addition, the plugin helps with sharing previously or newly published blog articles, sending them right to Google My Business after you publish them on WordPress.
The Post to Google My Business plugin is a little different from Revive Old Posts considering it only supports one platform – Google My Business.
However, this may provide a simpler interface for some people who don't have any need for additional sharing options like Facebook and Twitter.
Overall, the plugin provides a sleek and intuitive design with one primary focus. It's also nice because you can choose the type of post you want to create, seeing as how Google My Business has many post categories like Events, Offers, and Products.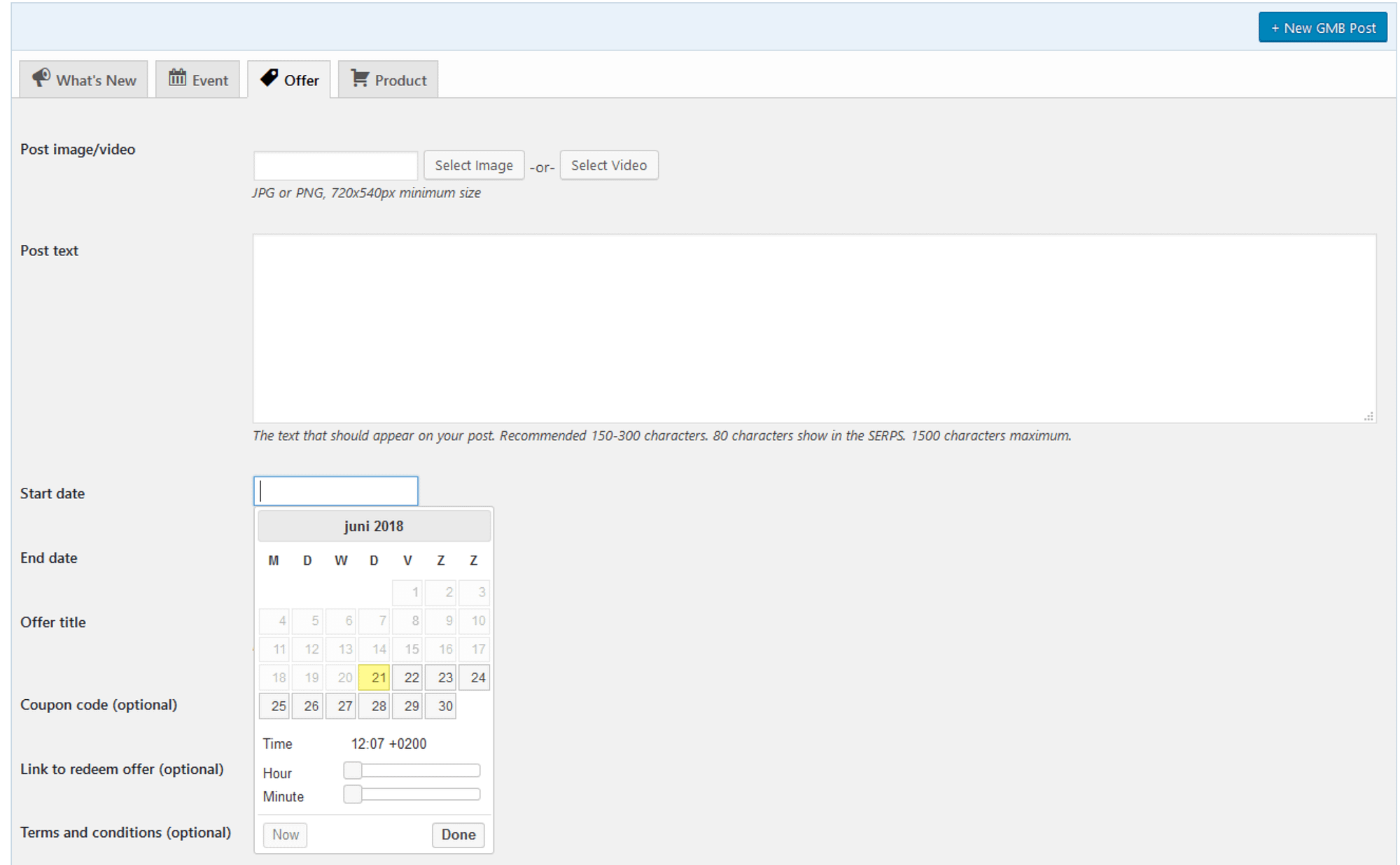 ⚙️ Features:
Connect your Google My Business account and begin sharing your posts from WordPress within a few seconds.
Options to write up a Google My Business post from the WordPress dashboard, without having to make it into a WordPress post as well.
Scheduling tools to automatically share WordPress posts to GMB.
Integrations with other automation and sharing tools like Zapier.
Support for the unique post types in Google My Business, including Events, Products, and Offers.
An interesting tool that "spins" your content to generate multiple, unique versions of your posts. Although this is a cool feature, be careful about poor grammar (as is common with content spinning software).
Automated posting for certain tags and categories within your WordPress site.
Post analytics to see the number of clicks and views every post gets on GMB. The plugin includes the stats in your WordPress dashboard so you don't have to go back to GMB.
Automated post recycling to bring back old content and ensure it gets shared regularly.
💵 Pricing: The plugin has a free version with decent features and quick sharing to Google My Business. The Premium version starts at $79.99 per year and incorporates a variety of other features like the ability to create events and offer posts. You also have to opt for one of the premium plans to schedule GMB posts, recycle old posts, and pick locations for each post.
The Blog2Social plugin features a healthy set of tools for scheduling and automatically sharing any blog post to your social media accounts. Some of the options include Twitter, LinkedIn, and Instagram, but the main one we're focusing on in this article is the Google My Business integration.
In short, you can configure the types of posts you want to go out and customize the social media posts before sending them to the respective pages. It's even possible to incorporate HTML markup on your posts or to save them as drafts for later. In general, the plugin offers a nice combination of automated and manual features to ensure you have a consistent flow of content going to GMB.
As with any good Google My Business WordPress plugin, Blog2Social provides a quick connection to your GMB page, where you then decide on the scheduling and automation processes desired. You can even configure the plugin to automatically share older content or consider automatically generating hashtags to go along with the posts.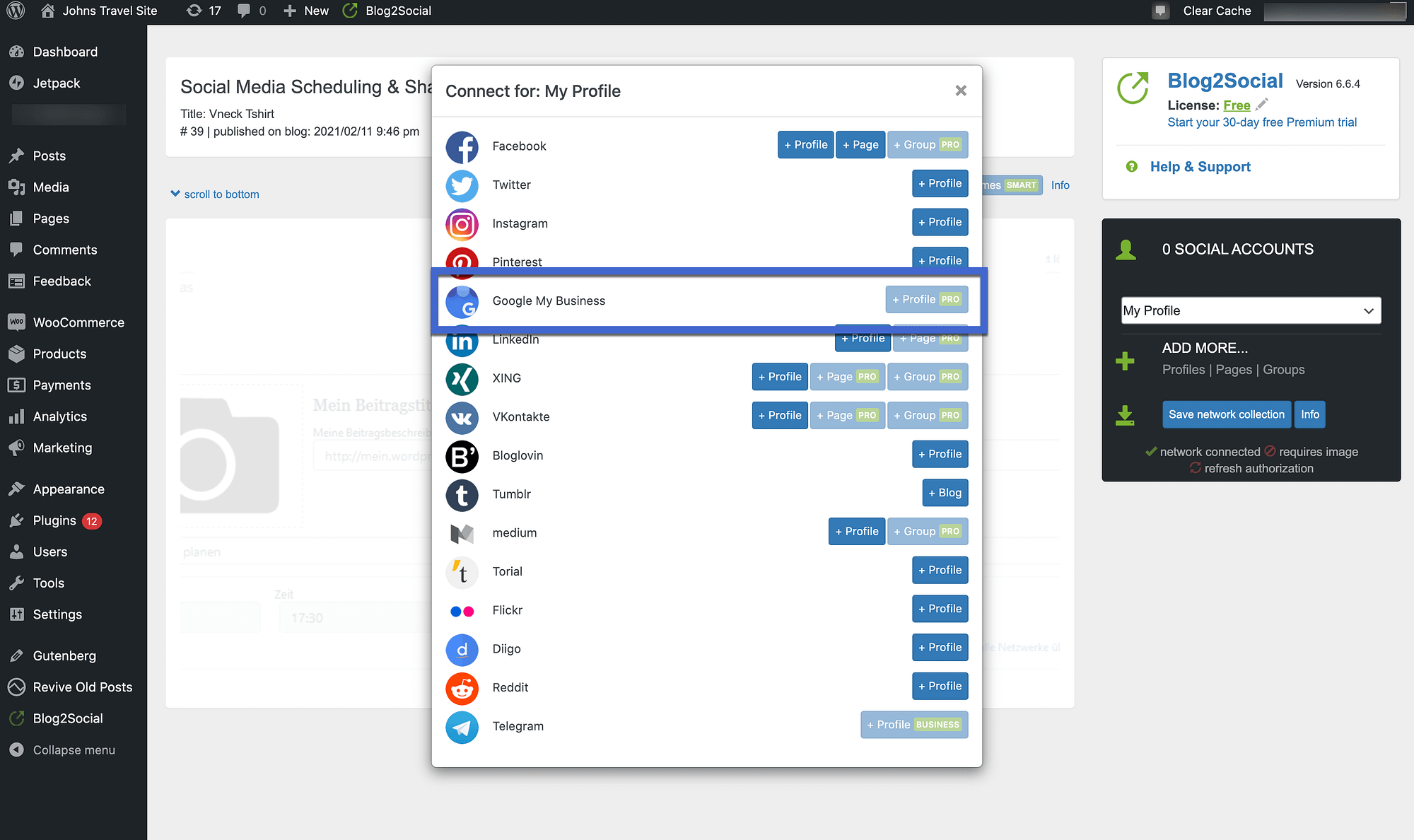 ⚙️ Features:
Rapid integrations with Google My Business, along with many other top social networks and platforms like LinkedIn, Facebook, and Instagram. You also get some unique options like Diigo, Reddit, and Medium.
Instant sharing to GMB and all social networks, pulling from new or past content on your WordPress site.
Automation, with an option to schedule posts in the future.
Options to manually customize and update the posts before they get sent to places like GMB. You can add things like images, animated GIFs, and HTML markup.
A Save function to store your post for later if you don't want to send it out right away.
A consolidated dashboard to view the status of your social media sharing in one place.
A field to edit the meta tag information for the pages and blog posts you decide to share.
Firefox and Chrome extensions to give you more flexibility in saving and sharing your posts, no matter where you're browsing online.
💵 Pricing: The plugin has a free version that supports auto-posting to about 15 social networks. However, the Google My Business functionality isn't provided in the free plugin. The premium version starts at $99 per year.
Which Google My Business WordPress plugin is best for you?
Most of the time we have a much longer list of recommended plugins for a category, but this one only has three top players.
If you're still debating which of our recommendations to go with, consider our final thoughts below:
Have any questions about how to choose a Google My Business plugin? Let us know in the comments!
Free guide
5 Essential Tips to Speed Up
Your WordPress Site
Reduce your loading time by even 50-80%
just by following simple tips.