When designing any website, it's important to remember that not all of your potential visitors are the same. Simple capabilities many of us take for granted – such as the ability to see web pages or use a mouse – aren't an option for everyone. This means optimizing for WordPress accessibility is essential.
Fortunately, there are plenty of ways to make your site more user-friendly, even for those with special challenges. All it takes is understanding what those visitors need, and taking a hard look at your site to see where it's currently lacking. Then, you can use dedicated themes and plugins to make their lives a little easier (and expand your potential audience at the same time).
In this post, we'll discuss the topic of WordPress accessibility in more depth. Then we'll introduce three simple techniques you can use to optimize your site or your
WordPress blog
for
all
visitors. Let's take a look!
Why accessibility matters on your website
A lot of thought and effort goes into building a website. You have to consider its design, layout, navigation, content, and much more. Along the way, it can be easy to forget about the diverse range of people who will end up visiting the final product.
If you've designed your site to cater only to those with 'typical' capabilities, you're leaving out a large chunk of your potential audience. There are a lot of people with physical or mental impairments who might have trouble using your site, even if they could otherwise benefit from it.
For instance, an image-heavy site can be a challenge for people who are visually impaired to make sense of. Likewise, those with difficulties using a mouse and keyboard can struggle with regular navigation schemes. These people often use assistive technologies to bridge the gap, but sometimes that isn't enough.
As a developer or website owner, it's your responsibility to make sure every site you build is accessible. Besides simply being the right thing to do, this will ensure anyone who ends up on one of your pages can interact with your content – regardless of their challenges.
Three ways to improve WordPress accessibility
Making your website accessible does take a little work. However, it doesn't have to be an overwhelming task. Let's walk through three of the best ways to start improving your WordPress accessibility right now.
1. Test your website's current accessibility
In order to make your site more accessible, you first need to know the elements you already have in place. After all, if you've never considered this aspect of web design before, you may not even be sure what to do or where to start.
Fortunately, there are plenty of tools that can help you out – such as the Web Accessibility Evaluation Tool (WAVE):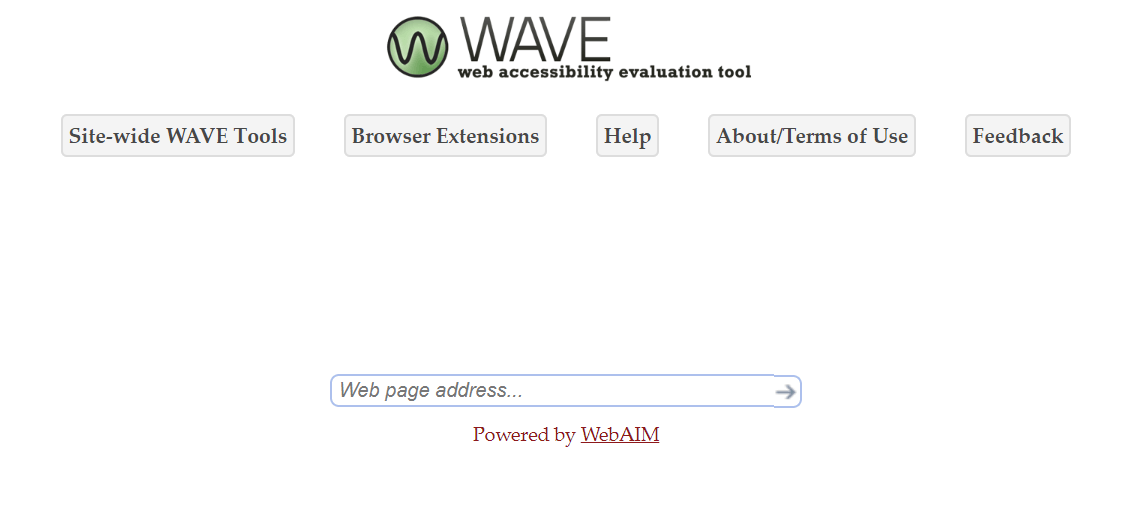 This simple browser-based solution will take a close look at your site and provide a lot of useful information. Simply type your site's URL into the bar on the home page, and you'll see an annotated version of its front end:
Using this tool, you can see exactly what parts of your site are already well-optimized for accessibility. For instance, green icons will indicate helpful features such as image 'alt' text. Red and yellow icons, on the other hand, point out areas that can be improved.
By clicking on each one, you'll get a concise and clear explanation of what the issue is:

Spending some time exploring your site with this tool will make it clear exactly what you need to work on. What's more, you'll learn about the basics of WordPress accessibility along the way.
2. Use an accessibility-ready theme
Improving the accessibility of an existing site can sometimes be a challenge. The layout and tools you already have in place may make it difficult or impossible to implement certain key features. For instance, your theme might not be coded with all of the options and functionality you'll need.
If you're creating a new site, or are willing to change your site's theme, you can avoid this issue altogether. By opting for an accessibility-ready theme, you can build your site from the ground up to be friendly to as many visitors as possible.
In the WordPress Theme Directory, individual themes must meet a number of criteria in order to be deemed 'accessibility-ready'. They must provide navigation schemes that can be used with a keyboard alone, proper heading structures, color schemes with clear contrasts, and much more: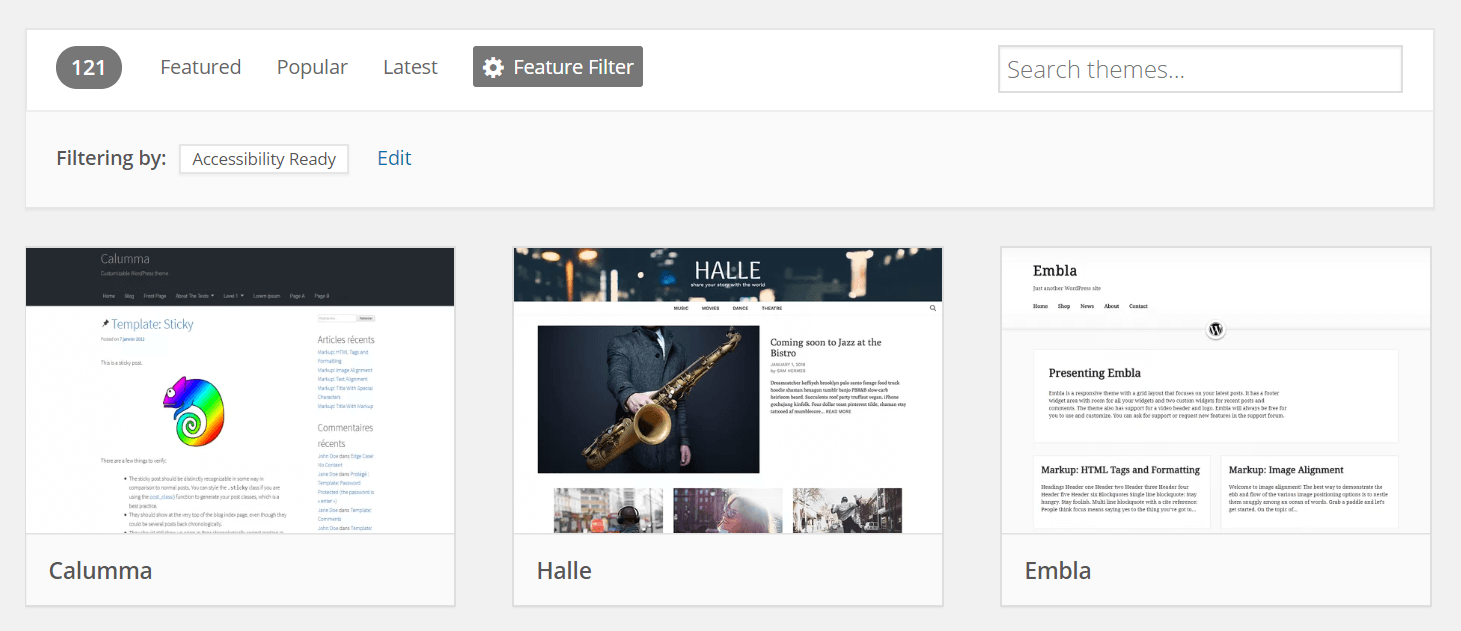 By choosing one of these carefully vetted themes, you will be more limited in choice. However, optimizing your website for accessibility will be a lot easier. If you don't like WordPress' options, you can also find accessibility-ready themes in other directories such as ThemeForest.
3. Install a dedicated WordPress accessibility plugin
What if you're unable to change your website's theme? You'll be glad to know you can still make improvements to WordPress accessibility, without any coding. While a plugin can't change all inaccessible elements, it can help you make some key changes.
There are a number of options, but we'd suggest starting with WP Accessibility:
This multi-featured plugin helps you optimize your site in a number of ways, and is simple to use. It will perform some tasks for you, such as removing unnecessary attributes that can confuse screen readers, and adding labels to form fields. Plus, it adds features you can use to more clearly describe images, shore up your navigation, improve color contrast, and so on.
WP Accessibility Helper is another solid option:
Since this plugin does many of the same things as our previous pick, it's worth trying out both tools and seeing which one you like better. At the end of the day, any quality WordPress accessibility plugin can help you make your site a lot more user-friendly, without much effort or knowledge required on your end.
Conclusion
For some of us, using the internet is as easy as breathing. However, that's not true for everyone. Physical challenges and mental impairments can make navigating and using even the simplest of sites a difficult task.
To help out this portion of your potential audience, you can implement the following three techniques for improving WordPress accessibility on your website:
Test your website's current accessibility with a tool like WAVE.
Use an accessibility-ready theme if possible.
Install a dedicated plugin, such as WP Accessibility.
And if you want to get even more involved with WordPress accessibility, you can join the Accessibility Team to contribute to the WordPress core itself.
Do you have any questions about WordPress accessibility, or how to use the tools we've introduced? Let us know in the comments section below!
Free guide
5 Essential Tips to Speed Up
Your WordPress Site
Reduce your loading time by even 50-80%
just by following simple tips.