Are you preparing to launch your WordPress website? To help make it a success, we created this handy website launch checklist to ensure a smooth launch when you make your site public.
We'll cover everything from proofreading to testing performance. And while some of these tips might seem a little basic, that's kind of the point! We want to help you make sure that you didn't accidentally overlook some small, but important, aspect of your website.
To do that, take a few minutes and run your website through this list…
Your 25-point website launch checklist
1. Check for little errors
Don't make the mistake of having a typo on a key page. Take a few minutes and go back and proofread as much content as possible. Also, look for other little issues with audio files, videos, or dummy text:
Content should be easy to read – font size, short sentences, bullet points, lots of white space
Images must be optimized, properly labeled and have alt text
Audio and video files need to work properly
2. Make sure you have a contact page
Not only does a contact page allow visitors to get in touch with you, it adds credibility and improves the trust quotient of your website. Find out how to add one to your website in this post.
3. Set up Google Analytics
When you launch a site, you might want to track its traffic and learn about your audience. With Google Analytics, you can monitor:
the general profiles of your visitors
what devices visitors use
your most popular pages, posts, and products
user behavior and engagement
conversion rates
how marketing campaigns perform
how fast your site loads
the sources of traffic
a lot more data

To benefit from all this data, you need to set up Google Analytics on your website. This post offers a few different methods to integrate Google Analytics with WordPress and teaches you how to implement every method.
4. Test your site's usability
Check that all functional aspects of the website work as intended. Usability is important for conversions as well as for overall SEO. Most importantly, you need to look at each element on your website just as a visitor would.
Ensure that images are optimized for speed
In particular, test all call-to-action forms and contact forms
On a multi-user site, check the login procedure, roles, and credentials
Check out overall experience through the eyes of a user consuming content on the website
In case you've put autoresponders in place, make sure they respond as you intended
If your website is going to accept payments, do a test run of each step in the purchase/payment process, including the success page redirect. This includes downloads, sign-ups, shopping cart functions, payment processing, email notifications, buttons, and links
At no point should visitors be unsure of which button to click next on your website. Besides, your on-site search should work smoothly and accurately. Try moving through the different locations on your website as a casual visitor would.
Read this post for more tips on how to create a great navigation structure.
6. Check for mobile-friendliness
Testing for compatibility with mobile devices is now an essential part of any website launch checklist, given Google's focus on mobile-first indexing. Consequently, your website must be mobile-friendly, and just as functional and pleasing on mobiles as it is on desktops.
In other words, text should be easy to read on mobile devices, content should be the same on both versions of your website, navigation is easy, buttons have proper spacing, etc.

Fortunately, you can use Google's own tool, Google's Mobile-Friendly Test to test these aspects.
7. Review browser compatibility
It's not enough to view the website from your browser alone. Additionally, you need to see how it appears in different versions of major browsers. At the bare minimum, you'll need to test it on Chrome, Firefox, and Safari.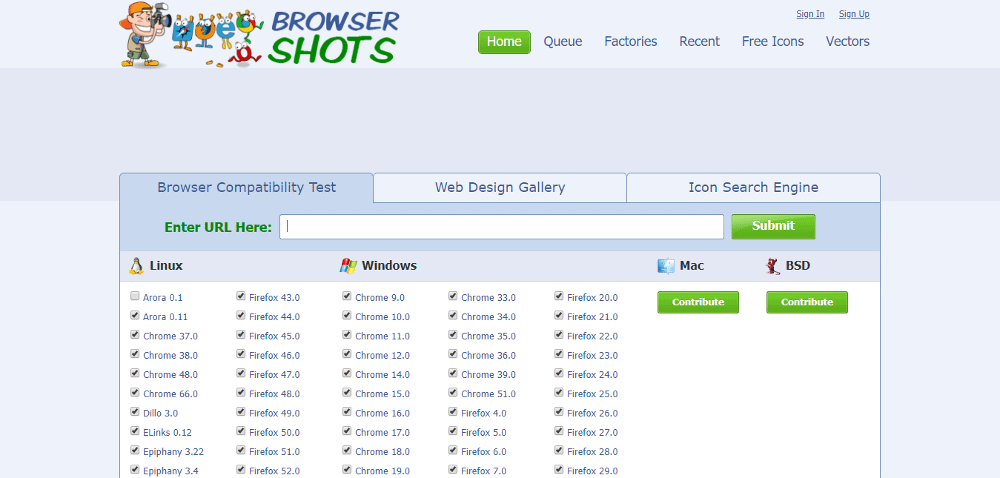 Again, you'll find free tools like Browsershots for this purpose. It uses a number of computers at different locations to open your website in various browsers. It then captures screenshots of your web pages in different browsers and uploads them to a central dedicated server for your review.
8. Run compatibility testing
Sometimes, it can happen that plugins don't play nice with each other. Therefore, it's advisable to run a compatibility test using plugins like PHP Compatibility Checker. This avoids glitches on account of plugin, theme, or WordPress update conflicts.
9. Get ready for 404s
Sure, 404 errors are not likely on a new website. Nevertheless, a visitor may mistype or somehow land on a "Page Not Found" error message. Just so you don't lose this visitor, and to improve user experience, create a custom 404 page.
Not only that, you can set up email alerts to track 404 errors from the moment your site goes live, and fix them early.
10. Make sure URLs are correct
Often, when a site is moved from the staging area to production, it's necessary to change all the URLs. Make sure to double-check that all the URLs are correct on the live version of your site before you move any further through the website launch checklist.
11. Make sure you have clear calls-to-action
This is one check you cannot afford to ignore – ensuring the site has clearly defined call to action elements. Call to actions help funnel your visitors to the most important locations. Or, they can help you build an email list, if that's your goal.
12. Install and configure an SEO plugin
Install the Yoast SEO plugin or any other SEO plugin to optimize for SEO. Make sure every page has a unique title, a meta description, and is optimized for keyword usage. Learn more about basic WordPress SEO here.
13. Configure your permalinks
Using permalinks that describe the content of each page makes them easy to remember, more usable, and more SEO-friendly. Find out more about how to configure permalinks in this post.
14. Check your XML sitemaps/HTML sitemap
Most SEO plugins usually build a sitemap for you automatically, but you should double check that it:
Really does exist.
Is working properly and includes all the content it should.
15. Check your robots.txt File
A robots.txt file also helps search engines to crawl your website more efficiently. You can learn more about this in Google's guide on the subject, and we have an article on how to optimize your WordPress site's robots.txt file.
16. Test for AMP compatibility
In case you're using Google's AMP project to speed up your site for mobile visitors, hop on a mobile device or an AMP tester tool and make sure that everything is working properly.
Try out your social icons to see if they are working as they should. Do they link to the right pages? Do you have the right buttons installed? Does the "share" functionality work right, if you're using it?
18. Check your site's accessibility
Accessibility is all about making sure your site is usable for everyone, even those with disabilities. Learn more about WordPress accessibility.
19. Put a backup solution in place
Right before launching your website, take care to install a suitable backup solution and test it before you hit the launch button. It can save you a load of heartache and sleepless nights if something happens to your site after launch.
20. Secure your website
Similarly, you really should take security seriously from the very beginning. In particular, the Admin area should be made as secure as possible to prevent entry of malicious bots and hackers.
21. Confirm your SSL
Do you know that your website runs the risk of being labeled as 'Not Secure' if it does not have an SSL certificate? Our earlier post can help you with adding an SSL certificate to your site. Also, you can use free online checkers to find out if there's anything missing with your certificate.
22. Keep out spam
Because of WordPress' popularity, ensuring you have an anti-spam solution is a necessity when going through any website launch checklist. It makes comment management easier and your website safer.
23. Update the timezone
All scheduled activities and plugins rely on the time maintained by your WordPress. Therefore, it's important to set up the timezone properly on your WordPress site. You can do this by going to Settings –> General and looking for the Timezone drop-down.
24. Take care of the boring legal stuff
Truly, this is the most boring part of our website launch checklist. However, it's necessary if you don't want to get into legal issues later.
Take care that required licenses are in place for images, fonts, plugins, etc.
Consider including a 'Terms of Service' to explain your services in detail. Auto Terms of Service and Privacy Policy can help you get started with this
In case your website is an ecommerce store or deals with money in any way, you should add a comprehensive 'Terms and Conditions' section
If you're collecting data, it's comforting to users if your Privacy Policy reassures them that their personal details are in good hands. Compliance with the GDPR (General Data Protection Regulation) is necessary, too.
A cookie warning is a legal requirement in many jurisdictions, so take care to include one
Check out the legal requirements in different geographies for age verification, consent requirements, credit card processing and more.
25. Delete any unwanted plugins
Finally, you should check your dashboard for plugins that are no longer needed and delete them to keep a lean and efficient WordPress site. While building your site, you might've installed plugins that you ended up not using. Get rid of all those in preparation for launch day!
Wrapping up
This website launch checklist is quite comprehensive, but by no means exhaustive. Why's that?
Because once you finish out this website launch checklist and make your site live, there are also plenty of things to do right after you launch your website!
Have any other tips? Let us know about them in the comments section!
Free guide
5 Essential Tips to Speed Up
Your WordPress Site
Reduce your loading time by even 50-80%
just by following simple tips.